This can mean that you might lose thousands of potential sales because people don't follow that initial impulse through to conversion.
One way you can convince the customer that your product truly is everything you say it is is by showing a second opinion, like customer reviews or customer referrals, which are commonly referred to as social proof provided by real customers.
FYI: You can embed Google reviews widget automatically with EmbedReviews platform. Start a free trial and display your Google reviews now.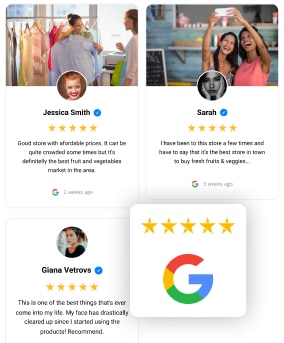 Generate, manage, and embed your Google Reviews
Try EmbedReviews, generate Facebook and Google reviews, and display social media reviews widgets on your website. Automatically and in seconds.
All features included | Live support available
What is social proof?
Social proof is a psychological phenomenon that indicates that customers form opinions and make decisions based on other people's actions. It is a form of referral marketing where social media influencers, industry experts, or actual customers create social proof to help you gain new customers.
The most common types of social proof are reviews, endorsements, industry expert opinions, and content created outside your brand. It is incredibly valuable and can differentiate between a conversion and an abandoned cart.
Social proof types range from simple (product reviews) to complex (influencer/celebrity-led campaigns), but they all have the same effect: To add outside weight to your claims about your product.
Potential consumers are more likely to trust online reviews from other consumers who wax lyrical about your products rather than you. You, after all, have a vested interest in trying to make a sale. Other "real" people, meanwhile, do have the same ulterior motives. At least not in the minds of most of your prospects and website visitors. Therefore, intelligent and impactful uses of social proof can work wonders and help you increase conversions and gain loyal customers.
If you're not sure where to start, here are seven of the best social proof examples:
1 – Reviews and customer testimonials
Online reviews and testimonials from customers are the most obvious and probably the most sought-after type of social proof. People rely on them for an honest and realistic impression of your product/service that they often feel they just can't get from your own words.
For example, if you are selling real estate agent software, there's only so much you can do via your website to convince potential customers to buy. Selling houses relies a lot on each particular case and customer, so having a review collection strategy for people who have used your software in the field is vital to assure potential customers that your stuff will be useful.
There are many ways to use testimonials in your content. Some brands create a dedicated landing page for them. Others pepper them throughout their site. Some, like Casper below, have a carousel featured prominently on their homepage, which site visitors can scroll through to browse a range of reviews.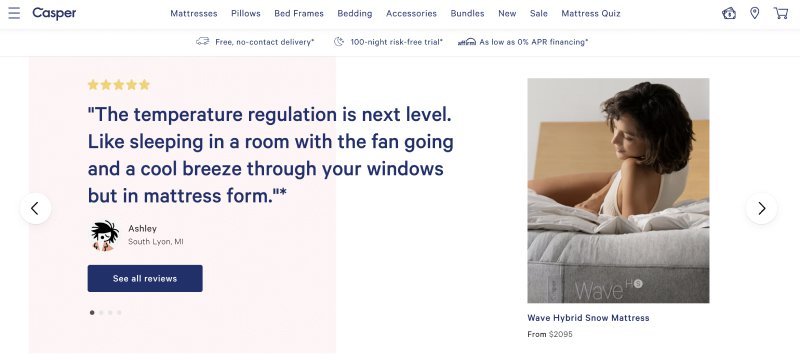 All in all, there are plenty of ways to incorporate reviews and testimonials into your content. And you should. Frankly, people will wonder what you've got to hide if you don't.
Oh – one last point! Don't feel like all your reviews have to be positive. In fact, three-star reviews are often more valuable than five-star ones. Why? Because too many five-star reviews feel 'too good to be true. Three-star reviews, however, are considered more 'balanced' and still can provide positive feedback about your brand just may be referring to some other attributes in your business that you need to improve. People trust them more than excessively positive reviews. Assuming that there's nothing terrible in your three-star reviews, folks will often buy based on them.
So don't worry if your reviews aren't universally awesome! A balanced mix of reviews is often better than an overwhelmingly positive skew. Just make sure to have a reviews management in place so you can make your customers happy to manage negative reviews, as they are the main reason for shoppers abandoning their carts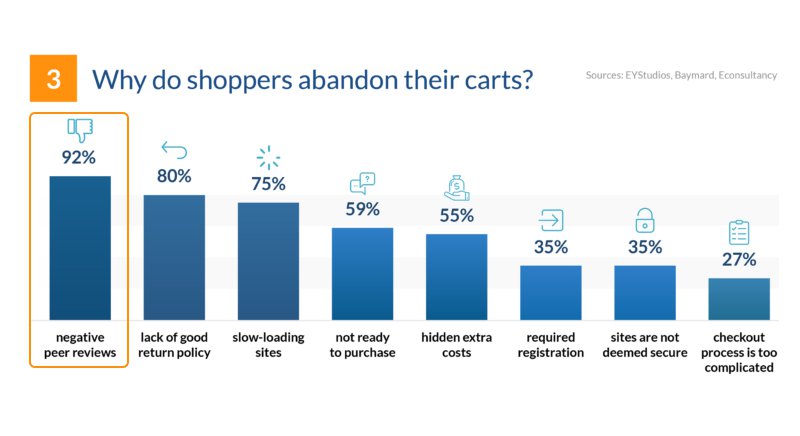 2 – Case studies
With the assistance of WordPress experts, you can fill your blog and possibly a dedicated section of your website with case studies from happy customers. Trust us when we say that your conversion rate will thank you.
When they're at the 'research' phase of their buying journey, customers want to know exactly how your product will improve their lives. Case studies help with this.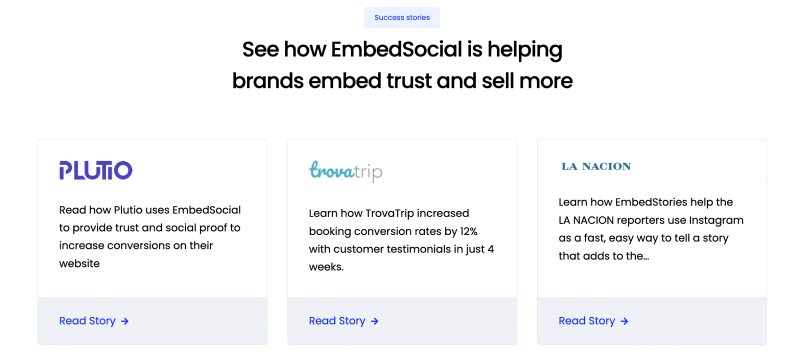 A good case study acts like an extended customer review over which you have some control. Reach out to your best customers, and ask if they'd mind answering a few questions for a case study. Chances are, they'll be delighted to help you out and get the extra exposure your case study will provide.
You can then utilize these case studies throughout your website. A dedicated page or area on your site will satisfy those individuals who search specifically for this kind of social proof. You don't have to limit the impact of case studies to those prospects, though.
Take, for example, our glossary page on hosted VoIP. It's designed to provide useful information for visitors who are interested in those kinds of solutions and think they might benefit their business. So, we also utilize social proof in the form of vignettes from and links to case studies of how those exact products have helped others:
3 – Affiliate promotions
Affiliate marketing involves a third party putting your product in front of its target audience. Typically, that third party would be a blogger, a website owner, or a content creator.
Affiliate promoters are paid a commission per conversion, but they still get a degree of choice about which products to recommend. In the public eye, this makes them more trustworthy than brands, as they tend to choose to blog about affiliate products that they genuinely like.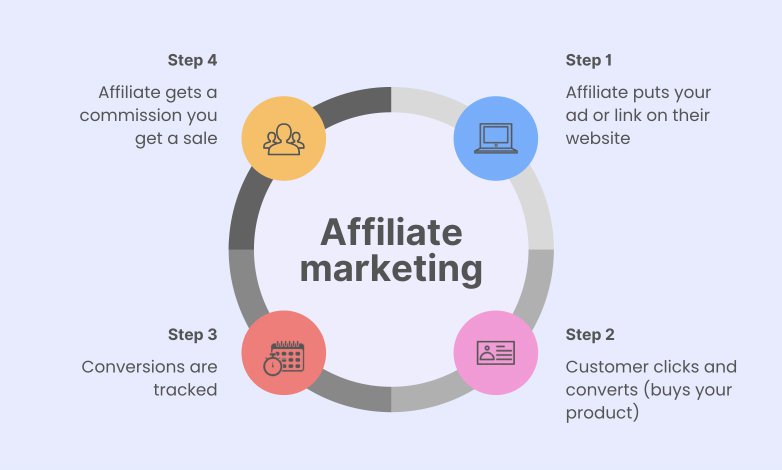 When approaching affiliate marketing, you must remember how important that feeling of trustworthiness and authenticity is to potential consumers. While you are entering into a partnership with affiliates, be discerning when selecting them. Try, as much as you can, to work with affiliates who really have used and loved your products. That genuine care for your products and brands will shine through to their readers or followers.
Those readers or followers will then be much more inclined to follow affiliate links to your website and product pages. Pre-primed with a glowing endorsement of your brand from someone they trust, they'll then be more likely to make a purchase, sign up to your service, or simply get in touch. That's where affiliate promotions start to maximize the potential of your site.
4 – Celebrity social proof
Celebrities and influencers already have an audience and – if they're any good at what they do – a positive relationship with that audience. If you pick your celeb/influencer well, you can leverage both their social followers and their relationship to your advantage. Nowadays, when a celebrity endorses a brand for example, in an Instagram post, it is like making personal recommendations. This is very common because celebrities want to be sure of the value of a product before they promote it on their public social media profiles.
Audiobook brand, Audible, is a great example to study in general if you want to know how to use any social proof examples, but they're particularly fantastic at influencer and celebrity endorsement. By offering prominent YouTubers and podcasters sponsorship in exchange for a quick signal-boost, they have become the number one audiobook streaming platform in the world.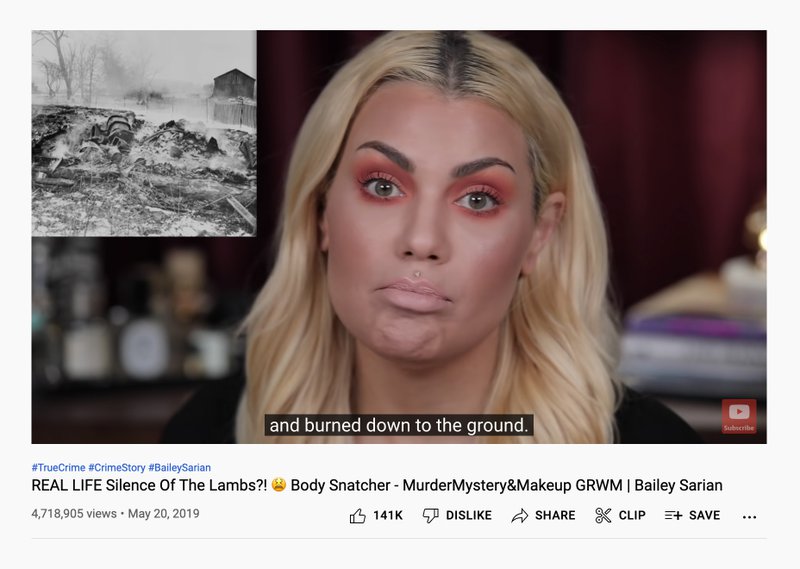 When choosing this route, it is worth understanding the differences between B2B and B2C marketing. Typically, celebrity and influencer marketing works best for B2C businesses – for B2B marketing, you might be better off with things like expert recommendations (more on those later).
That's because B2C marketing is often more about eliciting an emotional response from prospects, and seeing a favorite celeb promoting a product can do that. B2B marketing is a lot more about reason, logic, and persuasion. However, this does depend a lot on the nature of your business!
5 – UGC
If you can get UGC (user-generated content) right, you're onto a winner. Using your customers' own brand-related content as social proof is a fantastic way to build trust, build community, and drive conversions.
Dog brand, BarkBox, is incredible at UGC. They regularly post their users' photos, memes, videos, and more. This not only gives them a constant stream of great content, it also drives up their organic reach as users share 'their' BarkBox posts to their own socials.
If you do something like BarkBox and do UGC right, everybody wins. BarkBox gets genuine, organic UGC that works as fantastic social proof, the user who generated the content gets a signal boost, and everyone's organic reach is improved.
Perhaps best of all, BarkBox gets to show authentic users enjoying their content. This builds trust, helps them to engage with their user base, and creates a great sense of community around their product.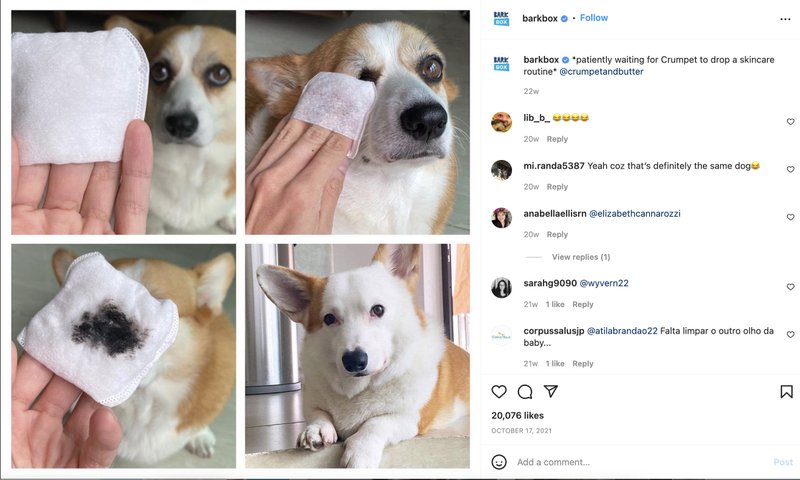 Where does maximizing the potential of your website come in?
Good question. The answer is in two parts. Firstly, you can link and direct social media followers to your site directly from threads, including posts using UGC. Second, simply growing your following on social media by interacting with and utilizing UGC can boost traffic to your website.
The kind of community it creates, after all, will boost your brand awareness. That can, in turn, enhance branded traffic to your site, and that's something search engines notice when ranking your pages.
Including such elements on your site isn't complicated, either. Any business can embed a Twitter carousel linked to their hashtags on their pages in order to provide social proof from Tweets shared by actual customers.
6 – Expert recommendations
Of all social proof examples, industry expert social proof, testimonies, and recommendations are the hardest to come by. For a start, your product needs to be relevant to the expert's field for their testimony in order to work. There is no point in getting a creative writing professor to talk about how much they love your brand of socks. Well, not unless they've written a great book about socks at some point in their career.
Expert testimony is particularly useful in B2B marketing. Having a respected industry figure coming out in favor of your product will work wonders for your brand.
In-depth expert testimony won't be offered unless your product is fantastic. After all, experts have a reputation to maintain and won't lend their authority to anything that doesn't meet their approval.
However, if you impress an expert, publicizing and sharing their help will impress your existing customers and those website visitors that you're looking to convert.
7 – Certifications
Social proof serves to cement trust between brand and customer. They say, 'This product is good. Here's a second opinion that proves it. But social proof doesn't always have to come from customers.
Certifications also serve as third-party affirmations. Customers know that you have to fulfill certain criteria to get a certificate, so displaying that certificate is very reassuring.
Things like a certification of ISO compliance, food safety and hygiene certificates, security verifications, academic qualifications, association memberships, guild memberships…all of these serve as valuable social proof which shows your business to be valid, trustworthy, and legitimate.
Don't be shy of showing off the certifications your business has achieved or the compliance standards you meet. For example, in a recent blog post on free video conferencing tools, we chose to draw attention to our GDPR and SOC2 compliance: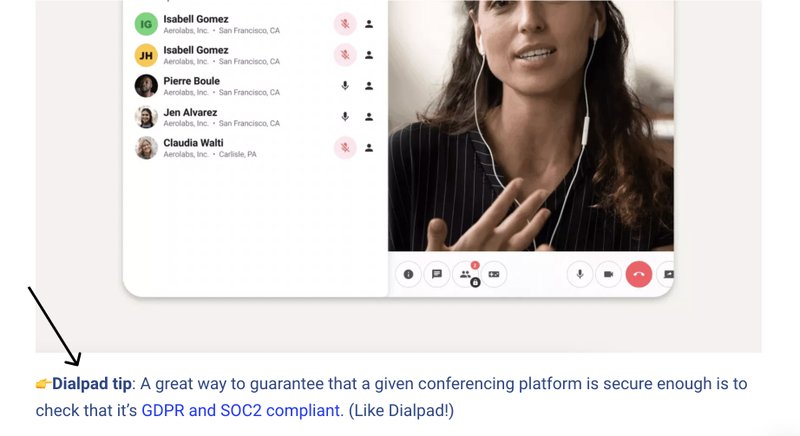 It's a potential point of difference between ourselves and some rivals. And, like all these examples of social proof, is a way to build more trust with site visitors. It's only visitors who trust you, after all, that you may be able to turn into customers.
How to collect social proof from social media platforms?
Having social media posts about your brand published by satisfied customers is a gold mine to build social proof widgets for your website.
And now, it is possible to collect social proof using API-approved social media aggregators like EmbedFeed.
EmbedSocial can generate and embed on your website Instagram photos with your product published by actual customers. It works with every major social media platform and provides a variety of widgets to embed user-generated content on your landing pages
It is perfect for eCommerce brands that operate in a competitive industry where having direct relationships with customers makes all the difference.
Use social proof to gain more potential customers
These are far from the only social proof examples out there. If someone is endorsing or otherwise publicizing your product, you can leverage it. Social proof works.
Sometimes, the best social proofs happen completely naturally, and all you have to do is reach out to the creator. So, keep a close eye on your hashtag on social channels, read reviews from your current customers, follow press mentions or set up a keyword alert for product mentions on Google.
The more social proof you can get, the better. And remember, even 'bad' social proof can work to your advantage. It often lends legitimacy to your product – especially if you can respond to a bad review correctly.
Experiment with third-party content, leverage social proof in your marketing strategy and see what it can do for your business.