2021 was the year of the creator economy.
User-generated content became one of the most effective marketing instruments. The power of digital word-of-mouth increased, as the authenticity and relevancy of the source has never been more impactful when it comes to making purchasing decisions. Therefore creators' authority (big or micro) grew as the new most trustworthy source for user-generated content, recommendations, and product reviews.
Related to this, one of the most straightforward UGC formats is online reviews and the data proves that people trust them as much as their friend's recommendations: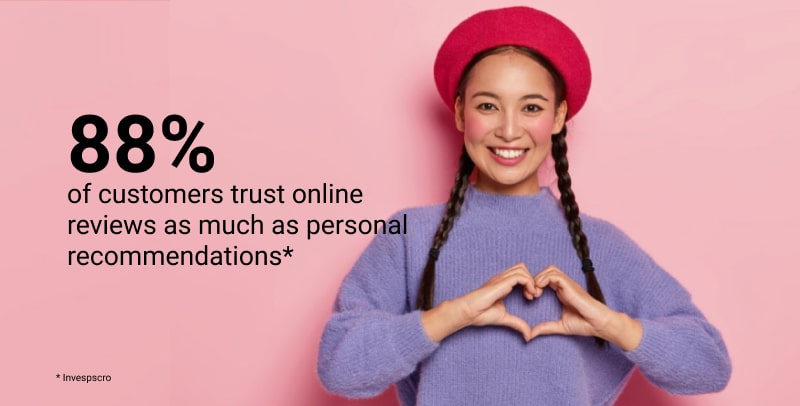 Having this significant insight, we decided to go deeper and analyze social media reviews by looking at Facebook and Google reviews that our users generated via the EmbedReviews platform.
EmbedSocial's Online Reviews Report Method
Here are the important criteria and metrics that we used in order to create this report:
Total number of analyzed reviews: 324,404
Source: Facebook and Google
Content: Online reviews with and without text
Period: 1st January 2021 – 21st December 2021
Download Online Reviews Report 2021
Get all the unique online reviews insights in one report.
In the following text are the findings of EmbedSocial' Online Reviews Report:
Online Reviews Highlights
Here is a summary of the most unique highlights we discovered: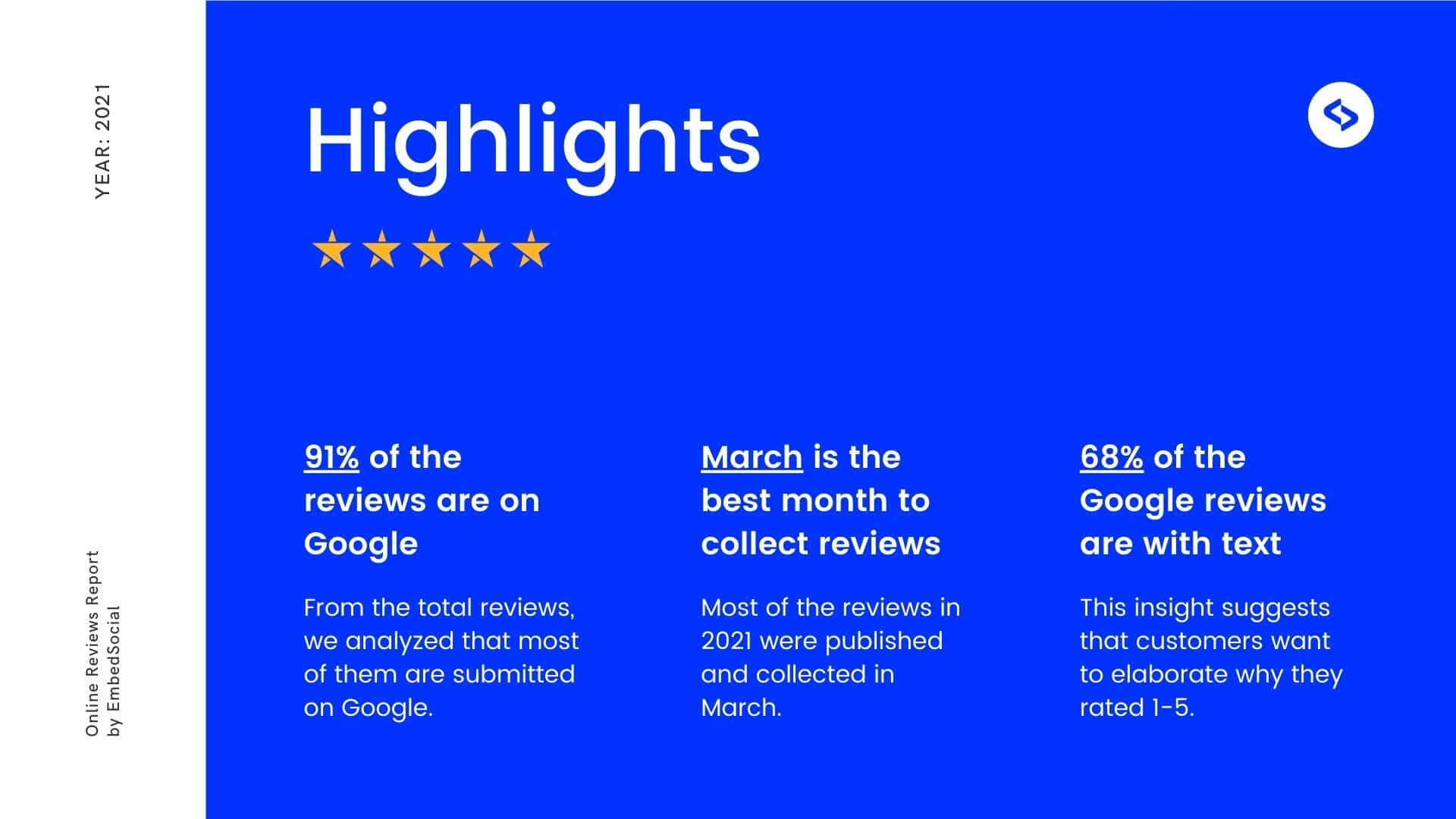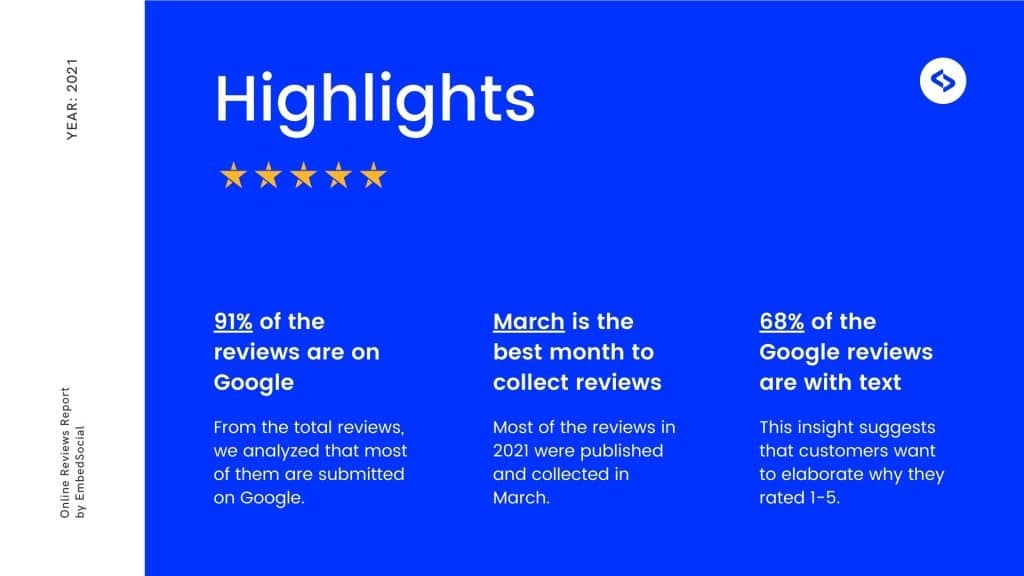 In 2021, March was the month with most reviews
Interestingly, the trend in the winter months has fallen slightly due to people limiting their holidays' travels. December continues to be in most places with lockdowns due to the new Covid-19 variant.
91 % of the analyzed reviews are Google Reviews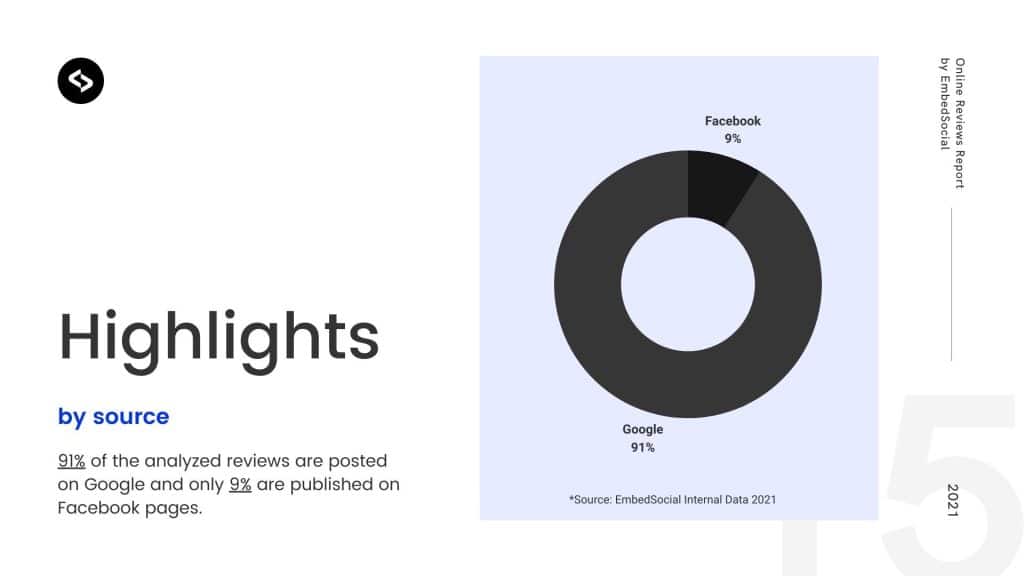 This indicates that Google is the most popular platform amongst our users which are usually local businesses that manage Google Business Profiles mostly to gain more SEO leverage or get discovered in Google Maps.
68 % of the analyzed reviews on Google are with text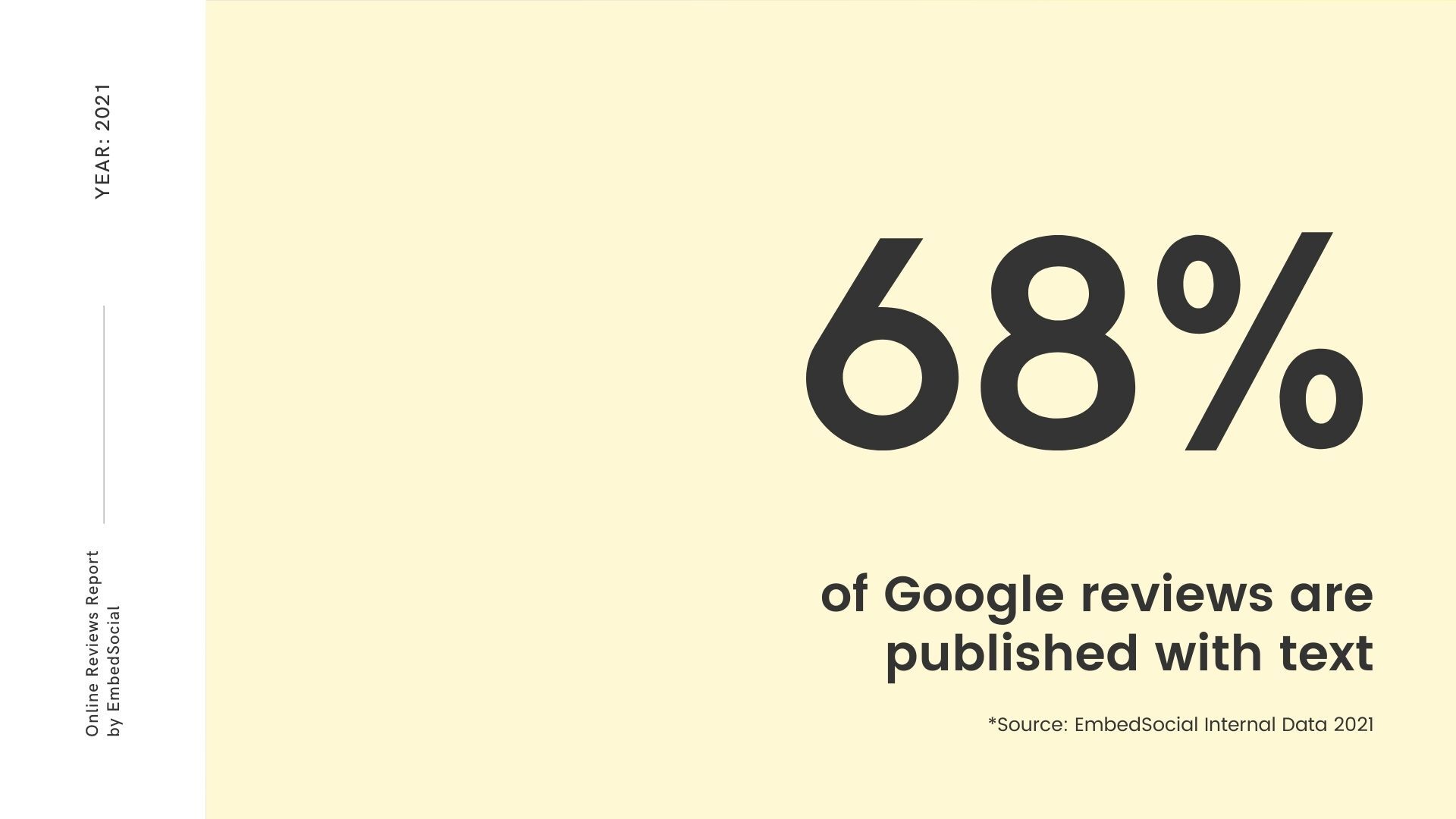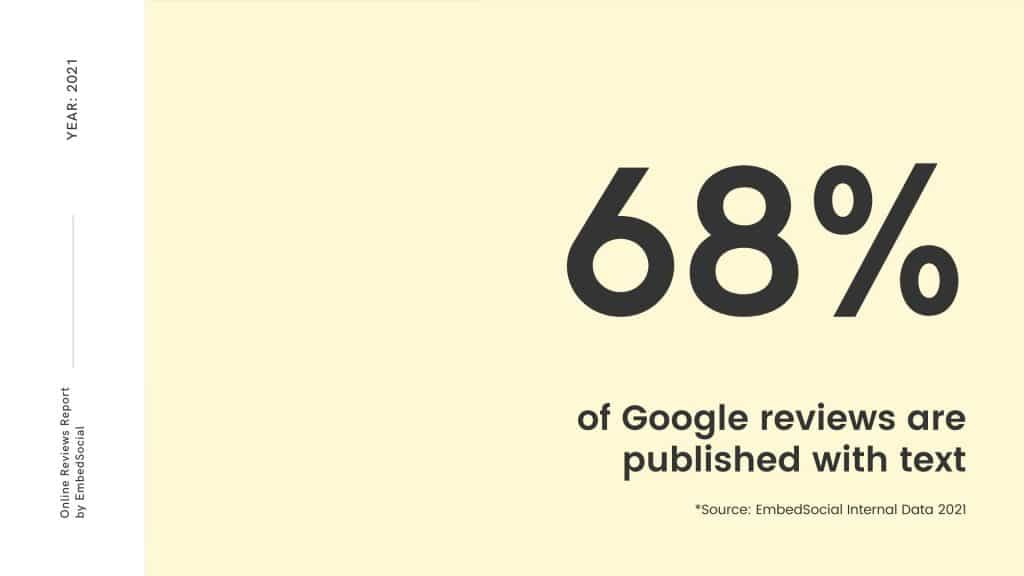 We assumed that most reviews are just ratings and no text when we first asked this question. But, when people go to rate a business on Google, they explain why they selected a particular rating from 1 to 5 by writing a textual review.
86% of the Google reviews are 5 stars, and only 4% are 1-star reviews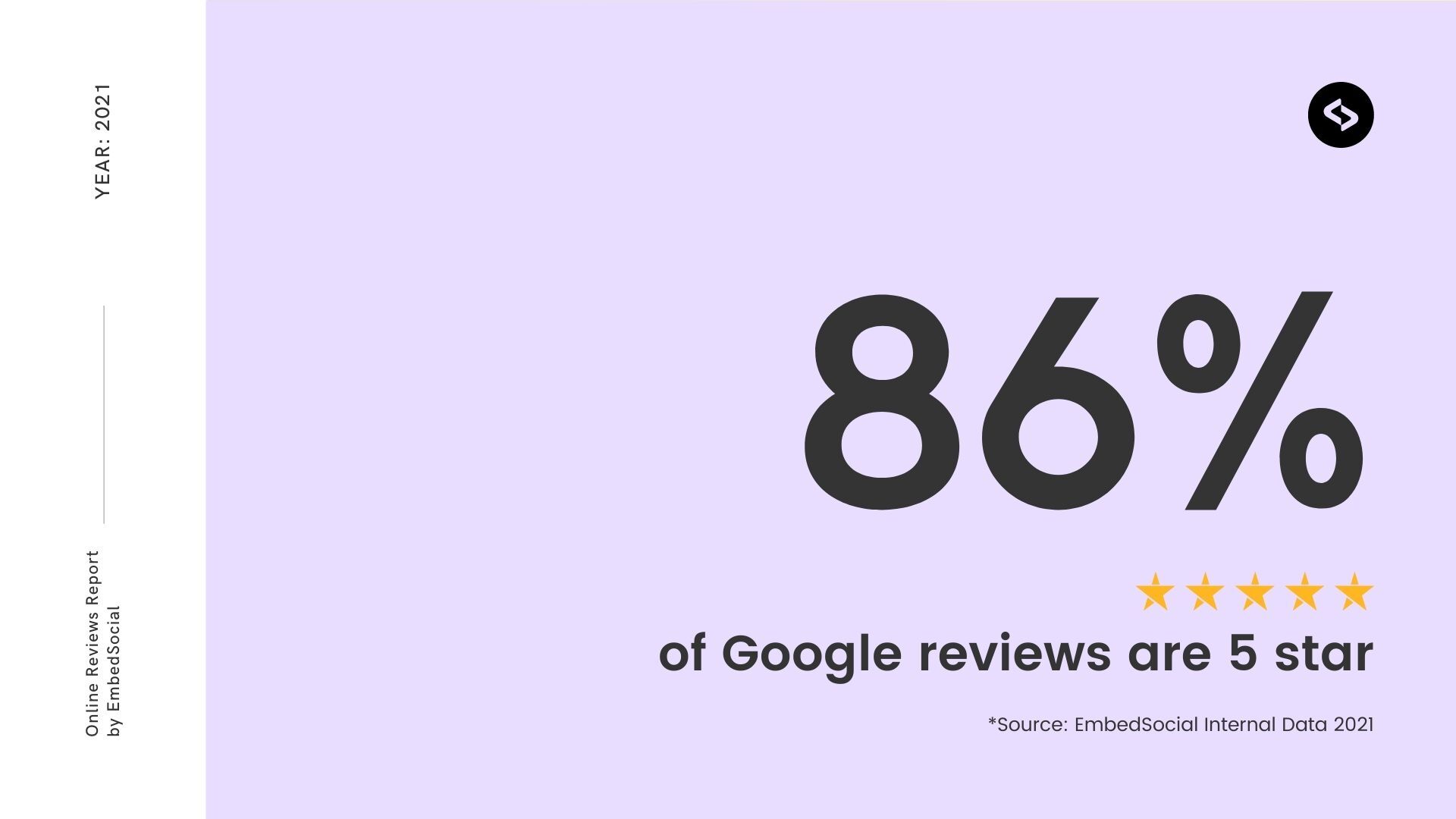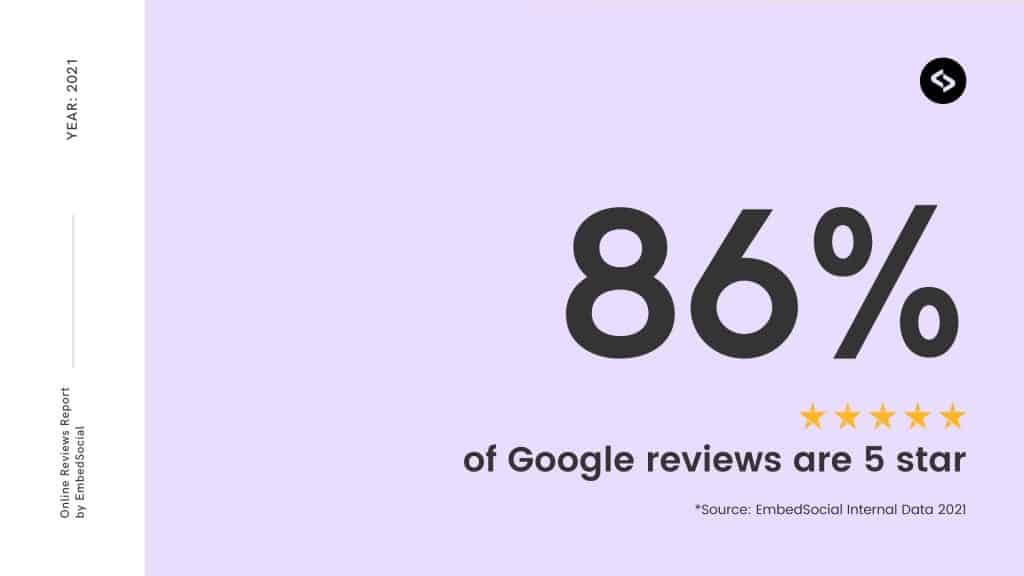 Interesting right? When talking with local businesses, some conventional beliefs are that people usually go to Google to leave a negative review. But with this data, we can see that more than 2/3 of the reviews are 5 stars.
And we are happy to conclude that only 4% of the reviews we analyzed are 1-star reviews: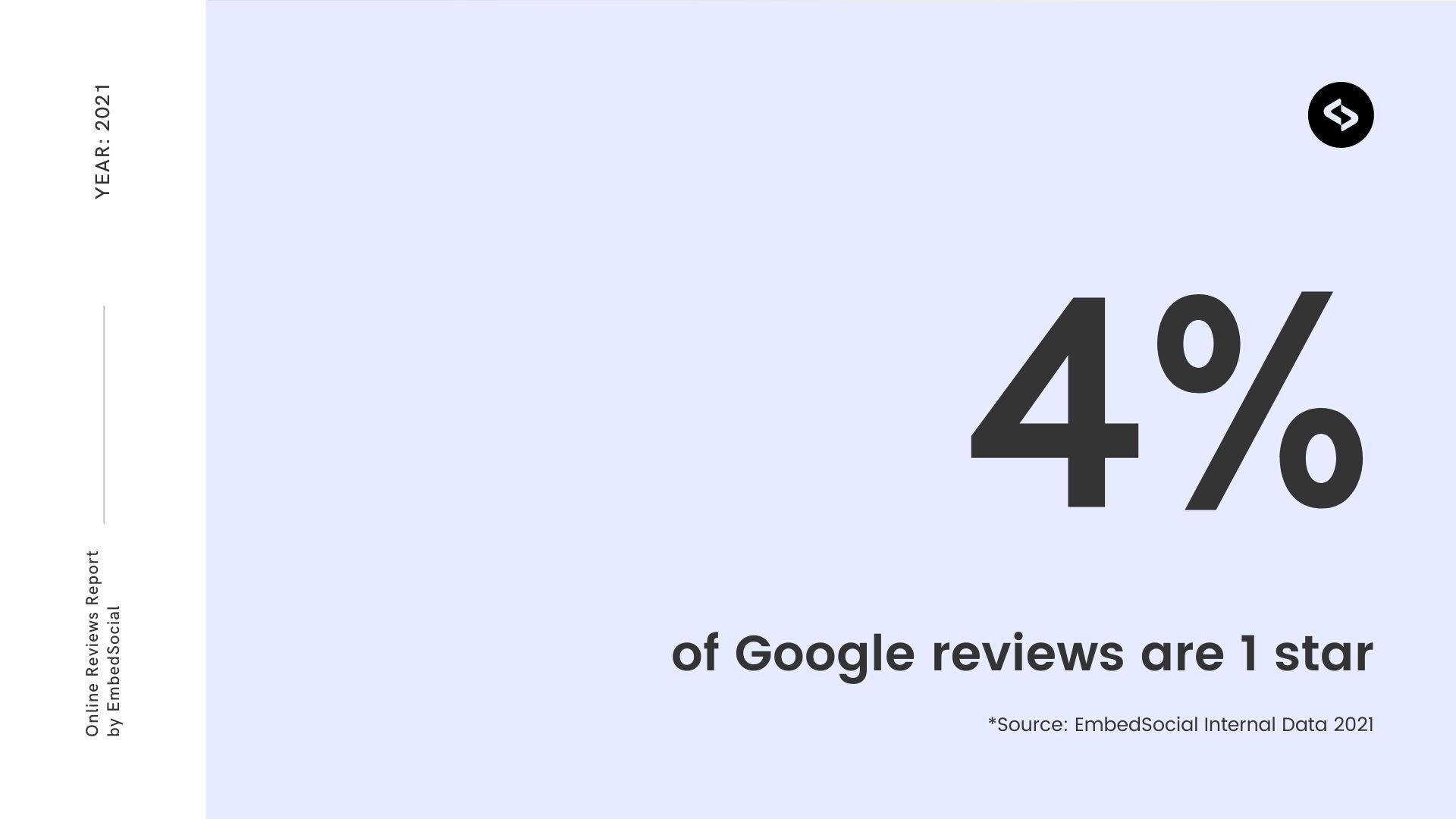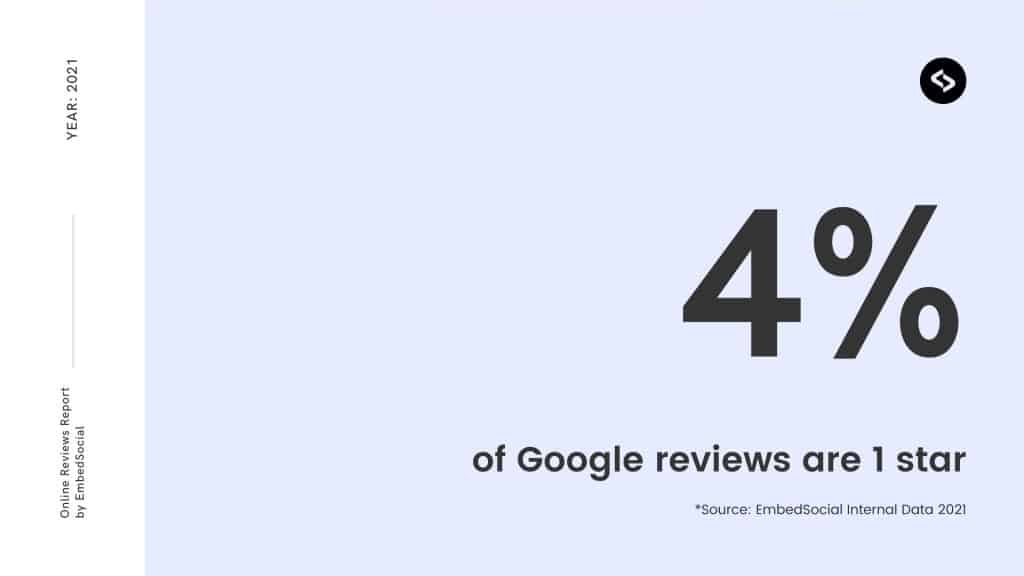 80% of the 1-star Google reviews are with text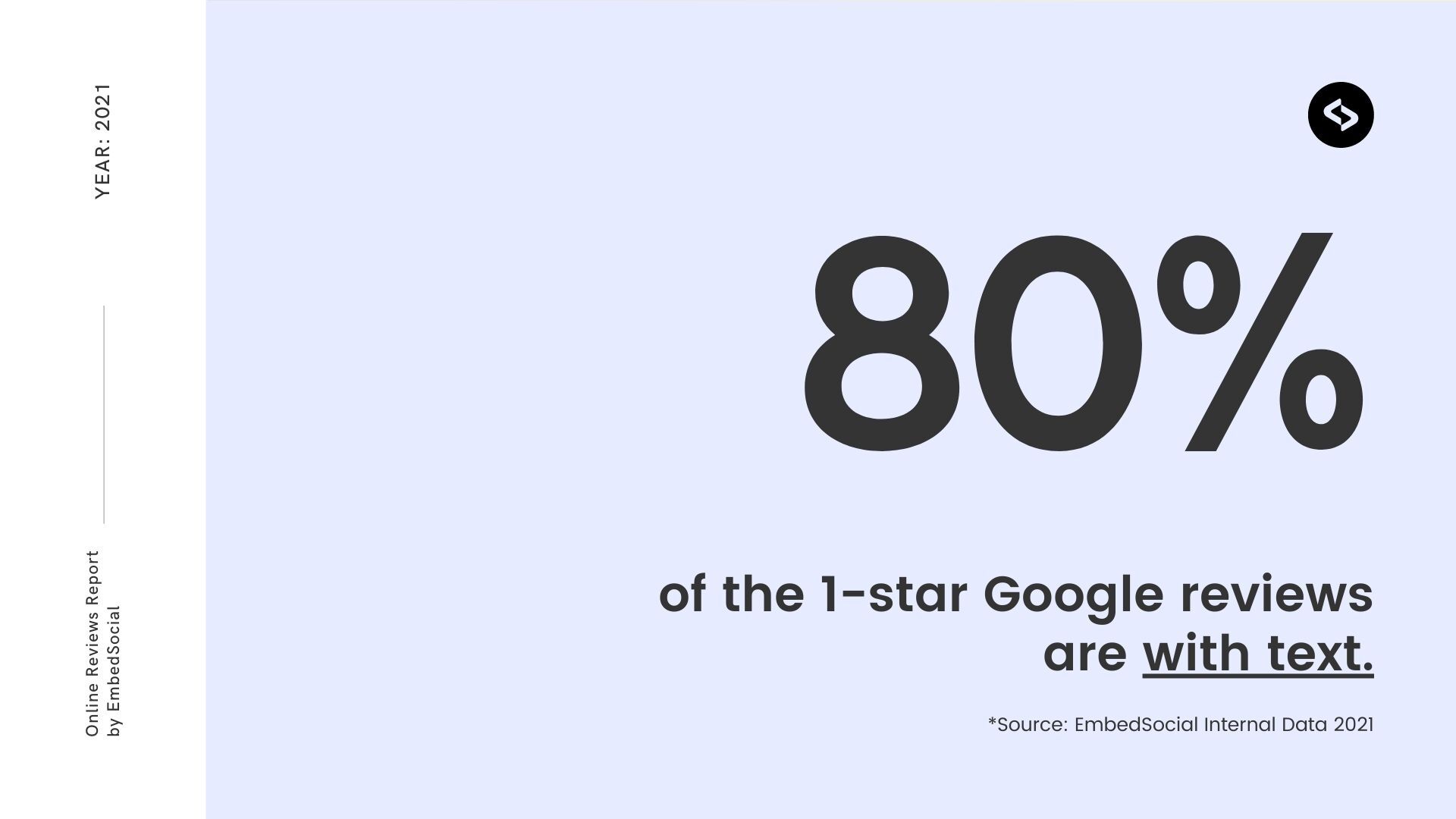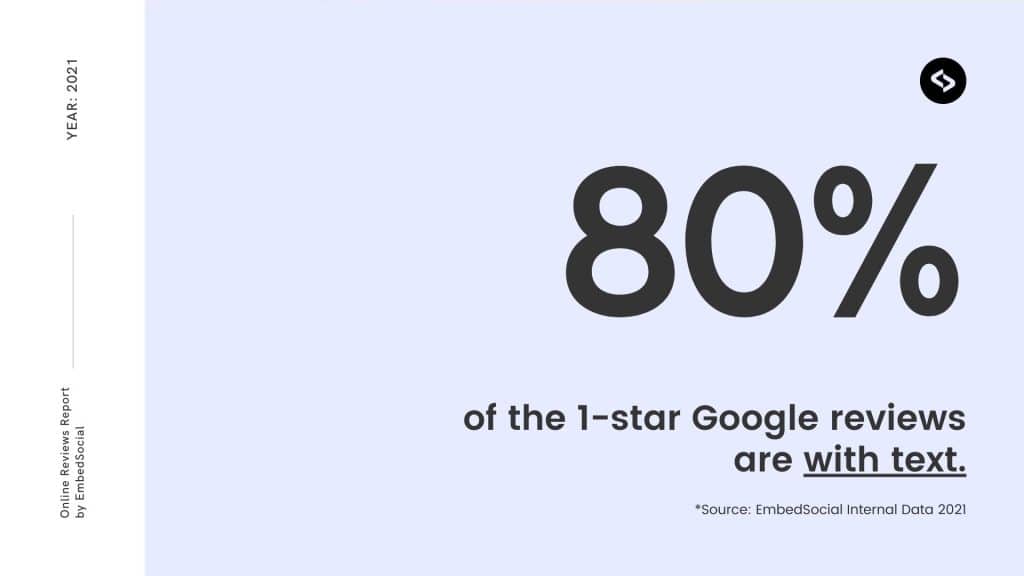 This insight suggests that unsatisfied customers want to leave text when leaving a 1-star review – which means they still want to elaborate why and possibly help the company fix their mistakes. This is a great opportunity for businesses to get insight, improve customer support and make their business better.
92% of the analyzed Facebook reviews and recommendations are 'Yes'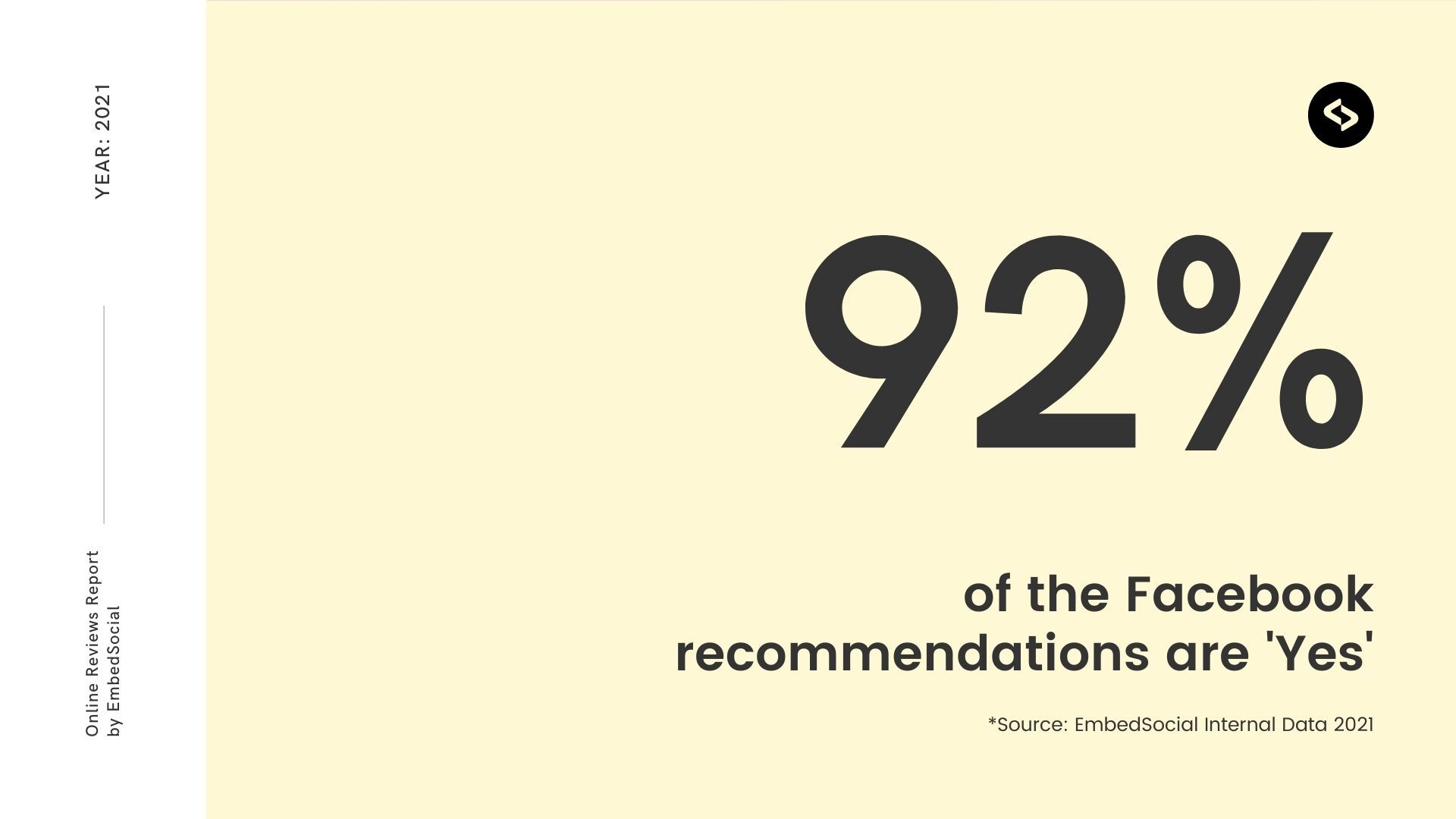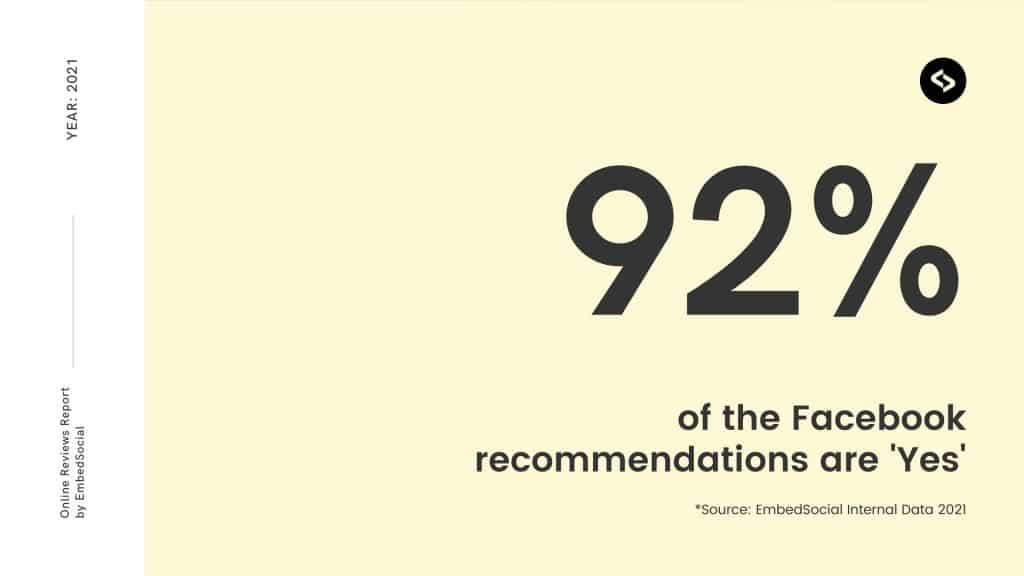 Again, this proves an interesting assumption that most people who go to write a review publish it because they had a negative experience. But, finally, the data suggests that this is not the case, and people who are satisfied with their products do share their positive reviews.
Online Reviews by Industry
We took more than 300 categories and subcategories on Facebook and Google and analyzed how many reviews companies get in a different category.
From the summary report, we created a more extensive scope in the categorization, that you can see in the chart below: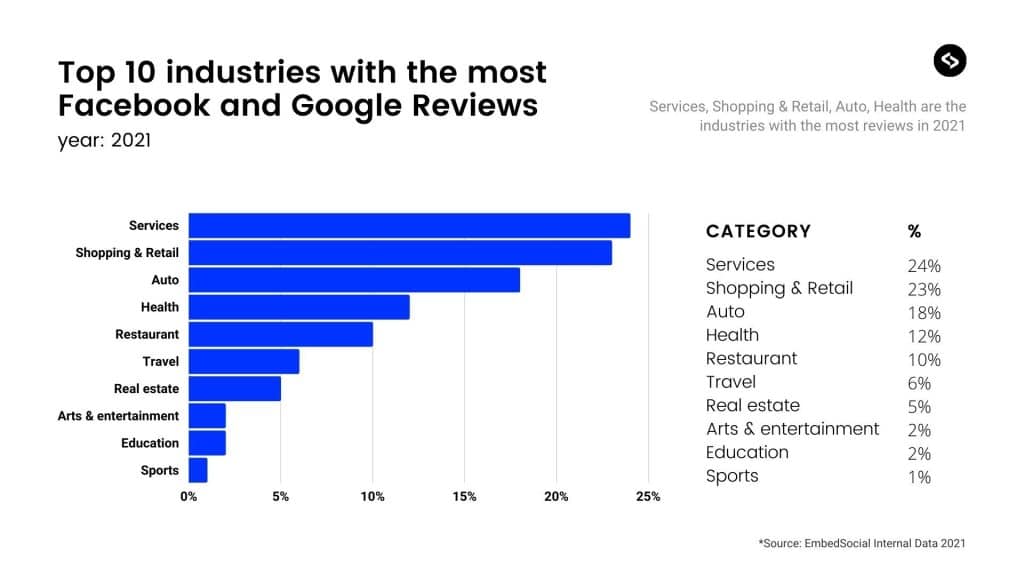 Here is the list with the analyzed reviews:
Services
Shopping & Retail
Auto
Health
Restaurant
Travel
Real estate
Arts & entertainment
Education
Sports
24% of the analyzed online reviews are in the Services industry
As you can see from the analysis, there is no significant difference in the top 3 categories, which leads us to the conclusion that most of the companies that receive online reviews are companies in the following industries: Services with 24%, Shopping & retail with 23%, and the Auto industry with 18%.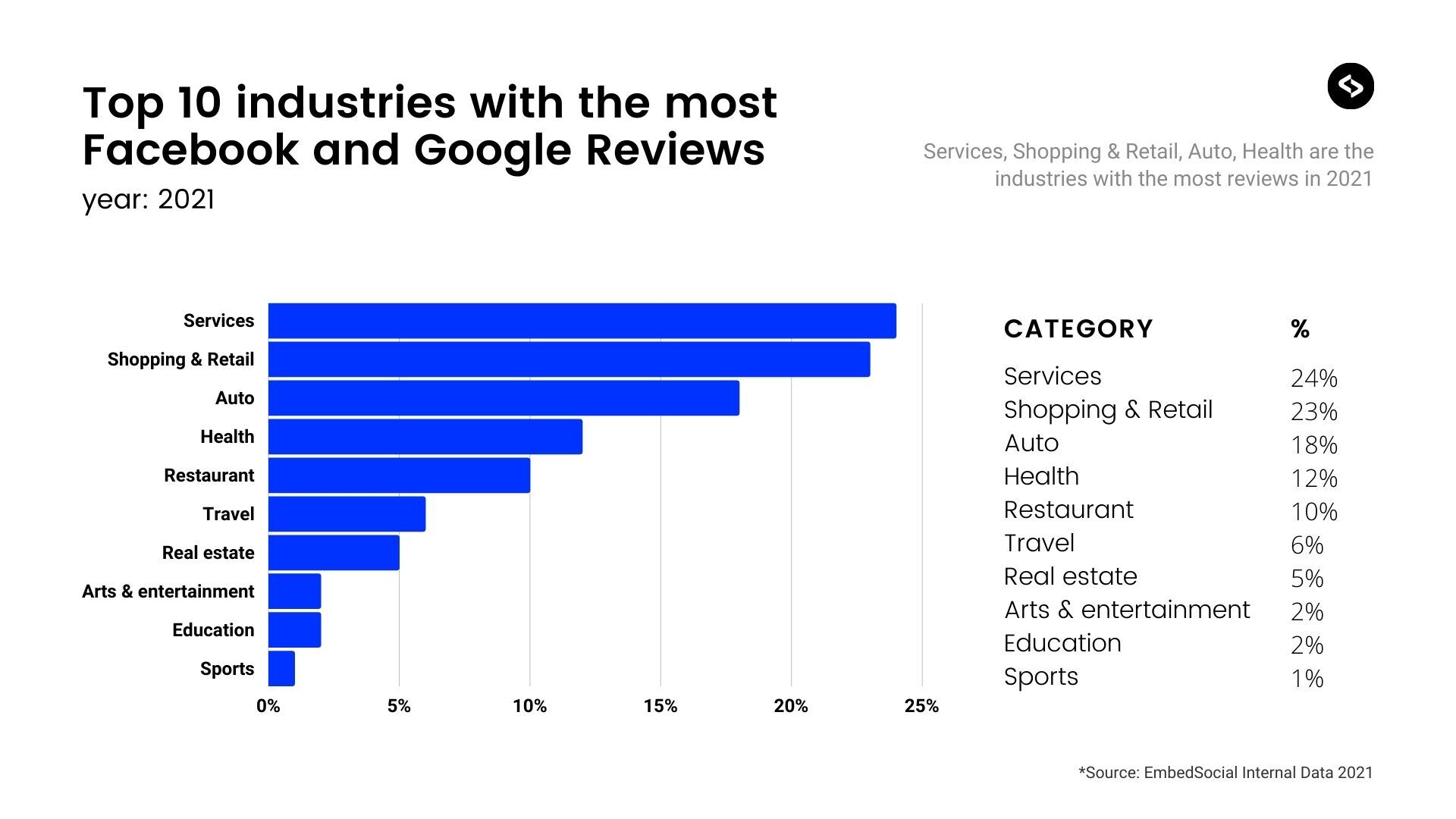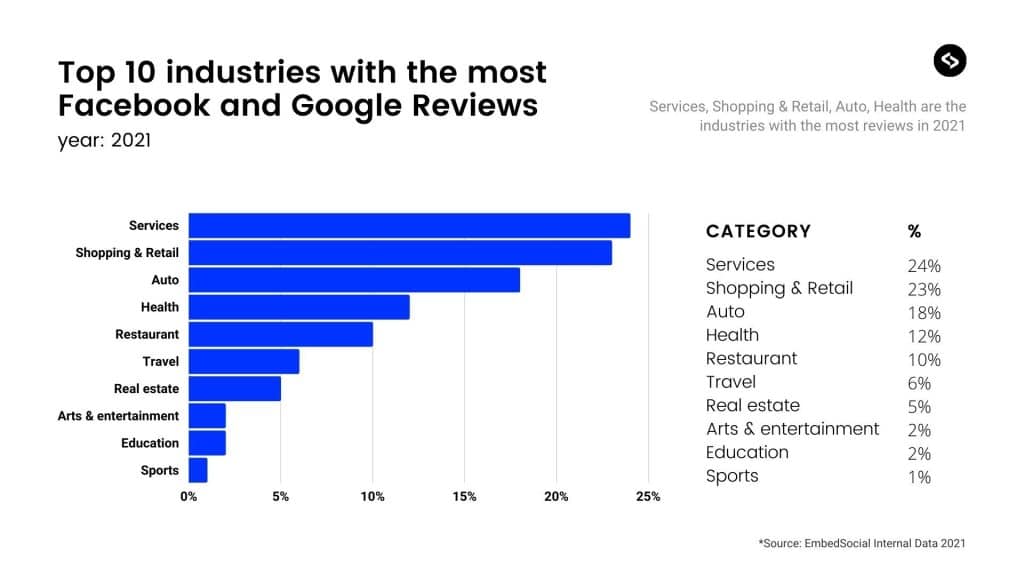 17% of the analyzed Restaurant online reviews are for American restaurants
The Restaurant industry is definitely one of the top categories for online reviews. When we need a recommendation on where to lunch or dinner, we first search on Google Maps or Facebook and read reviews of the most rated restaurants in our area.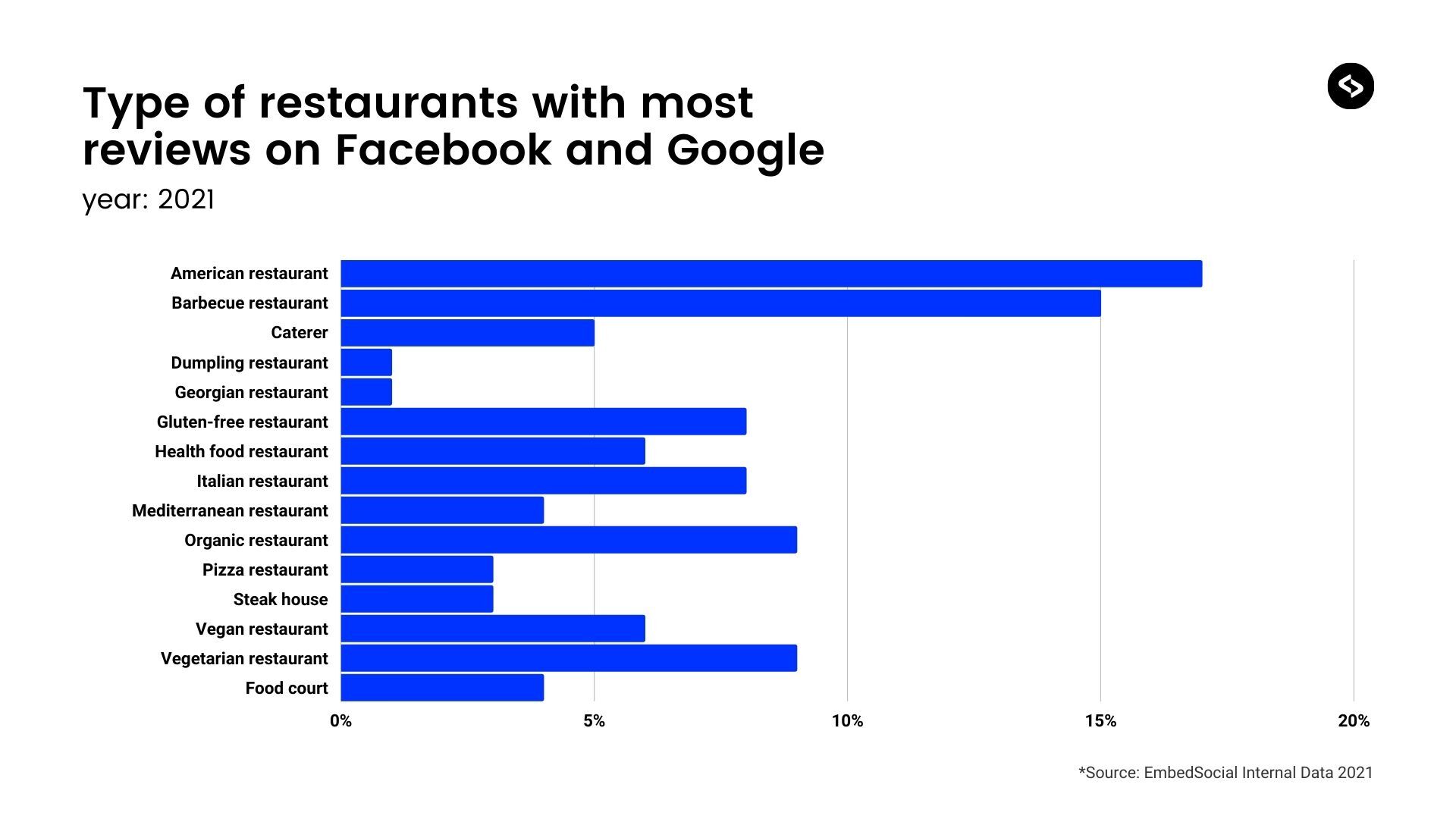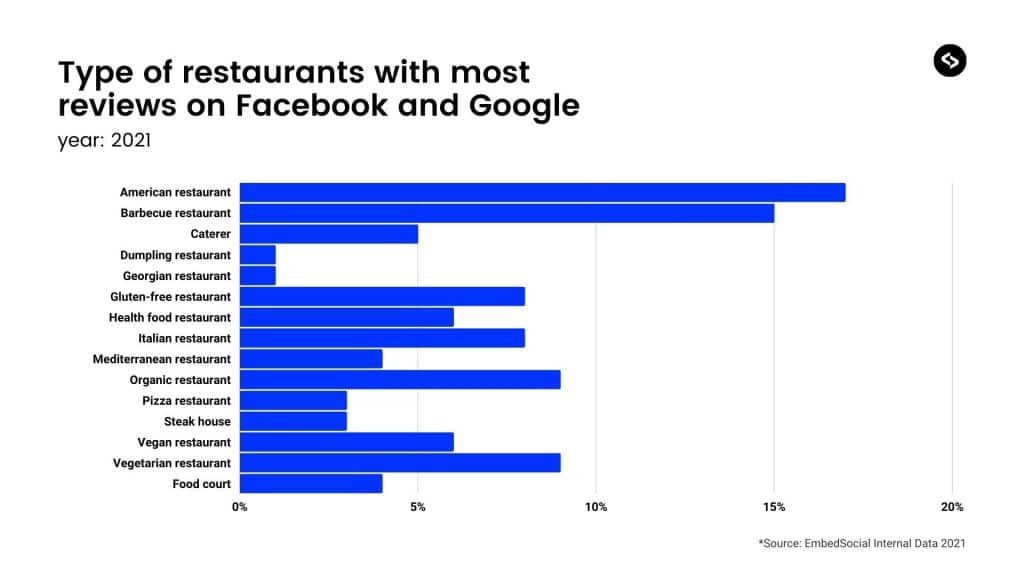 In EmbedSocial's Online Reviews Report, we summarized the restaurant category in more subcategories and discovered the American restaurants get the most reviews on Facebook and Google.
Conclusion: Online reviews trends we can expect in 2022
From this analysis, we can conclude the following trends that we can expect for 2022 in the online reviews space:
Google is getting more online reviews than Facebook.
Expect to get Google reviews with text, not just a rating which means that you need to have a process to respond when receiving online reviews.
Most of the online reviews are positive, so make sure you monitor and manage your online profiles so you can leverage the information that customers share about your business.
The Services industry is getting the most online reviews, followed by Shopping & Retail companies which probubly will be the case for 2022.
We can expect travel to increase with a better coronavirus situation. This means that we can expect other subcategories in travel like Hotels to get more online reviews in 2022.
To unlock more statistics, graphs, and industry-specific charts for online reviews, download the full report.
We hope this report can help you understand how people use online reviews and the industries that get the most reviews online.
Download EmbedSocial Online Reviews Report 2021 [Free]
This is an official report generated from EmbedSocial's own data and is unique due to the analysis of more than 300,000 reviews published on company profiles on Google and Facebook.