As social beings, we love to share our interests, experiences, and inspirations with friends and loved ones. Instagram, the leading photo-sharing platform, has constantly evolved to provide us with the best possible experience.
With the recent introduction of Instagram Collections, we now have a powerful way to organize, share, and collaborate with our friends. In this blog post, we'll explore the human perspective of this new feature and learn how to effectively share our collections with friends to create an even better experience.
What are Instagram Collaborative Collections?
You can create a collection for any theme, such as travel, food, fashion, or even motivational quotes, and share them with your friends.
Why Share Your Collections with Friends?
Sharing your Collections with friends adds a whole new dimension to the Instagram experience. Here are some reasons why you should consider sharing:
Sharing your Collections with friends adds a whole new dimension to the Instagram experience.
Here are some reasons why you should consider sharing:
Collaborative inspiration
Strengthening relationships
Sharing your interests and passions with friends helps to build stronger connections, and collaborating on Collections allows for an ongoing conversation that keeps you engaged.
Discovering new content
How to Share Your Instagram Collections?
Sharing your Instagram Collections with friends is simple. You can do this when saving a post and associating it with a collection. To explain this method, follow the steps below:
Tap the Save icon
Tap Try it in the intro screen about collaborative collections
Tap to run on the Collaborative toggle
From the friend list, select a friend you want to share the collection with
Tap Save to finish the steps.
That's it. Now your friend can view this collection in his collection list. See the steps in the screenshots below: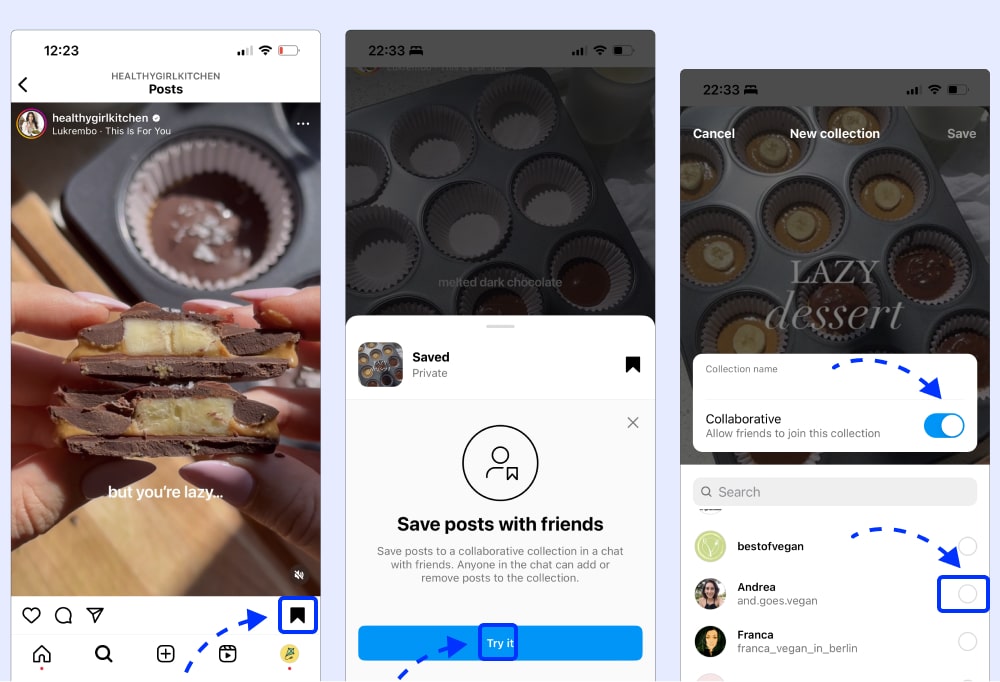 If you have already saved collections and want to share them with a friend, follow these steps:
Click Save on a post just to open the Collections section
Select "Share Collection."
Choose your friends with whom you want to share your Collection, or type their usernames in the search bar.
Add an optional message to personalize your invitation, and tap "Send."
See the steps in the screenshots below: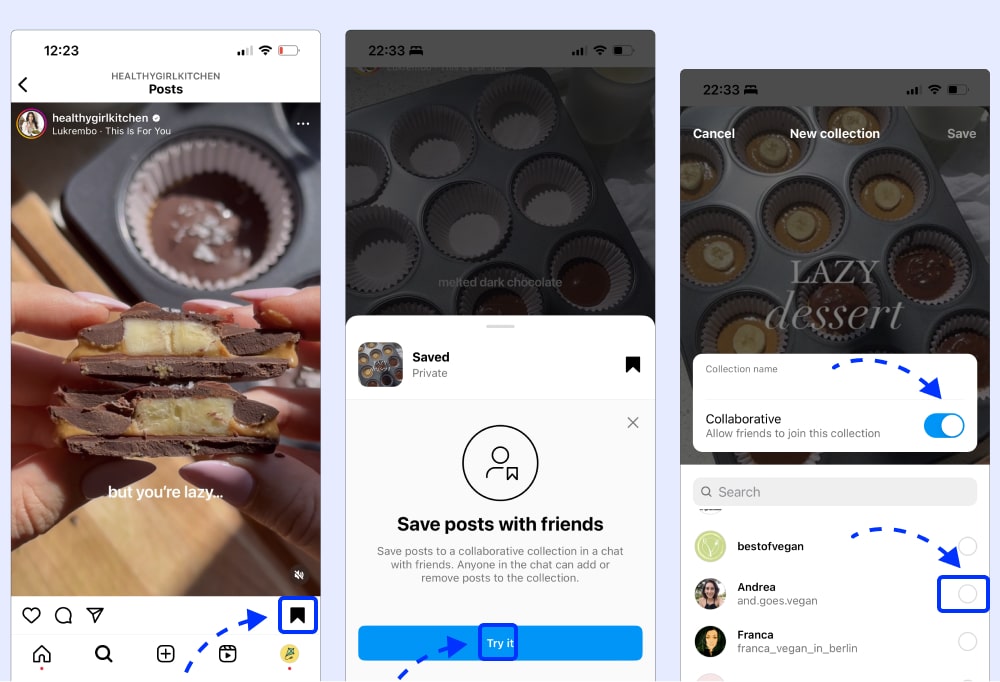 Tips for Making the Most of Shared Collections
To create an engaging and interactive experience, keep these tips in mind:
Be open to feedback: Encourage your friends to share their thoughts and ideas in the comments section of the Collection.
Assign roles: Designate a "leader" or "curator" for each Collection to ensure it stays on track and maintains focus.
Stay active: Regularly update and maintain your Collections to keep the content fresh and interesting.
Make posts save-able: Saves are one of the most popular ways for UGC creators to grow their reach. So make sure to add elements or create posts that are part of a topic that a person will love to save in a collection.
Frequnelty Asked Questions About Instagram COllections
Can I share an existing private collection with others?
No, private collections you've already created cannot be shared with others.
Can I make a collaborative collection private after creating it?
No, a collaborative collection cannot be made private after it's created.
What happens when I add a private account's post to a shared collection?
Only people who follow the private account will be able to see the post, and the person who uploaded the post won't be notified.
What happens when a post's creator deletes it from a collaborative collection?
The post will no longer be visible to anyone on Instagram and will also be removed from the collaborative collection.
Can anyone delete a collaborative collection?
Yes, a collaborative collection can be deleted at any time by anyone who can view it, regardless of who created the collection. People in your chat will be notified when a collection is deleted.
Are Instagram collections private?
By default, Instagram collections are private, and only you can view the posts saved within them. However, when creating a collaborative collection, it will be shared with the selected friends, and they will also have access to the saved posts.
How to find collections on Instagram?
To find your collections on Instagram, navigate to your profile and tap the three horizontal lines (menu) in the top-right corner. Next, tap "Saved," and you'll see all your created collections.
Key Takeaways
Instagram Collections provide an incredible opportunity for users to express themselves, connect with friends, and explore new ideas. By sharing your Collections and collaborating with friends, you'll not only create a more enriching experience, but you'll also strengthen the bonds between you and your loved ones.
So why not give it a try?
Start sharing your Instagram Collections today, and unleash the power of collaboration!
FYI: You can embed Instagram widget automatically with EmbedSocial's social media aggregator and UGC platform. Start a free trial and display your social media widgets now.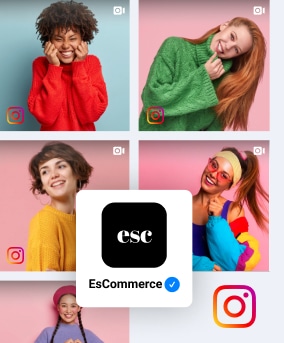 Embed Instagram widget on your website automatically!
Try EmbedFeed and display Instagram content from your feed, mentions, or hashtags on your website.
All PRO features | Cancel any time.