Since its release in October 2010, Instagram has become a social media powerhouse. With over a billion active users, it's safe to say that you're missing out if your business isn't on Instagram. And if you're not using all of the features Instagram offers, you're doing your business a huge disservice.
Speaking of features, one of Instagram's secret-power features – especially for businesses – definitely is Instagram Highlights. This article will show you some killer Instagram highlights examples by brands you can use for your business.
Let's take a look.
FYI: You can embed Instagram stories widget automatically on your website. Start a free trial and display your Instagram stories now.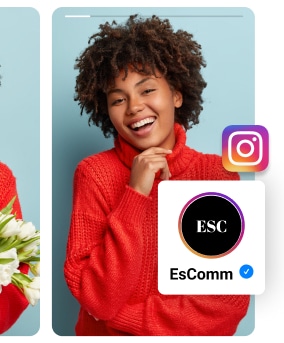 Display your Instagram stories on any website automatically
Try EmbedStories to capture, save, and embed Instagram stories on any website!
All PRO features | Cancel any time.
Reasons why you should utilize Instagram Highlights
Instagram Highlights are a way of collecting and organizing your stories into themed collections. You can have as many Highlights as you want, and each one can have as many stories as you like. This feature is a great way to showcase your brand's personality and keep your followers up-to-date on what's happening.
And this is just the tip of the iceberg – read on to find out why using Highlights is one of the best decisions you'll make in your marketing and/or social media strategy.
Highlights don't disappear like Stories
There's a reason why this is at the top of our list of reasons why you should use the feature. We all know that Instagram Stories disappear – heck, we also know Facebook Stories are the same. And there's nothing wrong with them; we for sure love them.
However, don't you just hate it when those 24 hours expire and your story becomes history? You're grateful for those few lucky ones that managed to take a peek at them and maybe even engage with them. As a business, though, you want to get your content in front of as many people as you can as long as it's possible.
Instagram Highlights allow you to keep that content forever – or, you know, until you decide to get rid of it. By adding a Story to a Highlight, you can rest assured that it will be there for a very long time.
Great for categorizing your content in a structured way
In close relation to the first reason, this second benefit is a special guilty pleasure for all you perfectionists out there.
With Highlights, you can organize all your stories neatly and in a structured way by naming folders with eye-catching names and cover images. This way, you will never lose sight of the specific Story or Highlight and eliminate anything unnecessary that shifts focus from your brand strategy.
They make it super-easy for your audience to navigate
Speaking of organization, this is especially important for your audience. Nobody wants to swim through the clutter of anything and everything you want to put out there. It's hardly likely that someone interested in your sock collection would also want to learn more about the best lawnmowers out there.
With Highlights, you make it extremely easy for your visitors to navigate to a category they are interested in so they can start looking through the collection of your Stories.
Perfect for branding
Since Highlights are located right under your bio, they are among the top things visitors see when they click on your Instagram profile. If that's not the perfect place to show more of your brand's personality, then I don't know what to tell you.
Highlights are absolutely perfect brand exposure because you can put your logo, your brand's mission, values, and what you have. The features even allow you to get creative and make Instagram Highlight covers of your own without spending big bucks on graphic designers.
They increase traffic
Your Stories can be a great way to switch attention from your Instagram profile to your website – thus, increasing traffic to that site.
Recently Instagram allowed all users to add Link Sticker to their stories, which means now they can easily link to their websites and increase traffic.
And by adding a clickable link to your Stories and them to Highlights, you increase your chances for a greater number of visitors to your main website.
Now let's get down to business and see what we can learn from these Instagram Story Highlights examples.
Instagram Highlights for Events
The feature is great for event announcements because, unlike Stories, Highlights will save them until you decide to remove them. Let's say you're hosting a speaking event, a podcast, or any type of meeting with your audience.
You can always promote it with a Story or a photo, and that's fine. However, chances for everyone in your network to see and save the date are pretty slim. With Highlights, not only can you push the event announcement to the top of your profile, you will rest assured that the number of people seeing it – and acting upon it – will be way greater.
See how WebSummit uses this feature to create an album specifically for events. They have Highlights for first-time goers called Essentials, which is a very useful starting point for new visitors to the event.
Instagram Highlights for Real estate agents
Another of the great Instagram Highlights examples of boosting your business's online presence and marketing strategy comes from the real estate niche. What better way to showcase the perfect property for potential buyers than displaying it on your profile?
They can access your collection anytime they want without worrying the details will disappear. It's easier for them to be up-to-date with the market and for you not to waste time explaining one and the same thing to different clients.
See how realtor Stephanie has different Highlights albums for some personal stuff, office life, and the homes she's selling?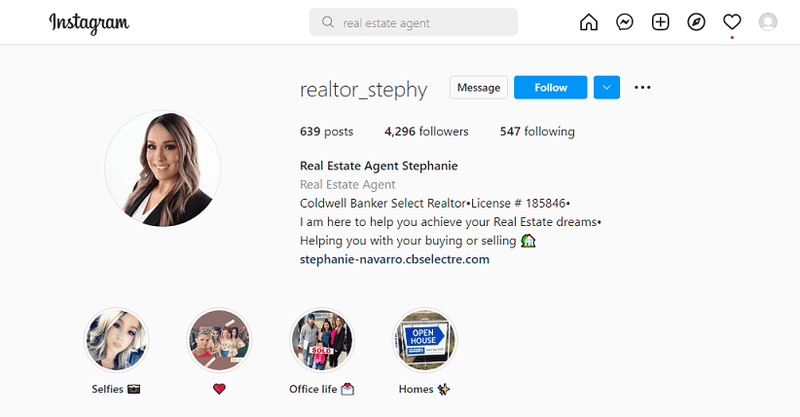 Instagram Highlights for Showing products
This one is probably the most logical of all Instagram Story Highlights examples. You've got things to sell, you put them on display for customers to see. Think of this feature as a shopping window for your products.
Instead of wasting time showing your products to each interested party individually, you can use Highlights to show your assortment and let your potential buyers come to you when they're interested. The great news is that they access your collection of products anytime without having to worry if they'll be able to see them after 24 hours.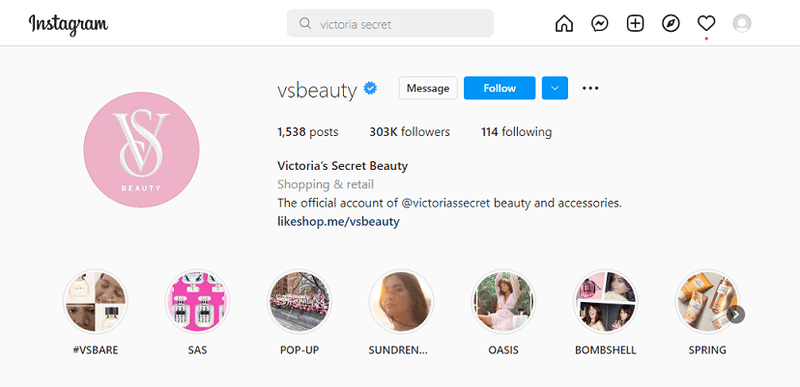 Instagram Highlights for Customer Reviews
Instagram Highlights can also be very practical when you want to showcase your good work for your customers and how satisfied they are with it. Whether you sell goods or services, having a special place just for your happy customers' reviews is always a great idea. And even better, put them where everybody can see them clearly.
Here's an example of our own Instagram profile. Notice how we have an album just for testimonials?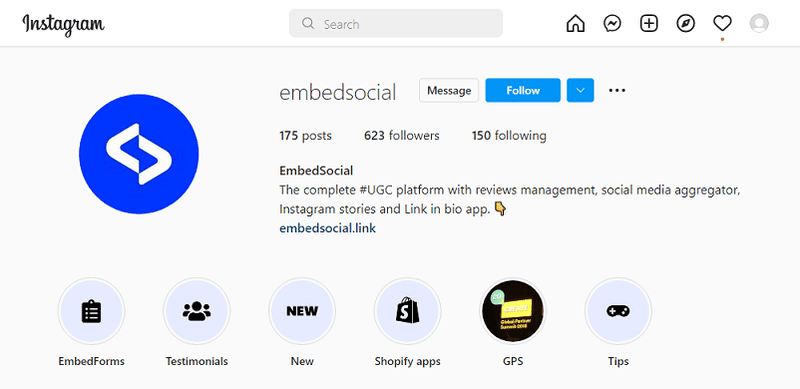 And here's how it looks inside: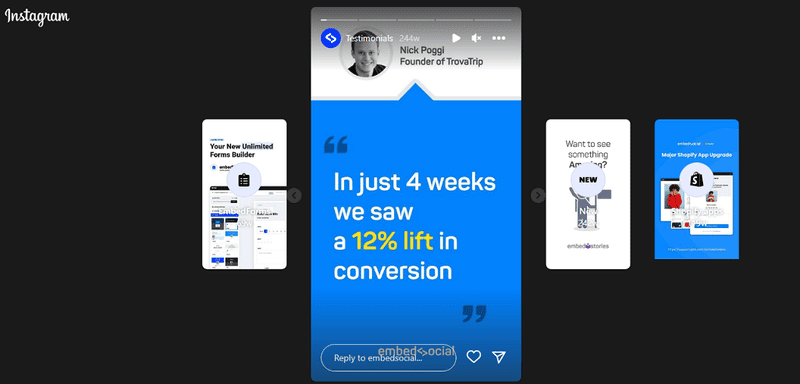 Instagram Highlights for Promoting marketing campaigns
This is what all is about, really. You use social media to elevate your brand's authority, online presence, and integrity. And you do that by leveraging your social media marketing campaign.
To make that campaign even more successful, double down on your great offers, discounts, new releases, etc., and make them as visible as possible.
Mac Cosmetics is one of the great Instagram Highlights examples that you can see out there. Their Highlights albums are dedicated to specific products where you can see more details on each offer: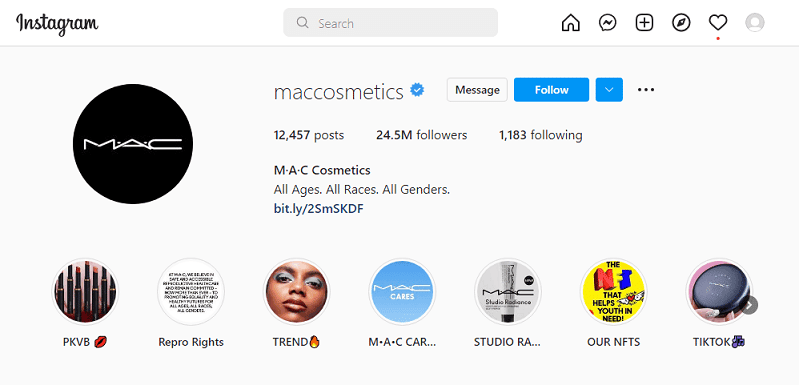 For example, here's an example of their album just for their Studio Radiance line: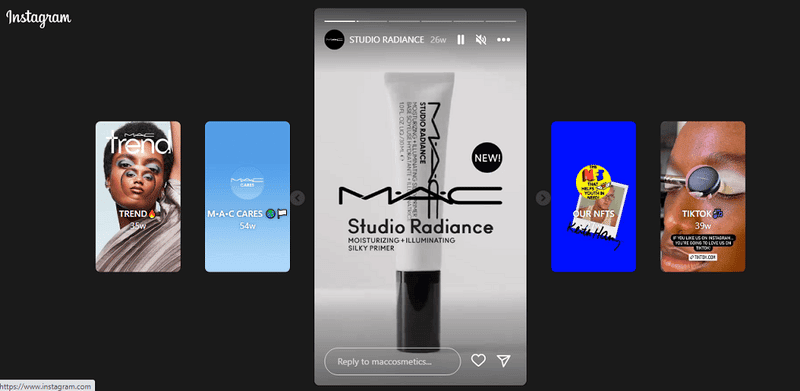 Instagram Highlights for Getting Email Subscribers
Don't be fooled that the only examples of Instagram Highlights are great just for showing products. You can also use them for indirect (inbound) marketing. Inviting people to subscribe to your email newsletter is just one of them.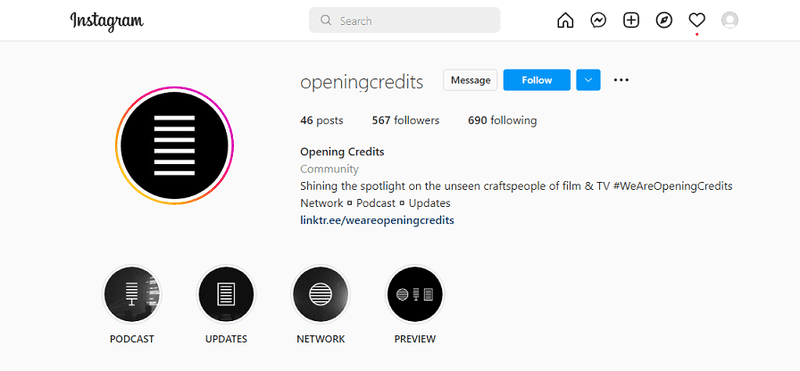 When you create the Highlight, make it easy for them to navigate to a page where they can subscribe. This example from Opening Credits is quite straightforward. When you click on their Updates Highlights, you'll see this: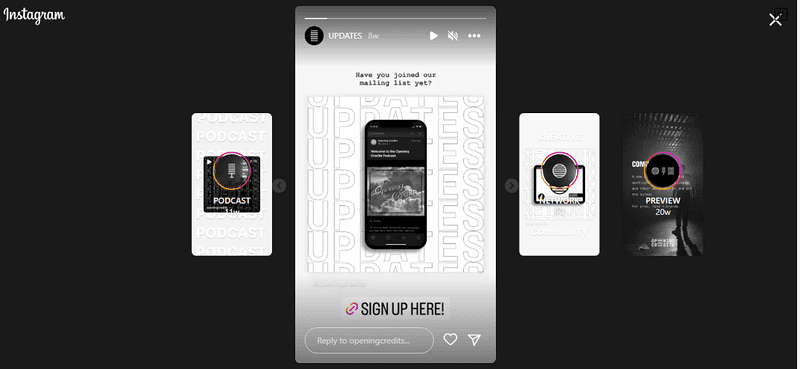 All you have to do then is just visit the link they've provided, and voila – you've become a subscriber.
Instagram Highlights for Employee Advocacy
If you're running a campaign for your business, you already know how important it is to have your employees in your corner. Employee appreciation can go a long way in increasing your brand's credibility and trustworthiness.
That's why it's important to create time and space for your loyal team and show them they are appreciated. Take a look at Almanac Beer below. They have a couple of albums where they showcase teamwork and employee recognition: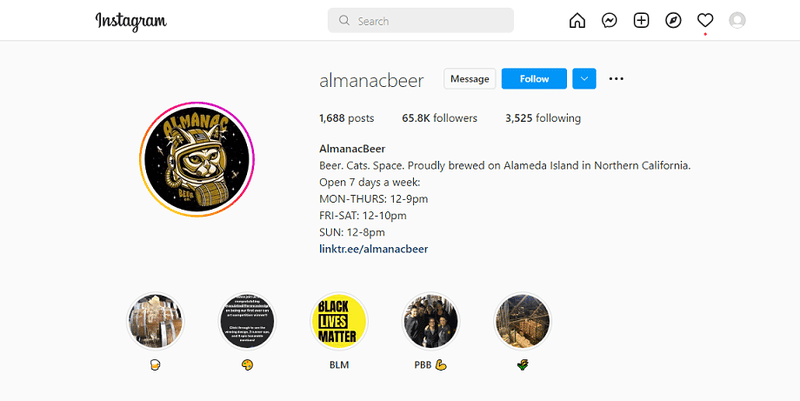 Instagram Highlights for Customer Appreciation
Staying in the lane of recognition and appreciation, don't forget your customers. They are the reason why your business exists in the first place, so it's at least common courtesy to show them your gratitude and respect. They'll reward you double for that.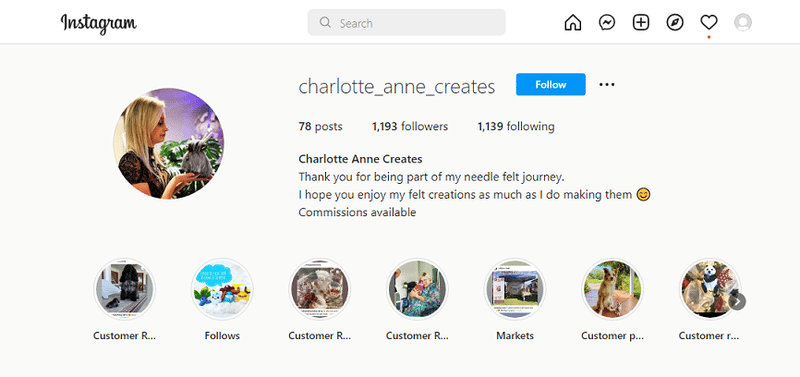 See how this account has included several albums with customer reviews but also an album dedicated to showing gratitude to its loyal followers and customers: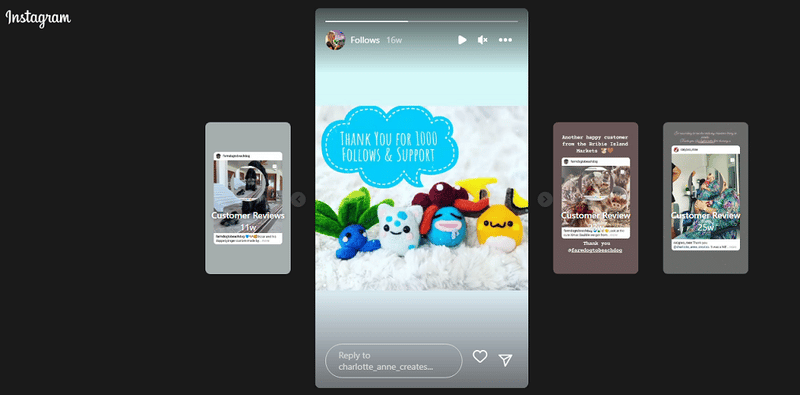 Instagram Highlights for non-profit and good cause
Another great example of Instagram highlights comes actually from outside the regular business niche. If you're running a charity organization or a non-profit, creating a Highlights album can help you raise funds and awareness for your cause much quicker than a regular 24-hour Story or a single post.
See the example below – they've included podcasts, merchandise, news updates, and even real survivors. Plus, they've used cover images that are very simple to navigate through.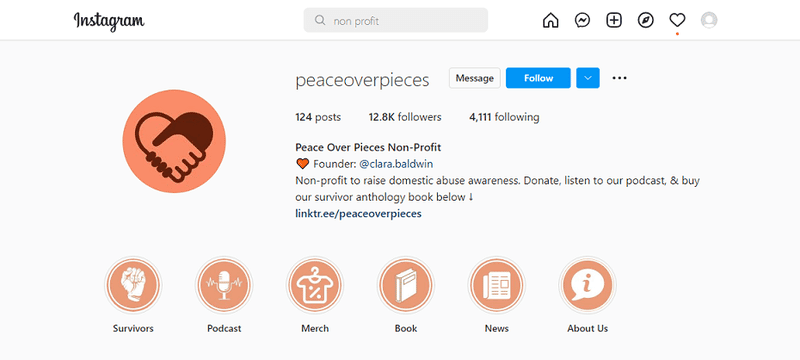 Instagram Highlights for brand collaboration
A great marketing strategy is to find an already-established individual or brand with which you can collaborate and increase your brand's visibility. You can collaborate with other brands or influencers and let your audience be aware of it – just like Red Bull does it: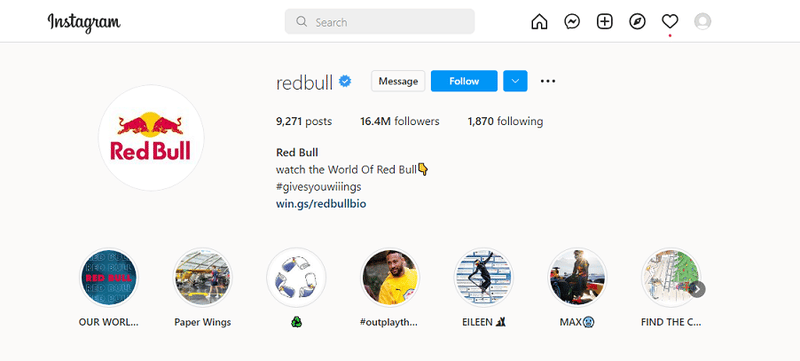 Once you open one of the Highlights dedicated to a specific influencer, you will see all the stories that the Red Bull Instagram account shares from the collab with that particular influencer. For example: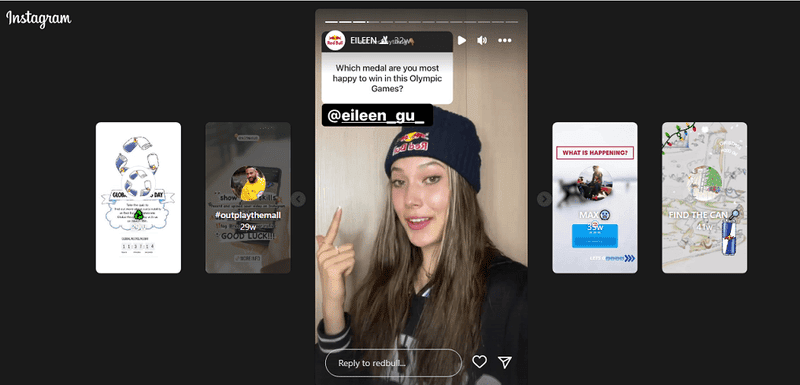 Instagram Highlights for answering your customer FAQs
Make sure you're there for your customers whenever they have a question to be answered. Or better yet, make it easy for them to find the most common problems related to your business and a solution for them.
You can use Highlights to give answers to FAQs that are most commonly asked when it comes to products or services in your niche or your brand in particular. That way, people will be grateful that you respect their time and make it easier to reach a purchasing decision.
One of the very active Q&A accounts is the Instagram Creators profile which is dedicated to answering FAQs about using the Instagram platform and sharing Instagram tips about new features.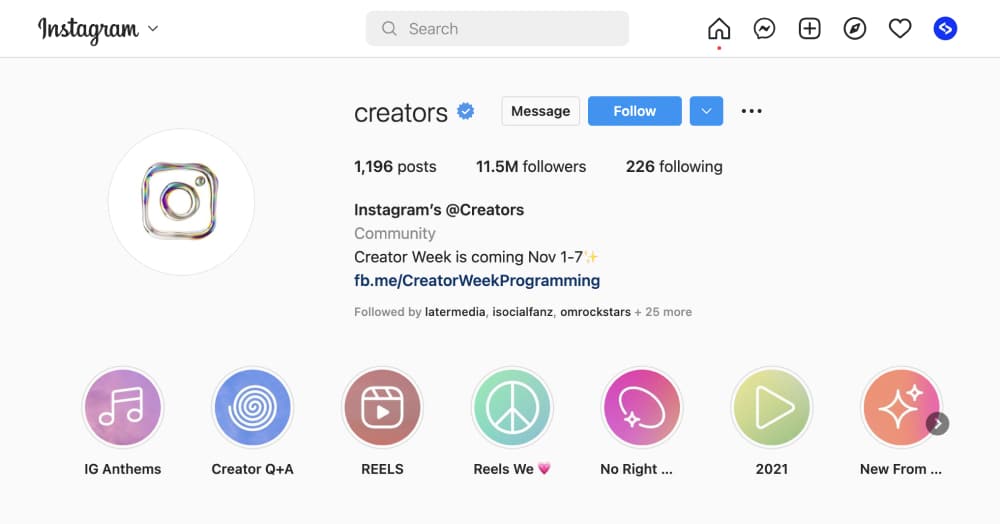 When you click on the Highlight cover photo, you can see all the latest videos that Instagram does with successful creators and answer some of the burning questions that most of the creators have.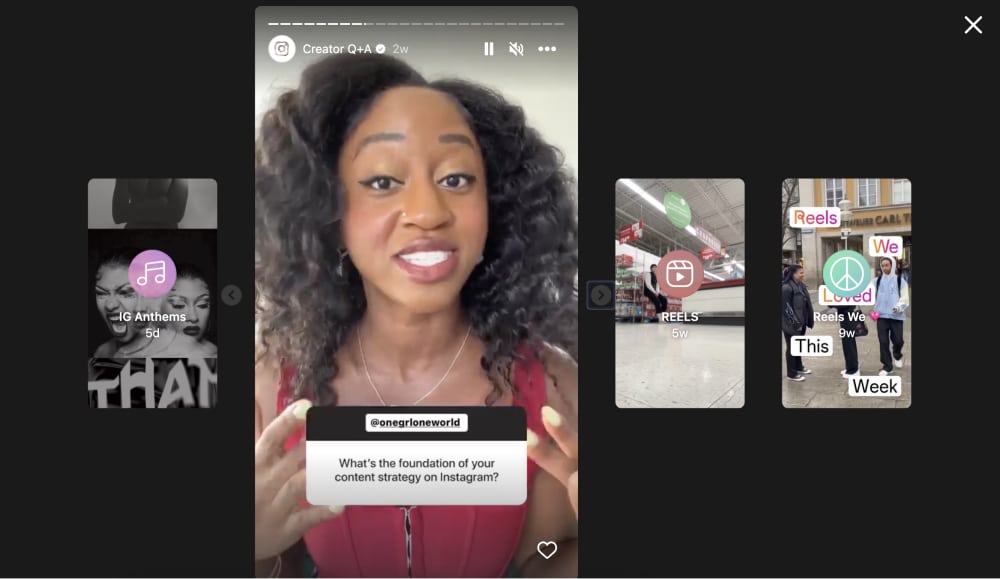 Instagram Highlights for promoting blog posts
As I mentioned earlier, Highlights aren't just for directly showcasing your products. You can educate people on your brand or service by navigating them to your own blog site, where they can learn more about you and certain issues they might be dealing with.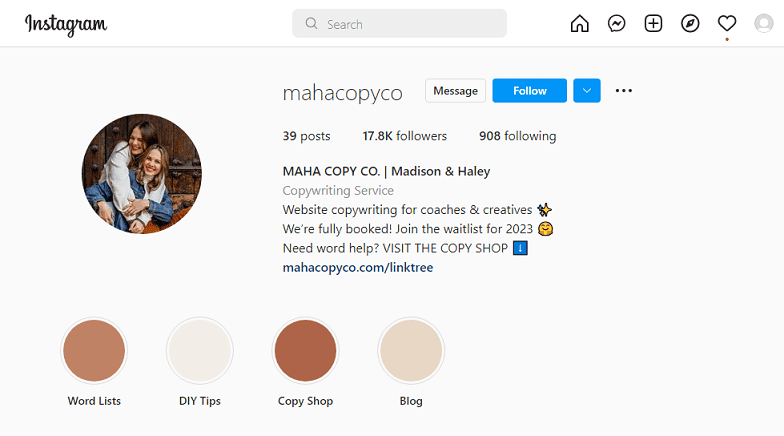 Notice how this copywriting service has used Highlights to lead its audience to a blog post where they can learn more about describing their brand's voice: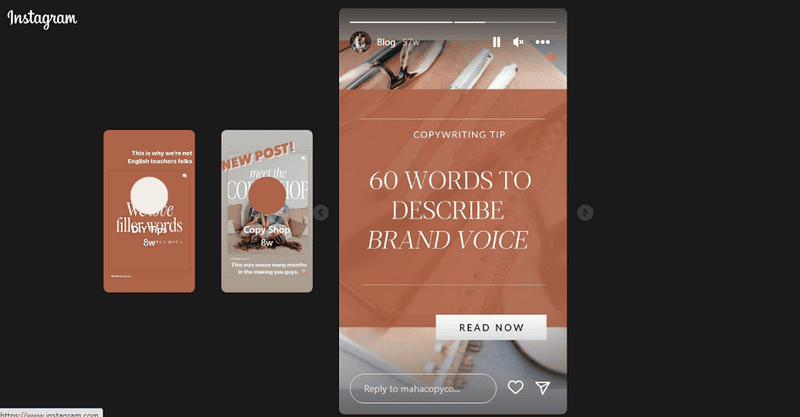 Instagram Highlights for tips and hacks
Everyone's favorite: the tips and hacks section. If you're a serious business, you know you need to have these in your content strategy. Educate people on how they can make their lives easier by sharing free tips and tricks from your trade.
Here is an example of how Sprout Social shares tips in their Instagram Highlights: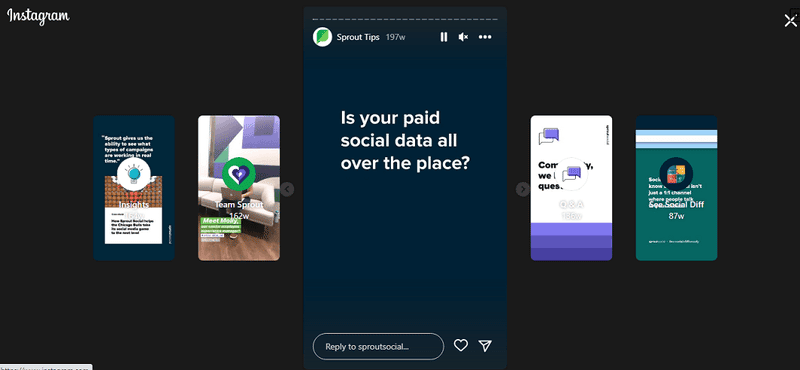 Instagram Highlights for branded hashtags
Many brands out there are leveraging their marketing strategy by creating their own branded hashtag. This way, they engage more people in their campaign while increasing awareness for their brand.
This is an example of how the sports brand Fila is using its own hashtag, #UpTheBeat: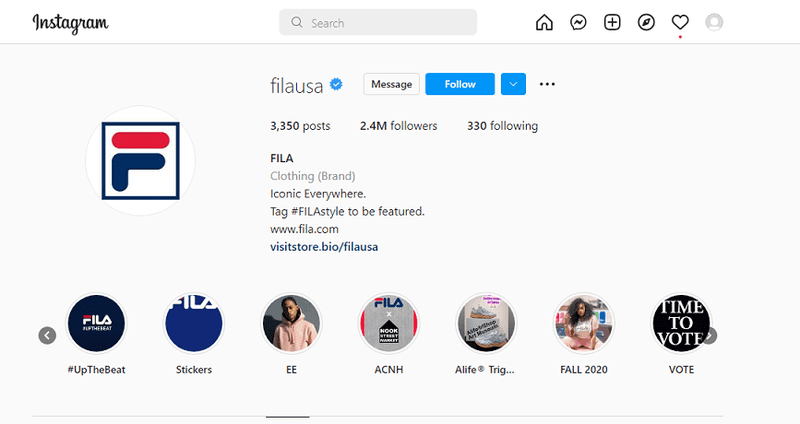 Once you open the Highlight, you will see the content that was published by UGC creators who use the hashtag, and Fila re-shared it with their followers to have the chance to see it.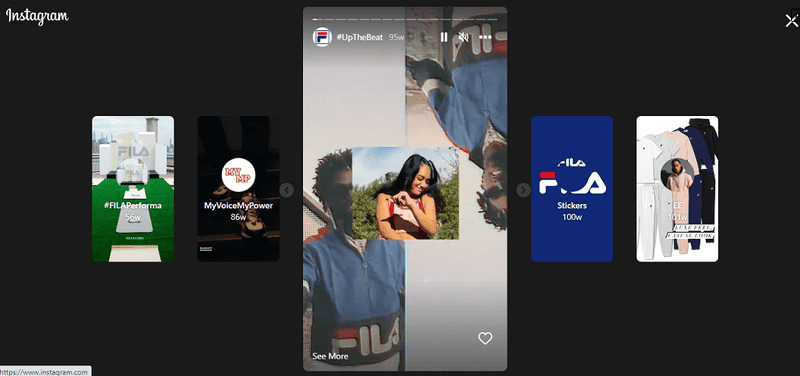 Instagram Highlights for user-generated content
Remember when I said appreciate your customers, they'll thank you twofold. Well, this is the time when it pays off. If your customers are satisfied with your brand and feel appreciated by you, they will be more than happy to participate in your marketing campaign.
Encourage them to create their own content where they show your products or how they use your services and use all that material to create a Highlights album. This way, other potential customers will have more trust in you because they see testimonials from real people instead of just commercials from you.
Here is an example of how Loreal Paris shares the UGC content created by influencers they collaborate with. The Highlight is named 'Family', and they also use very unique instagram highlight icons.
How to embed Instagram Highlights (we will write this)
FAQs about Instagram highlights
What's the difference between a story and a story highlight?
A Story's life span is only 24 hours, while a Highlight does not have a time limit on your profile.
Are Instagram highlights popular?
Yes, they are extremely popular and have become an integral part of every Instagram profile, especially for businesses.
What is the limit to adding highlights on Instagram?
You can add as many Highlights as you wish, but you're limited to 100 Stories per Highlight.
How many Instagram highlights should you have?
You can have an unlimited number of Instagram Highlights.
Are people notified when you post a highlight?
No, your audience is not notified when you add a Story to an existing Highlight or create a completely new Highlight.
Key Takeaway
Hope these Instagram story highlights examples will inspire you to get the most out of this feature.
From what we can see, brands usually use Instagram stories highlights to:
To show new followers the behind-the-scenes stories of the brand
To feature user-generated content and customer testimonials
To give a sneak peek of new products
to show off the company culture
5. To provide valuable information such as tips, tricks, and tutorials
It's definitely one of the best ways to inform people about your brand and keep your followers up-to-date on what's going on. This way, you show credibility and professionalism not just as a brand but as a thought leader as well.
And if you want to level up and play in the big leagues, we suggest you try a tool like EmbedStories that can display your Instagram Stories on any website.
FYI: You can embed Instagram stories widget automatically on your website. Start a free trial and display your Instagram stories now.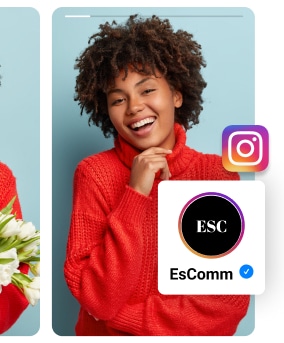 Display your Instagram stories on any website automatically
Try EmbedStories to capture, save, and embed Instagram stories on any website!
All PRO features | Cancel any time.