Hashtag campaigns have successfully popularized Instagram, becoming a go-to utility for social media marketers. They also help create more opportunities for engagement, which leads to more customers and sales.
Let's overview some of the most successful hashtag examples by well-established brands over the years. That way, you will get ideas about how to create a successful Instagram hashtag campaign for your brand.
You can analyze how these brands tried to achieve campaign objectives, how they got great ideas, or how they've recognized a great hashtag campaign opportunity. Also we will show you how to use the social media aggregator – EmbedFeed and expand the reach of your campaign on your website.
#ShareACoke by CocaCola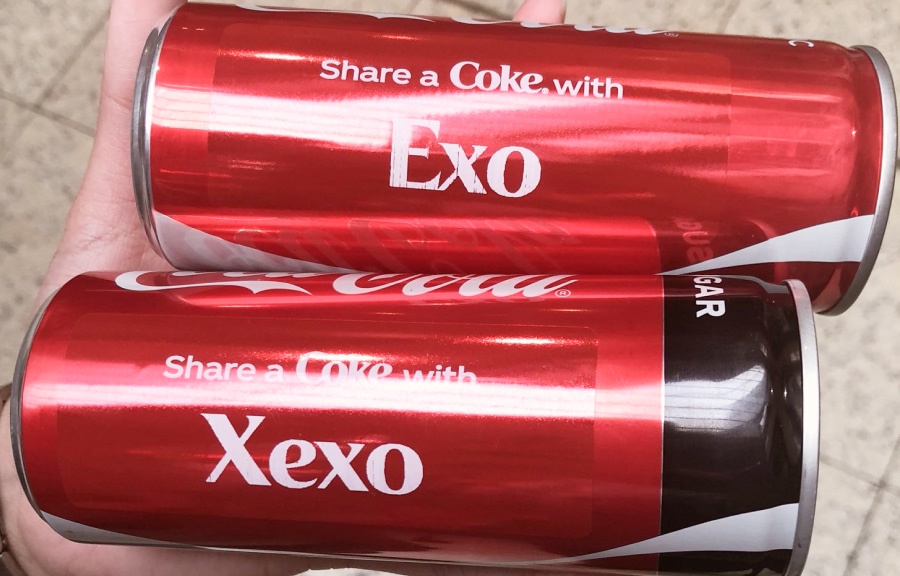 Campaign objectives: The primary aim of this campaign was to increase Coca-Cola sales during the period the campaign was active and to connect with its consumers.
The #ShareACoke campaign was first launched in 2011 in Australia and then spread worldwide. The campaign changed the traditional Coca-Cola wrapping around the bottle to "Share a Coke with…" and different popular names. With this simple label twist, this campaign created a more personal connection between the brand and the consumers. Additionally, it encouraged consumers to share moments of happiness on social media.
Results: This is a hashtag example that achieved great sales results. Specifically, 1.25 million more teens tried Coca-Cola during the summer. Also, 496,000 accounts used the hashtag #ShareACoke on Instagram, plus 89,000 used it on Twitter. Therefore, the campaign not only increased sales but also increased brand awareness by creating a viral hashtag, which inspired probably one of the most iconic user-generated content campaigns.
#DoUsAFlavor by Lay's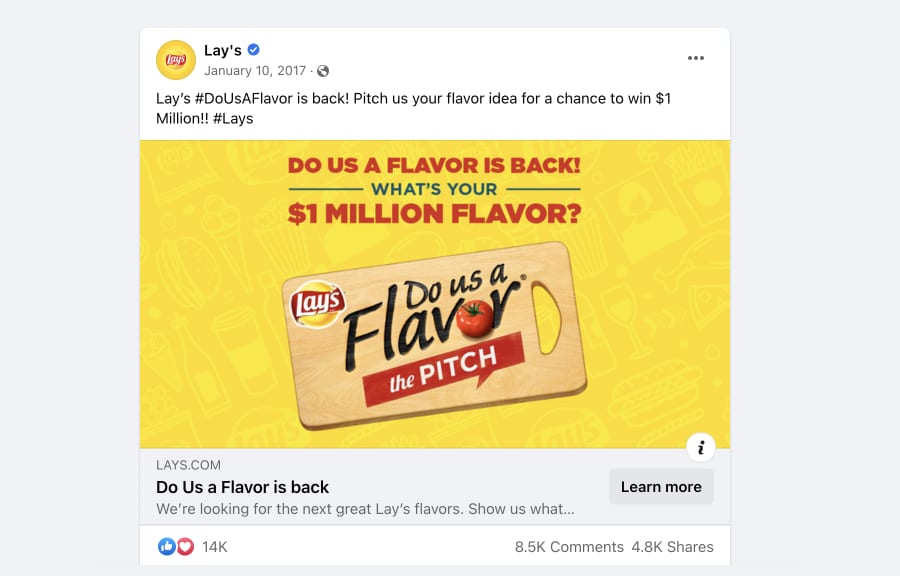 Campaign objectives: Engaging with potential consumers and getting them excited about the new upcoming Lay's flavor.
То цreate a successful hashtag campaign, they leveraged the crowdsourcing technique to come up with their next sensation chips flavor. They launched the hashtag campaign in the USA in 2012, and at that moment, they had 22 different Lay's flavors which were displayed on a pop-up store in Times Square.
Everybody who wanted to enter could easily submit their new desired flavor through their Facebook Page. After that, they would receive a generated image of a customized Lay's bag with their desired flavor so they could share it on social media.
What was even most exciting for contestants was the enticing prize for the winner. The person who came up with the winning Lay's flavor got $1 million or 1% of the chip flavor's sales for that year.
Lay's narrowed it down to three flavors to select a winner, and the winner was selected by a public vote. This made this hashtag example fair to everybody and involved a wider audience and spread brand awareness even more.
Results: Lay's had a 12% rise in year-on-year sales and 22.5 million Facebook page visits. Moreover, this hashtag campaign brought the brand 3.8 million flavor suggestions in 10 months. Hence, this became one of the most successful hashtag examples to promote a new product.
#PutACanOnIt by RedBull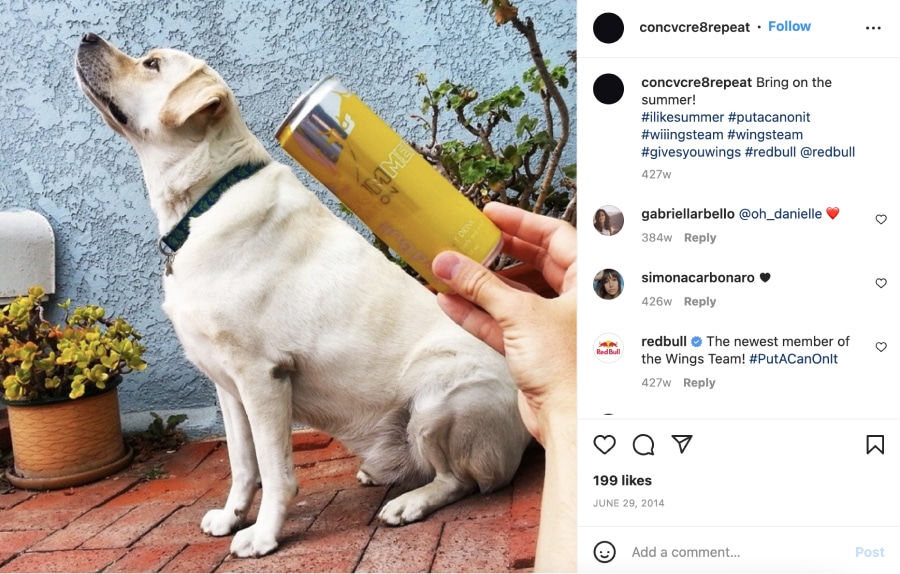 Campaign objectives: Increasing brand awareness, collecting UGC, and connecting with consumers.
#PutACanOnIt is an Instagram and Twitter hashtag campaign that was inspired by consumers instead of being launched by the brand. Back in 2014, a user posted a picture on Twitter holding a Red Bull can in front of a Mini Cooper parked far away. The result was Red Bull Mini, and the brand fastly recognized the opportunity to create an amazing hashtag campaign.
Thus, RedBull later encouraged its customers to get creative and do the same with RedBull cans. To get all content in one place, they've become with a branded hashtag #PutACanOnIt, and in a few months, they've got almost 10 000 user-generated content on Instagram and Twitter.
Unlike other hashtag examples from brands of this size, the best part of this campaign is that it was 100% organic and 99% user-driven.
Results: The hashtag campaign showed that Red Bull product is a part of everyday life. They connected with their audience and received thousands of UGC content. RedBull got prominent attention on Instagram and Twitter without spending a large budget.
#WorthSaying By L'Oreal Paris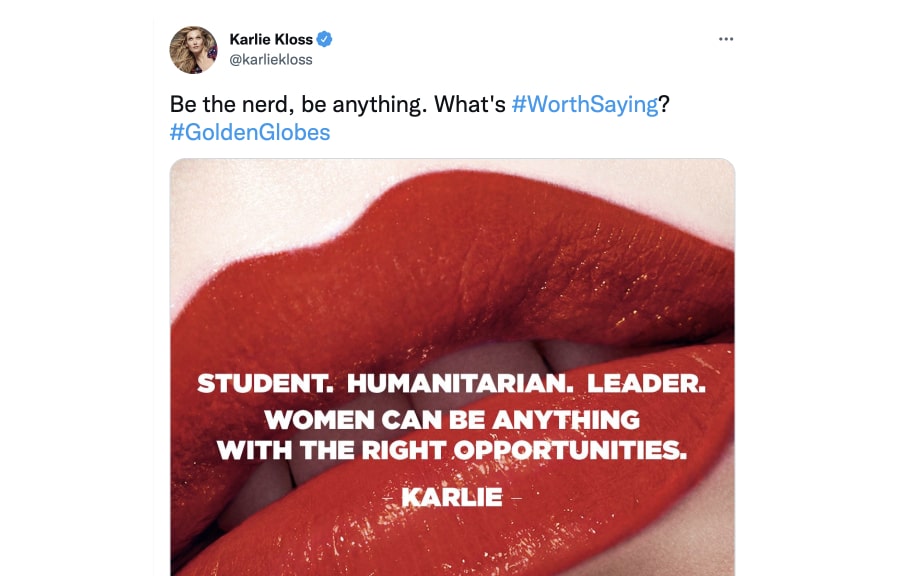 Campaign objectives: Increasing engagement, starting a conversation about sexism both on and off the red carpet, and acknowledging L'Oreal as a brand that stands for women's rights.
L'Oreal Paris is the world's number one beauty brand, also known for women's empowerment and embracing women's uniqueness and worth. The brand's slogan is "Because you're worth it", and their campaign "Worth saying" once again proves that this brand stands for the worth of all women.
The brand was a sponsor at the Golden Globe in 2016 and leveraged the opportunity to create a positive and powerful campaign for women worldwide. Years before that, many anti-sexism campaigns encouraged journalists to ask actresses about their work instead of what they wore on the red carpet.
L'Oreal liked the idea and created a campaign for women on and off the red carpet to use the hashtag #WorthSaying to make their voices heard. The campaign was supported and promoted by women celebrities, and it soon got big attention and a large audience.
Because the hashtag campaign was launched during Golden Globes, it got maximum exposure and got people talking about the movement worldwide.
And lastly, the hashtag #WorthSaying, not only ties with the brand's slogan "Because you are worth it", but it's also clear and simple to use to start a conversation, go beyond beauty, and say what really needs to be said. Hence, this campaign is one of the most successful hashtag examples of all time.
Results: The campaign got over 1 billion PR and social impressions. It also doubled the follower growth on L'Oreal's social media accounts and 3x increased engagement.
#ShareYourEars by Disney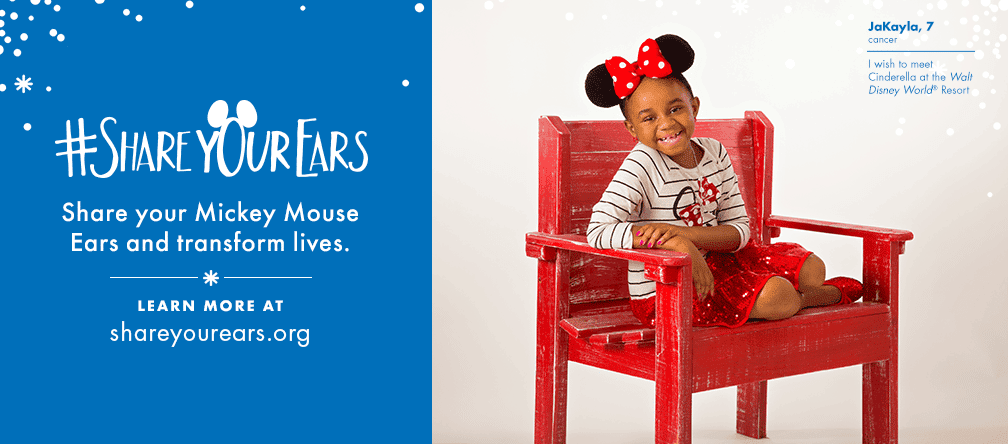 Campaign objectives: Supporting a good cause while increasing brand awareness and collecting UGC.
#ShareYourEars is recognized as one of the best hashtag examples because the campaign objective was to raise money for a great cause.
The campaign was launched by Disney, and they donated $5 to Make-A-Wish for every shared photo with Mickey Mouse ears on social media. Besides a photo with the ears, people had to use #shareyourears in the post.
The hashtag campaign took place on Instagram, Twitter, and Facebook and didn't have any specific target demographic. Yet, the campaign was very successful, and it got over 1.7 million posted photos using the hashtag #ShareYourEars.
People love brands that care about people and stand for essential movements and topics. Therefore, besides brand awareness and presence on social media, with such campaigns, brands always increase sales and get loyal customers.
Results: The campaign got over 54 million media impressions. That resulted in a 13% audience increase on Instagram and a 15% audience increase on Facebook. Also, during the campaign, Disney got a 330% increase in reach and a 554% increase in engagement. Furthermore, it made roughly $150,000 in revenue from selling mouse ears during the campaign.
In the end, instead of donating 1 million dollars to the cause, due to the campaign's success, the brand doubled that amount and donated 2 million dollars.
#LikeAGirl by Always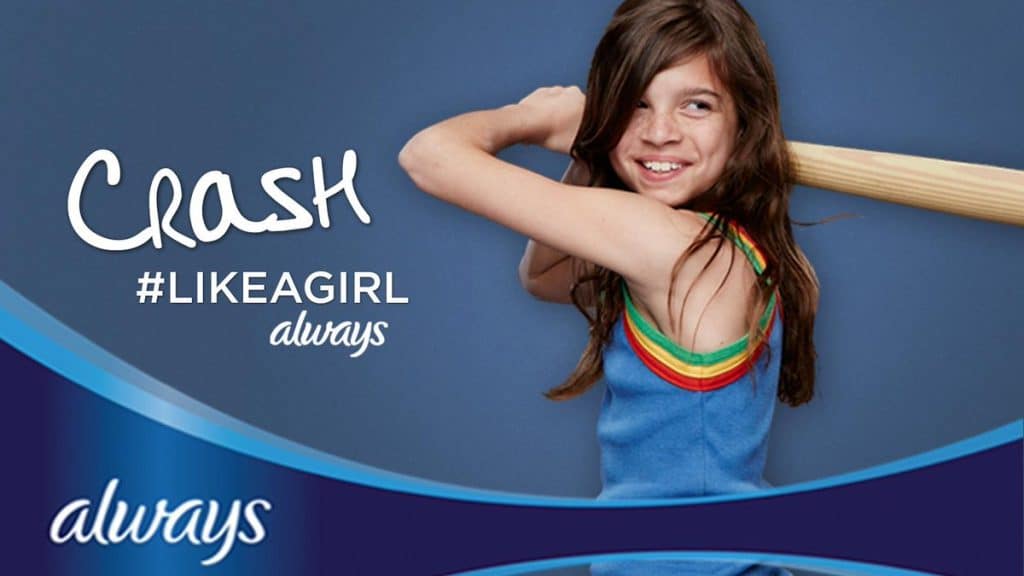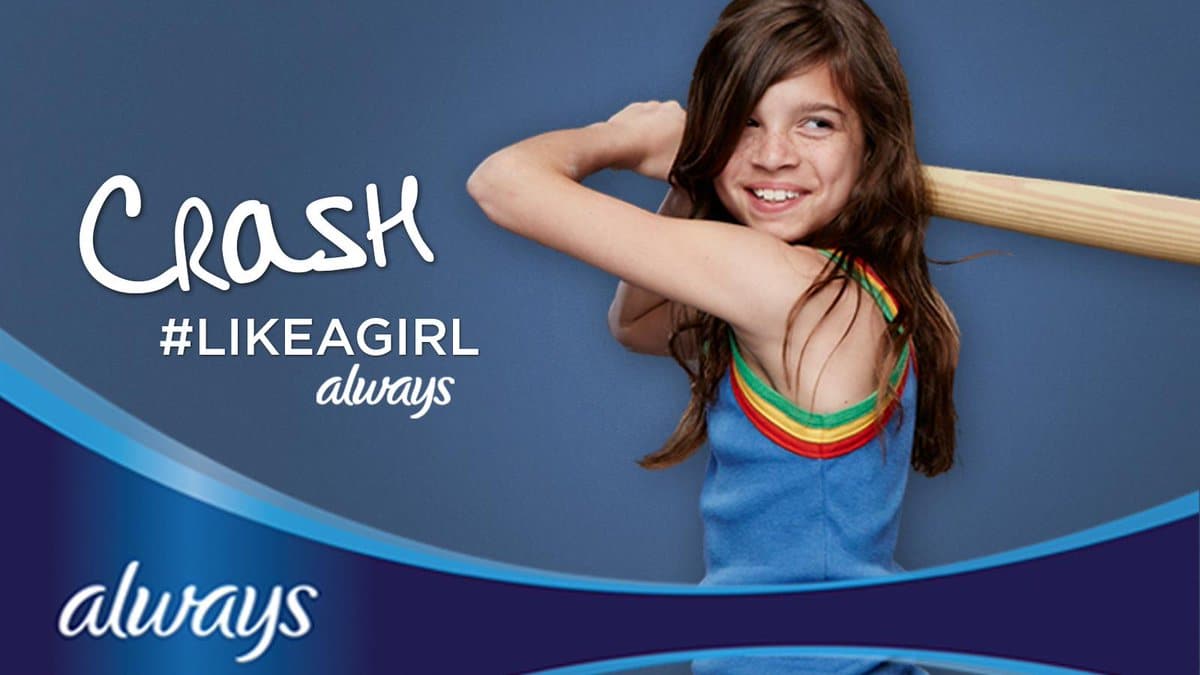 Campaign objectives: Dismantle gender stereotypes and disprove the phrase "Like a girl" from being used as an insult. Establish Always as a brand that stands for gender equality.
This is another one of the hashtag examples created around a good cause. The campaign involved a series of video clips that were posted on different social networks and aired on television. All the videos revolved around women (especially teenage girls) and targeted the problems of a lack of support, low self-esteem, and a need for empowerment.
Always highlights all negative stereotypes concerning women's and girls' capabilities and skills. Moreover, it talked about the outcomes these stereotypes produce on the mentality and self-image of girls who are growing up and struggling to find self-actualization.
The main video was an interview with male and female teenagers about what it looks like to run #LikeAGirl and it aired during the Super Bowl in 2015. This video demonstrates the stereotypes promoted by society and the contrast between the young girls' idea of doing something "like a girl".
Results: The main video was watched over 90 million times. Also, the hashtag #LikeAGirl had over 177 thousand tweets in the first three months and the assessed changes in the purchase intent claimed by the target consumers demonstrated a rate of growth that was 50% higher than initially anticipated by the marketers.
#WeAccept by Airbnb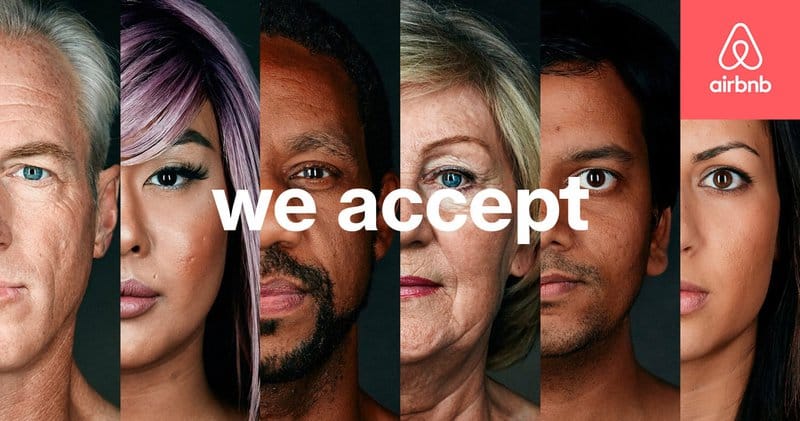 Campaign objectives: Show company values to consumers and combat misconceptions about Airbnb approving discrimination.
Airbnb started to fight discrimination back in 2016 when one guest accused Airbnb of being a company of discrimination. That's when Airbnb invented a policy requiring users to agree to treat everyone in the community respectfully. This means regardless of race, sex, disability, and religion.
Soon after that, the United States announced a travel ban for the Muslim majority in several countries. Airbnb knew this is the right time to be loud and fight against this injustice and started the #WeAccept campaign.
The hashtag campaign that showed acceptance and support for immigrants and refugees was also promoted to Super Bowl with a 30 seconds video. Thus, it immediately got big exposure.
Results: By sharing the message on Super Bowl and starting a conversation, Airbnb already achieved the campaign objective. Yet, the KPI is best measured with the number of social media posts with the hashtag #WeAccept, and only on Twitter during the half of the Super Bowl the hashtag was tweeted 33k times.
#IceBucketChallenge by ALS Association
Campaign objectives: Raise funds for finding a cure for ALS disease and spread awareness about ALS.
Another hashtag example that wasn't an idea of the brand but came from an external source is #IceBucketChallenge. Three patients came up with an idea to challenge themselves to combat ALS disease with a funny and easy challenge. Their goal was to leverage the power of social media and spread awareness about ALS.
The challenge dared people to dump a bucket of ice water over their heads. Then, post a video of the challenge on Facebook, challenge 3 other friends and donate. This hashtag campaign was supported by politicians, actors, musicians, and other celebrities, and it's been lauded as one of the most successful social fundraising efforts of all time.
However, there were also lowlights of this hashtag campaign. Even though the challenge went viral, there were still some people who didn't know it was done for a cause and that they had to donate some money. The campaign lost its message when traveling from one country to another, yet, it achieved the campaign objectives.
Results: ALS Association Annual Funding was boosted by 187%. There were 3.17 million videos created in 159 countries worldwide. This is one of the best hashtag examples, mostly because not a single penny was spent, but 220 million was raised.
#MyCalvins by Calvin Klein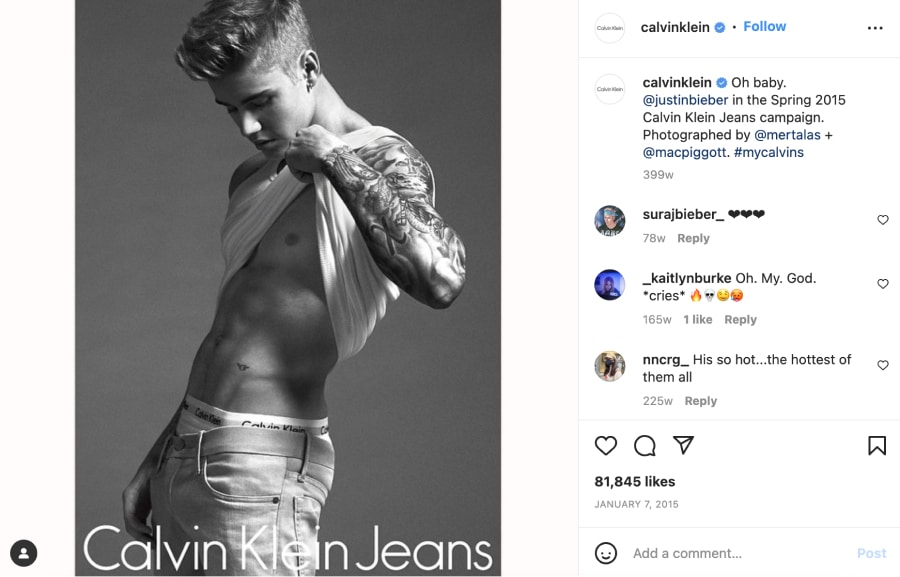 Campaign objectives: Collect UGC content, and encourage brand interaction on social media.
Calvin Klein underwear is already an iconic item for years now. A top band of underwear sticking from your jeans, stealing whole attention as a statement piece, is recognizable from Calvin Klein campaigns through the years.
However, one of the most successful hashtag campaigns actually began in 2014. Then it got renewed when Justin Bieber tweeted a picture of him posing for the Calvin Klein campaign using the hashtag #MyCalvins.
This was the beginning of the campaign since it got 145,000 retweets from fans posing in their Calvin Klein items to fans taking pictures of billboards to media reports on everything happening. It got huge attention, and everybody was becoming a part of the hashtag campaign.
Later, besides the fact that the hashtag campaign went viral organically, many other celebrities became a part and increased the exposure of the #MyCalvin campaign even more.
The groundbreaking moment of the campaign featured bodies of all sizes and shapes and celebrated individuality and community. The world was united in celebrating each individual's uninhibited freedom and strength when it comes to challenging the stigmas and the status quo surrounding body image.
Because it proved to be very successful, the hashtag is still an ongoing campaign on social media.
Results: #MyCalvins campaign also took Instagram by storm, and at that time, it had 179,000 photos on Instagram using the hashtag.
#FriedChickenDay by KFC
Campaign objectives: Get UGC content and increase brand recognition.
Unlike most hashtag campaigns that are active continuously for weeks or months, this is a hashtag example of an annual campaign. Years ago, the hashtag #FriedChickenDay. became a trend on Twitter as many food enthusiasts enjoy fried chicken.
Since it's related to their business, KFC leverages the opportunity and organized a hashtag campaign with discounts, promotions, and engaging prospects on #FriedChickenDay.
Even though the campaign received many criticisms from animal activists, this is still one of KFC's most successful hashtag campaigns. This reminds marketers that great marketing ideas are all around us. All you need to do is to keep an eye on the latest trends and find a way to pivot them around your brand.
You don't need to become with a new hashtag. You can simply tap into a hashtag that is already trending if there is a chance to associate with your brand.
Results: KFC significantly increased the social media presence of their brand and got thousands of UGC content.
#LetsDoLunch by Domino's Pizza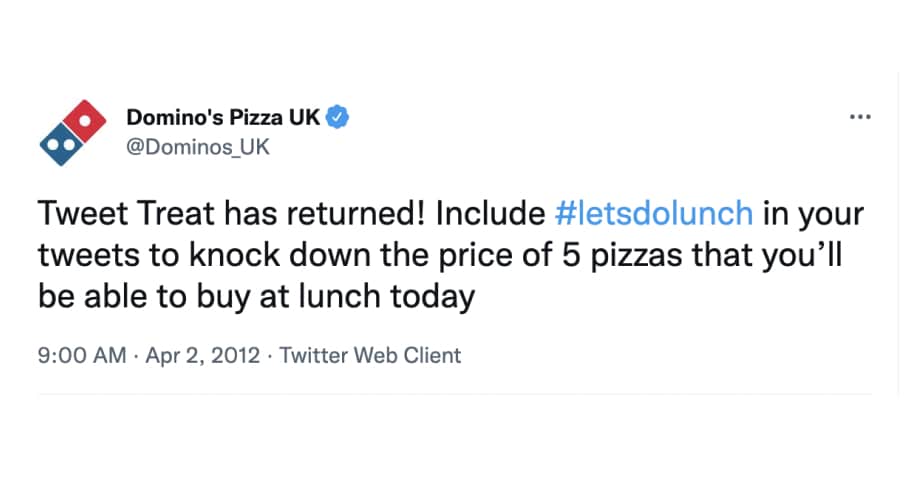 Campaign objectives: Engage with customers, increase brand awareness, and increase sales.
This simple hashtag example proved to be successful in no time. Everybody who wanted to be a part of it had to tweet something using the #LetsDoLunch hashtag, and they would get a discount on their order.
Who can resist a discount when you only need to write one tweet from the comfort of your home? Therefore, the hashtag became trending on Twitter, and customers were so happy to get a discount on their favorite pizza.
Results: This hashtag campaign is a perfect example of how promotional giveaways can spice up a campaign. Moreover, it got customers involved with Domino's and increased the company's presence on social media.
Expand the reach of a hashtag campaign by embedding it on your website
When you're ready to launch your hashtag campaign, be sure to promote it across all of your channels-including your website. Adding a simple embed code to your site will ensure that anyone who visits can see and join in on the conversation.
To get started, create an account with a social media aggregator platform that will help you aggregate all the content the users published with the campaign hashtag. You can try EmbedFeed and get a custom embed code for your website to pull in any content with your chosen hashtag.
Once you have the code, simply add it to your website where you want the campaign to appear.
It will also allow you to customize the look and feel of the embedded content, so be sure to take advantage of that to match the look and feel of your site. Click below to try it out:
---
FYI: Embed Instagram widget automatically with the social media aggregator and UGC platform by EmbedSocial. Click below to try it for free: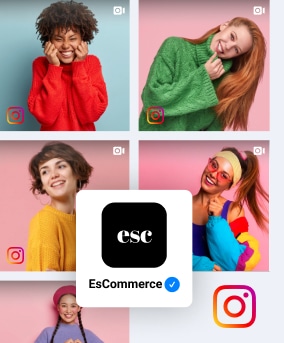 Embed Instagram widget on your website automatically!
Try EmbedFeed and display Instagram content from your feed, mentions, or hashtags on your website.
All PRO features | Cancel any time.
How to create a good hashtag for the campaign?
When planning a hashtag campaign, the first and most important step is to develop a good hashtag. A good hashtag will be catchy, relevant, and easy to remember. Here are a few tips for coming up with a great hashtag:
Keep it short and sweet. The shorter, the better – you want people to be able to remember and use your hashtag easily.
Make it relevant to your brand or campaign. The more relevant your hashtag is, the more likely people will be to use it.
Use keywords that describe your campaign. This will help people find your campaign when they're searching for related topics on social media.
Keep it unique. Try to avoid using common words or phrases that could be used for other purposes.
Test it out before you launch. Make sure your hashtag is easy to spell and use, so people don't get confused when they see it.
Once you have a great hashtag for your campaign, promote it everywhere! Include it in your social media posts, on your website, and in any other marketing materials. Encourage people to use it when discussing your brand or campaign online.
With some planning and creativity, you can create a hashtag campaign to help you reach your marketing goals. Good luck. Here are related articles to help you choose your next hashtag for a social media campaign:
FAQ about hashtag campaigns
What makes a good campaign hashtag?
All of the above-mentioned hashtag examples have two primary ingredients: a good choice of a hashtag and a solid strategy.
A lot of factors come into play when you're deciding what to use as your hashtag. You need to think about whether your audience will be able to understand the hashtag and whether they'll remember it.

The other thing to consider is that the hashtag is often meant to be used on several social media platforms. You don't want your audience to see a hashtag that isn't relevant or well-used by other people. Thus, you need to check if the hashtag was already being used in other contexts.

Another thing to remember from the above hashtag examples is that you need to ensure that your campaign hashtag works for your brand. Suppose you're launching a new product line, for example. In that case, it's probably not very useful for you to use #newproductline on Instagram. That way, it's unlikely that anyone would immediately associate your brand with new product lines. Instead, you can use a hashtag that will include the name of your new product.
How to start a hashtag campaign?
Now that you've decided to launch a hashtag campaign, it's time to start planning! Here are 5 steps to get you started:

1. Choose your hashtag. Make sure it's catchy and easy to remember.

2. Decide what kind of content you'll be sharing. Will it be photos, videos, or both?

3. Create some engaging content to get people interested in your campaign.

4. Share your content on social media using your chosen hashtag.

5. Monitor your campaign's progress and adjust accordingly. Keep track of how many people are using your hashtag and what kind of response you're getting.

By following these steps, you'll be well on your way to launching a successful hashtag campaign!

Read more on how to start a hashtag campaign on Instagram.
How to promote a hashtag on social media?
Once you have a hashtag and a campaign, it's time to promote it. Although there are many ways to do so, here are a few proven ways to promote a hashtag campaign on social media.

Share your hashtag across all your social media platforms.
This might seem obvious, but you will be surprised how many brands forget to leverage this simple tactic. Share posts using your hashtag, and put the hashtag as the main focus of your post by encouraging your audience to use it as well. Lastly, remember to insert your hashtag in your profile bio, website, etc.

Collaborate with influencers
Influencers have an enormous following, and their followers are often interested in what the influencer is doing in their daily lives. If you reach their followers, you can share your message in a way that will resonate with them. More about brand collaborations >

Leverage Instagram stories
Share the story behind your hashtag and encourage your followers to use it. Instagram stories are available only for 24 hours. Thus, you can share stories related to your hashtag daily. If your hashtag campaign last longer, you must remind your followers from time to time to be a part of your campaign.

Moreover, if you have promotions for people who use your hashtag, make sure to highlight that in your Instagram stories. Also, when someone uses your hashtag, repost their post on your story. You can also post ideas to inspire your followers to create content for your hashtag campaign.

Feature your campaign in public events
This might not be an option for every brand; however, if you have this opportunity, make sure you take it. The campaigns of Always and L'Oreal are perfect hashtag examples of how such events can bring more attention to your campaign.
Key Takeaways
Hashtags are just fancy keywords with # in front of them. Thus, they are an important part of social media marketing. They are used to help people find content and facilitate conversations on a popular topic.
Hashtags in social media are used by brands to connect with their audience in more ways than just posting content on social media. This way, brands can participate in conversations that people are already having through their network while also creating content that is relevant to those conversations.
Accordingly, hashtag examples are popular because they allow brands to reach many people at once while also allowing their followers to connect and build a community. This is especially important if brands aim for viral content, which makes hashtag campaigns a great way to do just that.
Furthermore, you can use hashtag campaigns for businesses of any size, big or small. Also, it is easy to implement your overall marketing strategy across all social media platforms.
---
FYI: Embed Instagram widget automatically with the social media aggregator and UGC platform by EmbedSocial. Click below to try it for free: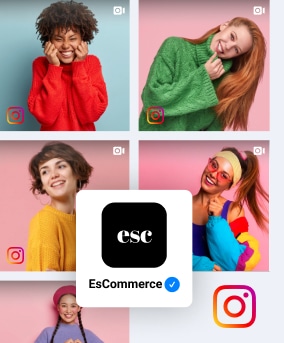 Embed Instagram widget on your website automatically!
Try EmbedFeed and display Instagram content from your feed, mentions, or hashtags on your website.
All PRO features | Cancel any time.