You may have seen some content creators discussing UGC (user-generated content), UGC content creator jobs, and the money they are getting from them on TikTok or Instagram.
Many creators publish lessons on developing a UGC portfolio, land content creator jobs, and clips regarding UGC examples that have led to paid partnerships.
In this article, we are going to list the 21 UGC creator services you can provide and get paid for.
What is a User-Generated Content Job?
A UGC job is a type of work that involves creating user-generated content for different client content needs.
UGC jobs can include writing blog posts, reviews, and other types of content on websites or social media channels.
User Generated content jobs can also involve creating videos or images for the same purpose. UGC creators typically receive payment in the form of royalties, commissions, or other forms of compensation for the UGC they create.
Benefits of UGC Jobs
Content creators are extremely valuable for trusted media brands looking to increase their presence online and improve their social media strategy.
From improving brand recognition to engaging with customers, content creators help businesses reach their goals and drive success. They are capable of creating photo and video content that is highly relevant to the brand and have the ability to bring a personal passion to the content creation process, especially working with the brands they love.
Increase Brand Awareness
Content creators can create compelling stories that captivate audiences and draw attention to a brand's mission and values. This helps build a larger following and boost brand recognition.
Engage With Customers
Content creators can help create conversations with customers to encourage feedback, respond to queries, and resolve issues quickly. This helps foster relationships between the brand and its customers, leading to higher customer satisfaction.
Increase Website Traffic
Quality content created by content creators can help attract more website visitors and increase site traffic = the number of people visiting a website. This can increase revenue, as more visitors result in more sales and conversions.
For networks such as Instagram and TikTok, users add a link directly to the product they are promoting or links on their link in bio pages where their followers can click and navigate to the brand's product pages or the campaigns' landing page.
If you are interested in a professional link in bio tool, try Feedlink for free.
Boost SEO Rankings
Experienced content creators follow SEO guidelines and can create branded content containing keywords and phrases relevant to the target audience's search queries. This helps boost a company's SEO rankings, making it easier for potential customers to find the brand.
Establish Authority
A social media content creator can create digital content that speaks to a target audience's needs and interests, helping them establish their business as an authority in their field. This builds trust between the brand and its customers, which can lead to more sales.
Generate Leads
Content creators can create content that is designed to generate leads. They do this through content strategies such as giving away freebies, creating opt-in forms, and encouraging readers to click on marketing links.
Create fresh website content
Content creators are often hired to create content for a brand's website. This can include anything from blog posts and articles to social media bios and product descriptions. All of this content helps the brand's website stand out, attract more visitors, and generate leads.
List of Content Creator Jobs you can Do
1. Travel Photography
This might be one of the most popular UGC creator jobs. If you study abroad or are a traveler, you can be the right candidate for this job, and it won't require any prior experience.
Many travel-related brands work closely with freelance creators who know their pain points and are able to show beautiful destinations. These include Naviglo, Jet2holidays, Tourism Whistler, eDreams, and many others, ranging from big industry influencers to just-starting international students.
Travel photography might be a great partnership if you have an active Instagram account.
2. Travel Videos
While travel photography is a good service to provide with an Instagram account, social video production for the travel industry might be better if you're more of a TikTok person.
If you own a drone, you could create magnificent UGC travel videos and shoot high-quality content about unreachable places, which is something that travel brands would really appreciate.
3. Beauty Product Reviews
One industry that has embraced the creator economy the most is the beauty industry. One of the key reasons for this is that influencer and UGC marketing performs best in a visual format, and beauty is extremely visual.
According to the latest UGC statistics, there were 1,288 beauty influencers active on Instagram, 1,090 on YouTube, and 167 on TikTok.
Read more: How much money do IG influencers make?
4. Skincare Product Videos
Skincare is a segment of the beauty industry that has been skyrocketing recently. The audience now appreciates honest reviews instead of plain ads. That's why skincare product video creators need to try the product, use it for a few weeks, and give their honest opinion.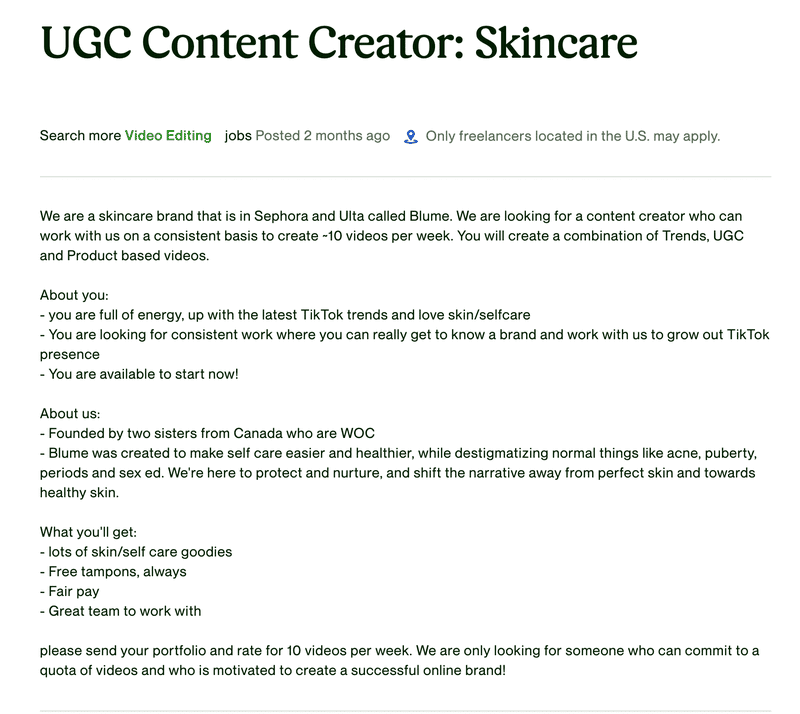 5. Amazon Product Photography
If you have an eye for photography and an interest in Amazon products, then Amazon product photography could be a perfect fit for you.
This job involves taking detailed photos of products that will be sold on Amazon, ensuring that the images are high-quality and accurately represent the items. It can also involve modeling or styling shots for certain products, such as clothing or jewelry.
Amazon products have different styles based on industry, so focusing on a particular niche is also a good idea.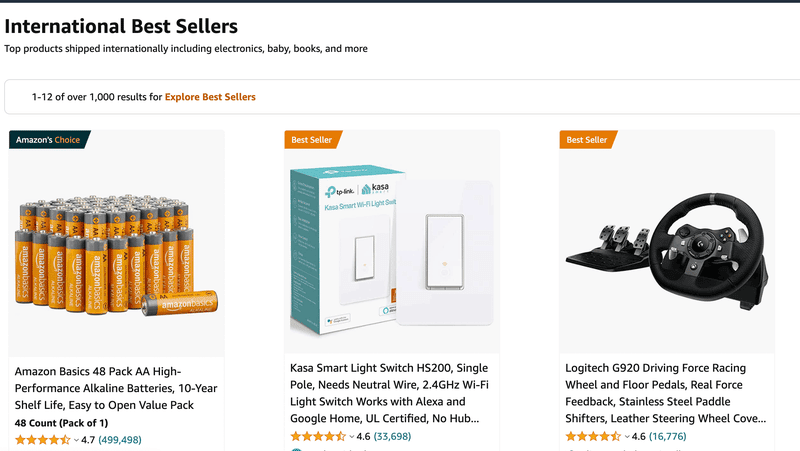 6. Shopify Product Photo and Video Content
Shopify is another popular website where sellers list their products for sale. As with Amazon product photography, Shopify product photography involves taking pictures of items sold on the platform and ensuring they are high-quality and accurately represent the items.
However, this job may also involve creating additional content, such as lifestyle shots or creating video content, to make it easier for customers to visualize using the product in their lives.

7. Makeup Ecommerce Photography
If you're a beauty & skincare creator, this is another gig you could do. Brands will recognize that you are experienced with photographing makeup products, and you could be a good fit to do makeup eCommerce photography.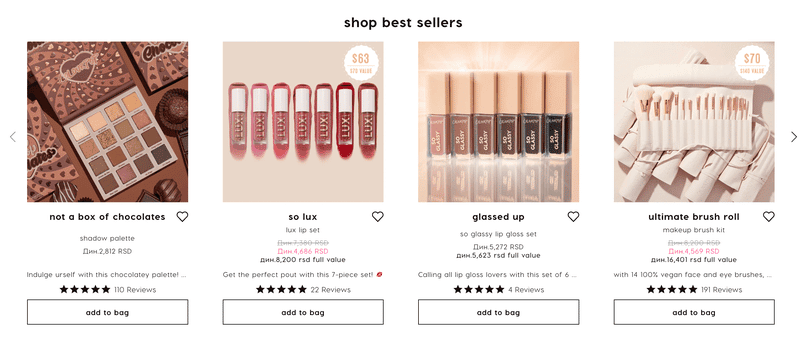 8. Unboxing Videos
Unboxing videos have become increasingly popular over the past few years as more people look for ways to show off their purchases online. This type of work involves recording yourself unboxing various products and giving viewers an inside look at what comes in the package.
Unboxing videos help shoppers decide if a product is worth purchasing by providing an up-close look at what they will be getting before they buy it. It also shows the great packaging of a product, and it's great for brands who invest in how their product looks.
If you're on TikTok, this might be the perfect UGC job for you as popular brands are looking for ugc creators all the time.
9. Dog Product Videos
If you love dogs, this might be your UGC job! Dog product videos involve creating content showcasing pet products used by real owners and their furry friends.
These videos demonstrate how these items work in real-life scenarios and help potential customers decide whether investing in them for themselves or their pets is worth investing in.
10. Extreme Outdoor Videos
If you're an adrenaline junkie, consider filming your extreme outdoor adventures and sharing them on YouTube or other video platforms. You can make money from sponsorships, product placements, affiliate links, and more.
11. Drone Videos
One popular type of UGC creator job is creating videos with drones. Whether it's sports, nature, or cityscapes, creating stunning drone videos is becoming increasingly popular and more in demand.
12. Outdoor Products Review
If you love the outdoors and know a lot about outdoor gear, why not make money doing what you love? You could review camping tents, trekking poles, backpacks, sleeping bags—you name it!
13. Lifestyle Videos
People nowadays like to watch lifestyle videos on YouTube and other social media networks because it gives them insight into someone else's life without leaving their homes. If you're comfortable being in front of the camera and want to document your everyday life for others to see.
14. Crypto Blog & Video Reviews
Cryptocurrency is growing in popularity, and providing reviews for cryptocurrency exchanges or wallets could be a great way to get started as a UGC creator. You could also review new coins or ICOs that come out each week.
Most UGC for crypto is published on relevant websites, personal blogs, or YouTube. Crypto enthusiasts are also active on Telegram and Discord, so these should be the platforms you use most frequently.
15. Gaming Blog & Video Reviews
Video games are incredibly popular among all age groups these days, so it only makes sense that gaming reviews would be one of the demanded UGC creator jobs.
Write up detailed reviews of the latest releases and share them with your followers on social media sites like YouTube or Twitch. Discord is also a popular channel where you can promote your social media marketing content.
16. Creating video content on TikTok
With over 800 million active users worldwide, TikTok is one of the hottest social media sites today, and it is no surprise that TikTok UGC is also becoming very popular.
If you have a knack for creating engaging short-form videos, consider leveraging TikTok trends to reach new audiences and promote products or services through creative campaigns.
17. Food Photography and Blogging
Everyone loves food, making food photography and blogging one of the most popular UGC creator jobs. Create mouthwatering recipes, share your favorite restaurant dishes, or give helpful tips on how to cook meals on a budget.
Food brands will start calling you and offering UGC jobs as you grow your audience and engagement. Your audience will also have confidence in your reviews as you are sharing a lot of valuable content.
All you need is a camera, some good recipes, and an eye for detail to become a successful food blogger. Food bloggers can make a great living from their work, from restaurant reviews to stunningly photographed dishes.
18. Fashion Content
Are you an expert on fashion trends? Why not start your own blog advising on the latest styles? Whether it's clothing pieces or accessories, fashion recommendations are always in demand as people look to stay up-to-date with their looks.
This will also provide you visibility with fashion brands you can partner with to create great content. Recent research discovered that about 25% of all sponsored content on Instagram is related to fashion.
This means many fashion UGC creator jobs are out there, and fashion creators are in high demand.
19. Finance Reviews
Financial products such as investment funds and bank accounts have become increasingly popular in recent years, which means that finance reviews are in high demand too! Money isn't always easy to understand, but you can help by reviewing different financial products and services like investments and insurance policies.
Share your opinion on different financial products and services and help others make informed decisions about where to put their money.
This will make you a relevant creator to partner with companies looking for ugc creators in finance.
20. Sports opinions/bets
Do you love sports? Then why not start your own sports opinion blog or podcast? Share your thoughts on upcoming games or bet on who will win each match – either way, there's sure to be an audience for it.
There are UGC creator jobs too! Many fitness influencers nowadays create UGC for brands like Nike, Adidas, UEFA, etc.
21. Supplement video reviews
Supplements have grown exponentially in popularity over the past few years – especially amongst fitness enthusiasts – meaning supplement video reviews are becoming increasingly sought after by people looking for reliable information about which supplements work best for them!
How to Find UGC Jobs?
Finding UGC content creator jobs can be a great way to flex your creative muscles and make money. Fortunately, plenty of online resources offer these types of opportunities. Here are some great places to find UGC jobs:
1. Freelance Sites
Sites like Upwork and Fiverr provide platforms for freelancers to find content creation gigs. You can find many jobs here, from blog writing and social media management to creating video tutorials and more.
2. Social Media Platforms
Many brands and businesses now use social media such as Twitter, Instagram, YouTube, and Facebook to reach out to potential UGC content creators. Brands are constantly looking for ideas to enrich their daily social media calendar, so It's worth keeping an eye out for these opportunities, as they can be lucrative.
They can create a giveaway or acontest where they usually ask for people to join with their content, and if you win, you might get a long-term relationship with that brand.
3. Networking
Reaching out to others in your network can be a great way to find UGC content creator jobs. You never know who might have an opportunity or may have heard of someone looking for a content creator. Ask around, and don't be afraid to put yourself out there!
4. Job Sites
A variety of online job sites list UGC content creator jobs, such as Indeed and Glassdoor. Take the time to research different sites and find the ones that work best for you. You can narrow your search by location, experience, and salary categories to find the best job for your needs.
5. Become part of an agency or network
Joining an agency can help you find UGC content creator jobs quickly. Agencies have their o allow professionals to join their creative team or find jobs posted by companies they've worked with before and find new ones. It's a great way to find the right opportunity for you.
Read more: How to start a UGC agency?
6. Influencer collaboration platforms
The best UGC platforms are dedicated to connecting influencers with potential projects, such as GetSocial and Tribe. On these platforms, you will get the latest job alert, read the full job description of the project you are interested in and even see the project budget.
Conclusion
These are just a few examples of UGC creator jobs available today; there are many more out there waiting for you to explore and find ways to meet client content needs!
From LinkedIn thought leadership lessons to TikTok drown clips, a creator's job includes creating social content that drives engagement.
Whatever type of social content interests you the most, remember that all you need is some basic equipment (or none at all!), lots of creativity, and determination—you can do it! So go ahead and start creating amazing content for your favorite company today!
Good luck!
How do I find UGC opportunities?
If you're looking for job opportunities that involve working with user-generated content, there are several areas where you can focus your search. Here are some suggestions:

– Social Media Management
– Content Moderation
– Community Management
– Content Marketing
– Influencer Management
How do I get hired for user-generated content?
If you're looking to get hired in a position that involves working with user-generated content, there are a few steps you can take:

– Understand the Field
– Gain Relevant Skills
– Create a Strong Resume
– Showcase Your Skills
Is a content creator a good job?
The job of a content creator can indeed be very rewarding, but it also comes with its challenges. Whether it's a "good" job or not largely depends on your skills, interests, and career goals.
Can you get paid for user-generated content?
Yes, there are a lot of UGC jobs that pay well, and some of the paid UGC gigs include travel photography, beauty product reviews, travel videos and more.
---
FYI: Embed Instagram widget automatically with the social media aggregator and UGC platform by EmbedSocial. Click below to try it for free: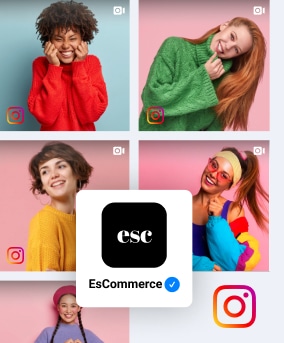 Embed Instagram widget on your website automatically!
Try EmbedFeed and display Instagram content from your feed, mentions, or hashtags on your website.
All PRO features | Cancel any time.