Everything You Need to Know About Instagram IGTV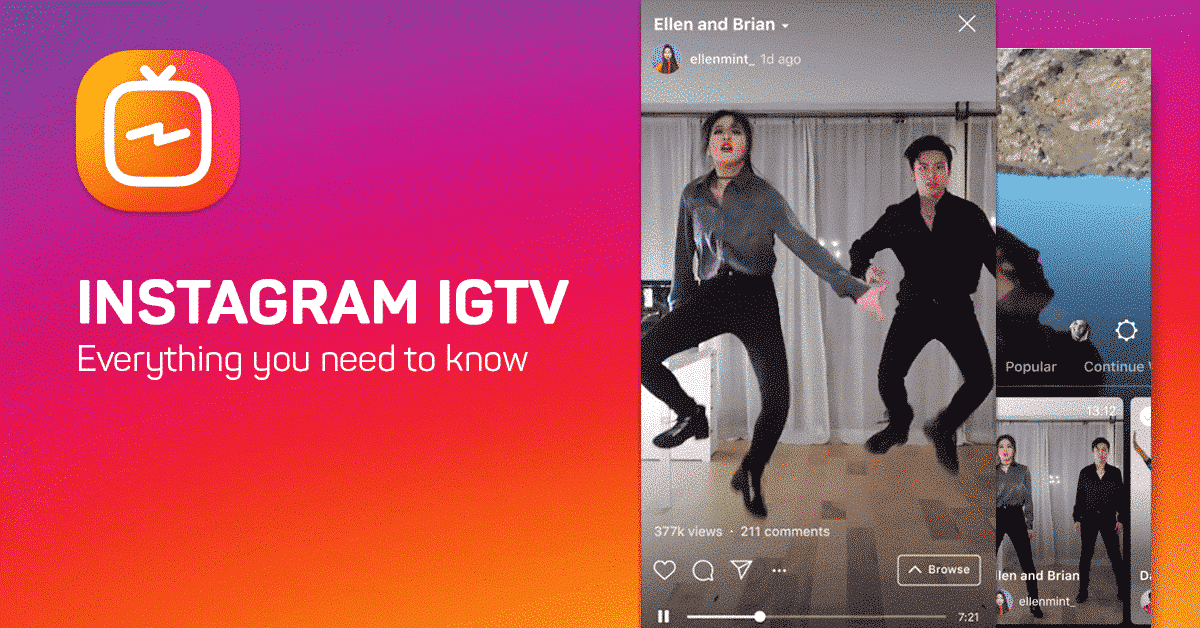 Instagram TV is finally here.
The long-awaited YouTube substitute for Instagram is live and public and the creators from all over the world can now start sharing long vertical videos on Instagram that can be 15 seconds to 60 minutes long.
Click to watch the full announcement by the Instagram CEO Kevin Systrom.
The service is a standalone app for iOS or Android that is built for users to fully utilize the functionalities for creating specifically for IGTV.
Instagram has nicely connected the two services with their native app, by allowing all the posts from IGTV to be distributed to the main Instagram app and to the user's followers. The same as you will publish an Instagram post but is just on another app. Or if you do not want to use another mobile app you can post your IGTV videos from the Instagram native app or your profile on the Instagram desktop version.
In the following text, I will show you how to do both, a post from mobile or upload the video from a desktop.
But before you start uploading your IGTV videos, please consider the requirements that you need to follow for the video to be suited for IGTV.
IGTV requirements
All the details about the rules and specifications of your IGTV video can be found in the IGTV requirements help center.
Here are some of these requirements that you will need to know before starting with IGTV
Video Length
Videos must be between 15 seconds and 10 minutes long.
Note: Larger accounts and verified accounts can upload videos up to 60 minutes long, but they must be uploaded from a computer.
Video File Type
Videos must be in MP4 file format.
Aspect Ratio and Video Size
Videos should be vertical (not landscape) with a minimum aspect ratio of 4:5 and a maximum of 9:16.
The maximum filesize for videos that are 10 minutes or less is 650MB. The maximum filesize for videos up to 60 minutes is 5.4GB.
Video Content
Instagram is focused to provide the best experiences for everyone. That means videos that don't follow Instagram's Community Guidelines may be removed from Instagram. If you see something that you think may violate our guidelines, you can report it.
Are you an Instagram Creator?
Try our Instagram Stories platform, fetch, manage and display your Instagram stories on any website with shoppable links.
Embed Your Instagram Stories Now and engage with web visitors beyond the Instagram app.
How to upload IGTV from desktop
If your account has the option of creating IGTV, you will see it immediately once you log in to your Instagram account on a desktop.
Just look for an IGTV tab below your profile details. Here is a screenshot: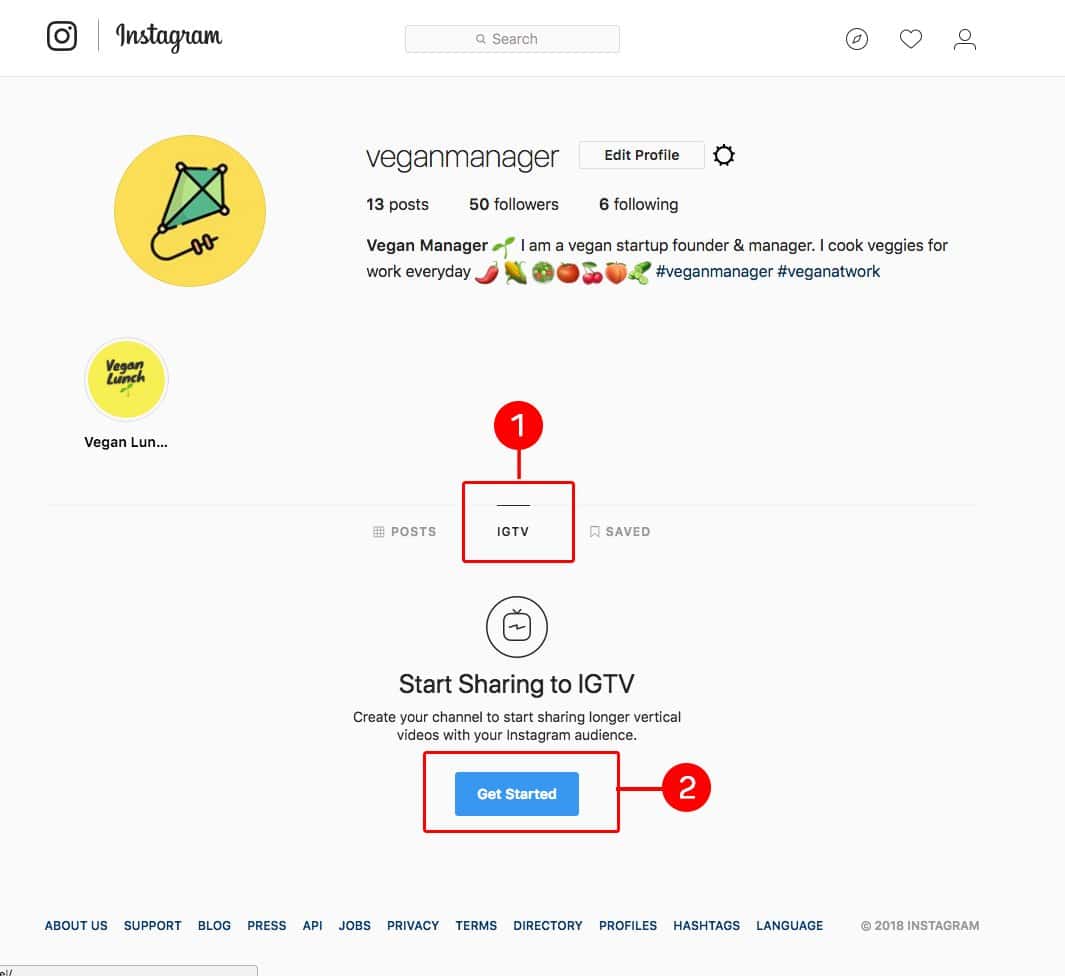 The first step before uploading your first IGTV is to create your IGTV channel. To do this, follow these steps:
Click on the IGTV tab
Click Get Started and follow the steps
On the final step just click 'Create channel'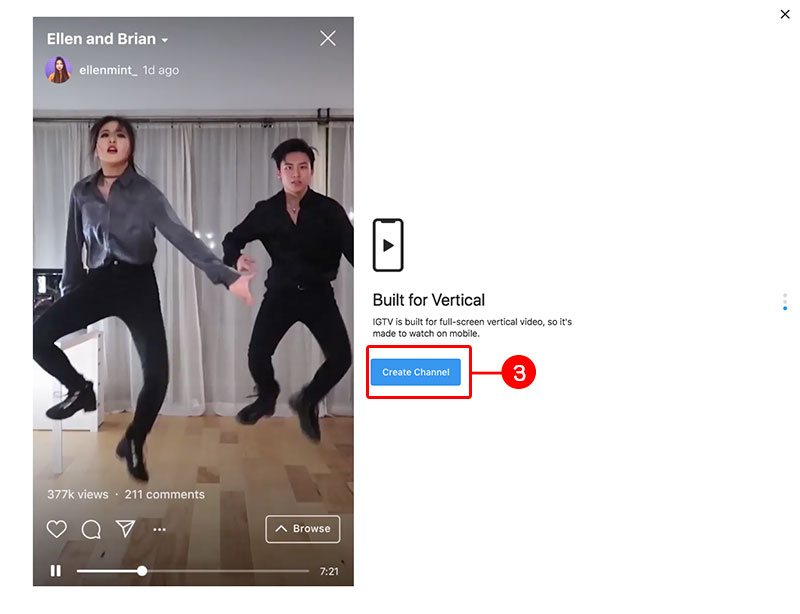 That's it.
Once you've activated your channel, you will be able to upload your first long Instagram video.
To do this, just go back on your profile page and in the IGTV tab click on the button Upload.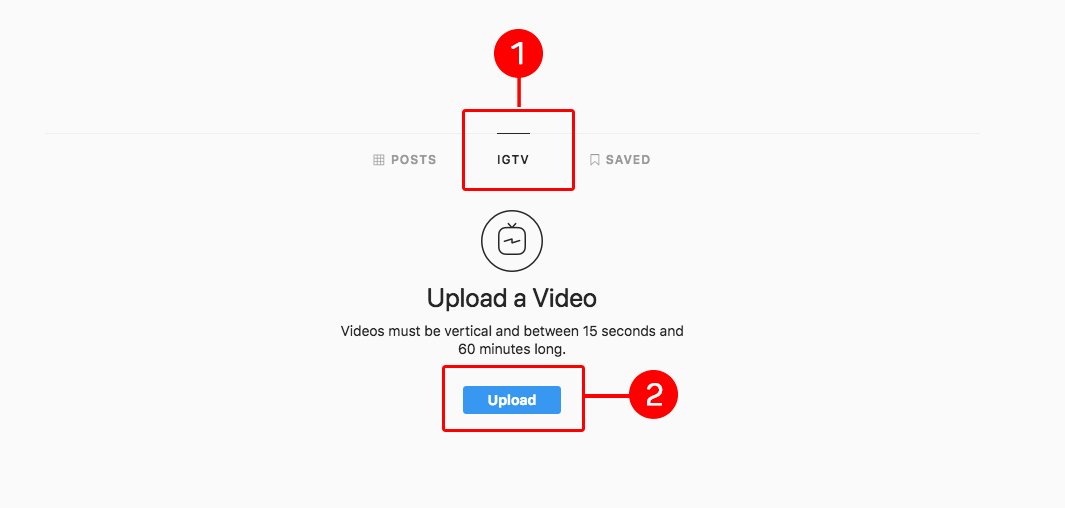 After you perform this action, on the next screen you will be able to upload the video.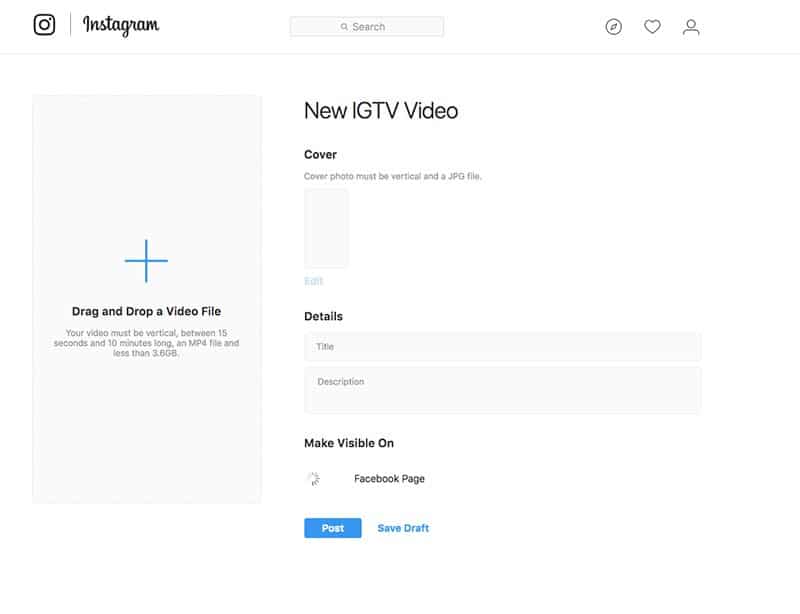 As you can see, you will need to fill in the following details about your video:
Upload a vertical cover photo
Write Title and description or
Choose to post on Facebook
Once you are ready, just click 'Post' and your video will be published in a few minutes (this time depends on your video size and Internet upload speed). Also, you have the option to save it as a Draft and publish it later.
How to upload IGTV from mobile
As I mentioned above, Instagram has built a standalone IGTV app that is solely dedicated to publishing IGTV videos. You can also upload videos from the native Instagram app, which I believe is more easier for people who do not want to have another app on their phone.
To publish IGTV videos from your Instagram app, first, you will need to create a channel:
From the Instagram app or IGTV app:
Tap the TV icon in the top right of Feed, or open the IGTV app
To create your channel, tap the gear icon, which appears to the right of Search IGTV
Tap 'Create Channel'
In the popup screens just click 'Create Channel' on the final step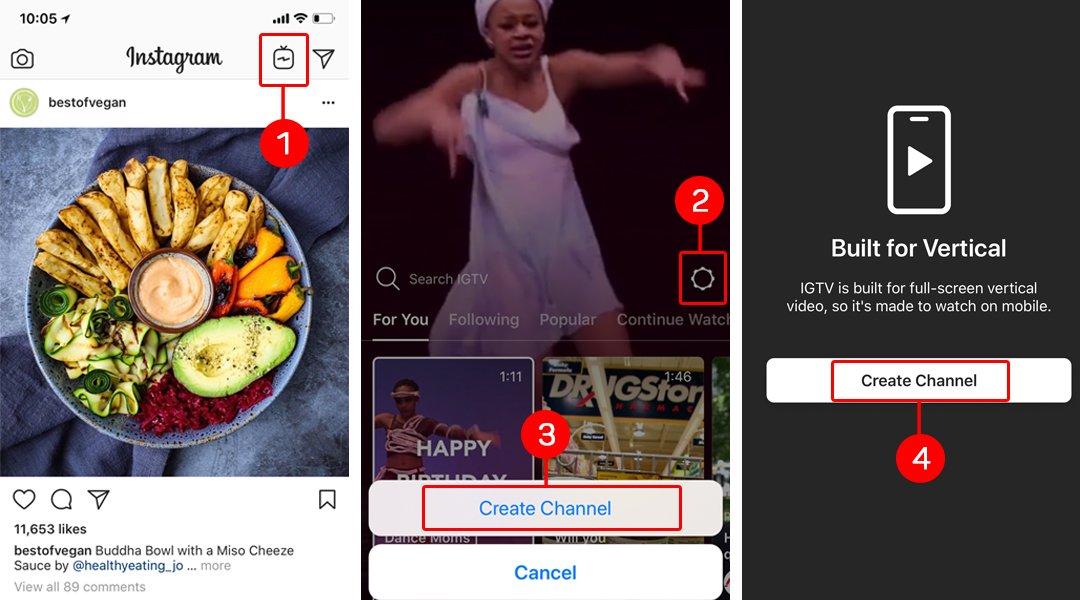 And here is how you can upload your first IGTV video:
In the IGTV section,
Tap your profile icon (at the view your channel popover), which appears to the right of Search IGTV
Tap the plus icon and choose a video, then tap Next
Add a title and description
Tap 'Post'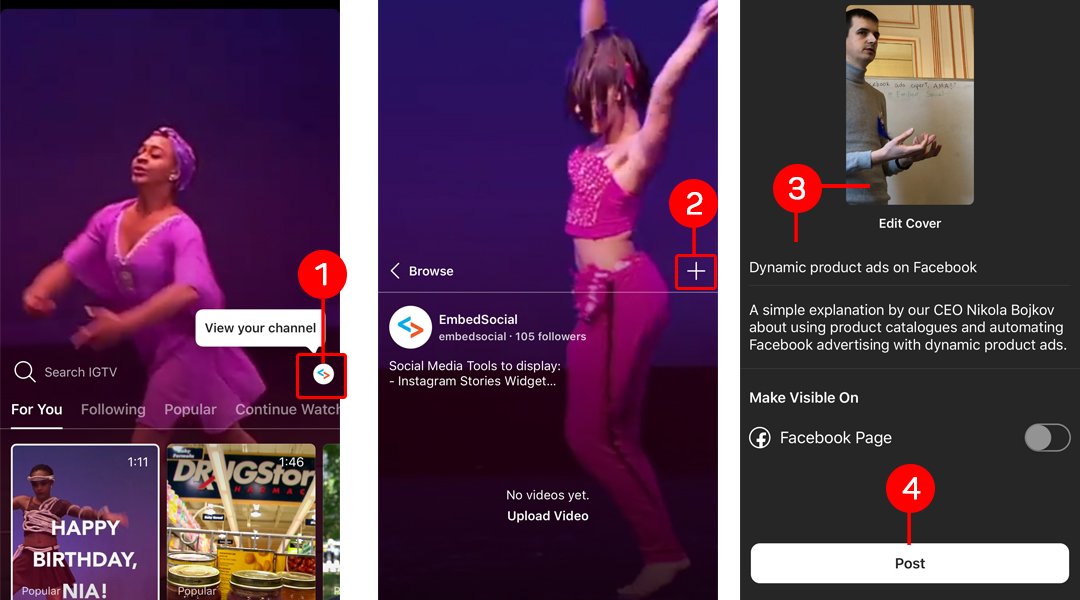 How to watch IGTV videos
Please remember that for now the IGTV is built for the mobile. This means that in order to watch IGTV videos you need to have installed the Instagram iOS or Android app.
All users in the coming days will see a top-right bar TV icon, that when clicked will open the IGTV section of the Instagram app.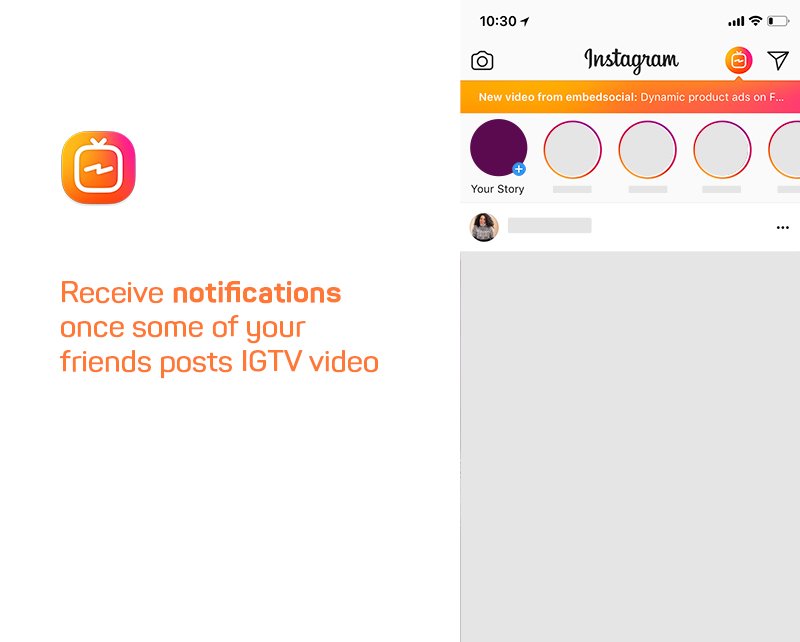 Please note that when some of your friends or users that you follow, post IGTV video, you will receive a notification like shown in the screenshot above.
In the IGTV section, you will be able to watch videos from people that you follow or discover more videos. There are a few sections that you can navigate through: "For You," "Following," "Popular" and "Continue Watching."
You can also like, comment and send videos to friends in Direct.
And before you go, one more thing …
Bonus: You can Add IGTV Video in an Instagram Story
Awesome, right?
I was totally blown away with this feature. Now you can easily re-use the IGTV video and post it in your Instagram Stories making your story more rich and allowing your story viewers to get the IGTV content, too.
Here is how you can add the IGTV link in an Instagram Story:
In your Story creator screen,
Click the top 'link' icon (like shown below)
Select an IGTV Video from your IGTV channel
Click 'Done'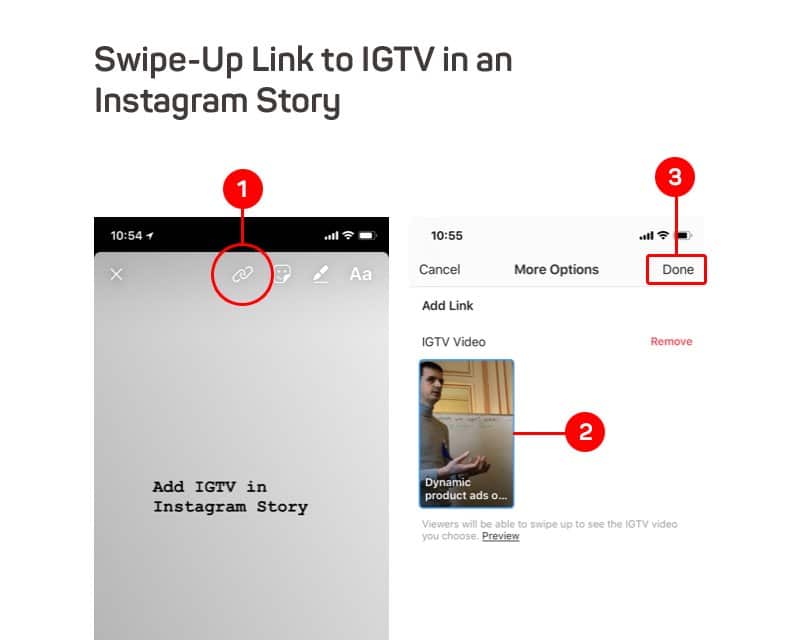 Once you do this above, your IGTV video link will appear as a Swipe up link in your Instagram Story, that when clicked will open the video.
Hope this tutorial will help you to get started with IGTV, and feel free to share your thoughts in the comments below.
Give EmbedStories a try and use all PRO features and functionalities in a 7 day trial period.
Free 7 days trial | Cancel any time