Instagram is one of the most powerful marketing tools. You can use it to increase brand awareness, promote your products and services, and even sell your products directly. However, many brands aren't aware of its full potential.
Although you can add custom URLs in your Instagram stories with recent link stickers, redirecting users from Instagram to your website might look tricky as you can't add links directly in an Instagram post. But, there's a section in your Instagram account bio where you can add one link.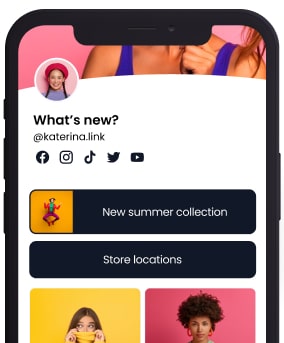 Forever free link-in-bio page with your own .link domain
Get Feedlink and build a complete social microsite for all your important links.
All PRO features | Cancel any time.
The first thing that will come to your mind will be to add a bio link to your website in this section. But, there are specialized link in bio tools that you can use to make the most out of this possibility.
Your Instagram bio link can be the ace up your sleeve. It can help you drive a lot of traffic to your website, promote your products, and increase your sales.
In this article, we're exploring the potential of the Instagram link in bio and providing some great link in bio examples that will inspire you.
What is a link in bio?
A custom URL to a custom landing page that transforms the Instagram feed into a clickable microsite containing the most important links of the user.

Link in bio page definition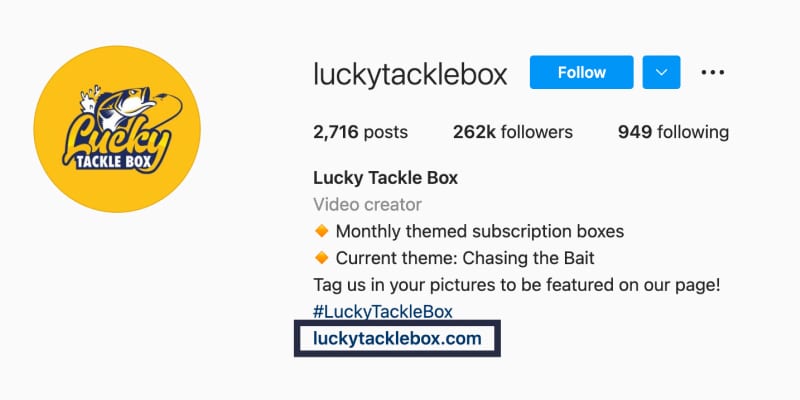 As we mentioned above, specialized bio tools like Linkteree as the most famous one and Feedlink as one of the most advanced, help you create a mobile-friendly page that contains all the links you want to promote plus all individual posts from Instagram that you can tag with a custom URL.
When using these tools, you usually get a single link (which contains your Instagram handle) that you can include as a clickable URL in the bio sections in all your social media platforms, such as TikTok, Twitter, or YouTube.
Most of the free plan key features include the following:
add as many links as you need
drag and drop editor
And most of the paid plans are extended to create multiple bio pages with one account for multiple social profiles.
How the link in bio page can help you grow your business?
The bio is the first thing visitors see when they come to your Instagram profile. You can use the link in bio to directly drive traffic to your website, blog, or product offering.
Here are some of the potential benefits you could achieve by using a link in bio page:
Provide an easier way for visitors to find your content instead of having to go to your website and search for it
Collect more leads with a form
Promote more products at once
Promote links to the contents of your blog page
Increase the traffic of your website by offering various content types
Take visitors to other channels you want to promote
Provide more details for your most popular products
Tailor advanced marketing campaigns and have greater control over the user journey
Add eventually get more customers
Regularly updating your link in bio microsite can significantly help you prosper your business. Monitoring the performance of the links you've added can help you determine what your audience likes so that you can deliver more targeted content.
Link in bio examples that will inspire you
This is how brands use their link in bio microsite to promote their products/content.
Promoting NFT collections
OpenSea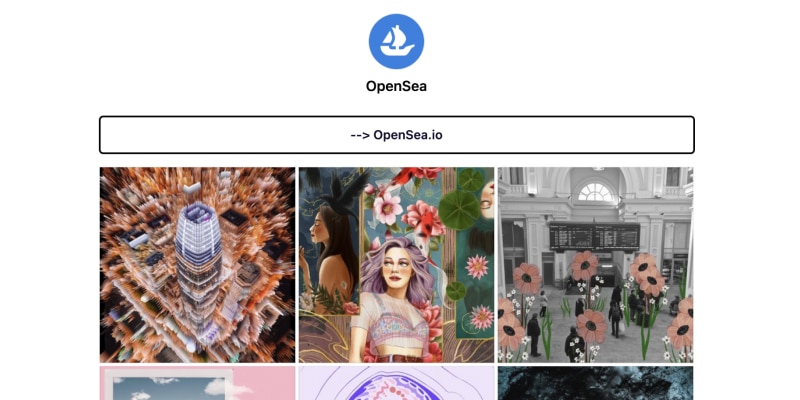 See: @opensea
OpenSea is probably the world's most popular NFT marketplace. They've created a link in bio microsite, which includes a link to their website and links to all the NFT collections promoted through their Instagram posts. Each post represents a separate NFT collection visitors can make an offer for. Here's what it looks like:
Cryptopunks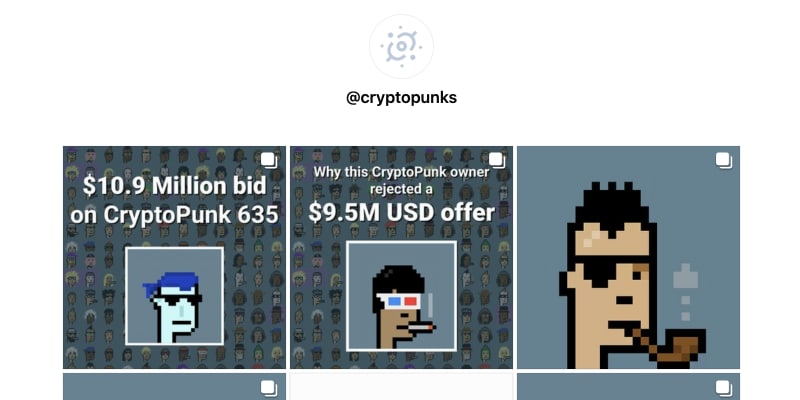 See: @cryptopunks
Cryptopunks use a link in bio page builder similar to OpenSea.
Links are tagged to follow the users and have a better analytics overview of how many of them came through their link in bio. However, besides promoting NFT collections, they also promote some blog posts, news, and links to external websites (like online exhibitions) relevant to their topics. Here's what their microsite looks like:
Promoting other channels of a brand's digital presence
Surreal Society
See: @asurrealsociety
Surreal Society has a collection of 5,000 3D animations inspired by Surrealism. In their link in bio microsite, they promote all their relevant channels. This includes links to their website, Discord channel, Twitter profile, Twitch, and Instagram profile.
NA-KD Fashion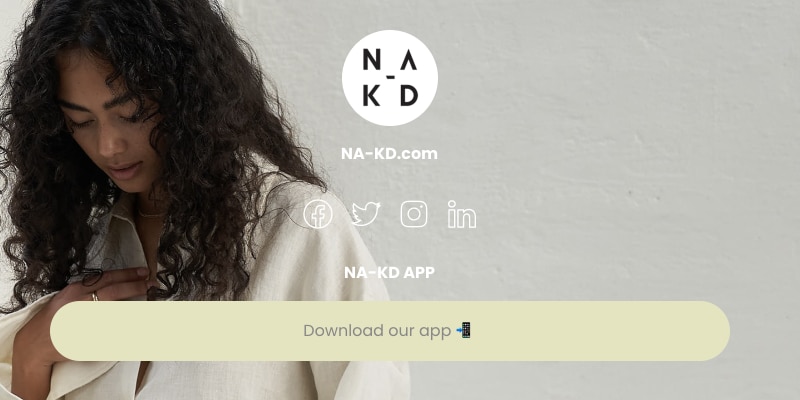 See: @nakdfashion
NA-KD Fashion is a famous e-commerce website for women's clothing. They have created a customized microsite where they've even added a customized background. On their site, they promote their app, new arrivals page, NA-KD ambassador page, and they have links to their Facebook, Instagram, Twitter, and LinkedIn profiles. Here's what it looks like:
Promoting different landing pages for different offers on your website
WeWork
See: @wework
WeWork uses their link in bio page builder to promote different spaces they offer in various cities. For example, one of the images leads to their landing page for their office space in Singapore, while another leads to the Toronto office space page. There's also a link to their WeWork all-access offer, while another promotes their on-demand offer. However, their links don't only lead to their website. They promote external channels as well, like YouTube or their app in the AppStore.
Here's how their link in bio microsite looks site: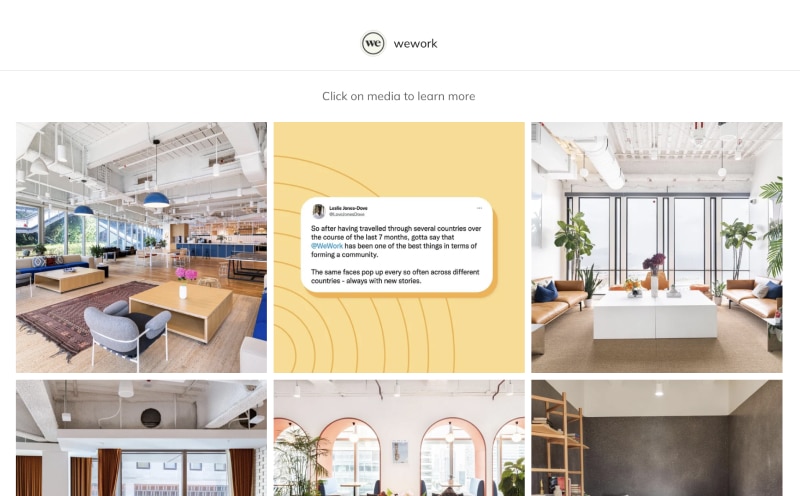 Here's how they promote their offers in their posts:
Promoting different products from your product catalog
Nike Sportswear
See: @nikesportswear
With 8 million followers, the team of Nike Sportswear really needs to deliver some great content. They've also taken advantage of the possibility to build their link in bio page, in a manner that maximizes conversions. Each image on the page is a clickable link that leads to the shopping page of the product it promotes. They also added a link to the Nike Shop at the top of the page.
However, besides promoting different products, Nike also wants to take visitors to some other channels, most frequently YouTube. For example, the latest link they added led to Chapter 4 of their YouTube video series called Welcome Home, which they made in collaboration with Patta.
They promote another type of content through their link in bio page is campaigns. The latest campaign visitors could access through this microsite was the Serena Williams Design Crew.
Here's what their link in bio site looks like: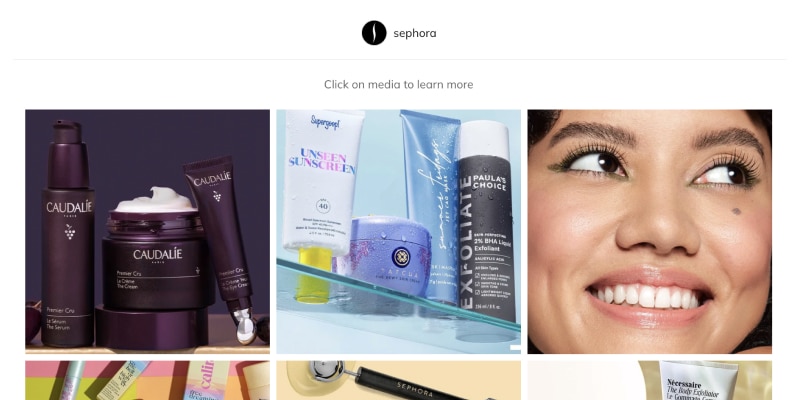 Sephora
See: @sephora
Sephora certainly has many products in their product catalog, so they need to use many different channels to promote them. The link in bio channel is an excellent option for brands with many products because followers don't need to spend too much time searching for the product they saw on Instagram in their large online shop. Instead, they can just click on the image of the product they saw and purchase it directly.
This is why Sephora's link in bio site looks similar to their Instagram feed, with clickable images that lead to the page of each product:
Promoting different music pieces as an artist
Queens of the Stone Age
See: @queensofthestoneage
Instagram is one of the most popular channels for finding new music, so artists need to find different ways to leverage it. Building a link in bio page is one of the ways, with the American band Queens of the Stone Age being among those who are taking advantage. The band has created a microsite where fans added a link to play/download their new single called Villains, an online shop for QOTSA branded items, and their YouTube channel.
Folamour
See: @folamour_fhuo
French DJ and producer Folamour has been using Instagram as one of his main channels to attract visitors to his events and promote his new pieces. In his link in bio site, he promotes the tickets for his tours, his new lyric videos, his new album for playing/downloading from all the streaming services, and his merch store.
Here's a post where he promotes his new lyric video: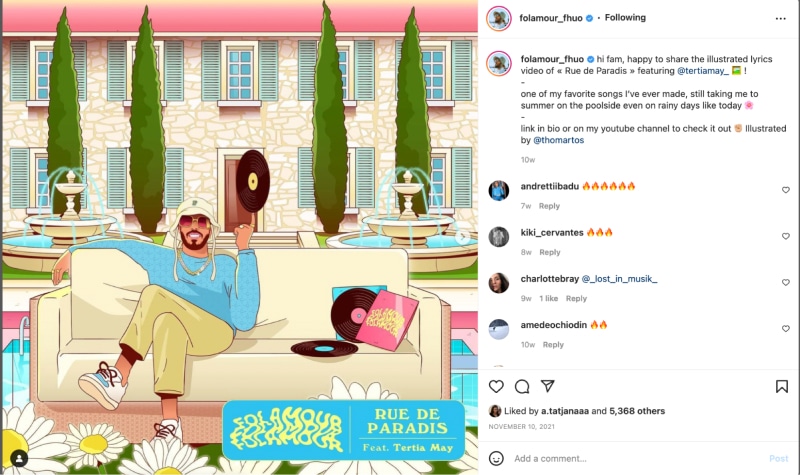 Creating a digital portfolio for designers
Sam Lo
See: @skl0_
Sam Lo is a visual artist based in Singapore, who has worked for clients like Netflix, Spotify, Google, YouTube, Dover Street Market Singapore, Nike, Riot Games, and many others. They're one of the artists that have created a link in bio site to promote their portfolio. In addition to their commission's portfolio, in their link in bio site, you can find a link to their public works portfolio, online store, contact details, as well as links to their Facebook, Twitter, and Instagram profiles.
All Seeing Seneca
See: @allseeingseneca
All Seeing Seneca is the lead artist of Bored Ape Yacht Club (BAYC), which became one of the most popular PFP collections. Seneca was also one of CoinDesk's Most Influential 2021, a list of people who had the most influence in the crypto industry last year.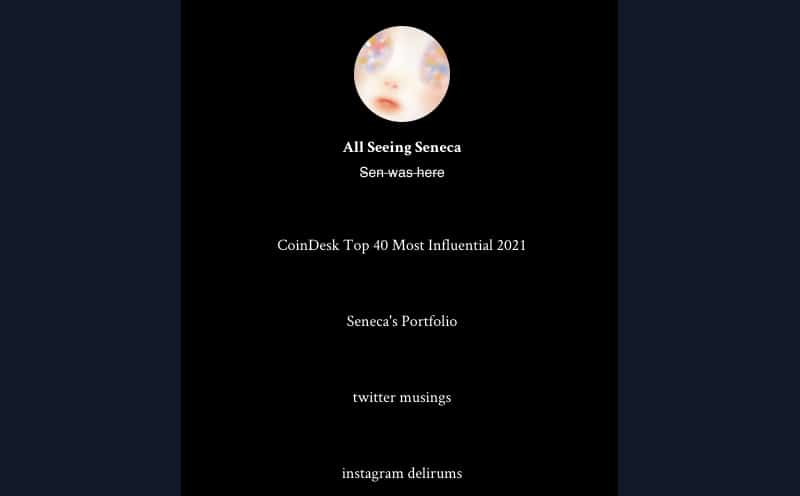 Her bio microsite link looks unique and contains a link to her portfolio, some recognitions, Twitter, Discord, and Instagram profiles, and her OpenSea and SuperRare collections.
Tyler Hobbs
See: @tylerxhobbs
Tyler Hobbs is a visual artist who creates art using algorithms. Fidenza, a 999-piece collection based on an algorithm that produces unique designs upon minting, is his most well-known work. Art Blocks, an Ethereum platform for generative NFTs, includes Fidenza pieces.
He's made great use of his link in bio page, adding quite a lot of resources for fans and potential buyers. He's added links to three of his most important works, as well as a portfolio of selected works, links explaining his art process, links to essays he wrote, and interviews. Finally, he promotes his social media profiles and invites fans to sign up for his newsletter.
Here's what it looks like: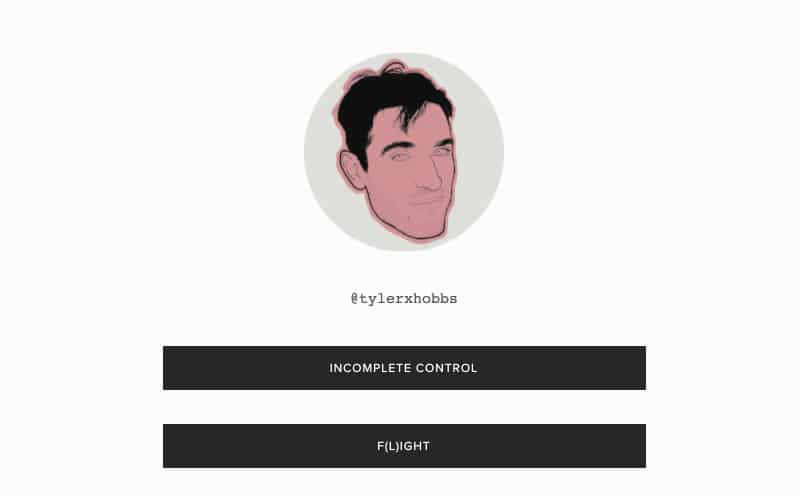 Promoting various articles for magazines and news sites
The New Yorker
See: @newyorkermag
News sites and magazines need to find a clever use of Instagram if they want to promote every article as well as they can because Instagram doesn't allow links in post descriptions. The New Yorker is doing an excellent job using their link in bio site.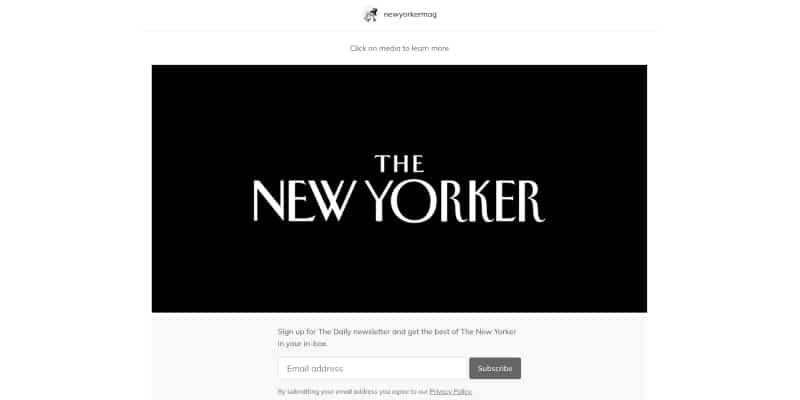 You first see a big banner inviting you to subscribe to their newsletter when you open it, which is pretty difficult to ignore.
Then, if you scroll a bit, you'll see that their microsite looks precisely like their Instagram feed. Pretty clever, because each image on their feed is meant to promote an article, people can click on the image they saw on Instagram for the particular article they want to read.
Here's how they communicate their link in bio site in their post descriptions: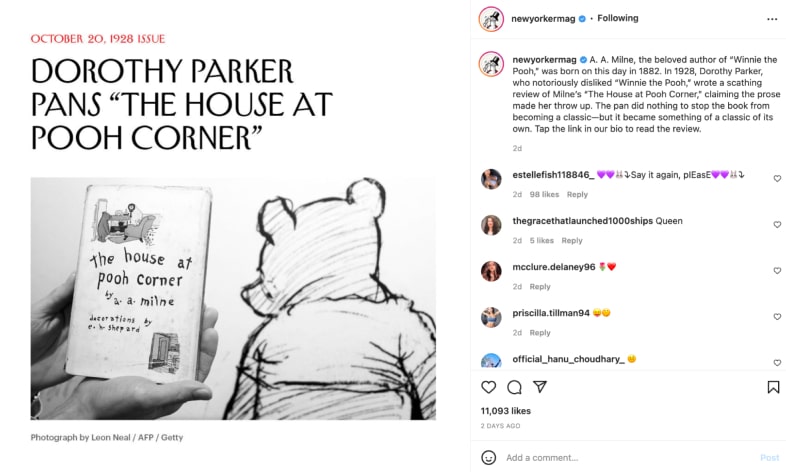 BBC News
See: @bbcnews
The approach of BBC News to their link in bio page is similar to The New Yorker. Each photo on their Instagram feed promotes a separate article, so visitors just have to click on the same image in the link in bio page to get to the article they want to read. They also have a link to their home page: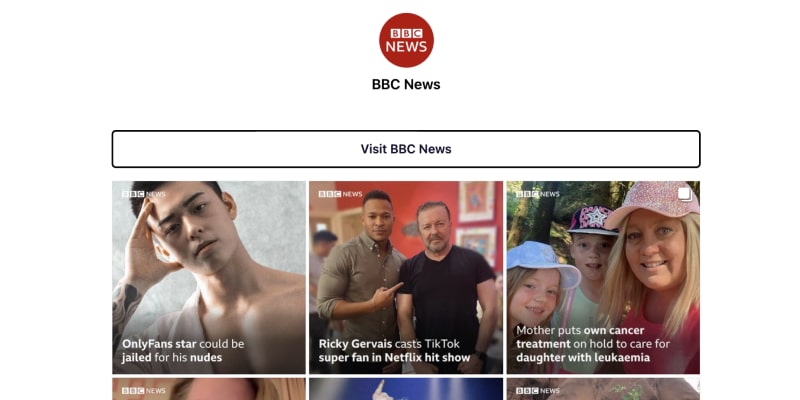 How to create a link in bio page?
In this section, we will describe the step-by-step process to create your own link in bio, by using the bio page creator Feedlink.
First things first, go ahead create a free Feedlink account.
Step 1: Choose to connect social media profile
In the first step choose whether you want to connect your Instagram or TikTok account. And provide the required permissions in order to allow the app to pull your posts automatically.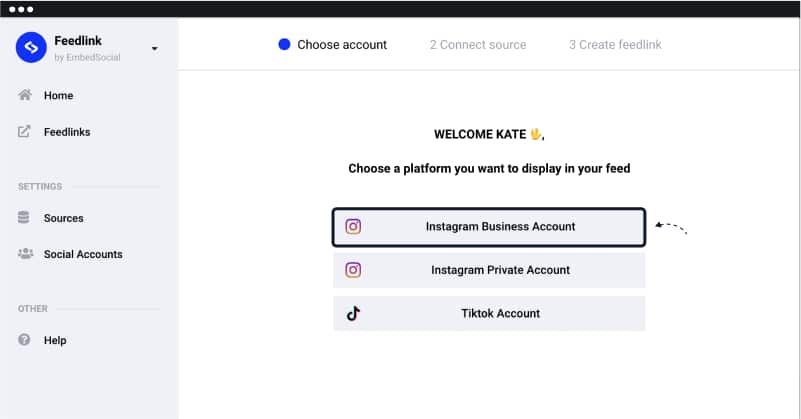 Step 2: Define your feedlink.io URL
After you connect your account you will need to define your unique URL. In many cases, you can use your TikTok or Instagram handle which is most probubly free to use.
Step 3: Customize link in bio page
Once you define your unique URL you will be redirected to the Feedlink page editor, where you have tons of settings to customize your page. Choose a theme, add custom colors, or upload a background image. Once you are ready, click on the posts in the Instagram feed to add the links – explained in the next step.
Step 4: Add links on Instagram posts
After customizing the page, the most important for you is to add the links on the Instagram photos. To do this, click on 'Add link' on each of the photos, and in the popup define the button label and the link URL.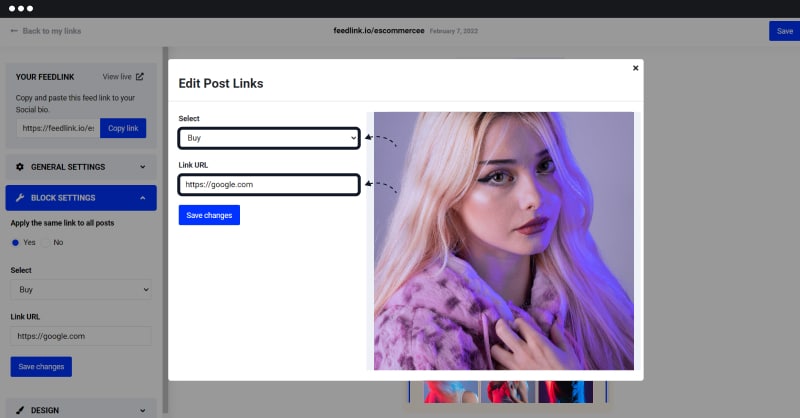 Additionally, you can add more links as custom link blocks, that are not related to the Instagram posts.
To do this, just click paste a link in the empty block space.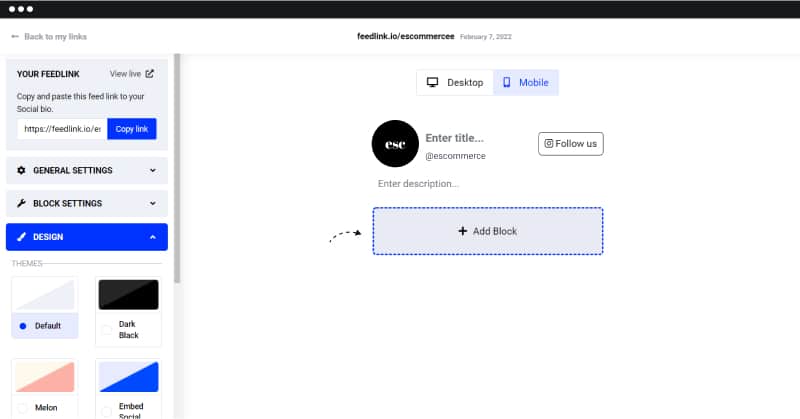 That's it.
Just Save all the changes and add the link in your Instagram bio. For more details check the Help Center.
How to add the link to your Instagram bio?
Adding or updating the link in your Instagram bio is simple. You can do it on Instagram's website on your computer or through the mobile app.
Here's how to add the link, step by step:
Open the Instagram app
Go to your profile
Tap the "Edit profile" button
In the field where it says "Website," add the link you generated for your link in bio page
Click the checkmark in the upper right corner to save the changes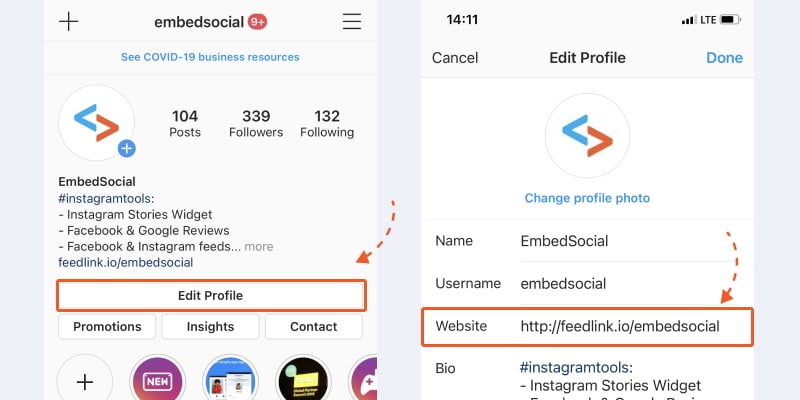 Update your microsite regularly because your audience expects you to be dynamic and innovative. Don't forget to follow the Instagram analytics of your link in bio page and discover what kind of content your audience likes best. These findings will serve you a lot in determining what kind of content to create next.
Conclusion
Your bio on Instagram can help you significantly increase your website's traffic numbers. From an almost irrelevant factor, you can turn it into one of the most critical sources of website visitors.
The best part is you can do it in no time. Creating your profile's bio landing page can be done with the right bio tool in a few minutes.
To get started, sign up for Feedlink's free version now get your custom URL and create your page with unlimited links.
Moreover, you don't need a big budget or skills to design the perfect site because all the components are ready-to-use.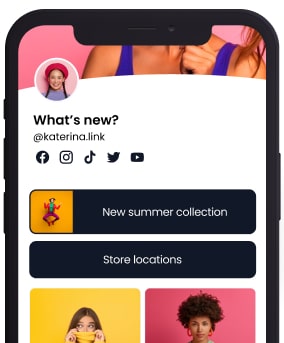 Forever free link-in-bio page with your own .link domain
Get Feedlink and build a complete social microsite for all your important links.
All PRO features | Cancel any time.