Top 3 Linktree Alternatives For Your Instagram Link In Bio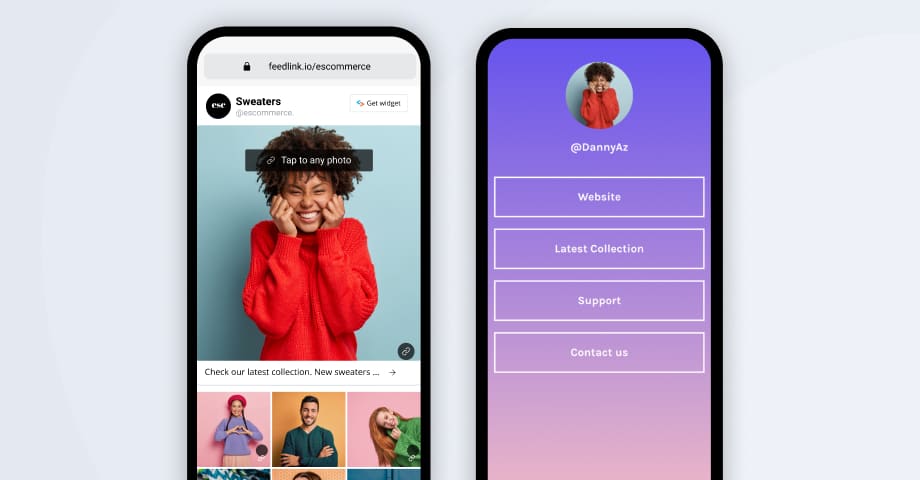 As we all know, Instagram is about sharing photos, and from its beginning, this social media platform does not allow an option to tag posts and photos with an external link. The only way you can add a link to your Instagram profile is the bio link.
Most small businesses, startups, and influencers use tools to make the bio link more flexible in terms of not changing it every time they post on Instagram.
Driving more traffic to your website, boosting revenue, giving a more accessible direction for followers to learn more about your offer are just some of the benefits you will get from this link.
Additionally, you can repurpose and include this unique link in other social media profiles, like your YouTube channel, Twitter, Facebook group, other social networks, podcast platforms, you name it.
The question is: What tool should you use to do that?
Nowadays, there are plenty of tools that can help you resemble your Instagram feed in one place. Some of them are pretty simple and allow you only to generate one link that you can paste in your Instagram bio field.
Other tools have more advanced features, so they will enable you to set a CTA button on every Instagram photo that will take you to a specific URL you want your visitors to see.
Because you are already familiar with Link in bio's advantages as a concept, how about skip the theory and navigate to the fun part?!
What's inside:
What are link in bio tools?
The link in bio tools allows users to create a clickable landing page of their Instagram feed and place a unique Instagram bio link on their profile.
Driving more traffic to your website, boosting revenue, giving a more accessible direction for followers to learn more about your offer are just some of the benefits you will get from this link.
Additionally, you can repurpose and include this unique link in other social media profiles, like your YouTube channel, Twitter, Facebook group, other social networks, podcast platforms, you name it.
In the following text, we offer you a detailed comparison of Linktree and our latest FeedLink tool as a Linktree alternative, so you can decide what fits your needs best.
Let's dive in!
Linktree review
Linktree is a simple tool to create a new page with your most important links and display a unique link in your Instagram profile to navigate followers to this page.
To use Linktree's link in bio tool, you need to create an account on https://linktr.ee/.
Once you are in, you will notice a really simple dashboard. You just need to enter the link title and the URL you want to be your final destination.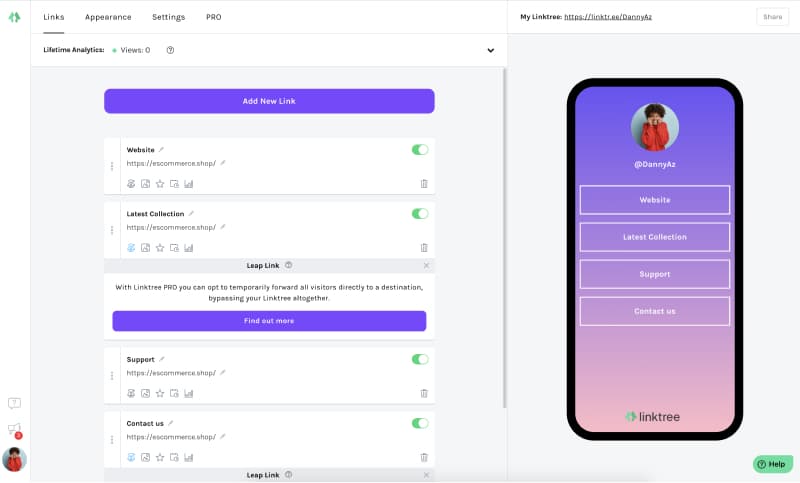 Next, they navigate you to explore several simple theme designs, so you can try them and see what suits you best (the more appealing themes are unlocked with the PRO plan).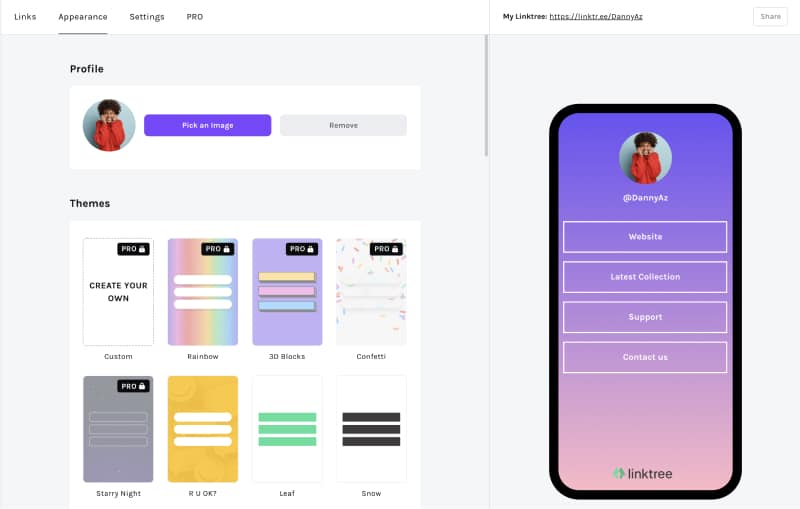 In the end, they give you the option to copy your Linktree page URL or download it as a QR code.
When you copy your Linktree link, this is the outcome you will get:
No doubt, Linktree is a simple and effective tool, but on the other hand, FeedLink by EmbedSocial uses a different approach that may give you more value.
Scroll below to see why this tool is the Linktree alternative you should consider.
FeedLink review
FeedLink is a part of the EmbedAlbum platform, and it helps you connect your Instagram account and generate a clickable feed from your Instagram posts, acting as a new homepage of your Insta activity.
It is your new marketing tool to drive Instagram traffic to your webpages. It is SEO optimized and loads fast on mobile due to its AMP format.
To get started with FeedLink, you need to set your free trial for EmbedAlbum or get the free tool in the free version.
Register now and get your feedlink.io in few seconds:
The next step is to connect your Instagram account with our platform.
To create your unique Link in Bio, just select the Feed links option from the menu and add the desired URL.
But that's not all. Once your feed is generated, it is time to use your creativity!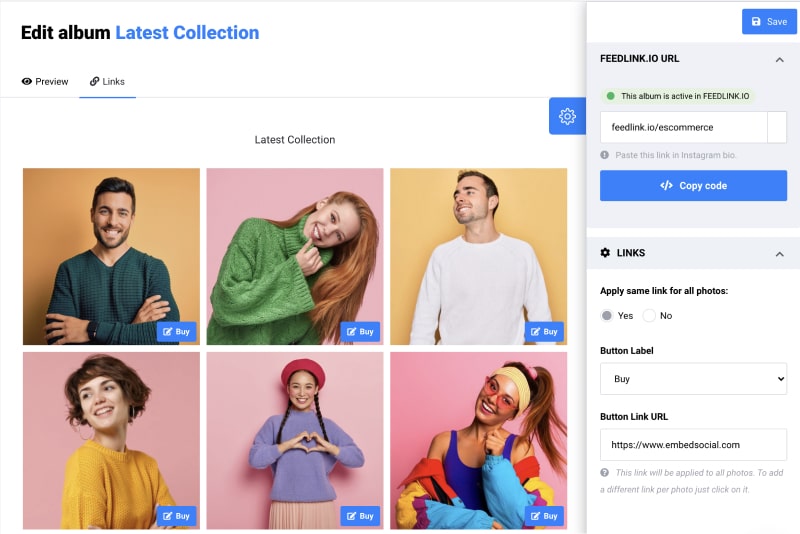 You can explore different layouts at your disposal, completely change your feed's appearance using numerous customization options and the CSS editor.
The best part? You can add different CTA buttons on each photo, so it navigates users to the desired page where you want the action to take place.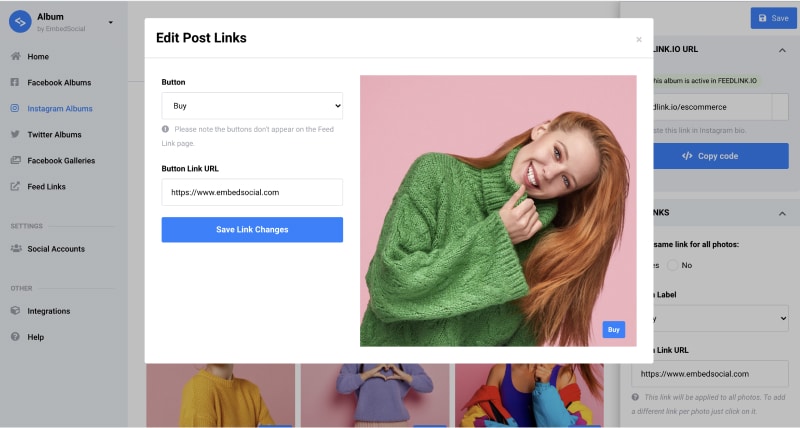 This is how it looks like when clicked:
https://feedlink.io/escommerce
For more detailed instructions, check out this FeedLink setup guide.
Please note: You can change or modify the Instagram feeds without changing your Instagram bio link any time you want. You won't need to change anything when you add a new photo cause they automatically update.
Pro tip: We created a complete article on how FeedLink works and how you can start using this Linktree alternative today.
Bonus: Feedlink PRO version will allow you to create multiple Feedlinks for multiple profiles, that is perfect for agencies or users who manage more Instagram profiles.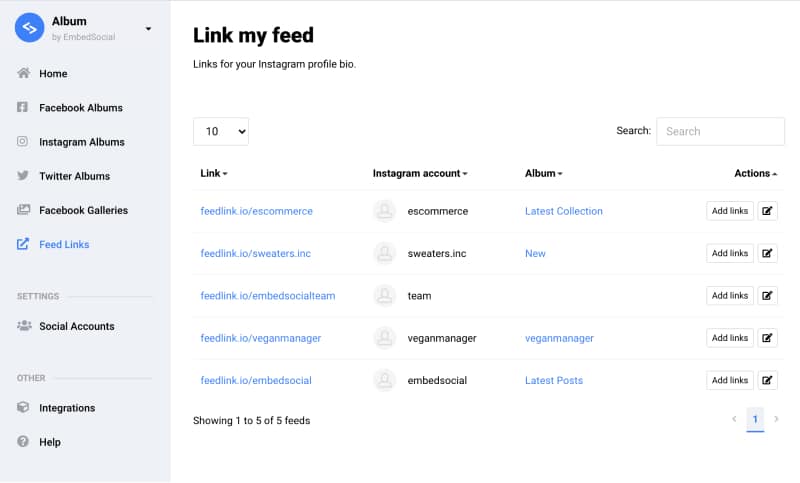 ContactInBio review
ContactInBio is a simple tool that lets you create micro-landing pages with links for TikTok or Instagram.
The interface has been designed so it's easy to use with a drag and drop editor. It has customization options that allow you to style the link feeds. It has e-Commerce options, a contact form, WhatsApp, and other messenger options.
To get started with it, you have to sign up for a free plan.
Once you create your account, you'll see the dashboard. It's a simple drag and drop builder. You can choose the basic functions, styles, and designs. To get more advanced options (like thumbnails, MailChimp integration, and Facebook Pixel integration) you have to upgrade to some of the paid plans, like the Business plan.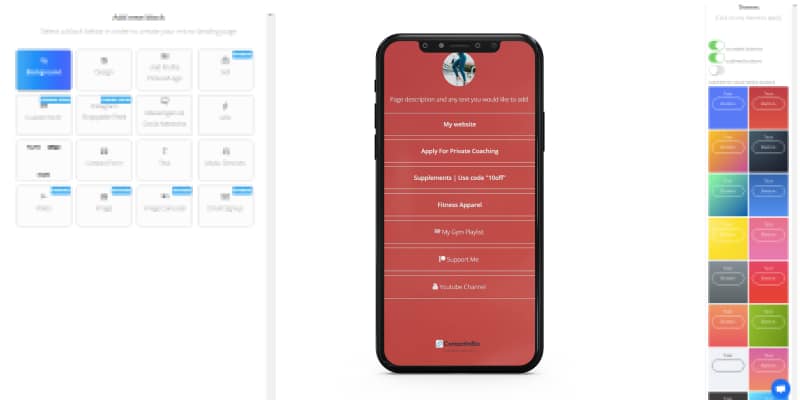 However, you get your custom domain and you can set the link in profile. This is how your Instagram followers will look at your social links once they click the ContactInBio:
https://maritod.contactin.bio/
This can be a good substitute for Linktree.
TapBio review
At first glance, TapBio looks complicated – but it's not. All you have to do is find your way around and see that it's actually very simple.
Unlike other tools where you're adding blocks on top of each other in a grid-like pattern, with TapBio all the information is laid out for users as cards that can be easily slid up and down or dragged left-right.
To create your link in bio with this tool, you have to sign up for the Free plan. And you can start designing your link in bio out of the cards you see in the editor.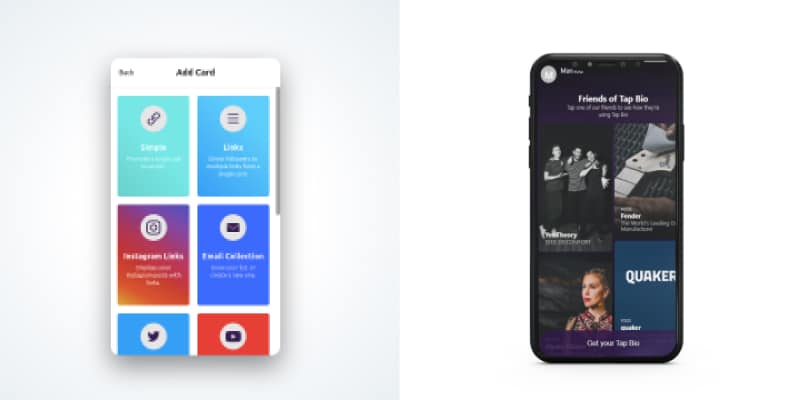 In few simple steps, you get to create your profile card and add the different links. Once created, this is how it looks:
The Free plan gives you only one card plus a profile card. You have to upgrade to the Silver plan to get three extra cards. And the Gold plan is removing the 'Friends of Tap Bio Card' mark.
One is for sure – it's worth checking.
Features Comparison (FREE version)
Before you decide to spend money on a Link in bio tool, we suggest you give it a shot to the free versions of these tools first.
The Verdict: Linktree vs. the Alternatives
If you're a blogger or a marketer, you already know that Instagram is not only about image carousels and hashtags anymore. And have a well-optimized link in bio is a MUST for your strategy.
As you have seen above, all tools can help you make the most of your Instagram bio link space and drive traffic where you want it to go.
Yup, using a Link in bio tool can be a time and energy saver, trust us.
But, at the end of the day, it is up to you to decide which tool will bring the most value to your users and help them have the experience they deserve.
Additionally, using tools like these, you do not need to have your own website on blogging platforms such as WordPress, Squarespace. They actually act as content platforms for your Instagram posts. Awesome, right?
Use FeedLink for free and get your unique link for your Instagram bio. Signup for EmbedAblum forever free version:
Hope these tools will help you improve your Instagram marketing and enhance your results.
Instagram is definitely extending its adoption and moving towards helping brands get more sales and conversions.