If you happen to be scrolling down an updated version of Instagram, you may notice a familiar video feature you've seen before.
Don't be confused. This is the latest Instagram update named Instagram Reels.
The launch of Reels comes as a direct response to the insane popularity of TikTok, which already surpassed 2B downloads, making it the #1 most downloaded free social media app.
It has been so fun to watch how Instagram is not backing down.
Previously, Instagram's parent company, Facebook, tried to capture TikTok (by ByteDance) users with a short video-sharing app Lasso. It turned out to be a failure and was quietly shut down in July.
---
FYI: You can embed Instagram Reels widget automatically with EmbedSocial's social media aggregator and UGC platform. Start a free trial and display your social media widgets now.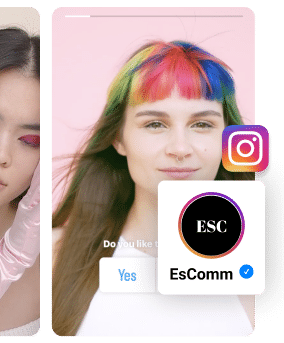 Embed Instagram Reels videos on your website automatically!
Try EmbedFeed and add TikTok videos, Instagram, YouTube or Facebook feeds to your website.
All PRO features | Cancel any time.
This social network decided to fight back again by replicating the TikTok functionality and adding its familiar Instagram charm to it.
With its latest Reels feature, Instagram is making the platform a much more attractive proposition for businesses and creators.
Not convinced?
We prepared your Instagram Reels starter pack!
In this comprehensive guide, you will learn how this brand-new feature works, how to set it up, and get the most out of it!
At the moment of writing this article, the Instagram Reels feature is available only in Brazil, France, Germany, and the United States, and it will roll out in more countries in the upcoming weeks.
So, be patient, and don't forget to check for updates. 🙂
What are Instagram Reels?
It looks like a copycat version of Tik Tok's videos, but actually this feature it's more than that.
As announced, Reels are developed to be a new way to create and discover entertaining, short-form videos on Instagram. If you are already a TikTok user or you are familiar with how TikTok works, you will feel right at home with Instagram Reels.
The feature consists of recording and editing anywhere from 3 up to 15-second video clips combined with the music of your choice that you can share on your Stories, Explore Feed, Home Feed, and the new Reels tab on your Instagram profile.
Hellooooo, Reels ?

Introducing a new way to create and discover short, entertaining videos on Instagram.

Reels is rolling out today to more than 50 countries around the world.

???✨???https://t.co/RfXDhYawSF pic.twitter.com/FjSGSpSGpn

— Instagram (@instagram) August 5, 2020
Like TikTok videos on the For You page, Instagram Reels are shown on the Instagram Explore Page. 
The main difference is that you will be able to see video clips from people you follow and other popular and trending accounts on Instagram.
Bottom line –  even people that aren't your followers can see and engage with your Reels video!
Although the Reels algorithm has been revealed yet, it seems that it is pretty much similar to its opponent's: influenced by people you follow, content you interact with, and of course, your location.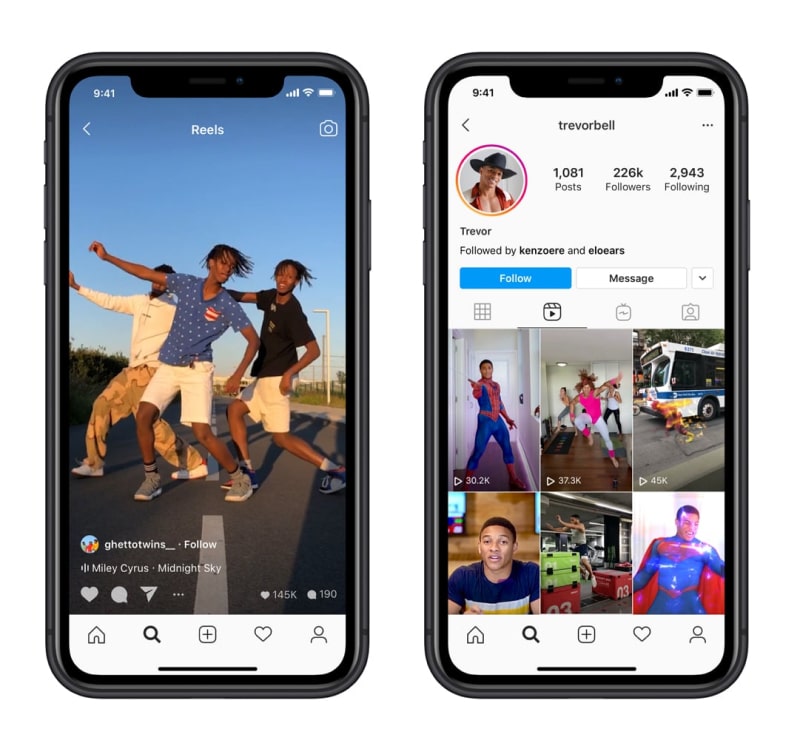 This is a perfect opportunity for next-generation creators to take the center stage and express themselves creatively using their favorite platform.
As for brands, it is a golden ticket to expose to a new audience every time you post a video. And no doubt, the number of video views will expand, as well as your followers!
While scrolling through the Explore page, you might notice that some of the Reels have been labeled with 'Featured'.
This is nothing but great news for you! It means that Instagram picked you as a relevant public reel to help users discover captivating video content. Keep up the good work!
Why should businesses use Instagram Reels ASAP?
If you are running a business and you want to stick with Instagram as your main sales or distribution channel, this feature can definitely boost your efforts. After IGTV, Reels seem like the next logical step to go for.
It's not a coincidence that every day countless brands jump on board to catch the first wave of Reels getting millions of views on their videos.
Reels are filling the gap for informal high-quality content that lasts more than 24 hours. It's expected to have a much greater impact thanks to its position in the Instagram app within the Explore tab.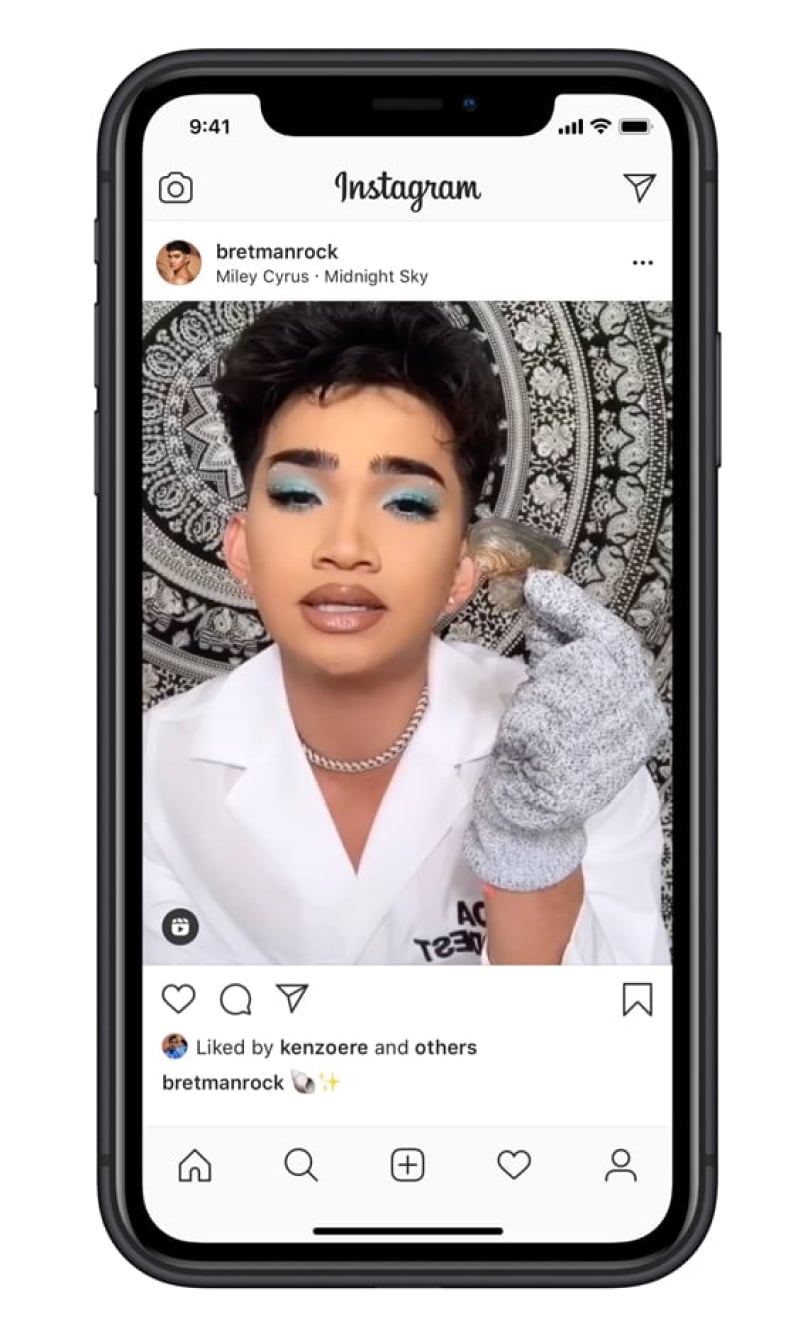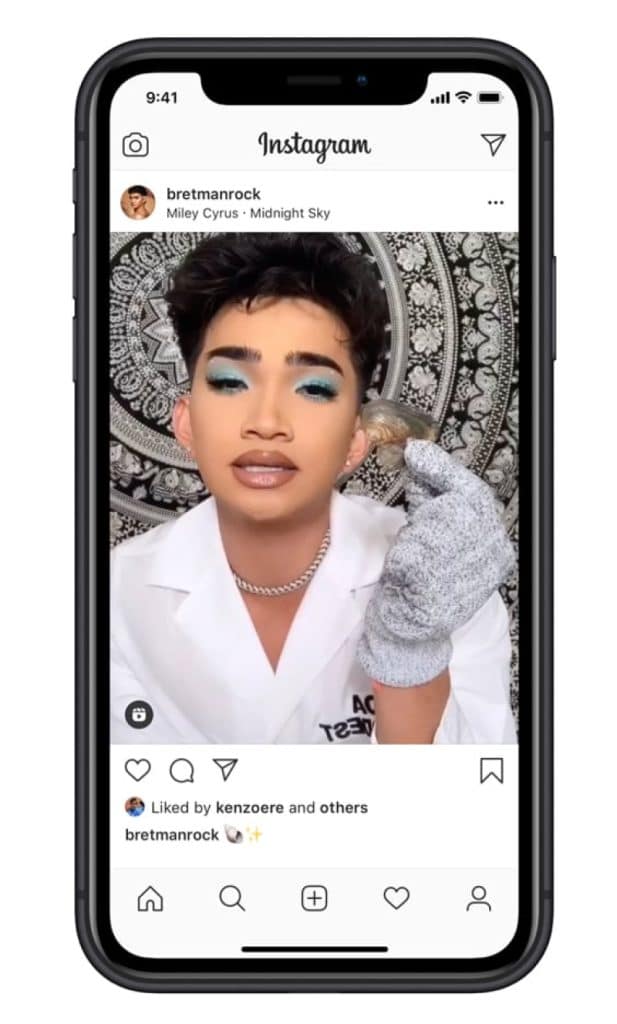 So, why should your business join the Reels club?
Videos are consumers' favorite part to see as content on social media, especially short videos bring dynamism and lead to greater acceptance and user base reach
Reels offers a whole package of options to improve your video clips and capture the attention of your followers like editing tool, filters, audio, speed, special effects, and many more.
You can customize your videos with music without restriction by copyright (dah!)
Now that you are pretty familiar with Reels, let's jump right into how to create your first video clip.
How to create your first Instagram Reel
Using Reels is as simple as using Instagram Stories.
Before you start, make sure that your Instagram app is updated (min version 153.0).
Next, follow the steps:
Step 1 : Open your Instagram account and go to your feed
Step 2: Open your Instagram camera, and you will notice a change in the interface (now you have 3 choices in the bottom: Live, Story, Reels)
Step 3: Tap the Reels option
Step 4: On the left side of the screen, you will notice four controls that help create your reel (explained below in more detail).
Step 5: To record an Instagram reel, tap and hold the 'Record' button or tap on the video, and to end the clip tap on it again. Also, you can choose the Camera roll option on the left to upload a video from your phone.
Step 6: Okay, so once you have your Reels recorded, review your work by pressing the 'Back arrow' button. Here you can trim your video or remove it with the 'Delete' button right below if you didn't like how it turned out.
Step 7: Next, tap the 'Forward arrow' button to add stickers and emojis. You can't add polls or question boxes to it, but you can play around with some drawing, the eraser stick, and customize the text.
Step 8: If you are happy with your video, tap the 'Forward arrow' button again to add a caption and a cover photo
Step 9: Tap Share and tap Done
Please note, that you can also share the Reel in your Instagram stories.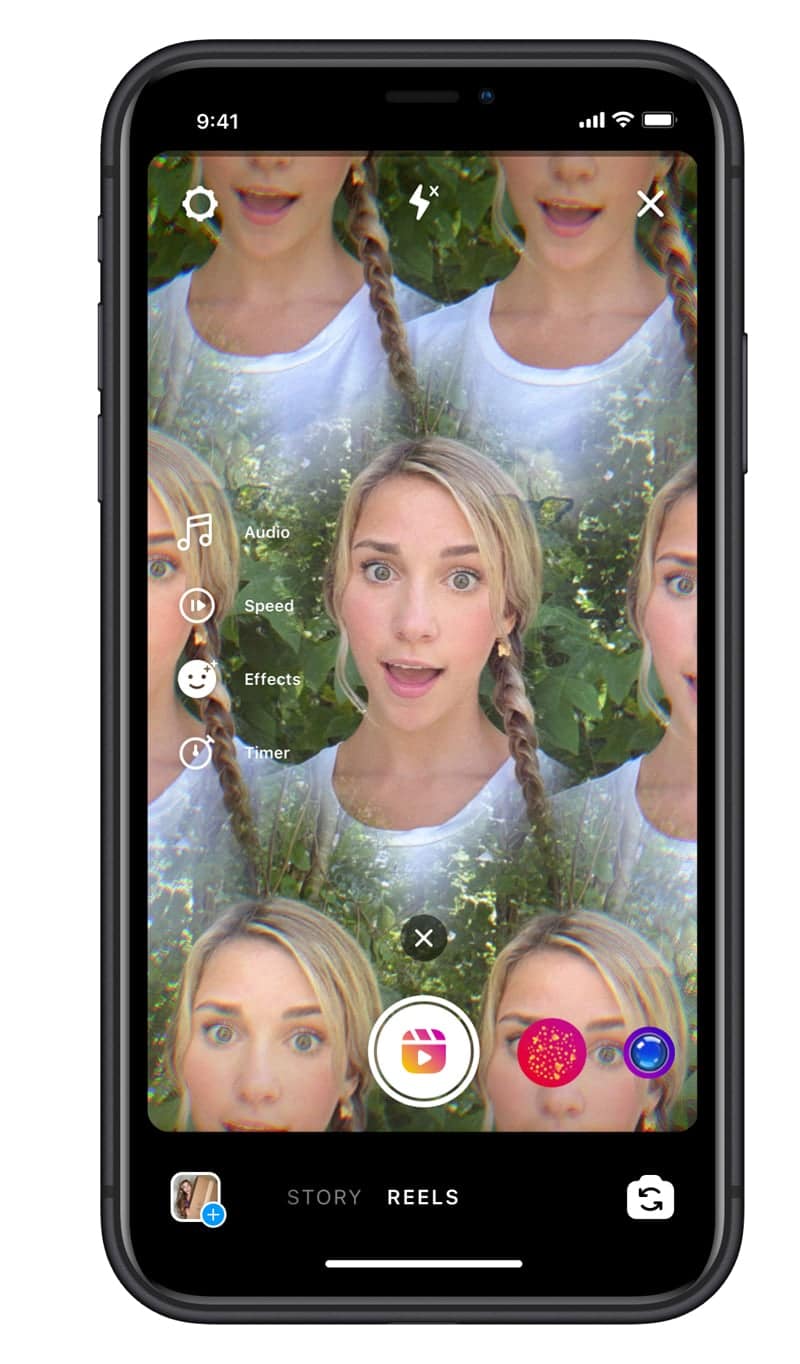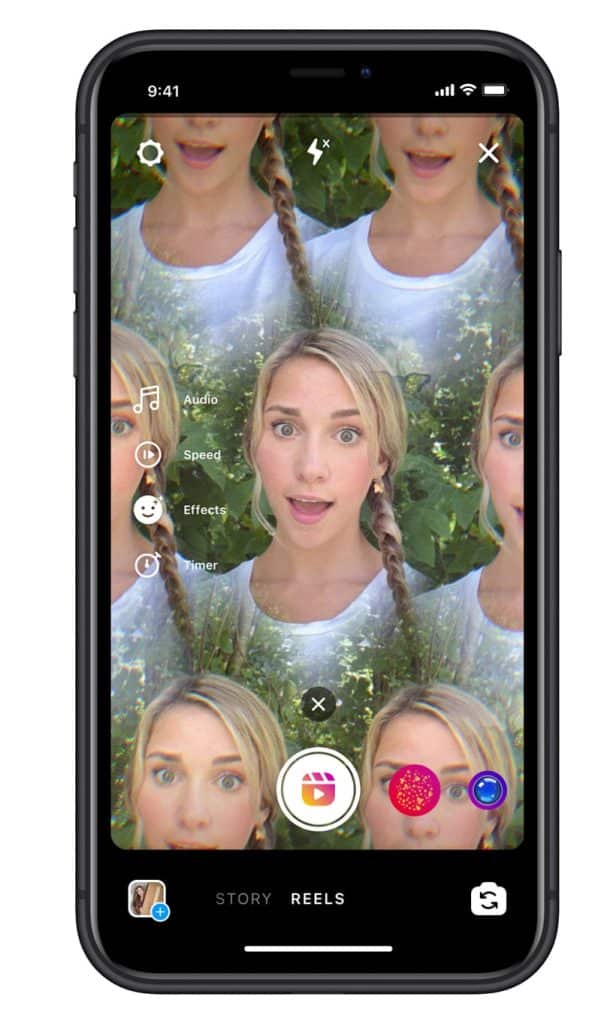 Below are more details about the left-hand editing options for adding audio or effects in your Instagram reel.
Add Audio or Music
Select a song you want to use from the Instagram music library or record a reel with your own original audio.
Please note that if you have a public account and you share a reel with your original audio, your username will be displayed as this audio is attributed to you. So next time someone creates a reel, they can use your own audio.
And if your account is set to private, no one will be able to record a reel using your original audio.
Check out the official Instagram guidelines on the audio you can use.
Setup speed
Control how fast or slow your video recording is. You can speed up or slow down part of the video or audio you've selected.
Add AR effects
Just like Instagram Stories, you can use a variety of effects in the Instagram effect gallery, created both by Instagram and creators.
Select timer
Select a duration you want a clip to record for in order to be hands-free. Once you press record, you'll see a 3-2-1 countdown, and the recording will stop at the amount of time you have selected.
How to share your Instagram Reels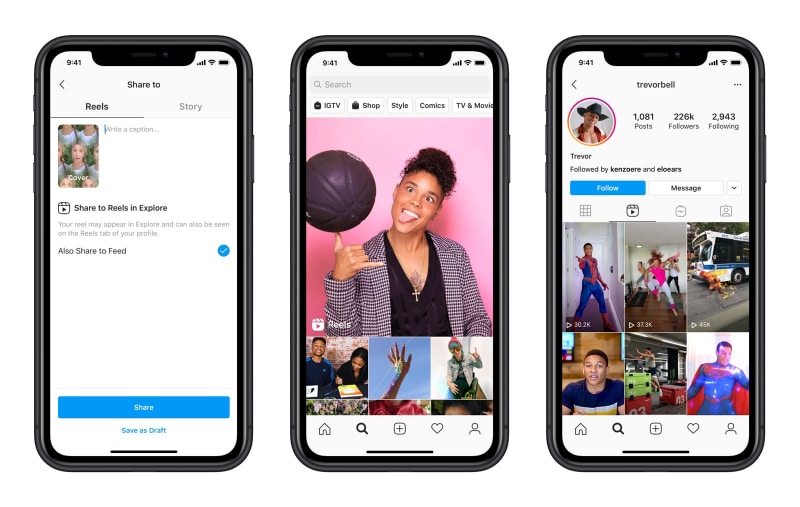 I mentioned in the steps that when creating the Instagram Reel, you have a few options to share it. You can choose whether to share the clip on your Story, your Feed, or in the Explore tab. 
Let's dive into each of them!
Explore section
If you want to share it in the Explore section, tap 'Cover' to change your cover photo and write a caption. This clip will also be seen on the Reels tab of your profile.
Please note that if you share your reel to Explore, you won't be able to use interactive stickers like polls, Q&A, and challenges in your reel.
So, after you share your reel, it will be shown both in the Explore section and on a separate Reels tab on your profile, where people can find all the reels that you've shared.
Instagram Feed
You can also allow the option to share your video on your Instagram home feed. It will appear on your main profile grid (you always have the option to remove it from there).
Instagram Story
If you want to see your clip as a part of your Stories feature, click on the 'Stories' tab to proceed.
Please note that whether you have a public or private account, you can share your reel to your Story, close friends, or in a direct message. You cannot collaborate on a video with a friend, but we are sure that this Duet feature will roll out soon, too.
And if Story is your final destination, your reel will behave like a regular Story. It won't be shared to Reels in Explore, it will not appear on your profile, and, like any Instagram Story, it will disappear after 24 hours.
And that's it. Well done! 🙂
How to watch Instagram Reels
If you are in the mood to discover an entertaining selection of short video format snippets made by Instagram users or influencers, here are the steps to follow:
Step 1: Tap the 'Search' icon at the bottom of your Instagram app
Step 2: Select the Reels video tab at the top
Step 3: Enjoy scrolling down as you see more inspiring reels
Please note that you can also scroll through your Instagram Feed to see reels from creators you follow.
Additionally, you can find reels by a hashtag or certain audio. Just write down the audio name or the particular hashtag at the bottom of the reel. In case you find the audio attractive, tap the 'Use Audio' option to record your reel using the same audio.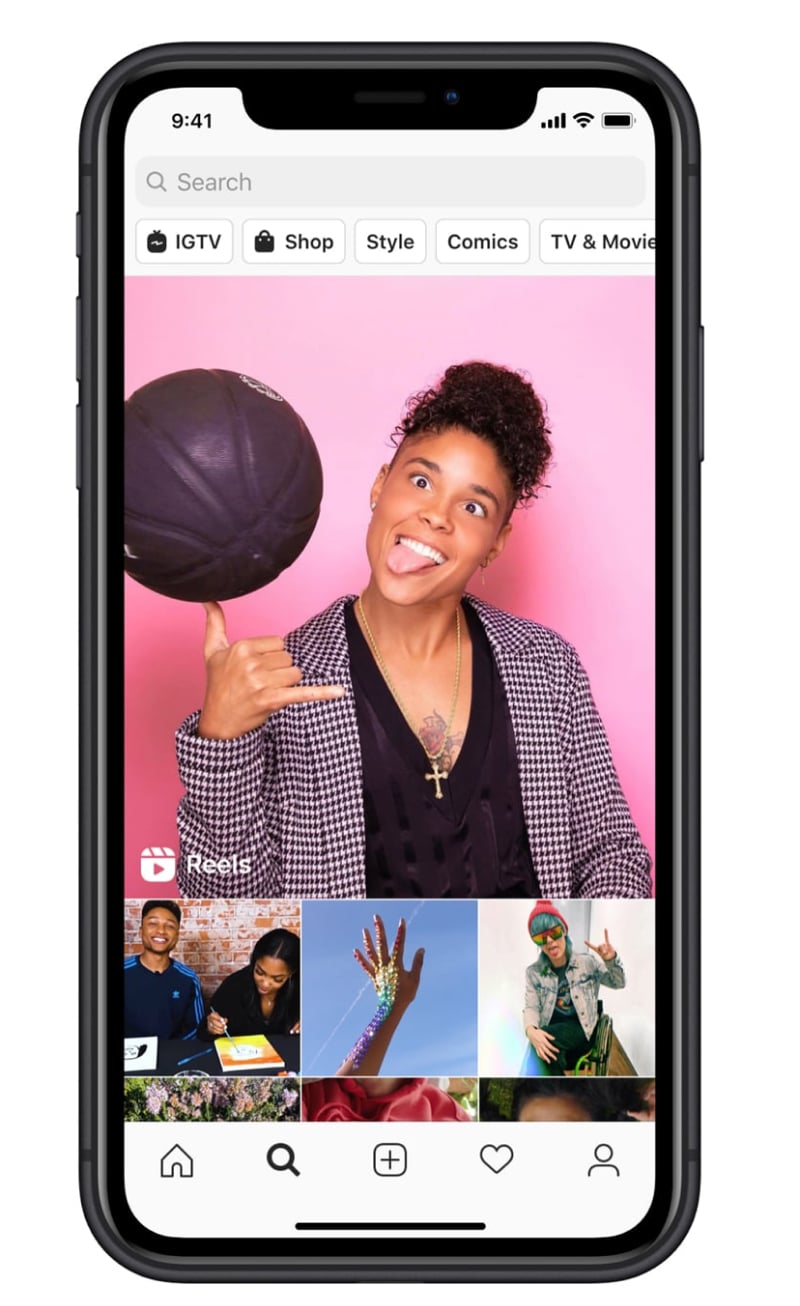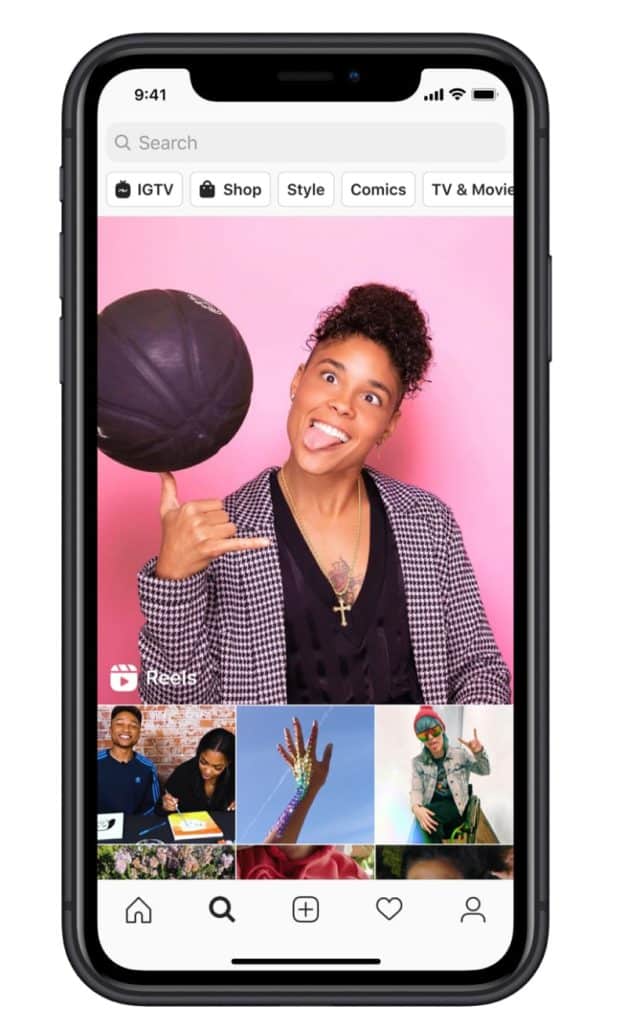 As mentioned above, while scrolling down, you may notice that some of the videos are labeled with Featured. These are video clips chosen by Instagram based on criteria like genre, style, and entertainment level.
If interested, click here to learn more about Featured reels.
Finally, if you want to see the Reels created by a particular user, you can visit their Instagram profile page and right below the Instagram Highlights section, you can see a tab 'Reels' where are stored all Reels created by that user.
How to manage Reels settings on Instagram
The Reels feature gives you a variety of settings at your disposal:
Mentions and comments
Every time someone mentions you in a reel, you will receive a notification. To manage who can mention you in the caption of their wheel, click here.
You can filter out and hide comments.
Watching and sharing reels
Public Instagram accounts: Anyone on Instagram can see, share your reels, and record a clip with your original audio.
Private Instagram accounts: Only your followers can see and share your reels, and no one can record a reel using your original audio.
Reels insights
Within the Reels tab on your profile, you can see the following:
Who liked and commented on your reel
How many times your reel started playing, not including replays (still in development)
Whether your reel was selected by Instagram to be featured on Reels
Reporting Reels
The same as any other Instagram content that goes against Instagram's Community Guidelines, feel free to report reels too.
Just tap the three dots menu on the top right of the reel you want to report, choose the 'Report' option, and proceed with the on-screen instructions.
Examples of Instagram Reels to get inspired
Below are free Instagram Reels examples that you can explore and get some inspiration to start creating your own.
Fun
Create a video when you just keep on talking 🙂
Cosmetics and Fashion
Cosmetics and makeup are huge on Instagram now. Here is how to apply this use case in an Instagram Reel:
Do more: Embed your Instagram Reels on any website
Instagram provides an option to display and embed Instagram posts on a website. This option applies also for the Instagram Reels videos.
Just, open the Instagram Reel post in a desktop browser and tap the top right 3 dots, choose the 'Embed' and copy/paste the code in your website body.
But, this is very limited functionality and will overburden your website in case you want to show more videos in a gallery layout.
To embed your Instagram Reels in a professional widget, you can try EmbedFeed.
It helps you to generate all the videos from your Instagram account and embed the Instagrma reels in an amazing social media widget on your website.
Wrap up
As Instagram Reels's popularity is radically increasing, this feature is aiming to be the future of entertainment. 
And this is only the beginning!
As users are craving video content and businesses are adopting this new format, we believe that the future of Instagram reels seems bright.
After all, Instagram really knows how to replicate a tried-and-tested format successfully.
Do you find Instagram Reels to be a better alternative than TikTok or Snapchat? Is TikTok's future in danger of extinction?
Drop us a line to let us know what you think. 🙂
---
FYI: You can embed Instagram Reels widget automatically with EmbedSocial's social media aggregator and UGC platform. Start a free trial and display your social media widgets now.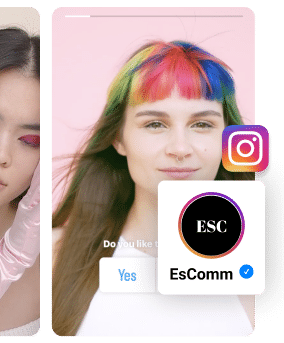 Embed Instagram Reels videos on your website automatically!
Try EmbedFeed and add TikTok videos, Instagram, YouTube or Facebook feeds to your website.
All PRO features | Cancel any time.