Working in the eCommerce industry requires a lot of time and effort to place the products in front of the right audience and drive regular sales. With our IG story ideas, we'll make this job easier.
Namely, Instagram is the most popular platform social media managers use for promotions and marketing campaigns, as 80% of Instagram users search this platform for products and services.
Creating consistent content related to your products will be beneficial for turning your followers into customers and growing your businesses online.
One of the most powerful weapons you can use to achieve that is Instagram stories.
In this blog post, you will find 15+ Instagram story ideas you can use to promote your products, together with useful tips and tricks on how to design them with special Instagram story tools.
Let's use different Instagram story ideas to win the eCommerce game.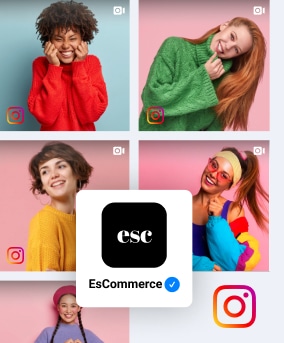 Show Instagram wall on your website, automatically!
Try EmbedFeed and add Instagram content from your feed, mentions or hashtags on your website, with just a few clicks.
All features included | Live support available
E-Commerce brands pop up on Instagram as mushrooms after rain with their ads and promotions.
To be unique and make your target audience interact with your content, we will show you 15 IG story ideas for your eCommerce brand no matter of the niche, so please pay close attention:
1. Share a post from your profile that your followers already engaged with
A great strategy for your IG story ideas is to post an IG story with a post that your followers have already engaged with.
So, choose the one with a good amount of likes, shares, and comments, and repost it on your own story again to remind your potential customers about your product.
Your viewers will have a chance to open your post again, so make sure your description explains the buying steps for people who didn't take a buying action yet.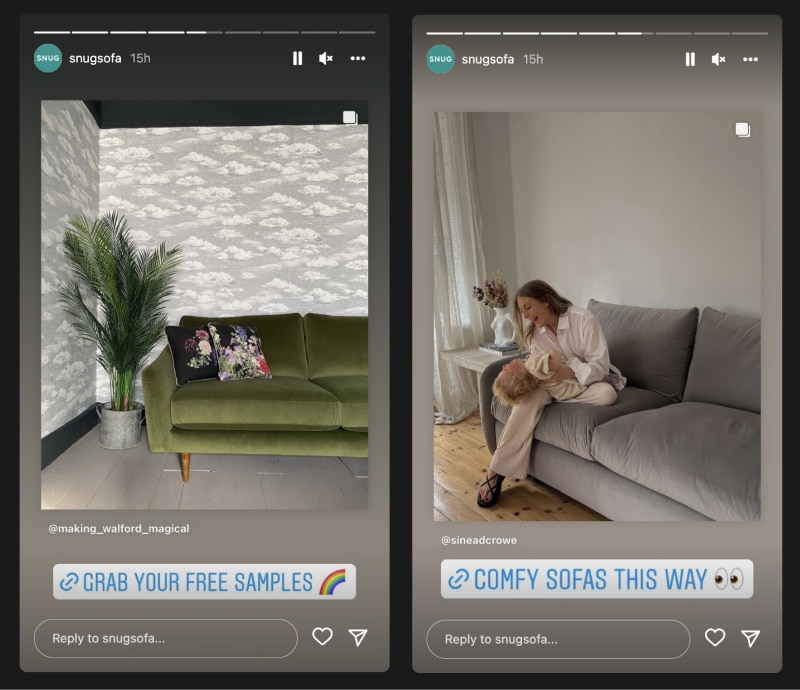 Examples:
Pick a post from your product and repost it on your IG story
Add call-to-action for your audience to tap and read the post description
Inform your potential customers that the product is still on sale (or has a new price)
2. Create stories linked with your sale items
If you want to promote your products on Instagram, you need to create an IG story for them.
Namely, pick a professional picture from your sale item and put it in an Instagram story with catchy text.
Also, you can put a link sticker redirecting to your product page or eCommerce store.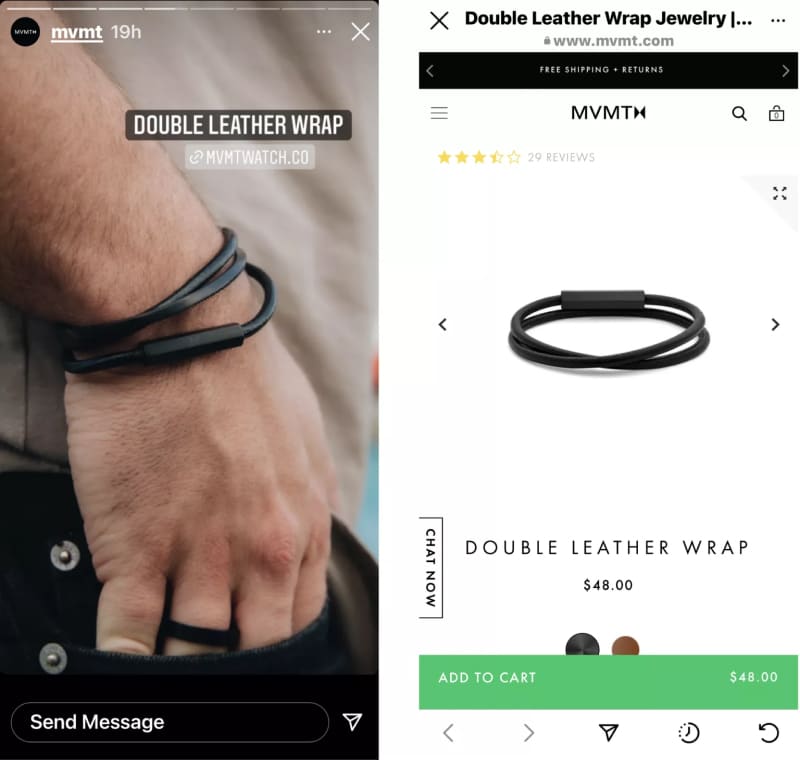 Examples of sharing your sale items:
Post a product picture together with the link from the product page/store
Ask your followers to click on the link sticker to see your new product
Consider using a catchy video presenting your product together with the link from your store
3. Educate your followers with some useful tips
Giving free and useful tips to your audience is one of the best ways to increase your engagement rate on Instagram.
Therefore, post creative IG stories with handy tips and tricks to build trustworthy relationships with your followers and make them feel free to buy your products in the future.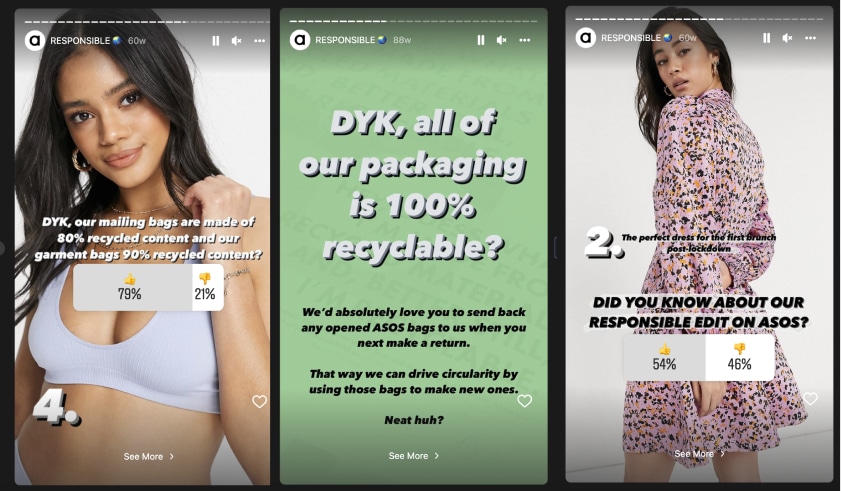 Examples of educating your followers:
Create an IG story with a link to your educational blog post
Redirect your followers to a free guide or a cheat sheet relevant to your niche
Post a couple of stories with separate advice on a specific topic
4. Record a video of the process of making your product
Let's say you have a product you make by yourself and want to sell it online, like a video course, a book, merch, print-on-demand clothes, handy crafts, etc.
Always prefer to record the behind-the-scenes of making the product you plan to promote on Instagram.
Then, put the video on your IG story and be transparent with your potential customers to the fullest.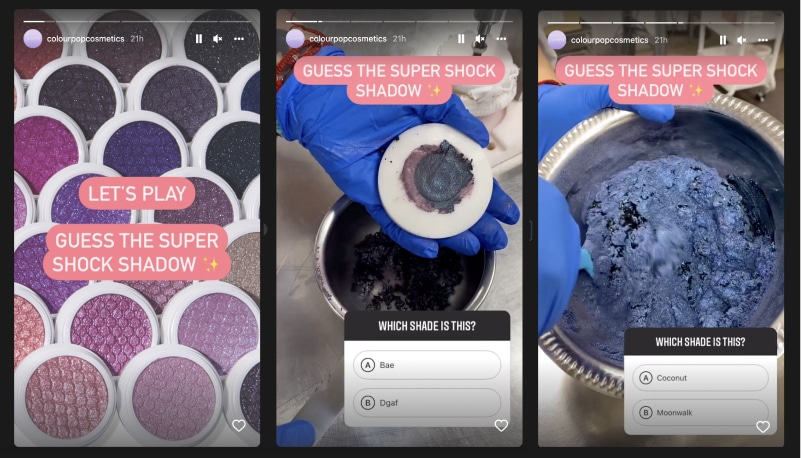 Examples of recording a behind-the-scenes video
Show the working atmosphere behind the scenes
Record the process of creating your product
Show the people involved in the project
5. Re-share Influencer generated content
To increase the engagement rate and catch the followers' attention, you can re-share influencer-generated content on your IG stories relevant to your brand or niche.
Pick your favorite influencers and repost one of their posts.
Let your audience see the correlations between your eCommerce brand and the influencers to build a positive mindset for your occupation.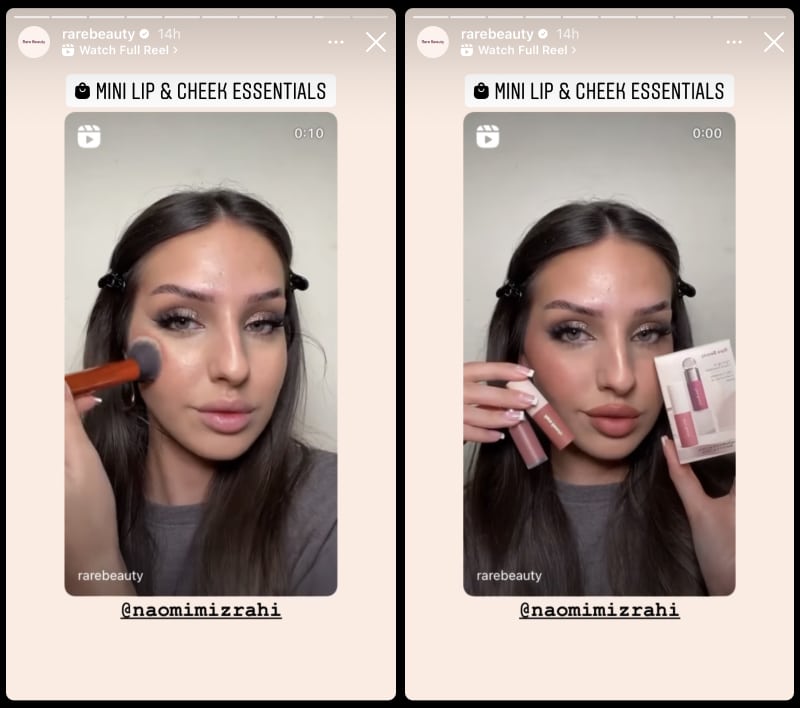 Examples of sharing influencer generated content:
Pick an influencer in your niche and repost one of their posts
Show the similarity between your brand and the influencers
6. Re-share user-generated content
It is incredible how much users contribute to a brand's success via Instagram stories.
It is already a common practice for users or customers of a certain product to tell their experience through a story. Usually, brands contribute to this activity by sharing an interesting Instagram hashtag that people can use to share their contribution to the brand's campaign.
For example: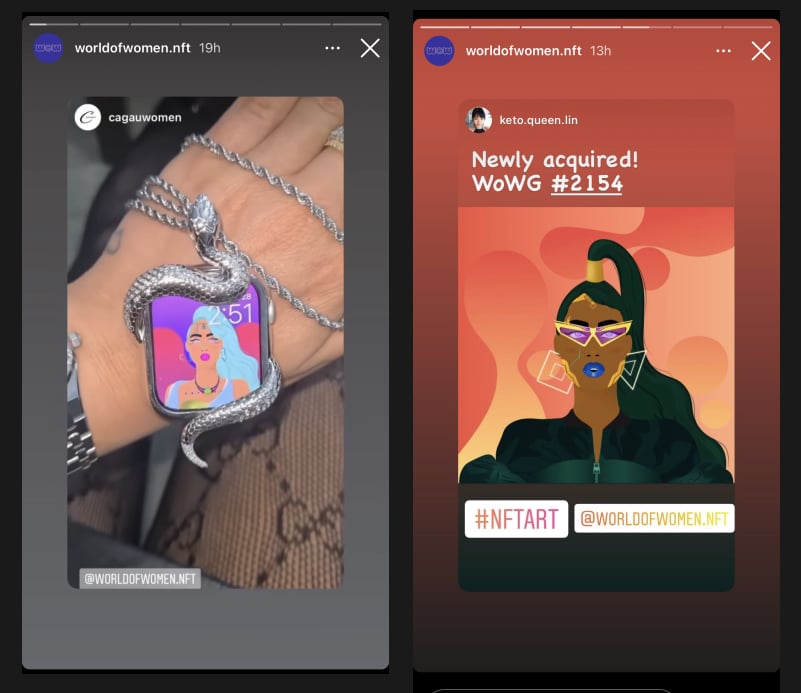 7. Use polls to gain insights into your audience's interests
One of the best features you can use in your IG stories is the polls.
Moreover, polls give you insights into the audience's interests and opinions, so use this Instagram feature to ask them directly or indirectly to pick a certain product you want to sell online to them.
After 24 hours, check their votes and save them for your marketing strategy.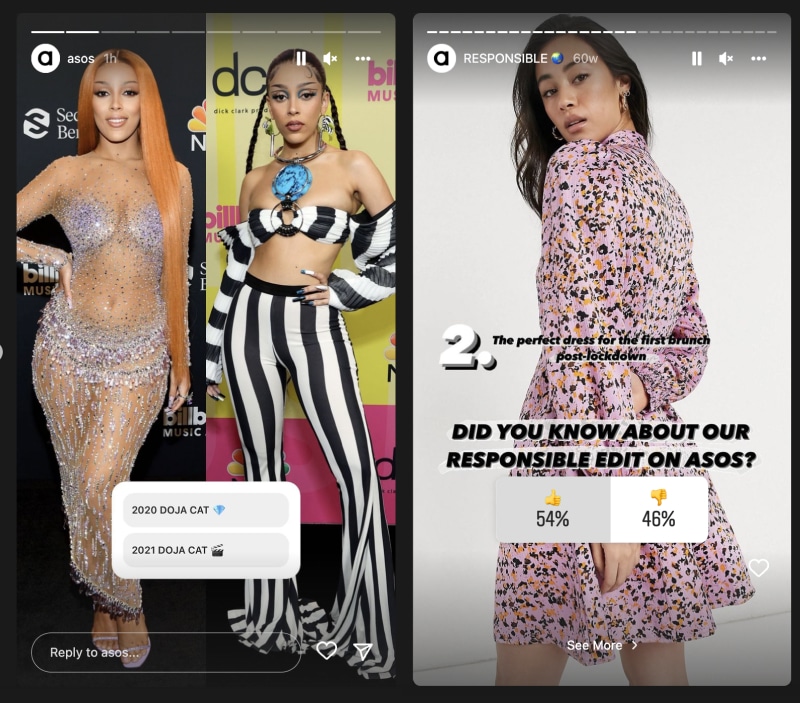 Tip: Use the poll feature in the very first IG story you post in the day for better audience reach.
Examples of using polls:
Post a two-part IG story picture to let your followers choose between 2 items
Use polls to get insights into the followers' interests
8. Create a multistep quiz
Quiz stickers are another Instagram story feature you can use to increase the engagement rate and allow your followers to interact with your content.
Use the quiz sticker to provide multiple options for your audience to choose an answer for your question, as well as tell their opinions if the sticker is used as a poll.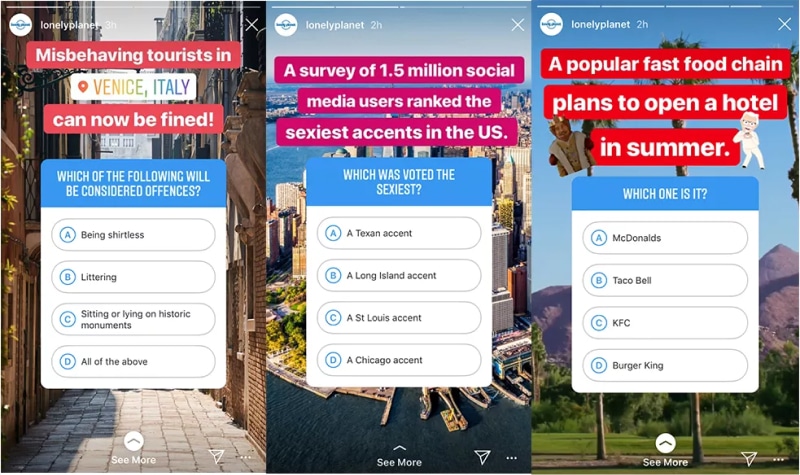 Examples of using multistep quiz:
Multistep quiz stickers allow your followers to interact with your IG stories
Get insights into the followers' opinions
Use quizzes for more engagement on your profile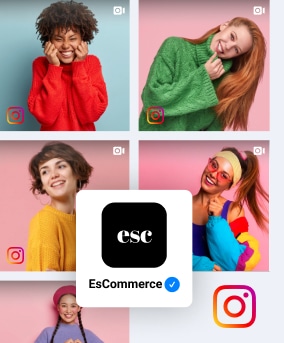 Show Instagram wall on your website, automatically!
Try EmbedFeed and add Instagram content from your feed, mentions or hashtags on your website, with just a few clicks.
All features included | Live support available
9. Use Countdown for important announcements
To keep your followers curious and allow them to set reminders, you can use the countdown feature in your IG stories with a concrete time count.
Also, this is a good idea to announce a new product launch or a new post relevant to your brand to drive more traffic and get more eyeballs faster.
Examples of using a countdown sticker:
Announce your audience about a new product launch with a concrete date and time
Offer limited-time prices for a certain product
Let your audience set reminders for posting a new post related to your products
10. Share discount codes
The best way for eCommerce brands to attract new potential customers is to offer discounts or discount codes for their products.
IG stories are a great source to give buying codes to every interested lead.
Subsequently, that's how you will increase your engagement rate and drive more sales at once.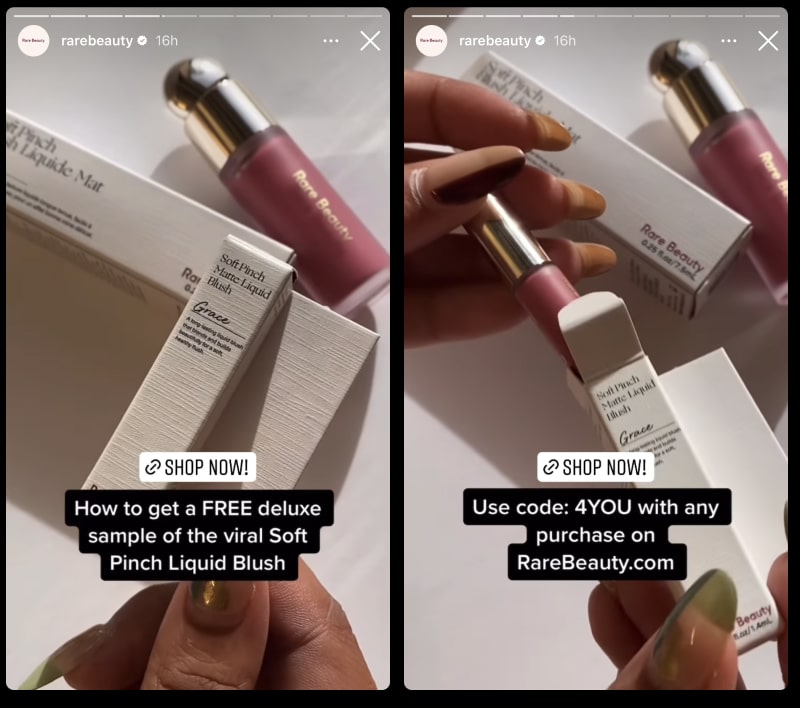 Examples of sharing discount codes:
Post a story with a registration link for a discount code
Redirect your followers to the product page where the discount code is showcased
Give a discount code to every interested follower who replies to your IG story in DM.
11. Highlight satisfied customers
One of the best ways to build trust among your followers is to share your customers' experiences with your products.
Therefore, post regular video testimonials from your customers to attract followers and build trustworthy customer relationships with them.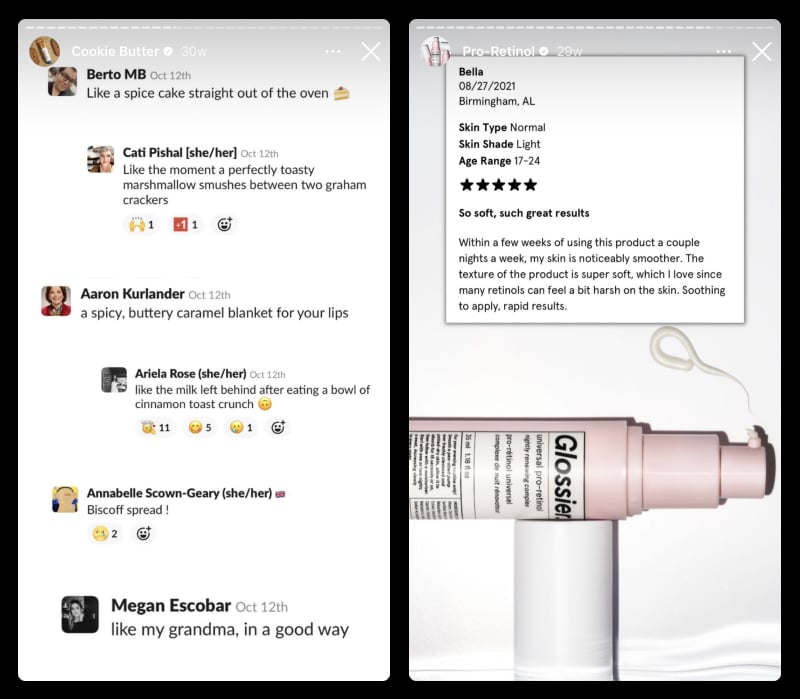 Examples of showing testimonials:
Post an IG story with a satisfied customer with a link to your product
Share a post from your customer using your product
Post a video testimonial from your happy customers
Take screenshots from your Google reviews and re-post them in the story
12. Repost IG stories that tag your brand
Your customers will probably spread the word on social media about the product they bought and express gratitude.
If they tagged you on their IG story, always repost it on your profile so your followers can see satisfied customers on your page and contact them for personal opinions.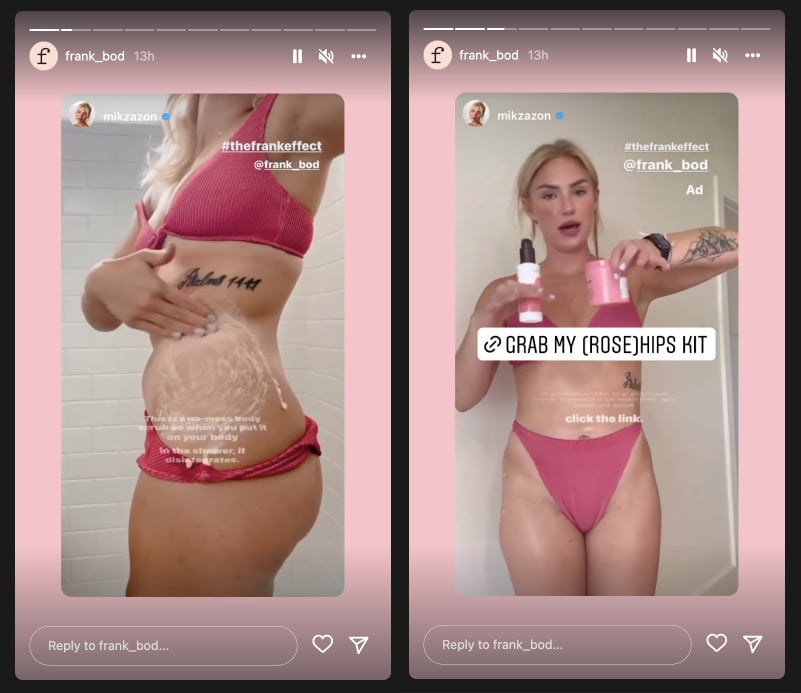 Examples:
Repost an IG story where your brand is tagged on
Show satisfied customers
Build trust among the followers
13. Let your followers ask questions
Interacting with your audience and answering their questions is a crucial step for more engagement on your Instagram feed and learning more about your active followers.
To achieve that, use the Ask Me sticker on your IG stories to let your followers ask something relevant to your brand or products.
Then, answer their question publicly with a text or a short video.
Examples of using the Ask feature:
Post an IG story with the Ask Me sticker
Allow your followers to ask questions related to your brand and products
Answer the questions with a video or text on a separate IG story
14. Launch new products
Presenting your products in front of your followers after you launch them is a necessary step to capture initial sales and your first customers.
Record a sneak peek video or publish stories with pre-launch countdown stickers to get initial traction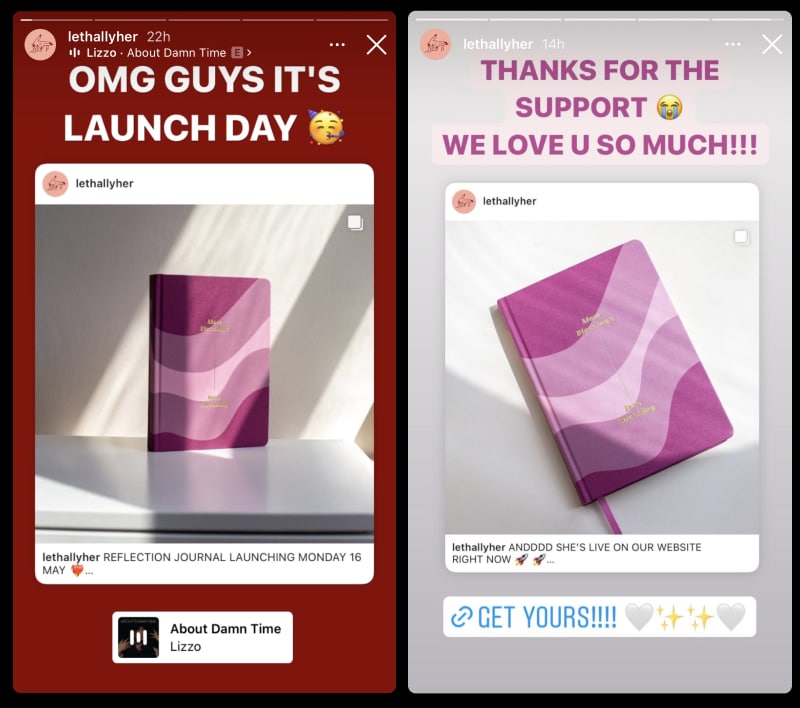 Examples of how to showcase your products:
Create a sneak-peak video of the product packaging

Post blurred photos of the product

Add a link to a landing page and capture emails in a waiting list
15. Share limited-time special offers
To increase your chances to drive more sales, try to convince your audience to take buying action by offering them special bundles and unusual offers they won't want to miss out on.
Therefore, create pressure with limited-time offers in a couple of days and announce your followers using IG stories till the last day.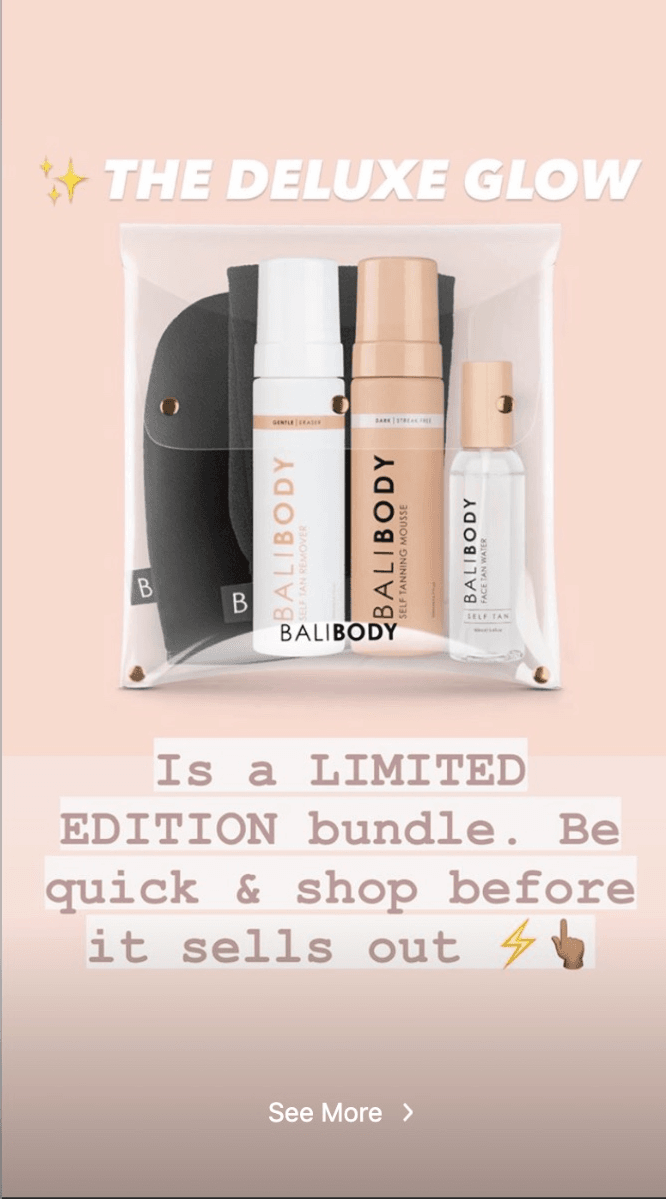 Examples of sharing limited-time offers:
Post an IG story for a discount with a limited-time
Use the countdown feature to hit up the buying momentum
Show your products with limited-time prices to your audience
Instagram story tools that will make your life easier
To attract your followers' attention and automate the posting process, you can use different tools for your IG story ideas to make them with ease.
In this section, you will find tools for Instagram stories with in-app templates, editing options, tools for scheduling, and so on.
1. StoryArt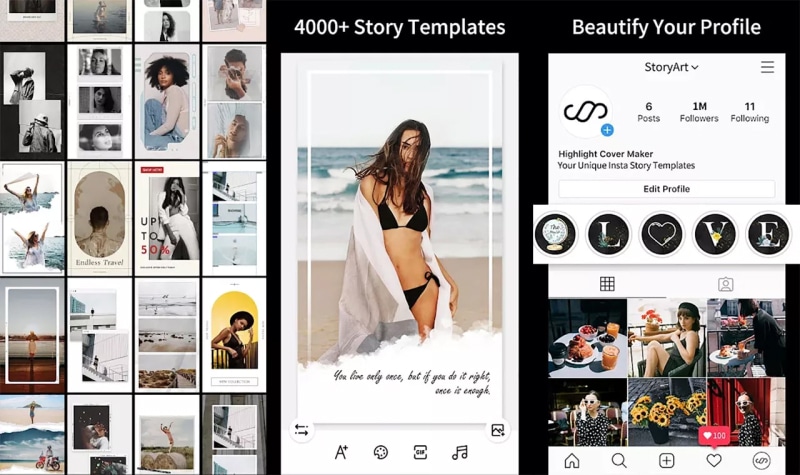 StoryArt is one of the most popular Instagram apps you can use for editing and designing your IG story ideas.
It provides you 4000+ in-app templates, as well as different filters, presets, effects, and Instagram story highlights covers.
2. Unfold – Create Instagram stories app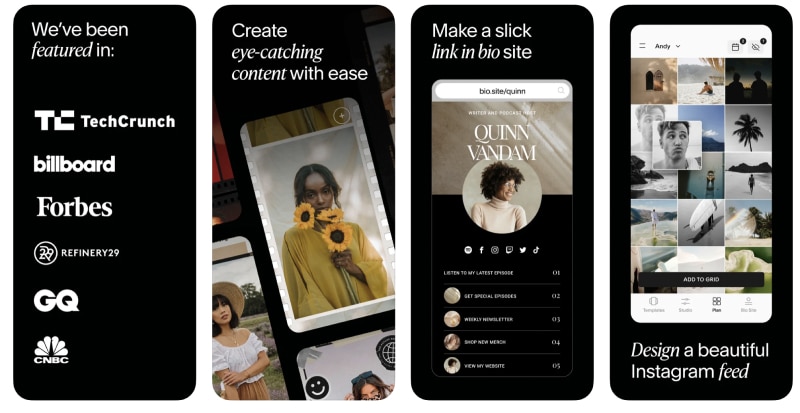 Unfold is another IG story editing tool mostly focused on creating story-like images.
It is a free Instagram app with story templates, text animations, and an option to create a link in bio page. The app has great reviews and it has the Apple App Editorial Choice badge:
"With Unfold, your Instagram and Snapchat Stories will look like they took hours to craft—even if you pieced yours together in less than a minute."
3. Canva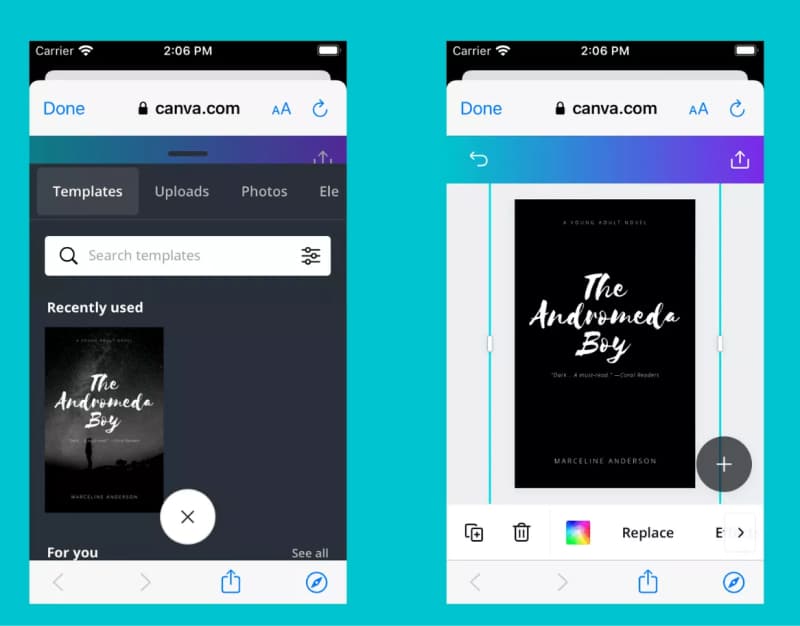 Canva is a multifunctional designing tool you can use for photo editing and IG stories too.
Sign up for a free account and use hundreds of templates for Instagram stories, stickers, graphics, and different fonts.
4. Combin Scheduler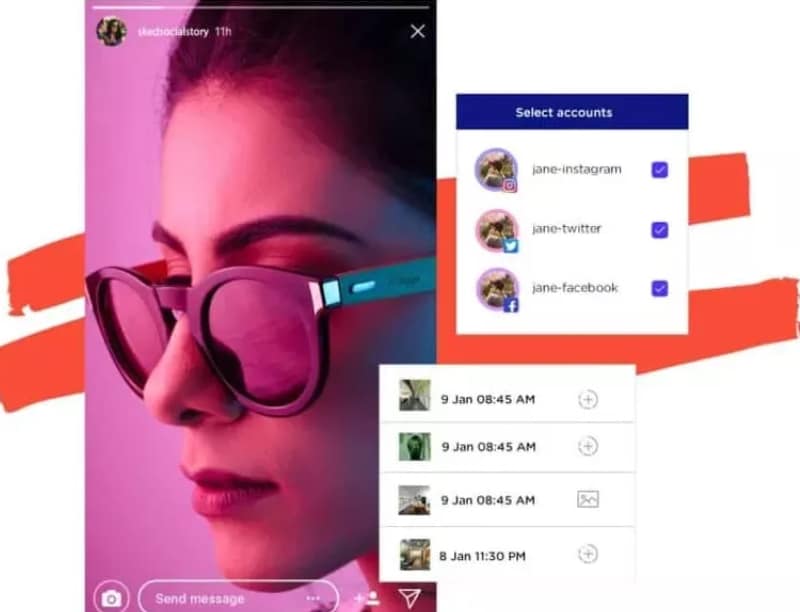 Want to automate your IG story posting for free?
Combin Scheduler is here to make the posting process easier with different features, like content size editing, hashtags recommendation, link in bio option, and so on.
Use this tool for IG story scheduling and post them automatically during different periods of the day.
5. EmbedStories
To capture all your Instagram stories and sync them with your website, you can use the EmbedStories platform.
It enables you to generate and embed Instagram stories on any website and make them shoppable.
Moreover, the Instagram stories widget is here to save resources from your Instagram profile and update your website, increase the engagement rate and make the earning process easier than before.
(image)
Examples of using EmbedStories widget:
Use the Instagram stories templates to create an Instagram story carousel on your website
Add a call-to-action button to allow your web visitors to interact with your products showcased in the IG story.
Why is frequently posting Instagram stories important?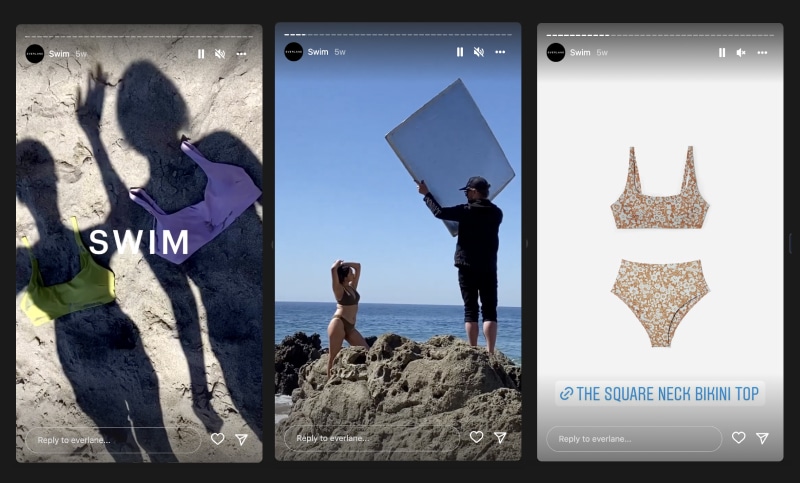 Instagram stories are up to 15 seconds long pictures or videos you can post on your profile that lasts 24 hours.
In fact, you can post up to 100 Instagram stories per day, but be aware not to overdo it.
Constantly posting IG stories is important for every business focused on Instagram marketing.
IG stories are discoverable content that Instagram users can find in the search tab business profiles (public profiles).
Also, your IG stories are a great and free resource you can use to reach a wider audience organically to enter your profile.
To achieve that, post regular Instagram stories using hidden hashtags behind your picture or video, geolocation tags, polls, and similar to let the Instagram algorithm recognize the content easily.
All the features you can use to execute your IG story ideas can help you increase the content visibility for new potential customers and non-followers.
For example, you can use the poll feature on your daily IG stories to let the followers vote or pick aside.
Also, the ask feature is here for them to ask a question related to your products or brand.
It's good to know that when users spend more time on IG stories, the Instagram algorithm keeps showing them similar IG stories.
Therefore, it's not a coincidence, and all you need to do is post frequently and keep your posting schedule updated daily.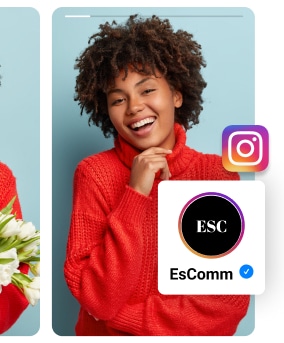 Display your Instagram stories on any website automatically
Try EmbedStories to capture, save, and embed Instagram stories on any website!
All features included | Live support available
When is the best time to post an Instagram Story?
Many businesses have their posting schedule relevant to their audience activity.
In short, there is no fixed time to post Instagram stories, and there are no certain rules for it.
Specifically, you need to post Instagram stories when your audience is the most active in the day to have a better engagement rate.
For example, if the other brand's audience is most active at 3 pm, it doesn't mean that yours will be too.
You have to test the audience activity by posting in different periods to see the highest numbers.
Hootsuite research report shows that the best posting time on Instagram (feed posts and stories) is in the morning hours between 9 am to 12 am.
Instagram followers are the most active on Wednesday at 11 am.
However, keep in mind that these are just overall Instagram statistics.
You have to determine your posting schedule for Instagram stories relevant to the engagement rates in a certain period of the day.
Maybe your followers come from different countries and time zones, and they will see your content during different periods of the day.
How to schedule your Instagram Stories?
To schedule your Instagram stories and post them automatically during the day, you have to use a social media scheduling tool.
The most popular Instagram scheduling apps are Buffer, Later, Hootsuite, Storitto, Combin Scheduler, etc.
Also, keep in mind that all tools of this kind have free and paid subscription packages.
In general, for all Instagram Story scheduling tools, you have to choose multiple photos you want to post from your gallery, then select a certain date and time for posting.
Let's see a concrete example using Buffer as an Instagram content scheduling and social media management tool:
1. Open the Stories tab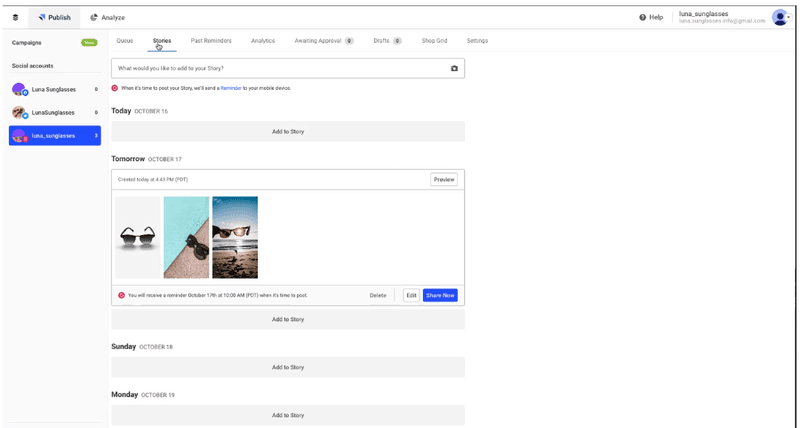 2. Tap "Add to Story"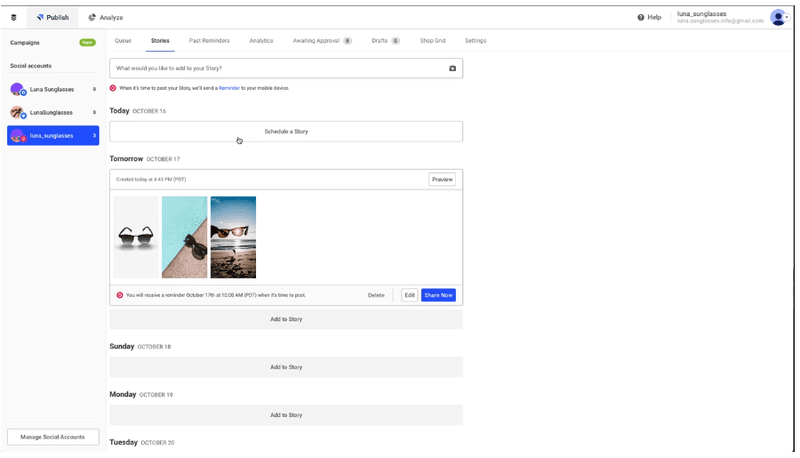 3. Add up to 10 media files for your Story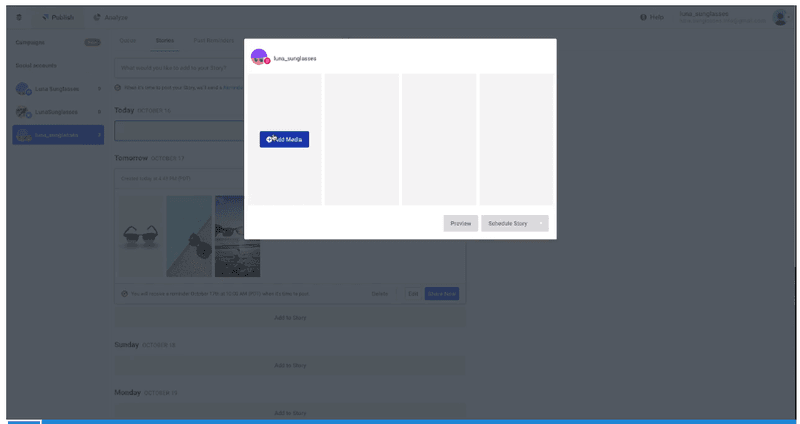 4. Drag and drop your media files to arrange your Story in the correct order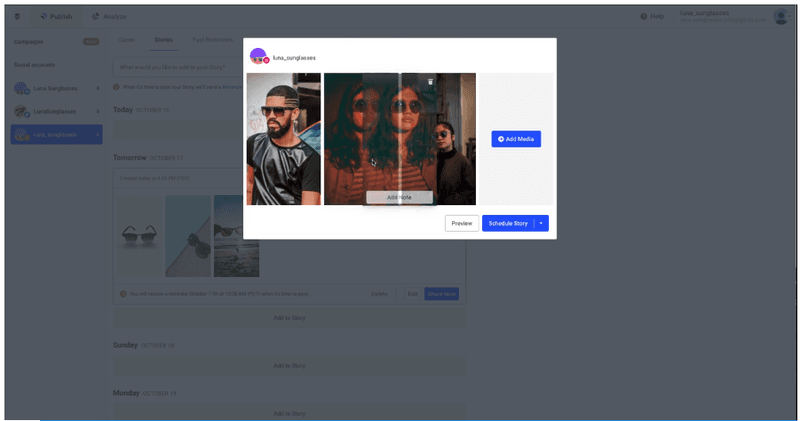 5. Add any relevant notes to your Stories (optional step). Only you can see your notes.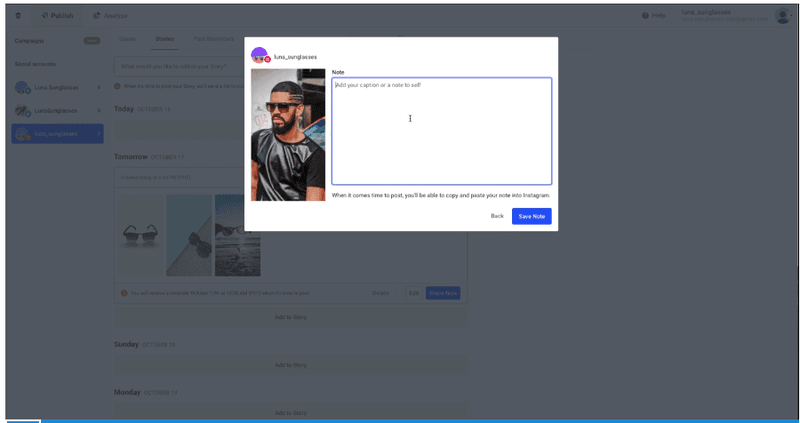 6. Preview your Story
7. Schedule your Story – set the date and times when you want to upload each image in your Story
More FAQ about Instagram Stories
Are Instagram stories good for business?
IG stories are one of the best ways for businesses to get more eyeballs on their offers, drive leads, increase engagement rates and build brand awareness.
How many IG stories can I post per day?
The limit of posting IG stories is 100 per day, but be aware to not overdo it and post a couple of times per day for a better customer experience.
Is Instagram good for eCommerce?
Thanks to IG stories, eCommerce businesses have a big opportunity to promote their products and interact with the target audience using Instagram features like link stickers, polls, quizzes, ask stickers, and similar, to drive more leads and get audience insights.
What should I post on my business Instagram story?
Post catchy photos or videos highlighting user-generated content and satisfied customers, repost IG stories you are tagged on, put a link from your product pages, behind-the-scenes content, and so on.
Do Instagram stories get you more followers?
IG stories are discoverable in the search section for people who don't follow you, so they bring you more followers and potential customers for your eCommerce brand.
Key takeaways
The trend of using IG stories for product and brand promotion will not stop and all eCommerce businesses can take advantage of it.
Whether you know the interested followers or want to discover them, there are different features you can use on your Instagram stories to target them with special offers, test their behavior, or get insights into their interests.
Always tend to create catchy content and post interesting offers for your potential customers to take buying action from your content.
Here are 5 key takeaways on IG story ideas you should be aware of:
It's important to post IG stories frequently to help the algorithm recognize your profile activity and push your content. Use features like polls, quizzes, stickers, and geo-location tags to skyrocket the engagement rates. This way, your followers will interact with your content directly.
Schedule your IG stories to automate the posting process. You can use tools like Buffer, Later, SocialBu, Combine Scheduler, Crowdfire, and others to automatically post your content after setting a certain date and time for posting.
Posting IG stories is limited to 100 stories per day. Be aware not to look scammy, so don't interrupt your audience with everyday offers and promotions.
Always post or repost an Instagram story from a happy customer. That's how you build trust among the followers and make them feel free to buy your products.
IG stories are a powerful option to build brand awareness on Instagram and drive more sales. Use them to show what's going on behind the scenes of your eCommerce business, introduce your team members and be transparent as much as you can.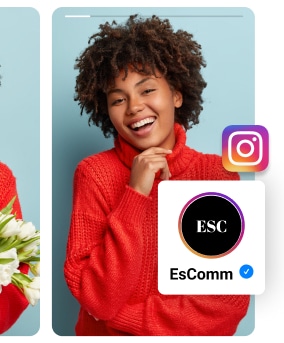 Display your Instagram stories on any website automatically
Try EmbedStories to capture, save, and embed Instagram stories on any website!
All features included | Live support available