Sharing customer testimonials about their success with your service or product on social media channels are among the most impactful posts.
According to statistics, 92% of people read online reviews and 50% of consumers are more likely to be motivated by an online review than by a discount.
Testimonials as social proof will help you build trust, and credibility, give your customers a sense of the quality you're offering, and help you increase conversions.
That is why using your loyal customers and their best testimonials in your marketing materials will help you create a notable advantage, bring more prospective customers, and increase sales.
Why Share Customer Testimonials on Social Media?
As we've mentioned, sharing testimonials on social media has many benefits.
To give you a better understanding, he's an elaboration on some of the benefits:
Builds trust and credibility – Positive testimonials and any other type of social proof content (including UGCs) are created by a third party – or said simply by your customers. By adding them into your strategy, you're only mentioning what other people say about your brand – meaning you're providing them with an independent opinion or being transparent. This will help you establish yourself as a reliable brand and help you connect more profoundly with your potential customers.
Showcases the quality of your product/services – these posts are also a great way to showcase your products/services. Additionally, by sharing testimonials on social media, you could highlight specific features and benefits that are superior to your competitors.
Help you build a community – sharing feedback from your customers and encouraging them to share their experiences, what they did/how they use your products/services, and how it benefits them will help build a revenue stream and a community.
Increase customer retention – sharing reviews and customer feedback will make those same people feel like your biggest fans and supporters. This will give them an additional sense of being valued and appreciated, which equals higher retention rates. They will also feel like part of the community we previously spoke about.
Now that you're aware of how important testimonials are, we can only move on to the best tools to help you create these customer testimonial templates for your social media channels.
Best Tools for a Testimonial Template Design
When it comes to designing a great image with testimonials, you could use various tools.
Some are more difficult to master than others, so we'll start with the simplest ones and move on to the ones that are more difficult to master.
1. Canva
Canva is one of the easiest and most user-friendly tools to master. It's online, free, and literally offers thousands of pre-made templates that are easy to modify and use. Continue reading and discover below some testimonial templates made in Canva.
2. Figma
Figma is another tool that will be helpful if you collaborate with multiple people on your team. You could overlook the testimonial templates together, make real-time changes, go through more versions together, and revert if needed. Additionally, Figma will allow you to export your design in versatile file formats + test and preview how the design will work on different devices and platforms.
3. Adobe Express (Adobe Spark)
Adobe Express is a powerful yet simple design tool that will help you create your templates with minimal experience. It comes with a free plan, a huge template library, and the ability to create a slideshow-style testimonial template to help you share multiple testimonials on your social media channels.
Learn more: How to make a slider testimonial?
4. EmbedSocial
EmbedSocial is not a design tool, but you can use review templates for web widgets as a design mockup from where you can make screenshots for your testimonial images for social posts. This means that once you use different template designs for actual testimonial website widgets, you can make images from them and post them as image posts across different social networks.
FYI: You can embed Google reviews widget automatically with EmbedReviews platform. Start a free trial and display your Google reviews now.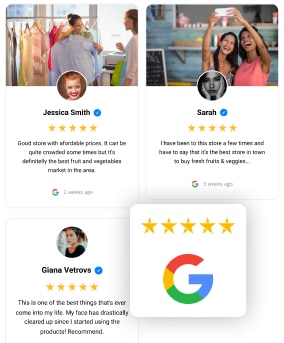 Generate & embed your Google Reviews.
Try EmbedReviews, generate Facebook and Google reviews, and display social media reviews widgets on your website. Automatically and in seconds.
All PRO features | Cancel any time.
Testimonial Templates Designs
Most of the templates below are examples we are sharing mostly from Canva, and in time, we will update them with more examples from other design tools.
1. Minimalist testimonial image template
Simple yet outstanding with subtle colors and bold typographic style. The stars will help you visually showcase the actual review,, and the quote will better explain the benefits. Fully customizable and free.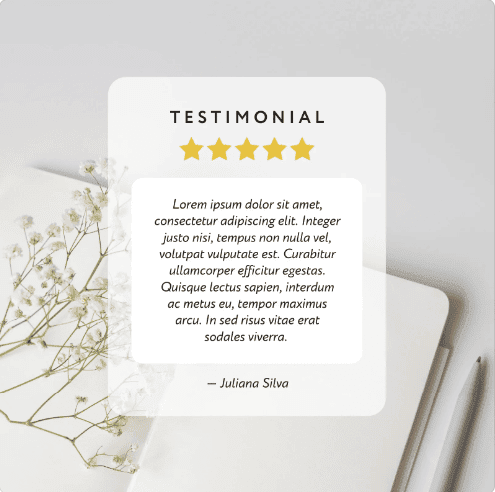 2. Product testimonial Instagram post
This testimonial template combines beige, neutral, and feminine colors with well-placed design elements. The headline, "star review," and the quote above the person's name and role, along with an image, make it quite attractive. Note that it is a paid template.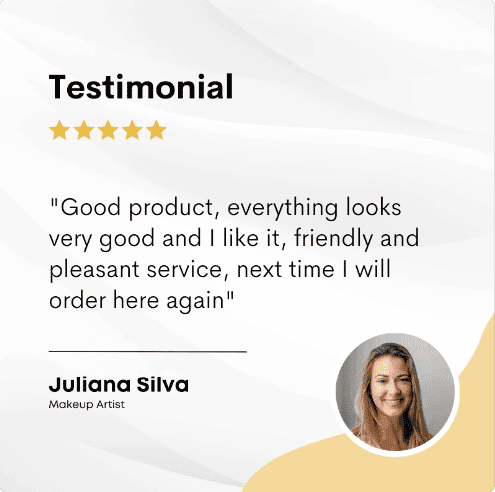 3. Fashion testimonial Instagram post
This testimonial template has a unique and interesting pink border, visually appealing centered image, and alignment, making it suitable for brands that want to be different yet keep things simple.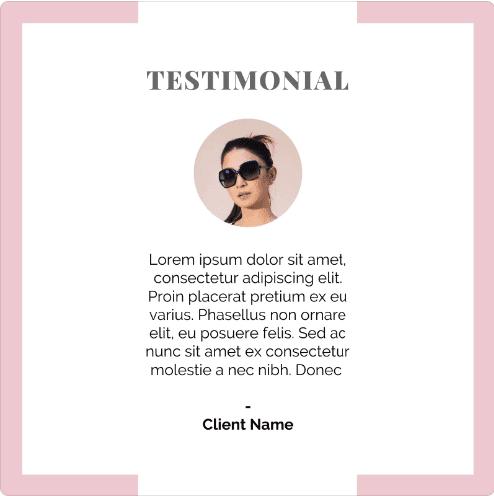 4. Business client testimonial Instagram post
The beige colors on this template radiate elegance, yet the design is equally functional and as appealing. The call-to-action at the bottom makes this template even more practical and not only beautiful.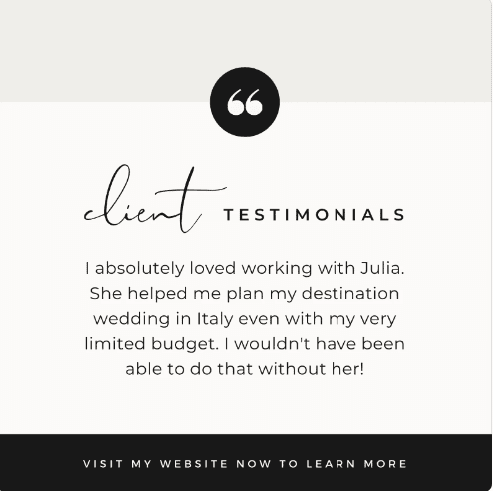 5. Beige minimalist testimonial Instagram post
Minimalistic colors paired with an interesting, eye-catching layout. The color in the background makes the quote in the box stand out, and the quotations, together with the image and name of the person, make this template complete.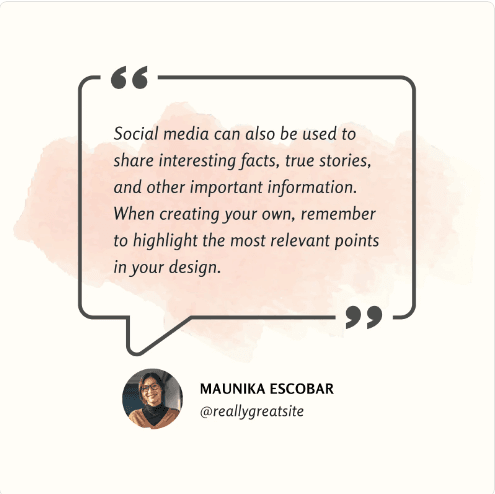 6. Furniture shop testimonial Instagram post
This testimonial template has slightly darker colors with golden typography and cute details that add character and uniqueness to it. This one is a free template.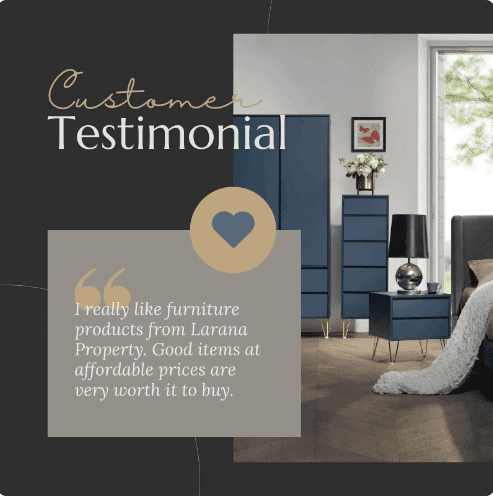 7. Minimalist testimonial Instagram post
The pink shades, an eye-catching typographic style, and a simplified design make this free template ideal for brands looking for a modern and elegant look.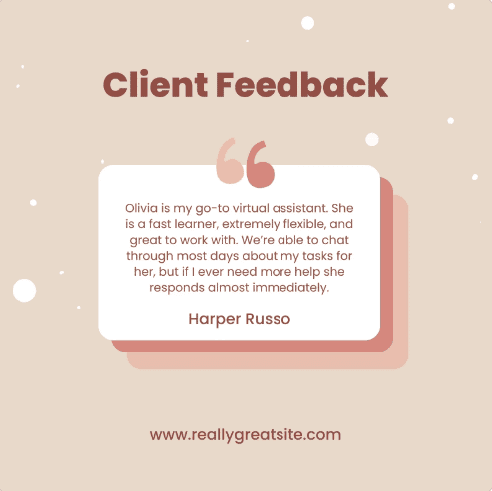 8. Coaching testimonial Instagram post
The italic typographic style, the image, the colors, and the background, make this free testimonial template feel "approachable" yet simple enough to be used for various businesses.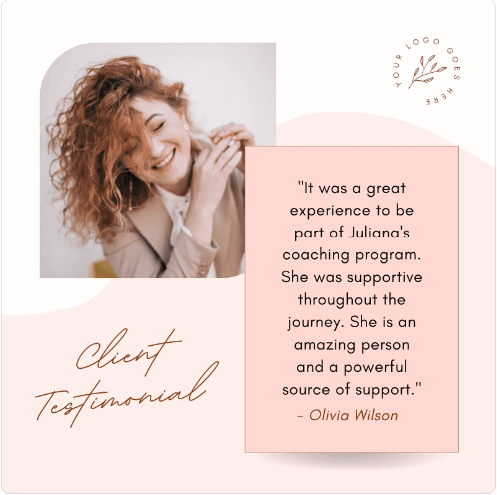 9. Minimalist testimonial Instagram post
This paid testimonial template radiates elegance above all. The split background – half beige, "half image" background gives out modern vibes, yet the white quote background pops the quote quite. The circled image, customer name or company name, and stars to increase the "social proof" feeling.
10. Realtor testimonial template
If you're looking for something bold, this is your template. The quote is written in a large, attention-grabbing font, the colors are minimalistic, and the bottom information only adds to this unique template.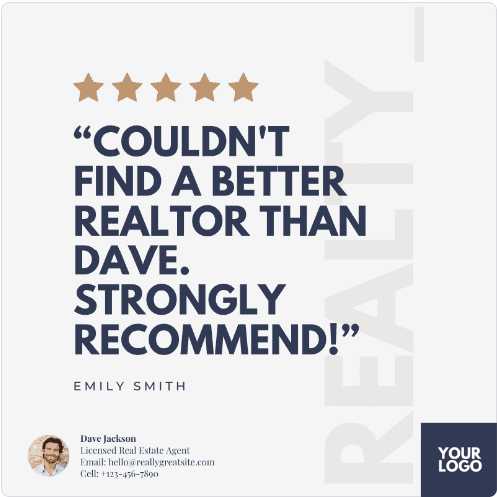 Testimonials on Social Media Post Examples
1. Minimalist product testimonial post
This testimonial is product-related, meaning it's a customer review (testimonial) for a certain product by the brand Purito. We can see that they've kept the background, colors, and layout simple without too many elements, allowing the product and the quote to stand out. Notice how they've used the customer's Instagram handle instead of a customer's photo.
Here is one of the best testimonial examples:
2. Wellness Instagram testimonial post
Of all the testimonial templates on our list, this is one of the simplest ones.
This post is for a service instead of a product; its background is from a happy customer, the white background makes the quote stand out, and the logo is subtle yet crucial for branding purposes.
3. Real-estate testimonial social post
This Instagram post also reviews a service, specifically a real estate service. For their design, they've chosen to go with versatile blue shades, a quote accompanied with "stars review," a reassuring image by the company's owner, and lastly, the owner's name with his number and the brand's logo.
This design looks modern, and it's a great choice if you want to make a "bold" decision.
4. Food testimonial post
This testimonial template features a bold, vibrant orange background that immediately catches the eye. The design is simple and focuses on the glowing testimonials written in a white font that is easy to read.
This template is the right choice when you want the words of your satisfied customers "take center stage."
5. Elegant real-estate agent testimonial
This testimonial template features a versatile palette of pink shades that create a soft and feminine feel. The design is subtle and elegant, with a balance of lighter and darker shades that make the text written in black stand out. The template is perfect for showcasing your satisfied customer testimonials in a sophisticated and girly way. This design is a safe choice for brands that want to appeal to a more female audience and want to create a sense of elegance and refinement.
6. Cosmetics authentic testimonial post
This testimonial post feels reliable and credible simply because this brand made copy-paste from an e-commerce site where customers purchase their product. This specific design adds another layer of trustworthiness and is always a safe choice.
They've kept the background simple and showcased the product the review is about. Overall, this template is an excellent choice when you want to build a strong relationship with your target audience.
7. Simple thought post
This testimonial post for an app that helps you create a digital wardrobe is perfect for sharing on Instagram. The background features a soft gradient that creates a visually pleasing aesthetic. The focal point of the post is a screenshot of a satisfied customer's feedback, which is a powerful endorsement of the app's capabilities. Using a customer's quote provides a tangible and relatable example of the app's benefits.
Choose this type of template post whenever you want to bring value "to the table" and build trust with potential users.
8. A before and after cosmetics Instagram post
The "before and after" concept is a potent marketing tool.
This brand leveraged this concept by creating a carousel post on its Instagram profile, which features two different layouts. The first image compares one of their products' "before" and "after" effects. The remaining images in the carousel are testimonials from satisfied customers. The combination of these two different layouts creates a highly impactful post that effectively builds trust and credibility while showcasing the quality and benefits of the brand's products.
Overall, the post gives a solid visual representation of the brand's product transformation and the customers' satisfaction.
9. The Detailed Testimonial Template
If you need to add a lot of important details to your testimonial Instagram post – this is an interesting example of how to do it. This post is related to specific doctor services and has a lot of details to it, such as the name and surname of the doctor, what the patient came in for, a quote, and star review for three different areas. Despite the information included, the template has a simple and clean design.
10. Do it Strategically
We selected this template as the final option for its visually pleasing design and its strategic inclusion of a hashtag within the layout. As mentioned in the benefits part, testimonials are powerful marketing tools that establish credibility and foster community engagement. Using a branded hashtag encourages users to share their experiences and connect with others who have also used the product or service.
Read more: Top Customer Testimonial Page Examples
Bonus: Testimonials Widget templates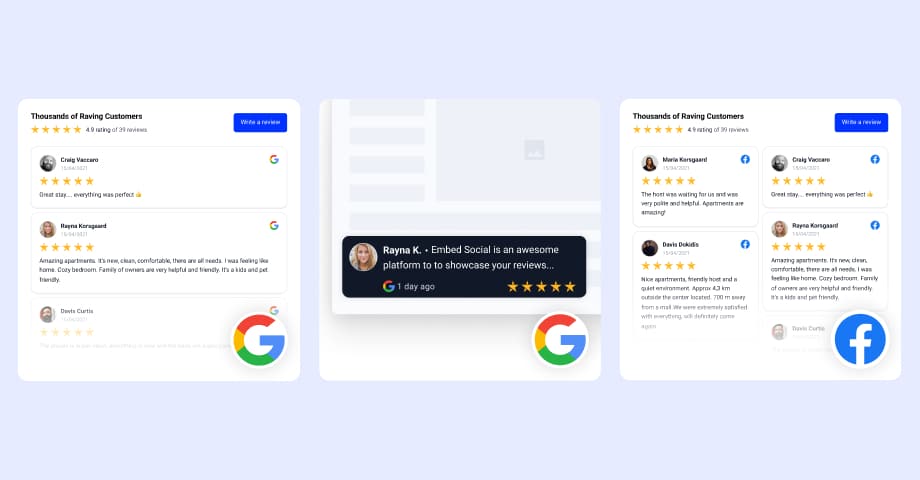 In order to provide a more extensive version of this list of testimonials templates, in this section, we share the pre-built reviews or testimonials widgets library provided by EmbedReviews.
It is a gallery of templates that help users create any design of a reviews widget for their website.
It won't require any design skills, and users only need to input their review source, Facebook, Google location, or manually import their current testimonials.
We suggest this library as a shortcut for creating marketing materials with your customers' testimonials, which can be easily captured as screenshots and included in designs for social posts, email newsletters even print materials.
Collect Testimonials for Social Media Posts
Finally, this section will share ways to collect more influencer testimonials and create your marketing materials. There are a few options:
Option 1: Use Form Builder Client testimonial template form
You can use a form builder like EmbedForms and its testimonial form template that will help you collect feedback and user-generated content to create testimonial posts for social media.
Here is a free testimonial form that you can embed on your testimonial page and start collecting more testimonials.
These forms can also help you to understand the overall satisfaction of your customer base and gather feedback from your current customers.
Option 2: Use reviews management software
Collect more testimonials and reviews automatically with reviews management software such as EmbedReviews.
With this review management tool, you can manage responses from Facebook and Google reviews in one place, select great testimonials, and showcase them in website widgets.
You can browse the reviews templates library for inspiration and use the designs as social media images that you can capture as screenshots and submit on your social profiles.
Option 3: Use already published UGC with hashtags or mentions
People also post testimonials in the form of a video. That is why you look at video posts that people have created about your brand or particular hashtag and already shared on social media.
Video testimonials can be more powerful than text testimonials, so it is important to have the right tools to capture them.
For this purpose, you can use EmbedFeed to collect this feedback and, from there, display these testimonials on your website or re-share them once a customer tags you on social media.
Conclusion
To sum it up – sharing testimonials on your social media channels can be a powerful tool for all sorts of businesses (both service and product-related). It can help you build trust and credibility and share personal recommendations and current customers' experiences to build a stronger and more emotional connection with your target audience.
We hope the twenty examples gave you an idea of how to create engaging yet effective testimonial images for your social media testimonials and help you attract new clients and gain more customers.
FYI: You can embed Google reviews widget automatically with EmbedReviews platform. Start a free trial and display your Google reviews now.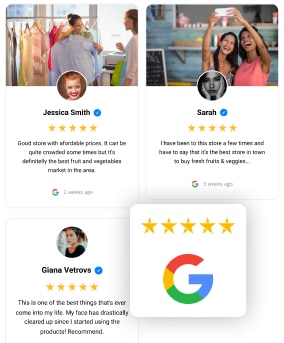 Generate & embed your Google Reviews.
Try EmbedReviews, generate Facebook and Google reviews, and display social media reviews widgets on your website. Automatically and in seconds.
All PRO features | Cancel any time.