Instagram is one of the most popular social media platforms, with over 1 billion monthly active users. If you're looking to grow your Instagram following and get more engagement, posting consistently is key.
But manually posting to Instagram can be time-consuming, especially if you're trying to post multiple times a day. That's where scheduling comes in! By scheduling your content ahead of time, you can save time and make sure that your Instagram profile is always active.
And finally, Instagram has enabled creators to schedule their posts inside the Instagram app.
Previously, this was unavailable, and you could only plan and schedule your content through social media management apps.
Now with this simple but very anticipated feature, creators can do all their content planning. inside the Instagram app.
Continue reading to learn how to schedule posts on Instagram:
Steps to schedule posts within the Instagram app
As mentioned above, the Instagram platform has finally enabled an option to schedule Reels, Carousel Posts, and Photos for up to 75 days directly from Instagram.
Here is how: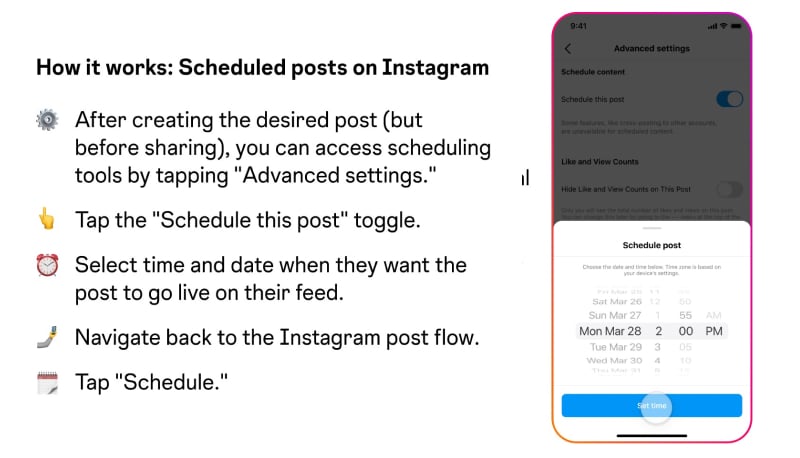 Open the Instagram app and create a new post.
Tap 'Advance settings'
Select the "Schedule this post" option
Choose the date and time you want your post to go live.
Navigate back to the Instagram publishing screen
Tap 'Schedule'.
Note: your need to have a professional account to have access to this option.
Benefits of scheduling content on Instagram:
When you plan and schedule your content in advance, you free up time to create even more great content, connect with your audience, and grow your Instagram following.
Plus, by having a content strategy and editorial calendar, you're more likely to produce high-quality content that is aligned with your brand goals. And that's what Instagram is all about!
If you're serious about Instagram marketing, then you need to start scheduling your posts. It's the only way to ensure that your content is being published consistently and efficiently.
In summary, here is the list of benefits of scheduling on Instagram:
Allows you to be consistent with your posting
Gives you more time to create high-quality content
You can schedule around key events or dates
Scheduling can help boost your reach and engagement
This option is rolling out, and we hope it will be available for more creators in the coming period.
Until then, plan your content schedule and look for the most important date for this holiday session.
---
FYI: Embed Instagram widget automatically with the social media aggregator and UGC platform by EmbedSocial. Click below to try it for free: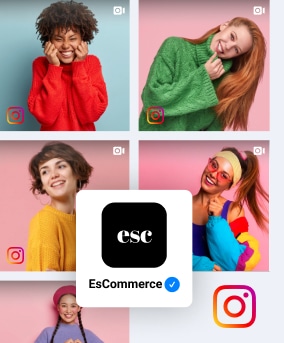 Embed Instagram widget on your website automatically!
Try EmbedFeed and display Instagram content from your feed, mentions, or hashtags on your website.
All PRO features | Cancel any time.