In the past few weeks, we have been searching to finally include a social media management tool in our marketing stack, hoping to automate our social media efforts and focus on other priorities.
Before we list all the tools, let's see the main functionalities our perfect social media management software should have:
Compatible with major social media channels
Simple scheduling process
Option to schedule posts across different social media platforms
Option to share older (evergreen) content
Social inbox
Data tracking and analytics
Free courses available
Team collaboration option
Affordable pricing
Bonus: integrations with Slack, Canva, or similar tools that we use
---
FYI: Embed Instagram widget automatically with the social media aggregator and UGC platform by EmbedSocial. Click below to try it for free: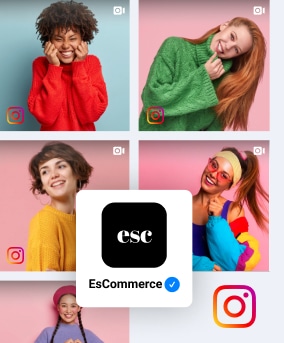 Embed Instagram widget on your website automatically!
Try EmbedFeed and display Instagram content from your feed, mentions, or hashtags on your website.
All PRO features | Cancel any time.
We just wanted to save some time and automate our social media workflow, but we realized that these marketing tools could actually be beneficial in many different ways:
Simplifies your social media workflow, cuts cost and labor time
Helps you plan your social posts months ahead of time
Streamlines the posting process by removing the need to shift between platforms
Gives you useful insights about your posts' performances and your target audience engagement you can work with
So, we decided to spend a day testing some of the most popular social media management tools and summarize our findings below.
Continue reading to learn about our experience testing these digital marketing platforms.
Top Social Media Management Platforms in 2023
Hootsuite – Best for easily managing dozens of social platforms in one place
Buffer – Best for straightforward social media scheduling
GoSchedule – Best for centralizing all of your blog and social in one place
Later – Best for scheduling and managing your Instagram account
MeetEdgar – Best for automating your social media posts effortlessly
Agorapulse – Best for keeping track of important social media content
Iconosquare – Best for social media analytics and scheduling
1. Hootsuite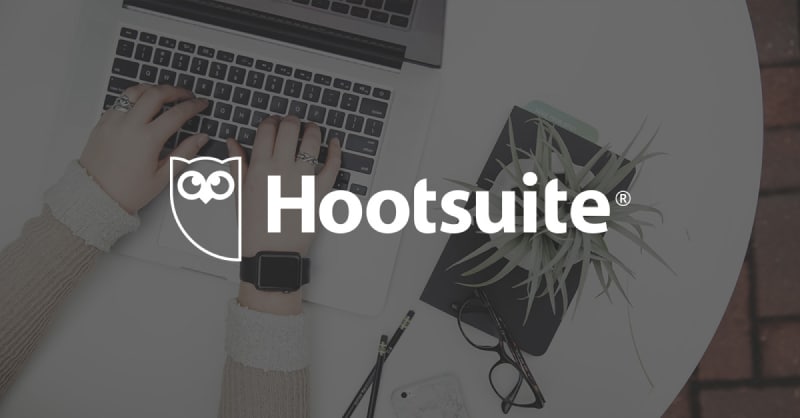 Free trial: 30 days
Price: Team plan starts at €99 /month for up to 20 social profiles
Best social media management software for managing dozens of social media platforms from a single dashboard (best for SMBs & Enterprises)
On my first destination, I encountered a tool named Hootsuite. It promised to have a simple dashboard to curate and schedule content, measure your social ROI, run social media ads, and more.
It definitely sounded like a nice catch!
Once I installed the tool, I was surprised to see that the platform allows you to connect with over 35 social networks.
They were also right about the fast process of scheduling posts.
You can literally create a post for all the social media networks you select AT THE SAME TIME!
This bulk scheduling seems really effective for marketing teams that manage various social networks.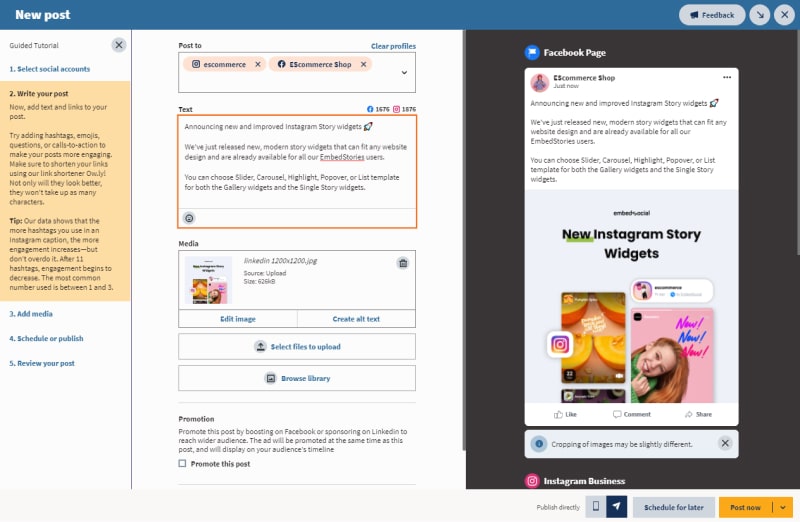 And with their straightforward analytics dashboard, you can easily stay on track with your post's performance.
Besides data tracking, to keep up with your audience, you can monitor incoming social media messages so that every follower will get a reply instantly. They have an option for Message Assignments to ensure no follower's message is lost in bulk and read by no one.
For a marketer like me, it was to see that the Hootsuite platform has hundreds of free resources to help you create effective campaigns for social media marketing.
You will find a variety of blogs, guides, webinars, toolkits, case studies, whitepapers, and a social ROI calculator that can calculate your return on investment in just a few simple clicks.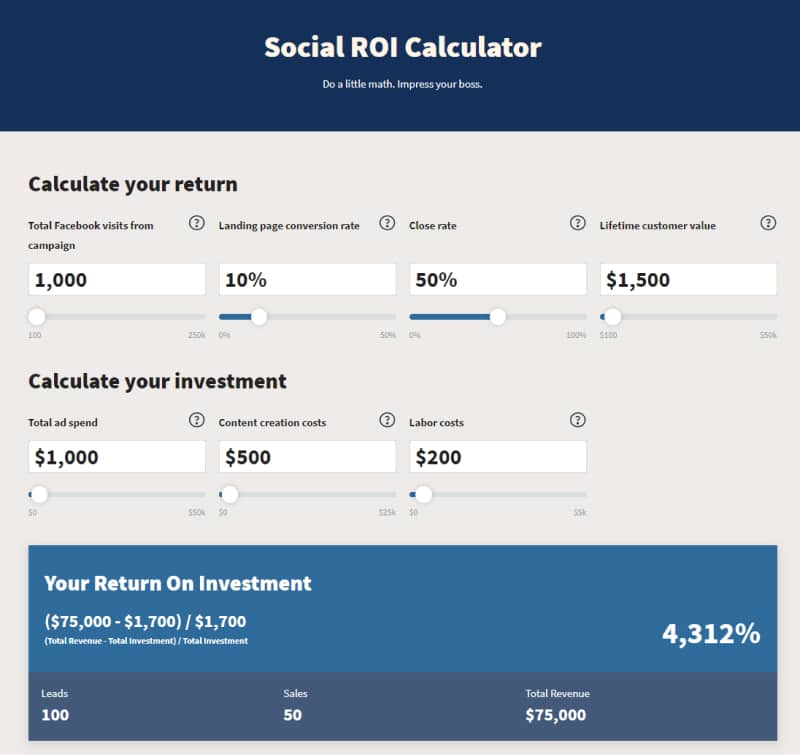 How can Hootsuite improve your social media campaigns?
Unlimited number of post scheduling
Manage posting schedules in bulk
Connects up to 35 social media accounts
Scheduled messages to fasten the reply process
Ad campaign management
Free courses to improve your social marketing campaigns
Integration with Slack to share posts and collaborate with team members on social media strategy
2. Buffer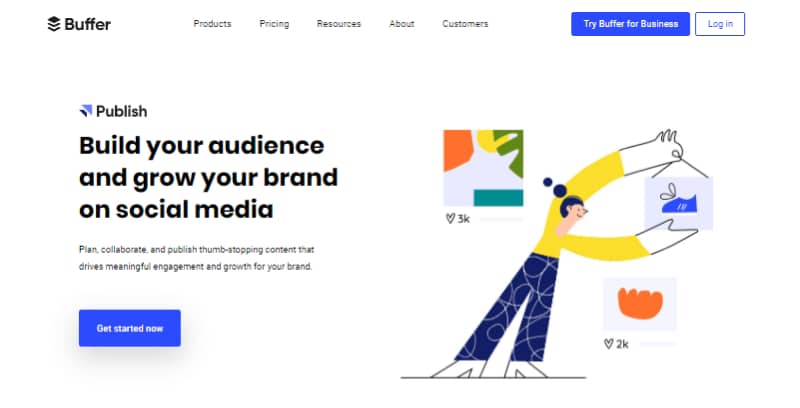 Free trial: 14 days.
Price: Pro plan starts at $15/month for up to 8 social media channels.
Best social media management software for scheduling posts for beginners and advanced data tracking (best for SMBs).
In almost each of the posts I've read, this tool named Buffer (now Buffer Publish) appeared. It seems like this is one of the longest-running social media tools for scheduling posts.
I was a little disappointed to see that it only supports several social media platforms like Facebook, Twitter, LinkedIn, and Instagram, Pinterest (for PRO users). However, I realized these networks were actually everything that I needed.
So, once you connect your social account, Buffer will automatically create a suggested schedule for you (4 times per day). You can change these slots however you want.
To get started with scheduling your first post, you need to tap on the time slot and just fill in the details.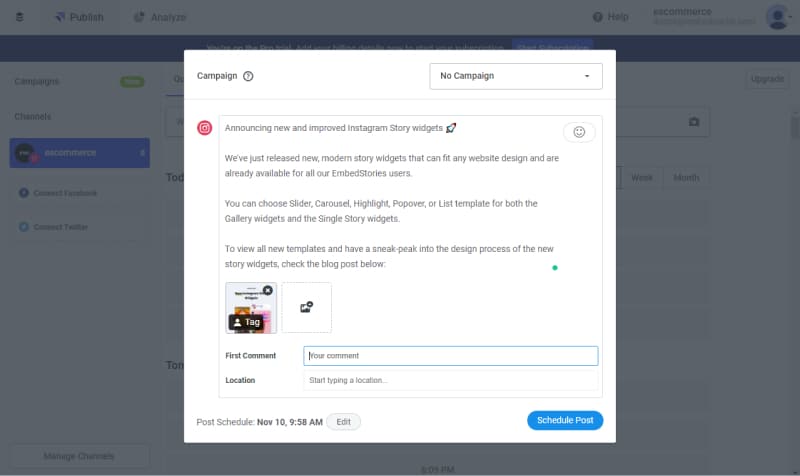 Buffer offers browser extensions for Chrome, Firefox, Opera, and Safari for scheduling content from the web. You can also schedule on the go with Buffer's app for iOS and Android.
While Buffer Publish includes limited insights for your post's performance, it offers an additional (paid) option named Buffer Analyze (similar to Google Analytics).
As the name suggests, despite the usual data like the number of post impressions, clicks, comments, shares, and overall reach, this feature gives you deeper insights like engagement metrics, follower demographics, and organic vs. paid posts.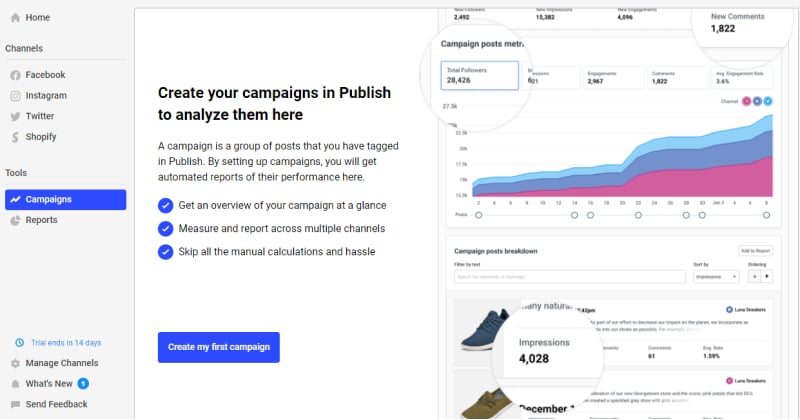 How can Buffer improve your social media campaigns?
An intuitive, streamlined social media scheduler
Browser extensions and mobile app for scheduling on the go
Option for more in-depth insights with Buffer Analyze
Learn more: Best influencer marketing platform
3. CoSchedule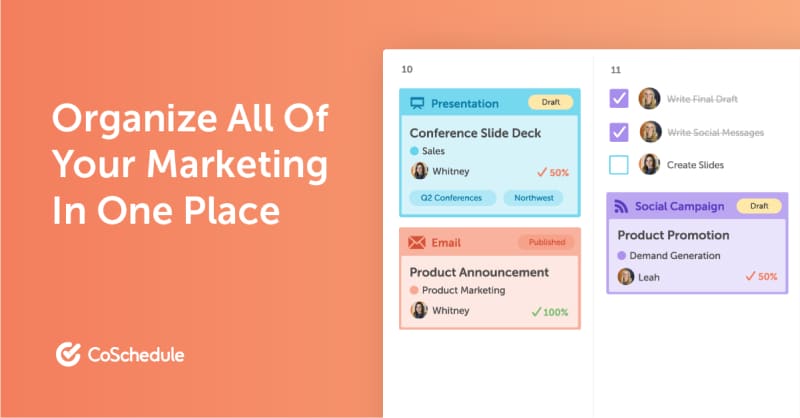 Free trial: 14 days
Price: Blog Calendar $14 per user monthly, Marketing Calendar is $29 per user monthly.
Best social media management software for coordinating your blog and social posts (best used for solopreneurs and influencers)
I wasn't aware of the option to promote your blog and social media post within the same dashboard until I encountered CoSchedule.
Once you sign in, it gives you the option to select the plan you want to use. So you can choose from:
Blog Calendar: A calendar that organizes your blog and social media.
Marketing Calendar: A calendar that helps you see, schedule, and share your marketing.
Marketing Suite: A family of 5 agile marketing products to coordinate your team, projects, and process.
Having in mind my goal to automate my posts' scheduling, I decided to go with the first option.
Next, you should select the tool you use to manage your blogs, like WordPress, Squarespace, Wix, Blogger, Weebly, or something else.
The onboarding process seems long, but in the end, it will turn out to be really useful because there are so many features CoShedule offers for social media managers, so this way, you will get the maximum of them.
CoSchedule offers you quite a user-friendly and straightforward social media content calendar that works on drag and drop, making it one of the best social media content management tools.
And when it comes to scheduling your social media posts, you have 2 options:
Social Message: One message that will be published across multiple networks on a single day
Social Campaign: A series of messages across multiple networks over time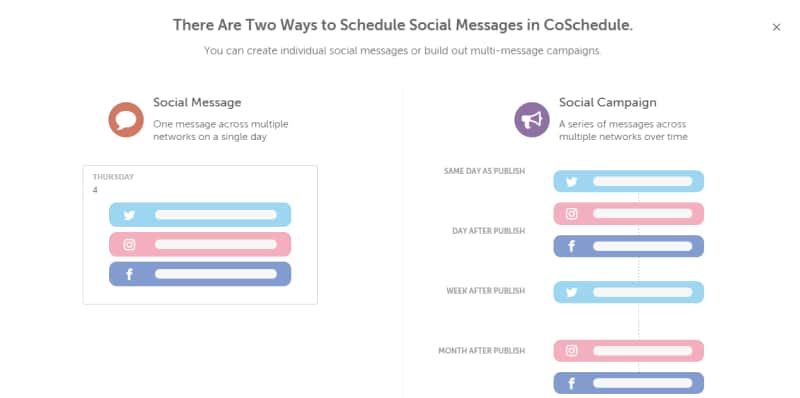 They both work the same. You just fill in the post(s) details and drag it to the day where you want the social post to go live.
The same goes for blogs. After you publish a new blog post, you can create a Social Campaign on your calendar to promote your new blog post on social media.
CoSchedule adds your featured image and link text automatically. The one thing you should do once your blog post goes live is to pick the day and time when your social media messages will be published.
As a person who continually creates blog articles, this option will definitely save me some time and prevent me from repetitive copy and paste processes.
CoSchedule gives you the option to re-publish evergreen social content that continues to be relevant and valuable to your social media followers. You can even auto-publish social messages on specific days & times for recurring content themes.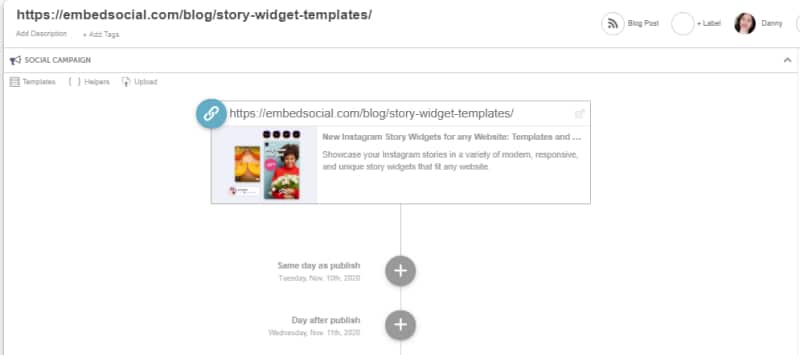 The thing that fascinated me is that once a message has been published on your social profile, it will appear on your CoSchedule Calendar, even if it was sent using a different external tool or the social media network itself.
How CoSchedule can improve your social media campaigns?
Simple drag and drop post scheduling
Real-time blog & social calendar
Automates your social schedule
Bulk schedule of your posts
ReQueue option for re-publishing evergreen posts
Read More: Which are the best social proof tools?
4. Later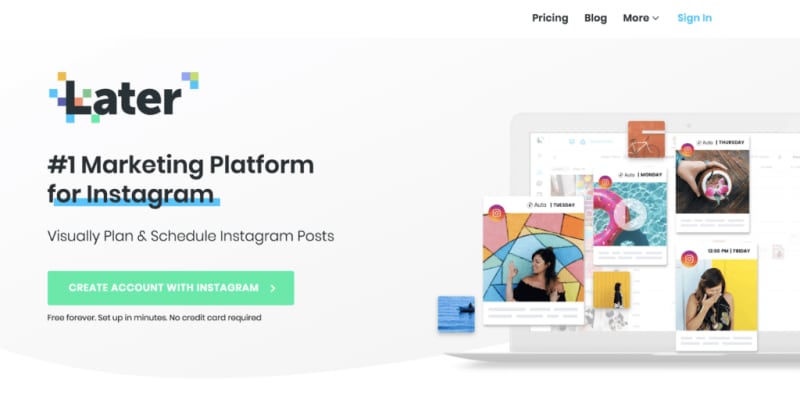 Free trial: Forever free option (for up to 30 posts per social profile)
Price: Starter plan from $12.5 per month (for up to 60 posts per social profile)
Best social media management software for creating and scheduling posts for Instagram (best for SMBs)
If you're looking for a complete solution to all of your social media management needs (with a focus on Instagram) Later will cover all your bases.
What sets Later as one of the best social media management apps is that Later has a free forever plan that can work like a charm for small businesses and new e-commerce stores.
With the free plan, you get one social set with 30 scheduled posts per social profile and a single user. Please note that Later counts on Instagram, Twitter, a Pinterest account, and Facebook page as a "social set."
The scheduling process is straightforward. It functions as a drag and drop. But unlike other social media marketing tools, here you begin uploading an image, drag it to the calendar, and create a captivating caption.
Next, you just need to tap the schedule option. And that's pretty much it.
With the paid plans, you can upload and share videos and create Stories.
Later isn't just a scheduling app. The Conversations option allows you to manage your messages and comments on Instagram, and the Analytics option gives you a clearer picture of your content marketing performance.
How can Later improve your social media campaigns?
Simple drag-and-drop editor
Option for a quick schedule
Conversations option to keep track of and respond to all your Instagram comments
5. MeetEdgar
Free trial: 7-day free trial
Price: MeetEdgar lite starting at $19 per month (up to 3 social accounts)
Best social media management software for systematic approach and minimal involvement when scheduling posts (best for freelancers, side hustlers)
"Stop your "throwing spaghetti" strategy and let an expert octopus step in." This message welcomes you when you try to sign up for MeetEdgar. Such a lovely greeting!
Once I signed up for this tool, I realized that MeetEdgar is far above an ordinary scheduling tool (although it includes the usual post-scheduling features you would expect to see). What makes this tool different is the automation part.
MeetEdgar provides 4 default categories that connect your content to your schedule and keep you organized.
General
My blog posts
Promotions & specials
Recommended reads
To start your scheduling process, just click on 'Add New Content' in the top-right corner of your dashboard, select an account and category, and then paste your link into the text box.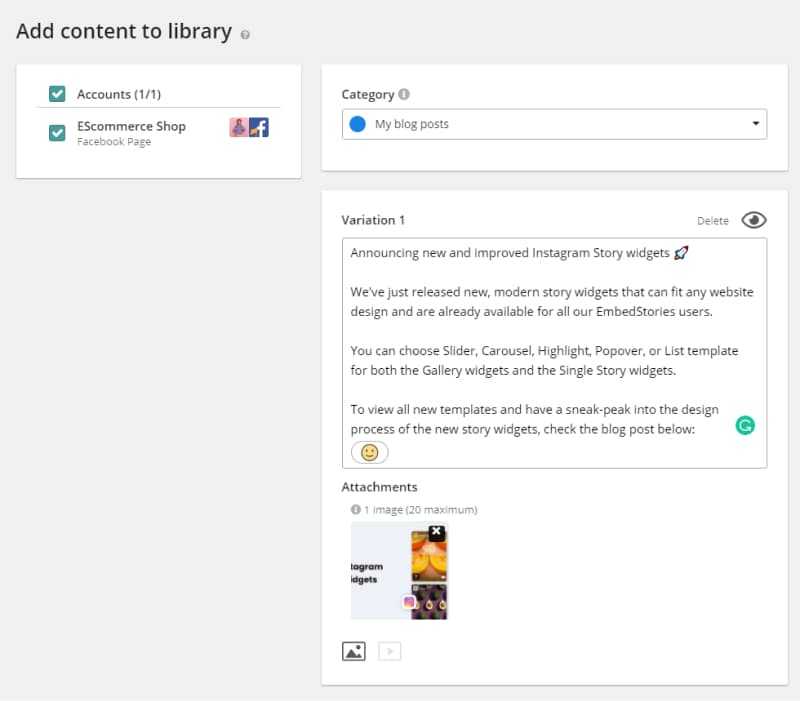 This seems the only tool I came across while researching that can actually create your content for you thanks to the Auto-Generate Variations options (the platform makes a few suggested updates based on the contents of your link).
MeetEdgar makes reposting evergreen content really easy. It automatically re-shares posts from your content calendar over time, without you doing any extra work.
How can MeetEdgar improve your social media campaigns?
Automates all your social accounts in one place
RSS feed and advanced content curation options
Unlimited content library
Import content in bulk
Suggested Variations and options
Reposting evergreen content
Hey Edgar, nice to meet you! 🙂
Learn more: Free online reputation management tools
6. Agorapulse
Free trial: 15 days
Price: Business plan starting at $79/month
Best social media management software for staying up-to-date with the most relevant messages in your social inbox and trending keywords and brand mentions (best for SMBs & Agencies)
Once I encountered Agorapulse, it seemed similar to the social media management platforms mentioned above that contain the basic features of scheduling, visual calendar, social inbox, analytics, etc.
The thing that made me go for this tool is that it goes above just a simple social media posting app. It also has various social profiles you can add with the free trial version – up to 10 social profiles.
Once you connect your social media profiles, they give you these 3 options at your fingertips:
Check my inbox – to find all your private conversations, posts, mentions, and add comments
Schedule content – content curation and customization for every social media network
Get my reports – to export your metrics as a PDF or CSV
When I clicked on 'Schedule content,' it navigated me to fill in the template with my new post's details. You can add a caption, image, and video. They even encourage you to add hashtags to improve the reach of your post. It allows you to re-queue or reschedules evergreen posts, too.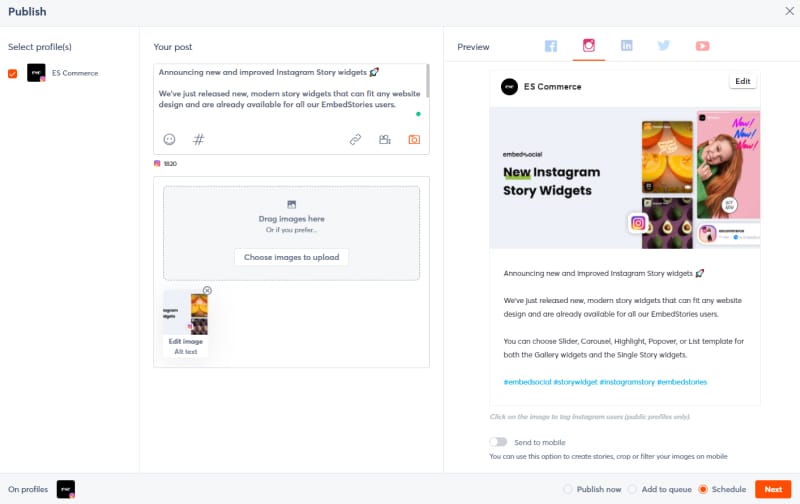 One feature that grabbed my attention is the Inbox assistant (or social CRM). Basically, you set up a rule – if a selected social profile receives new Inbox items containing the words you will type in the empty box, the message can be automatically assigned to a specific team member, up for review, or be deleted.
On top of that, you can activate the 'saved replies' options, too. This way, you can always be on top of your most relevant social media messages that are worth replying to.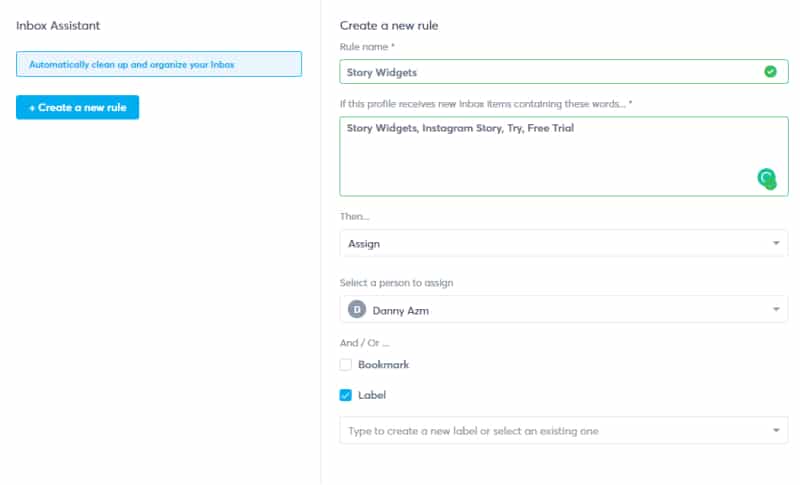 You will also find a cool Listening tool where you type hashtags and keywords that are important to you. All matching content will be collected and displayed in the listening tab, so you can assign them to a specific team member to review them and take some concrete action.
This sounds like a great boost for every marketing strategy.
How can Agorapulse improve your social media campaigns?
Easily schedule posts for each network
Inbox assistant with saved replies
A Listening tool to generate all published content with a specific hashtag or keyword
Mobile app to create content on the go
Read more: Best tools for social media content creation
7. Iconosquare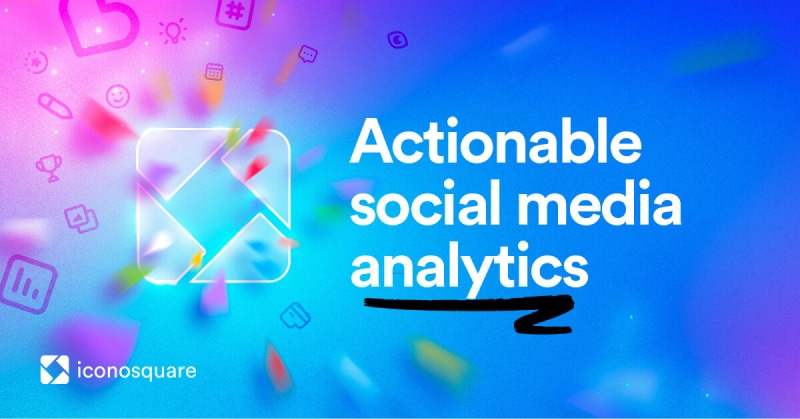 Free trial: 14 days
Price: PRO plan starting at $49/month (billed annually) for up to 3 social profiles
Best social media management platform for scheduling automated posts for social media channels including Instagram, Facebook, and Twitter. Gaining in-depth insights into social media performance via analytics and monitoring competitor & hashtag activity.
Finding out the best times to publish content on your social media channels can bring a significant difference to the number of views on your posts. Alongside competitor insights, hashtag popularity, and visual analytics, this information can give you the ability to increase your views even more rapidly on specific posts, as compared to traditional posting methods that might publish content at the wrong times, pushing down posts before the majority of users can see them. Wouldn't it feel better to know exactly when your audience is active on social media? Imagine publishing content every time your users are most active (at peak traffic) and grabbing their attention for a marketing campaign or product sale.
Some of the top reviews we've encountered mention Iconosquare as being able to publish social media posts outside of staff hours or during weekends, with the assistance of analytics, to continue building followers at the perfect times. Social media analytics on Iconosquare is highly regarded as one of the most useful features when it comes to visualizing performance data, tracking posts & adjusting marketing strategies.
Some of the best features of Iconosquare include:
Social Media Reporting
Social Media Analytics
Comments & Likes Counter
Real-Time Social Media Post performance
Hashtag Tracking
Account Follower Growth measurement
Daily Lost & Gained followers
Locations of followers
Top follower identification
Competitor performance tracking
Location-based post tracking
Influential post tracking
Industry Benchmark
With advanced scheduling & content automation features, Iconosquare helps with social media management by allowing us to easily draft posts and set schedules for any time in the future using a drag-and-drop tool.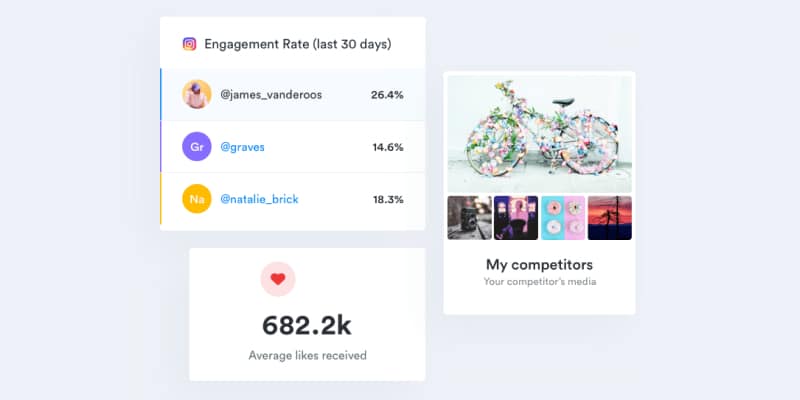 Photo and video contests can also be run easily by selecting 3 hashtags, which automatically collect the videos and images into a beautiful gallery.
We can track up to 30 comments, delete inappropriate comments, mark them as read, or reply to each.
How can Iconosquare improve your social media campaigns?
Easily schedule & automate posts for campaigns with Facebook, Twitter, and Instagram and report social media performance.
Gather in-depth insights into engagement rates and views of your campaigns with social media analytics
Monitor your brand and hashtags, respond to users in real-time
Track multiple competitors in the same niche to understand their performance metrics and improve your campaigns
EmbedSocial: Scheduler for Google My Business Posts (Beta)
At this need of this post, I am only mentioning the ability for our own EmbedSocial platform to schedule posts on Google My Business. We've developed this functionality on top of our integration with Google to generate Google Reviews, and some users find scheduling posts a valuable tool for their everyday activity.
This tool is still in Beta and will be available in the EmbedReviews plans.
Why should I use a social media management tool?
Using social media management tools can offer several benefits, particularly for businesses, influencers, or anyone who manages multiple social media accounts or wants to optimize their social media strategy.
Here are some reasons to consider using a social media management tool:
Centralized Dashboard
Instead of logging into each social media platform separately, a management tool lets you view, post, and analyze content from a single dashboard.
Scheduled Posting
These tools allow you to schedule posts in advance, ensuring you post at optimal times without having to be online and available constantly.
Consistency
Scheduled posting and planning tools help maintain a consistent presence on your social media outlets, which is essential for building trust and a steady audience.
Analytics
Understanding your audience's behavior is crucial for refining your strategy. Management tools often offer analytics and reporting tools that break down audience engagement, growth, best-performing posts, and more.
Multi-Account Management
If you handle multiple accounts for different businesses or brands, these tools can save you time by letting you switch between accounts with ease.
Collaboration
If you have a team managing social media, these tools often provide collaboration features, like assigning different team members to tasks, leaving notes, or draft approvals.
Engagement
Some social media management tools provide unified inboxes where you can respond to messages, comments, and mentions across all platforms in one place, ensuring you don't miss an opportunity to engage with your audience.
Content Libraries
Store, categorize, and reuse content with ease. Some tools allow you to create libraries of media assets for easy access and posting.
Crisis Management
Monitoring tools can alert you to spikes in mentions or negative sentiment, allowing for quick responses during a potential PR crisis.
Competitor Analysis
Some tools allow you to track and analyze competitors' social media activities, helping you adjust your strategy and stay ahead of the curve.
Improved ROI
By streamlining your social media efforts and providing analytical insights, management tools can lead to a better return on investment for your time and money.
Integration with Other Tools
Many social media management tools integrate with CRM systems, email marketing platforms, and other marketing tools, enabling a more cohesive marketing strategy.
Content Curation
Some social media management tools offer features that help you find and share third-party content relevant to your audience, allowing you to offer value and diversify your content mix.
Security
Social media management tools often provide additional layers of security, like two-factor authentication, ensuring your accounts remain secure.
While these are some of the primary reasons to use a social media management tool, it's essential to choose one that aligns with your specific needs and goals. Not all tools have the same features, so evaluate your requirements and research the options available to make an informed choice.
Over to you
If you want to fix the content chaos and improve your social media presence, we recommend giving a shot to every social media management tool listed above.
You may never know what tool will bring your digital marketing efforts the biggest value if you don't try many of them, right?
Please note that we are continually updating this article with new social media management tools, so don't hesitate to reach out to us if you want to add another tool to this listing, for example, we can look at tools such as Sendible, SproutSocial, Socialpilot, and similar.
If you need similar posts check the 17 best apps for Shopify and the reasons why you need social media aggregator.
Hope this helps.
FAQ's:
What Is Social Media Management Software?
Social Media Management Software (SMMS) refers to tools, platforms, and applications that help businesses and individuals manage their online interactions across multiple social media channels more efficiently.

A social media management platform is especially beneficial for brands, agencies, and marketers who need to maintain a consistent presence with social media audiences across several platforms.
What is the best social media management platform?
The best social media management platform often varies depending on individual or business needs, budget, and specific goals. But if we have to choose one, we will go with Hootsuite.
Does Google Have a Social Media Management Tool?
While Google doesn't provide a direct social media management tool, it does have utilities such as Google My Business (GMB), Google Analytics, and Google Drive.
What does social media management do?
Social media management tools offer a suite of functionalities to help businesses and individuals streamline, organize, and optimize their social media activities.
---
FYI: Embed Instagram widget automatically with the social media aggregator and UGC platform by EmbedSocial. Click below to try it for free: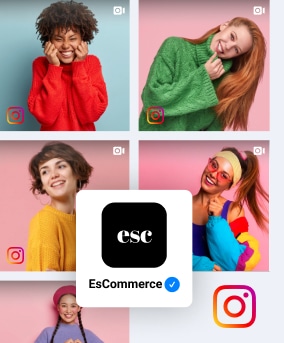 Embed Instagram widget on your website automatically!
Try EmbedFeed and display Instagram content from your feed, mentions, or hashtags on your website.
All PRO features | Cancel any time.