We recently got access to a new Product Hunt product, called Upcoming.
Upcoming?
Product Hunt's Upcoming is a tool to create a landing page for your new startup, product, or service.
It lets you easily create a landing page with small text bubbles that explain what is your product with a clear call-to-action for users to subscribe and provide their email address.
So, just another fish in the sea? No, I don't think so.
You see, the key here is that this is a product by Product Hunt. In the first month, it was only in MVP stage or as Ryan called it, "a top-secret project."

You are probably guessing that this secret project required a secret invite.
Yup, in order to get in, you needed to hustle. And hustle hard.
Their plan was to attract early-bird hustlers who will get early access.
The team at ProductHunt spend the next two months to get feedback, talk with the early adopters and learn how to improve.
The result = Ship!
The Upcoming pages where you can list a pre-launch product evolved to a set of tools that help makers ship and pre-launch their new products.
For me personally was an amazing learning experience to see how this creative team came up, pre-launched and launched a product, engaging with the community, improving it and offering it on the market with a perfect features' box.
All happening by getting back and forth recommendations from the power users who were willing to test it – live with their real pre-launch products.
They've managed to provide a smooth transition to a paid version of the product, building PRO superpowers and introducing the first paid product by ProductHunt, including:
✏️ Surveys and Polls*
?‍?‍?‍? Group Messaging*
? Scheduled Product Launches*
? A/B Testing*
? Reports and Analytics*
? Custom Domain*
? Product Promotion
? Webhooks
In this post, I am pleased to share our experience with Ship-ing EmbedReviews and help people interested in Ship to easily achieve their pre-launch goals.
First let's list why you will want to get your hands on Ship, the pros & cons and what I think is the big vision of Product Hunt.
Product Hunt Ship – PROs
To be more clear, I listed below the main benefits that I think are most important for every pre-launch campaign and are exclusively met by Ship:
Quick and easy to create a pre-launch campaign
Has an already established community of early adopters
Can get an immediate exposure without extra effort
Great, right?!
Let's see, in more details, why each of these PROs is important.
1. First, you don't need any technical background or know how to code in order to start building your community.
The learning curve is very short. You don't even need a domain. With Ship, you will have your pre-launch campaign in 20 minutes, tops.
2. A community of early adopters. The biggest difference is that you don't have to bring the community or early adopters to your new website. With Ship, the community is already there.
Furthermore, Product Hunt users have a unique characteristic that I think is not present elsewhere. They are all eager to try something new. And they don't mind if it's not perfect.
I believe that we are all aware that is the best to engage with this type of users first, before the mass launch a product.
3. Virality. The best strategy to reach more people is virality. When I subscribe to your Ship page, all my followers are automatically notified for my subscription via Product Hunt notifications.
And this social proof is real magic.
When I see that my friend or an influencer I trust subscribed, I want to check it out as well. The scarcity fear of missing out or FOMO is a definite trigger for attracting more subscribers.
And a great PRO for Product Hunt!
Product Hunt Ship – Cons
You don't own it. You don't own the page, Product Hunt does, so you have to play by their rules. I mentioned this and it can be a pro or a con, depending on how much you value the option to have your own control over your landing page.
But this is something you can live with, as it's the case with Facebook pages, Twitter and Instagram profiles and any Social Media page or profile.
Well yes, you can't add ten pop-ups to increase your subscription rate. And as a Growth Hacking Guru Ninja Master Hacker with more than 2 weeks experience in Growth Hacking this pisses me off.
Naah, just kidding. I have at least 2 and a half weeks of experience 😉
Ok, back to serious talk.
This is actually possible with the embeddable button, available for SuperPro users. This feature will be available very soon and here's an example of one in the wild: Input.
By not owning the landing page, you might think that you won't get any SEO benefits since everywhere you share or post your link, you are linking to Product Hunt. If you were using your own domain, the backlinks would give your domain more authority and relevance in the search results.
However, you can still utilize your Upcoming page to help your SEO. By adding a link in the text editor directly to your domain, you'll get a website with 81/100 domain authority backlinking to your website. It's the SEO dream of every online marketer.
Pulling this off is pretty simple. Go to the set-up form and find a suitable text that you can turn into a link, click on the link icon (the white icon on the screenshot below), and paste in your URL.
Here is an example, and the text EmbedReviews is the backlink to my website:

Why subscribe only with Email? Why not subscribe with Facebook Messenger? This way you get to chat with them and ask for feedback and suggestions. In our startup EmbedSocial, we use Messenger as a support channel and it's working great.
Email is just not that acceptable from a generation that texts in their sleep and hate phone calls.
For example, you've managed to get 100 subscribers, and then you decide it's time to email them and ask a few questions. You'll probably get 30-40% open rate and then 10-20% response rate on average.
So, in the end, you've reached 20 people out of the 100 that subscribed.
I bet if you message 100 people more than 20 will respond.
I hope the Product Hunt team will look at this option and introduce new ways for people to subscribe and directly chat with the Makers for instant feedback.
Having in mind these PROs and CONs, I assume that we can all agree that trying a pre-launch on Product Hunt can be more than helpful.
So, how you can get your Upcoming page on Product Hunt?
EmbedReviews is live. A full Facebook Reviews manager with first on the market Autoresponder superpower and option to manage multiple reviews for multiple Facebook pages and respond to each review from one single platform.
Get your free trial, right now!
Here's our story:
How we got listed on the Upcoming page
As I mentioned, our team recently pre-launched a new feature – Autoresponder for Facebook Reviews, by using the Product Hunt Upcoming pages.
At first, we had no idea that this option existed.
One day I was randomly browsing Product Hunt when I noticed the Upcoming list.
I immediately knew what was its purpose and the benefits that it can bring to the pre-launch products.
Our latest product update was in development and I thought it will be a perfect chance to introduce this functionality to a group of early adopters.
So, without thinking, I decided to look for a path that will help me get listed.
Here are the actual steps I took.
Find and ask a maker that got listed
First thing I thought that might help me get actual information for getting listed, was to politely ask a person who was already there.
I found one of the guys that were listed and decided to ask him how he managed to get there.
I wrote to Jeremiah Smith the maker of Startup Tracker, on Linkedin and he was kind enough to reply back.
Close, right!
He was sorry that he couldn't help me but hey, we can not give up just because of this first wall.
Let's see what else we can do.
Of course:
Ask ProductHunt
Lame?! What you think happened? Nobody responded or we got an automated response?!
Keep on reading.
First, I send this email to hello@producthunt.com.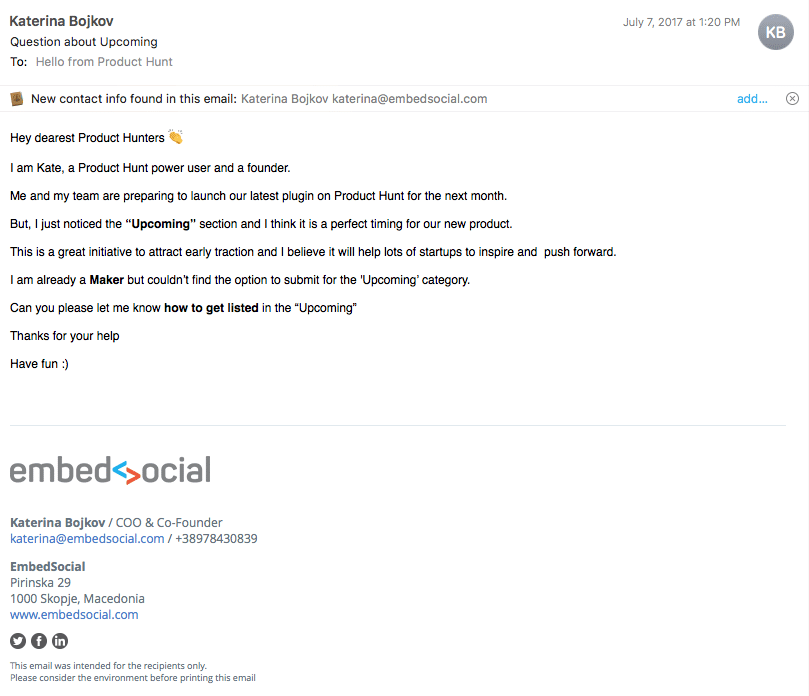 And guess what! Drum roll … I got this response:

In few days Nick helped me to fix the EmbedReviews Upcoming page and launch it very quickly.
Thanks, Nick, I truly appreciate your time and help.
After the launch of Ship, the Product Hunt team opened the platform to the public and to get in you have to navigate to the Ship page and request access. The access will be granted on a first come first serve basis.
If you are in a hurry, I suggest you to just pitch your product to some of their team members (as I did) and I am confident you will get your Product Hunt Upcoming page in no time.
Checklist of things required for your Upcoming page:
Name of the product
Tagline: Describe your project in 60 characters or less. Try to use simple words and avoid overly clever slogans
Why? Get early access before we launch on Product Hunt…
Who? Hi, I'm Katerina – Co-Founder & Growth, EmbedSocial
What? We are working on a new exciting product…
Success notice Thank you for supporting our project
Widget Message: Psst, we are launching a new product. It appears as a head-shot bottom page popup. Example below:


Brand color
Links to Facebook, Twitter, Angel List
Are you hiring? Yes/No
Background image: upload, Add Link or Select from Unsplash.Max width: 2560px, max height: 1440px
Logo: upload or Add Link
When you are ready with this checklist, we suggest you create a mockup of the page in order to see how it feels and if you think is the right fit.
Here is how you can do this:
Create a mockup with inspect element or photo editing tool before launch.
To see how my Upcoming page will look like, first I wrote the 3 paragraph texts in a separate doc and just used an inspect element of a current upcoming page. I replaced the text, and the links with my background and logo in the CSS and placed the gif. In seconds I had a mockup.
Please note: Your logo is attached to the background that appears on the home page, and you want to make it stand out. The best way is to choose a contrast between the logo and the background, lighter on a darker background or reverse or just test it by creating a thumbnail using photoshop.
Using the Upcoming page editor is a piece of cake. It is a one-page form that you will need to fill in and that is literally IT. You will be done in no time.
But.
Here we noticed a few issues that you should consider if you want to make the most out of your Upcoming on Product Hunt.
Things you need to consider when creating the Upcoming page
Your team is focused on development and not marketing. Most of the startups, like us, have limited resources so during our upcoming launch we were more busy communicating with people and fixing bugs, than "hustling" for subscribers. Maybe you will need to get more ready for this phase and focus more on the marketing.
You are "spamming" the same people for upvotes and to subscribe.
We had a feeling that we were reaching out to subscribers in the same groups that we will actually reach out when we will launch on Product Hunt.
Confusing, and spammy right?
My best solution for this is – Product Hunt needs to separate the Upcoming v/s the actually hunted products. Therefore, create other channels that will attract only this type of end-users and startups offering the pre-launches.
Your audience might just not be there.
You know when I mentioned that Product Hunt is great for early adopters? And that you can get power users because of their amazing community?
Well, that is all true but still, sometimes you just need other types of users.
Currently, the techy, geeky and eager for new products community might be too small for you.
In other words, the audience that gets your music doesn't mean that will buy it:
You will need to find different audience and users that perfectly understand the problem you are trying to solve. And best, are willing to pay for it.
In our case, we do aim for the techy users but most of our target are SMEs or small business owners who have a Facebook page. And, most of them are not around Product Hunt because they are simply too busy.
We believe that Product Hunt needs to expand its user base and try to build a product or channel that will attract other types of users.
In 2014, in an interview with the Fast Company, Ryan noted that he envisions Product Hunt as a 'playbook for expansion'. Back in those days, they were allocating " $6.1 million to discover more than just cool new tech stuff.
"The cult community for tech early adopters and creators wants to be the place to discover any product you desire."
Has Product Hunt done this? What do you think? Feel free to share your thoughts.
Promote your Upcoming Page
If you have ever launched on the product Hunt than you are familiar with the checklist.
Last year we launched on PH and we've done most of the same things as with the upcoming launch.
This is what we've done to promote the pre-launch:
Send email to all of our existing users
Send personal messages to people that we thought will have benefit from our product
Posts on our personal social media profiles
Posts on our company social media profiles
Shout out to Product Hunt on Twitter, who retweeted our messages
Posts in the Facebook Product, such as Product Hunt Group, SAAS Hacks, Facebook page strategies group, and similar.
The great option in the upcoming pages is that there is a direct form for sending messages with a webhook option that will allow you to add the subscribers to your email provider.
Results that you should expect
The results are displayed on a separate page in the maker account. There is a list of all subscribers with their following details:
Name
Occupation
Email
Number of Followers
If they are not a PH user, will be displayed as a Guest User along with the email address.
Please note: The subscribers need to confirm their email address before they are listed.
We were aiming to receive 200 subscribers but received 137. Not bad, we are satisfied mostly because we did not do a heavy "hustling" and "spamming".
Still, I suggest you prepare the same you will prepare as you do an actual launch.
If you do this you might expect better results, and gain 500 or more subscribers.
The next step is for you to use the Messages option or your own email server, and send early bird access to your subscribers.
To do this just go to your Upcoming page and in the settings panel click Messages / New Message. Enter the email subject and email body text. You can choose who should receive the message – All Subscribers, Makers or Imported (can import a CSV with your subscriber list, but you need to make sure that you will not do any spam activities.)
You also have an option to send a test email.
Next, you need to power up your early adopters and I suggest you offer an incentive.
In our case, we offered them a 50% lifetime discount. After the pre-launch phase finished, we contacted all our subscribers and send them this email: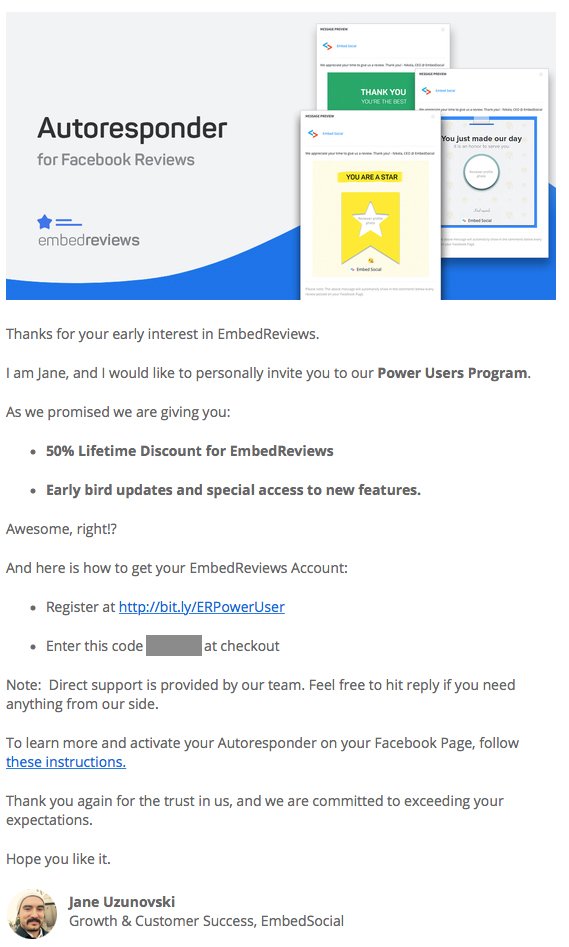 Your activities with the early bird subscribers don't need to end with one incentivized email. You can continue to build a relationship with them, send them regular updates and give them early access to all new features.
Conclusion
Having this initial experience has taught us a lot about launching products and we will definitely consider the Ship service for our next launch.
One of the main learnings from this experience is that Product Hunt has a 'geek' powered audience with unique needs you must consider when making the copy, headlines, images and the overall appeal of your Upcoming page.
Driving traffic to your page is always a challenge, and finding channels that won't make you beg for an upvote or subscribers can be your biggest advantage in making your launch a huge win.
At the end it is all about the AWESOMENESS of the product and how big is the novice that it is trying to introduce.
So, is your product cool enough to have an Upcoming page on Product Hunt?
Manage Your Online Reviews
Show social reviews, boost trust on your website and increase conversions.