With more than 1 billion active users every month, TikTok is undoubtedly one of the most influential social media platforms these days. TikTok creators come up with incredible TikTok video ideas. Therefore, the remarkable short-video sharing app is the fastest growing at the moment and is globally present in over 150 countries.
Its users produce countless types of user-generated content and catchy videos daily.
TikTok allows customers to create, discover, and share entertaining, enjoyable, and funny videos in a way they can showcase their talents and gain followers.
As stated in the latest statistics of TikTok users, approximately 70% of the audience are young people between the age of 16-29 trying to express themselves via dancing, singing, comedy, lip-syncing videos, etc. Therefore, earning followers, likes, and recognition across communities is a high priority for Generation Z.
Suppose you are willing to increase followers' engagement and get popularity. In that case, these fresh-made thrilling TikTok video ideas will add renewed energy to your virtual persona and help you achieve your goals.
Sounds complicated?
Follow up and get inspired!
---
FYI: You can embed TikTok widget automatically with EmbedSocial's UGC platform. Start a free trial and display your social media widgets now.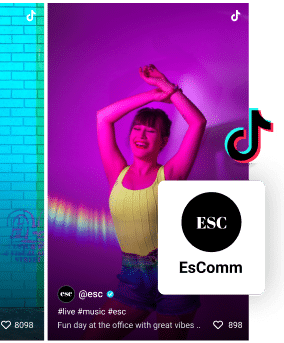 Show TikTok videos on your website automatically!
Try EmbedFeed and add TikTok videos, Instagram, YouTube or Facebook feeds to your website.
All PRO features | Cancel any time.
Tips for creating engaging content on TikTok
Implement music
Music also plays a significant role as much as the video structure is important when creating awesome TikTok content. It sets up the rhythm and mood, explains the video's initial thought, and is related to your TikTok video ideas. Also, you can make your own or follow the latest TikTok trends – the choice is yours. Sound can be the key piece of the mosaic in boosting user response, so don't forget to use music in your videos.
Excellent first 3 seconds hook
It is extremely important to grab people's attention in the first three seconds of your video. TikTok is famous for short and concise video clips, meaning long and dull content is a huge NO. Knowing that it takes just one swipe for your video to be forgotten, you need to embed intriguing and dramatic entrances. How you are going to do that depends solely on your creativity.
Utilize suspenseful captions
Seize the most out of your video and keep your audience engaged by simply adding an attractive caption. Suppose you start the video with some thought-provoking title or ask a puzzling question. In that case, the odds are that most people would watch your TikTok till the end to satisfy their curiosity and understand the answer to the previous question. Although the captions could be helpful in user retention, you should be careful and never exaggerate.
Steady camera, vertical recording, and awesome lighting
Even though this might sound less important than the other tips, it's not. In fact, having the right conditions when creating the content for your TikTok video ideas is of great importance. Shaky hands and bad lighting are unattractive when recording, they can disturb motion-sensitive persons, plus the video will look unclear. Furthermore, videos made in the landscape can offer bigger screen views, but keep in mind that TikTok displays only vertical videos.
Follow the trends, and research, research, research!
Due to tons of tips for creating engaging content, last but surely not least is knowing the trends and diving deeper into research. That doesn't mean copying other creators! Be authentic and make original content, but never forget to keep yourself in the loop and stay aware of what's popular and what can actually bring you more likes and followers.
Isn't that what counts?
13 TikTok video ideas to increase followers' engagement
1. Create a tutorial
Do you own some skills? Have any hobbies worth going viral? Then, creating a tutorial is one of the best TikTok video ideas to attract more followers and unveil your potential.
Pretty much accepted on any social media, tutorials are your go-to move in boosting user retention and keeping them interested. You can point very well, especially if you can pack every step of the process in just about 60 seconds.
TikTok educational content can be of any kind. Fitness, cooking videos, makeup tutorials, product demos, animal videos, you name it. Also, most of the videos are made without commenting at all, fast-forwarded, user-friendly and self-explanatory.
You can pick your niche, let's say working out, and then create a mixture of the exercises you want to demonstrate. Choose your background, implement the key features of the training tutorial, and present your workout regime.
Here's a stimulative example of a famous fitness TikTok influencer:
2. Show your daily routine
Nothing much has to be exaggerated or extravagant in your TikTok video ideas so you can stick out of the crowd and be adored among your followers. Letting them in your private life and giving them insights into your daily activities, routines, and habits will do.
Whether it is morning, wellness, makeup, productivity, or any kind of routine, offer people a quick and sweet little peek into your everyday life. That way, your admirers can feel more connected and closer to you.
Keep it simple, fun, and interesting, so they can relate and find inspiration from you. Plus, they can always learn something new that will keep them engaged.
In the example below, the girl showcases her morning routine and how her day starts.
3. Dance videos
Maybe the most trendy topic for TikTok video ideas is the dance videos. Good dance routines almost always go viral and are searched on influencers' and content creators' accounts.
The dance video makers use them to reveal their moves and talent for dancing or to participate in a challenge themed around a single track.
There are no special rules or tricks on how to create an appealing dance video. Add a cool song and just enjoy yourself. Make sure it is entertaining and exciting to watch.
Check out this video of these three Italian dancers:
4. Create branded hashtag challenge
It's not unusual for a random TikTok user to blow up by releasing an original hashtag challenge. Many of today's well-known influencers gained their fame on their TikTok channel by utilizing widespread hashtags or creating their own.
Joining this kind of up-to-date challenge can significantly increase your visibility and help you gain more followers. Even more, you can come up with something different and fresh, start your own challenge, add a bit of your sparkle to stand out, and aim to create a viral video.
Here's how a SWAT officer does the #pushupchallenge:
5. Partner with other influencers
This is one of the greatest great TikTok video ideas to broadcast your content to a wider audience and benefit from the eccentricity of other TikTok users.
Collaborating with fellow influencers, meaning inviting them to your videos or participating in theirs, automatically captures the attention of a broader public.
Such as George's video:
6. Unboxing product reviews
Online reviews are extremely important for the brands and TikTok is emerging in this segment as a unique platform where actual users can provide UGC video as a review for a certain product.
Settled in the 'top watched videos' category, unboxing product review content is a must when willing to enlarge your crowd. Therefore, unboxing is one of the best faceless TikTok video ideas.
Try to make it more personal and with a friendly approach so that causal relationships turn into plus followers.
Make your video an effective and easy way of explaining the product, help your viewers understand your point, and achieve a direct engagement with them.
Take a look at this example:
7. Create educational videos
Given the percentage that most of TikTok's population are teens placing silly videos, it's not strange to have an unserious perception of the platform.
But, it's quite the opposite. Many teachers, doctors, nutritionists, surgeons, psychologists, etc., have shared their expertise and knowledge on their TikTok feed. They fill their content with advice, learning tips, and info, trying to help people in need.
Don't worry; you don't have to be a doctor to create educational videos in just a few seconds. You need some inspiration to dive deeper into your interests or what you're best at, and voila!
Here's some advice from a psychologist:
8. Run a contest
Running contests and giveaways is a smart and easy move to attract more fans.
First thing first, determine your goals and themes to make them fit your profile, brand, or how you want your campaign to look.
Then, spice it up with some rules and regulations to be sure everything goes smoothly. Unique hashtags and catchy gifts got your back.
Lastly, you can kindly ask your audience to follow your profile, like, comment, share a video, etc.
See this, for instance:
Here is how to re-create this:
Define what will be the prize – in this case, a hoodie
Then, open your TikTok app and film a video of you and a friend wearing the hoodie
Type the rules in the video – click on the text icon and paste the rules of your giveaway (you can add the rules in a note on your phone, so you don't make typos)
After that, share the video on TikTok, and repost it on other social media profiles
9. Participate in a viral social media challenge
It is unfeasible to seek a broader audience and not participate in these kinds of dares.
You can join an existing social media challenge or start your own. The eye-catching concept is going viral extremely quickly. However, it's up to your imagination to choose an amusing topic and spread the word.
The competition that's created among users and the resharing of your TikTok video ideas is what feeds your reputation.
Remember this one?
10. Give your opinion on current events
You should put yourself into the loop to trigger somebody's curiosity or gain immediate attention. Being recognized, seen, and heard about temporary-important events that people closely follow brings a huge chance of piquing the audience's interest.
Make sure your opinion makes a difference, stands out from the crowd, and if giving specific information, it better be relevant.
If you thought your opinion didn't matter, well, it certainly does on TikTok!
11. Make movie recommendations
Even though you're not an expert, you can always become one for extra followers – and that goes for any subject or area.
Making movie recommendations is a creative way to get closer to your current fans. Exposing your favorite genres or movie experiences can inspire some other potential followers to keep up with you.
You can also include pictures, trailer links, your story feel, etc., for a more sophisticated and engaging look.
Something like this:
12. Promote brands' products
As part of product reviews, influencer campaigns, or just because you like the particular brand, promoting products can help you gain more user retention – so don't hesitate to join in on this trend!
A brand can contact you and ask you to showcase their goods. If you like them, establish a partnership and then sit back and watch your username become a household name in the blink of an eye.
Check this out:
13. Create short travel videos
Travel videos have always been an adventurous subject to discuss. So why not earn new fellas who will want to follow you by sharing your exhilarating journeys?
Many people out there enjoy traveling. So, revealing a little part of your experiences, where you've been, where you wanna go, and what you take pleasure in may, without doubt, motivate them to follow and anticipate what's next.
This guy nailed it:
Best video editing tools for creating TikTok videos:
You may want a little extra hand for greater publicity when creating your videos.
Here are some of the best editing tools right now:
PowerDirector – enjoy free tutorials, excellent editing software, and masterpiece stories;
Funimate – 2022's most influential video editor and motion design tool;
InShot – an all-in-one, multi-split video platform that allows users to practice professional features;
Capcut – former "Viamaker" is a free app with incredible editing options;
iMovie – a fully customizable platform for themes, templates, and trailers.
How to get the most out of your TikTok videos
Embed your TikTok videos on your website
If you want to keep up with today's contemporary terms, embedding TikTok videos on your website is necessary. They bring the right feel and serve as social proof; as we know, user-generated content is the key to marketing.
Plus, when adding some of your TikTok video ideas to the site, you get a better click-through rate, enhanced time spent there by guests, and better SEO.
Another excellent benefit of this uploading is that you don't need a video player because everything is played directly by TikTok; it speeds up the process and saves a ton of space.
Furthermore, utilizing EmbedFeed – the ultimate social media aggregator, you'll come across a wide pallet of features and options that will significantly help you re-use this content and embed the TikTok widget on your website.
For example, here is a TikTok video feed on a 'user's' website in a slider layout: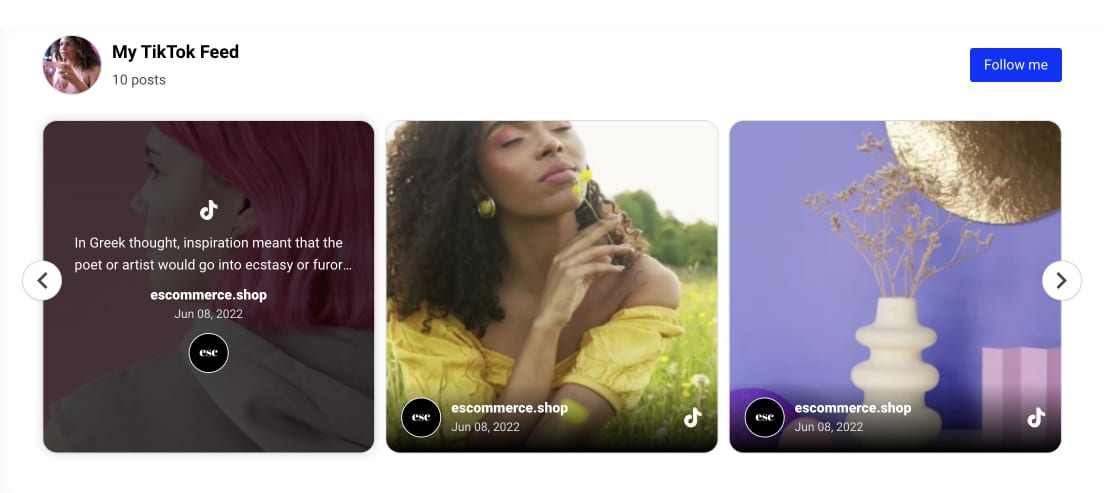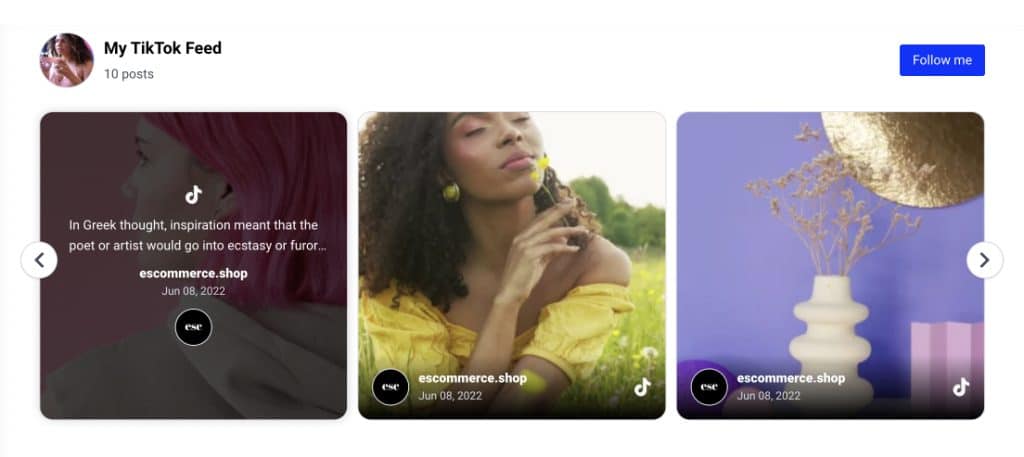 Add a link in bio to direct your audience to any website
Do you want to shortcut your followers' way to your website and save them time searching? Or do you want to share some relevant info? Adding a link in your TikTok bio to direct the audience is the deal maker.
To manage that and enjoy even more refined possibilities, you can now benefit from the Feedlink tool.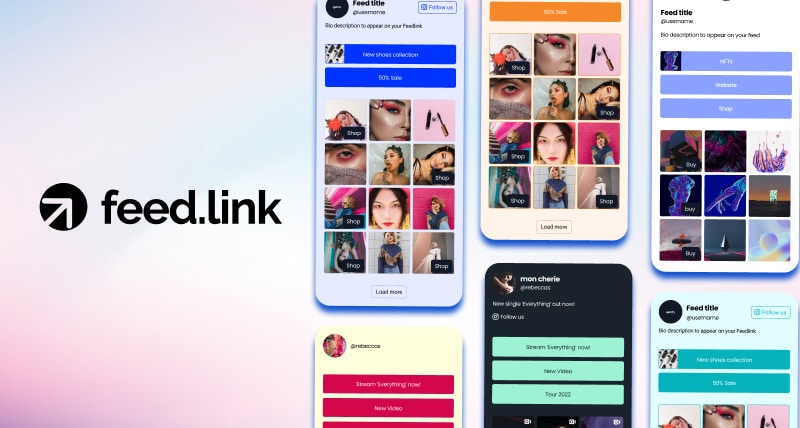 Designed to match TikTok and other social media platforms, the link in bio creator has what it takes for a perfect impact.
Add popular hashtags to your captions
Your content's discoverability depends very much on your chosen keywords and hashtags. To expose yourself easily and be visible to users, utilize some of the most influential hashtags nowadays in your captions.
Be aware of what's currently searched, and what's appealing, and compose relevant captions on prevalent topics to feel that extra boost.
Promote your TikTok profile on a social media platform
In a world where the digital era has deeply entered people's lives, it's not strange to say that social media is the place you want to promote your profile or brand.
Therefore, knowing that most of the social media platforms are synchronized and connected, promoting your TikTok profile on other apps for better marketing and gaining followers is a must.
Highlight your amazing TikTok video ideas, choose your desired social media platform where you want them to be promoted, and see your audience grows.
How long does it take for a TikTok video to become viral?
It depends.
The hot spot of 'FYP' – For You Page needs to be well deserved.
At times a video can instantly go internationally viral and achieve an incredible number of views within seconds.
But mostly, depending on the content and the consistency of posting, a video can become viral in days, weeks, or even months after the official post.
FAQ about TikTok video ideas
What type of content is forbidden on TikTok?
A user can be banned by the app if they post videos of sexual content or violate the T&Cs, such as content that encourages drugs, bullying, nudity, alcohol, etc.
What is the age barrier for creating a TikTok account?
Kids under 13 can't possess a TikTok account. Also, the platform has different and strict rules for persons having 14 years and above – what they can and can not do.
Unwanted video. How to delete it?
First step: open the app, find and select the video. Then choose the option "…" in the upper right corner. Tap delete, and reconfirm when asked if you are sure.
Key takeaways
Now it's up to you to free your mind, use your extraordinary intuition and create stunning TikTok videos!
Don't withhold yourself; on the contrary – be authentic and represent your style the way you want. With the right strategy, you can become a remarkable TikTok influencer.
Optimistically, these 10+ TikTok video ideas gave you the right mindset on how to increase followers' engagement and inspire you to create better content!
---
FYI: You can embed TikTok widget automatically with EmbedSocial's UGC platform. Start a free trial and display your social media widgets now.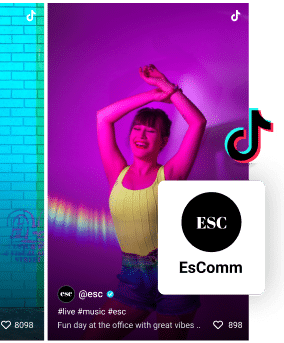 Show TikTok videos on your website automatically!
Try EmbedFeed and add TikTok videos, Instagram, YouTube or Facebook feeds to your website.
All PRO features | Cancel any time.