When done right, running an Instagram giveaway will be a great part of your Instagram marketing strategy. It will increase your following and sales and help you grow your business.
Well, everyone loves free stuff, and so does your audience, but how to do it and do it right?
Strategically and thoughtfully, and if you're feeling overwhelmed, we're here to help you. Here's what we will cover in this article:
What is an Instagram giveaway?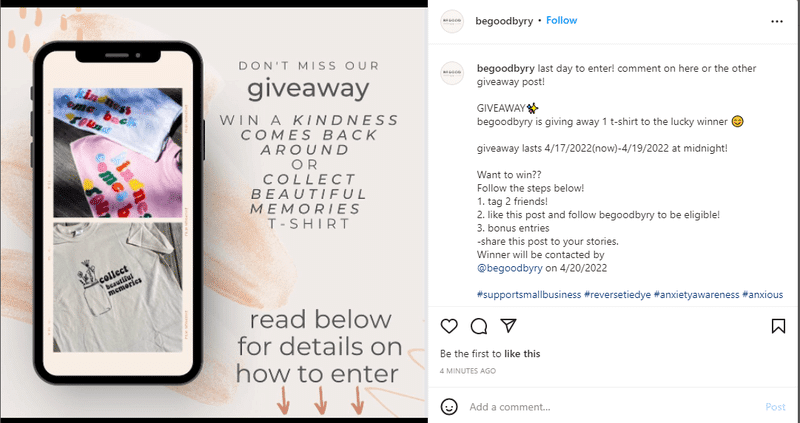 An Instagram giveaway is a contest that is held on the social media platform Instagram.
To enter, participants must follow the account of the person or business running the giveaway and like or comment on the designated post. Some giveaways also require participants to tag friends in the comments section in order to increase engagement.
There are many different types of giveaways that usually depend on the prize that is being offered.
The most popular types of giveaways are usually those that offer a free product or service in exchange for engagement.
While Instagram giveaways are a great way to boost engagement, increase views of your Instagram content and gain new followers, it is important to consider the rules and regulations before running one. Make sure to read the terms and conditions of creating a contest in your country or region, as well as on the platform itself.
When done correctly, an Instagram giveaway can be a great way to connect with new people and promote your brand or product. Just remember to follow the rules and regulations, and have fun!
FYI: You can embed Instagram widget automatically with EmbedSocial's UGC platform. Start a free trial and display your social media widgets now.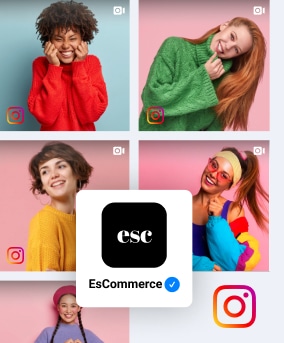 Embed Instagram widget on your website automatically!
Try EmbedFeed and display Instagram content from your feed, mentions, or hashtags on your website.
All features included | Live support available
Why should you run Instagram giveaways?
As we've mentioned, running an Instagram giveaway comes with plenty of benefits. It's why it's one of the most popular growth strategies for both small and large businesses.
According to research by Tailwind, the Instagram profiles that host giveaways grow their followers 70% faster. These contest posts get 3,5 times as many likes and 64 times more comments on average than regular Instagram posts.
If these statistics are not changing your mind and you're still having doubts, here's why you should hop on the Instagram giveaways trend:
Increase user engagement and exposure
Running a giveaway that requires users to engage with that post will create buzz. And we all know Instagram's algorithm amplifies content with high engagement rates. This means that your content will reach even more people and might even get to the explore page.
Get more Instagram followers
This is probably the major reason why brands tend to do giveaways. As we mentioned, it helps accounts grow their following 70% faster. It can be super important, especially for brands at the beginning of their journey.
"Doing successful Instagram contest with fitness influencers helped us double our followers in less than a year. We were giving away packages of products. And with the help of these influencers, we managed to attract the right kind of audience. This was crutial and it directly helped us increase our sales."

Ula Loops social media menager.
Secure collaboration with influencers
Doing giveaways/collaborating with influencers and allowing international entries will help you reap the influencer marketing benefits. Benefits such as attracting new audiences because of the well-established community of influencers that you will collaborate with.
For example, we can take fashion influencer @valerialipovetsky. She did a collaboration giveaway with David Yurman and gave away two heart pendant necklaces.

link to giveaway >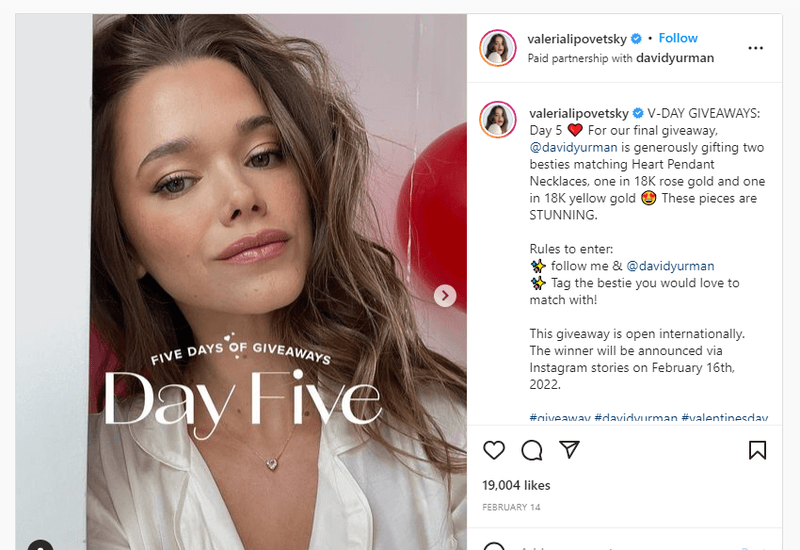 Collect user-generated content
When talking about social media, visuals are super important. They can play a huge part in how successful your Instagram business will become. Luckily, it's where giveaways come. Hosting a giveaway can help you encourage your customers to create photos with your product (photo contest giveaways) and build priceless user-generated content for your brand. That will ultimately help you increase brand trust and provide social proof to your potential customers.
And on top of this – it's a simple and straightforward tactic. Or should we say, investment in your social media strategy?
Here's how to do it the right way and grow your Instagram account with people that will stick around.
Increase website traffic
Are you looking for a way to increase traffic to your Instagram account? A giveaway is a great way to do this!
When you host an Instagram giveaway, you can expect to see an influx of new followers and an increase in engagement. This is because people love free stuff!
By hosting a giveaway, you're giving people a reason to do more steps required to enter into your content as they are already motivated to do so.
That said, they are willing to navigate away from Instagram and go to your website in order to join a contest that could give them a chance to win something.
As a result, you will be able to increase traffic to both your Instagram account and your website.
To ensure that your giveaway is successful, there are a few things you should keep in mind. First, make sure that the prize you are offering is something that people would actually want.
Secondly, make sure the rules are very easy and clear to join the contest on your website.
This is an extra step so it might be a barrier for them to enroll.
And lastly, be aware that you add the contest landing page URL in the link in bio, and when clicked it needs to load faster than on mobile.
People will be less likely to stay and enter the contest if your website is slow.
By following these simple tips, you can increase traffic to both your Instagram account and your website with an Instagram giveaway!
List of prize ideas for your Instagram contests
Every giveaway starts with an astonishing and alluring gift. And, before going into the actual steps of how to do your giveaway, it's only fair we share some giveaway prize ideas.
First of all, we need to start this list by saying that whatever your prize might be. It has to be relevant to your audience and be valuable (but not necessarily expensive).
Yes, you will have to put a lot of thought into it. It will take some time to figure it out, but here are some ideas:
Gift cards or cash
They are the most "basic" options that will work regardless of your business's niche. For example, we can take the Balance Athletica giveaway where they gifted a $500 voucher.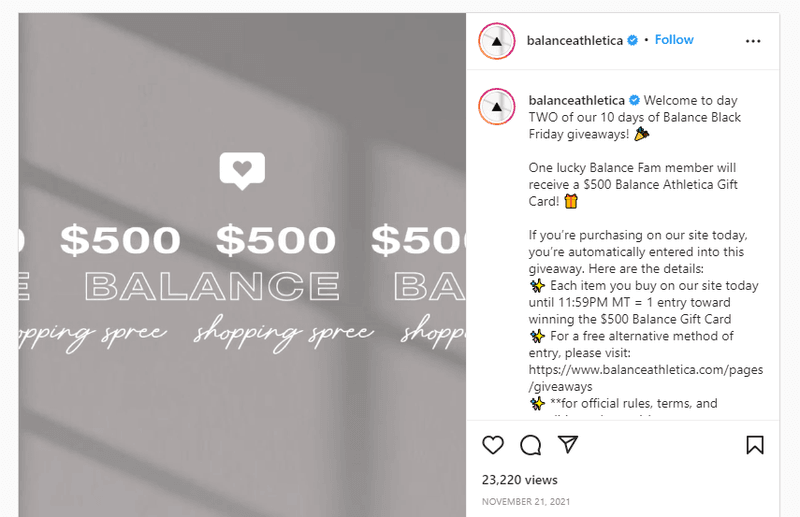 Product prizes
If you sell certain physical products, you could give away product prizes. Those could be your own products, limited edition products, an annual supply of products, and product bundles/baskets with goodies. For example, Purito is doing a giveaway where the price is a popular face cream.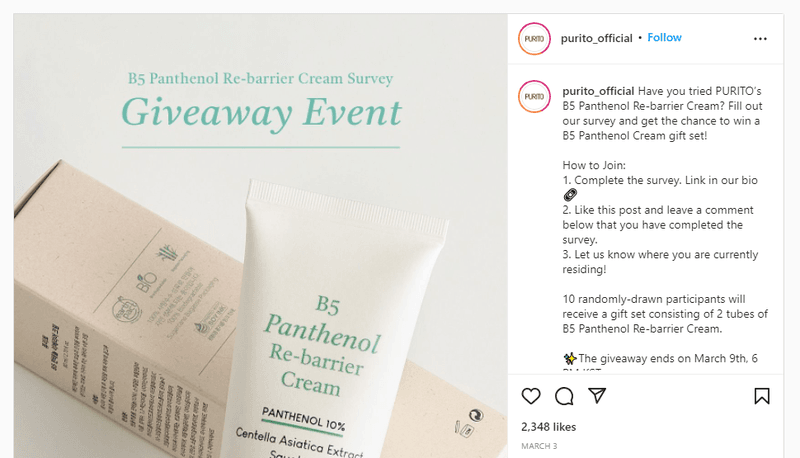 Subscription-related prizes
If you sell some sort of software and want to increase your product exposure, this gift will be perfect. You could offer prizes, such as a free subscription for a year, upgraded membership, free consulting sessions, brand partnerships, and even branded merchandise.
Other ideas
Home makeovers, free cleaning services, new appliances, and free dinner. Even some sort of luxury experience, personal training sessions, exercise accessories, gym membership, supplements, workout plans/videos. Also bucket list types of gifts such as skydiving, hot air balloon rides, cruises tours, etc.
Bottom line, besides these ideas, try to find a prize that's relevant and will be appealing to YOUR audience. The last thing you want is mass entries for the sake of participating.
5 Steps to run an Instagram giveaway
Now that we've covered the basics let's get down to how to actually run your first ever Instagram giveaway.
We assure you, that it's no rocket science. In order to make this easier for you, we've divided the process into five easy-to-follow steps.
Here's how to do it.
Before starting to plan your Instagram contest, make sure you read Instagram's promotional guidelines.
Step #1 Choose a goal for your Instagram giveaway
The absolute best place to start planning your Instagram giveaway is to pre-determine your goals for the giveaway.
Why?
Well, if you don't – you won't know what you're aiming to accomplish by the end of it. Also, you won't know what KPIs to measure. Therefore, an unsystematically done giveaway will definitely be wasted resources.
Most commonly, your giveaway goals could sound something like:
increased followers
promoting a product
higher engagement rates
more website traffic
higher sales or e-mail sign-ups
Make sure your marketing goals are SMART (specific, measurable, achievable, relevant, and time-bound).
Step #2 Plan your Instagram giveaway
Up next is planning your Instagram giveaway details.
Choose a relevant prize
We did share quite a few ideas about the perfect giveaway prize as inspiration. It's up to you to think about what you'll give away.
As mentioned – it has to be relevant to your target audience's needs and should excite them to participate.
Make sure to think this through in detail – because it might make or break your Instagram giveaway.
Determine the entry criteria
Every giveaway has entry criteria, and your giveaway should have too.
What this means is defining how a person can participate in your giveaway – or what should he/she do. Make no mistake, this will very much depend on the goals you've established at the very beginning.
For example, if you are looking into:
increasing your followers – in the entry criteria, you should place that every person should follow your account
increasing the engagement on your profile – the entry criteria should be that every person should tag at least three people; and/or they should like and comment
having more user-generated content – ideally you should organize a hashtag giveaway. Meaning coming up with a unique hashtag. Then set the entry criteria to be a posted feed image with the unique hashtag used in the description.
Choose a campaign hashtag
The next huge thing when planning a giveaway is choosing the proper hashtag.
But why is it a great way to organize a giveaway with a hashtag campaign?
Creating and using unique and relevant hashtags will help you collect more user-generated content. It will also generate solid and valuable traffic through the hashtag page. That will help you organize your giveaway better since you will have that specific hashtag page with all the entries. Even more, you will be able to display this hashtag page on your website and use it as social proof for your website visitors (read through to find out how).
However, make sure you choose and use a unique hashtag. The last thing you want is to share the traffic with another account or have mixed entries.
For example, BookDepositry did a giveaway where they choose a unique hashtag #AWeekOfHonesty. The entry requirements were that people should create a video using a specific audio and the particular hashtag we've mentioned.

link to giveaway >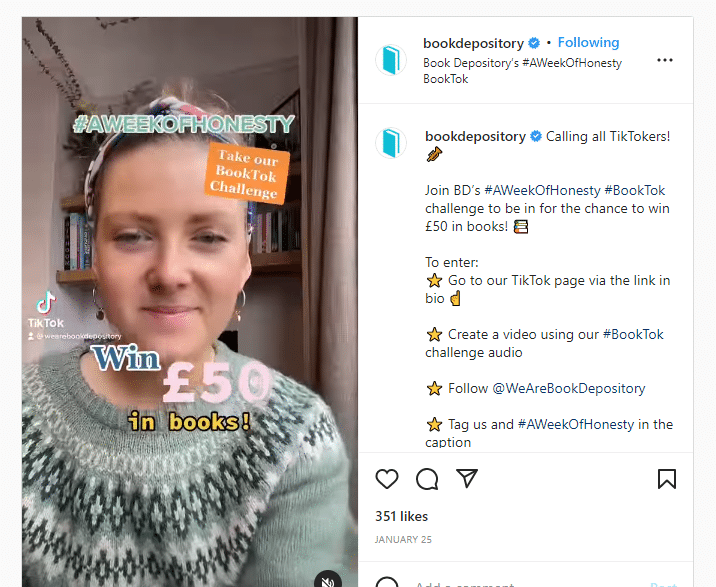 Choose how long the giveaway will last
When it comes to planning your giveaway, the last thing is choosing how long it will last.
Make sure you specify closing dates (when the winners will be announced). Don't forget to add the time zones, too (according to the country you're organizing the giveaway or if it's an international one.)
Other details to keep in mind: whether the giveaway will be organized in a specific country or it will be international; and age limitations – whether your giveaway will be 18+ or not. Make sure all these details are clearly stated under the giveaway post on your feed.
Step #3 Promote your Instagram giveaway
Now that you're done with planning your Instagram giveaway – it's about time you launch it!
A bold image stating that it's a giveaway in combination with a "killer" description. Also, appropriate call-to-action is also super important – so do think this through.
The most convenient way to launch your contest post would be through a grid post. However, make sure you take advantage of the other options, too, such as Instagram reels and stories.
Even more importantly, make sure you remind your existing followers about it via your Instagram stories while the giveaway lasts.
Step #4 Close the Instagram giveaway and evaluate the results
A week went by (or as long as your giveaway lasted) and the participants were there. Now it's about time you close the Instagram contest and choose the lucky winner.
When choosing the winner, you will have to filter through the entrants. This will help you see who abided by the rules and who didn't, and save their names. Then, you would have to use a tool that will help you select a winner so that it's fair for everyone. And finally, make sure you announce the winner in your stories. You can even reach out to them to share the good news!
Now, a little bit more for the more important part of your Instagram giveaway – evaluating the giveaway results.
As we mentioned, you have to set up some clear goals at the very beginning. That way, you can see how your giveaway performed. For example, if you had a goal to get more followers, make sure you analyze the followers before and after the giveaway. This will give you an idea of how well your giveaway went.
Additionally, using Instagram analytics you could analyze the giveaway data to learn more about your target audience; like where they come from, when are they most active, whether they are male or female, and their age.
Step #5 Display giveaway contents on your website
Last but not least important (and we truly mean it) is displaying your giveaway content on your website.
When should you do it?
during your giveaway – if you choose to display your giveaway contents on your website while your giveaway lasts, you could re-direct some traffic from the website and your regular visitors could participate too. Therefore, you will increase the engagement rates and have a more successful giveaway.
after the giveaway – if you choose to display the giveaway contents on your website when the contest ends, you will provide your website visitors with a powerful social proof, that will help you gain their trust and help you convert them better (from readers to customers).
How to do it?
EmbedFeed is a tool, that comes with a free trial period, that can help you insert your Instagram giveaway post and/or your campaign hashtag on your website.
FYI: You can embed Instagram widget automatically with EmbedSocial's UGC platform. Start a free trial and display your social media widgets now.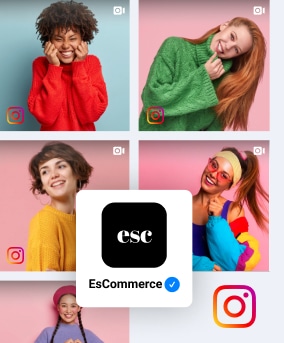 Embed Instagram widget on your website automatically!
Try EmbedFeed and display Instagram content from your feed, mentions, or hashtags on your website.
All features included | Live support available
We are literally talking about a three-step process that will take you a few minutes. Simply create your EmbedSocial media account, connect your Instagram profile to it, and create your customized social media widgets.
How to pick the Instagram contest winner?
Before diving into the tools that will help you choose your giveaway winner, we have to say the winner selection should be a transparent, and fair process above all.
There are two ways you can pull all the contestants and choose a winner:
Manually
By writing down all the names in a spreadsheet (of those who satisfy the entry criteria). Then use the random function to choose a random name. Keep in mind, though, that this will be a tedious and time-consuming process.
Automatically
You can do it with an Instagram giveaway picker tool. It will help you automate your giveaway contest and save you tons of time. Such tools are AiGrow, Gleam, Wishopond, Easy Promos App, Instagram Random Comment Picker, Shortstack, Vyper, and Viral Loops.
List of 5 Instagram giveaway ideas
We did cover the technical aspects of hosting an Instagram giveaway. Now it's about time to provide you with some real giveaway inspiration. Here's how other profiles do it:
1. readsbyange is the profile for every passionate book reader and Angela did a giveaway to celebrate her 10k followers. (link to giveaway)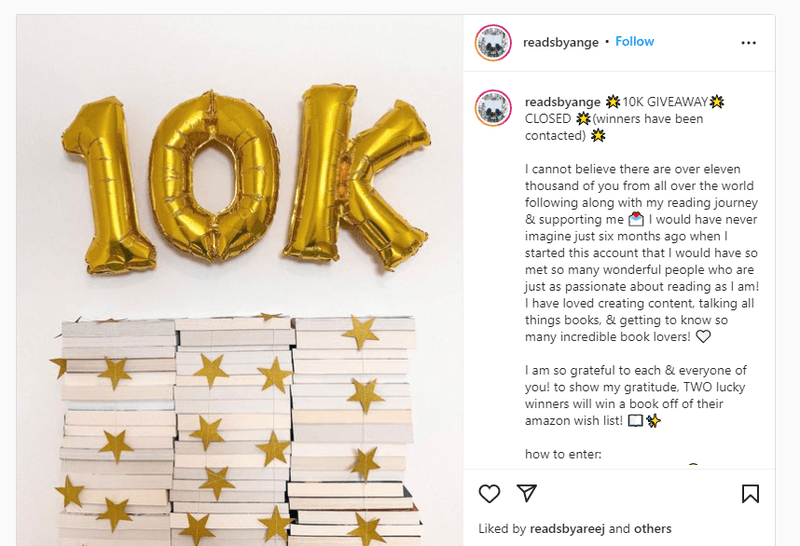 2. BookDepository did a super creative giveaway where people should have written a rhyming couplet using the first word on the image on their feed they posted for the giveaway. (link to giveaway)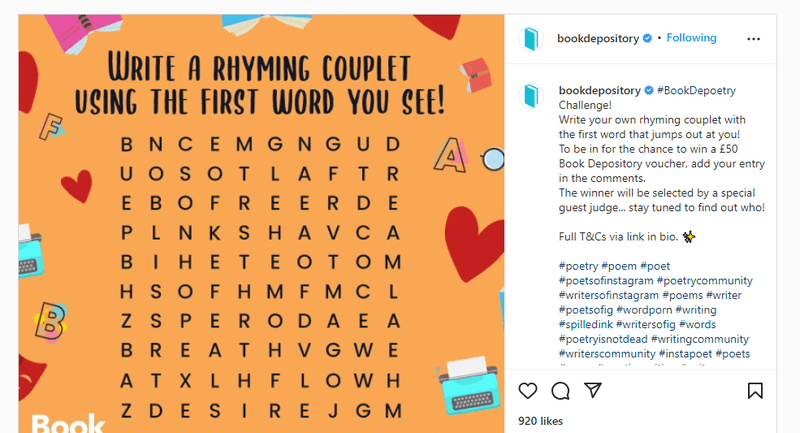 3. naturally_pam account did a giveaway to promote a product – an advent calendar. (link to giveaway)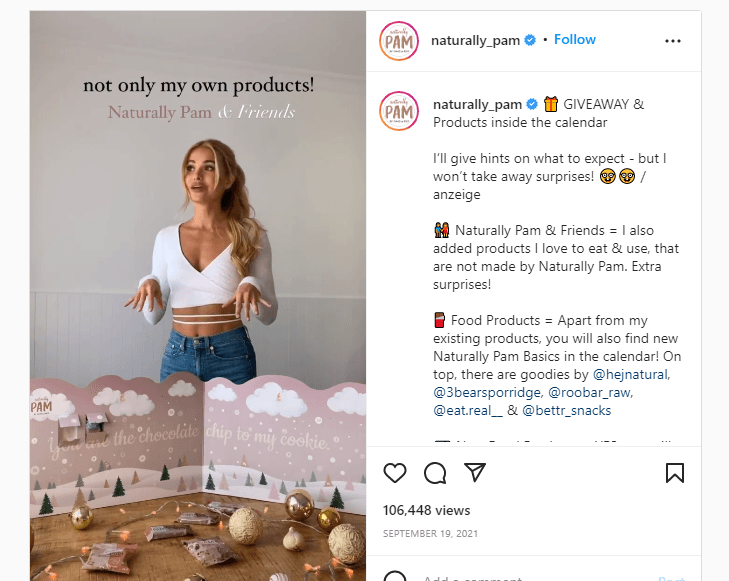 4. ouidad teamed up with yunibeautybrand account and did a giveaway together gifting some hair and face products bundle. (link to giveaway)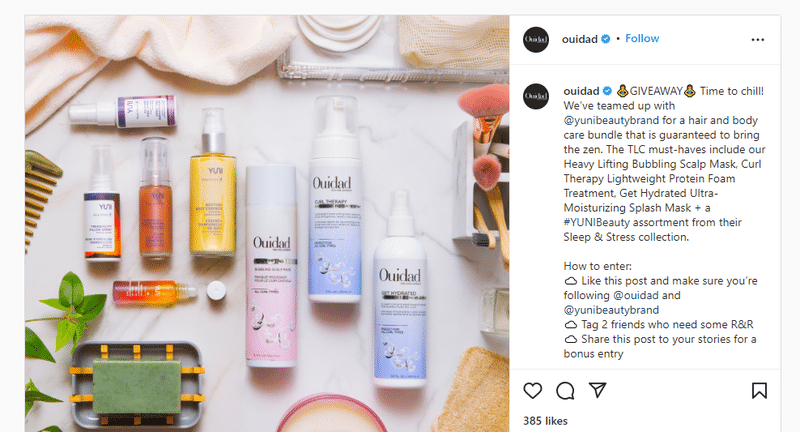 5. happysocks brand did a completely unique giveaway where they searched for the worst poet ever (link to giveaway)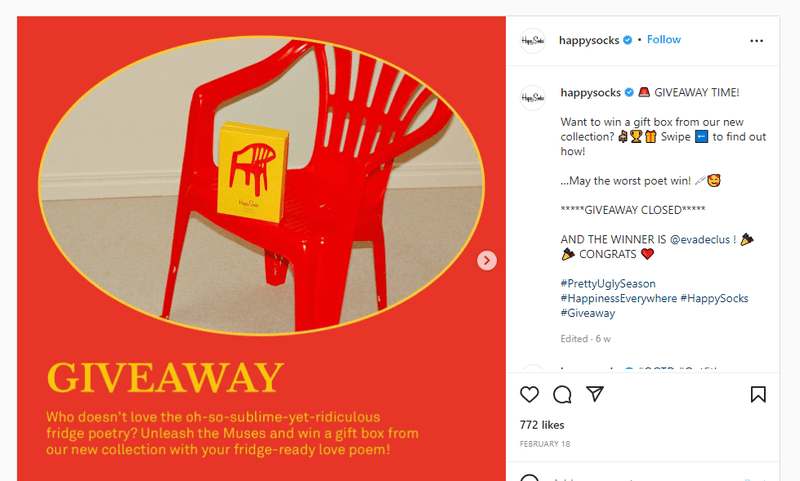 Instagram giveaway FAQs
Are there Instagram rules for creating a giveaway?
Yes, there are Instagram's terms that should be followed. Instagram has created promotion guidelines that have to be respected in all organized Instagram contests and giveaways.
How often should brands conduct an Instagram giveaway?
It is recommended that Instagram giveaways should be done at least once per quarter. That means at least three times per year.
3. How long should an Instagram giveaway last?
Most commonly, Instagram giveaways should last between three to seven days.
Are giveaways illegal on Instagram?
The short answer is – absolutely NO. As long as you follow Instagram guidelines, your giveaway will be perfectly legal.
How do you keep followers after a giveaway?
As we mentioned, when doing a giveaway on Instagram, you have to really focus on attracting the right audience. When you actually do that – these new followers will stick around. Besides this, you should always focus on creating high-quality content, engaging and communicating with your existing audience, frequently posting, replying to Instagram comments, working with influencers, and continuing to do giveaways.
Key takeaways
Regardless of what business you are in when done according to a plan and meticulously, an Instagram giveaway will help you with various things. Those are increasing your following, engaging with your audience, helping you reach new potential customers, promoting a certain product, or even building your trust and credibility as a brand.
Have you used Instagram giveaways in your social media strategy?
If not – now you do have all the "why's and how's" to help you start.
FYI: You can embed Instagram widget automatically with EmbedSocial's UGC platform. Start a free trial and display your social media widgets now.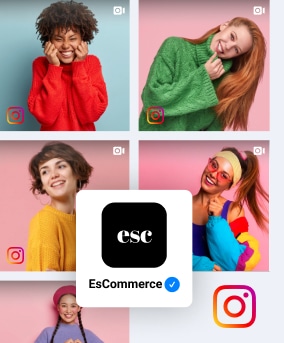 Embed Instagram widget on your website automatically!
Try EmbedFeed and display Instagram content from your feed, mentions, or hashtags on your website.
All features included | Live support available