Implementing a "Contact Us" page is one of the most crucial components for business growth in the website design process. Your website serves as a medium for communicating with site visitors interested in any products or services you offer. A contact form on a website is like a bridge that connects your potential customers with your business, positively impacting the lead generation and conversion rate on the website.
But, you may ask yourself, what is the point of including a contact form on a website if it already contains the official email address or phone number? Well, your website visitors will feel more comfortable dealing with you via text message using a contact form with conditional logic instead of jumping on a call directly. Or, it will be easier to notice a message coming from your website instead of the original Gmail inbox, where dozens of boring emails pop up daily.
So in this blog post, we will show you why having a contact form is essential for your business and how to create one easily with EmbedForms. As a cherry on top, we will provide contact form examples from real-life companies in different industries. What are you waiting for? Roll up your sleeves, and let's immediately learn about the contact forms madness.
Why is it Important to Have a Contact Form?
The importance of a contact form is huge for many business aspects, like customer communication, 24/7 availability, lead generation, retargeting email campaigns, etc.
Be aware that contact forms make it easier for visitors to ask questions or reach out to any business within seconds outside of working hours. This is only one drop in the ocean of benefits that contact forms can bring your business. But now, let's mention some of them separately:
Lead Generation
A contact form helps you to generate more leads. When visitors go through your site's products and services, it is considered the right time to collect their details. The contact form is here as the primary communication asset whenever they are ready to book a meeting with you for collaboration or have a specific question about your business. Plus, it can help you create your email list and use it for promoting special offers or sending newsletters for any product and service update.
Your business is reachable 24/7
Another reason you need a contact form on your website is to be always reachable. For example, you can't answer all the phone calls 24/7 because people can call you from anywhere, and the time zone is different around the globe. On the other hand, you cannot afford to lose your potential customers and potential income. That's why contact forms play a vital role in visitors believing that they can reach you quickly and drop a message anytime they want.
Building an Email Marketing List
Collecting your site visitors' contact information can help you build your email list and launch retargeting email campaigns. Email is the most powerful way to reach your audience at a minimal cost.
Every time a new lead fills in your contact form, it's an opportunity to collect their information and ask to add them to your email list. After that, you can use their email addresses to launch email marketing campaigns and retarget them with special offers and product updates.
Broader SEO Strategy
A website with a dedicated contact page and a contact form has a better reputation with Google since it encourages more user engagement. As a result, websites that include contact forms tend to rank higher on Google's ranking pages because they are automatically trustworthy sources of information.
Since Google tracks the number of page visits and the length of user interactions on your website, contact forms are a great way to encourage longer, more meaningful instances of engagement by creating more touchpoints. All of this can directly influence increasing the organic traffic as your ranking improves and goes higher.
—
Contact forms can vary from business to business, and even if they are generic, there is always a unique note depending on the industry. In this section, we will show you contact forms examples for 20 types of businesses and real-life examples. Let's dive right into it:
1. Contact Form for Restaurants
Literally, all restaurants have websites where the customers can get in and make a reservation for dinner, launch, or contact the restaurant management with a specific question. The contact forms here may play a different role, from contact forms for reservations or applying for a job in the kitchen to food ordering and similar.
Here is an example a restaurant contact form: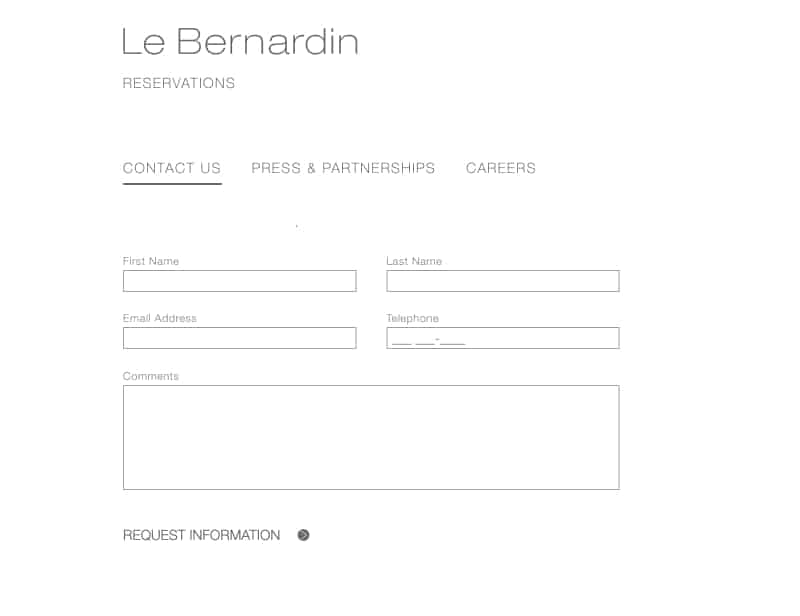 2. Contact Form for Freelancers
Freelancers are everywhere on the web, so they all have portfolio websites where potential clients can see their work and reach out to them. The contact forms can differ depending on the freelancer's niche, but their contact forms often consist of basic email or phone number info, name, and project description.
Freelance graphic designers have creative contact forms on their websites, so look at the example below:
3. Contact Form for Dental Office
Dentists are a little bit different when it comes to their contact forms. Every dental office has a website where patients can book appointments on a specific date and choose their preferred doctor. Most of their contact forms are focused on scheduling and choosing a specific dental service, so here is a real-life example of it: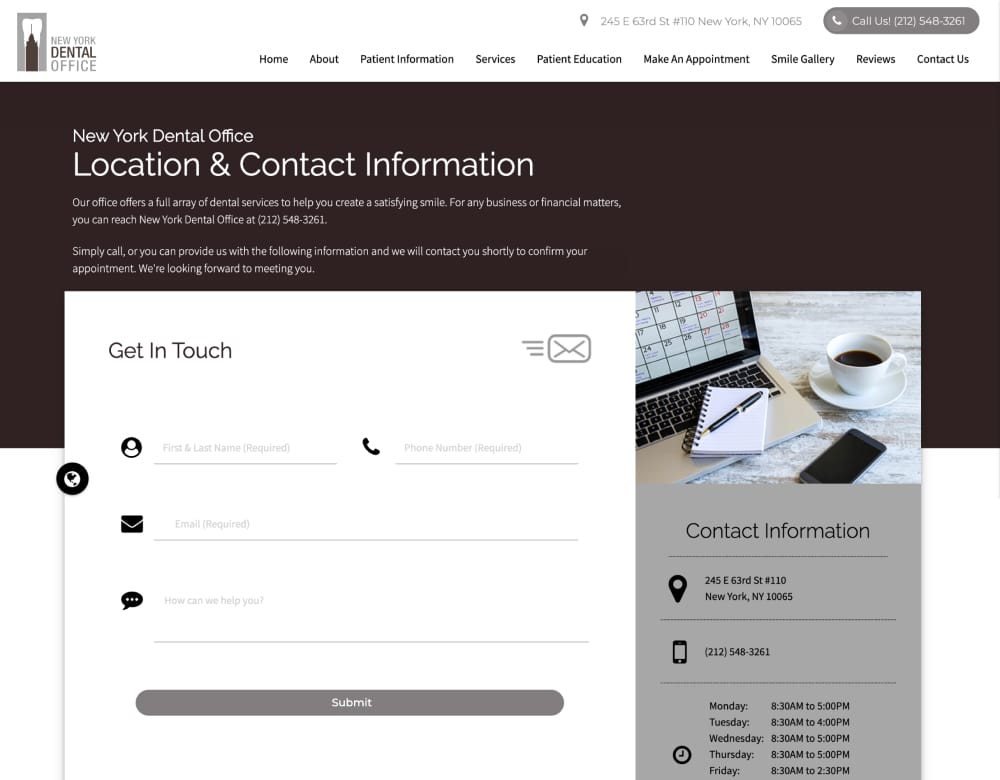 4. Contact Form for Fitness Center
Fitness centers and gyms attract many customers via the internet, especially on social media and local organic search. They usually use registration forms where the interested clients can buy a subscription to a specific gym, choose a training program, and schedule workout sessions with their instructor or physiotherapist.
Here is an example of a feedback questionnaire in a contact form included on a fitness center website looks like: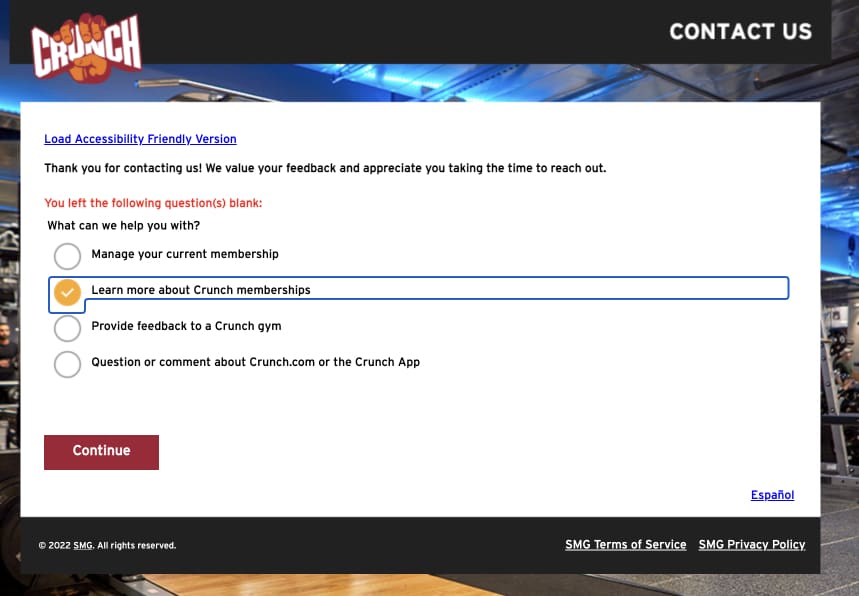 5. Contact form for business consulting office
Consulting businesses have longer contact forms because they need more information from clients interested in collaboration. Business consulting websites contain contact forms with information about the client's industry, the company size, contact info, etc.
Check this specific contact form example from a business consulting website: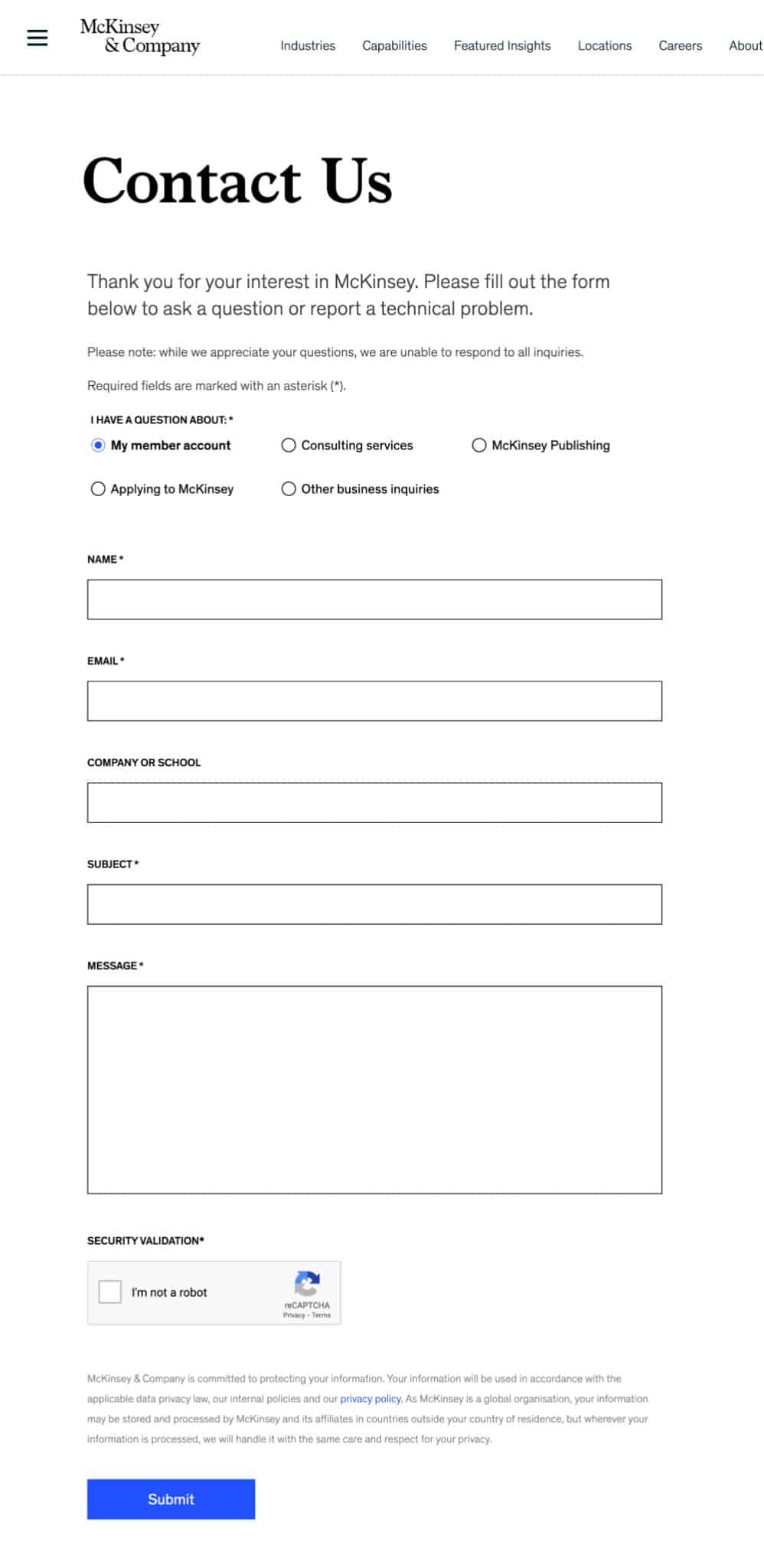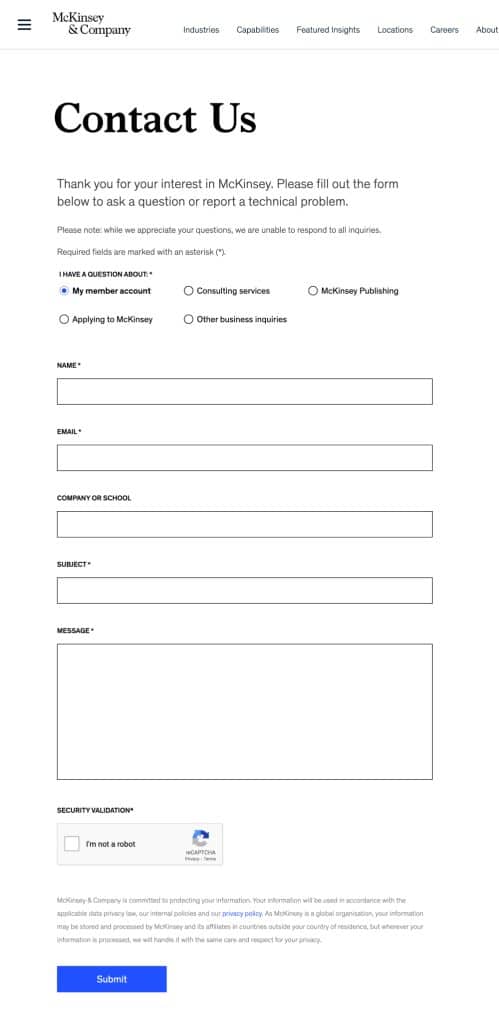 6. Contact form for beauty salon
Contact forms for beauty salons usually focus on booking a specific beauty service or sending any related inquiries. Beauty salons require basic customer information to get in touch with them for appointment approval.
A basic example of such a contact form follows: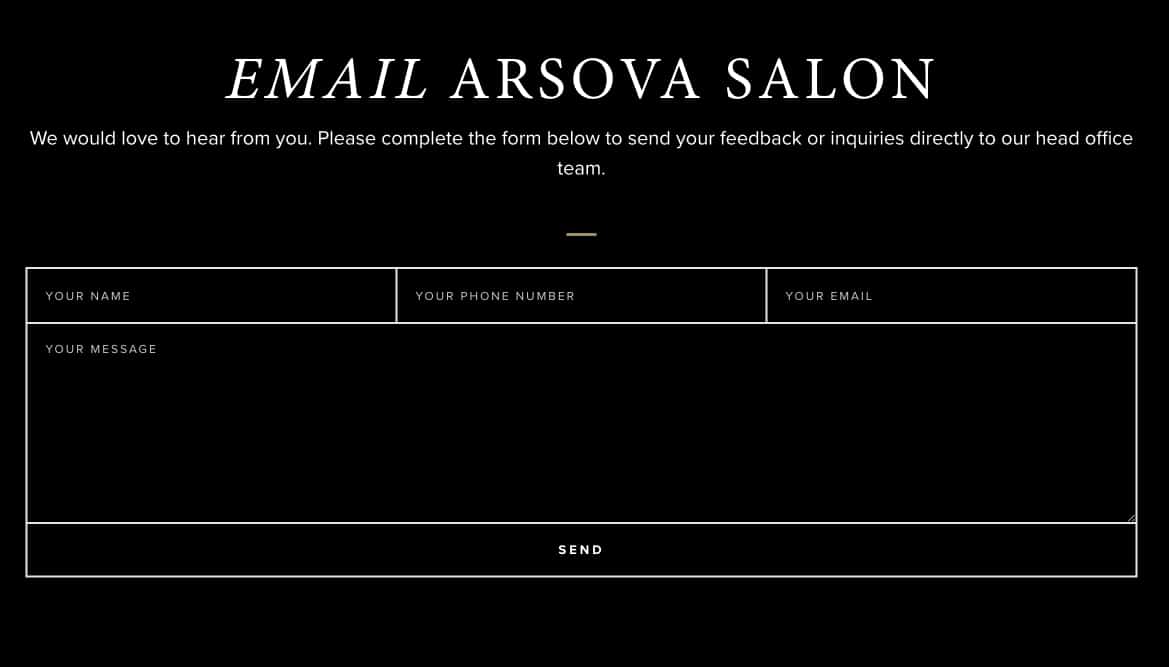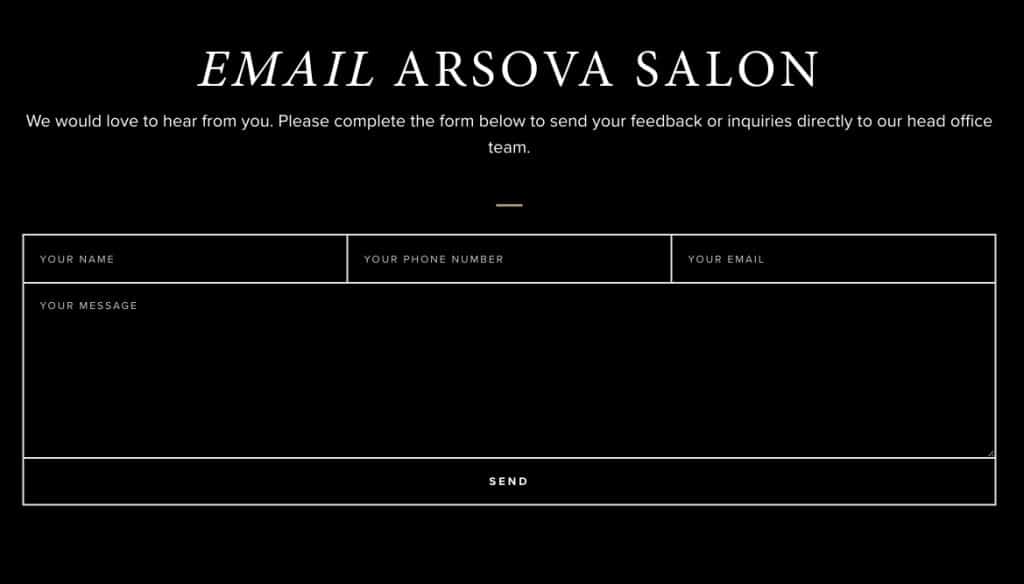 7. Contact form for a real estate agency
Real estate brokers or agencies have websites to showcase their properties and save time for those searching for them. Their contact forms are usually focused on collecting customers' information, their location, and a message field for any specific questions.
Here is a real estate contract form example you can check: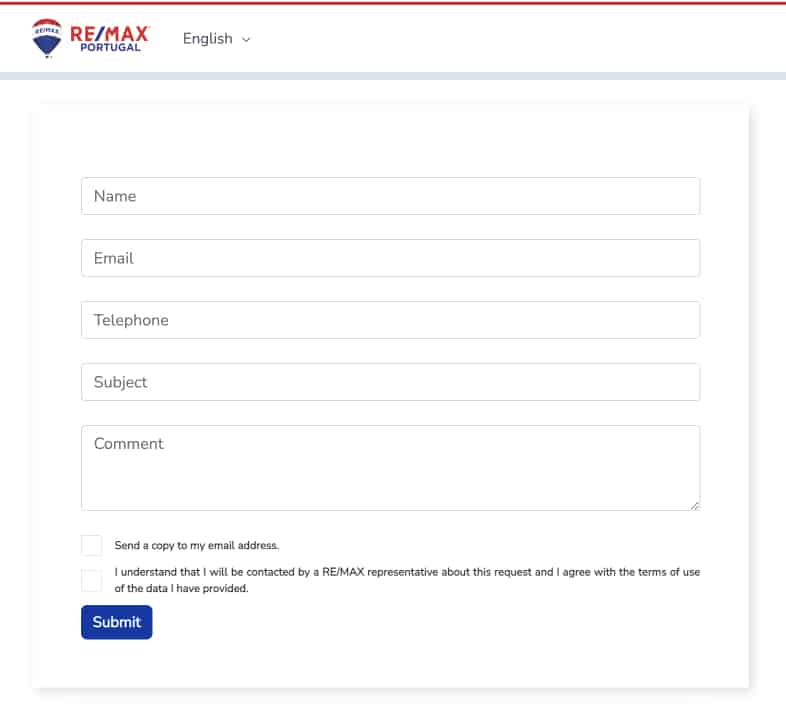 8. Contact form for e-commerce store
People often contact e-commerce stores to ask about their product orders, the warranty, discount codes, etc. E-commerce stores implement longer contact forms on their sites, seeking information about a specific product, the shipping country, the customer details, etc.
A real-life example from an e-commerce store is provided below: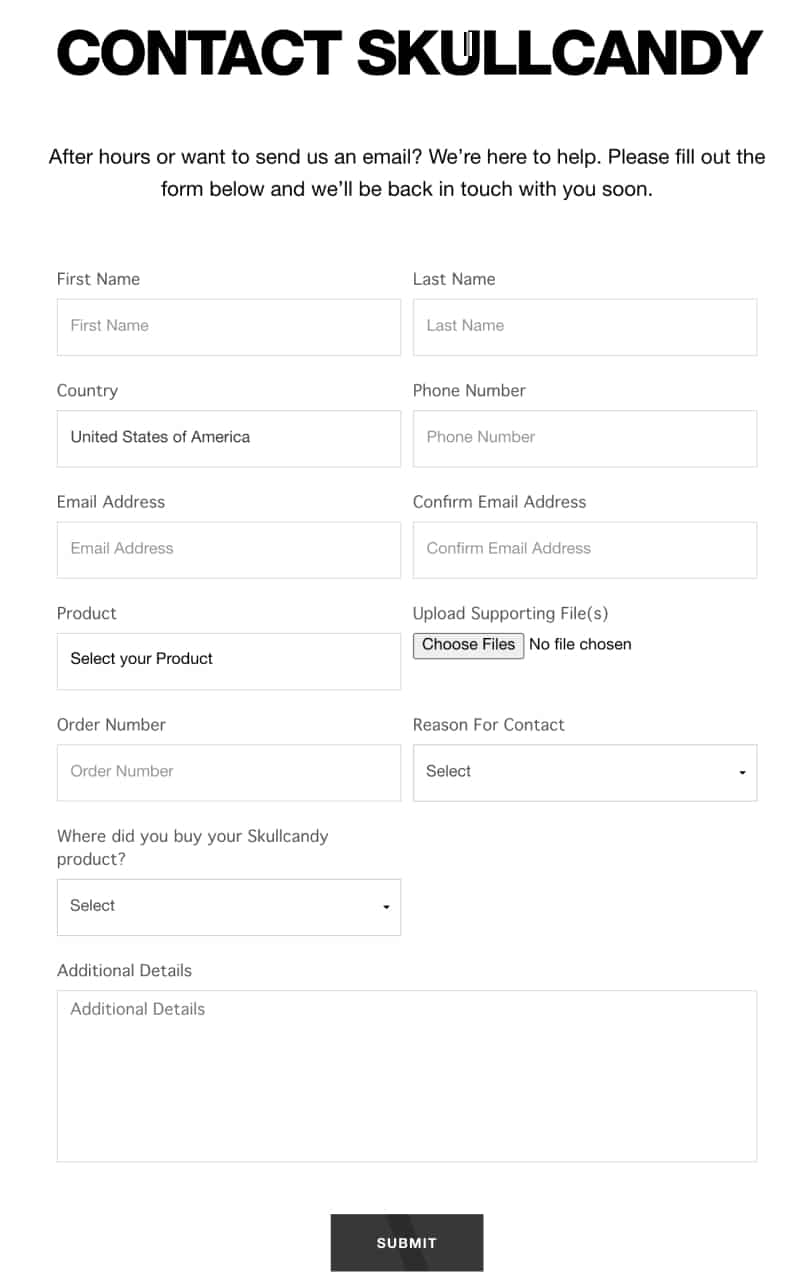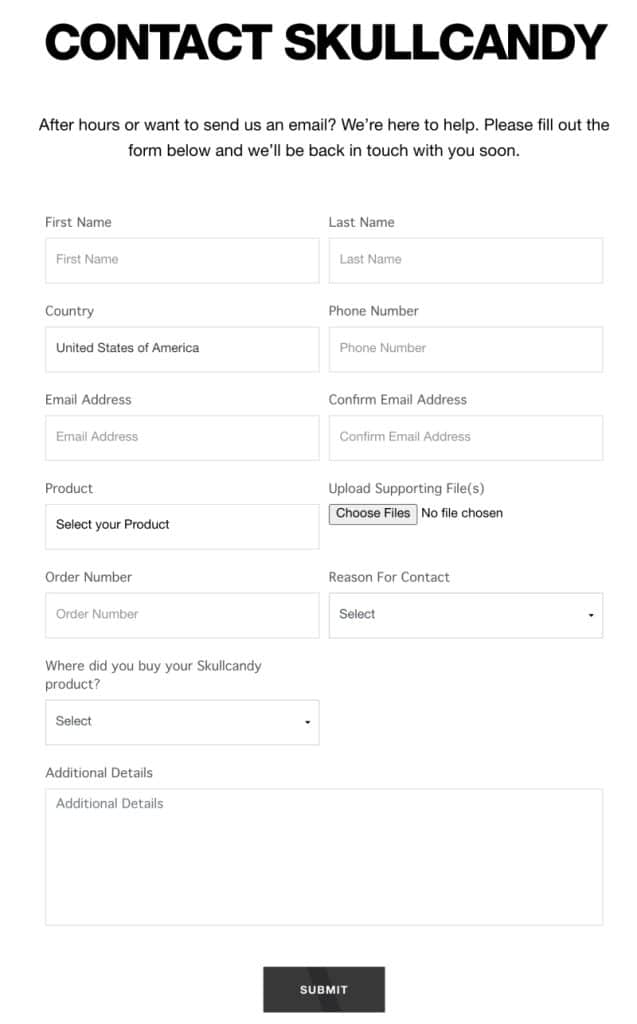 9. Contact form for lawyers
Contact forms for lawyers and lawyer companies may vary depending on the field they are operating in. There are business layers, bankruptcy lawyers, lawyers for intellectual property, etc. The contact forms usually consist of the client's personal information, the country they are based, and the message field for explaining the core problem.
Lawyers rely on contact forms to keep track of contact information from potential clients or other legal partners. Contact forms are also used for various tasks, including setting up appointments, ordering documents, and responding to inquiries. A contact form is an efficient way for lawyers to gather important information quickly and securely. By having contact forms in place, lawyers can ensure that contact information is collected accurately and securely.
Additionally, contact forms can help lawyers quickly respond to messages or inquiries without waiting for an email response. With contact forms, potential clients can easily promptly reach out to lawyers with their questions and concerns.
Ultimately, contact forms make the process of connecting with lawyers easier and more efficient.
Here is an example of such a contact form: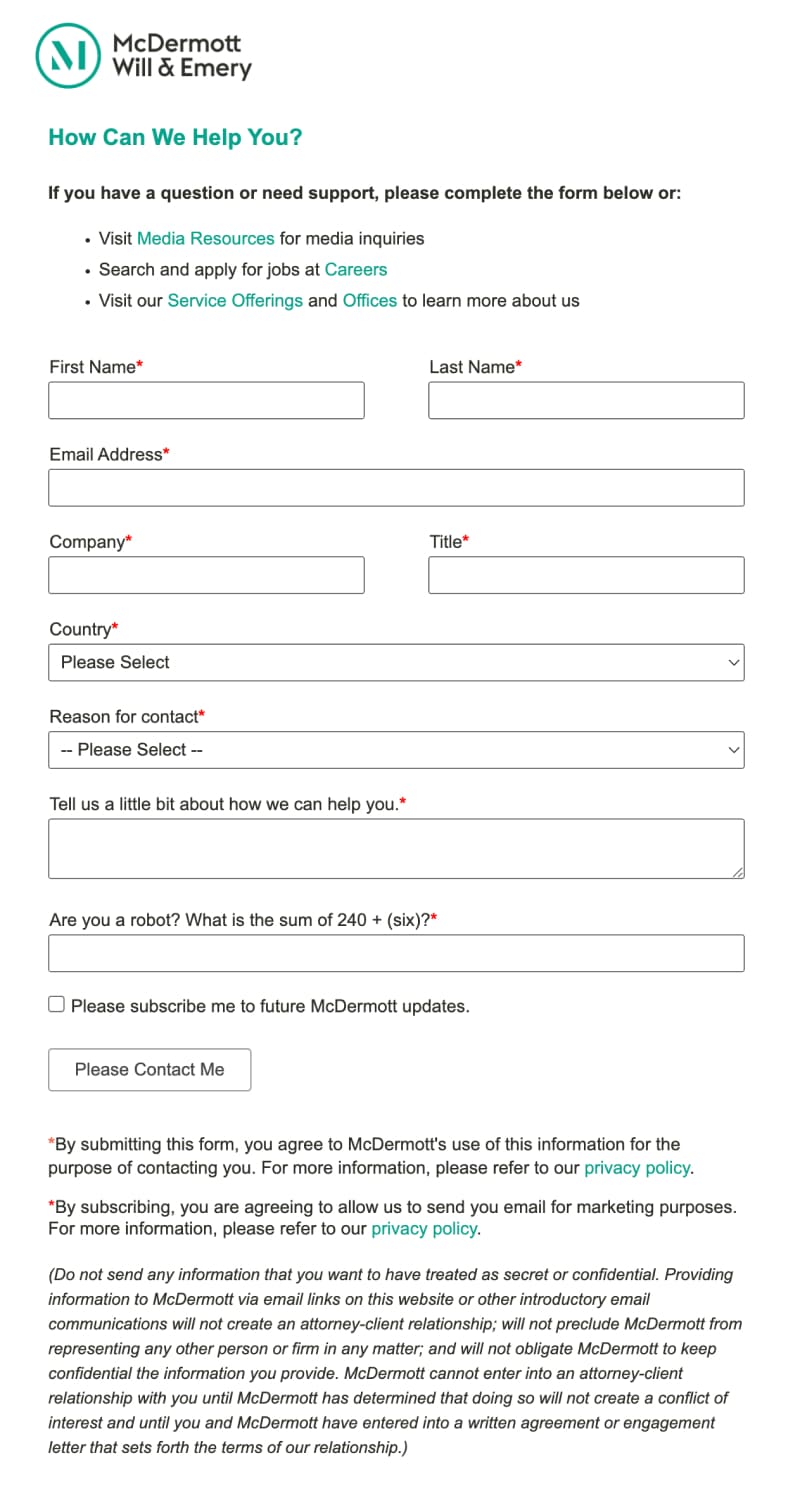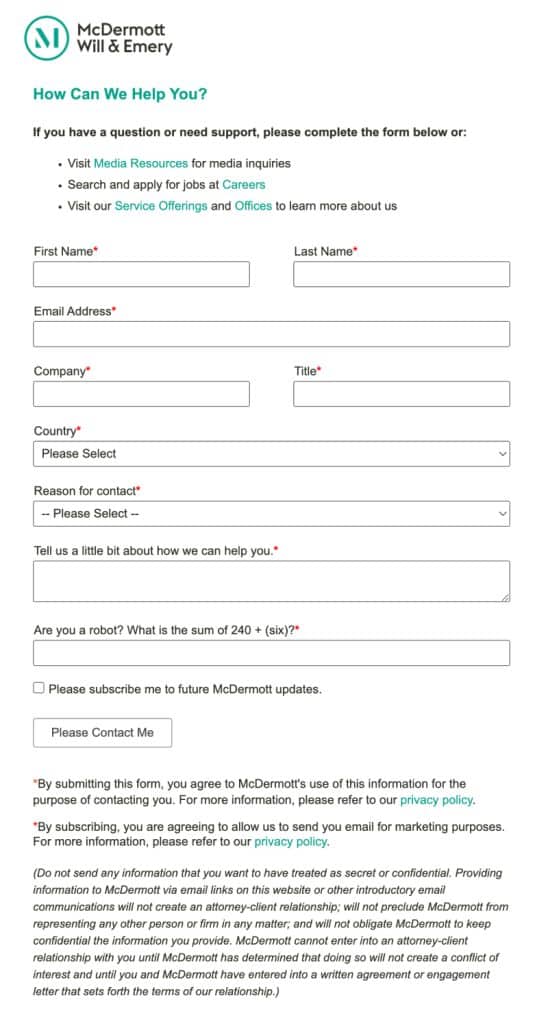 10. Contact form for a marketing agency
Marketing is another business type where contact forms are essential for generating new leads and communicating with them.
Elements of a contact form for a marketing agency should include contact information such as name, email address, and phone number.
Additionally, it should have a field for the type of inquiry the customer has (e.g., marketing services, website design) and an area where customers can explain their issue or project in more detail. Finally, contact forms should also provide customers with a way to attach relevant files.
By incorporating contact forms into their website, marketing agencies can provide customers with an easy and convenient way to contact them and get help. Contact forms also make it easier for agencies to organize customer inquiries, follow up on leads quickly and efficiently, and maintain customer service.
Additionally, contact forms should have security measures in place to prevent spam and other malicious contact attempts. By using contact forms with the proper security measures, marketing agencies can ensure their contact forms are only used by legitimate customers and not spammers or hackers.
An excellent example of such a contact form follows: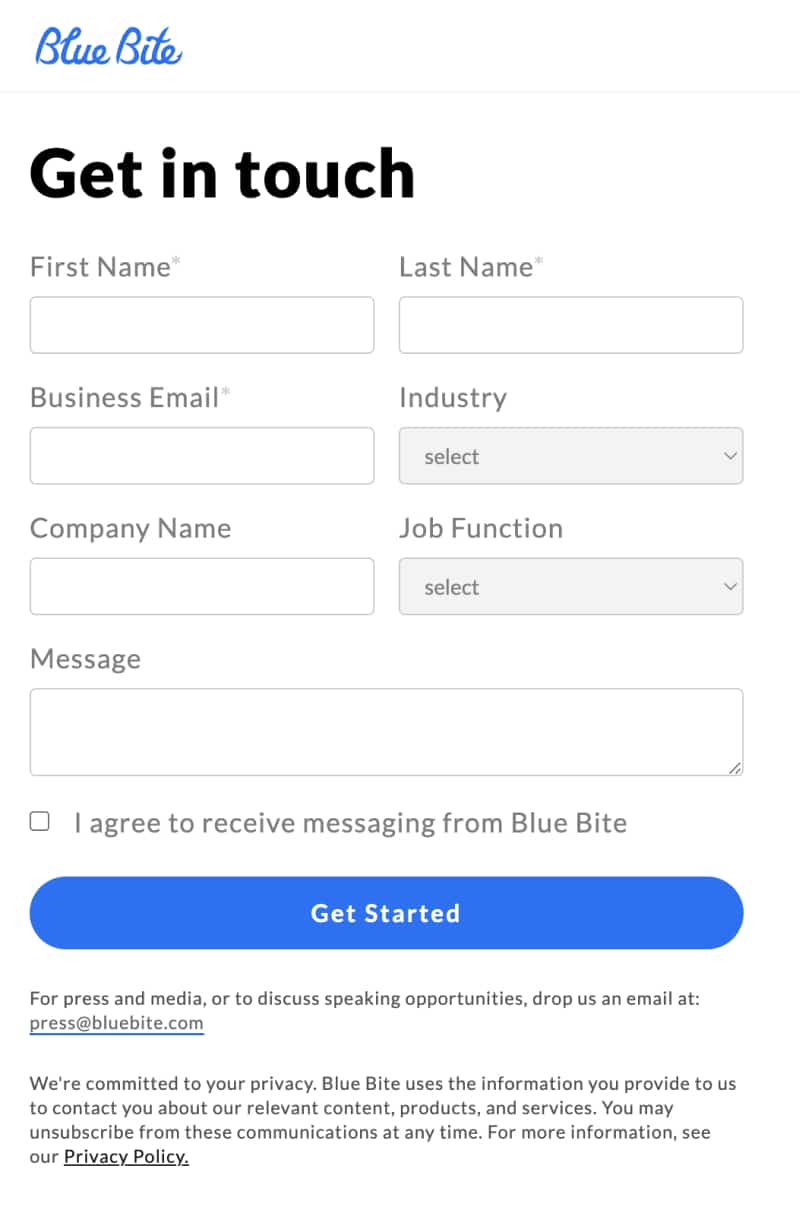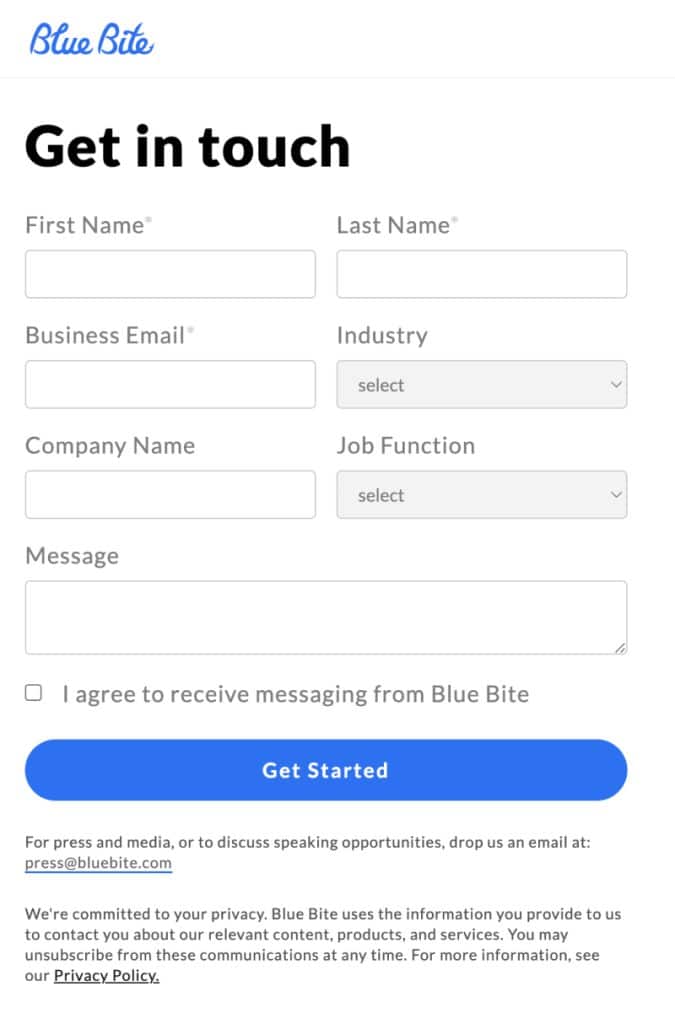 11. Contact form for IT company
IT companies are another business where contact forms are necessary for generating new clients and communicating with site visitors. IT companies use contact forms to discuss their services, new collaborations, and lead generation for their newsletter.
Regarding contact forms for an IT company, there are a few key elements to consider.
First and foremost, contact forms should include essential contact information, such as the contact's name and email address, so the company can respond easily to inquiries. It is also important for contact forms to ask specific questions about a customer's needs so that the IT company can provide the best possible service.
Additionally, IT contact forms should also include a brief description of the contact's project or issue so that the IT company staff can quickly assess and respond appropriately.
Lastly, contact forms should have an easy-to-understand submit button to facilitate contact quickly and efficiently.
Here is a concrete example: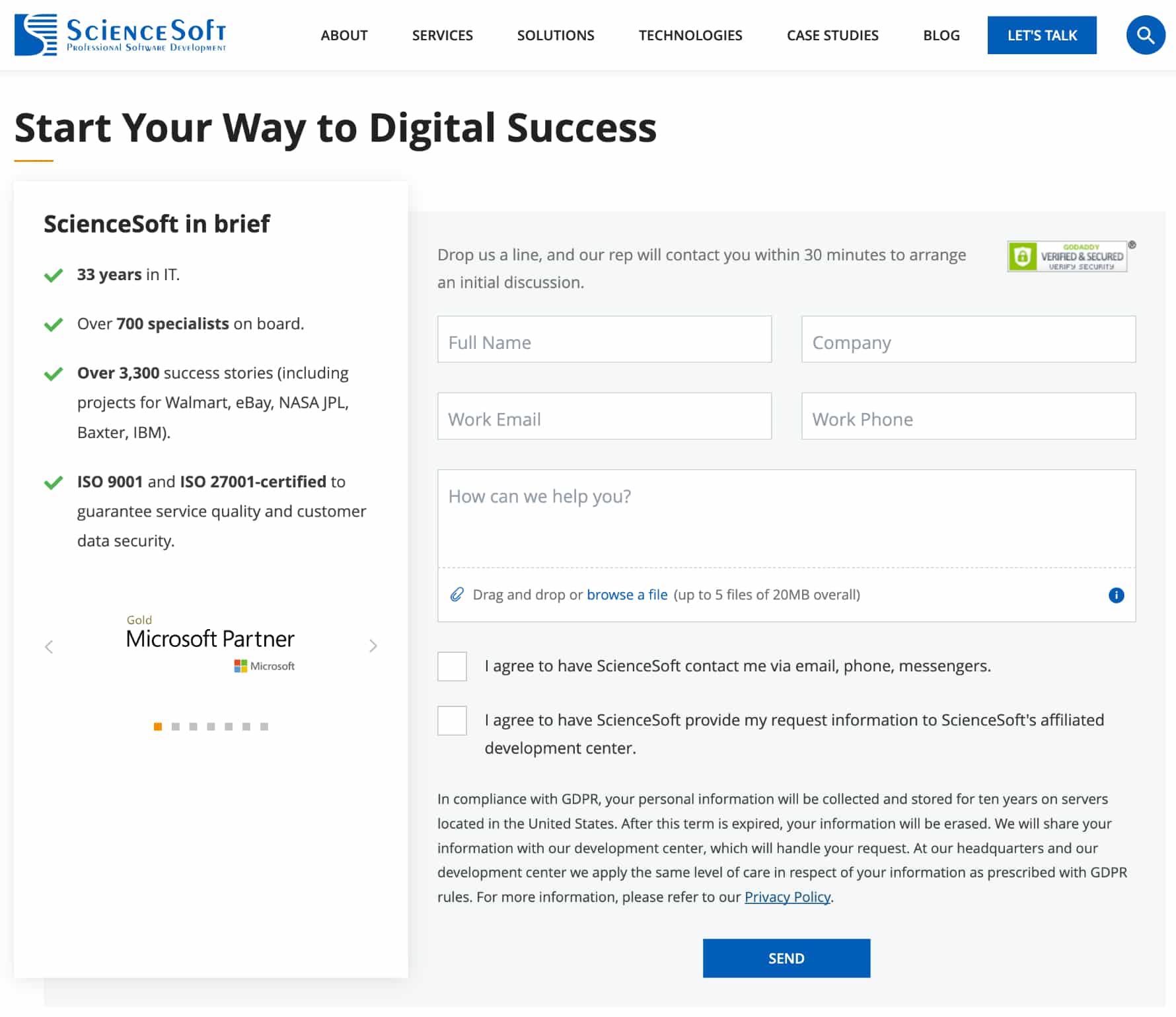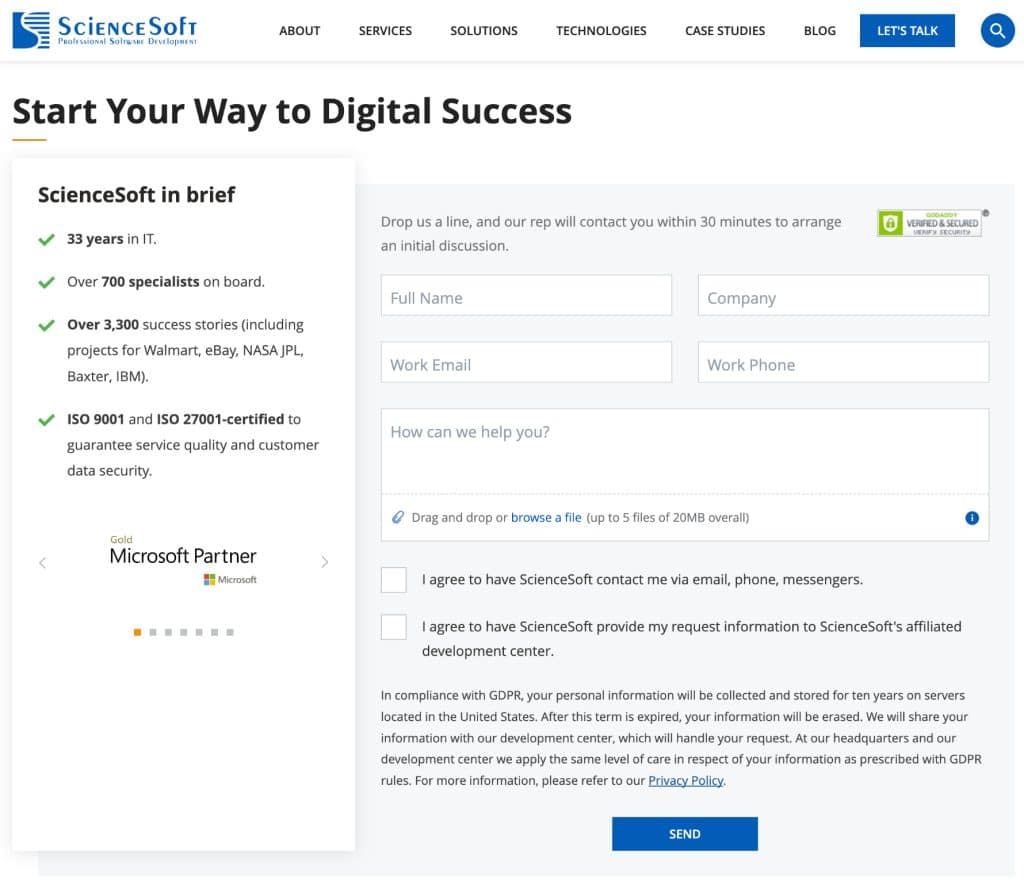 12. Contact form for hairdressers and barbershops
Contact forms for barber shops are usually focused on booking a haircut or similar service for your hair. People can use the contact form on a barber shop website to ask any specific questions about the prizes, the barber availability, discounts, etc.
Creating contact forms for hairdressers or barbershops is important in improving customer service. By allowing customers to reach out with questions or scheduling requests easily, contact forms enable barbershops to provide a seamless and personalized experience.
With the right contact form, barbers can also collect valuable customer feedback that can inform business decisions regarding operations, services, and product offerings.
Creating contact forms for barbershops doesn't have to be complicated or time-consuming. With the right contact form builder like EmbedForms, it's easy to establish an online contact form that will enable customers to get in touch with the business quickly.
When creating contact forms for barbershops, there are a few key features to look for. The contact form should be easy to use and understand, with an intuitive design. It should also have the ability to collect contact information such as name, email address, phone number, etc.
Additionally, contact forms should allow customers to request services or ask questions about their appointments easily.
Here is an example: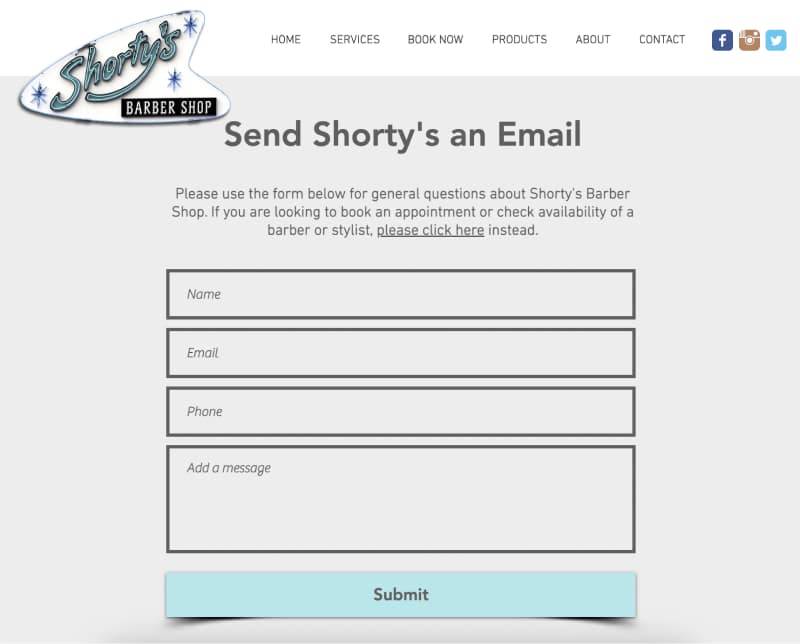 13. Contact form for dog care website
Many people love dogs, so millions of websites are dedicated to these fantastic creatures. If you have a pet business, create your contact form focusing on the client's information, the dog breed, and similar, depending on the service you provide.
Here is a nice contact form for a website about dog care: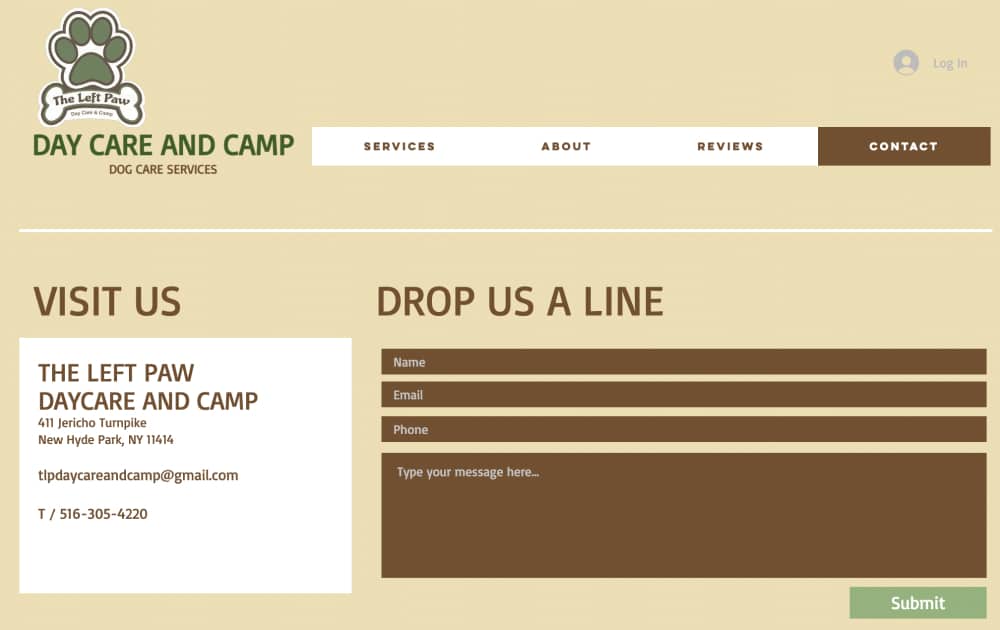 14. Contact form for auto dealership
Using contact forms is a great way for auto dealerships to get in contact with potential customers.
An effective contact form should be easy to use and provide the necessary information that the dealership needs to contact the customer quickly and effectively. It should also have an option for customers to choose the contact reason and how they would like to be contacted (phone, email, etc.) and an appropriate way to contact the dealership if they need more help.
Furthermore, contact forms should be secured with encryption and data protection measures in order to protect the customer's information from being accessed or misused by anyone else. By having a contact form for auto dealerships, customers will have peace of mind that their contact information is safe and secure.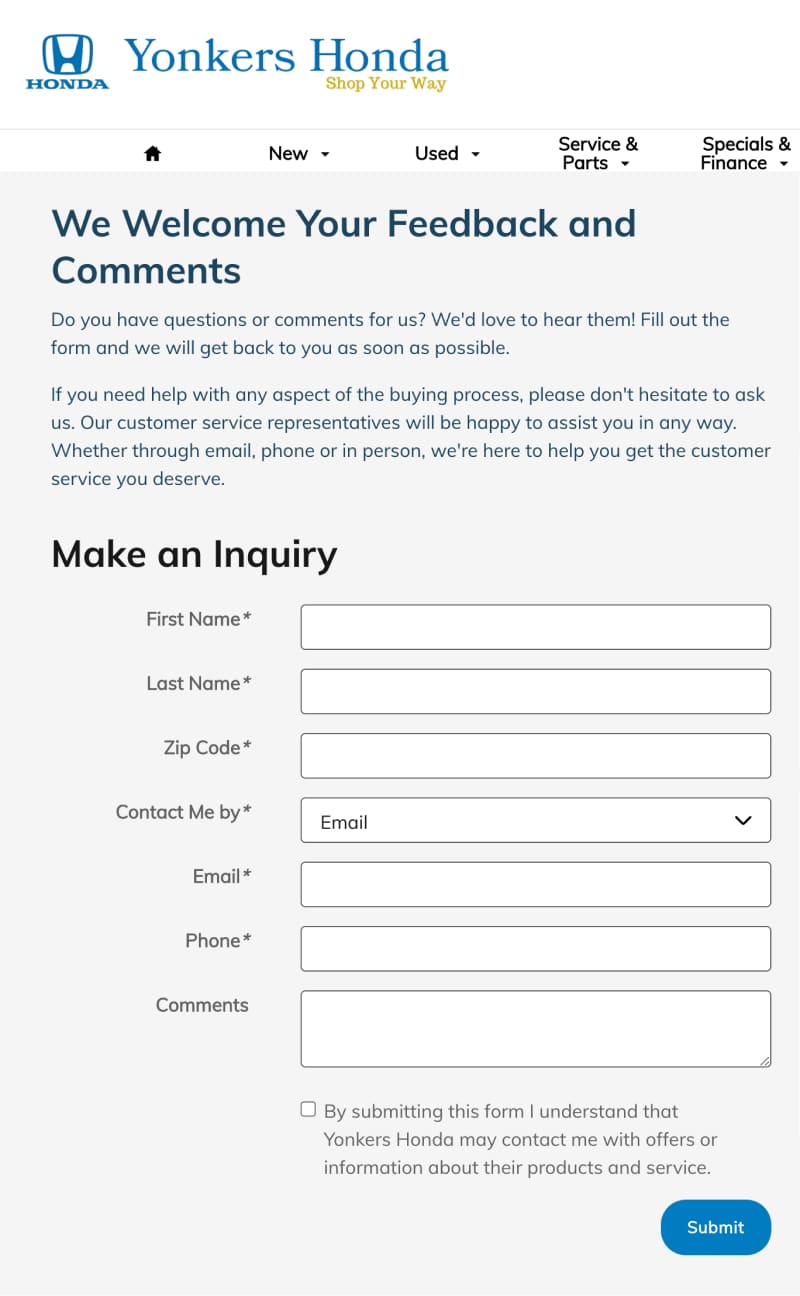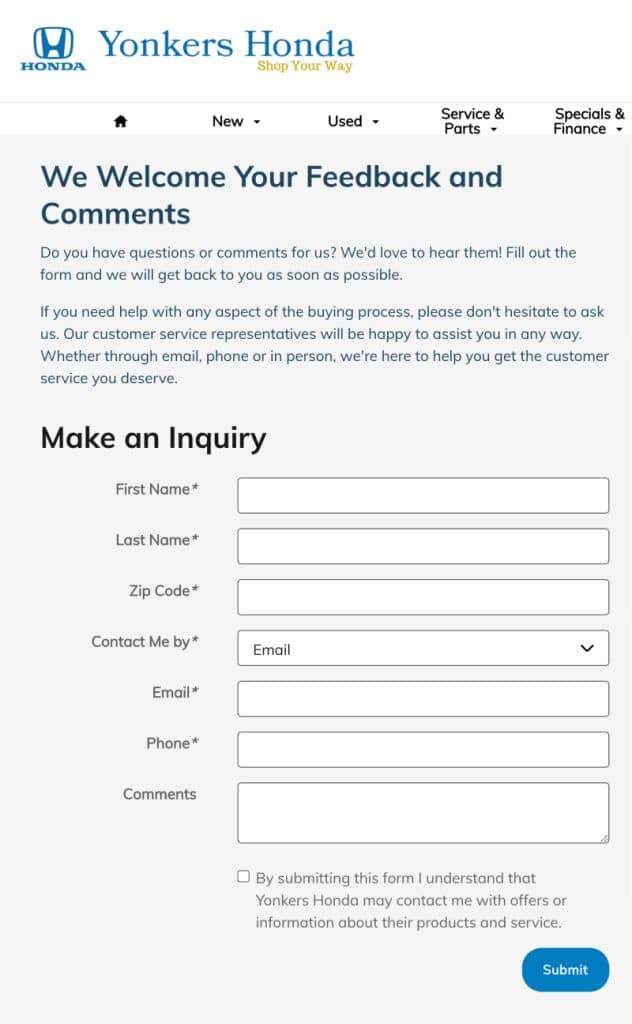 15. Contact forms for SaaS companies
As cutting-edge technologies grow continuously, SaaS companies are among the most popular ones nowadays. The contact forms in the SaaS websites mostly focus on collecting information about the client's business, company size, industry, contact info, and similar information. The following screenshot is a clear example of an existing contact form on the SaaS company website: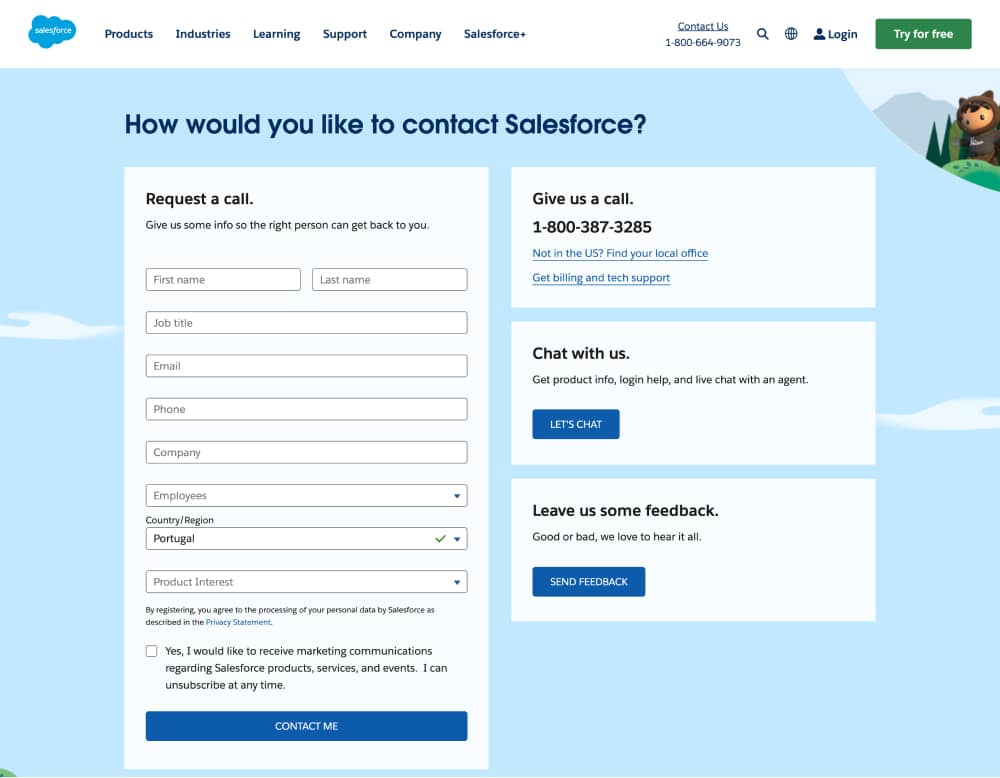 How to create a basic contact form with EmbedForms
EmbedForms is a powerful online form builder.
So, If you need to create a user-friendly contact form in just a few clicks right now, you have come to the right place.
You can get a free contact form right now with one of the best form builders – EmbedForms. Here is how to start:
1. Start with a prebuilt form
To create your own contact form with a prebuilt template in seconds, first register for a free account and follow these steps:
Step 1: In the Templates library, choose Simple Contact Form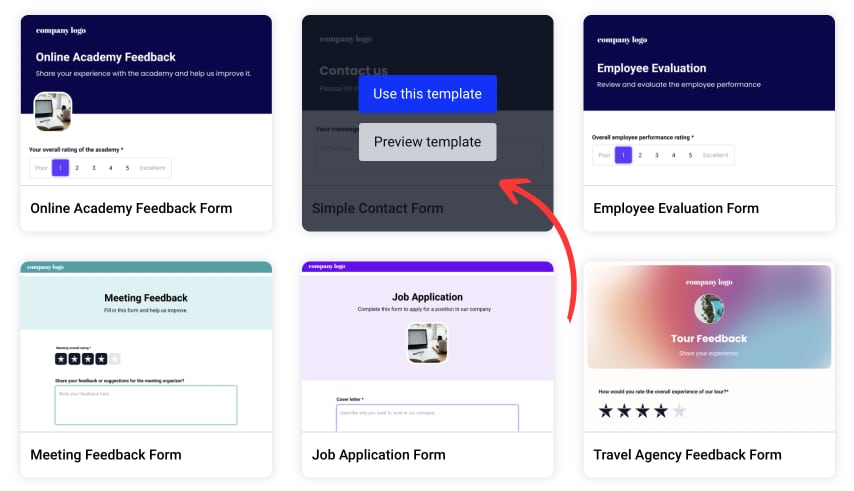 Step 2: In the form editor, click Embed form on website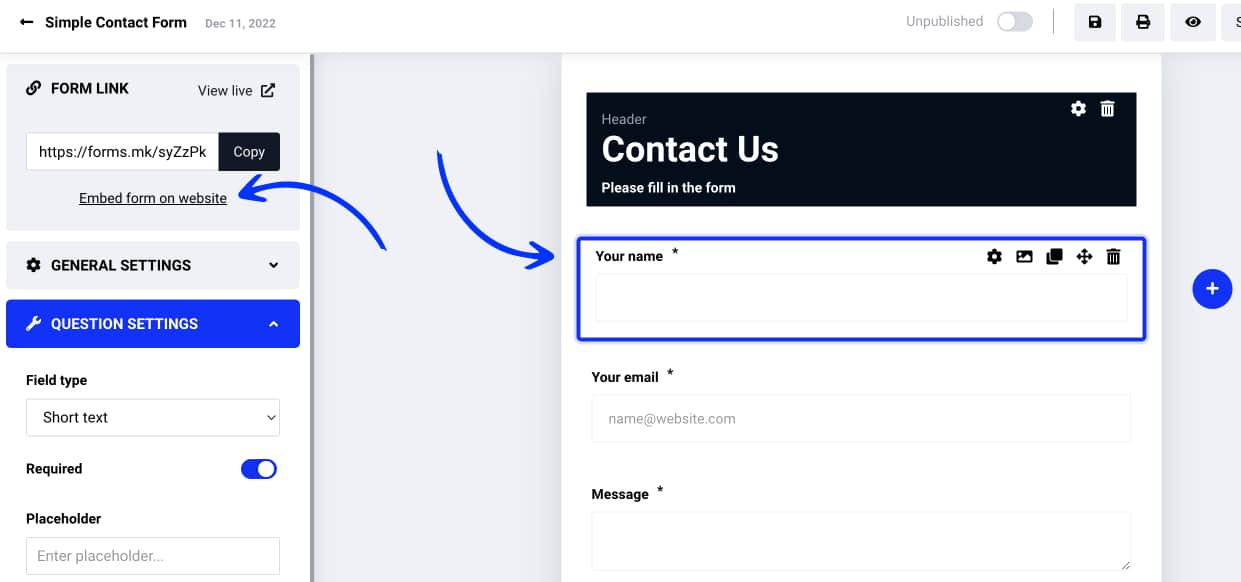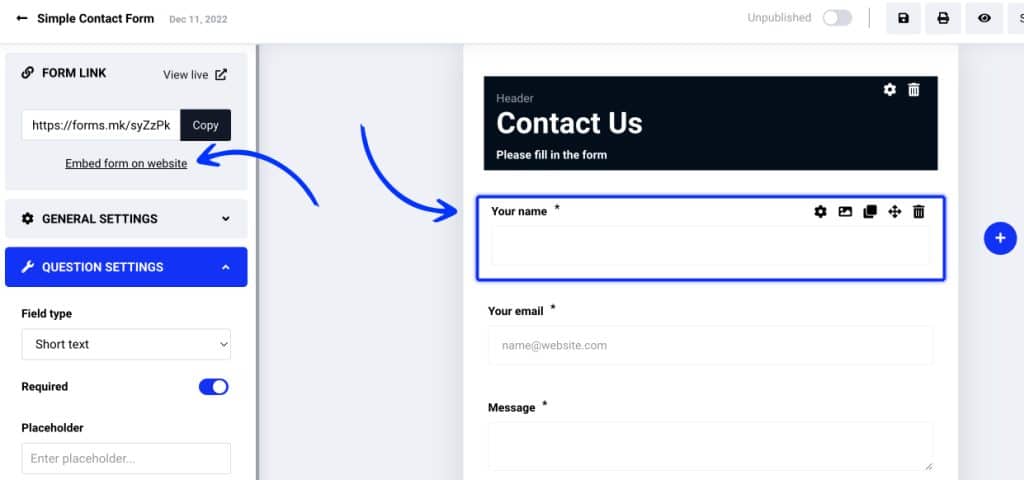 Step 3: In the widget editor, copy the contact form code and paste it into your website's HTML code.
Note that you are still able to add additional info or add your own form data in the form editor.
You don't need coding knowledge or PHP skills to add the code. Just paste it into your website HTML, or place the code in an HTML block if you use a WordPress website.
You can use this method if you don't need to edit the field labels and use pre-defined input fields.
And finally, to see the form submissions click on the Responses tab, as shown below: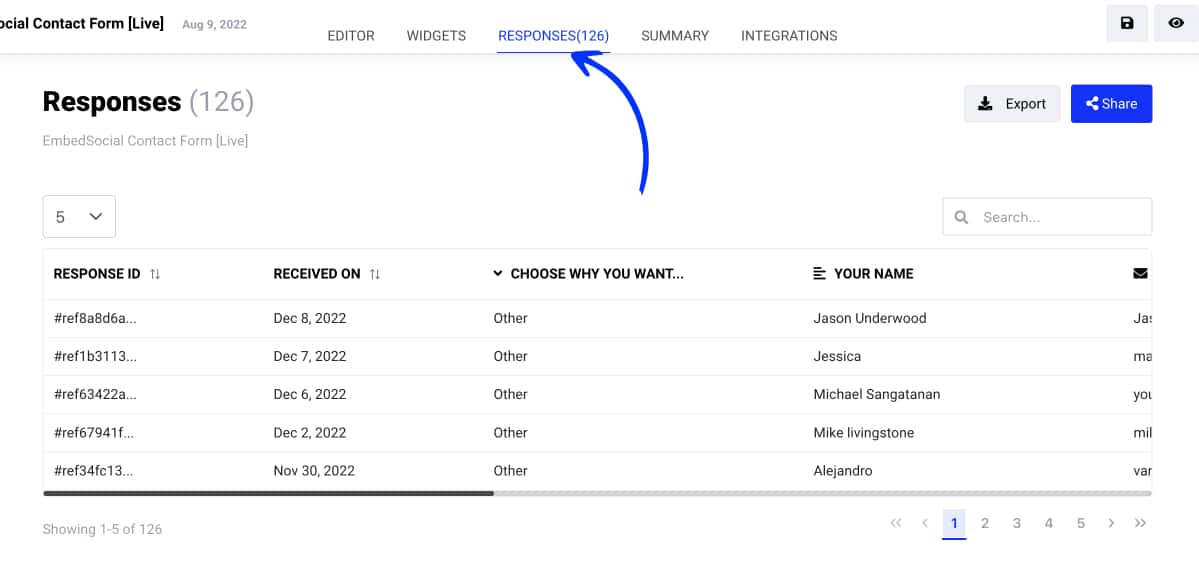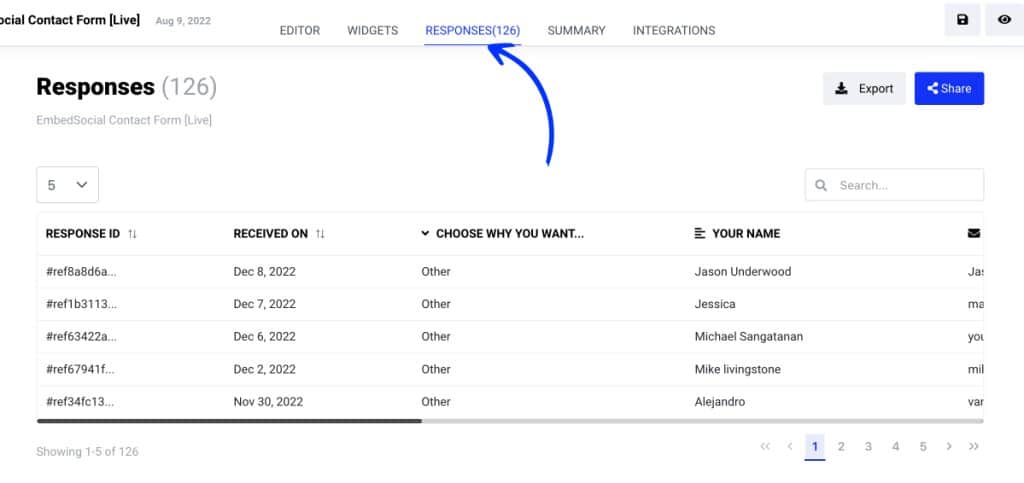 2. Create your own form
If you need to create a new contact form from scratch that will fit with your website design, follow the steps below:
Step 1: In the welcome popup, click Start from scratch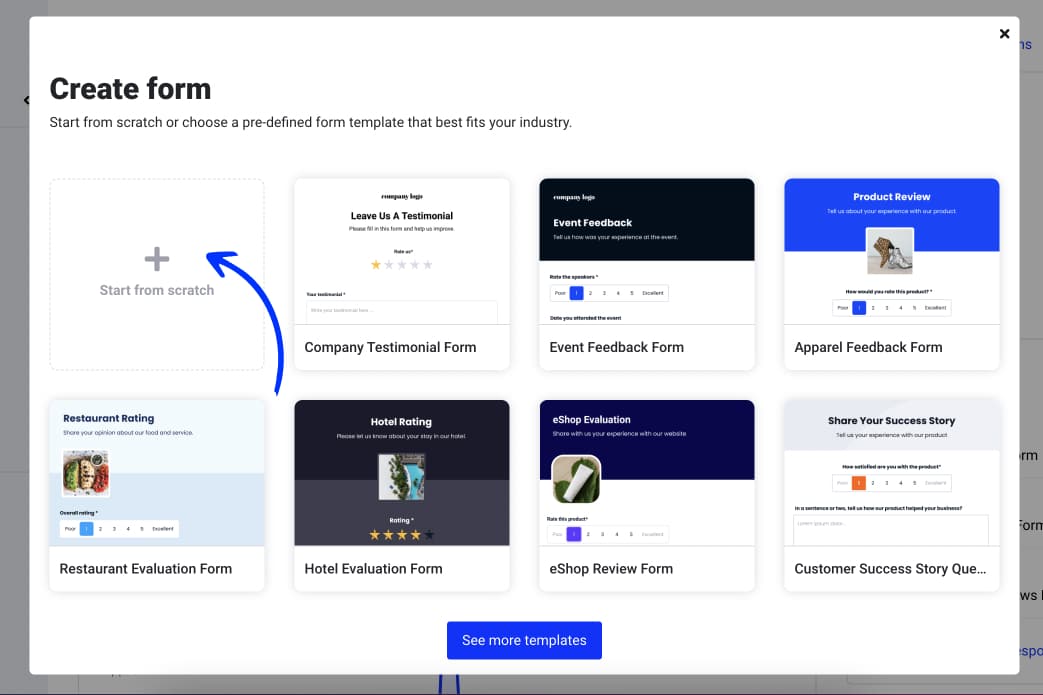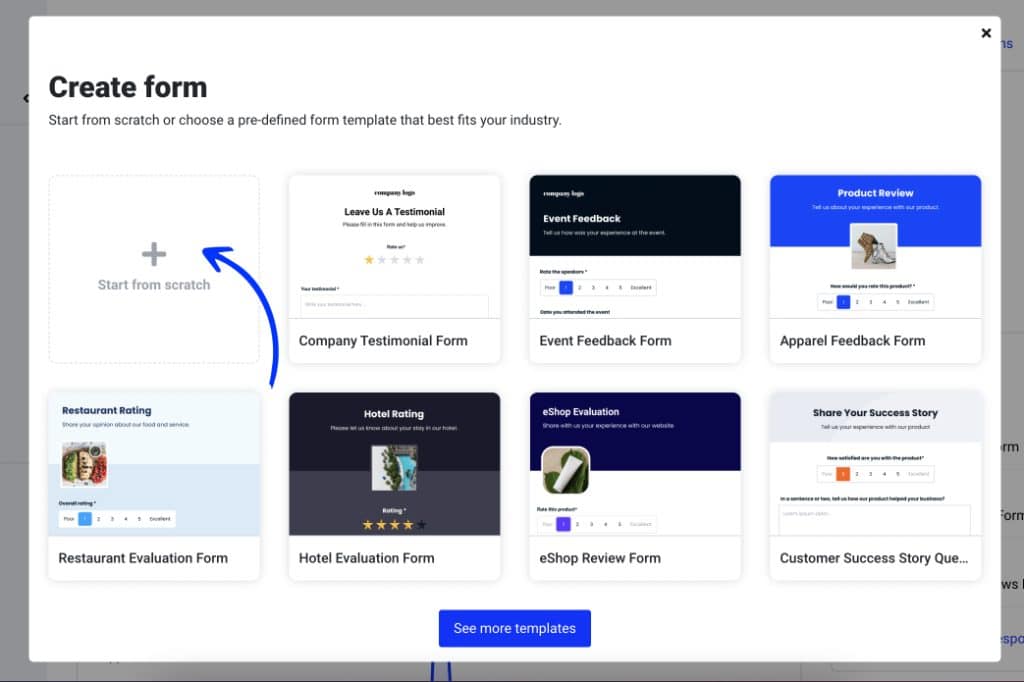 Step 2: In the editor, add name, surname, and message fields and add a field to collect phones or emails. Add other fields if needed. Once you are done, click Embed form on website – located in the top left corner, right below the form link: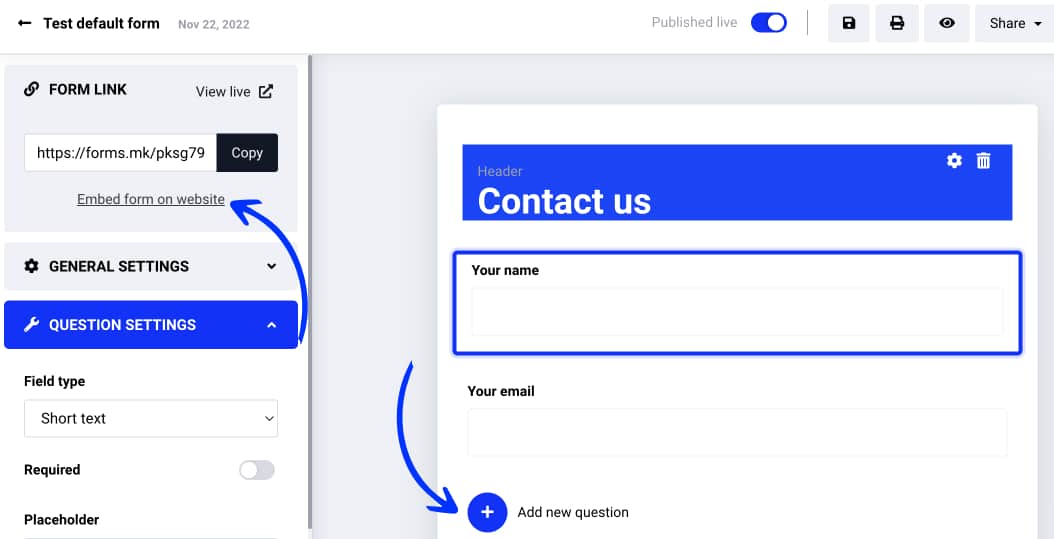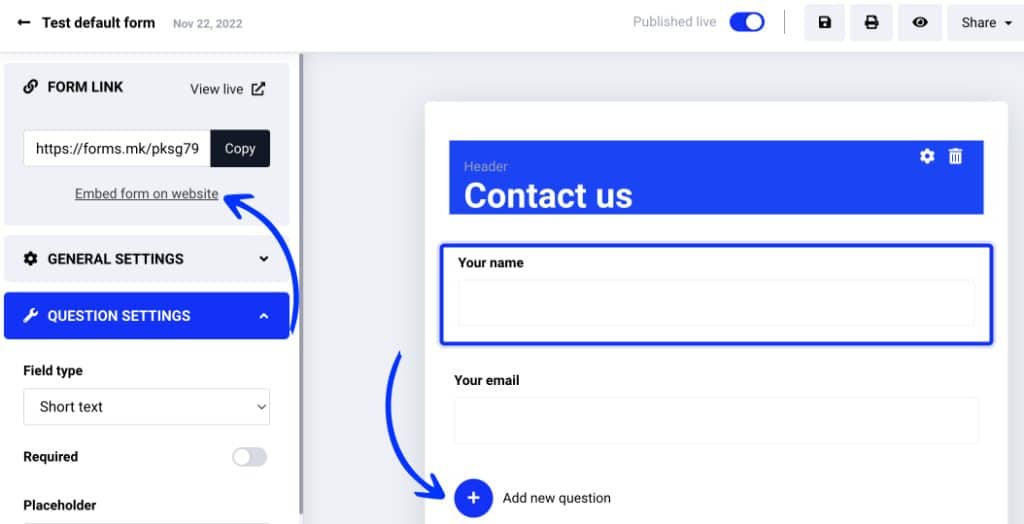 Step 3: In the widget editor, copy the provided code and paste it into your website. It looks like the following code: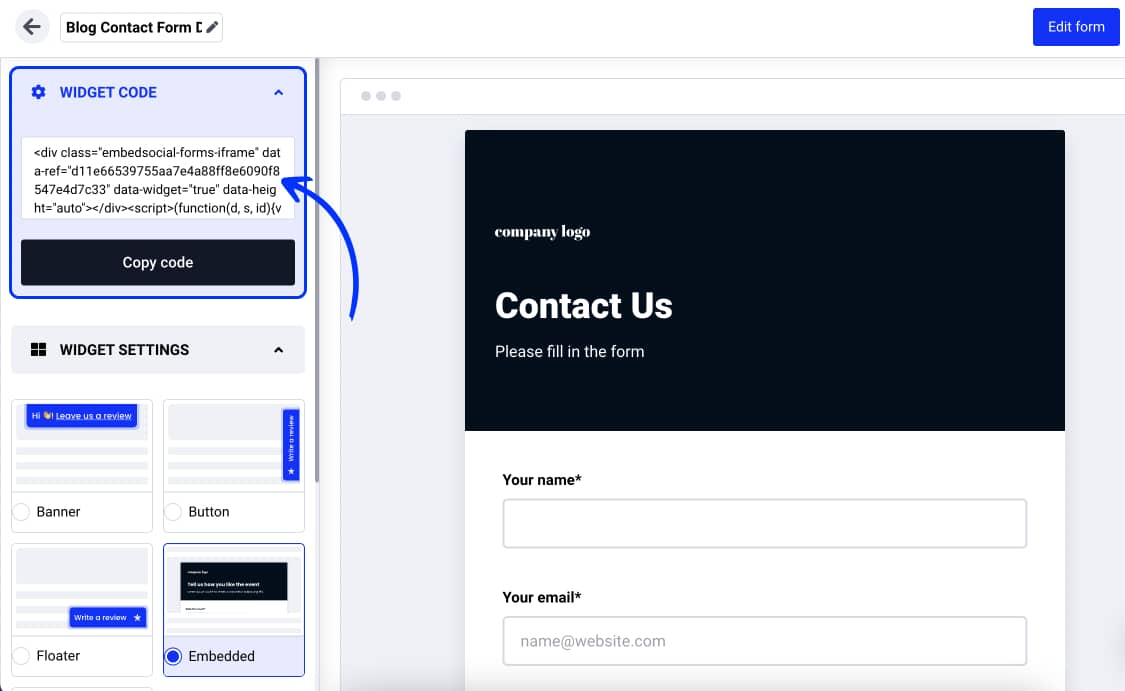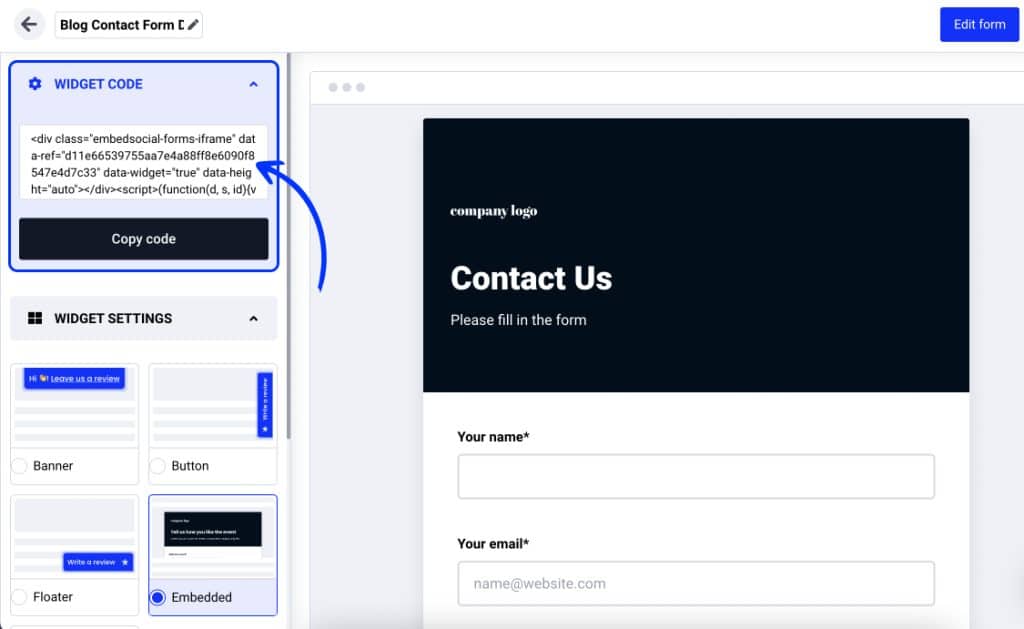 EmbedForms is a form builder with powerful features that allows you to do the following:
Create contact forms for multiple websites
Use a variety of input fields to collect information, such as questions with multiple options,
Customize thank you screen with a custom and special message
Setup alerts so your support team can follow up with an instant response if needed
Use custom CSS to apply a style that fits your brand and web design, change the colors of the submit button, filed borders, header background, etc.
Use widgets to open contact forms in a pop-up, fixed drawer, or similar – see the image below.
Simple contact form template to copy right now
As promised, here is a form you can use now with EmbedForms and create a contact form in seconds.
You can fill in and test the demo below:
To start using it, just register for EmbedForms, and in the Templates library, look for the SImple Contact Form template.
Note: The code is a single line and it works on any web platform that supports embedding of a javascript code.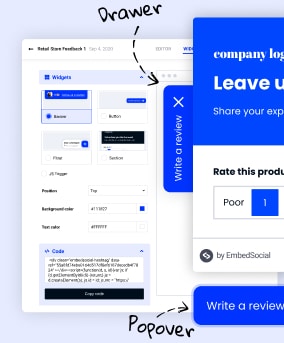 Build all your web forms for free
EmbedForms is the only form builder you will ever need to capture web leads, create surveys or collect feedback on your website.
Free forever | Live support available
Tips for creating an effective contact page
When choosing a contact form idea for your website, you should be aware of several things that can impact conversions more than you can imagine. Before you start, ensure that you include some basic elements for the site visitors to understand the contact form and how to use it. Here are some tips and tricks on what to include for an effective contact form:
Include clear CTA
People often see the contact form section but don't know why to fulfill it and how to send a message. To avoid such bad scenarios, always include a clear call to action (CTA) for the site visitors to understand the point of the contact form.
For example, insert "Contact Us" buttons throughout the website and design a contact page with a contact form and other content info. I prefer to include a description next to your contact form, communicating with the site visitors to send a message and get in touch with you for collaboration.
Include an email and phone number
When creating a contact form on your website, ensure that your phone number and email address are included. Some users may skip the contact form and go directly to your other contact info. For this purpose, always include your business phone number if they decide to have a call with you and a business email address for reaching out to your inbox directly.
Also, create a separate field in the contact form for phone number insertion. That's how you can contact your potential customer via phone in your call center and offer special products at special prices.
Link to a social media account
Don't forget about social media – a digital asset that all businesses must have for increased online presence and communication with customers. When designing your contact form, leave a gap for your site visitors' social media profiles so that you can reach out to them. Also, on the page where your contact form is implemented, provide links from your social media profiles as an additional contact channel with your potential clients, or put it in the footer.
Be clear about what is your contact form about
You might have multiple contact forms for different uses if you have a busy business or website. For example:
Sales inquiries form
Customer support form
Online order form
Callback request form
And similar…
Regardless of your approach, use your form labels and surrounding text to make the purpose of each contact form clear to your visitors.
FAQs about content forms
Why do I need a contact form?
Having a contact form on your website helps interested site visitors get in touch with you and start a conversation. Also, through a contact form, you can capture leads and collect their contact info which can be used for retargeting campaigns or newsletters.
Should I put a contact form on my portfolio site?
Yes, of course! The contact form will serve as a bridge between your web visitors and you. Use it as a communication asset for being in touch with clients to offer your product or services.
Do I need to put my email address aside from my contact form?
Even if contact forms are here for communication, adding an email address on your "contact us" page will be helpful for your site visitors to reach out to you differently. Implementing social media links is another great idea too.
How does the contact form work?
When someone uses a contact form on your page, it directly messages you through your site as a communication channel. In most cases, you will receive the response on your email inbox integrated before, or you will see a notification when you open your website's admin console.
Can I create a custom contact form in EmbedForms?
Yes, you can easily customize the look and the form fields. You can pick a color scheme, change the background color, font family, success message text, and border radius, and use custom CSS to style form elements and create the perfect contact form. For this, you will need a basic understanding of CSS and HTML code.
Key takeaways
Contact pages are essential to each website, and creating online forms is now easier than ever.
And using tools like EmbedForms, you can create a standalone page with advanced contact forms or other free feedback forms and start to receive responses in seconds.
As you probably sum up, contact forms are an essential part of any web page serving as a channel between your potential customer and your business.
Here are some key takeaways:
There are many types of contact forms, such as ordering contact forms, booking contact forms, lead generation content forms, messaging contact forms, and forms to collect feedback.
No matter the industry you are operating in, contact forms on your website will help you collect contact and personal information from your interested web visitors and start communication with them for future collaboration.
You can use different software tools for creating contact form templates for your website. A clear example of it is EmbedForms, a drag-and-drop editor for a smooth and flawless building process – where you will only need a basic understanding of HTML code.
Websites without contact forms are likely to have poor conversation rates and low rank on Google's SERPs.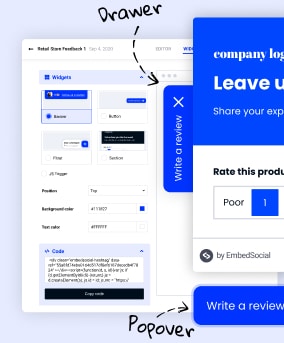 Build all your web forms for free
EmbedForms is the only form builder you will ever need to capture web leads, create surveys or collect feedback on your website.
Free forever | Live support available