A poor Google review is every business owners' nightmare, especially if you think that the comments are unreasonable or fake reviews.
We feel you. A negative comment on a review site such as Google business listing, TripAdvisor, Yelp, or series of negative feedback, can seriously undermine the blood, sweat, and tears you have invested in your business over the years.
You believe that removing the Google review is your only option to keep your online reputation.
Think again.
You cannot delete a review you have received. Just flag it as an inappropriate review.
So, before you jump and flag the Google review as inappropriate, consider these few reasons why it's okay to let bad reviews lie on your page. Sometimes they can actually help and not harm your business.
Feeling intrigued?
Removing Google reviews will make an already disappointed customer even more frustrated because you will clearly tell them you are not interested in their feedback.
When someone leaves you a negative review about your company, consider this a chance to turn negative reviews into positive ones. Listen to what they are telling you, understand them, and suggest a solution.
Positively responding to a negative comment shows the potential customers that you care about your clients and the lengths you will go to fix their issues.
It is not natural for a business to have 100% positive reviews. Even companies with world-class customer service attract a negative review at some point. And that is okay.
Perceive the comment like hiring your own mini focus group without having to pay for it. Take the feedback seriously and look for ways to apply it to your business.
Improve customer experience and win them back. Then ask them to edit their online review of your business.
Generate & display your Google reviews
Show social reviews, boost trust on your website and increase conversions.
For Businesses: How to delete a Google review?
If, after reading this, you are still feeling the urge to remove a Google review, here are the screenshots of the steps you should take:
Open your Google my business account
In the left menu, click on the 'Reviews' option
Find the review you want to remove
Click the three dots menu and click on 'Flag as inappropriate'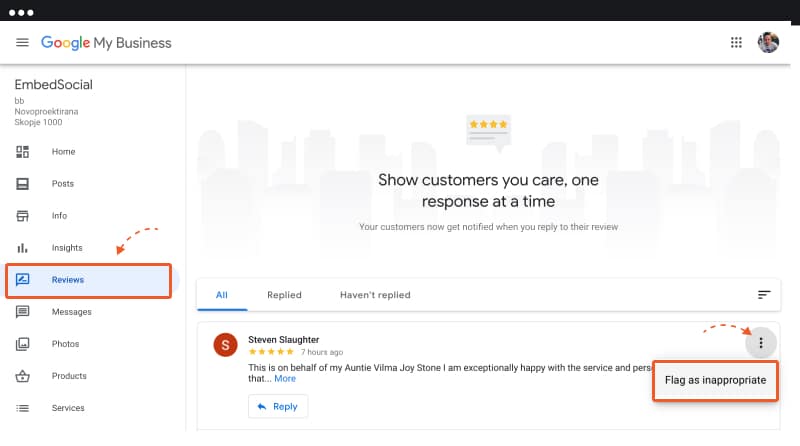 5. Select one of the given options on what is wrong with the review (not relevant to this place, conflict of interest, offensive or sexually explicit, privacy concern or legal issue)
6. Click on the 'Report' button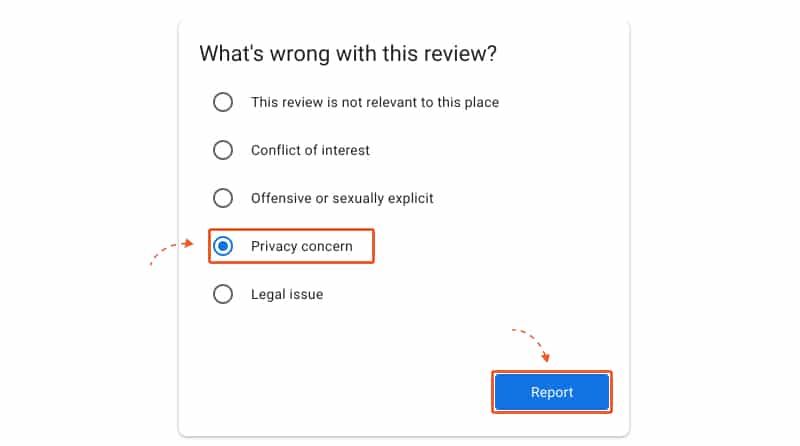 That's it. If Google needs further clarification, their support team will follow-up with you via email.
Or watch the video below:
Due to high demand, expect delays in the processing of your flag/request. Please don't flag the same review twice. Only reviews that violate
Google's content policy
can be reported. Reviews that are negative or that you disagree with, but adhere to the content policy, won't be removed.
How to make sure that Google will delete your flagged review?
While Google is getting more qualified at controlling reviews, with so many new reviews appearing each day, it's hard to tackle them all.
It's is why it is a good idea to become familiar with Google's review policy and understand if your review has high chances of being deleted or will remain on your Google listing forever.
Here is a quick summary of a review content that Google does not permit:
Spam content: same review content written multiple times from different profiles;
Off-topic: review that is not related at all to your location, your product, or service. This includes personal rants and political views, too.
Offensive language: content that contains obscene language or lewd gestures;
Dangerous and derogatory content: contains threats, harassment, is discriminatory, or it's a fraudulent review.
Conflict of interest: negative reviews about your competitors to misled users and manipulate Google search engine rankings;
Restricted or prohibited items: content that contains links, offers, or calls-to-action to things like alcohol, guns, tobacco, pharmaceutical items, medical devices. It includes discount offers, coupon codes, or contact information to acquire restricted items;
Illegal content: content that promotes illegal activity. It includes reviews that violate copyright, represents sexual abuse, covers banned products like unlawful drugs or trafficked animal products, portrays violence, or is related to terrorist groups.
Impersonation: content where person dishonestly portrays themself as an individual, representative of a company or organization.
If the review belongs to one of these categories, it will be eventually removed from your listing.
If the review is not removed, and you strongly believe that it should be deleted, get in touch with Google itself.
Here are 4 ways to reach out to Google My Business support and request to remove a Google review.
1. Fill in details about your issue in a support form
Log in to your Google My Business profile
At the end of the left-hand menu, click 'Support'
Click on 'Contact Us' and go through the steps to fill in your issue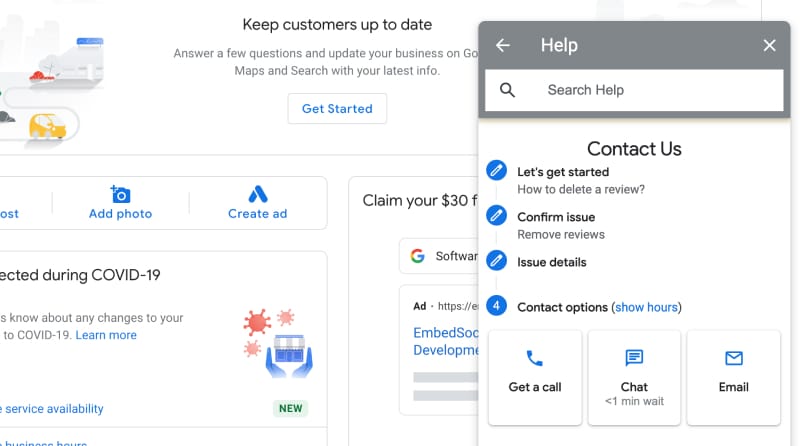 2. Connect with Google's customer support
You can reach out to them via:
3. Tweet to @GoogleSmallBiz
If you have exhausted the above two options and nothing seems to work, you can always rely on Twitter. Tweet about your situation to @GoogleSmallBiz, so that they can DM you in return about your problem.
4. File a legal removal request
There's one final option that exists to remove negative Google reviews of your company. It will only apply to a limited number of cases. Google allows individuals to formally request content to be removed if the review is illegal.
Alternatives to deleting a bad Google review
You already know that having negative reviews can impact your overall reputation. That's the moment where you're tempted to delete the bad ones.
But there are several tactics that can help you to bury the negative with positive ones. Here are some of them.
Respond to the negative review
It's important to show that you care about your customers, even if they leave a negative review. By responding to their complaint and answering some of the questions raised in the review, potential future customers will see how much effort has gone into making sure every customer is satisfied with our products or services.
Here are some tips you should follow when responding to a negative Google review:
Don't lose your cool!
Personalize the response
Say thanks for their feedback
Don't get defensive, but instead aplologize and sympathize
Ask for a second chance
Knowing how hard can be to create the perfect response to an itchy review, we created bad review response templates you can use right away.
Get more positive reviews
Ok, everyone knows that having a bad review from time to time is normal for any small business. But if you have a bunch of positive reviews, the negative ones will remain at the very bottom line.
So, what you have to do is to ask your satisfied customers to give a review of your business. And there are many ways on how to ask for a Google review:
Ask via email
Ask via SMS
Print QR codes on packages
Embed a review button on your website
Promote your positive reviews
Reviews promotion can do wonders for your online reputation.
Showing off your best reviews on your website will encourage potential customers not just to make a purchase from you, but to leave another positive review as well.
You can use some of these ideas about where you can display your 5-star reviews:
Display the reviews on your About us page
Create a header of the best review you've got
Embed a carousel of the top 10 reviews on your home page
Place each product's reviews next to it
Create a dedicated reviews page
For users: How to delete a review you left on Google
As a user who has written a review, it's easier to hit the delete button. You don't need to go through all that struggle of flagging a review and hoping that Google will erase it.
Instead, you can delete your own review in a few simple steps:
Open your Google account and navigate to Google Maps
In the left menu, choose 'Your contributions'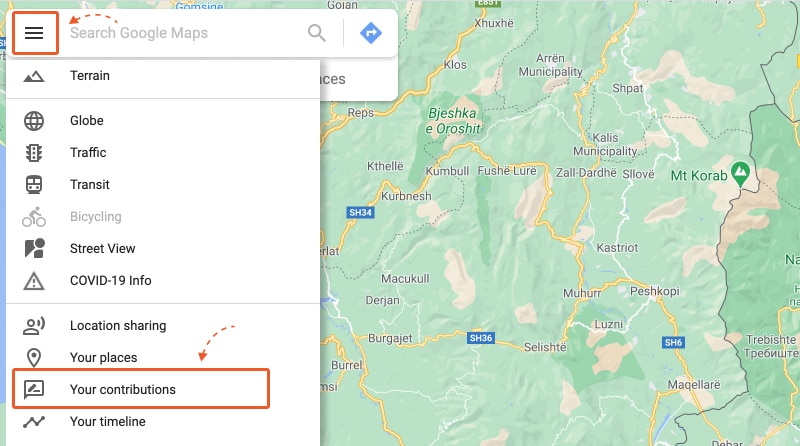 3. Click on the 'Reviews tab'
4. Select the review you want to delete
5. Click the three vertical dot menu (shown on the screenshot below)
6. Choose if you want to edit, delete or add a photo to the review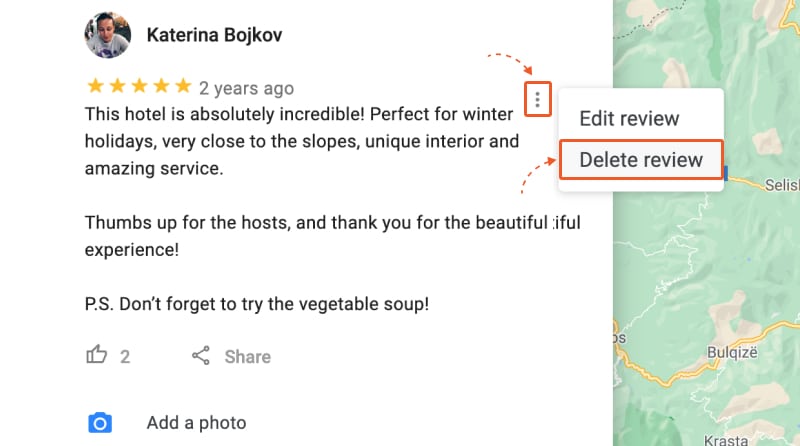 That's it.
We created a complete Google reviews guide to learn how you can get the most out of your reviews on Google, manage customer reviews and improve your online reputation management. Make sure to check it out.
To wrap up
The truth is that no business will ever be able to maintain a 100% positive review profile. On top of that, having only 5-star reviews of your business can raise a red flag. Thus, a few bad reviews can actually help your profile appear more authentic.
If you follow our recommendation for dealing with negative reviews, you will demonstrate another aspect of your business that consumers will appreciate.
Deliver an amazing product or service, dedicated customer service, proactively encourage customers to write you Google reviews, and you don't have to worry about a few negative comments now and then.
Ready to embed your Google Reviews now?
Try EmbedReviews and embed Google, Facebook or Yelp reviews, forms and badges.
7 days free trial · Easy setup · Cancel any time