Transparency has become a vital core value for each company. This is especially important for web or e-commerce businesses mostly because the potential customers do not have physical contact with the company's staff nor products.
The companies that will manage to provide and maintain their transparency, truthfulness, and authenticity will win big in the digital world.
But how a company can provide transparency?
There are a lot of ways how web-based businesses publicly expose their closed-doors activities. Starting from publicly announcing their product roadmaps, staff salaries, financial documents or publishing open letters to unsatisfied customers.
But, we can all agree that when a customer comes to a website will not always see these type of activities. Instead, they will probably check their latest posts on social media, read comments or testimonials from previous customers.
And showing some boxes of text with a customer stock photo on your website is just too 2000's and it will never work again.
One of the most effective methods to provide transparency is to showcase real case studies, testimonials or social proof of the actual use and previous experiences of your products/service. Having a transparent social media policy is just a must. It is no longer an option to just delete negative reviews. Responding with an action to solve the customer problem must be a regular procedure in every company's operations.
Furthermore, the testimonials you will provide on your website must reflect the real customers, and in many cases to give a choice for the potential customer to find also some unsatisfied experiences.
That is why in this article we will outline one of the most innovative ways to provide transparency, trust, and proof through actively maintaining testimonials webpages.
Please note that the most valued benefit of the testimonials is their direct impact on the speed in making purchasing decisions. Our study showed a 12% lift of booking rates in only 4 weeks after the company placed Facebook reviews on their website.
What's inside this blog post:
What is a testimonial
A testimonial is a written statement made by a satisfied customer who had an experience that affirms the value of a product or service and is often confused with a case study or success story.
The testimonials are provided by buyers who trusted your process, felt satisfied with the end product or service and are willing to share their positive experience and help you gain more potential clients and more sales. They are also considered as recommendations and are given mostly by happy customers, voluntarily, or upon a company's request.
Why are customer testimonials effective
Testimonials in a form of online reviews, today, are an essential part of the success of online small businesses and startups.
So, here is why are they so important for business owners and how they contribute to the whole customer experience:
Build credibility and trust
Enhance your content marketing efforts
They increase conversions
Improve your online reputation and SEO for specific pages
Now, when you got familiar with the benefits of testimonials, let me suggest where you should use them.
Where to use testimonials
Here is the ugly truth: visitors rarely go to testimonials pages. They can sense the marketing a mile away.
There is no expectation that they'll get any information except a sales pitch. That's why testimonials pages get less traffic than other pages. Putting your social proof here hides it from your visitors.
Customer testimonials are a powerful tool that every marketer should have in their arsenal.
In a nice looking section on your home page
On product pages or service pages, along with a CTA button
In your most popular blog posts, to improve the conversion rate
Types of customer testimonials
Here the most commonly used types of testimonials you can find online:
Quote testimonials
This is definitely the most beloved and common type of testimonials. Quote testimonials are direct words from a customer who was satisfied with the products or services they received.
They in the form of short testimonials and often include LinkedIn or other highly relevant profile of the person. Review sites like Google Maps, Yelp and others.
Video testimonials
Video testimonials have become very popular in recent years and it is really easy to create and embed them on your website.
One of the greatest things about them is that they are difficult to fake and are considered highly trustworthy and look authentic compared to the other types of testimonials.
A great and unique example is Help Scout's series of video testimonials of their customers called Against The Grain.
Influencer testimonials
Today, influencers are highly trusted authorities in a specific industry or field. They're popular amongst their peers and it almost impossible to avoid them.
Getting testimonials from influencers in your niche is highly effective for your business because people recognize their names and it shows your audience that you are trustworthy.
After all, it is a win-win situation for both parties when a relevant brand collaborates with a relevant influencer.
Social media testimonials
It's when customers write about their experience with your product or service in a form of tweets on Twitter, Facebook reviews or posts, screenshots on Instagram or even a YouTube video review.
These types of testimonials happen organically and are authentic to your reputation as a brand, serving as social proof of your business success.
Therefore, you can use EmbedReviews to generate and embed them on your website.
Here is how our Facebook reviews widget looks in action:
Embed your Facebook reviews now
Generate your Facebook recommendations and display an interactive reviews widget on your website.
Interview testimonials
A creative way to combine a success story, Q&A session, audio and video testimonial is to interview your clients and help to get more details from their experience using your product or service. The great thing about these interview testimonials is that they can be used as long-form content on your website and even repurpose it for other marketing campaigns.
Here is an example of interview testimonial on our website.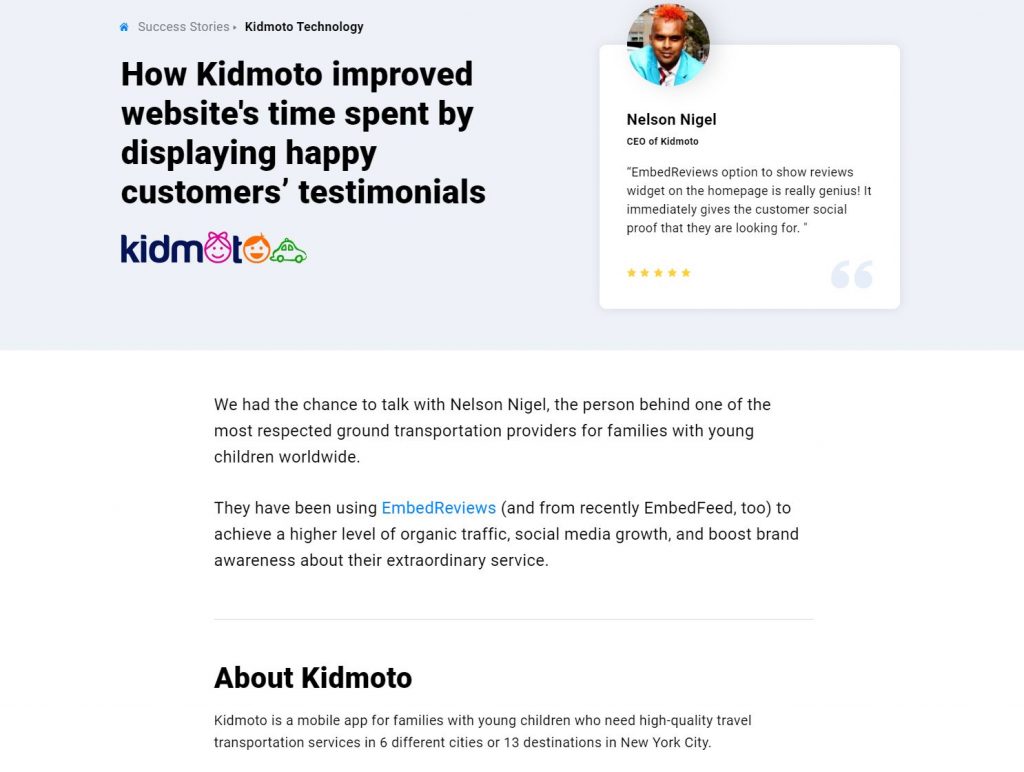 Case study testimonials
A case study testimonial is an in-depth analysis of an individual customer's experience with your business.
Sometimes, there is not a big difference between case study testimonials and interview testimonials because they both can include Q&A, statistics and long-form content.
Case studies serve as an opportunity to sell the user on the positive results (before and after analysis) that a previous customer experienced.
At EmbedSocial, we also use these types of testimonials. Here is an example: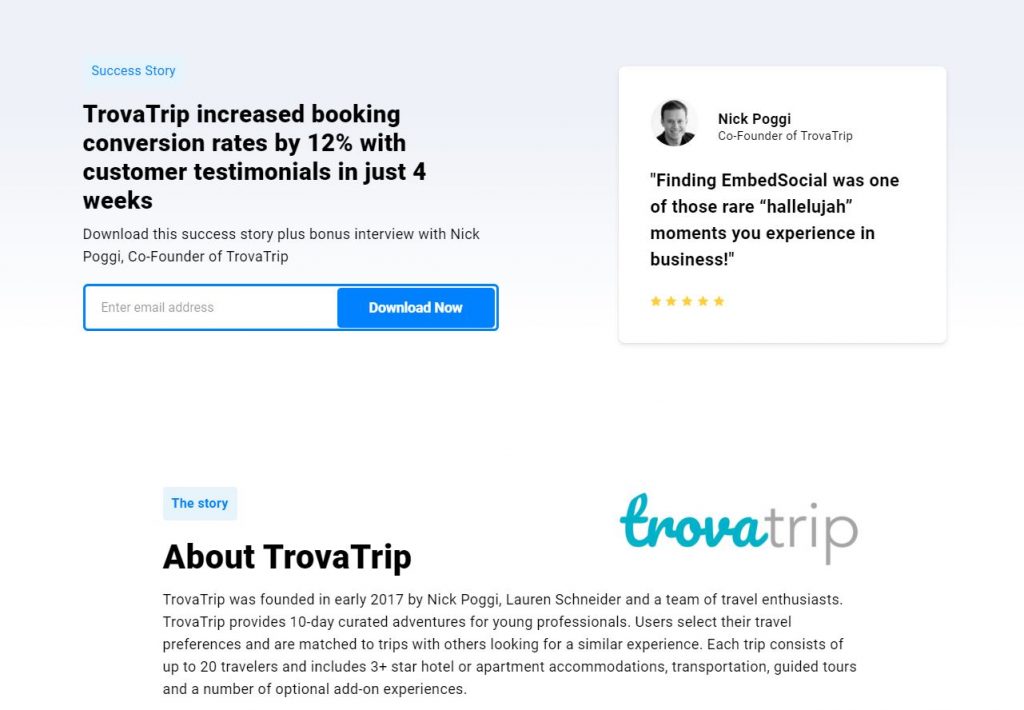 Peer testimonials
Peer testimonials are especially helpful for customers interacting with your business for the first time.
You may not have noticed, but we are more likely to buy a product or use a service if the person that has given a testimonial, is of similar status to you. We are likely to trust someone who resembles our traits and demographics.
Basically, you should ask for testimonials from people of similar status to your audience within your target market.
A great place for these types of testimonials in form of reviews is Yelp.
Now, when you are familiar with the most used testimonial examples let's dive deeper and see how some of the industry leaders are using them on their websites.
7 awesome customer testimonial example pages you can replicate
As I shared the most common types of testimonials around the web, I want to additionally share these testimonial plages examples so you can get inspiration to replicate their effort to increase the trustworthiness and the conversions for your business.
1. Casper Mattress Shows 1-star Reviews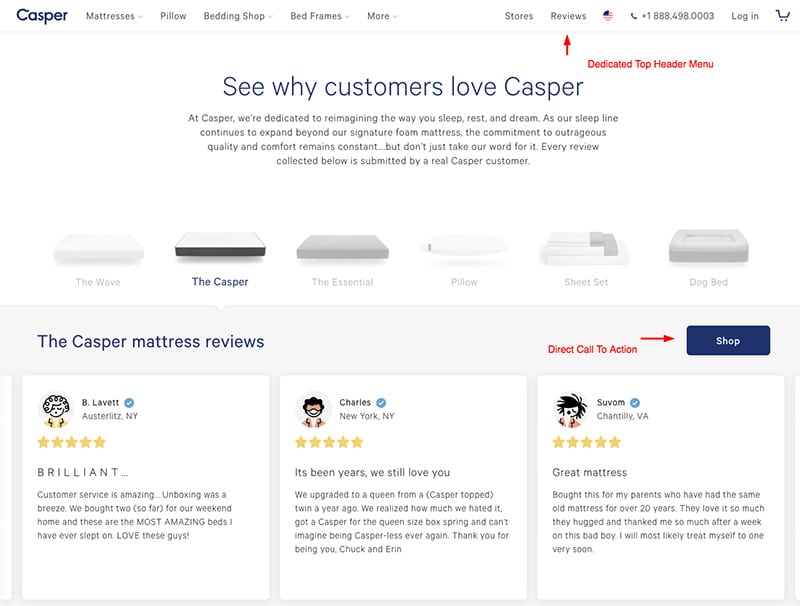 Let's break down how the famous mattress company Casper is using the customer testimonials page or as they call it Reviews page to provide trust for their website visitors.
Dedicated Top Reviews Menu – They have emphasized the importance of the reviews and place them at the top header navbar in order to make it visible for visitors to immediately find their customers' testimonials
An inline Call To Action button – placing a call to action button in the middle of the reviews page makes total sense, as it shows that this company has probably tested and realized that a big percentage of the potential customers will make an action to place an order once they read positive experiences.
Testimonials categories – As you can see Casper is providing reviews based on a specific category that represents a potential benefit of their product. This means that if people value the most some of the categories they can easily find previous customers' testimonials.
Showing negative reviews – Additionally, the reviews page has a link that drives people to a dedicated page for ALL reviews that are in the specific category. On this page, the company displays extremely valuable information regarding the reviews, such as the number of reviews and also filters by a star rating so people can have a chance to also read the negative reviews.
I will definitely note, that this is one of the rare companies that display so many of their reviews on the website and at the same time provide also 1, 2, or 3-star reviews.
Although the reviews are mostly negative with 1 star, still the willingness to show the reviews from unsatisfied customers makes the company very legit, gives trustworthiness and proves that it is simply not possible to fulfill every single customer issue. But always try to make it better.
And last but not least, Casper also provides information on how the review was collected.
Just WOW! A transparency at it's best.
As you can see Jen wrote a great 5-star review, but Casper is saying that This user received a sweepstakes entry for writing a review, a piece of information that might change your perspective when you read her review. Bravo Casper!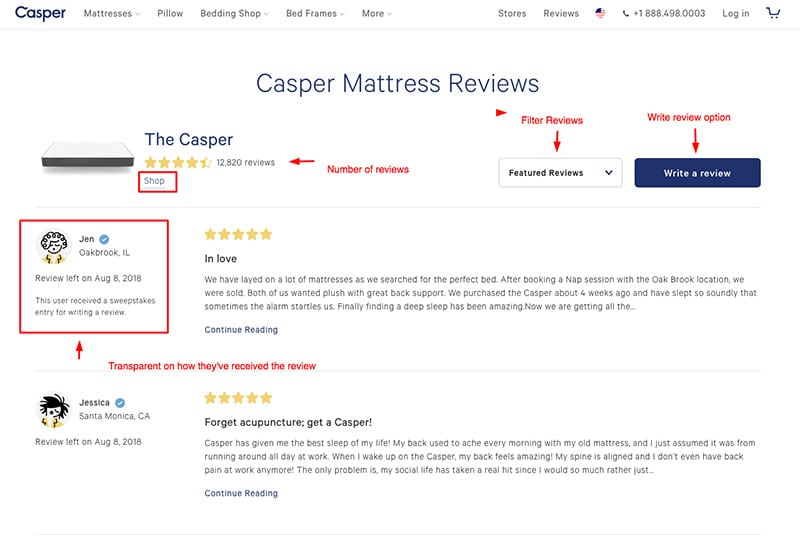 Check out Casper's Testimonials Page for more inspiration.
2. Basecamp Explains Features with Reviews
Basecamp has one of my favorite UI layouts, mostly because is extremely simple and has a very straightforward user experience.
When it comes to showcasing customer experience with their platform, they represent them in a very creative way.
Testimonials as features text – Basecamp is using their customer testimonials in order to describe their software features. This is just a great idea. When you use your customer words to explain the benefits of the features you provide it makes a very good copyrighting material that closely resonates with your target audience.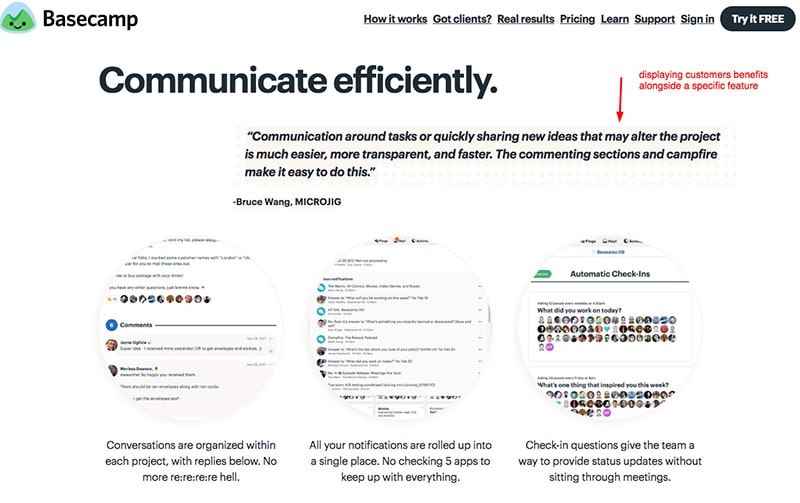 Cool 'Testimonials' menu label – Instead of Testimonials or Reviews, they use Real results in the menu that actually represents the page where are listed their customer testimonials. This text is very interesting and I believe that they've tested a variety of label texts before they came up with the most clickable one.
Highlighters for the best quotes – this actually is handy for reading the reviews. They have highlighted the best words and sentences that their customer wrote, and are making the reviews page more interesting and quick to read.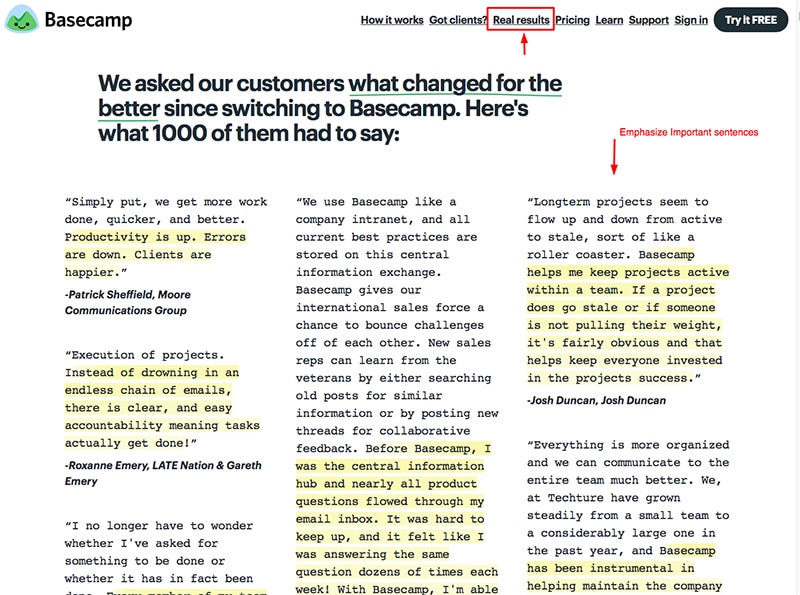 Check out BaseCamp's Testimonials Page.
3. FitBit's Unconventional Reviews Page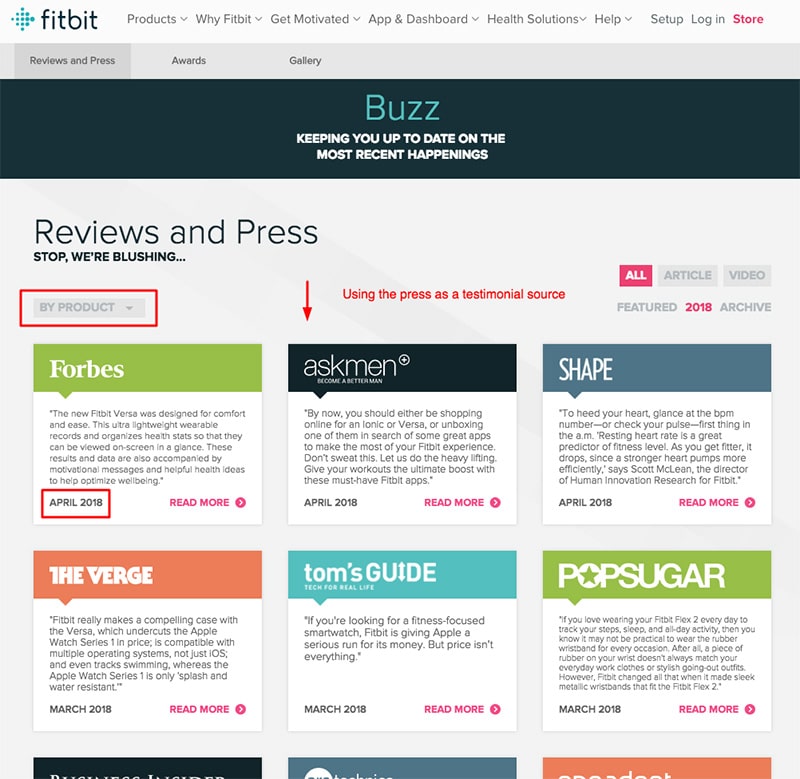 Links to relevant articles – The famous wearable brand has made an interesting approach to showcase reviews about their products from a variety of sources. They are selling tech products and the most common approach is to provide reviews from tech writer or experienced bloggers who will publicly write about their experience with the product. Please note that most of these publications such as Engadget, The Verge, PC Mag are very familiar to their audience and have a strong reputation in the community. Do not use this approach to pay bloggers to publish your own PR-review text and just 'fake' a staged press. This is not how transparency works.
Ambassadors program – This section is very powerful. Fitbit has managed to make products that are just amazing to use and are approved by people with great authority in their fields. The ambassadors' program features experiences from famous athletes who tell their story in an interview format with details about why they love the product. For example, here is what Jens Voigt a former professional cyclist wrote about FitBit:
Why do you love Fitbit? As I mentioned, I want to stay fit now that my professional career is over, and my Fitbit Ionic is the perfect tool to help me do that. I wear my Fitbit Ionic all the time—it measures my heart rate, counts my steps, and maps my runs. It seamlessly syncs with my computer, and I can connect with my Strava account and share my run experiences, too. I like that it's easy to use and basically idiot-proof, which is always my weakness with technology. My Fitbit Ionic is a robust piece of technology, and it looks pretty slick and smart on my arm.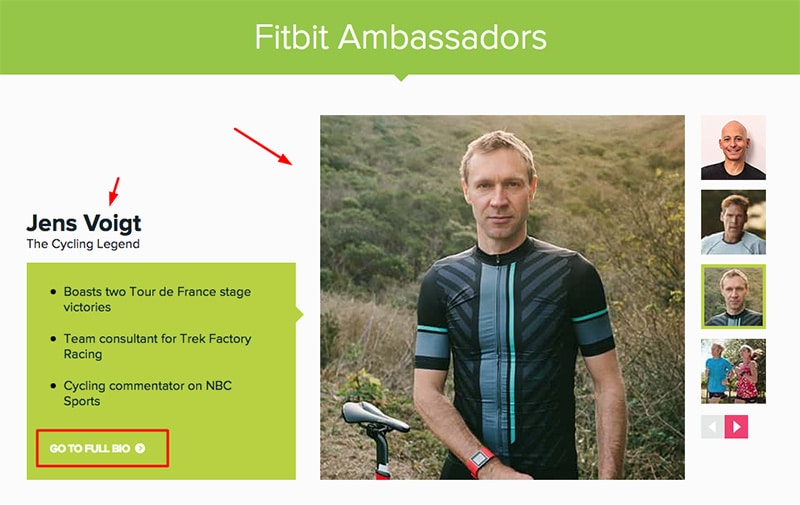 Not staged photos of celebrities wearing Fitbit – When your favorite celebrity uses a product that you are considering to purchase, you will not ever look elsewhere. Especially when this proof appears not planned or in any sense staged or sponsored by the company. Celebrity endorsements are still a thing, but when a celebrity appears that wears a product because they like it, it's just a gold for attracting their followers in wanting your product. In the example below, you can see that they are showing a spontaneous photo of the famous actress Nina Dobrev with the caption: Nina Dobrev spotted wearing her Fitbit Alta in Santa Monica.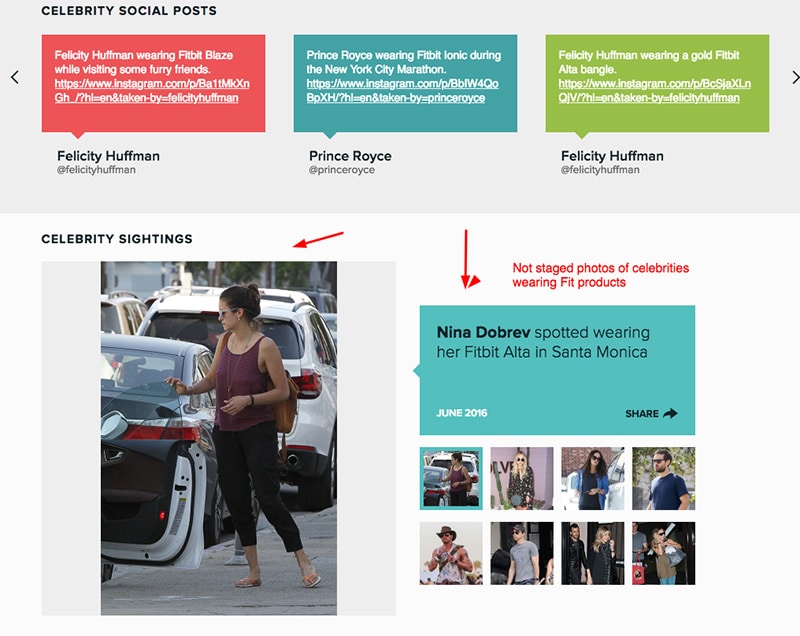 Check out FitBit's Reviews Page.
4. Ritual Provides Doctor's Email
Ritual is a company that produces multivitamins for women with the most transparent ingredient list.
We've all seen landing pages that promise us a '7-day weight loss', '3 steps get younger programs', or 'grow hair secret formulas. It's 2018 and we are all aware that these 'too good to be' programs are most probably a scam.
In order to make such a brand legit and just stand out in the 'untrustworthy' supplement industry, your reviews, claims and customer experiences must evolve and be REAL.
Ritual is actually trying to do this – provide a unique approach to gain web visitors' trust. Here are some of the things that they are showcasing:
Direct contact with a doctor – something that is very specific for this type of website and product. You often see expert advice and a video for health products, but for some weird reason, these 'doctor's approved' products most of the time don't work.
So why Ritual's doctor page is different?
Well, you can actually reach out to this person and ask for his help. They have the doctor's email right in the FAQ section so just click on it and send him an email.
But can this approach be improved?
In my opinion, the direct contact to the person is great, but I think that instead of an email such as askluke@ritual.com, they should include a 'normal person's' email such as luke.bucci@ritual.com that will not seem automated or managed by some intern.
Also, in the era of a social media, maybe the company should include direct social media links to the doctor or just direct Messenger or Chat room link so a person can talk with the doctor directly.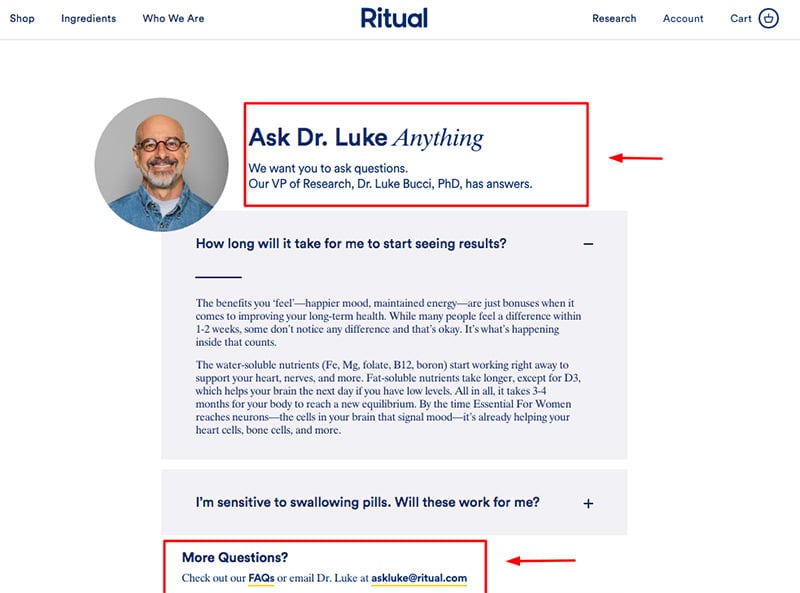 Video testimonials – again very common practice for this type of product. The published videos are professionally done and each of the customers' has a relevant occupation, such as a fitness trainer, who gives greater credibility to the website. But, I must say that these videos would be more appealing to the common people if they were pre-generated from Instagram or Facebook profiles, posted publicly by these customers.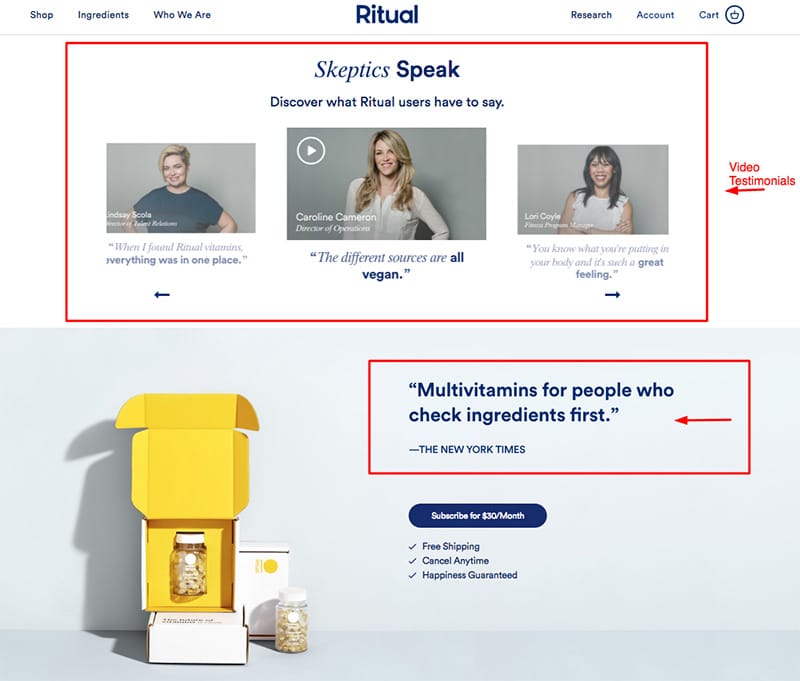 Check out the Ritual Testimonials Page
5. HashChing shows reviews from REAL Facebook users
HashChing is Australia's first online marketplace for home loans. This is a very specific industry and customer reviews, transparency and trust are of extreme importance when it comes to the acquisition of new customers.
Here are 3 things that they are doing on their website:
Show relevant business data – Data never lies and companies that are winning in their markets are always in a great position to provide trust by showing their success metrics. HashChing is doing this by dedicating a core segment of the homepage to provide transparency and relevancy by emphasizing their success statistics. If you know that a service has 40809 users, it will definitely help you make your decision very fast. And to make this space more interactive, they have also included a video testimonial by one of their users.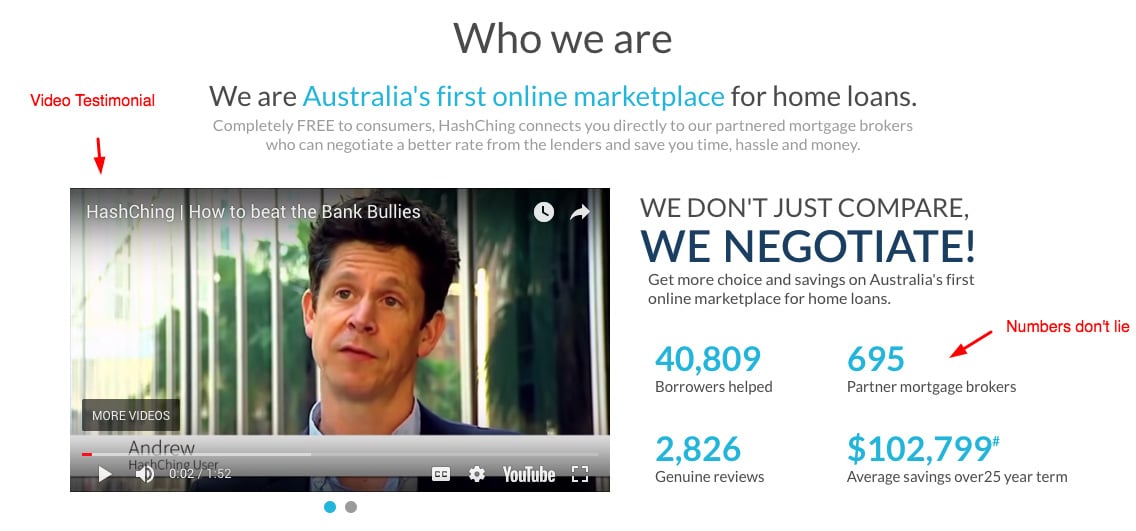 Sync reviews from social media – With the help from EmbedReviews, HashChing syncs in real time with their Facebook page to generate and display reviews from REAL Facebook users. It is of a great importance to show potential customers how you've got this review and with the EmbedReviews functionality, they can easily authenticate that it was pre-generated from an actual person on Facebook who shared the reviews publicly.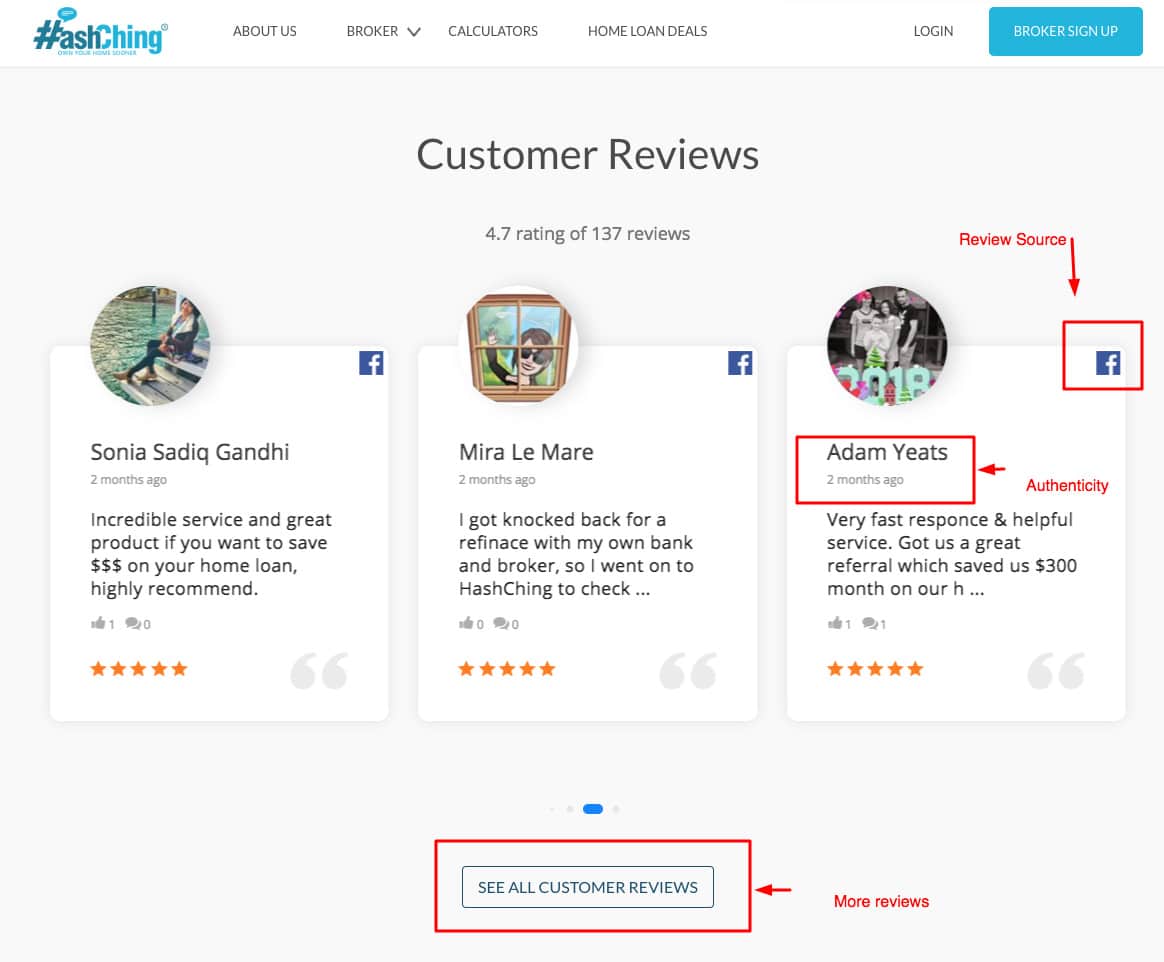 Check out HashChing testimonials page.
6. Shopify Plus
Shopify Plus uses a very smart way of displaying their case study testimonials. The key here is that they point out the previous platforms their current customers used and how Shopify helped them increase their conversions.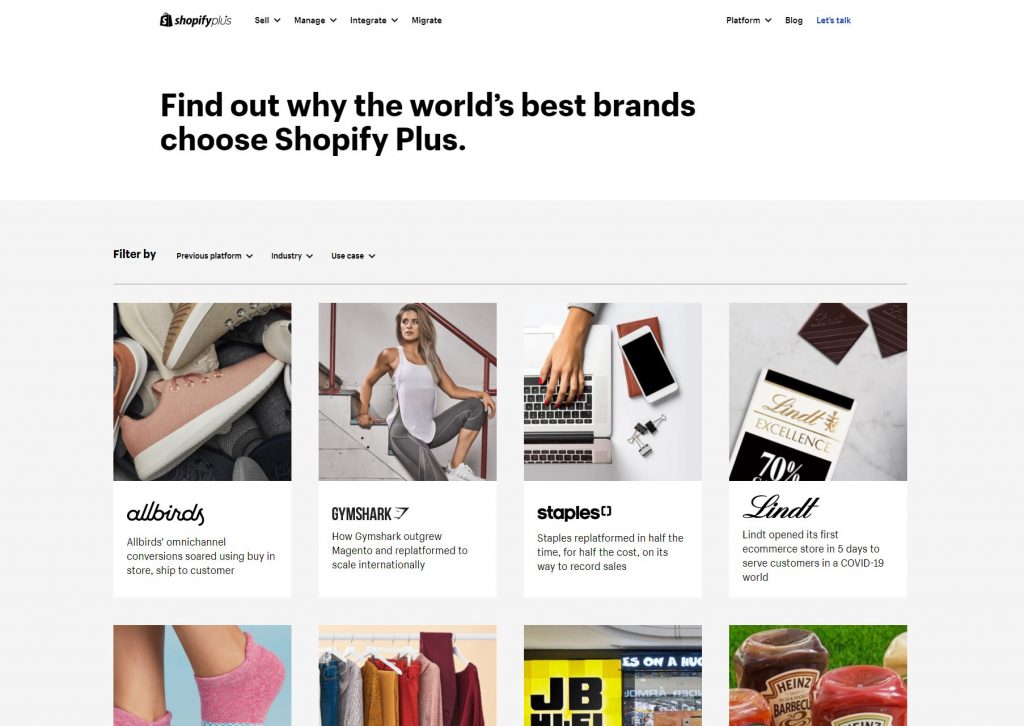 Within the page of a specific customer, they use data, numbers and three nicely viewable sections:
Challenge – what were the challenges that the customer has faced
Solution – what solution was used (it is almost always Shopify Plus)
Results – the outcome expressed in nice content and timeframe of execution together with a quote
Check out the Shopify Plus testimonials page.
7. Hubspot
Hubspot has a dedicated landing page for their customer success stories with clear CTA buttons, to acquire new leads right away. After a user picks some of the industries or clicks on the "See all customer stories", it will be redirected to a well-structured directory with all the success stories.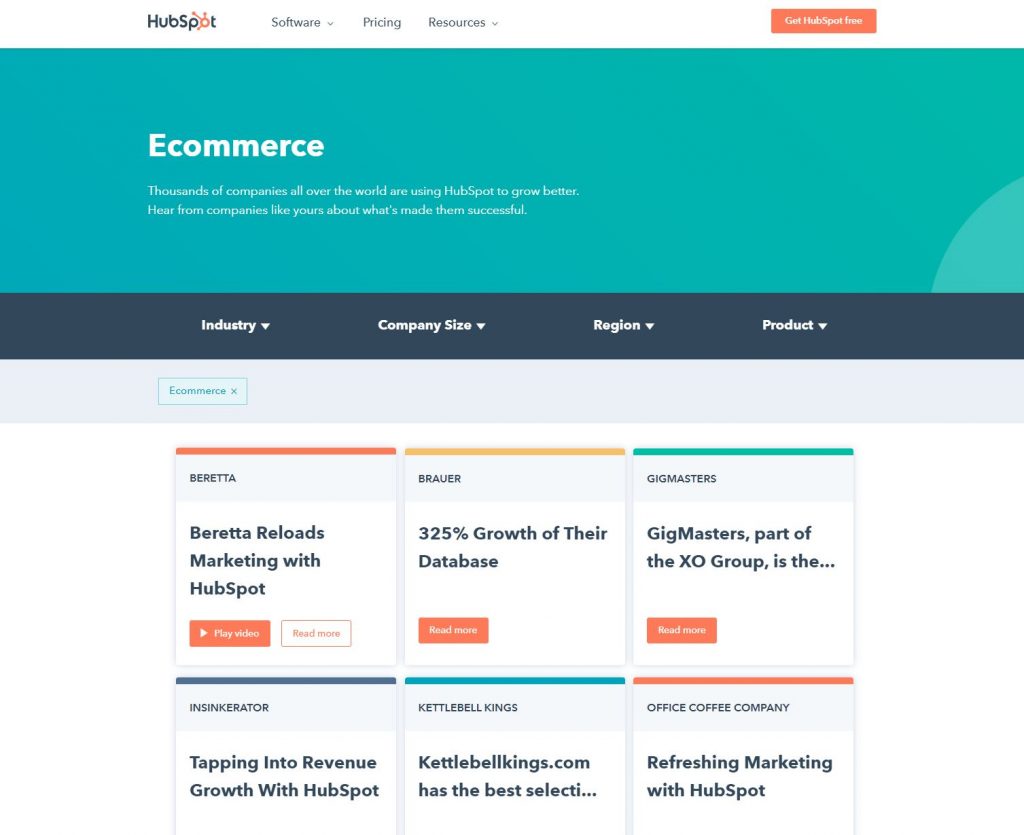 For each customer, they use a clean template page with a company logo showing only the most impactful results in numbers and additionally a video testimonial for some of them. The layout is similar to a blog post format so they can use it to rank for some keywords around the brand name. The main thing about these pages is that they use a sticky banner with CTA to convert or serve as a lead magnet. These testimonial pages are used as a part of HubSpot's SEO strategy.
Check out HubSpot's testimonials page.
Conclusion
As a summary from these analyzed innovative testimonials pages, here is a list of 10 things you can re-use right now, to enhance trust, transparency and boost conversions on your website.
Show social media reviews and feedback from REAL people
Create and show videos with your customers
Make interviews with famous people in your industry
Reach out to bloggers or journalists to review your product
Hire an industry expert to handle customer questions (for delicate products such as health or children)
Send samples to celebrities that might love your product
Display the negative reviews, too
Collect and display as much as possible reviews from all your web account
Show your business results, number of users and similar.
Use customer quotes to describe features about your product
Hope this article will help you and your company to use more creative approaches that will re-alive your website to sincerely speak to your prospects.
Manage Your Online Reviews
Show social reviews, boost trust on your website and increase conversions.