In today's world, where social media networks have become an unavoidable step in every purchase decision and an impactful asset for every business – managing a company's reputation across social media is more important than ever.
Of course, you being here means you want to learn more about it, so let's get right down to it.
Here's what we will cover in this article:
FYI: You can embed Google reviews widget automatically with EmbedReviews platform. Start a free trial and display your Google reviews now.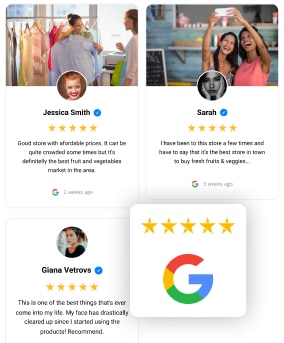 Generate & embed your Google Reviews.
Try EmbedReviews, generate Facebook and Google reviews, and display social media reviews widgets on your website. Automatically and in seconds.
All PRO features | Cancel any time.
What is social media reputation management?
Or said, even simpler – it's all your actions to leave a positive impression on the people on your social media pages. It is part of your bigger online reputation management that is becoming even the only focus for handling overall reputation in many modern brands.
This often time includes:
the content you post across social channels (how much you post, when you post, what type of content you post).
the way you interact with your audience (do you take the time to interact with your audience through comments, likes, and other interactive forms such as Instagram stories, and how you interact with them, do you take the time to answer their questions, and doubts; respond to reviews, provide feedback and suggestions).
and overall monitoring the social media sites.
Looking at a brand's social media profiles will make the customer either feel like it can rely on the brand Conversely, a bad social media presence will make the consumer leave the page and choose a competitor instead.
Besides this, in the following part, we will cover the importance of social media over your business reputation. So do stick with us!
How social media affects the business reputation
The beauty of social media lies within the ability to connect people from all backgrounds and places.
However, it also has the power to destroy the reputation of a certain brand/company in the blink of an eye. A single seemingly insignificant video recorded by a customer in a heartbeat can become a viral one and spiral into an avalanche of bad comments, one ruined reputation, and one huge PR crisis.
According to a 2018 survey –
Well, what else is "in it" besides brand value?
If you fail to manage your social media reputation, the negative effect will impact:
social media presence – first and obvious on our list is the social media presence. If you fail to properly manage the social media channels, the first on the line that will feel the impact of a bad reputation will be your channels. Unthoughtfully organized campaigns and posts will receive a huge amount of bad comments, followers will unfollow, your audience will stagnate, and eventually, your brand will suffer the consequences;
employment loss – one bad review on a site such as a Glassdoor will influence all the people meaning to join your company and make them have second thoughts about employing in your company; and most importantly
losing money – a bad reputation on social media equals losing your trust and ethical reputation in your potential customer's eyes, which means losing customers and leaking money.
Social media business statistics
Lastly, here are some social media business statistics – to help you grasp the impact social media has on your potential customers:
---
FYI: Embed Instagram widget automatically with the social media aggregator and UGC platform by EmbedSocial. Click below to try it for free: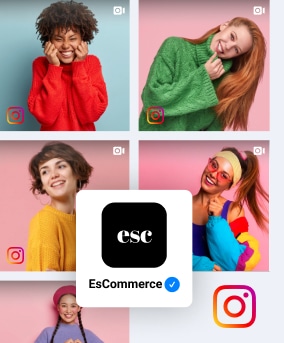 Embed Instagram widget on your website automatically!
Try EmbedFeed and display Instagram content from your feed, mentions, or hashtags on your website.
All PRO features | Cancel any time.
How to manage your reputation on social media in 3 simple steps
Now that you're aware of the consequences of poorly managed social media channels, on to the most important question – how to properly manage your reputation on social media?
1. Determine your current online reputation
Knowing where you stand is the absolute first step in managing your reputation on social media.
How are your customers currently feeling about your brand? Are your social media gaining traction, or are you struggling with bad reviews and people criticizing you and your brand? Are there more positive feelings or negative ones? What are the satisfied customers talking about your brand?
Regardless of how scary it might feel, doing the research and knowing where your stand is crucial in order to know how to move forward.
While doing this research, you should check:
all social media posts together with the comments below them and also the @mentions of your brand (and don't forget your competitors too)
online reviews from third-party review sites such as G2 and Capterra; and
feedback manually gathered from your customers, such as surveys and contact forms placed on your website
Once you're done gathering data, the next step is analyzing it and determining the ratio of positive vs. negative comments/reviews.
2. Have a social listening strategy in place
Once you're done with the initial assessment – it's fair to say that the work doesn't stop there.
To fix a certain brand's social media reputation – you will have to monitor and manage the social media channels' presence continuously and constantly. The best way to do so is to have a social listening strategy.
A Social listening strategy will help you get to know your audience better, stay ahead of your competitors and the industry you're in, and will help you improve your customer's support and service.
FYI: If you want to learn more about it – here's how to create a social listening strategy in 5 simple steps.
With a social listening tool, you will have to track tags, brand mentions, hashtags, and branded keywords (for both you and your competitors).
3. Take action and respond to those mentions
You know your reputation, + you've set up a system to keep track of new mentions, so the last thing remaining is to take action and respond properly to all mentions (both positive and negative).
Here are some tips when it comes to responding to your (potential) customers:
personalize the message instead of adding a generic comment – every person wants to interact with a real human being
always thank your customers for reaching out
maintain a level of professionalism when responding to messages + when creating and posting new content
don't be too defensive when responding to comments; try and be direct and transparent yet always respectful about that particular issue
be apologetic even if you might not be "guilty" of anything
provide your customers with ways to reach out to you (e-mail, live chat, or phone number)
always update your customers about the issue they face – keep them in the loop
don't forget to respond to the positive comments and all sorts of mentions, too – this will help you build an "image" for your brand that you are responsive, and this will help you humanize your brand
don't delete negative reviews nor ignore them – instead, acknowledge the specific issue your customers are facing, show them you understand them, and try actually to resolve their problem.
H&M Customer's Service on Twitter is a great example of how they build consumer trust by using Twitter's social media platform for handling negative feedback and customer complaints:
Related to this, for your employees to better understand what they are supposed to do and what not, it is recommended to have a document with clear instructions and guidance (dos and don'ts).
And finally, respond to a bad review.
This usually happens on review sites like G2, Google Maps, business directories, or similar. Here is an example: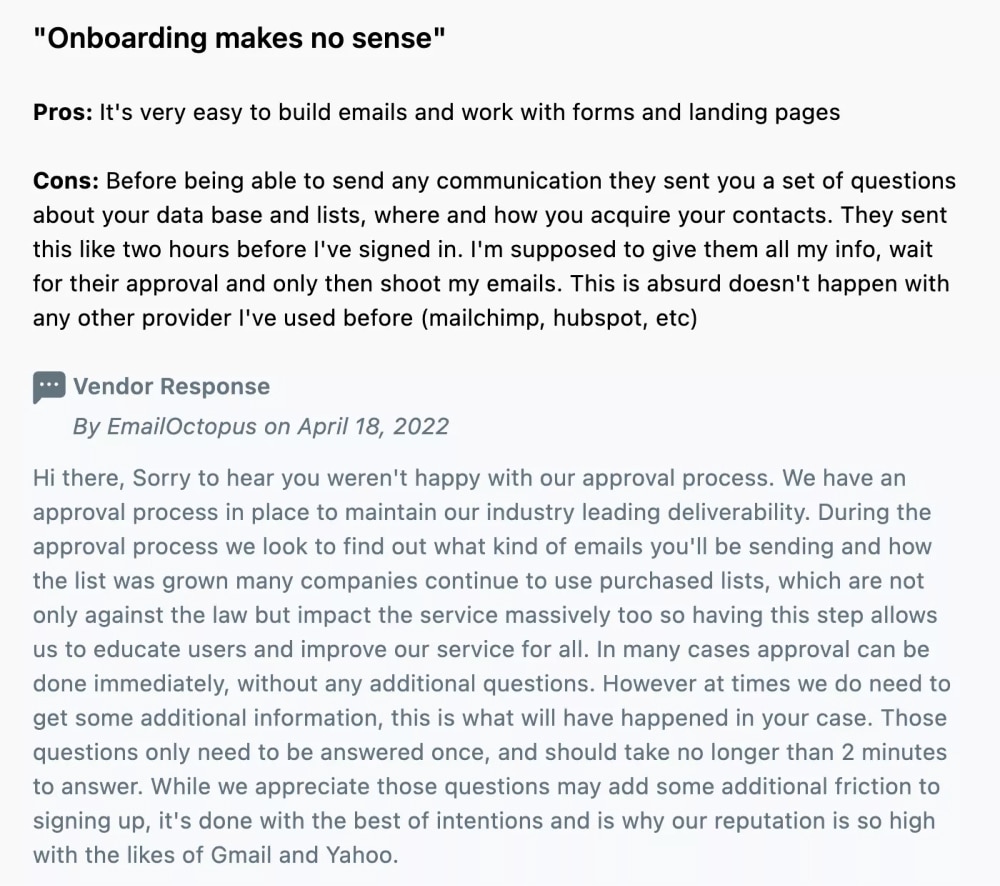 Extra tip: Create a positive "buzz" around your brand.
One of the best ways to "fight" negative reviews and comments is by encouraging an avalanche of positive praise.
How can you do this?
There are versatile ways to do so, and some of them include publishing:
success stories of how your brand (service/product) helped a customer (user-generated content – you could even pull these quotes from your social media and post them on your website as social proof with a tool such as EmbedSocial)
existing positive reviews from happy customers
posts from employees regarding their workplace/colleagues (employee-generated content )
List of things that can damage your social media reputation
There are a number of things that can damage your social media reputation, both as a business and individual, including:
Writing profanity or making offensive statements about other users
Being argumentative or combative with others
Spreading false information or rumors
Posting too much personal information
Posting unprofessional photos or videos
Failing to respond to negative comments or reviews
Posting pictures that are derogatory or sexual in nature
Sharing confidential information or trade secrets
Impersonating another user
Sabotaging other companies' reputations by deliberately posting false information
Examples of successful social media reputation management
Now that you're "armed" with awareness about proper reputation management across your social media channels, plus you know to create your own strategy, it's only fair to show you how other brands do it.
1. Semrush
This example is a great one because it shows you how bold you can be with your social listening strategy and that you can even take the freedom to respond to mentions of your competitors. By tackling the issues of your competitor's customers, you can persuade them that there are more options on the market. Here is an example of how Semrush responds to a competitor's mention: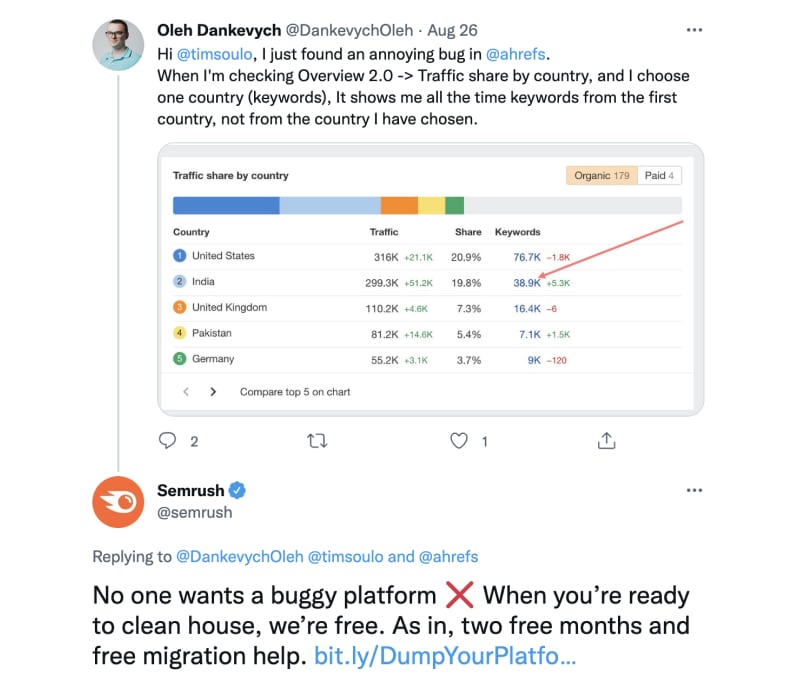 2. Notion
This example is great – because Notion's customer support is responding to something that's not even a real issue. They are trying hard to be responsive, engaging, and human-like, and with this, they are increasing trust, brand awareness, and retention.
Here is an example of Notion's response to a comment: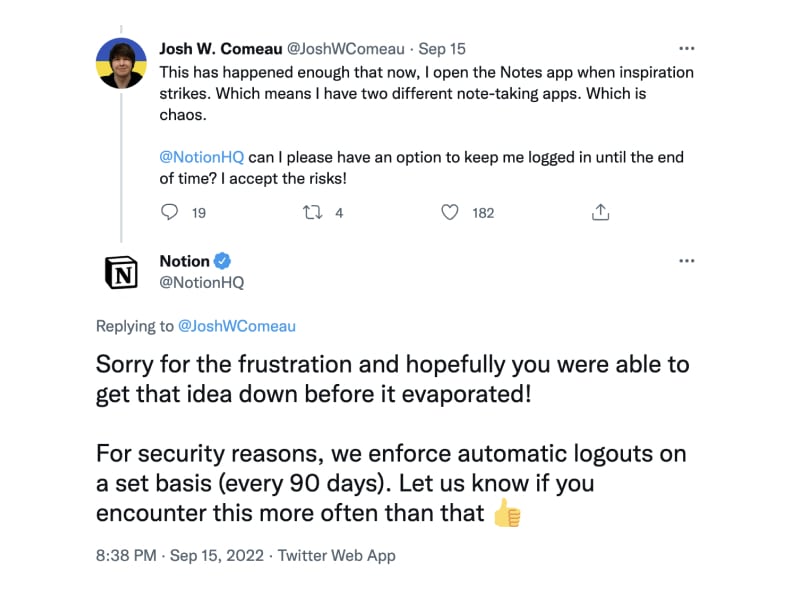 3. Amazon
Responding to negative reviews or bad comments could be challenging; however, a little effort, transparency, and willingness to help your customers will go a long way toward having an amazing reputation.
Here is an example of Amazon's response to a problem: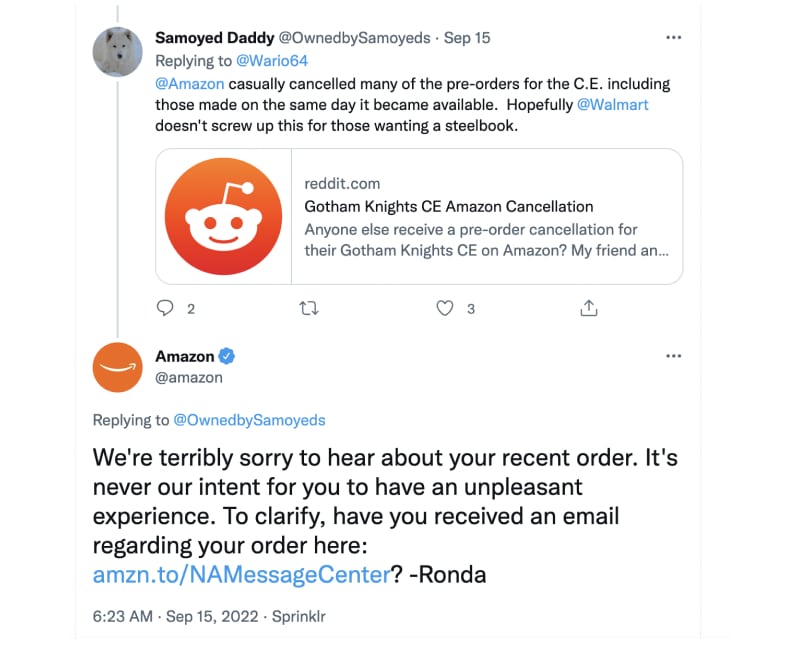 4. Figma
Another two examples from Figma's Twitter account show a great social media management practice that appeals to their customer base.
In the first screenshot – they are simply responding to a positive comment. In the second one, they acknowledge a certain feature they don't have yet and point out something the customer can actually do.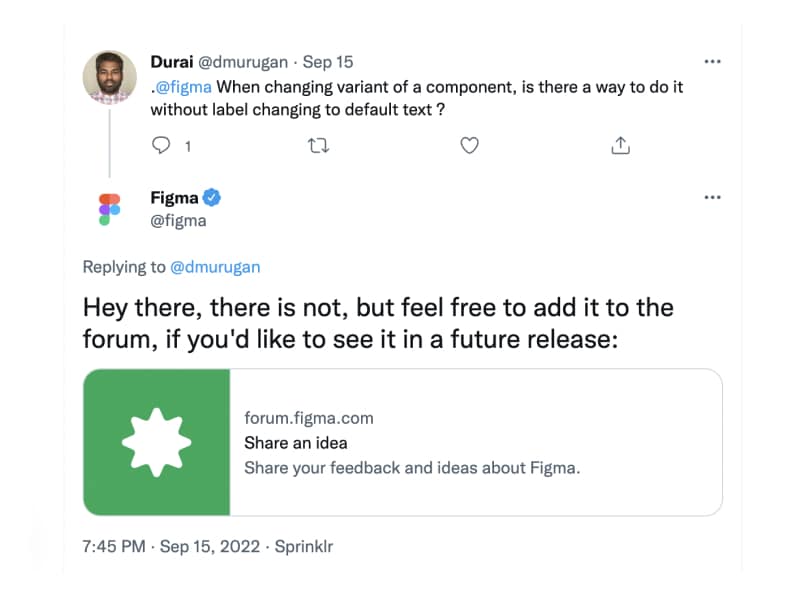 5. Slack
Lastly, we wanted to show you the positive "buzz," too! In this case, Slack received amazing feedback for their customer experience, and they publicly acknowledged even if it was a small thing for them but a huge one for the user.
Additionally, responding to a positive comment helps increase trustworthiness and make people simply fall in love with your brand.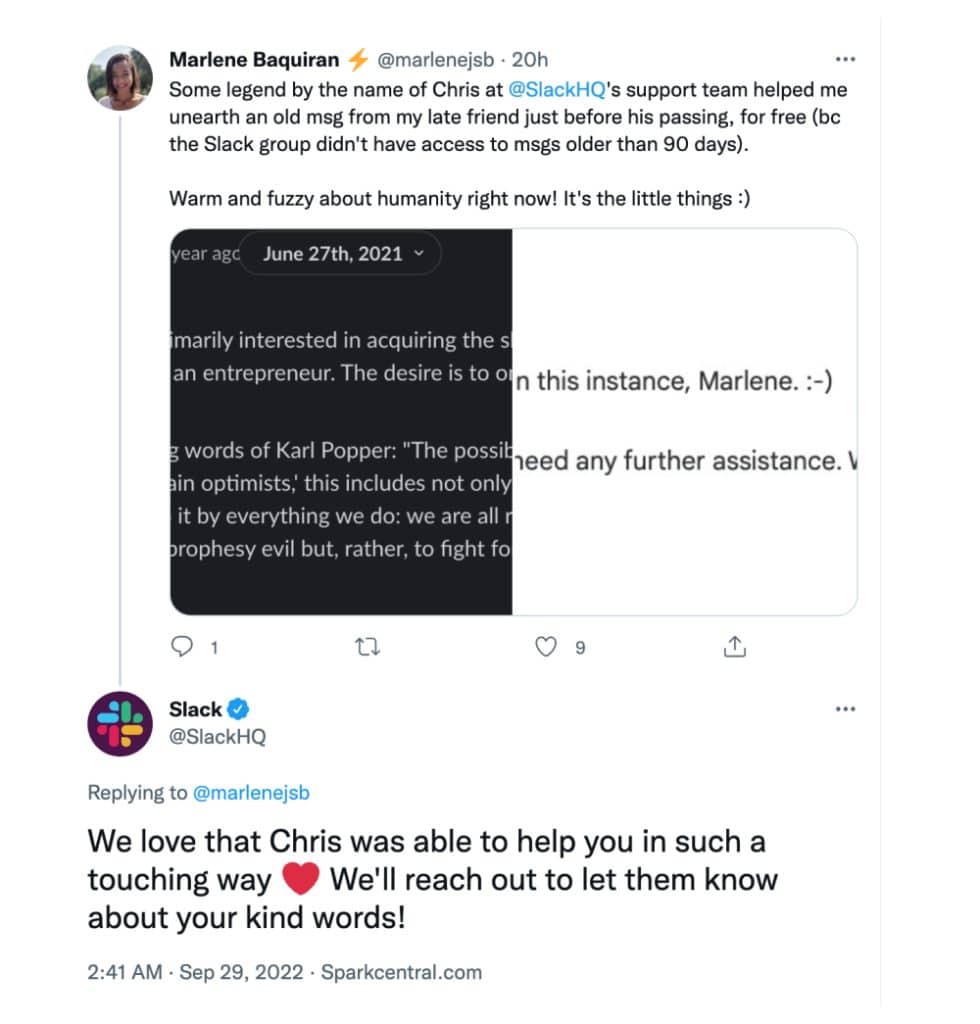 Best tool for social media reputation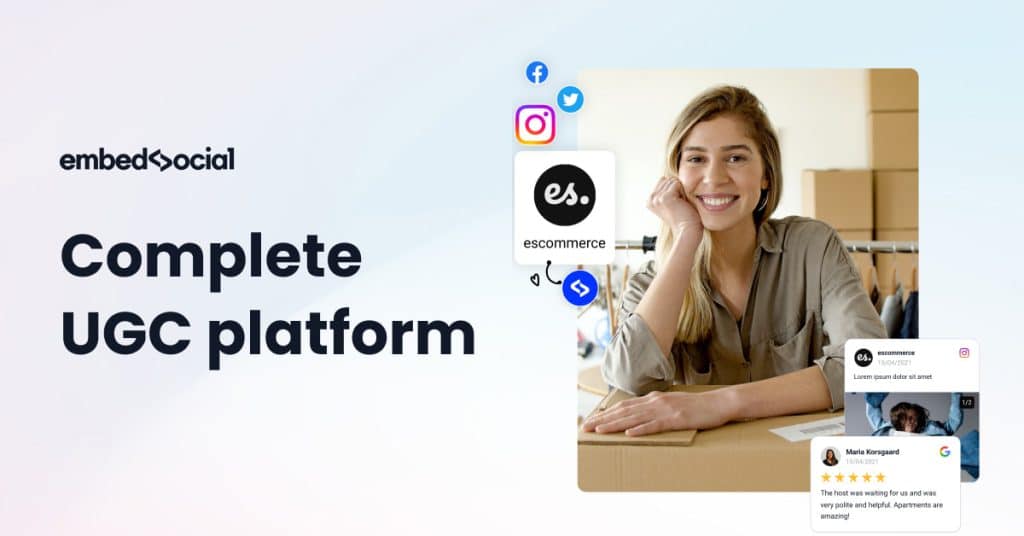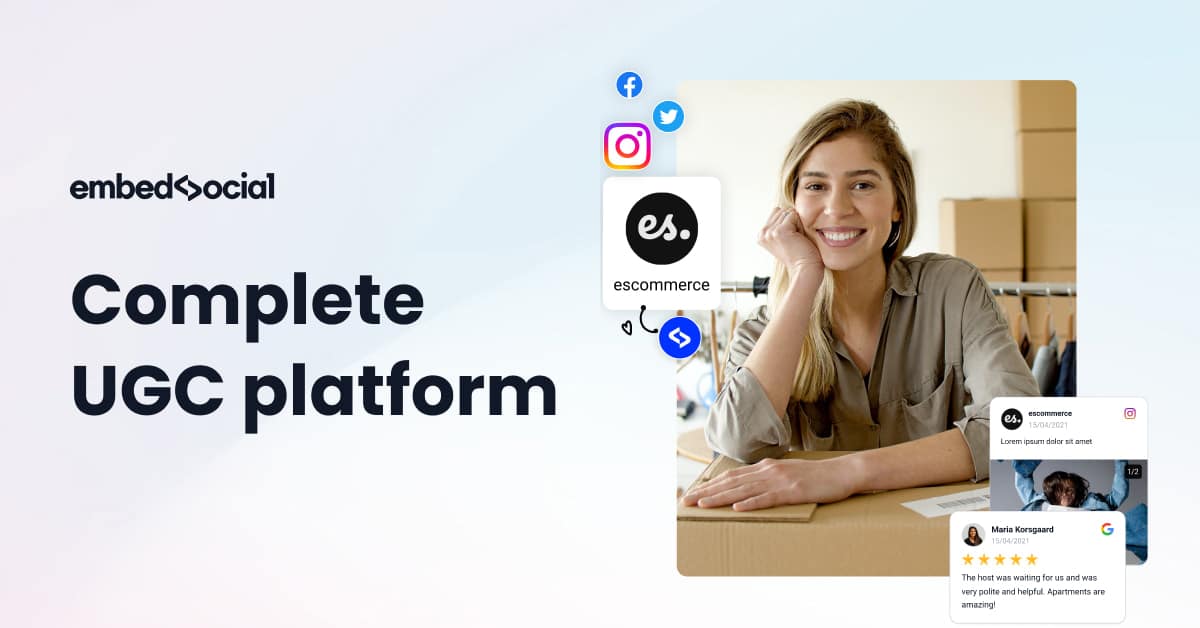 If you are looking for tools to manage your social media reputation try out EmbedSocial.
It's a user-generated content platform with a built-in social media monitoring capability that gives you the ability to track, measure, and analyze all your online conversations—including other people's content published via hashtags.
You can connect all your social media accounts or add hashtags you want to monitor. And the system will start aggregating so you can have all the content in one place. Unlike other
The great thing about EmbedSocial is that you can collect social media feeds and reviews from your Facebook page or Google location. And you have the options to respond directly from the platform.
It is a powerful reviews management software with direct API integrations that help users automatically aggregate UGC.
FAQs about social media reputation
Why is your online reputation important?
Your brand's online reputation (including social media reputation) is important because it will help your (potential) customers make the purchase decision faster and with greater confidence.
How important is online reputation management in social media?
Monitoring and addressing positive and negative customer feedback and having a social media strategy are crucial in how your customers perceive a brand.
What is reputation tracking?
Reputation tracking is the process of monitoring and measuring how people perceive your brand.
How can I improve my social media reputation?
There are several things you can do to improve your social media reputation, including:

– Be active and engaged with your audience
– Post-high-quality, original content
– Build relationships with other influencers and brands
– Offer great customer service
– Respond professionally to negative reviews or comments in a positive way
– Regularly monitor your online reputation and address any concerns immediately.
What skills do we need for a better social media reputation?
You do not need particular skills. But it will help you if you have good copyright and a clear strategy for creating your social media content.

Building a strong social media reputation requires activity and engagement with your social media followers, actively listening to customer stories, and posting highly relevant content.
Key Takeaways
Having a social media reputation strategy is key to creating a trustworthy and reliable brand.
Monitoring closely what people share will help you get valuable information about the current customer experience and understand your customer sentiment and your target audience's needs.
You don't have to "go crazy" by doing everything all at once. Start small and slow – review your current reputation, set up a social media listening tool to help you monitor everything, and respond and engage with your customers.
---
FYI: Embed Instagram widget automatically with the social media aggregator and UGC platform by EmbedSocial. Click below to try it for free: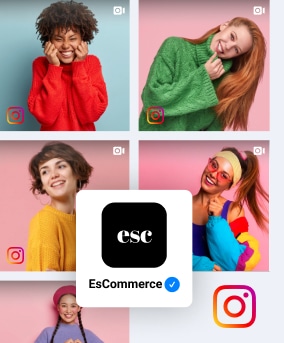 Embed Instagram widget on your website automatically!
Try EmbedFeed and display Instagram content from your feed, mentions, or hashtags on your website.
All PRO features | Cancel any time.