In today's day and age, customer testimonials have a massive impact on your brand as they build trust and credibility, boost reputation, and, ultimately, help you sell more.
But how do you craft a text message or an email that gets opened and elicits a glowing response?
In most cases, you can ask for a testimonial letter by initiating a friendly conversation with your valued customers and showing them you truly know them and their needs.
So keep reading as we go over the basic practices of sending a compelling testimonial request email and offer you 10 ready-to-use testimonial request email templates!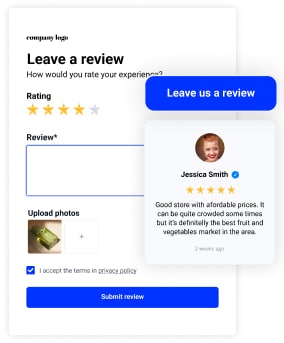 Collect reviews and display testimonials wall of love widgets
Try EmbedReviews, collect and display reviews widgets on your website. Automatically.
All PRO features | Cancel any time.
Best practices of asking for customer testimonials
Do you wonder how to ask for a text or video testimonial via email? All it takes is following a few common practices to help you submit timely, personalized, and effective testimonial requests now.
Don't wait too long! Timing is essential when sending testimonial request emails.
It's best to send your request after customers have had enough time to experience and judge your products or services fully. Doing so ensures that their feedback is based on genuine experiences, which is more convincing to potential customers at the end of the day.
Use follow-up email opportunities
Another great time to request testimonials is after you've successfully helped a customer solve a problem or address concerns about your products or services.
Their positive customer experience, along with your customer support, can spark a fantastic testimonial.
Check out email automation tools
While you can write individual email requests manually, consider using email automation tools.
These tools help you streamline the process of online reviews, saving you time and effort. Some great options include EmbedReviews and its Shopify Verified Reviews app.
VerifiedRеviews by EmbedSocial is a fully dedicated app for sending automated review requests after each purchase. So, users will only need to set up and activate the email. The rest will be done automatically, and if you prefer, you can use the same app to display the received testimonials on the product's web page.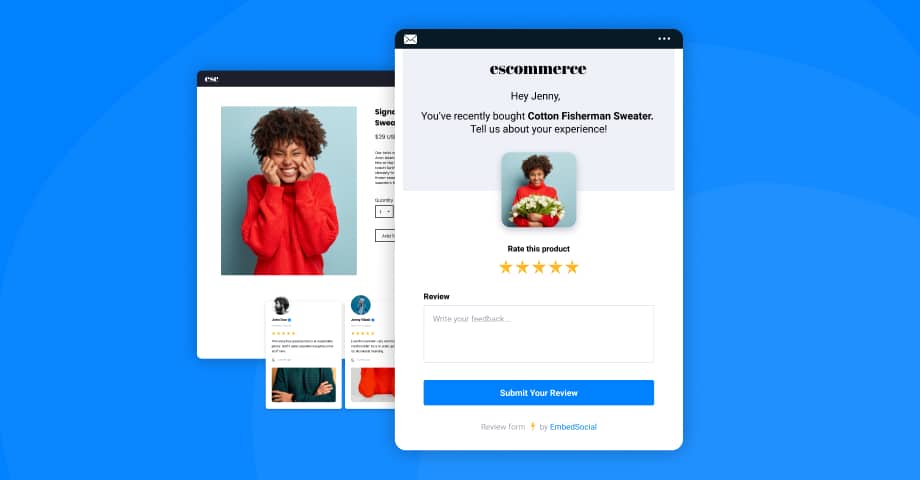 Make your testimonial request email unique
Personalization is a crucial element in the success of your testimonial request emails.
Whether you're using automated tools or crafting emails manually, taking the time to customize each message for each individual recipient is essential. Personalization demonstrates genuine care for your customers, making them more likely to engage with your request.
Although, remember that one size does not fit all. So check out our blog post on how to request reviews by email to get a better understanding of the entire process.
Incentivize customers to give honest testimonials
Customers receive numerous emails daily, and they disregard most of them.
For that reason, you should look into providing them with an incentive so they take the time needed to give you an honest testimonial. Anything from a discount code, free services, or social media promotions will do a good job of getting your customers' honest feedback.
For example, check out this nifty and cost-free incentive made by Pirsch Analytics to feature any customer who leaves them a positive testimonial on their website: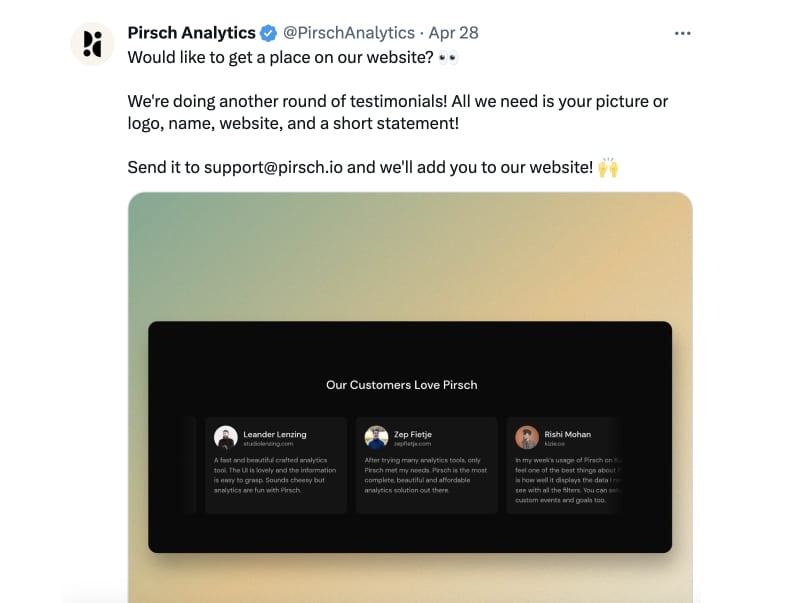 Streamline the testimonial submission process
Make it extremely easy for customers to share their reviews.
Provide a direct link to a testimonial landing page or submission form with straightforward questions. The smoother the process, you will likely receive honest customer thoughts. Want to learn how to do it quickly and easily? Check out our AI Reviews Management Platform!
Showcase your customer testimonials
Inform your customers that their feedback will be prominently displayed on your website, which can encourage them to share their opinions, knowing their contributions will be valued.
You can do this by showcasing testimonials widgets or inside your customer success stories.
For example, once you receive testimonials from the email requests, you can showcase them on a dedicated testimonial page: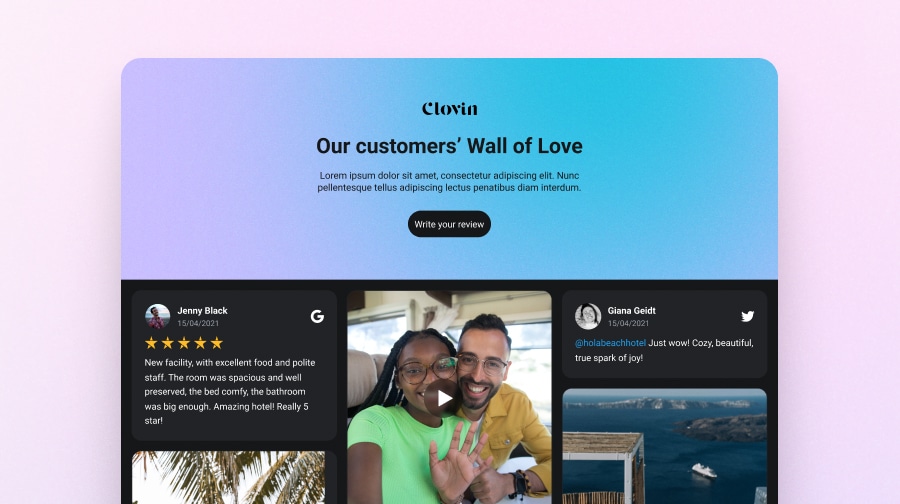 This widget is powered by EmbedReviews, which also allows to embed reviews collect forms and get testimonials on your website too.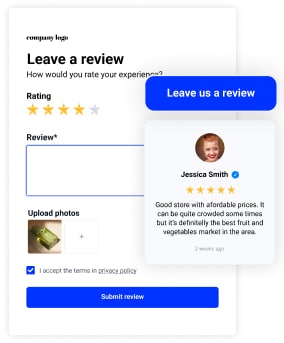 Collect reviews and display testimonials wall of love widgets
Try EmbedReviews, collect and display reviews widgets on your website. Automatically.
All PRO features | Cancel any time.
10 best testimonial request email templates to use right away
In addition to asking the right testimonial questions for quality responses, you should also use a clear and concise testimonial request template, like one of the following ten examples.
1.
The 'Formal' testimonial request
If you want to sound more professional, or you know your audience operates in the top-paying industry sectors, you'll need to craft a formal request similar to what StateFarm does: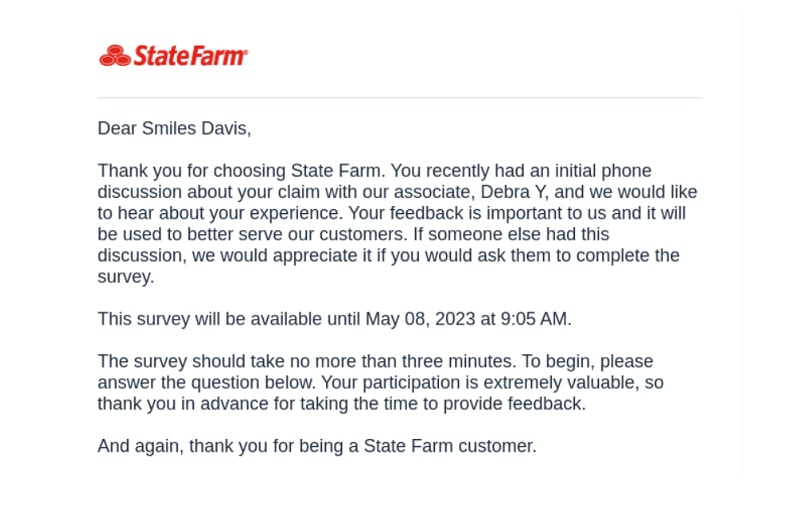 Or feel free to use our thorough testimonial request email template:
Dear [Customer's Name],

I trust this message finds you in good health. Your loyalty to our brand has always been greatly appreciated, and today, we're reaching out to request your support in a meaningful way.

Your unique experiences and insights are truly valuable to us. We would be honored if you could share your thoughts on your interactions with our product/service. Your testimonial will play a pivotal role in enhancing our brand's credibility and guiding others towards the excellence you've experienced.

Taking a moment to provide your feedback is a gesture we genuinely treasure. Kindly click the link below to submit your testimonial:

[Link to Testimonial Submission Form]

We extend our heartfelt gratitude for your time and for being an esteemed member of our community. Your feedback is a cornerstone of our continued improvement, and we eagerly anticipate your response.

Warm regards,

[Your Name] [Your Position] [Your Company]
Why it works?
When dealing with cutting-edge expensive products in luxury industries, being professional goes a long way. After all, such clients pay as much for the product as the company's attitude towards them.
2. The 'Casual and Friendly' testimonial request
Use this type of email when you want a more relaxed approach, suitable for a personal message and building friendly customer relationships. For example, Trade Gecko's very personal and outgoing email: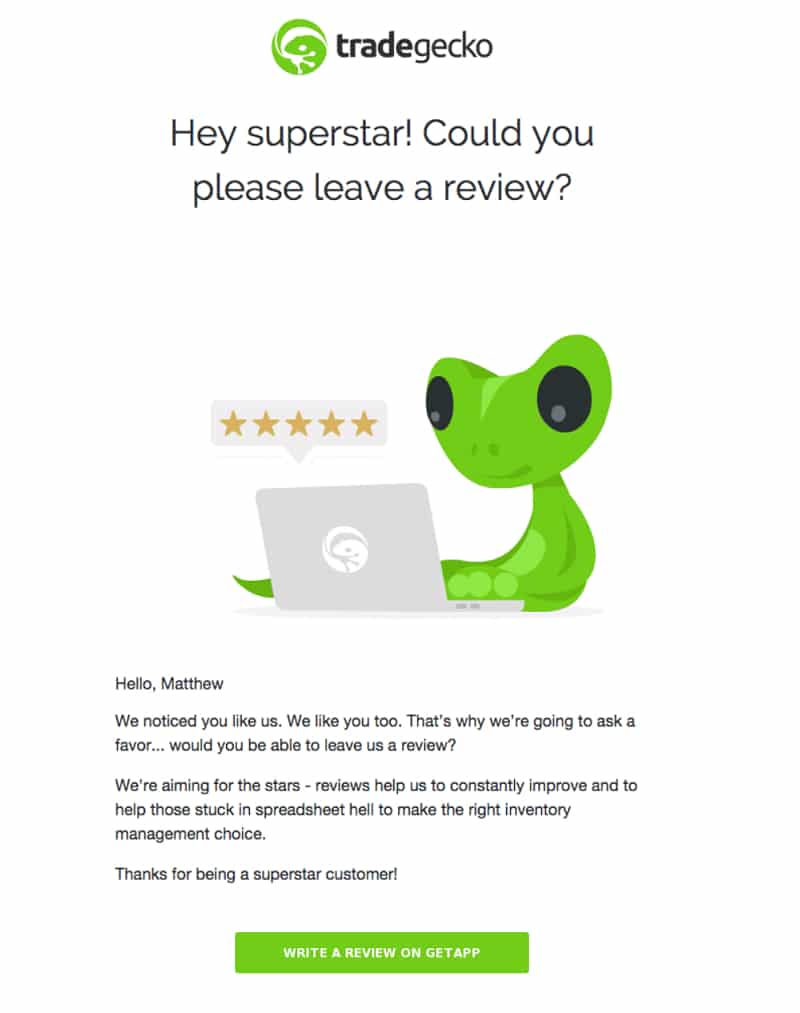 Or our own template for a casual and friendly client testimonials email:
Hi [Customer's Name],

We hope this message finds you doing well. We've been thrilled to have you as part of our journey, and we're eager to know how your experience with us has been.

Could you do us a small favor? We'd greatly appreciate it if you could share your thoughts on your recent interaction with our product/service. Your insights help us improve and make things even better for you and others.

To leave your feedback, simply click the link below:

[Link to Testimonial Submission]

Thank you for being awesome, and for your continued support. We can't wait to hear what you have to say!

Warm regards, [Your Name] [Your Company]
Why it works?
Unlike the previous template, the casual and funny approach works great on the other end of the spectrum, i.e., for everyday consumers who want to be treated as equals.
3.
The 'Incentive' testimonial request
This type of email is used when you want to offer a reward, like a discount code, for customer testimonials.
BigStuffed is a good example of collecting incentivized reviews by offering a gift in exchange for people providing feedback: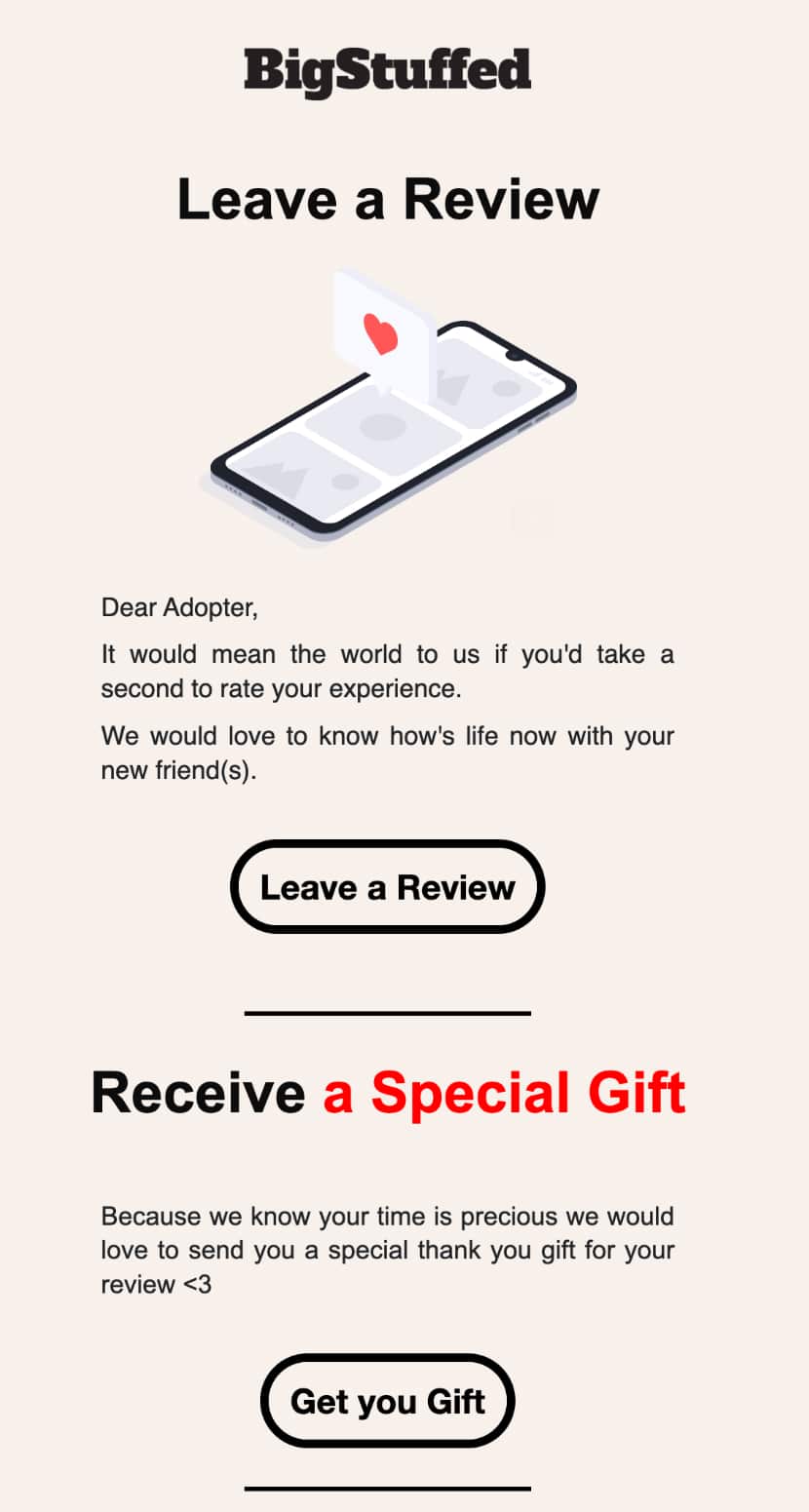 Here's our template for the incentive email request:
Hey [Customer's Name],

We value your opinion so much that we're offering you something special in return! Share your thoughts on your recent experience with us, and as a token of our gratitude, enjoy a [Discount Percentage] discount on your next purchase.

Your feedback helps us serve you better. To leave your review and claim your discount, click the link below:

[Link to Testimonial Submission]

Thank you for being a part of our journey. We look forward to hearing from you and making your next experience even better!

Warm regards, [Your Name] [Your Company]
Why it works?
Everyone responds well to incentives. Once your customers see they are getting much more out of their time by filling out your testimonial form request, they'll be eager to help you.
4. The 'Product' testimonial request
With this template, you can ask for feedback regarding a specific product or service. The idea is to get the customers to say what they love about the product and what can be improved.
Check out how Everlane did just that: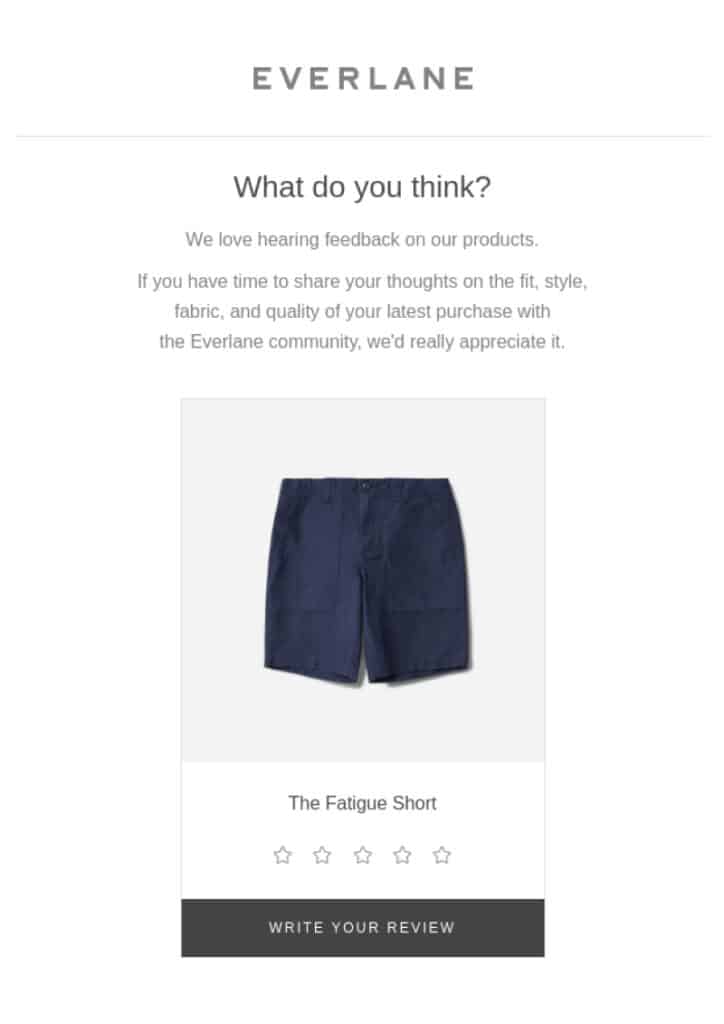 This is our template; feel free to use it:
Hi [Customer's Name],

We hope you're loving your recent purchase of [Product Name]! Your experience with it matters greatly to us, and we'd love to hear your thoughts.

Could you take a moment to share what you liked most about [Product Name] and how it's made a difference for you? Your testimonial will help others discover the value it brings.

To share your thoughts, simply click the link below:

[Link to Testimonial Submission]

Thank you for choosing us, and for your valuable feedback. We can't wait to hear your insights!

Warm regards, [Your Name] [Your Company]
Why it works?
Buyers always judge a product for its pros and cons, and after some use, they are well aware of it. Thus, they are eager to talk about the specific failings of the products they buy.
5.
The 'Post-Purchase' testimonial request
Send this email shortly after a customer's purchase—it should ask for feedback on their buying experience and capture immediate impressions.
For example, immediately after my plane landed in Cyprus, I got this email: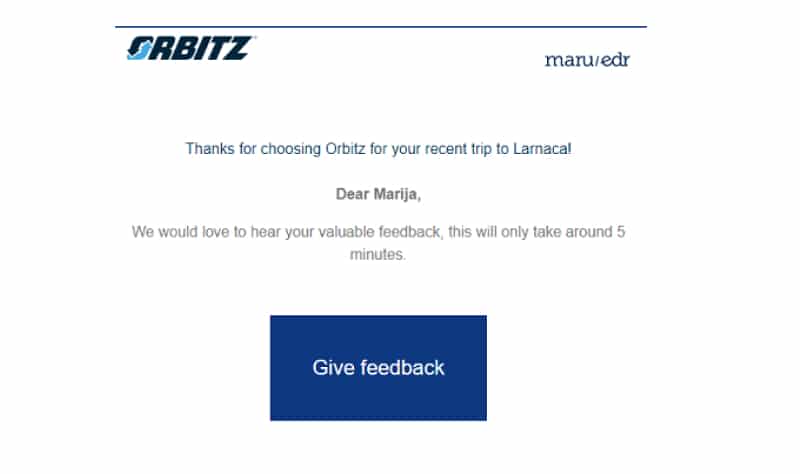 Here's our version of this type of testimonial email:
Hey [Customer's Name],

We've got our fingers crossed, hoping your recent shopping spree with us was nothing short of legendary! We're all ears, eager to dive into the juicy details of your shopping escapade.

Would you be up for sharing your secret sauce? What had you jumping for joy about your purchase? Spill the beans because your insights are our compass on the quest for shopping perfection.

Ready to dish it out? Just follow the treasure map below:

[Link to Share Your Shopping Wisdom]

A colossal thanks for choosing us and being part of our retail journey. Your thoughts make our day, and we can't wait to hear your tales!

Warm wishes, [Your Name] [Your Company]
Why it works?
Online businesses typically send out a post-purchase testimonial email request thanking the customer for the trust they placed in them. Inserting a testimonial request in such emails does not seem pushy and requires no upkeep since you can automate the request.
6.
The 'ProductHunt Support' testimonial request
You can use platforms like ProductHunt and ask customers to support your product or service. Usually, customers can submit their comments, which alter can also be used as testimonials for your website. Here is how you can send an email to get support on ProductHunt: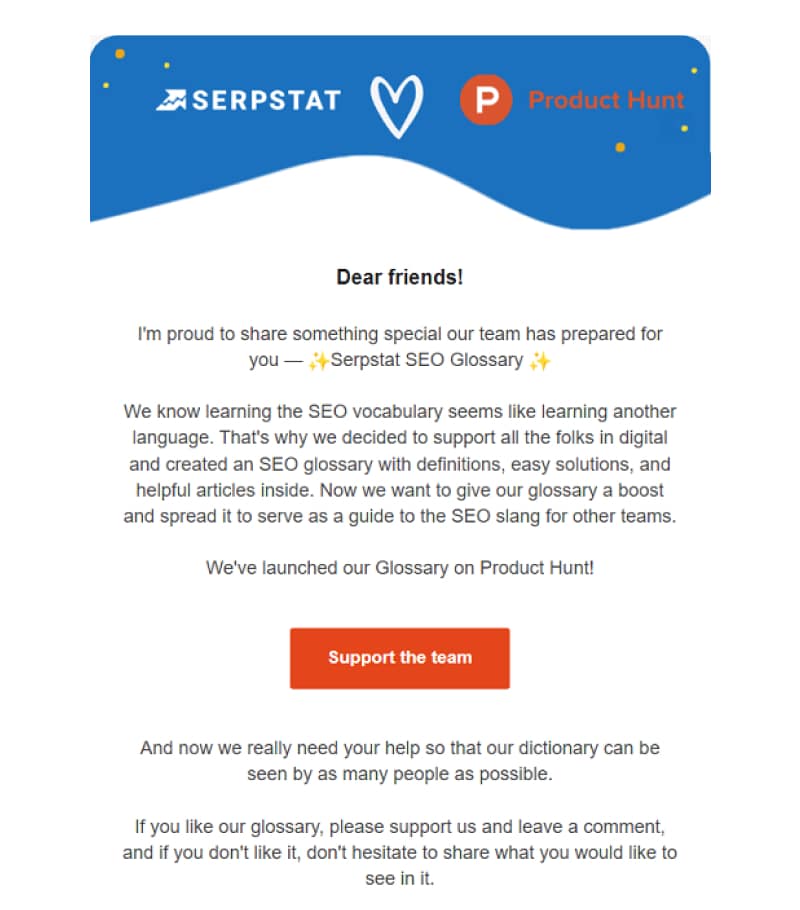 Or use this testimonial email request template instead:
Subject: ? Help Us Make [Your Product Name] a Success on ProductHunt!

Dear [Customer's Name],

We hope you're doing well! We wanted to share some exciting news with you—[Your Product Name] is launching on ProductHunt, and we'd be honored to have your support.

As a valued customer, your experience with [Your Product Name] is incredibly important to us. We'd love for you to share your thoughts and testimonials on our ProductHunt page. Your support can make a huge difference in helping us reach more people who could benefit from [Your Product Name].

Here's how you can help:

Visit Our ProductHunt Page: [Insert ProductHunt URL here]
Sign In or Create an Account: If you don't have a ProductHunt account, it takes just a minute to create one.
Leave a Comment: Share your testimonial or experience with [Your Product Name]. Feel free to be as detailed as you like!

Your words not only help us improve, but they also help potential customers understand the value that [Your Product Name] can bring to them.

Thank you for being a part of our journey. We're excited to read your comments and are incredibly grateful for your ongoing support.

Best regards, [Your Name] [Your Position] [Your Company]
Why it works?
This type of request typically works with your devoted customer base, as most likely, they have been treated excellently in the past. Such grateful fans will surely help your business out.
7. The "Milestone Celebration" email
The "Milestone Celebration" email serves as a dual-purpose strategy that not only celebrates a significant achievement but also fosters community engagement.
By sharing a milestone—be it user numbers, years in business, or another key metric—you create a sense of collective accomplishment that customers are more likely to want to be a part of.
This emotional investment makes them more inclined to share their own positive experiences in the form of testimonials, thereby providing them with valuable social proof to attract new customers and retain existing ones.
Here's our template for this scenario:
Subject: Celebrate With Us: [Milestone] Achieved Thanks to You!

Email Body:

Dear [Customer's Name],

We're excited to announce that we've reached [Milestone], and we couldn't have done it without you! To celebrate, we're gathering stories from our amazing customers.

Would you share your experience with [Your Product Name] as a testimonial? Your story could inspire others!

[Insert Link to Testimonial Submission Form]

Thank you for being part of our journey!

Warm regards, [Your Team]
Why it works?
As a rule of thumb, everyday consumers are always happy to help new and emerging businesses for several reasons, either for generosity or personal gain—competition brings down prices.
8.
The 'New Feature/Product Extension' testimonial request
Request reviews from customers who've used a recently added feature or product extension.
Here are a few words about how Grammarly does that: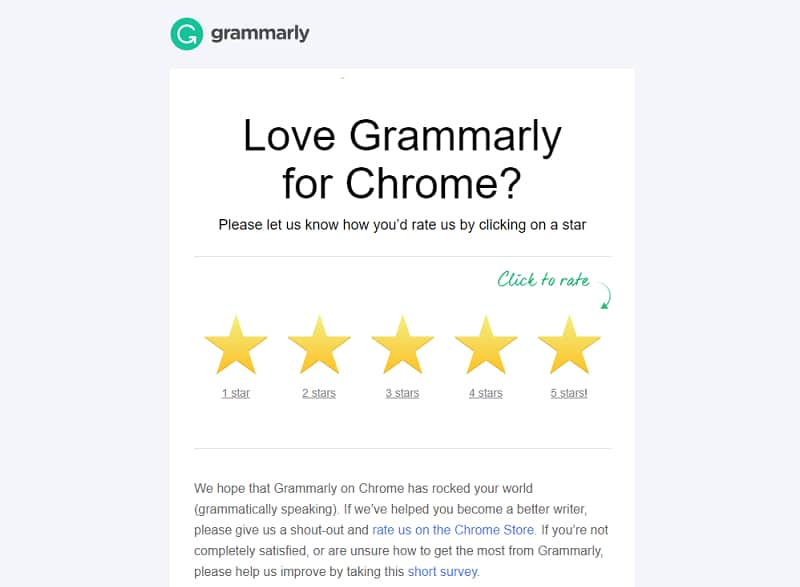 Our template specifically designed for this purpose can save you tons of time:
Hi [Customer's Name],

We're thrilled to introduce our latest feature/product extension, designed to elevate your experience. Your opinion matters a lot to us!

Could you take a moment to tell us how this new addition has impacted you? Your insights help us fine-tune our offerings.

To share your thoughts and be among the first to do so, click the link below:

[Link to Testimonial Submission]

Thank you for being a valued part of our community, and for helping us shape a better future together.

Warm regards, [Your Name] [Your Company]
Why it works?
Also targeting your most loyal customers, this type of email template is sure to intrigue your users to write down their thoughts on any new features you launch to improve your products/services.
9.
The "Exclusive Offer" testimonial request email
The "Exclusive Offer" email incentivizes testimonial submissions by offering tangible rewards, such as discounts or exclusive content, making it a win-win for both the company and the customer. This approach encourages more customers to share their experiences and enhances customer loyalty by providing value in return for their efforts.
The testimonials gathered can be used as powerful social proof, while the exclusive offers help increase customer retention and drive additional sales.
Subject: Share Your Thoughts and Get an Exclusive Offer!

Email Body:

Hello [Customer's Name],

We value your opinion and would love to hear your thoughts on [Your Product Name]. As a token of our appreciation, we're offering an exclusive [Discount/Coupon/Gift] to customers who submit a testimonial.

To participate, simply click the link below and share your experience.

[Insert Link to Testimonial Submission Form]

Once your testimonial is approved, we'll send you your exclusive offer!

Best, [Your Team]
Why it works?
Podcasting is all the rage nowadays as an increasing number of people have started tuning into all kinds of podcasts while doing other tasks as well, be it cleaning, cooking, exercising, or simply relaxing on their couch. We guarantee these listeners have something to say for your podcast!
10.
The 'Customer Spotlight' email to request testimonials
Customer Spotlight" email is a unique and engaging way to collect testimonials by making your customers the stars of the show. This approach involves featuring a "Customer of the Month" or a similar spotlight segment where you share a customer's story, their experiences with your product, and the results they've achieved. Not only does this provide you with in-depth testimonials, but it also fosters a sense of community and engagement among your customer base.
You can also ask your customers or potential clients why they haven't renewed their subscriptions or signed up. It's always good to know the reasons so you can adjust your strategy.
Here is how we send these emails: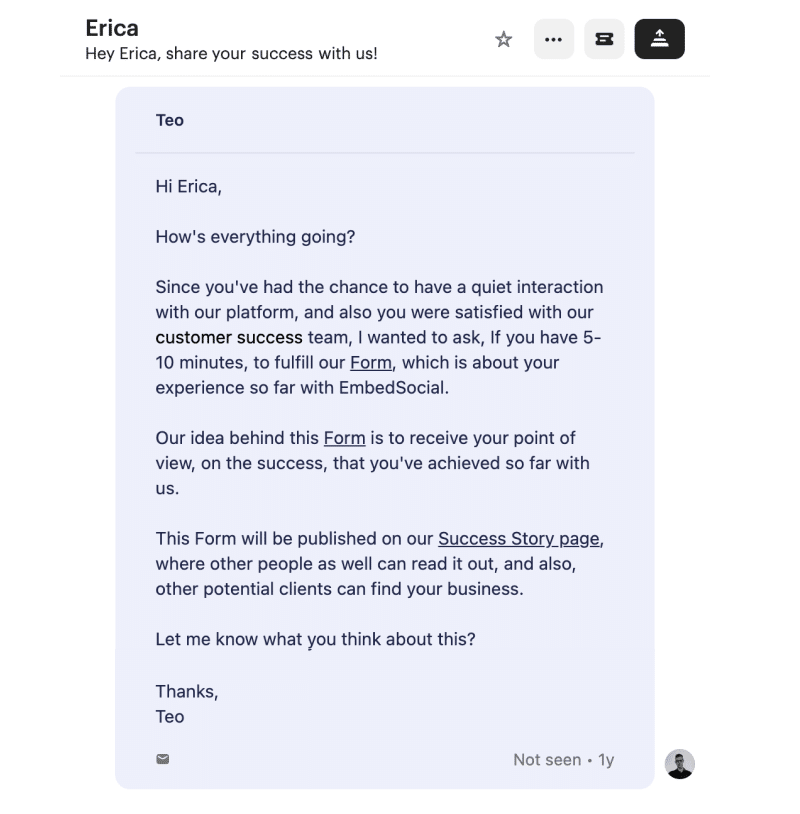 And here's the template you can use for this purpose:
Hey [Customer's Name],

We noticed you haven't subscribed or renewed your subscription lately, and it feels like the missing puzzle piece in our subscription family photo.

We're dying to know, what's been keeping you away? Your insights are like a treasure map to us, guiding the way to subscription bliss.

Share your thoughts and be our subscription superhero once again. Click the link below:

[Link to Feedback Submission]

Your quirks, your preferences, they all matter. Thanks a million for considering sharing the scoop.

Warm regards,

[Your Name]

[Your Company]
Why it works?
If you have some customers on the fence about subscribing to your services, you can tip them over to becoming regular by showcasing all the benefits your brand offers them. You can do that with a courteous email that prompts them to share their thoughts.
5 Reasons for requesting testimonials from customers
Now that you're familiar with writing testimonial request letters, let's dive into the most important reasons why you would want to do that as soon as possible.
They boost your brand credibility and visibility
Customer testimonials act as a seal of approval for your brand.
When potential customers see positive reviews from others, it builds trust and confidence in your products or services. Moreover, sharing these testimonials on your website can also improve your search engine ranking, making you more visible to potential customers.
They assist your marketing efforts
Customer testimonials are your marketing superstars.
They're authentic endorsements that resonate with your audience and prove your brand's worth. Integrating user-generated testimonials into your marketing materials, such as your own landing page, pages, and emails, can significantly boost your chances of turning visitors into customers.
They increase your sales numbers
Positive customer testimonials directly correlate with increased sales.
When potential buyers read about the benefits others have gained, they're more likely to purchase from you. Testimonials work as persuasive sales tools, highlighting the unique advantages of your products or services.
They help you identify problem areas
Customer feedback isn't just about praise but learning and growing, too.
Testimonials can provide valuable insights into areas that may need enhancement. Constructive criticism within testimonials can pinpoint pain points in your offerings, guiding you toward necessary improvements.
They let your customers know you care
Requesting testimonials demonstrates that you genuinely value your customers' opinions.
This fosters a sense of community and trust. By actively engaging with your customers and showcasing their feedback, you show multiple clients that you care about their experiences and satisfaction and are committed to providing exceptional value.
Ultimate Guide to Customer Testimonials: Collect, Display & Analyze!

Further reading
Conclusion
You will get impressive and positive feedback when you correctly ask for testimonials requests via email. Just remember to follow a few good practices: send your testimonial requests promptly, make your emails personal, offer incentives, and foster an effortless process.
By embracing the power of customer testimonials, you strengthen your brand and create a sense of belonging among your loyal customers. Your commitment to excellence and customer satisfaction will shine through, paving the way for greater success in the marketplace.
So, don't hesitate to get testimonials via emails with EmbedReviews to capture the voices of your satisfied and happy customers and take your brand to new heights.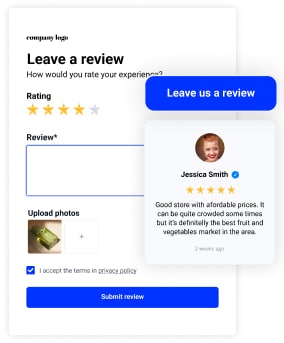 Collect reviews and display testimonials wall of love widgets
Try EmbedReviews, collect and display reviews widgets on your website. Automatically.
All PRO features | Cancel any time.
FAQs about testimonial request emails
Should I ask for testimonials?
Definitely! Utilize every opportunity to ask for a testimonial, written or video testimonial, since they become an indispensable tool in any marketing campaign. Plus, you get them for free most of the time!
Should you request a written or video testimonial via email?
While video testimonials can better grasp a satisfied customer's real excitement and emotions than three or four exclamation marks, some people are more introverted and feel more comfortable writing written testimonials emails. Therefore, consider your audience's preferences, ease of submission, resources and technical skills, and privacy concerns. 
What makes a strong testimonial?
A strong testimonial tells a story. They speak to your target audience with a unique voice and show them exactly how they can benefit from your product or service in the future.
How do I get testimonials without clients?
New businesses just starting out can still get positive testimonials from potential clients by offering a sample of their products and services in return for honest feedback.
Are testimonials the same as reviews?
While typically used interchangeably, testimonials and reviews are not exactly the same thing despite serving the same purpose. While testimonials are written to describe positive experiences with service-based companies, reviews are product-specific and can be both negative and positive.