Content shared by employees is x8 more engaging than content shared by brand channels and 92% of consumers  trust recommendations from the people they know more than any other source.

UGC statistics
In a world where we all are constantly overwhelmed by ads and brands – trust is a currency difficult to earn, and you, as a marketer, are well aware of this. However, this is where employee-generated content comes in place. The stats above are the proof you need to keep reading this guide that will cover everything there is to know about it.
So without further due, here's everything we'll discuss in our guide:
What is employee-generated content?
EGC or employee-generated content – as the name itself states it is content generated by your most valuable brand advocates – your employees.
This content can come in various forms such as images, videos, blogs, interviews, social posts and shares, and other forms, too. This content is most often shared on employees' social media accounts.
What is this content about?
– Most commonly, EGC offers an insight into a brand's culture, values, and the experience this employer has in the given company.
But also, employees should be the first ones to support the company's products/services, be experts on them, and spread positive exposure for these products/services and the company in general.
Bottom line – employees should represent the absolute best interests of the company they work for.
Extra tip: other ways your employees could become your best brand's advocates are by liking, commenting, and sharing your company's posts and by writing positive reviews on websites such as Glassdoor.
---
FYI: Embed Instagram widget automatically with the social media aggregator and UGC platform by EmbedSocial. Click below to try it for free: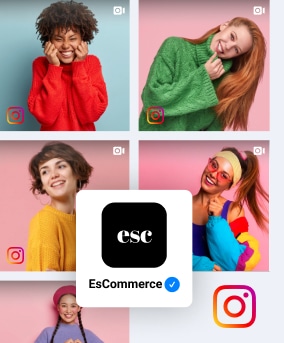 Embed Instagram widget on your website automatically!
Try EmbedFeed and display Instagram content from your feed, mentions, or hashtags on your website.
All PRO features | Cancel any time.
Benefits of employee-generated content
As we've already mentioned, nowadays, employee-generated content has become a significantly important type of content. It's a highly impactful yet simple form of marketing.
Employee-generated content is one of the most trustworthy and engaging types of content.
Here are some in-depth benefits:
Reduce content creation costs – Imagine, instead of hiring a team of designers, creators, and content strategists to create content for your social media channels – if your employees and users could be your influential content creators. It will be much cheaper and cost-effective.
Additionally, your marketing team will also save tons of valuable time in the content creation process.
Increased company revenue – Even more, employee-generated content increases brand awareness, builds trust, and has higher engagement rates. This means it's much more effective and will reach more people who don't follow your brand/company on social media. Consequently, this will increase your company's revenue.
Unique brand voice – Interesting and authentic content created by your employees means your brand's tone of voice will be personal, human-like, and simply – unique.
More engaged and loyal employees – supporting and encouraging your employees can only yield a positive outcome. They will feel appreciated, and therefore, they will become more loyal to your brand and engaged in doing even more.
Talent attraction – lastly, when the employees are talking about the work conditions and experience they have in your company (of course, when it's a positive one), it will attract talented people who share the same values.
5 Ideas on how to get more employee-generated content
Now that you're aware of the importance of employee-generated content – one tricky question arises:
How to motivate/stimulate your employees to create such content?
There is no space for panic. Here are five ideas on how to encourage employees to create more content:
1. Create a unique company hashtag
A simple way to stand out from the social media clutter and have the entire employee-generated content on a single feed would be by creating a unique brand hashtag and motivating your employees to use it.
In this way, like any other hashtag, as your employees create content and use the specific hashtag – a unique hashtag page will be created where you will be able to easily access and re-use the content. You can also embed your Instagram hashtag feed on your website.
An example of this particular point would be the unique hashtag #wearecisco. With this hashtag, employees are sharing the experience they have in the workplace.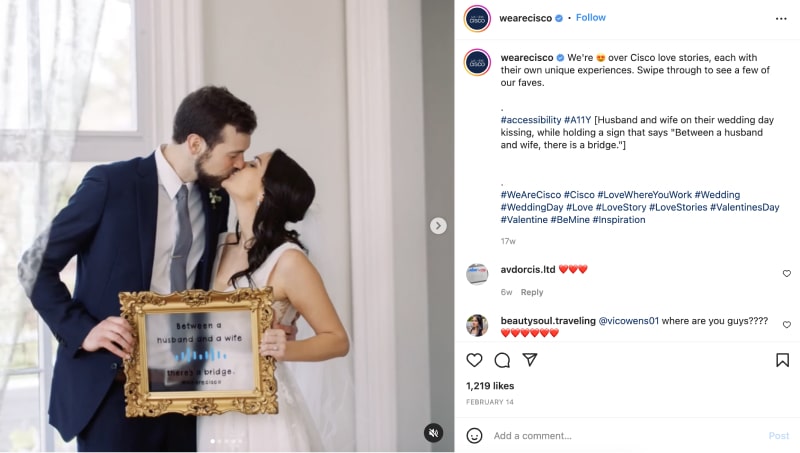 2. Educate your employees
The truth is not everyone feels comfortable with sharing on social media. What can you do is be supportive and offer free training sessions.
Providing socially-shy employees with a safety net and a training program to educate them will boost these employees' confidence and encourage them to start publishing content.
3. Encourage active participation
This tip looks simple – and it truly is!
Rewards are one of the best ways to encourage your employees to take active participation in the content creation process. Of course, you do wonder what type of rewards?
Of course the most successful rewards are company recognition and monetary incentives.
In between lines – you could incorporate an employee of the month program, employee appreciation day, referral bonus, networking opportunities, versatile challenges, events, courses, vouchers, gift baskets, and other similar rewards.
For example, we can take this package of uniquely packed beers with motivational messages to a special employee (additionally, HTEC Group sent out a unique hashtag sticker).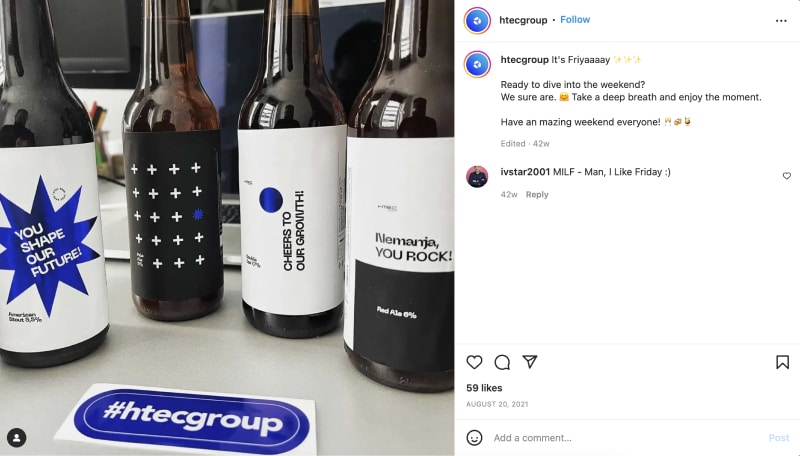 Make sure you go the extra mile and include these bits of information in the descriptions of the open job listings. Every candidate will show interest in learning about such additional opportunities.
4. Host a contest/unique event
Hosting a contest amongst your employees is another simple way to get EGC in bulk.
The rules could include employee participation with an image/video/ answers to certain questions/ etc.
Or even organizing a unique event to promote your own personal brand values and simply creating a unique hashtag for this event to help motivate your employees to create some content.
This will also allow you to have massive amounts of content created in a short period of time.
For example, we can take the company SoPro which organizes unique challenges and events such as cooking challenges, "best selfie awards", ice cream challenges, and fitness/wellness challenges.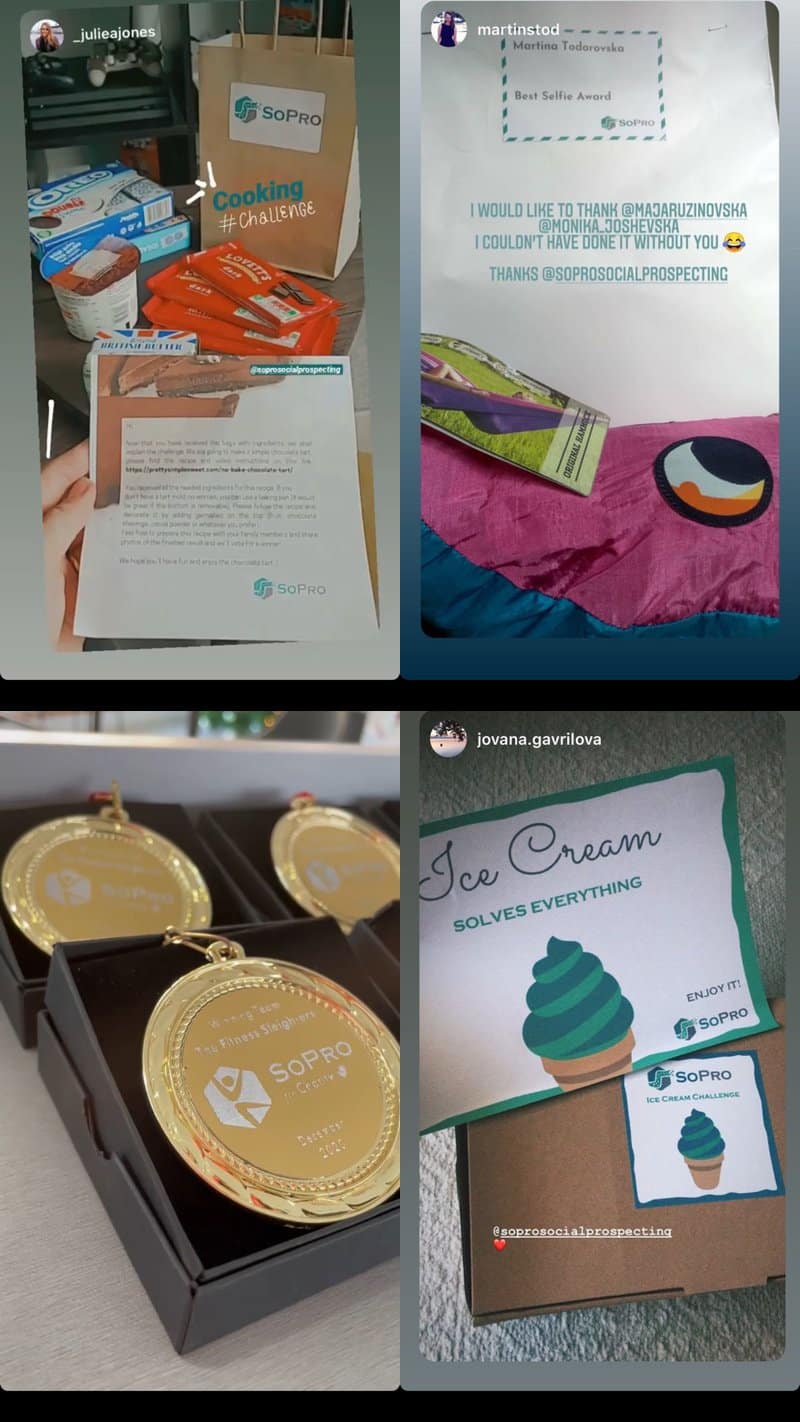 5. Create an employee advocacy program
Once you want to take things to the next step – create an employee advocacy program.
Explained in a simple way – the employee advocacy program is everything we've spoken about so far but done in a more structured way, according to a detailed strategy, with certain KPIs and expectations in mind.
You can read more about it here.
Top 5 tools to create EGC
Nowadays, there are tools for everything, and of course, there are also tools to help you streamline the content creation process by your employees.
Why use one? – Well, besides simplification, once you start to receive content from hundreds of people monthly, chances are you will start to lose yourself in the piles of content that will come your way.
The entire process will feel messy and overwhelming rather than rewarding.
So, here are the most popular tools to help you with this specific problem:
EmbedSocial – a platform that you can use to create, manage, and publish user and employee-generated content across various social media platforms. They are trusted by 100.000+ companies, big and small, local and worldwide. Even more, they offer pre-built templates for your reviews, stories, forms, or feed widgets. To top it off – EmbedSocial comes with a seven-day free trial.
Post Beyond is an employee advocacy and social selling platform. It is specifically designed to help global enterprises with the mission of sharing relevant content across social networks to drive measurable business results. This tool is packed with features such as a centralized platform (a single content library), simple social sharing for all existing employees, brand consistency, and reporting and analytics data.
Oktopost – a B2B social engagement suit to help you publish content, measure its data, engage with the audience, and monetize off of it. In addition to this, they also have an employee advocacy platform for B2B companies with versatile features and capabilities such as content suggestions and optimizations, advanced social media data, gamification, and social compliance. The disadvantage is they don't have a free trial. Instead, you have to book a demo.
Ambassify – is not an employee advocacy solution but instead a brand advocacy solution. So, we could say their features also differ a little bit. What's also different is that instead of leading classical one-way campaigns with Ambessify, you could also get feedback (polls and surveys). It will allow you to create a more flexible strategy. However, this diversity comes with a price, and they do have an expensive price point.
Sociabble – is not only an employee advocacy platform, but we can say it's a social networking platform for companies. It's not only about promoting engagement but also about encouraging it. In addition to this, this tool also has a lot of gamification features such as challenges, quizzes, polls, and other versatile activities.
Steps to create employee-generated content with EmbedSocial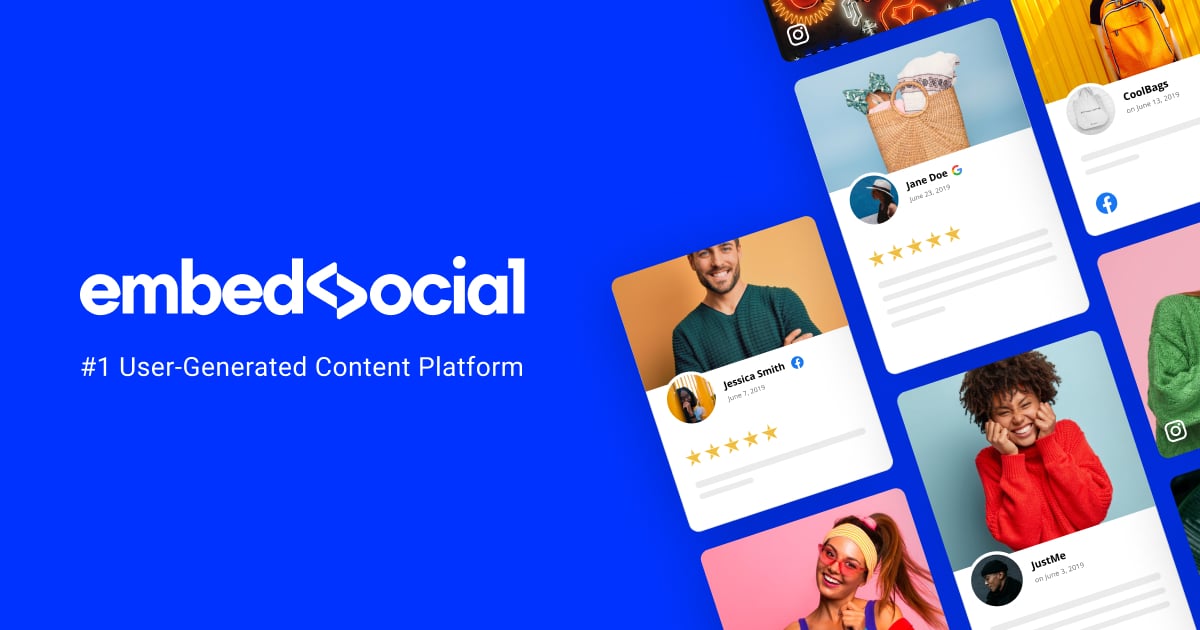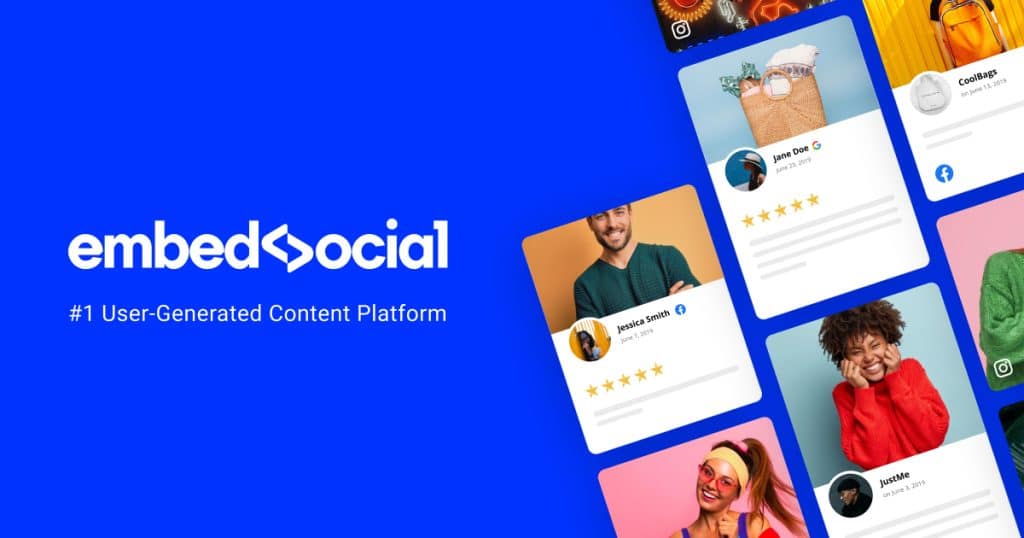 As we've mentioned, EmbedSocial is the #1 platform for user and employee-generated content. It will help you generate social media feeds, reviews, stories, or photos and embed them on any website.
Why website? Well, once you have your social media employee-generated content, you could also use this content as social proof on your website too in order to convert your visitors better.
In this example we will show you how to use the EmbedFeed product and generate the content shared with branded hashtags on Instagram.
Here's how to do it, step by step:
First, start a trial for EmbedFeed and create your account.
Step 1: choose your social media platform (we will use Instagram in this case).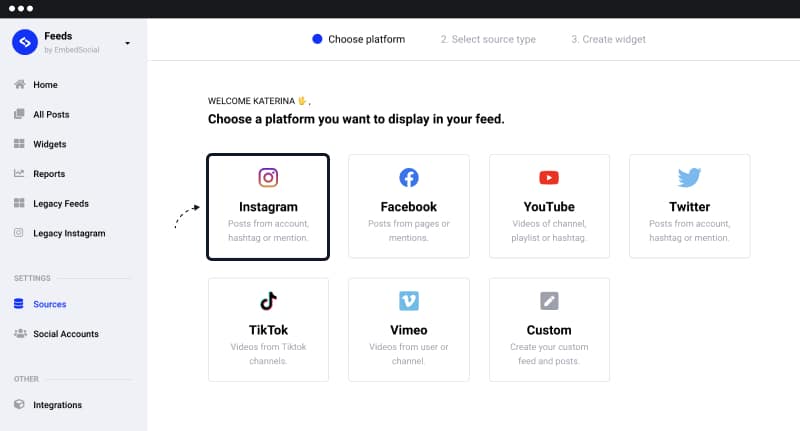 Step 2: After that, choose Hashtags in the Instagram source type and type your branded hashtag.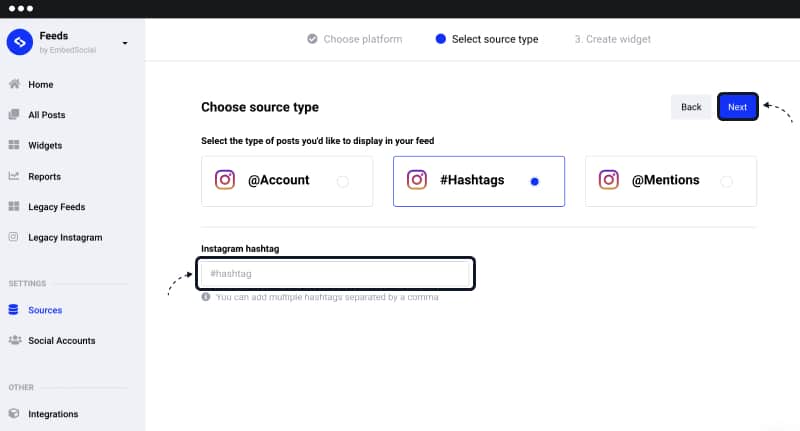 Step 3: Create your Instagram widget and copy the provided code.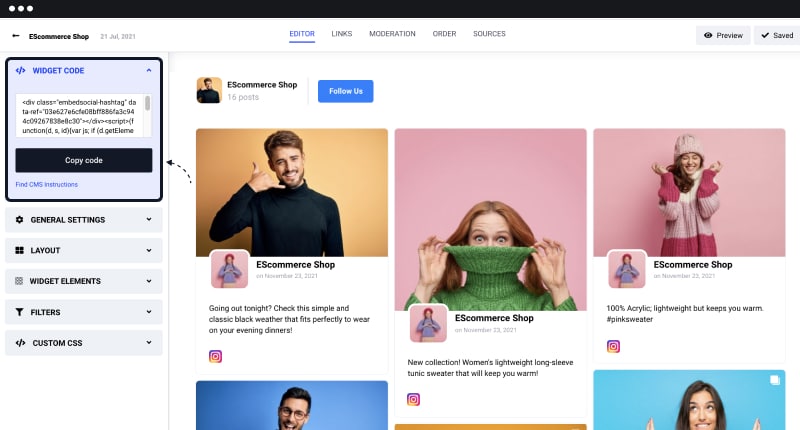 And lastly, paste the provided code into your website to show the Instagram widget with the content that your employees share on Instagram via a branded hashtag.
Real examples of employee-generated content
We went over the whys and hows. Now, it's only fair we finally show you some pretty nice examples in order to help you put everything together.
So here are a few real examples of how companies did employee-generated content:
1. Unique hashtag campaign on Instagram
For our first example, the unique brand hashtag campaign, we can take Scout24, a digital marketplace for residential and commercial real estate. They've created the unique hashtag #workingatscout24.
With this hashtag, they aim to raise awareness and have a unique page filled with employee-generated content that can be re-used.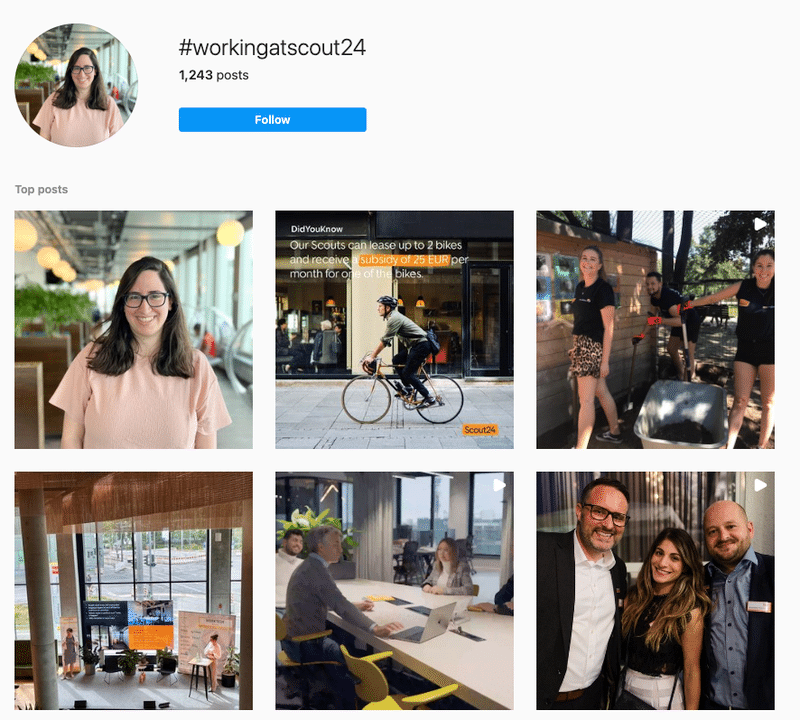 2. Employee advocacy program
Another example is the brand advocacy program by Starbucks or the so-called Starbucks Partnership program – where Starbucks treats every employee as a partner.
For this purpose, they've created a unique landing page where they post current job openings and have an "employee spotlight" part. There, they speak about their most valuable partners- their employees.
Even more, they've created an entire Instagram profile where they are sharing these moments created by employees. As you can tell, they've also created a unique hashtag campaign named #ToBeAPartner.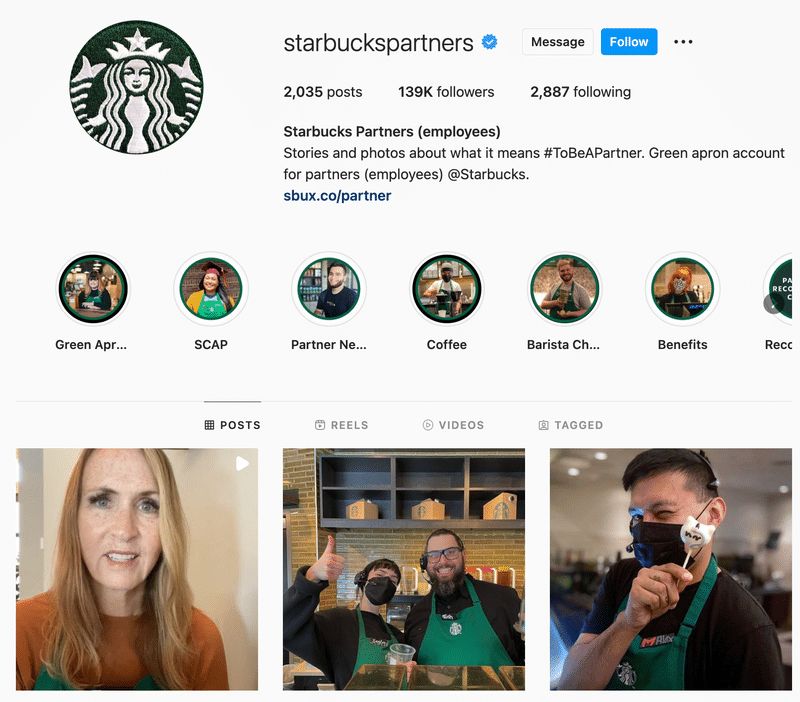 3. Unique events/challenges
Another interesting example is how you can utilize the organization of a certain event in bulk content creation.
Here's an example of Endava:
The event is Endava Wellbeing Week. The unique hashtag is: #EndavaWellbeing
Under this image, you can see real employee-generated content by employees created because of the unique event.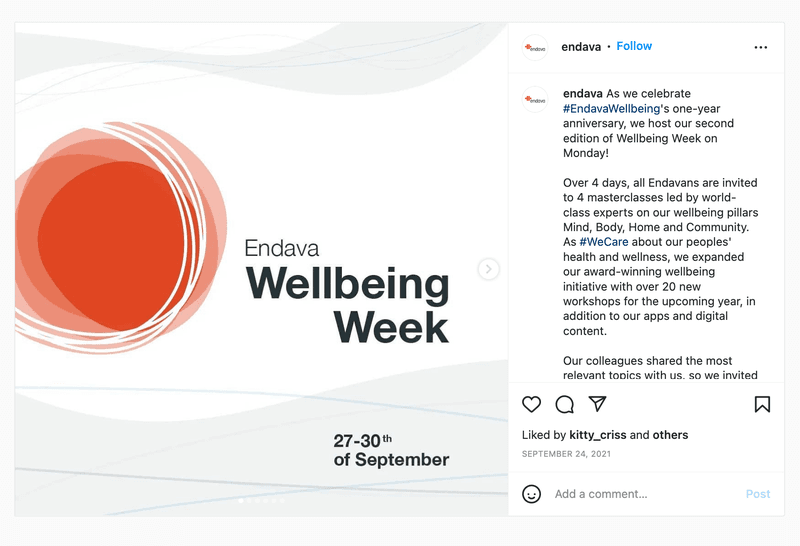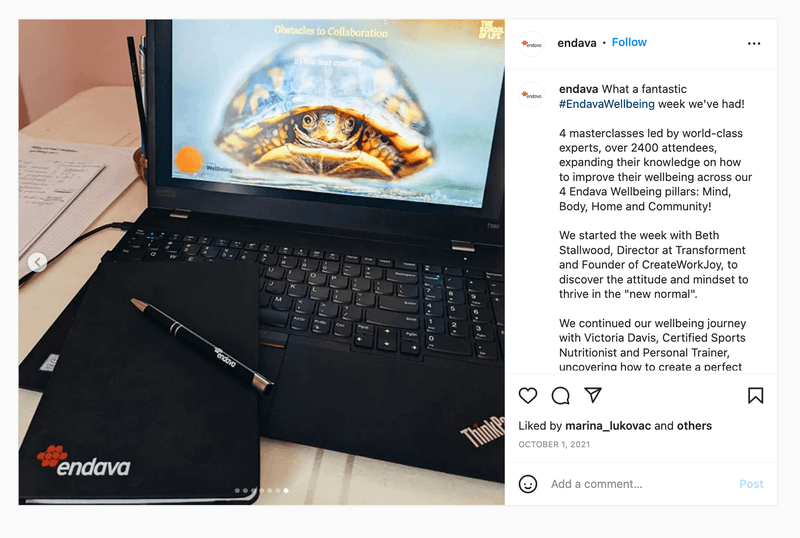 FAQ about EGC
What is considered employee-generated content?
Employee-generated content is any type of content created by employees in the form of images, reviews, text, videos, etc., published on social media.
What is employee-generated learning?
Employee-generated learning is a learning and development model that shifts the responsibility of content creation from L&D to your employees or subject matter experts (SMEs)
Why do employees generate content via social media posts?
We did speak about the EGC's benefits, but the key one is that your employees are the best brand advocates.
Other than this, once your employees start creating content, expect your content creation expenses to reduce, higher post engagement, and unique brand voice.
How do you encourage employee engagement?
Empower to encourage! Always remember to empower your employees by educating and rewarding them.
How to start creating employee-generated content?
Now that you know the basics about employee-generated content, start small, and then you can try to create a brand advocacy program. Start by encouraging employees to use a certain unique brand hashtag and re-use that content.
Key takeaways
We do hope by now you've understood the importance of Employee-generated content – and in general the power and impact your employees have on your marketing efforts.
In short – your engaged employees are your best brand advocates, your public cheerleaders, and your biggest support.
People trust people, so if you haven't started your EGC creation yet – we believe and cheer you will start now.
There are versatile strategies and tools out there. However, we do suggest you start small and move from there so that the entire process doesn't feel overwhelming and stressful.
If you do use employee-generated content in your marketing strategy, we would love to hear more about it, so feel free to drop a line below.
Thank you for reading 🙂
---
FYI: Embed Instagram widget automatically with the social media aggregator and UGC platform by EmbedSocial. Click below to try it for free: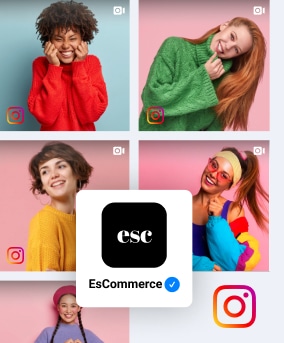 Embed Instagram widget on your website automatically!
Try EmbedFeed and display Instagram content from your feed, mentions, or hashtags on your website.
All PRO features | Cancel any time.