As consumers rely on Google to find information to make their lives easier, Google has become a major part of how users nowadays discover products and services in their local area.
To help companies stand out, Google has developed the Google My Business service, which is the starting point for managing a business's profile on the Google network.
It is a completely free and easy-to-use tool useful for businesses and organizations to enhance their online visibility on Google and increase conversion.
While Google My Business package lets you add a complete list of information about your brand, location, add pictures and receive reviews from customers, still, there are some useful options standing in the shadows and present a major opportunity for reaching out to greater audiences.
Google Posts are one of them.
Although the Google posts feature will celebrate its 4th birthday this year, they are still under the radar for many business owners (even those that use GMB).
We are not sure what caused the slow adoption of Google posts, but we are aware of how many businesses miss out on the opportunities that this feature has to offer.
In this guide, we are breaking down each Google post type currently available, how to create posts that stand out and all the things you can do to improve your local SEO.
What are Google posts?
The Google Posts feature are short posts (100-300 words) that can include a photo, video, link, and a CTA button.
They allow you to create and share product and service updates, announcements, job offerings, offers and event details for your local business.
Google posts expire after 7 days, pushing businesses to post new content on a weekly basis.
Event posts are exceptions because they last until the promoted event is over.
So next time someone searches your brand name on desktop, the content will appear in Google My Business listing alongside the search results (both in Google and Google maps).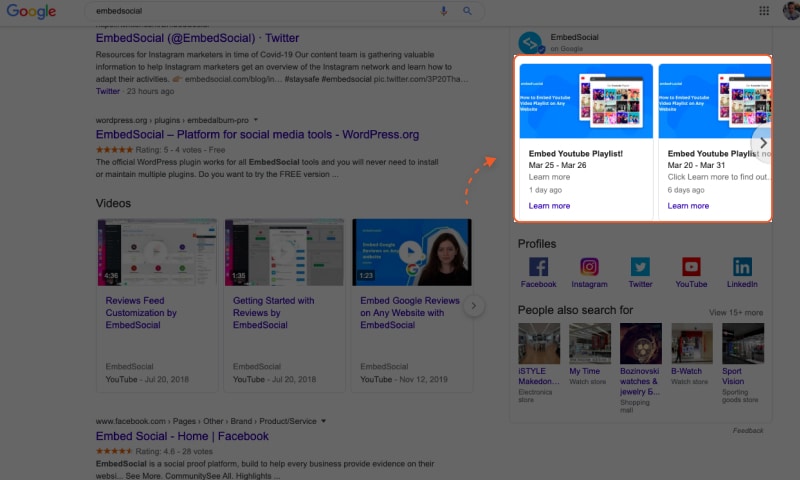 If they search on mobile, the user can go to your 'Post' tab to see your latest content updates.
3 reasons why you should use Google posts
When Google posts launched in 2016, they weren't that popular. Many of Google My Business users assumed that they would go away soon due to the lack of interest.
But now, 4 years later, this feature is becoming one of the most important allies for your Search and Voice engine optimization. It helps you rank higher in Google's search engine results page.
Improve SEO with more backlinks
Google Posts can and should become part of your distribution list.
So, every time you need to increase the reach of your website updates, Google Posts are another source of backlinks.
Increase website traffic
Take a look at how you can use Google posts in your digital marketing strategy and boost your local search and drive traffic to your website, resulting in higher conversions:
Google posts with CTA button encourage users to take an action (and improve your click-through rate)
By adding links in your posts, you can direct your users to other areas of your website and increase the traffic (e.g. your blog, social media platforms, etc.)
Every time someone interacts with your Google listing (user clicks on a link or CTA button), Google considers that like a 'Behavioral signal' (known as one of the main local search ranking factors)
Reach more customers with posts
This opportunity is extremely important in times when most local businesses are locked and use their delivery and eCommerce services to continue serving their customer needs.
Amid Covid-19, Google Posts can be a unique tool for continuing the discovery within Maps and also Google search, allowing businesses to create offers and directly sell within their knowledge panel.
To sum up, keep your Google posts updates with new content every week and you will notice how users will return to your website over and over again.
How to use Google posts as a tool for local companies in a time of Covid-19
In case your local business is affected by the Covid-19 crisis, Google gots your back!
First things first.
A new type of Google Post: Covid-19 update
This is the latest update of the Google Posts functionality.
It allows businesses to share their latest information related to the impact of Covid-19 on their work.
This post is in the form of an announcement and it appears in Google search and Google Maps with a Covid 19 alert tag.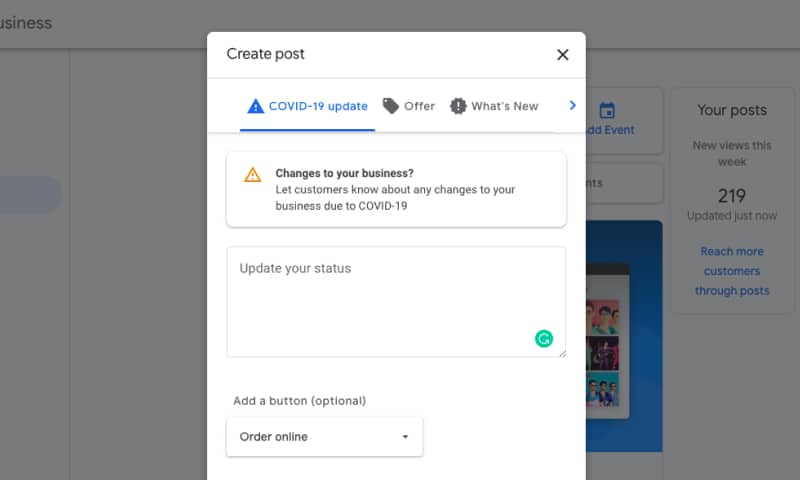 To help your customers stay familiar with your latest business details during the crisis, Google suggests the following:
If your business hours have changed, update the time your location will open and close
Share the coronavirus prevention measures your business is taking (e.g. moving to online shopping or delivery only) and if your customers may experience some delays
Craft posts to inform users about available products and services, or just let them how are things going with your business
Note: Currently, Google depends on authoritative data sources, to mark certain types of places as 'Temporarily Closed' when someone searches for them on Google Search and Google Maps.
You can find the complete Google suggestions here.
As small local businesses are considered to be the most affected ones form the Covid-19, Google created additional resources to help small businesses manage this uncertainty.
Here are some of the recommendations that were not mentioned above:
Set an email auto-reply with answers to frequently asked questions
Create a business continuity plan and share it with your staff
Prepare to effectively work remotely as much as needed (you can try these tools and resources from Grow with Google)
Modify your ad campaigns (edit ads or pause campaigns that are not applicable at the moment)
Note: For more detailed information on how to plan, prepare and respond to the Covid-19 effects on your business, Google suggests you explore the Center for Disease Control's guidance for businesses platform.
What do you need to know before creating a Google post?
Note: To start creating Google Posts, you need a Google My Business account.
Before you start creating your first Google post, take a look at some tips from Google to get the best from this feature:
Make sure your post it's high quality! Low-quality content, misspellings, eye-catching emojis, distracting content are things that should be avoided
Retain from using offensive language, hate speech or profane images and videos or posting sexually suggestive and explicit content
If you work in regulated industries (e.g. adult services, alcohol, tobacco and pharmaceutical products, recreational drugs, health & medical devices, gambling-related services, fireworks, weapons, and financial services) you are allowed to use Google posts, but you can't share content from the products themselves
Link to websites you trust (links that lead the user to viruses, phishing, malware or pornographic material are prohibited)
Google posts expire after 7 days expect the event type of posts that expire on the set due date.
Additionally, every merchant is responsible that the content they post complies with Google post content policy.
We suggest you read these guidelines carefully before you start creating your Google post.
Google business posts types
Once you are familiar with Google content suggestions it's time to show you how you can create Google posts for your local business.
There are 4 types of Google posts for local businesses available right now.
Each post type allows you to provide your audience with different details and add a call-to-action button at the bottom of the post.
In the following text, we will break down how you can create and use all 4 types of Google posts, so you can choose what fits best for you.
Update (What's new)
Use Updates posts to provide general and relevant information about your business.
Include a photo or video, description, link, and a CTA button.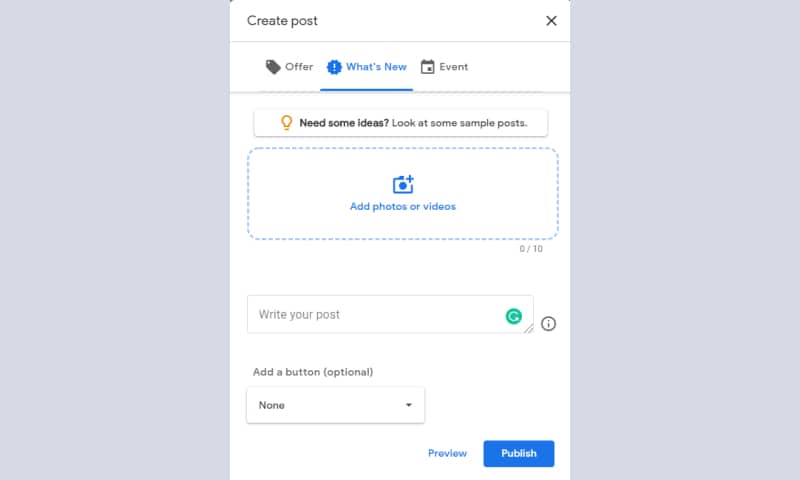 You can use this post type to promote your new store location, a new menu item, updated hours for holidays, new features, share your latest blog article, etc.
Events
Use Events posts to promote an upcoming event you are organizing or supporting.
Include event title, start and end time, start and end dates, add a photo, video, description, and CTA button.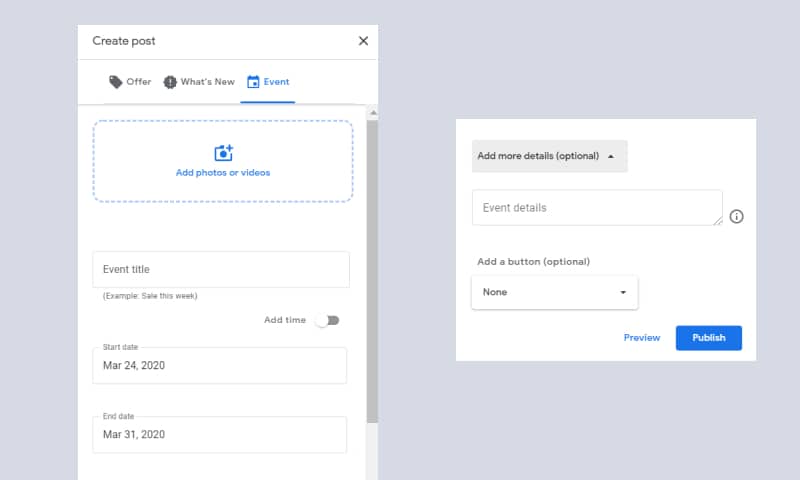 For example, you can promote your Mother's day dinner party and link this to a form where users can reserve their seats.
Offers
Use this post type to share your promotional sales and offers.
Create a title, start and end date, offer description, coupon code, terms, and conditions. A 'View offer' button is automatically added to the post.
For example, if you own a fashion store, you can advertise a 30% discount on your Spring collection.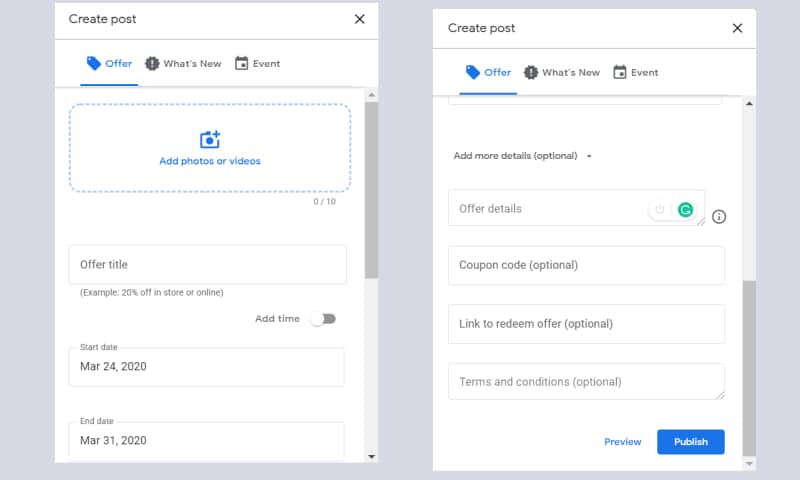 Note: Along with the other posts in the Updates tab, your offer will be shown near the top of the Business Profile on Google Search and Maps. The post will also appear along with other posts in the 'Updates' tab.
Before you start, take a moment to prepare your Google post image or video.
Everything that you will upload (photo or video) should meet the following size requirements:
Minimum: 400×300 pixels and 10 KB size limit
Maximum: 10000×10000 pixels and 25 MB size limit
Steps to create a Google business post
Once you know what type of post you want to create and you are done with the media part, go on your computer, sign in to Google My Business account and follow the instructions: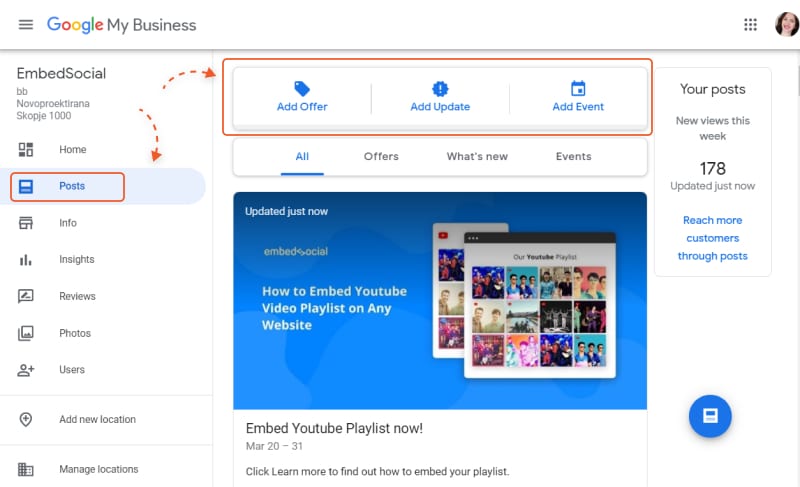 Open the location you like to manage
From the menu on your left side, click 'Posts'
From the given options, choose the type of post you want to create
Complete the empty field with relevant info and media, as described below:
Title (if your post is an event): Describe your event in 4-5 words. You have 58 characters for your title.
More details: You can write 1,500 characters for the details of your post, but the ideal length is between 150-300 characters.
Call to action: Chose from the available CTA buttons: "Buy," "Book online," "Learn more," "Call, "Get offer, "or "Visit."
Preview and Publish: Once you are done, click 'Preview' and if everything is completed, just click 'Publish' and the post will appear in your Google My Business profile.
To edit, delete or see how your post will look like in search results, choose the three dots bar in the low right corner.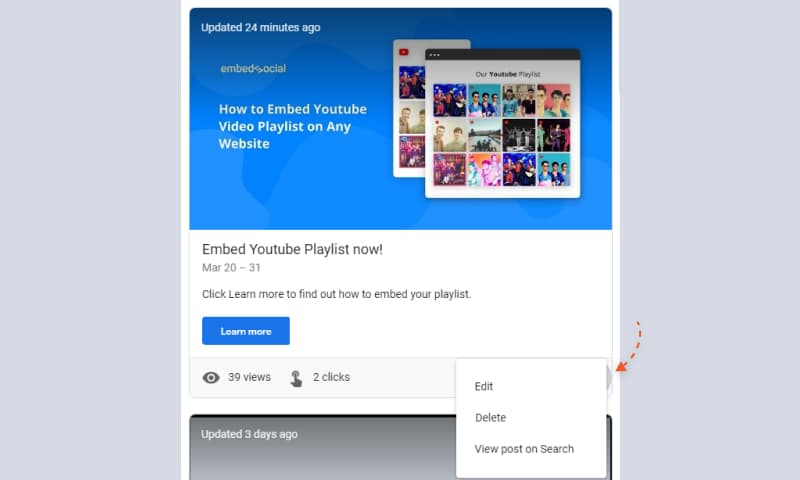 You also have the option to share your Google post on other networks.
Important: You can create Google posts using Google My Business app or within the Google Maps app. You can craft them on your computer, Android phone or tablet, iPhone & iPad. Check out the steps in this official Google post guide.
Once your Google post is live, you are probably going to wonder about its performance.
No worries, insights are available!
Google Posts insights
Under each post, you can see post insights about how many people viewed and clicked on each of your posts.
Note: You can choose the 'Insights' option from the menu on your left side and dive into more detailed Google My Business insights like how users find your listing, what queries users type to find your business, how many of them have found you via Google Search or Google Maps and many more useful insights that you can filter by week, month or quarter.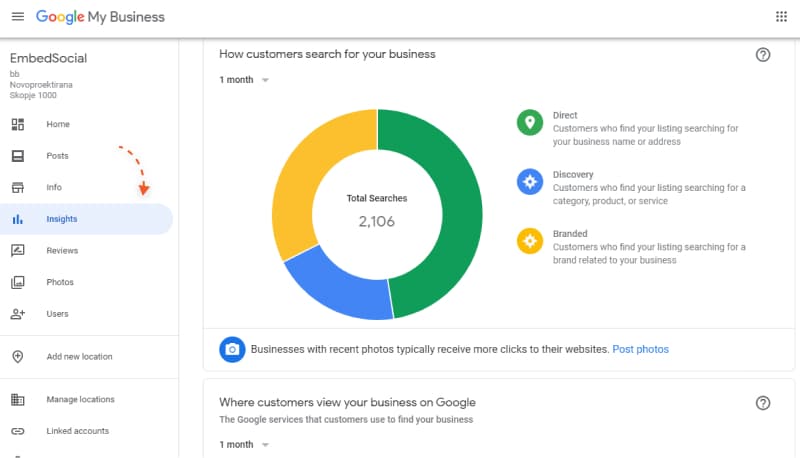 Awesome, right?
The best part is that this information is shown in real-time, so you will be provided with the most accurate view of potential customer engagement.
Additionally, in the Posts tab, you can view insights for:
An individual post
All posts from the last week
All posts from the last month
Take a moment to explore this section and reflect on the findings.
Tips for creating effective Google posts
Don't settle down for an average Google post. Instead, make it stand out.
Here are some tips from Google on how you can achieve this:
When writing, stay specific and include the main 3 things customers need to remember
Direct customer to your next step (e.g. if you sell something, tell them where they can buy it)
Mention your business values in your offer (e.g. commitment to customers, honesty, etc.)
Highlight what makes your offer unique (e.g. free shipping)
Include discount instructions
Use abbreviations for days and months (e.g. Jan 2nd)
Use abbreviations for hours (e.g. 8 AM, 11 PM)
Surely, there are some things that Google suggests you not to do when creating posts:
Don't use commercial slangs
Avoid all caps words
Avoid exclamation marks
Don't include more than 1 offer in your post
Important: Whenever you see inappropriate Google posts that violate the content policy, make sure to flag them for review.
Increase Google Posts reach with better local SEO
You might create stunning Google posts, but if no one sees them, what's the point?
Here comes into the spotlight the crucial role that Local SEO has to help you improve your customer experience with timely information.
When customers have more access to your business information and updates, they can make better decisions as they browse.
Local results are a combination of relevance, distance, and prominence of your business. These factors help Google find the best match for your search.
For example, if you search for Chinese food from your mobile phone, Google will display local results (nearby Chinese restaurants) that match your intent.
If your business does not show for relevant searches within your area, you might need to update your business information in Google My Business.
As local results favor the most relevant results for each query, you should consider the following:
Enter complete company information (physical address, phone number, category, and attributes) and update that info as soon as there are changes to your business details
Include your open hours to make customers know when you are available (you can also include special hours if you have some events or for the holiday season)
Make sure your business location is verified (if not, hurry up to do that)
Tell your business story by adding appealing photos and videos
Respond to customer reviews to show that you value their feedback (positive reviews improve your local business visibility)
Include links to specific customers' actions like reservations, online orders, etc.
Note: For an instant boost of your visibility, you can also experiment with Local inventory ads and promote your in-store inventory.
This option will let shoppers know that your local store has the item they are searching for. You can learn more about Local inventory ads here.
Examples of Google Posts
If you are looking forward to starting with the Google posts feature, here is some content to inspire you:
Houlihan's Cranberry Google Post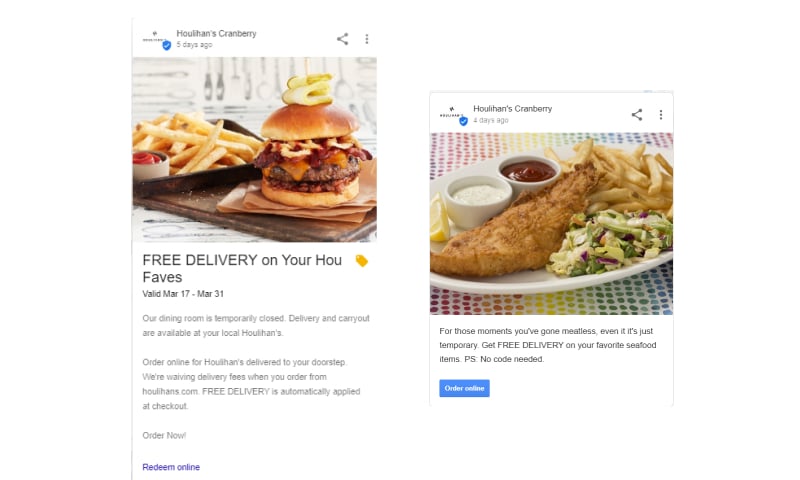 Smallman Galley Google Post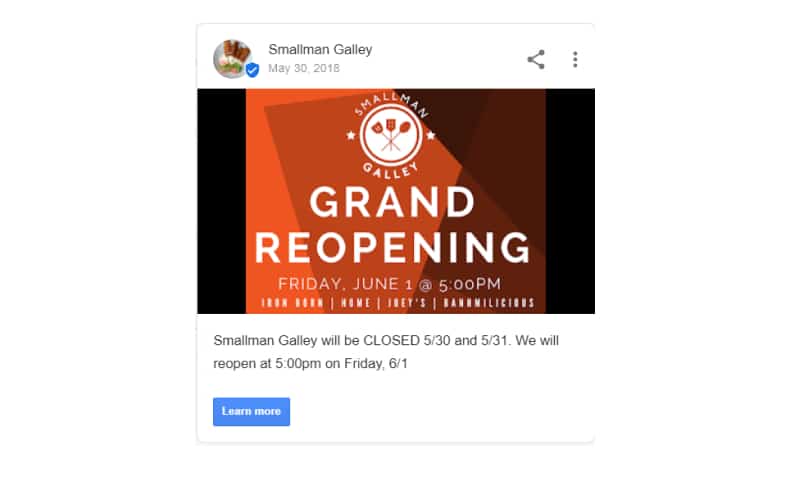 Kama Bistro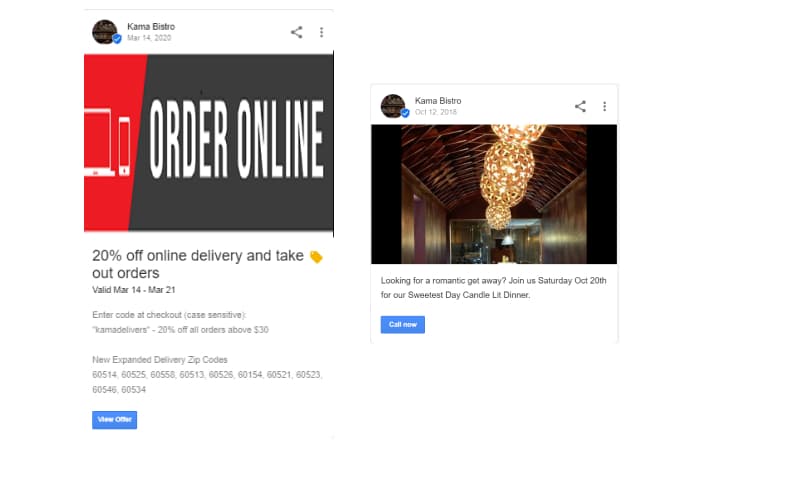 Do more: Tool to schedule Google Posts
If you decide to include Google Posts in your content publishing strategy than you will need to be prepared to regularly post due to the fact that these posts disappear after 7 days.
This means that every week, you need to log in back to your Google My Business account and post some fresh content.
Or, to skip this manual labor, you can schedule your post ahead of time using tools like EmbedSocial's GMB scheduling tool.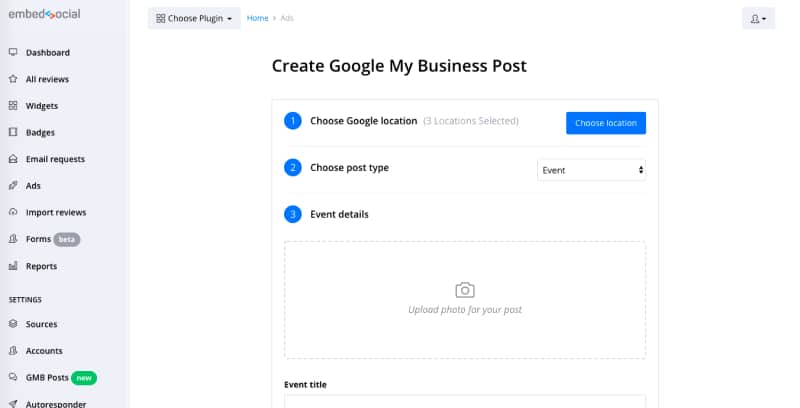 It will help you remain active on your Google My Business account, without the need to go log in back every week and manually add posts after the previous ones have expired.
This is perfect for agencies that manage multiple client account or businesses that have multiple locations and sometimes maybe need to post the same information for each business location.
To start, contact us on how to start with the EmbedSocial's Google posts scheduling tool and connect your Google My Business account.
Post on multiple locations at once? Yes, you can use the option 'Choose locations' and select multiple accounts/locations of your business, that will enable you to publish the same post in just a few clicks.
No need to log in on different Google My Business accounts, just use the EmbedSocial's tool and save tons of time.
To sum up.
After this article, you are more than ready to start creating your Google My Business posts.
Feel free to experiment with the type of posts this feature offers and we guarantee you that soon you will witness the results.
Generate, manage and display your Google reviews
Signup for a 7 days free trial and setup in few clicks.