Short, entertaining, and "easy-to-digest" – it's been a year since Instagram Reels truly took off ?
It took the social media world by storm as brands and digital creators around the globe rushed to find their place in the sun! They followed the latest trends, danced, accepted challenges, created user-generated content for brands, and entertained their audience – all this with the ultimate goal of going viral and experiencing huge community growth.
People with almost 300 million views monetize off of Instagram's Reels Algorithm. If you're stressed about using Instagram Reels, you're in the right place.
In this blog post, you can find a detailed step-by-step guide on creating Instagram Reels and boosting engagement on your Instagram account.
FYI: You can embed Instagram Reels widget automatically with EmbedSocial's social media aggregator and UGC platform. Start a free trial and display your social media widgets now.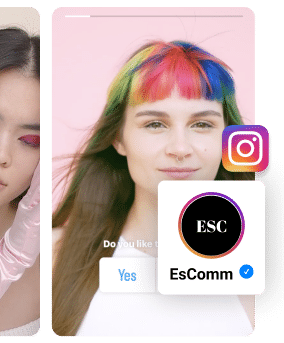 Embed Instagram Reels videos on your website automatically!
Try EmbedFeed and add TikTok videos, Instagram, YouTube or Facebook feeds to your website.
All features included | Live support available
What are Instagram Reels
Said in the simplest possible way – Instagram Reels is a fun video feature that allows users to:
express their creativity by sharing short and entertaining videos; but also
watch such public videos in the "reels" tab at the bottom of the Instagram app's home screen.
Should you "hop on" the Instagram Reels train?
Long story short – yes, the answer is an absolute YES.
If you haven't started creating Instagram Reels yet, you definitely should.
According to Adam Mosseri, who is the head of Instagram, Instagram is no longer just a "photo-sharing app." Instead, in 2022 they plan to double down on video and consolidate all of their video products around Reels and continue to grow that product.
Wondering where to start? Read on to find Instagram Reels content ideas suitable for both large and small businesses and creators.
Content Ideas for Instagram Reels
Reels are a crucial part of every social media strategy. If you are clueless or uncertain about making them fit into yours, here are the most helpful content ideas to make you stand out.
Showcase your products and services
Combine catchy captions with a stimulating effect to create a reel to promote your product and service.
Ideas: explain how the product/service works and its benefits. Make sure to use hashtags related to the product/service/industry you're promoting. Plus, write a long and descriptive description to help Instagram's algorithm understand what the video clip is all about.
Benefits: this type of content will allow you to increase brand awareness and increase sales.
Example: Deciem brand uses reels to promote their latest product – in this case, The Ordinary Concealer.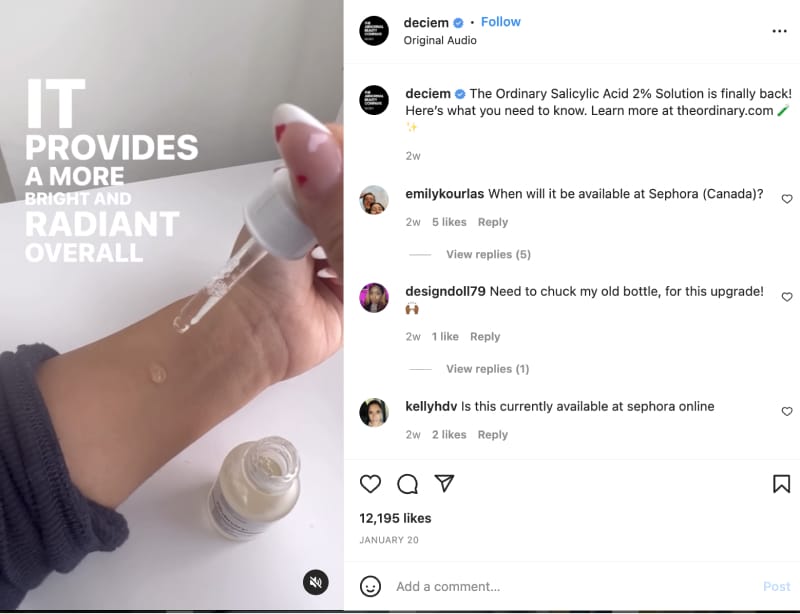 Educate your target audience
The easiest way to convert a random viewer to a follower and even a customer is to create educational reels. Posting helpful content allows you to create a genuine bond with your target audience.
Ideas: Think about creating "how-to guides," answer common questions in bite-sized videos, educate on something new, share a "secret," helpful routines, DIY videos, or – in "translation," think about solving every problem your potential customer might have.
Benefits: Reels appear on the Explore page and can also appear in the main Instagram feed of new users as recommended content. This is an easy way to raise awareness and gain new followers who might become potential customers in the future.
Example: The cook – Jamie Oliver uses "how-to-cook" videos to raise awareness to sell his cookbook more quickly in the future.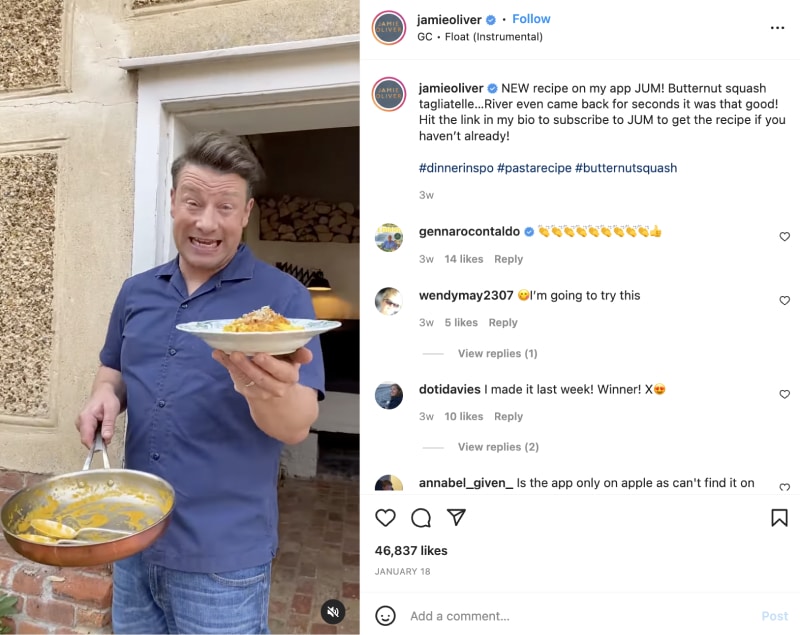 Collaborate with influencers to increase exposure
Collaborations and promotions with influencers are great ways to increase awareness about specific products/services. However, the chances are that this option might not come for free.
Idea: Find relevant and important people in the industry. They could mention your products, show how to use them, review them, share their experience with the product, and answer FAQs related to the product/service.
Benefits: besides increasing awareness, through this way, you could also build your credibility and authority in a way – because these influencers will promote the content in front of a relevant audience, and lastly, you could expand your audience
? For example: Get a cook to showcase how to make a bolognese sauce with canned organic tomatoes that they sell. It is an excellent opportunity because people following this cook are already interested in hearing their recommendations.
Example: Nespresso collaborating with Chiara Ferragni, a fashion influencer, to promote their new limited edition of the coffee machine, travel, and coffee mugs.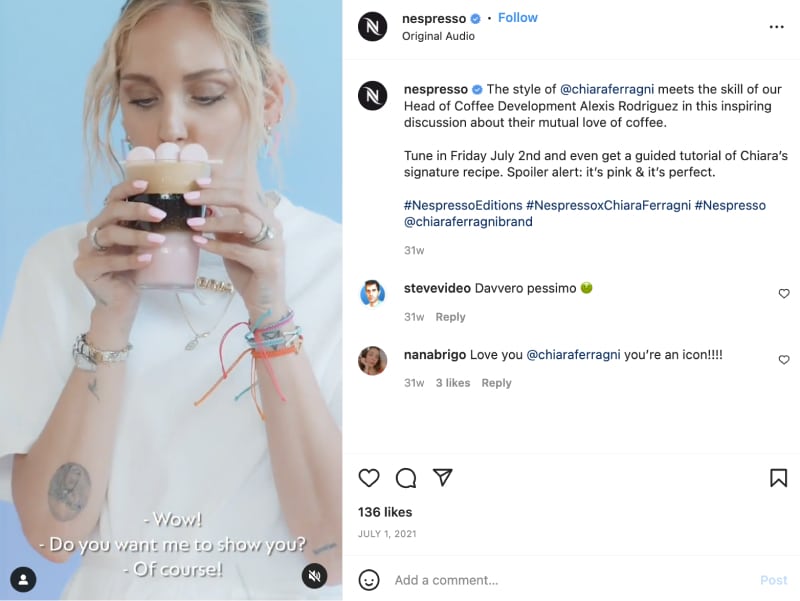 Post behind-the-scenes videos
Behind the scenes, videos are great because they will provide a human touch to your business and enhance the creation of a stronger bond.
Ideas: create videos presenting your team and how they work/employee of the month/ the new office/ and even some bloopers.
Benefits: This type of video allows you to create a stronger bond with your potential customers.
Example: We are Cisco, an HR account for Cisco employees and hiring, where you can find interesting videos filmed by actual employees who create Reels to answer culture or career questions.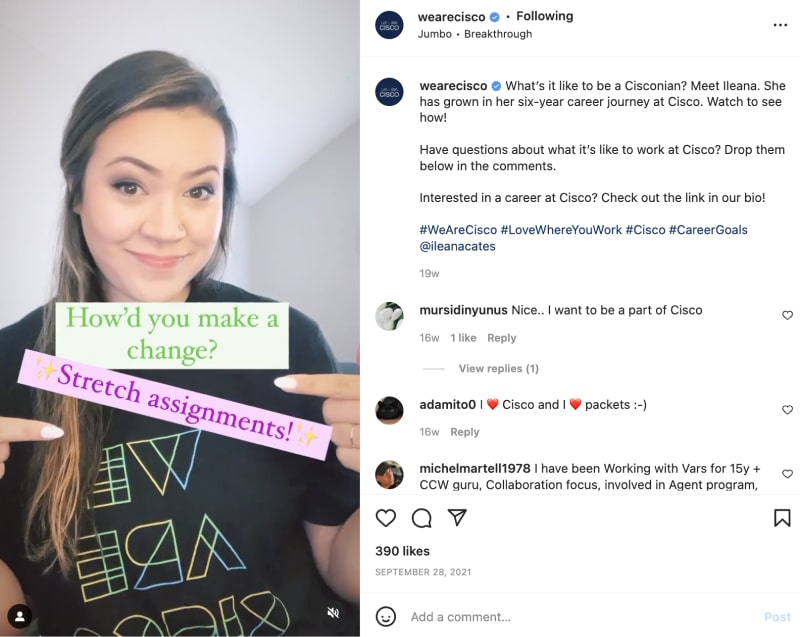 Share exclusive deals/sales/workshops/classes
This type of reals is intentionally at the bottom of the list because they are kinda the "bottom of funnel" type of content, meaning they exist to help you create more solid leads and increase your sales.
Ideas: create videos to present a sale/ a limited offer/ a free workshop or a class (make sure to create that "sense of urgency" such as one spot left, one time only, limited offer, etc.)
Benefits: more quality leads, increased conversions, and sales
Example: Miss Excel, who is, as she states it, "Chief Excel Officer," uses Reels this way to promote her free excel training. This is a great way to promote her services because the people attending might also purchase some of her long and paid courses.
Extra hint: besides these ideas, → you could also follow the latest Instagram Reels trends. Find a popular song that will resonate with your audience and do what everyone else is doing but with your twist on it. Or do a sneak peek of what your competitors are doing on Instagram and start from there?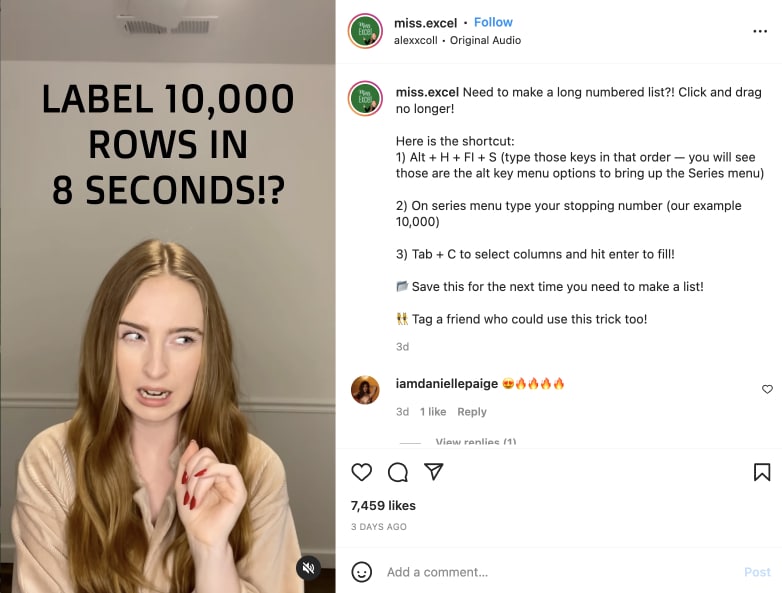 How to create Instagram Reels
Since Instagram is quite a user-friendly app, posting Reels is also relatively simple.
Here are the steps on how to record and create Instagram reels from the Instagram app:
Tap the top-right plus icon or swipe right anywhere in the Instagram Feed.
From the options list, choose Reels
Tap and hold the circle to record a clip, or tap it to start recording and tap it again to end the clip. You can also tap your camera roll in the bottom left to add pre-recorded video clips from your camera roll and upload a whole video that will be the entire Reel. (if that's simpler for you)
Tap Preview (iPhone) to watch again, add stickers, drawings, and text to your reel, or download it to your device. Use the slider at the bottom to edit when you want the text to appear.
Tap Edit clips to add other clip
Tap Next to continue publishing.
Tap Cover to change your cover photo and write a caption. Tap "Also share to feed" so your Reel appears in your Feed too, not just in the Reels tab
Tap Next, then tap Share.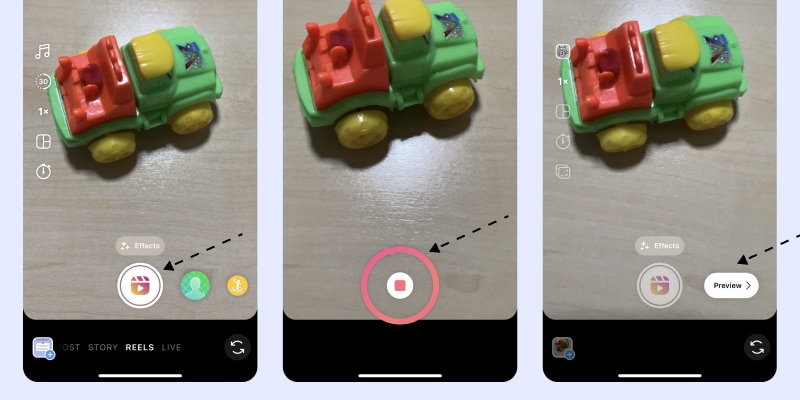 Note that you can record one or multiple clips that add up to 60 seconds. The progress bar at the top shows how long you've recorded. If you share your Reel to Explore, it can also be seen on the Reels section of your profile.
If your profile is private, your Reel will appear on your friend's feed, it will also stay as part of your Instagram grid, and it will also appear under the Reels section on your profile.
On the other side, if your profile is public – it's where the magic happens, and yes, of course, we're talking about going viral. Your Reel could appear in the "Explore" tab and the "Reels" tab. Even more, your Reel could also show up on the dedicated song/hashtag/ or effects page you've used in your Reel.
From now on, the only thing remaining is watching that view counts, comments, and shares go up! ☺️
Additional tips: two other ways you could create reels are by clicking the "plus sign" right next to your messages icon and following the steps we've explained or when scrolling in the "Reels" tab.
You listen to a song you like (and, of course, love the trend that goes with it). You can click on the tiny camera icon at the top right corner and create a reel with the same song.
How do you customize the Reels cover photo?
To make sure your cover photo is appealing, add the caption over the video clip before posting the reel and make a print screen. Then go to your Camera roll, crop the image, and go back to upload the Cover image with a nice text overlay.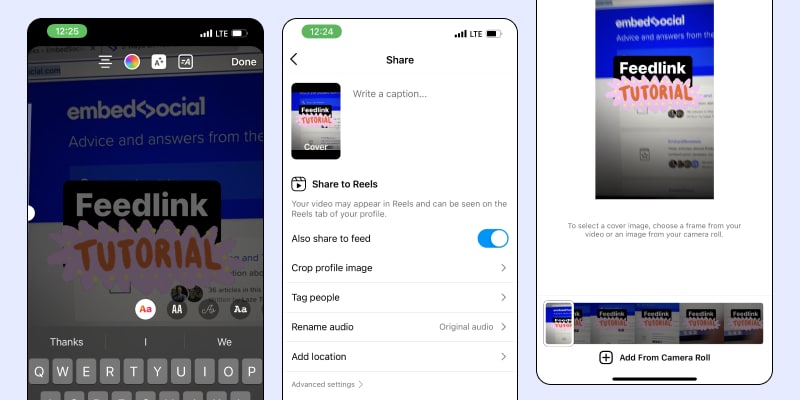 How to use music in an Instagram reel?
Just tap the audio icon in the left-hand menu of the edit screen, and you will enter the Instagram music library.
Here you can choose licensed audio, song, or music or import your original audio.
To add audio, select a song from the list, set up which part of the song to appear, and tap Done.
How to change the effect in an Instagram reel?
Again, in the Reels editor's recording screen, tap the Effects icon right next to the record button. It will open an effects library where you can see trending reels with the most used effects or use the search bar to find a particular effect. Once you tap on an effect, you can watch reels that use the particular effect and get inspiration for your own reels.
How to create seamless transitions in the text?
When you add stickers and text, they also appear as a breadcrumb menu at the bottom.
To manage where a sticker or text appears in the video clip, you can select the text or sticker and use the trim video timeline to define in which part of the video it will appear. And the transition is like a fade-in effect that makes it seamless to watch.
How to create seamless transitions in the text?
When you add stickers and text, they also appear as a breadcrumb menu at the bottom.
To manage where a sticker or text appears in the video clip, you can select the text or sticker and use the trim video timeline to define in which part of the video it will appear. And the transition is like a fade-in effect that makes it seamless to watch.
How to save Reels in the draft?
If you want to save a reel and publish it later, tap the x icon, and in the prompt screen, choose Safe as a draft.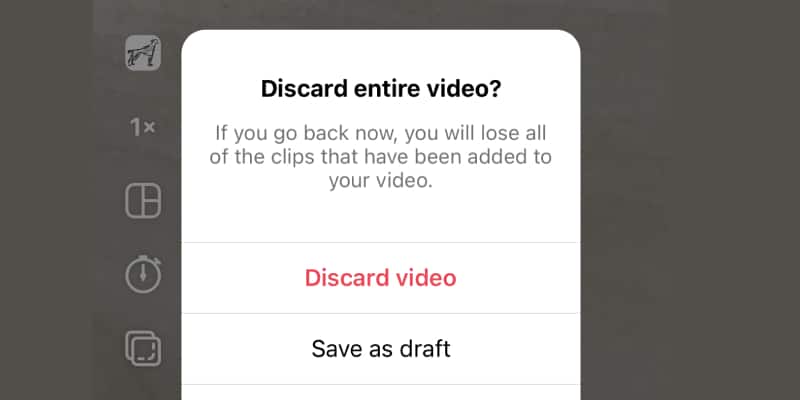 To access the drafts, tap again on the Reels icon to open the Reels editor, and tap the bottom-left blue + icon.
Please note that the Drafts will be lost if you log out or uninstall the app.
5 Best Apps to Design Instagram Reels
We're starting our list by crediting Instagram's team for all the fantastic built-in editing features. The Instagram app on its own is a great place to start when you don't have the time and resources to choose and try out another tool. Plus, you have access to Instagram's music library, which is a crucial component in creating Reels.
Compatibility: Android and iOS
Price: Free
Key Features: Background music, versatile video length, adjustable speed and layout, augmented reality filters, timer, and seamless transitions.
Canva: Design, Photo & Video
Second on our list is Canva which is free graphic design software.
Without a doubt, Canva is considered one of the most popular tools because of its practical and versatile templates suitable for social media, personal, business, marketing, and education purposes.
Amongst these templates, there are also such for creating Instagram Reels. In their online editor, you can find all sorts of backgrounds, frames, pre-made yet editable videos, and the option to add all kinds of elements such as lines, shapes, etc, graphics, photos, text, and styles.
Compatibility Android, iOS, online browser app (and desktop app for Mac)
Price: Free, Paid Version (30-day trial), and In-App Purchases
Key Features: Pre-made Templates which are easy to edit. Option to add versatile elements.
InShot – Video Editor
InShot is considered to be a powerful yet practical Instagram Reels Video Editor. It's packed with Video Editor, Video Maker, and a Photo Editor.
With more than 13 million reviews and an average of 4,8 – this app is worth trying.
Compatibility: Android and iOS
Price: Free and Paid Version (InShot Pro Unlimited Subscription)
Key Features: Pro Video Editor, Super Transitions, Keyframe for Sticker and Text, Add Music, Effects, and Voice-overs, Video Effects, Adjust Speed, Save in 4K.
CapCut – Video Editor
Out of all, this tool is by far the most beginner-friendly editor, so if you're looking to advance yet, you want to take it one step at a time – start here.
It has no ads, watermarks overlapping your videos, and extra costs for their features.
Compatibility: Android and iOS
Price: Free
Key Features: Easy to use, high quality, versatile music selection, stickers and text, and effects.
FYI: You can embed Instagram Reels widget automatically with EmbedSocial's social media aggregator and UGC platform. Start a free trial and display your social media widgets now.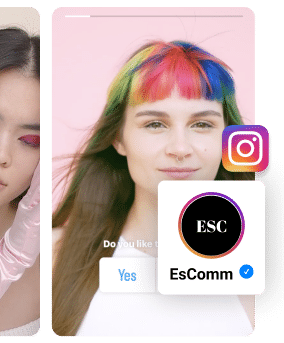 Embed Instagram Reels videos on your website automatically!
Try EmbedFeed and add TikTok videos, Instagram, YouTube or Facebook feeds to your website.
All features included | Live support available
Last on our list is Adobe's leading video editing software created by the pioneers themselves.
Available both on mobile and desktop, across all operating systems, and packed with various impressive features, this tool is suitable only for professionals willing to make money out of learning this software.
Remember that this software has a steep learning curve, meaning it will take you longer to learn it.
Compatibility: Across all operating systems
Price: Paid (Starting at US$20,99/per month)
Key Features: Video Editing, Effects, Transitions, Graphics, Titles, Animation, Compositing, Color Correction, and Grading, Other Adobe Applications compatible, Collaboration, etc.
Practical Tips to Create Viral Instagram Reels
We've covered almost every aspect related to Instagram Reels – but one question remains unanswered – What does it take to go viral?
Unfortunately, there is no "one-size-fits-all" approach that will help you on your journey.
Several digital creators, large and small companies, share tips, but it all comes down to having the courage to try and do it, monitor metrics, see what works, experiment, try – fail- try – try again, and be consistent about doing it.
Even Instagram's Team suggests experimenting!
"Try something new, be yourself, and see what works for you."
However, here are some tips that will help you on your journey:
The Do's and Dont's stated by Instagram's Team
Additionally, statements are saying Instagram will avoid recommending Reels with:
Low-resolution, watermarked, or horizontal reels
Reels that focus on political issues
Reels made by political figures, parties, or government officials or on their behalf
Reels that don't meet Instagram's Community Guidelines
According to lifestyle creator and social media tips author Nana Agyemang
You should experiment with video content, use popular trendy songs, and make reels with them.
You should create Sharable content – or content that meets the 3 Es: educate, engage, excite! So her suggestion is to ask yourself if your video content fits in either bucket before you make a post.
add scenery (make more scenic videos)
dress to interest (make people wonder)
frame yourself differently (to keep people's attention)
use your voice (raise it, change it – to make yourself more likable)
cut for time (to keep people's attention), and lastly
don't forget to have fun!
Phạm Xuân-Mai has been a digital creator for more than 11 years. From her experience, she says that the most important thing is building an online community online, building a relationship and trust with the people who watch your videos.
Be genuinely interested in other people's lives, make people feel included, and be vulnerable about your life instead of trying to be perfect.
Other simple tips you will find online will sound much like:
Create educational, inspirational, or relatable content. Even more, try to create content that will resonate with your target audience.
From a technical point of view – you should make high-quality, eye-catching content with great footage, editing, lighting, and sound, plus try to include text and description. Upload videos in the optimal Instagram Reels size and make sure your videos are recorded vertically.
Use the right hashtags and popular music.
Jump on Reels trends but don't forget to do your research to understand the trend, and it would be even better if you could put your spin on it.
Post Reels frequently and consistently, and tag and collaborate with other creators.
Make sure your Reel has a captivating first few seconds so that the viewer continues viewing instead of scrolling.
Here's a detailed video about how to explode your Instagram Reels backed by Data.
New features/trends for Instagram reels
Since its launch, Instagram Reels has made some pretty meaningful changes. They grew significantly, so it can no longer be called "TikTok's Younger Brother."
But what does the future hold?
Reels Monetization
Instagram is testing out a bold move to retain top talents – paying creators to create to compete with other social media platforms. Depending on the view count and followers, creators get offers from $100 to $10.000 for a single Reel.
Subscription-Based Model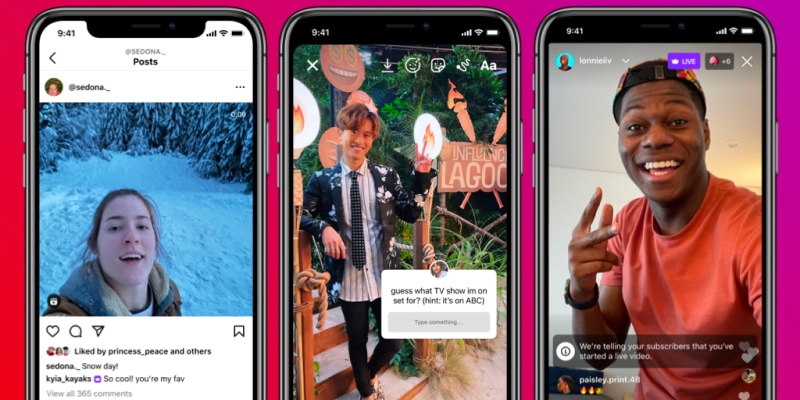 Although this is not strictly related to Reels, Instagram is also testing out a subscription-based model where creators could earn recurring, monthly income by posting "subscription-only content". This feature is already in the roll-out phase and some popular Instagrammers are already using it to get more predictable revenue by creating exclusive content only for people who paid subscriptions.
Other monetization methods are "Branded Content Partnerships" and an "Affiliate Program".
Reels Shopping will advance even more.
Shopping versatile products within Instagram Reels is available even now. However, predictions will reach new levels in the following year, both for brands and creators.
According to Instagram Trend Report, online shopping will move away from big-box online retailer sites to new shopping experiences such as Social and AR Shopping.
Instagram Reels Algorithm will improve even more. This will provide users with more relevant, personalized, and diverse content according to all sorts of signals, such as interactions and shared and saved Reels.
The Instagram Reels editing features and effects will improve and become more versatile.
Instagram is trying to create new incentives for creators to make Instagram Reels their go-to choice.
If you want to stay on track with all the latest Instagram updates, follow the Creators profile.
FAQ for Instagram Reels
Are reels public?
If you have a public Instagram profile, then the reels you create will be publicly available for everyone to watch. On the contrary, if your profile is private, the reels you create will be available for your followers only.
Can you see who watched your Reel on Instagram?
Unlike Instagram stories, where you can see a list of everyone who watched your story, you cannot see who has viewed your Instagram Reel.
How often should I post reels?
Although no official statements are coming from Instagram's team, it is recommended to most four to seven Reels a week to receive Instagram's attention.
How can others use my audio?
When creating a Reel with original audio, you take its credits. People can re-use it by clicking "Use Audio" from your Real, but only if your profile is public.
Do Instagram reels have a time limit?
Instagram Reels have three-time length options – they can last 15 seconds, 30 seconds, or 1 minute.
Conclusion
As we mentioned in the beginning of this post, Instagram will mostly focus on video features and messaging in 2022. This means that the Instagram algorithm will prefer content with viral nature, where the Instagram Reels format perfectly fits in.
Regardless of your business, Reels offers tons of opportunities and has immense potential to grow your business.
So make sure you DO hop on the train, add reels into your Instagram strategy, and take full advantage of it.
You know your Instagram audience best, so do not feel overwhelmed by everything going on. Instead, experiment while staying authentic 'till you create that community of like-minded followers.
Happy Creating Creators! ☺️
FYI: You can embed Instagram Reels widget automatically with EmbedSocial's social media aggregator and UGC platform. Start a free trial and display your social media widgets now.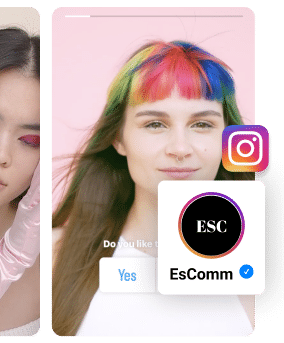 Embed Instagram Reels videos on your website automatically!
Try EmbedFeed and add TikTok videos, Instagram, YouTube or Facebook feeds to your website.
All features included | Live support available