The Instagram story format is becoming one of the most attractive conversion funnels. Due to its natural feel and engagement possibilities, marketers and e-commerce owners have the possibility to capture not only their prospects' attention but also make a direct sale.
Our team is working hard to bring your Instagram Stories experience to your website and extend their reach beyond the Instagram app.
EmbedStories has the power to alive your website, by providing an automatic sync with your Instagram profile that brings the stories experience to all your website visitors.
Having that 'latest' feel, your embedded story becomes a canvas that attracts greater views.
In order to capture these views and transform them into a direct conversion, we are going an extra mile.
We partnered up with Envoice, an incredible invoice, and direct payments provider in order to make your Instagram Stories your new powerful sales funnel.
And today we are happy to announce that now you can add a shoppable link to your Instagram stories with an option for accepting payments.
Here's how it works:
Once you embed the stories code on your website the system will automatically pull the latest Instagram stories. Each of the stories will display a CTA or call to action button that links to a direct payment form.
So, your website visitors will follow this simple flow:
Click on the CTA button displayed on the story
Enter payment information
Choose to pay via PayPal, Stripe or Payoneer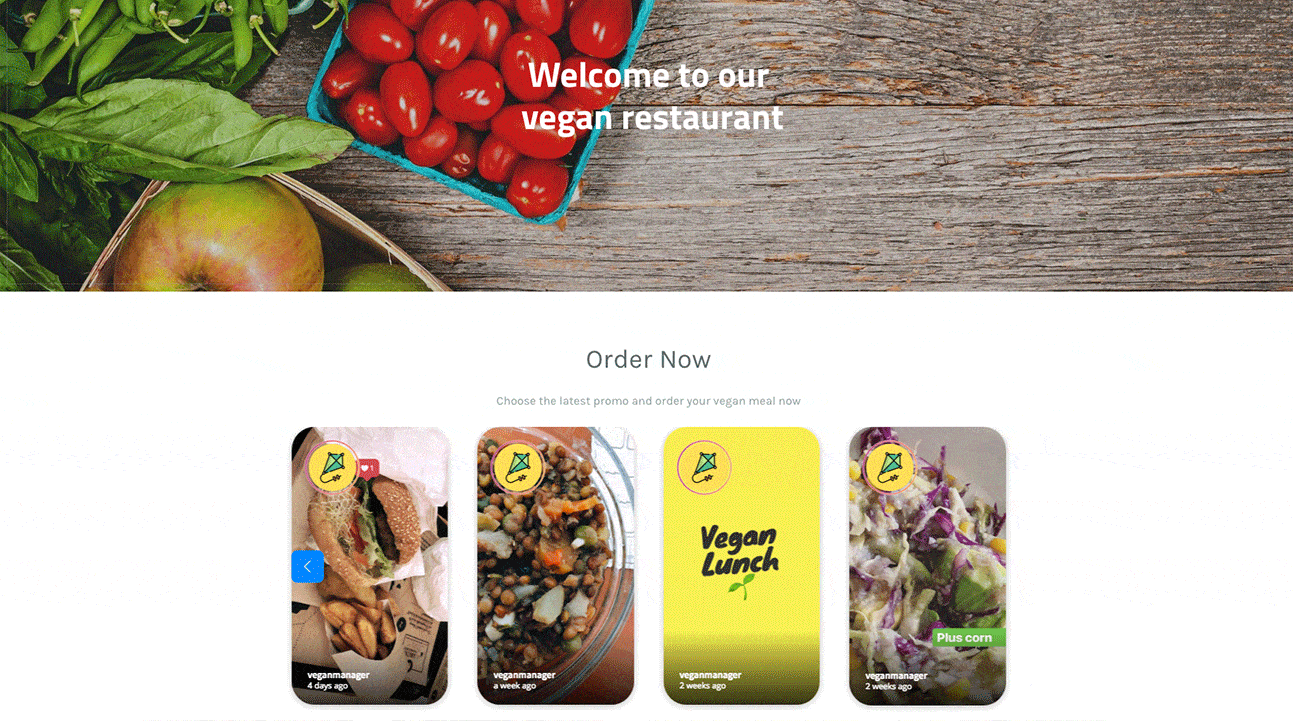 That's it.
The payment is securely processed, and you can see the payment record in your Envoice account.
In the following text, we will give you more details on how to generate the direct shopping link and how to add it to your Instagram stories.
How to create a direct shopping link?
Use Envoice platform and generate your shopping link in seconds.
To do this, first, you will need to create your product in Envoice and submit it's pricing and shipping information.
Once you've created your account, just follow the video below and create your first product.
After your product is ready, you will automatically get a link to its checkout page.
Navigate to the top menu and just click on 'Copy Checkout link'.
Now, you are ready to use this link in your Instagram stories or anywhere on your website, to help your web visitors quickly and easily purchase your product.
How to add the shopping link to my Instagram story?
Once you generate your direct payments link from Envoice, just log in to your EmbedStories account, or if you do not have an account, click here to create a new account and follow the steps below:
Navigate to 'Widgets'
Click on the story you want to edit or click 'Add New' to create a new widget
Navigate to the 'Call to action' tab
And just paste your shopping link in the 'Link' input field
Click 'Save'
Here is a detailed walkthrough video of these steps:
The call to action button with the direct payments link will appear on your Instagram story and you are ready to start receiving orders.
###
Now you are in a position to not just showcase your latest offer or product you are promoting in your Instagram stories, but also provide a clear link for your customers to purchase it in literally seconds.
Hope you will find value in this integration and we hope we can help you increase your website conversion rates and make more sales, with simple and affordable solutions.