Introducing Threads ?, the new public conversations app by Instagram. It is a separate app that has the potential to challenge Twitter and become the world's new text-based conversation platform for creators to share ideas, opinions, and creativity.
Instagram Threads App Features December 2023
Threads unveils keyword search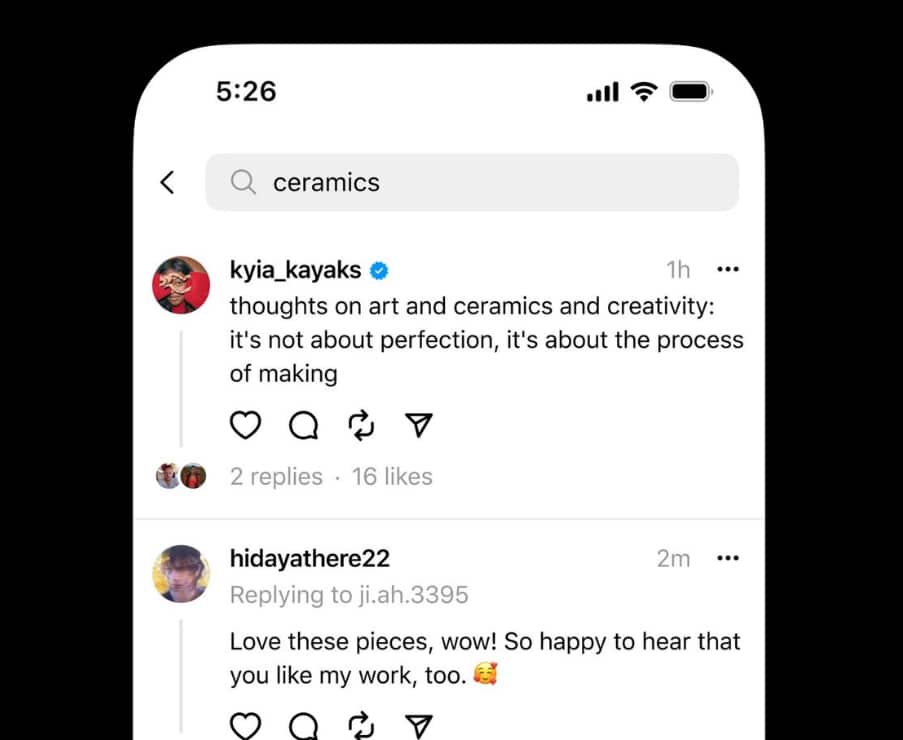 In a significant update that promises to redefine user interaction, the Threads app has rolled out a new feature enabling users to search for threads using keywords. This latest enhancement is set to transform the way users engage with the app, offering a more streamlined and efficient browsing experience.
The introduction of keyword search marks a pivotal shift in the app's functionality. Users can now effortlessly locate specific threads by simply typing in relevant keywords.
This feature is a boon for those seeking to quickly access particular discussions or topics, eliminating the need for time-consuming scrolling through numerous threads.
Threads set to launch in the European Union in December 2023
Finaly, Adam announced the great news – Threads is launching in. EU this December.
This expansion represents a strategic move by Meta, as the EU is a critical market for the growth of Threads, especially as the timing for overcoming the competition is perfect – keeping in mind the meltdown of X and its advertising revenue.
Previously, Threads was available globally, but the EU's stringent online service regulations presented a unique challenge for its launch in this region.
Instagram Threads App Features November 2023
Voice threads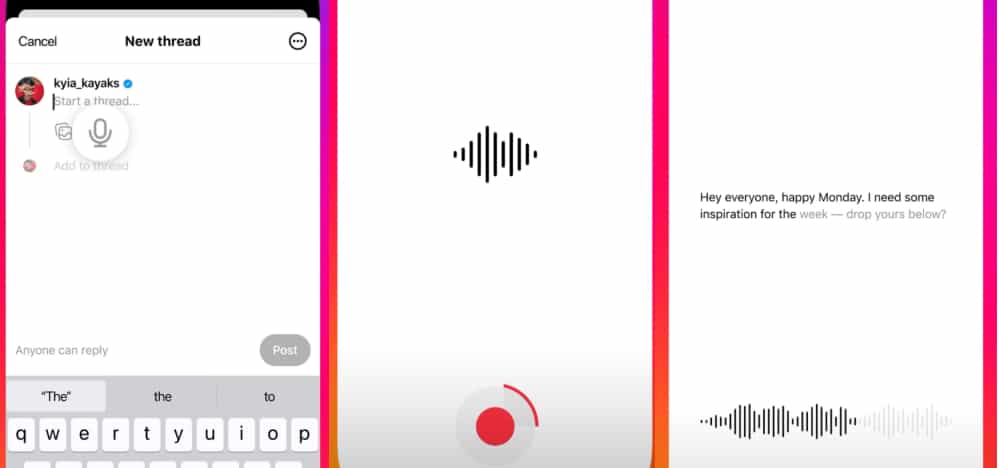 As Adam Mosseri, announced, there are new options this month, and voice threads are one of them. People now can tell stories in a more teacher way.
When a user wants to post a thread reply just tap the microphone icon and record what you want to say. The coolest thing about this feature is that the system will automatically transcribe what you are saying, and you can post the voice and the text of the transcript.
Cool right?
Edit button
Finally, for all users who want to correct their spelling, once they quickly post a thread, they will be able to click on an edit icon and correct the text within the first few minutes.
More features on Threads
Threads continues to improve its web interface to bring it up to parity with X.
In a recent Threads post, Mosseri outlined several upgrades to the platform:
You can now add and edit alt text on the videos and images they post on the desktop.
You can now drag and drop or copy and paste media attachments to your posts.
You can now see all the quotes and reposts of threads by clicking on 'likes'.
You can now add multiple posts to your thread post before publishing it.
All these updates aim to add crucial functionality to Threads as it looks to gain more ground on X, formerly known as Twitter. (edited)
Instagram Threads App Features August 2023
Here's what's new in the Threads app:
Threads Search is Coming soon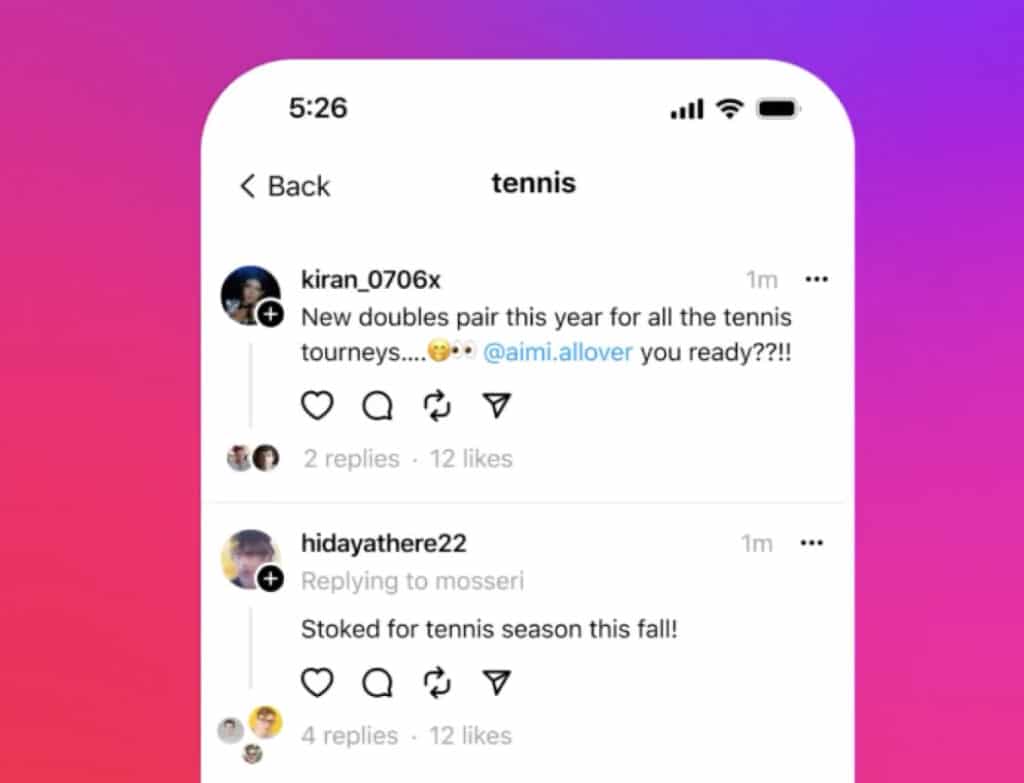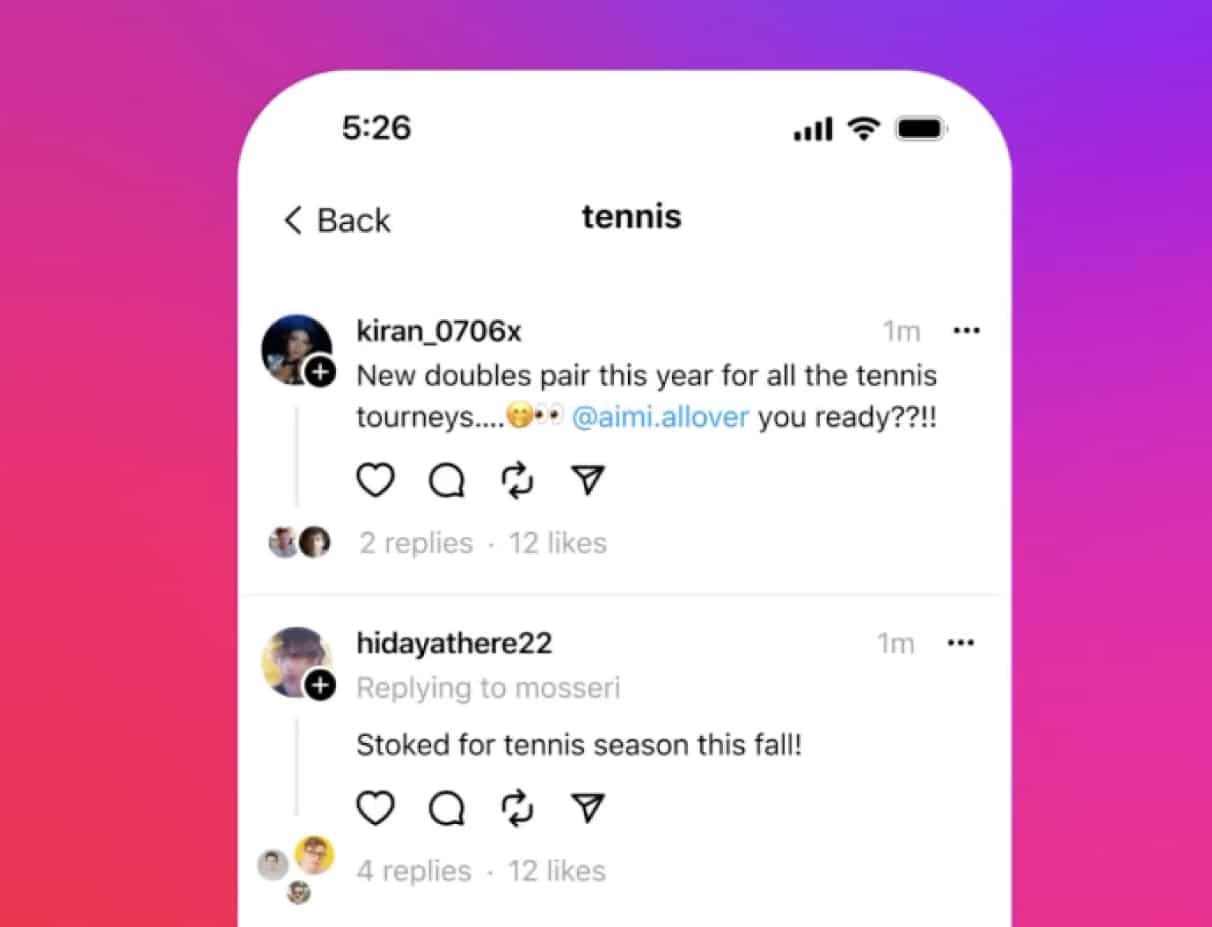 The Threads team is testing a new keyword search feature in Australia and New Zealand.
This will allow users to find posts about specific topics by simply typing in the keywords.
For example, if you are interested in learning more about cooking, you could type in the keywords "cooking" or "recipes" to see posts about those topics.
So, if you are based in Australia or New Zealand, you might be able to try this new search feature.
Threads.net is live on the web
The new desktop look for Threads is now available, and it includes a number of changes that make it more user-friendly and functional. Here are some of the key differences:
The navigation bar has been moved to the top of the page, making it easier to find the different features of Threads.
The For You and Following feeds have been combined into a single feed, making it easier to see your Threads activity in one place.
You can now like, comment, and share Threads posts from the desktop.
There is a new mention button that makes it easy to tag other users in your Threads posts.
You can now add custom alt text to your Threads posts, making them more accessible to visually impaired people.
These changes make Threads more similar to the mobile app, making it easier for users to connect with their friends and family on the desktop.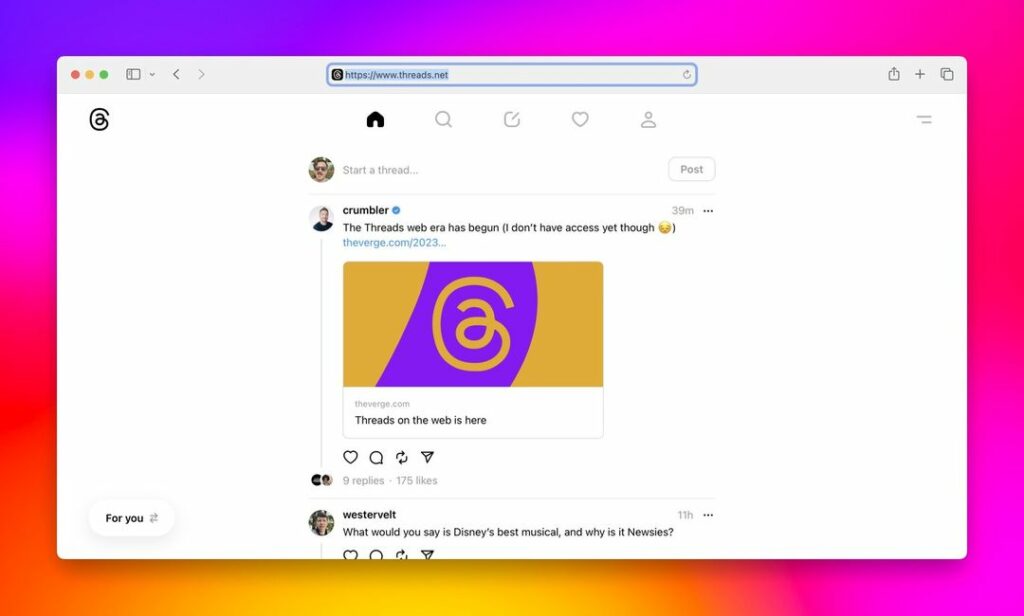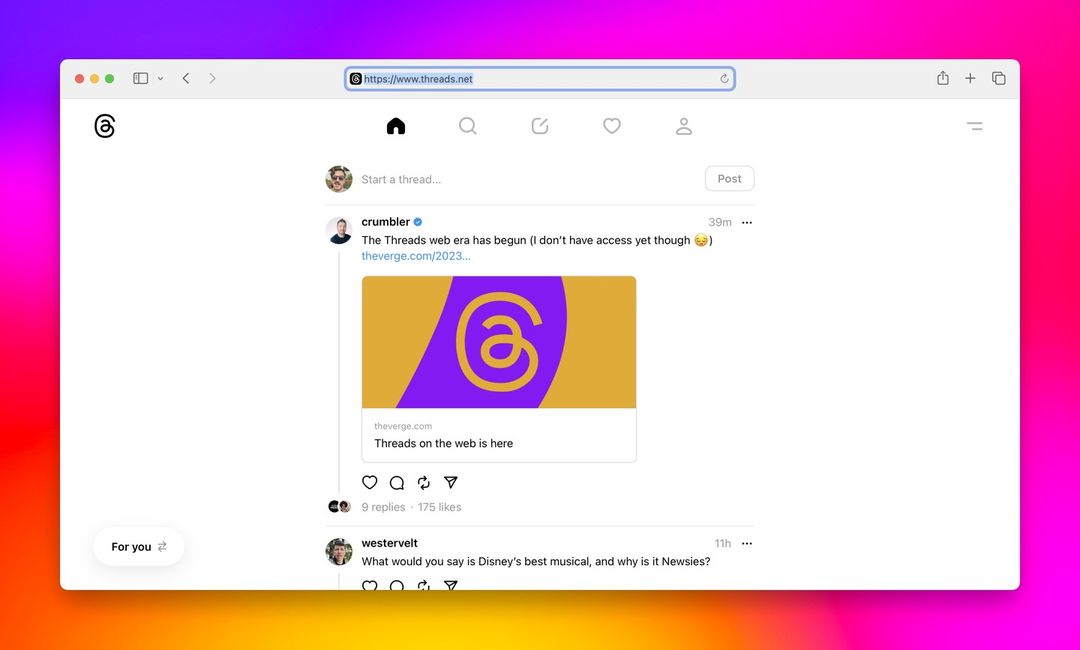 Here are some of the benefits of the new desktop look for Threads:
It is more user-friendly and accessible. The new navigation bar and the combined feed make finding what you are looking for easier. The mention button and the ability to add custom alt text make Threads more accessible to people with disabilities.
It is more functional. The ability to like, comment, and share Threads posts from the desktop makes interacting with your friends and family easier.
It is more consistent with the mobile app. The new look and feel of the desktop app makes it more consistent with the mobile app, making it easier to switch between devices.
Overall, the new desktop look for Threads is a welcome improvement that makes the app more user-friendly and functional.
Share threads in Instagram DMs
This is a great option to share threads to your Instagram friends. To do this, just tap the share button of the thread you want to share, and you'll now see "Send on Instagram" option. You will be redirected to the Share link screen in Instagram, where you can choose which person you want to send the thread to.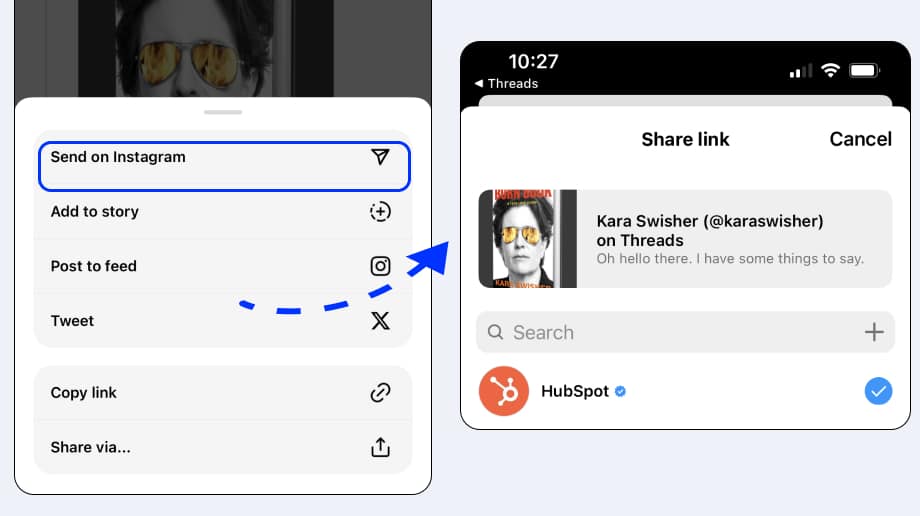 See all the threads you've liked
head to your profile, go to settings, and select "Your likes"
Sort the accounts you follow
To do this, go to your profile, tap your followers, head to following, and tap "Sort."
Add custom alt-text
When attaching your image/video, you now have the option "Alt text," where you can write the alt of the image or video. Useful for search and accessibility.
Rel=me links
They also rolled out Threads support for rel=me links to help you verify your identity on platforms like Mastodon. You can now add your Threads profile link on supported platforms to verify your identity. These are meaningful steps towards adopting open standards and the fediverse.
Instagram Threads App Features July 2023
Search for topics and hashtags – coming soon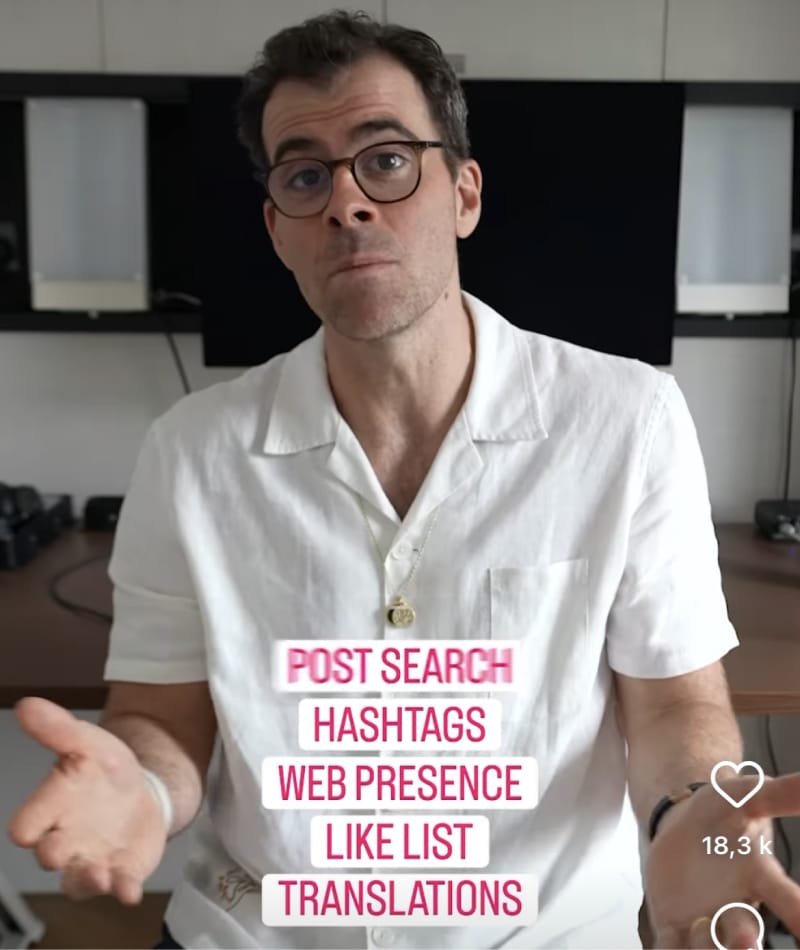 As Mosseri announced, the team plans to introduce a more robust search function, making it easier for users to follow topics and trends in real time. This will enhance the user experience by making navigating the app easier and staying updated on the latest trends. Furthermore, the app will include options to:
Switch to multiple accounts,

Post search,

Hashtags,

Web presence,

Ability to see everything that you've liked in one place

Translations,

and many, many, many more things.
Chronological feed – coming soon
Threads is continuously evolving, with plans to add several new features. These include improved recommendations in the feed, which will make it easier for users to discover new content that aligns with their interests.
Sharing short messages and updates
Threads are designed to facilitate real-time updates and public conversations. It allows users to create posts that can be up to 500 characters long. These posts can include various forms of media, such as links, photos, and videos. The videos can be up to 5 minutes in length, providing ample time for users to share engaging content. This feature enhances the versatility of the app, making it a comprehensive platform for sharing and communication.
Decide who can reply to your thread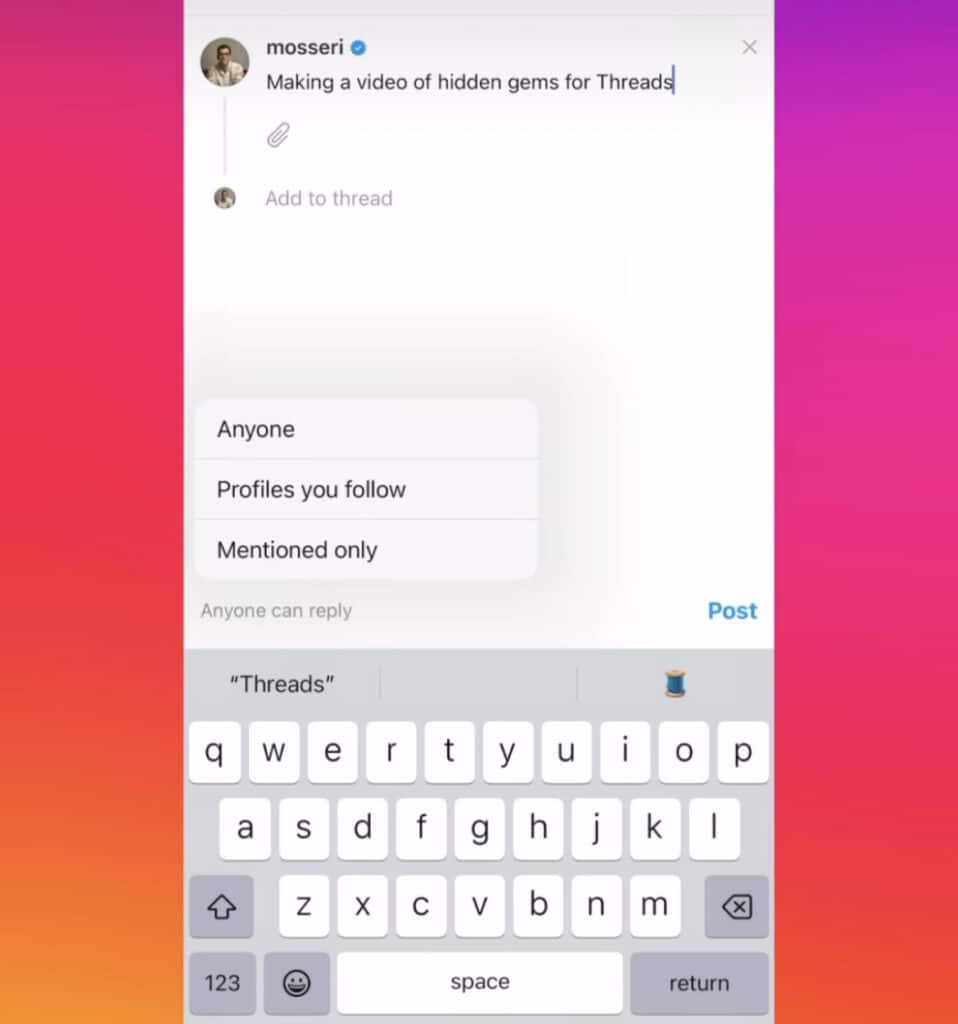 In Threads, you can decide who can actually reply to your thread.
To do this, at the bottom left, you'll see the text anyone can reply to, and if you tap on that, you can change from Anyone to the Profiles you follow.
And you can even change it to Mentioned only because sometimes you want to keep the conversation tight in order to keep it simple.
Shortcut to a new thread
If you hit return three times in the composer, the app will automatically start an additional post, so you'll have a thread right there in line and continue making productive conversations.
Quick follow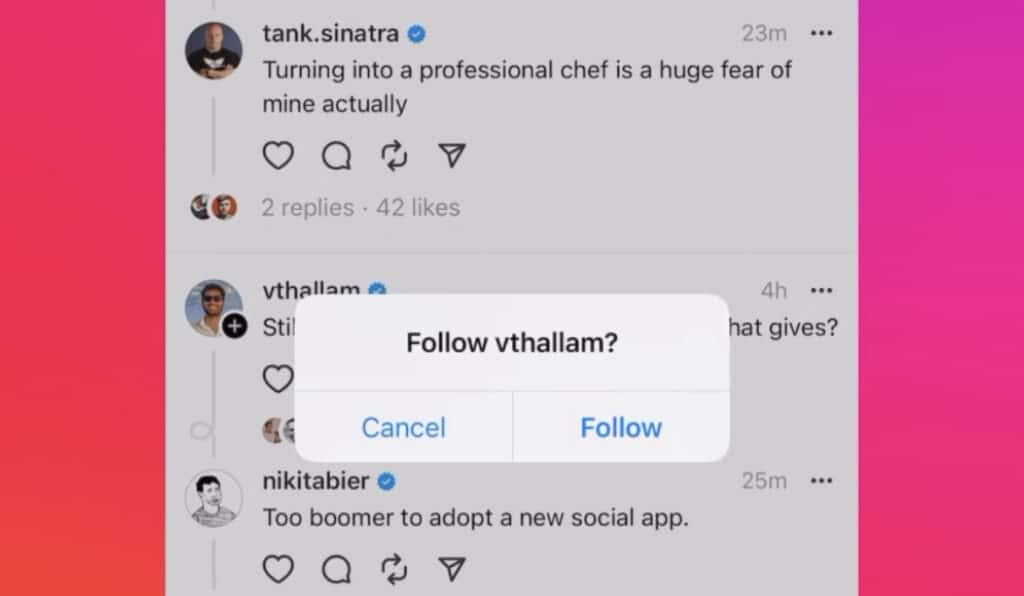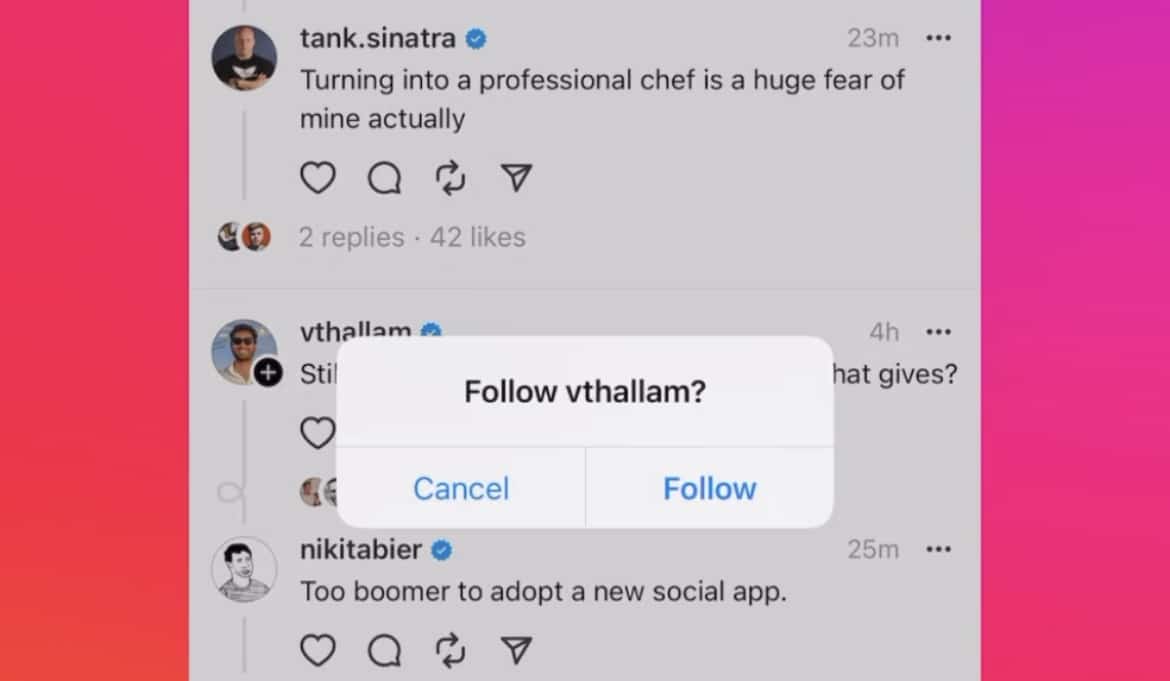 Now, the whole point is to help you find amazing things that you're interested in on threads. And as you go through it, you'll see that there'll be some posts from accounts you follow and some posts that we call recommendations from accounts you don't follow.
But if you see something from someone you want to keep seeing, you can decide actually to follow them right there in line.
Just tap on their avatar, and in the small popover, tap Follow.
Share in the Instagram app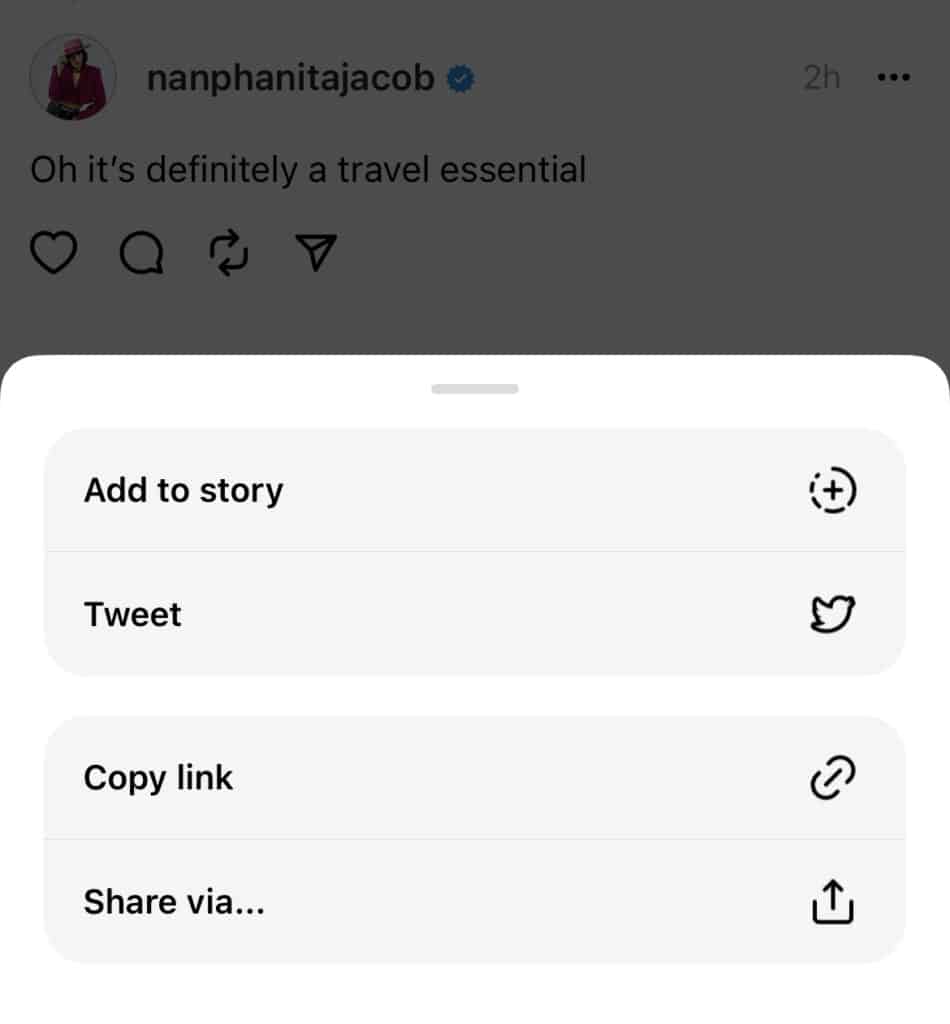 The Threads app integrates deeply with Instagram. There are quick options to share your Threads post from your Threads account to your Instagram profile. To do this, tap the Share icon below the post you want to share, and choose 'Add to story', 'Post to feed,' or even 'Tweet' to share the post on Twitter too. By doing this, users gain diverse and interconnected networks at the same time.
It is important to note that users can also share content on their Instagram accounts using the same options on the posts of their favorite creators.
Instagram account login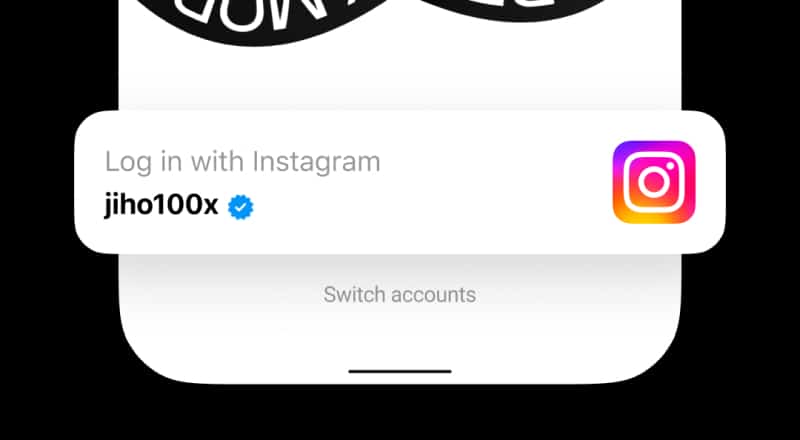 Threads integrate seamlessly with Instagram, and as mentioned above, if you have an Instagram account, you can connect directly and join Threads with literally one click.
Users can log into Threads using their Instagram account, ensuring a smooth transition between the two platforms. The username and verification status from the user's Instagram account will carry over to Threads.
Additionally, users have the option to customize their profile specifically for Threads, allowing for a personalized user experience. And finally, they can select to follow all their Instagram followers and instantly get a follow back and an initial number of followers on the Threads app too.
Quick mute and hide content from other people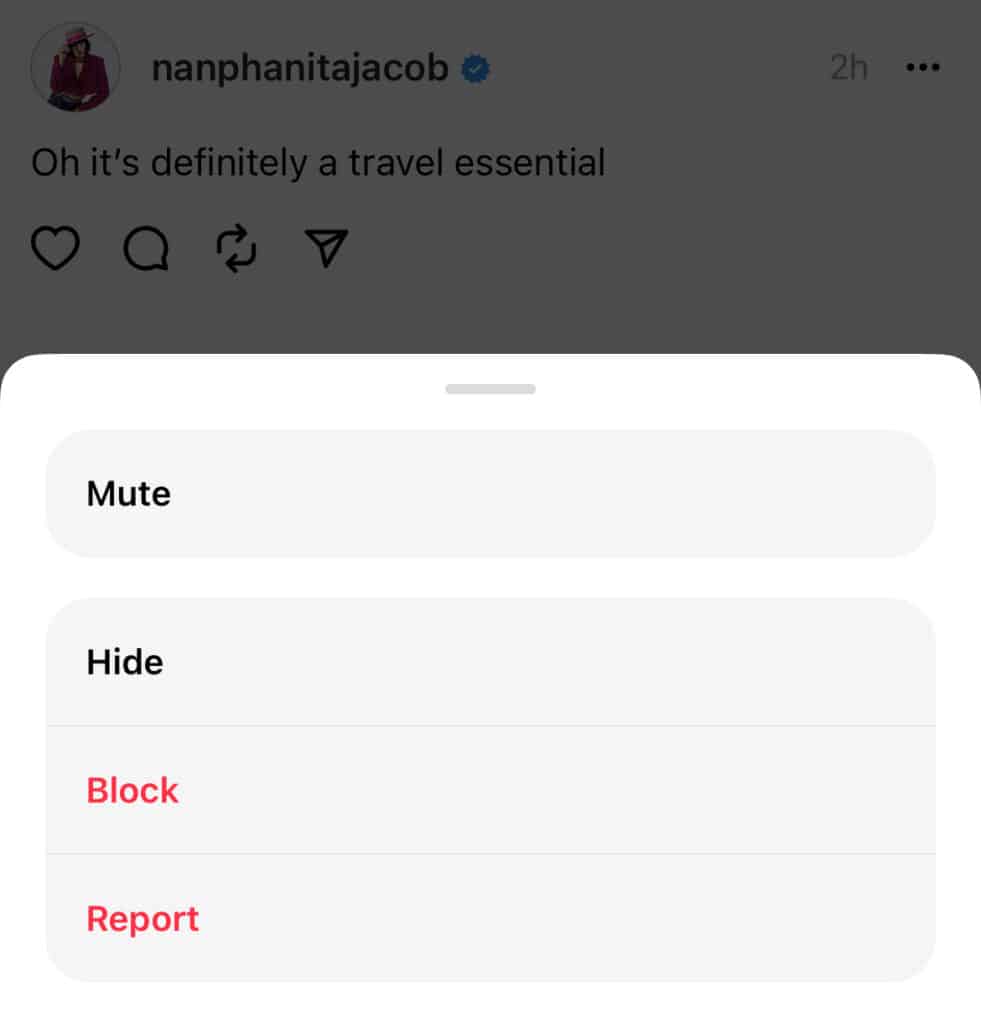 As Threads shows not only the post from people you follow on Instagram but also provides recommendations of posts from the people, you might want to control this and hide the content from people that Threads recommends.
To do this, use the three-dot menu for the person in the top right of the post; you want to stop seeing in your feed.
In the same screen, you will be able to Hide, Block, or Report the account.
Make a private profile on Threads
If you don't want to have a public profile on Threads, you can tap on the profile icon and, in the menu, toggle on the option to switch to a Private profile.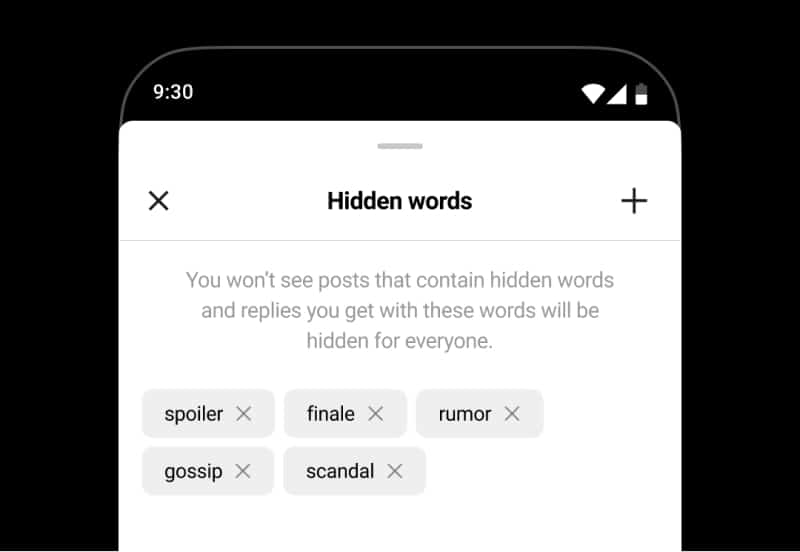 Threads prioritize user safety and privacy. It offers a range of controls that allow users to manage their interactions within the app.
To access privacy settings on the Threads app, tap on the bottom right profile icon and go through the available settings. Here you will find the option Hidden words.
The "Hidden Words" feature in Instagram's Threads app is a powerful tool designed to enhance user experience and promote positive interactions. This feature allows users to create a list of specific words or phrases that they wish to filter out from their Threads conversations.
When a word or phrase from the user's "Hidden Words" list appears in a reply or mention, Threads automatically filters it out. This means that the user won't see any content containing those specific words or phrases, providing a more personalized and comfortable social media experience.
This feature is particularly useful for combating online harassment, hate speech, and spam. By enabling users to filter out offensive or unwanted content, Threads empowers users to take control of their online interactions and create a safer, more positive social media environment.
Moreover, the "Hidden Words" feature can also be used to avoid spoilers or unwanted information about specific topics. For instance, if a user doesn't want to see any content related to a newly released movie or a trending event, they can add relevant keywords to their "Hidden Words" list.
Interoperability with Other Networks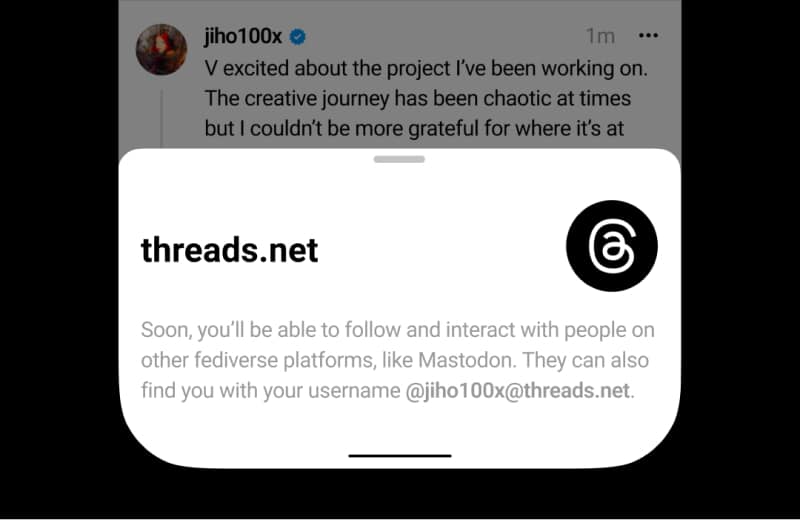 Threads are designed to be compatible with other Fediverse social networking platforms like Mestodon.
The app plans to work with ActivityPub, an open social networking protocol, to allow users to stop using Threads and transfer their content to another service. This means that posts made on Threads could potentially be accessible from other apps, expanding the user's reach without any additional effort.
What is Instagram Threads?
According to Instagram Head Adam Mosseri:
Threads ?, a new app from Instagram is here. Threads is for public conversations. We're hoping to bring some of what we've built for photos and videos on Instagram to Threads with text. Now the idea is there's an amazing community on Instagram and wonderful creators. We want to create a space where they can engage in public conversations that is friendly and that is open. And so we're going to bring a lot of the good tools from Instagram to Threads, things like hidden words and Restrict, which allow you to shake the experience into something.

What is Threads.net?
As much as people love joining public conversations, it is important to note that one of the main capabilities of the app is the ability to move followers to another platform. As advertised, the Instagram team is working to integrate Activity Protocol, which is the same technology behind the Mastodon server and network, a decentralized social network now. And according to Mosseri, they believe that allowing users to move followers to other platforms is very important:
If you're a creator, you should own your audience, and integrating into this protocol should allow us to enable you to take your followers with you to another server or app, should you so choose in the future. And we think that that would be incredibly important to offer the Crater community that's we're working on that and a number of other features to try to improve threads as quickly as we can. Let me know what you think down below in the comments and what features you'd like to see. There's a lot more to come really soon. Thanks so much.
Signing up for Threads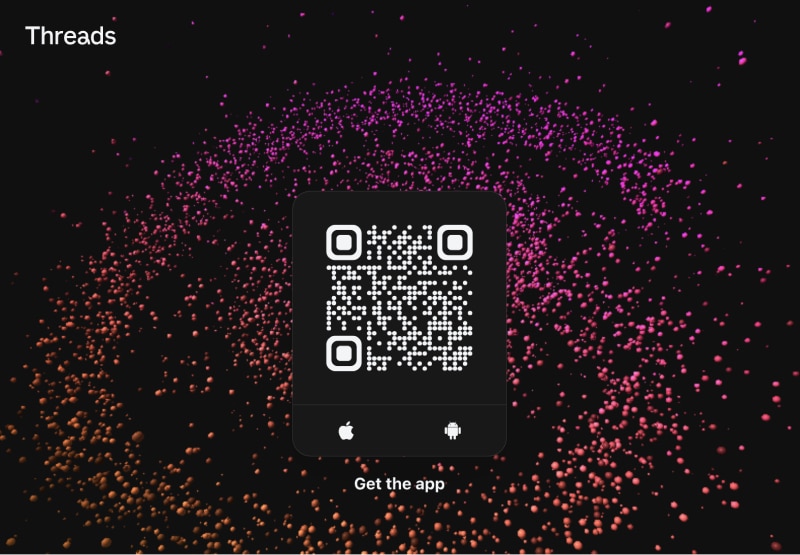 Signing up for Threads is a straightforward process; users can sign up with the same usernames as on Instagram. You can sign up for Threads through your Instagram account. Here's a step-by-step guide:
Download the Threads app from the App Store or Google Play Store. or go to the Threads.net website and scan the QR code.

Open the app and tap on 'Continue as [Your Instagram Username]'.

If you're logged into multiple Instagram accounts, choose the account you want to use with Threads.

You'll then be asked to choose the friends you want to add to Threads. You can select from your existing Instagram close friends list or choose a custom list.

Once you've selected your friends, tap 'Done,' and you're all set to use Threads.
Your Instagram username, password, and account name will remain the same in Threads. This seamless integration allows for a smooth transition between the two platforms.
Availability of Threads
Threads is a global app available in more than 100 countries and supports more than 30 languages. This wide availability makes it accessible to a diverse user base across the world. With its unique features and integration with Instagram, Threads has significant potential for growth. Its user base is expected to expand as more people discover its benefits and convenience. In its first days, it reached 100 million sign-ups, which is still unavailable in the European Union due to regulation challenges.
Threads vs. Twitter
While both social media platforms, Threads and Twitter, offer different experiences. Threads is a camera-first messaging app allowing you to share photos, videos, and messages with your close friends on Instagram. On the other hand, Twitter is a platform that focuses on public conversation and real-time updates.
One of the unique features of Threads is its integration with Instagram. You can share your Threads posts directly to your Instagram Stories, allowing you to reach a wider audience. This feature is not available on Twitter.
However, it's important to note that Threads is a relatively new platform, and it's still growing. While it could pose a threat to Twitter due to its unique features and integration with Instagram, it's too early to predict its impact as a Twitter competitor and its user base.
Challenges for Threads
Like any social media platform, Threads faces several challenges. These include preventing spam, harassment, conspiracy theories, and false claims. Ensuring user safety and maintaining the integrity of the platform is crucial for Threads. The platform needs to continuously update and improve its safety measures to tackle these challenges.
Threads also need to enforce its community guidelines and take strict action against those who violate them.
Conclusion- What to expect from the Instagram Threads app
Threads is the new Instagram's text-based conversation app with the goal of enabling positive public debates directly competing with Twitter. From its initial launch, the users have truly engaged in text-based messages, and Threads has become a very serious social platform.
It is built on ActivityPub, a protocol that will allow users to move their followers if they want to on another platform, making a bigger step toward creating interoperable social networks.
Whether you're a content creator, a social media enthusiast, or someone looking for a new way to connect with others, Instagram's Threads app holds exciting possibilities. As we continue exploring and adapting to this new platform, one thing is certain: Threads is a game-changer, and we're just beginning this exciting journey.
And finally, Instagram's Threads app presents marketers with a unique opportunity to tap into user-generated content, fostering more authentic engagement, building stronger communities, and gaining valuable consumer insights.
---
FYI: Embed Instagram widget automatically with the social media aggregator and UGC platform by EmbedSocial. Click below to try it for free: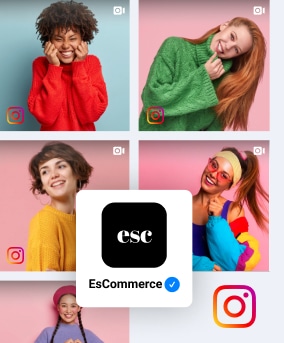 Embed Instagram widget on your website automatically!
Try EmbedFeed and display Instagram content from your feed, mentions, or hashtags on your website.
All PRO features | Cancel any time.
FAQ about Threads
Is Instagram Threads a messaging app?
Threads is similar to a messaging app but for public conversations. Users can use the same accounts as on Instagram and actually use the Threads app as a spin-off from their Instagram usage to start and engage more in text-based conversations.
Is Instagram Threads like Twitter?
Yes. It is a direct Twitter competitor, and as Threads users have significantly increased since its launch, it might completely change the social media landscape and become the most used text-based conversation app and space to discover what'll be trending tomorrow.
Is Instagram Threads available on the Google Play Store?
Yes. Instagram's Threads app is available as a separate new app on the Google play store. Download Threads for Android >
What is a Fediverse?
The Fediverse is a decentralized network of platforms that communicate with each other via an open protocol. Platforms in the Fediverse use various protocols, the most common of which is ActivityPub. Other protocols include OStatus, Zot, and Diaspora. These protocols allow different platforms to communicate with each other, creating a network of interconnected services. Threads.net is one of the platforms in the Fediverse.