Clear communication and well-defined goals are the keys to completing tasks accurately, especially in product or service promotion.
Many businesses use different tools for managing marketing communication, projects, and tasks, but some prove ineffective.
One way of improving the overall workflow is through marketing request forms which can be a helpful hand for clearly communicating and pinpointing instructions about the daily marketing activities from managers to staff members.
This blog post discusses why and how one marketing team should use marketing request forms in their day-to-day activities and how to use the best web forms builder to create these forms in seconds. 
Here is what's in it:
What is a marketing request form?
Marketing request forms are a simple but effective method for communication between the marketing department and whoever is requesting their activity.
There are different marketing request forms depending on who the request is aimed at and the project's substance.
This way of task communication clearly defines all project requirements, goals, topics, and budgets for marketing activities. Furthermore, request forms help multi-way communication within the company to be organized and understandable.
Here are some of the marketing request form examples a marketing team can use:
Project request form
Pitch request form
Budget request form
Design request form
Access request form
Each company can make its own internal marketing request form. Some companies may use a resolution request form when an issue occurs or a new employee onboarding request form when a new employee joins the team.
Benefits of using marketing request forms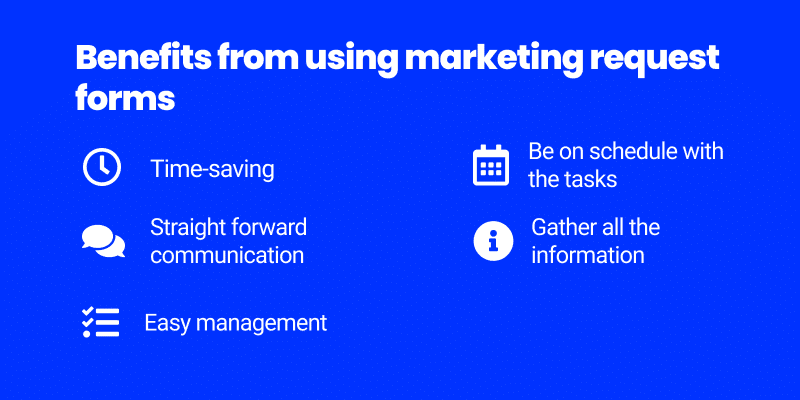 Marketing request forms should be channels through which all requirements for a particular task are transmitted to the marketing team.
Therefore, marketing request forms bring benefits that contribute to better accessibility, overview, and more precise task execution.
In the following, we explain how any marketing team can benefit from this kind of task organization.
Time-saving
Time is precious in every aspect of the job, and using these forms can significantly speed things up, especially when the team has a due date to get things done.
Furthermore, given that a detailed project description and all the crucial information are put in one request form, the time saved on the back-and-forth communication is an obvious and positive result of using marketing request forms.
Learn more: Online Job Application Form Template
Straight forward communication
Diverse marketing teams have members in different positions responsible for promoting the product or service in multiple ways.
That being said, using marketing request forms can also help the application reach the right person.
For example, if you are looking for creative designs for a particular landing page, creating a marketing design request form can inform the graphic designer of the new task, the start date, and the new project's objective.
Easy management
In the sea of marketing requests establishing and prioritizing tasks can get overwhelming.
Remote workers or outsourcing companies may use different communication channels like emails and apps to get in touch with their managers, employers, and clients.
Marketing request forms can be a helpful tool for this issue since all the requests arrive in one place and to the right person. From here is easier to prioritize tasks and organize the daily tasks.
Read more: 10+ Email Survey templates
Be on schedule with the tasks
In addition to containing the main instructions, such forms may also have a field for the end date by which the task should be completed. In this way, the completion date of each of the projects is more organized, and the time management approach is more accessible.
Moreover, the team knows how many business days it has to complete the task on time.
Gather all the information
There are pre-made marketing requests forms templates, but with the help of online form builders, they can be customized according to everyone's needs.
This means that each form can contain fields by your choice that will gather all the necessary information for a particular request.
5 Marketing Request Forms Examples
Marketing project request form 
Does anyone from the team want to propose a redesign for the company's business cards?
Project request forms are a fantastic asset for suggesting fresh and new ideas. Marketing Project request forms contain the framework or all the criteria that a project should hold. 
Therefore, anyone from the company can use a marketing request form to clearly explain his idea for the new project, suggest print materials and explain the purpose of the new business card design.
Required field: Long text/paragraph for explaining project objectives
Owner: Marketing manager
Frequency: Occasionally, for bigger project proposals
Best use for: Proposing new and bigger ideas that need to be implemented
Use case: The customer support finds out that the copy of the website does not explain the purpose of the product clearly enough to the website visitors. The CS team can submit a project request to the marketing team ask the team to find a way for better product presentation through copy.
Pitch request form
Many marketing teams gather their ideas during brainstorming or pitch meetings and decide on the daily task from the discussion made during those meetings.
A pitch request form or creative request form where the team can submit its ideas can be suitable for preparing and gathering ideas before the meeting. 
Required field: Long text/paragraph for explaining the ideas
Owner: Content manager
Frequency: Regular use
Best use for: Brainstorming new ideas for blog posts and content strategy
Use case: A content creator finds out about new SEO ranking trends that can significantly change the ranking of the website. The content creator can submit this information and the ideas about SEO improvement and discuss them at a meeting later.
Budget request form
Budget request forms can come in handy for the PPC specialist. With this type of marketing request form, the PPC specialist can request a budget for a new campaign, and the manager will clearly understand the project needs, target audience, and other requirements that are important for budget approval.
Required field: Total budget number
Owner: Marketer managing budget or someone from the Financial department
Frequency: Regular use
Best use for: Requesting budget for new social media marketing campaigns.
Use case: PPC specialists can ask for more budget for a particular campaign if they notice a good opportunity for promotion
Design request form
Design request forms are a great way to request a precise and clear design from a graphic designer for a particular project.
Suppose you want a new webpage design. Through this form, you can specifically indicate what designs and which copies should be used for the creative part so the designer to complete the work on time.
Furthermore, you can use the file upload option and attach photos for the designer to visualize your idea.
Required field: Image upload option
Owner: Graphic designer or marketing specialist
Frequency: Whenever bigger design changes are needed.
Best use for: Creative requests for new marketing campaigns or bigger redesign needs.
Use case: Content creator notices that the images in a particular blog post are outdated and no longer relevant, affecting the page rank in Google searches. The content creator can use this form and ask the graphic designer to change the photos, attaching an example of a relevant photo that ranks well on Google.
Access request forms
Does your team have many management, optimization, graphic design tools, or social media accounts? Maybe some of the tools have limited account access and can be used by one person at a time. 
On the other hand, granting someone access to your accounts can also be a considerable risk. Account request contact forms are an excellent way to keep track of who used your accounts and for what.
Our example includes fields like contact information and duration so that the managers can collect information about the toolkit.
Required field: Software name or Software dropdown list
Owner: Usually, office administrators
Frequency: Regular use
Best use for: Easy account management and access to internal tools
Use case: One of the company's members requests access to a file where the company's important marketing data and statistics are stored. Through this form, office administrators can easily track who needs access to the data and for what purpose.
Learn More: 10+ Request a quote website template
How to create a marketing request form?
If you are interested in managing communication to some degree with marketing request forms, then you may like to create a few of your own.
Below we explain how you can create your marketing request form using EmbedForms.
1. Choose start from scratch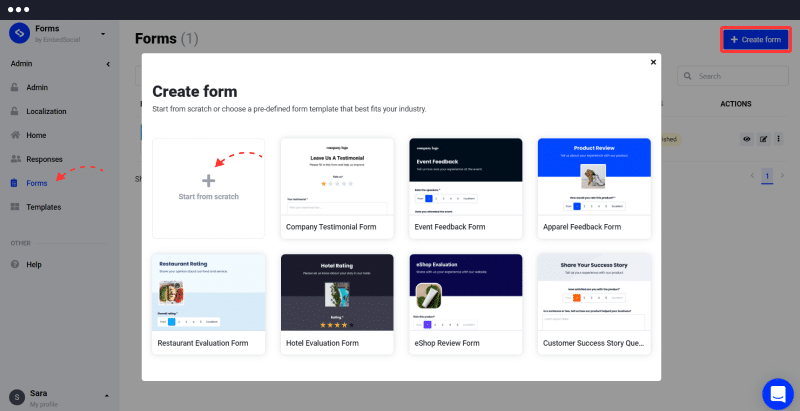 2. Choose a field type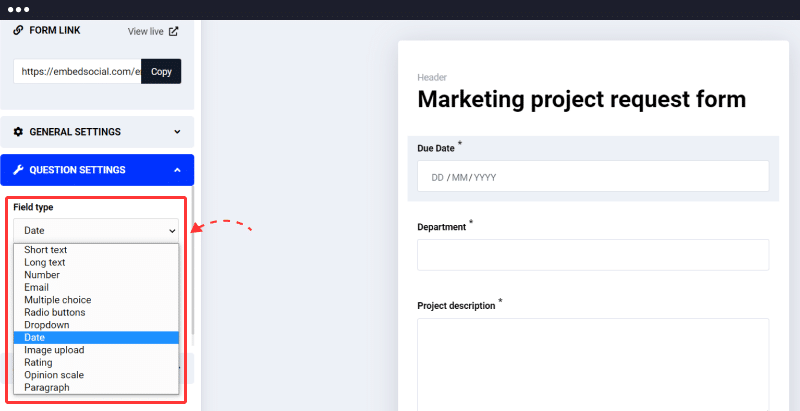 3. Name your form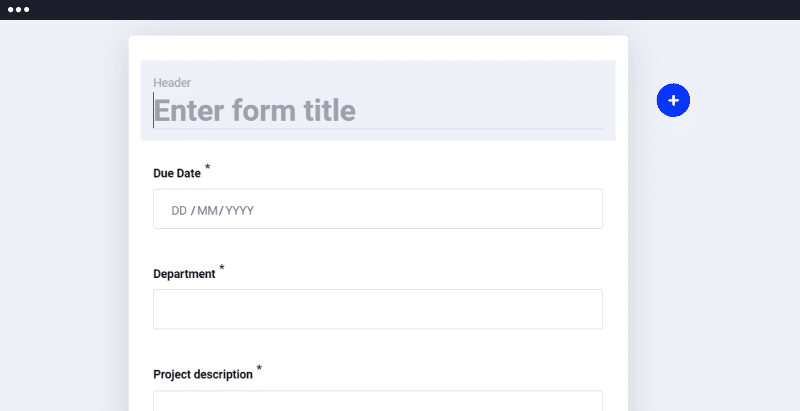 4. Save, publish your form, and share the link with your marketing team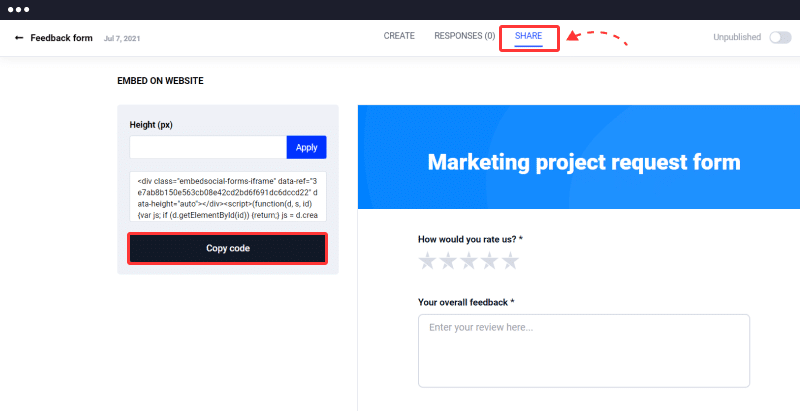 How to apply the marketing request form process?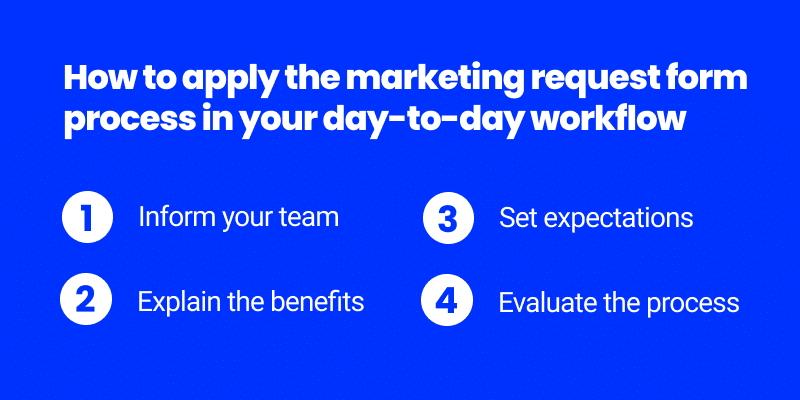 Changes made in work communication can often encounter resistance from employees, especially if a particular style is already accepted.
Change is not easy, but a business must achieve better results.
Below are a few steps to help you integrate this new process into your marketing team easily.
Inform your team
Straightforward communication is the easiest way to inform the marketing team of the changes. Explain the idea behind the new type of communication, why it is implemented, and how it will work.
Explain the benefits
Don't forget to include mentioning the benefits for your employees. Explain the advantages of using marketing request forms and the possible obstacles that the team could face.
Set expectations 
Communicate clearly what the expectations are using the marketing request forms. For example, you may expect your marketing team to do the following:
Use marketing request forms every time you have a new project idea
Use marketing request forms for design requests so we can save time on back-and-forth communication
Evaluate the process
Once some time has elapsed since using this process, an evaluation should be made to determine what worked, what did not, whether the user experience runs smoothly with the new approach, and if there is anything that needs to be improved.
Wrap up
For the marketing team to achieve the goals, they must first be clearly communicated.
And in a dynamic environment, managers, team members, and clients often get lost in all the ideas shared between them.
That's why marketing request forms are an excellent tool for the team to stay organized and productive and perform their tasks on time.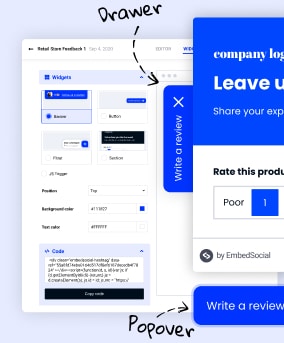 Build all your web forms for free
EmbedForms is the only form builder you will ever need to capture web leads, create surveys or collect feedback on your website.
Free forever | Live support available