Customer reviews are the lifeblood of any brand. They influence purchase decisions, build credibility, and can even affect search engine rankings. But here's the catch—reviews are scattered across multiple platforms, making it a Herculean task for brands to monitor, analyze, and leverage them effectively.
The solution: review aggregators – powerful tools that compile feedback from lots of sources into one accessible platform. But these aggregators aren't just beneficial for consumers looking to make informed decisions; they offer a goldmine of insights for businesses, too.
Let's give you the scoop on why review aggregators exist and present you with the best review aggregator platforms and software apps out there that can boost your business in no time!
What are review aggregators?
Review aggregators are websites that gather user-generated feedback on various goods, services, companies, and other consumer-related experiences. Typically, they offer written reviews, professional testimonials, and UGC collected from various websites, blogs, social media channels, etc.

Review aggregator meaning
The main purpose of these platforms is to offer consumers a curated summary of what others like them are saying about commercial products and services. Upon visiting them, you often find a collective average score or rating about the product in question and various review samples.
That way, you can quickly determine the worth of the item or service without searching the internet. Plus, you'll see the viewpoints of a diverse spectrum of individuals that cover every aspect of the reviewed product, allowing you to make the best decision possible.
Review aggregators usually use algorithms to evaluate and display this data in an approachable manner, facilitating your ability to contrast choices and select the best one.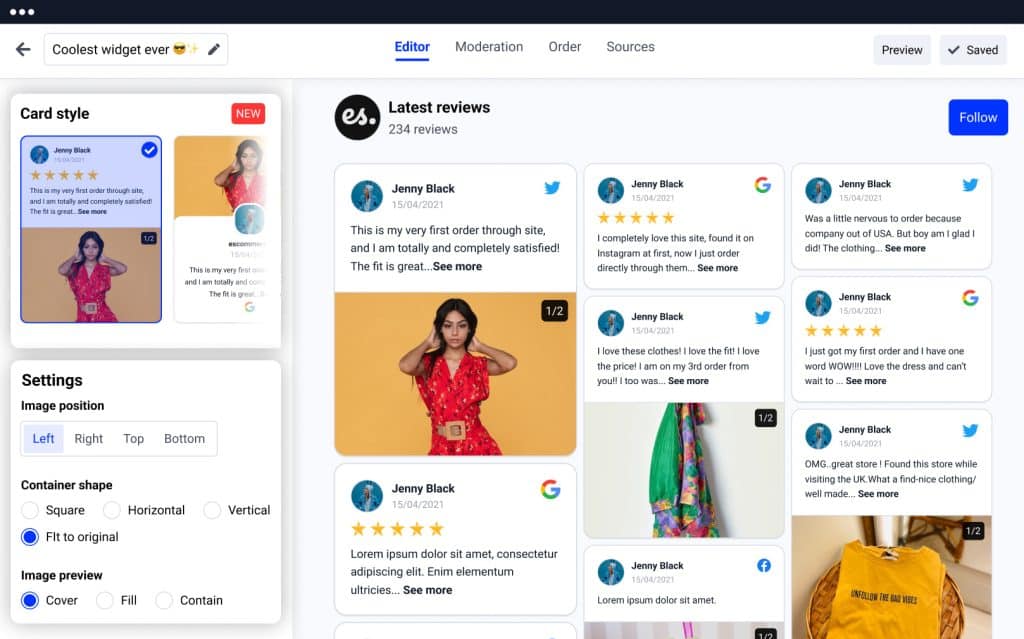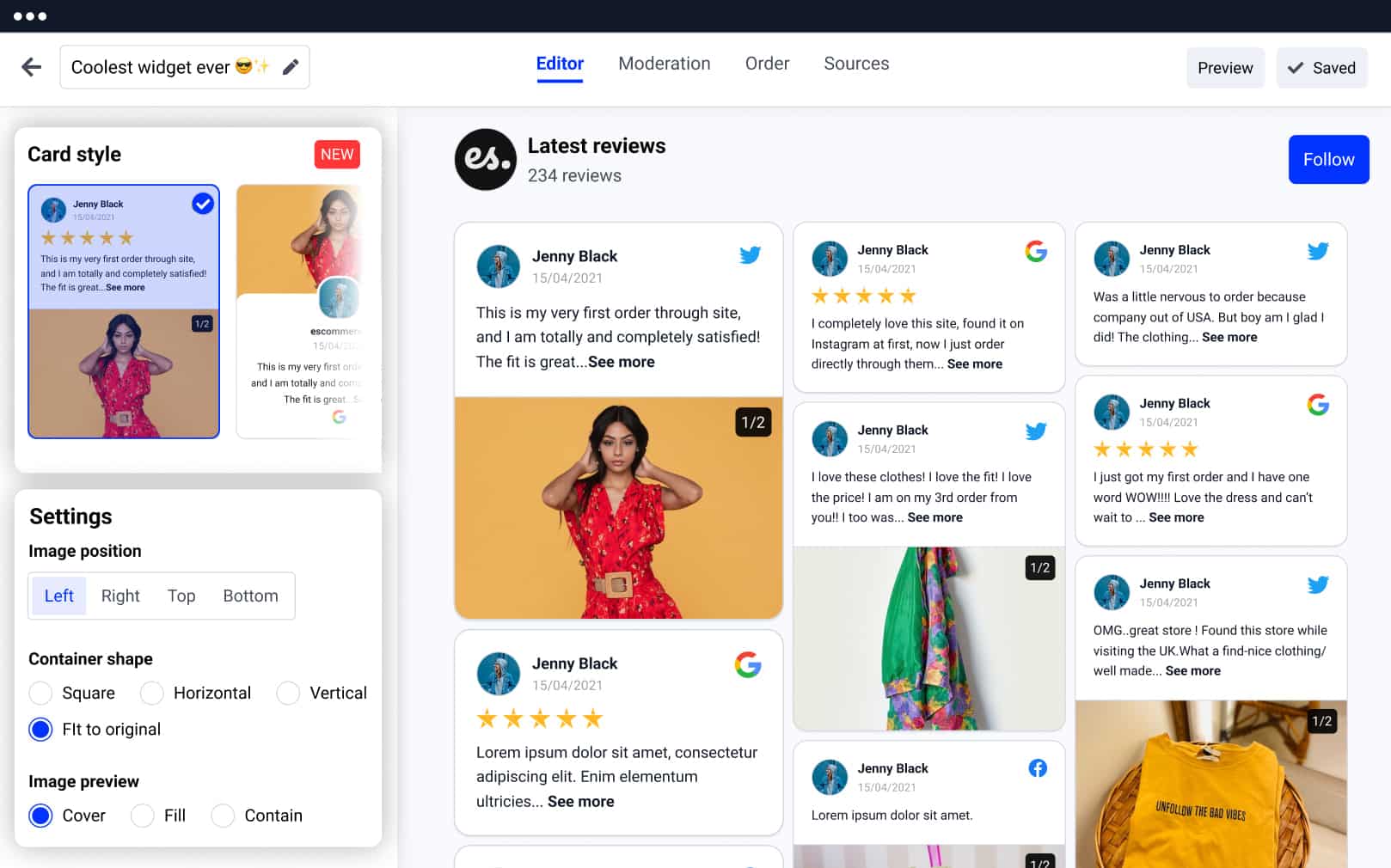 How do review aggregators work?
Advanced review aggregators use direct API integrations or search the internet to gather every user review or other type of customer feedback they can find about a brand's products and services from various sources.
Initially, review aggregators collect data by implementing sophisticated web crawling algorithms to get search results through forums, Google search, social media platforms, review sites, related web pages, etc. This is a more 'unethical' approach and may lead to bans; that is why the best is to use a platform like EmbedReviews that uses direct API integrations with the reviews websites.
Then, they organize this data and display it in a simple and readable format with various filtering options.
Moreover, tools like EmbedReviews provide a versatile solution: they both collect reviews and other user-generated content from diverse online sources (websites, social media sites, etc.), and they allow users to manually upload every feedback they receive, including word-of-mouth and physical welcome books.
Here are the practical steps of how review aggregators like EmbedReviews work: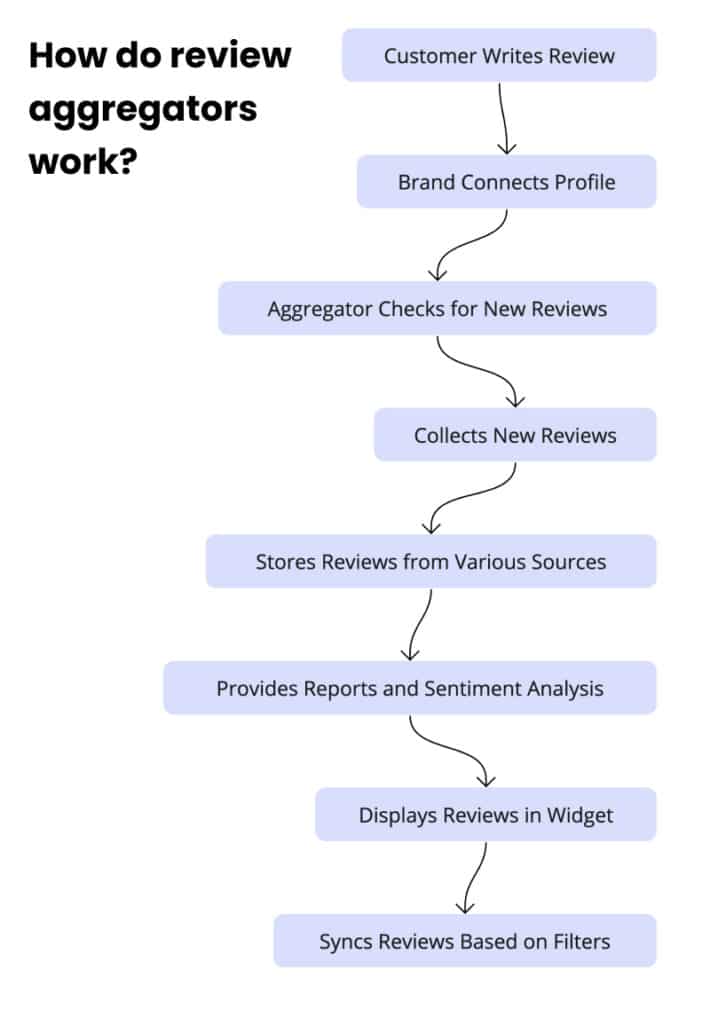 This flexibility ensures that all valuable review and testimonial is incorporated into the review aggregation process, providing a holistic view of customer experiences. Therefore, when a business values customer feedback, its success can only increase.
Note: Some platforms, such as Yelp, do not allow scraping for reviews.
4 reasons why you need an aggregator for online reviews!
Review aggregators come with several benefits for businesses, including building and managing their online reputation, influencing customer behavior, increasing online visibility, identifying problem areas, attracting new customers, etc. Let's dive deeper into some of them.
1. They provide social proof of your product quality
Let's not kid ourselves: we often buy or subscribe to something because others have gotten it and swear by it. That's what favorable reviews do for brands, local businesses, and consumers—they tell you whether the new car, clothes, restaurant or anything else you are considering is worth your money.
Most businesses nowadays have started recognizing the power of social proof, i.e., honest and positive reviews, to show the public that their offer is of excellent quality.
For instance, check out how Florence by Mills—Millie Bobby Brown's beauty brand—is banking on their customer's reviews to convince other shoppers to join in the fun!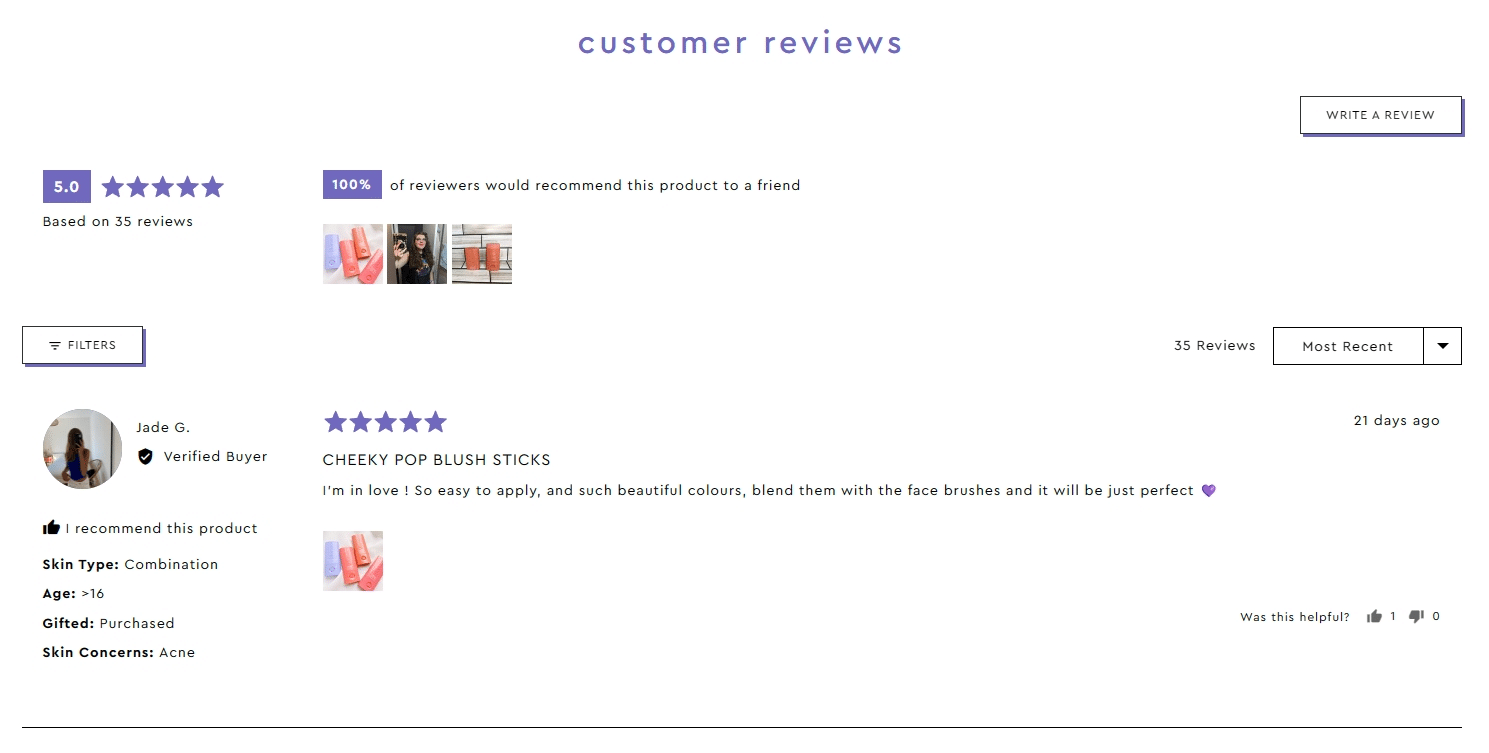 Do you know how they did it? They used EmbedReviews to collect all their reviews and place them in an embeddable widget on their website. They even customized it with their branding and style!
2. They contribute to your reputation management
Using review aggregators for collecting reviews can help businesses efficiently and easily manage their reputation, especially local ones, as they offer a single, central location for all client reviews.
Think about a restaurant that receives criticism from a variety of sources. These evaluations are collected and organized by a review aggregator, enabling the restaurant to react and respond to favorable and unfavorable comments quickly.
This simplified process demonstrates a dedication to client happiness and makes it possible for the business to handle complaints to improve its online image.
Businesses can get new reviews and then showcase these reviews on their websites as social proof.
Here's an example of Oval Motel, using the Google reviews badge to show their high 4.6 Google rating from 1412 reviews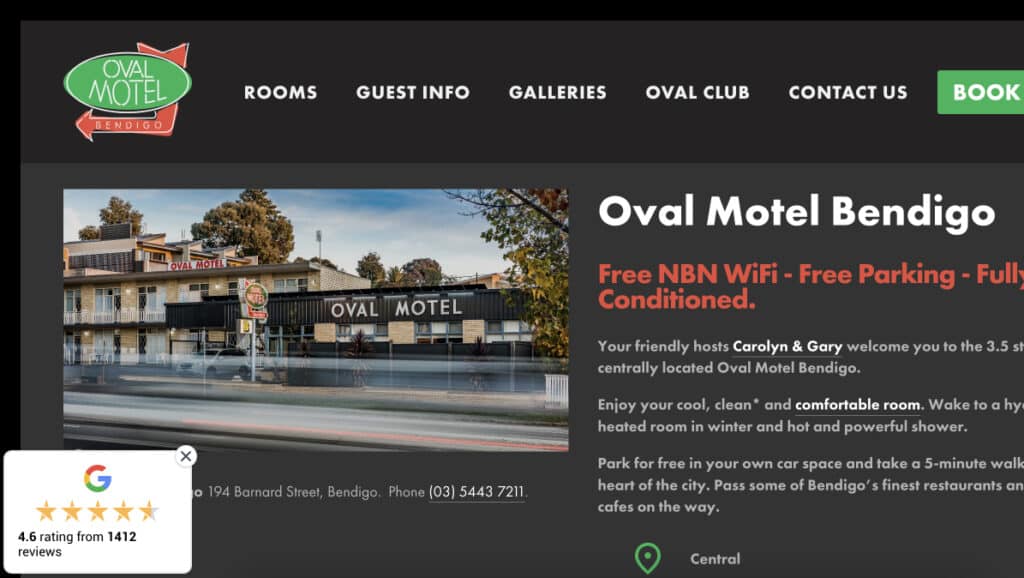 3. They help you gain a competitive advantage via valuable insights
Data is very important today, and the information provided by review aggregators is invaluable to businesses since it offers insights into the preferences and opinions of their customers.
By understanding client input on features, services, cost, or delivery, companies could improve their marketing tactics and make sure that their products and services are exactly what the consumer wants and needs. By efficiently meeting changing customer trends, this data-driven strategy promotes product innovation and puts companies ahead of the competition.
For example, if you own a hotel, you'll get online reviews on different online platforms, including Google reviews, Booking, Tripadvisor, etc. With a review aggregator, you can collect, analyze reviews, and use these reviews to improve your services and stay ahead of the hotels nearby.
Here's a review that could help this hotel improve further:

4. They help you increase customer engagement
Engaging customers is essential to fostering brand loyalty. An online review aggregator increases engagement with more customers by displaying positive testimonials that prompt interaction when customers leave reviews.
Let's consider the same hotel again—the business can showcase its remarkable service by compiling all the best reviews, thus creating a captivating story for its brand.
These encouraging testimonials will increase customer satisfaction and confidence and draw in new business when posted across social media or the company website.
Check out this example from a Dubai hotel: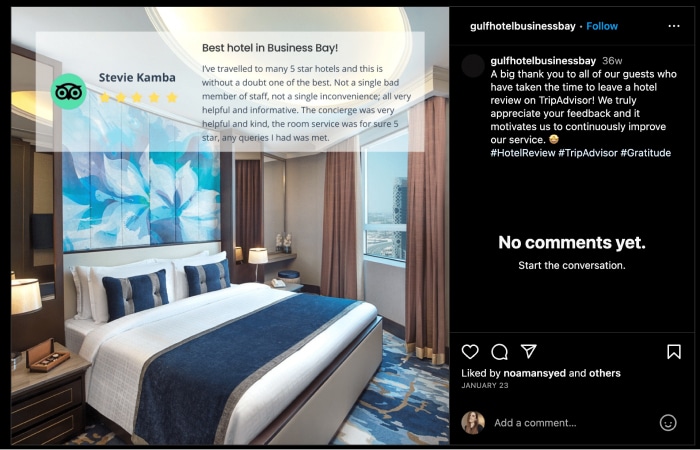 Furthermore, a review aggregator can assist in spotting patterns in consumer feedback, allowing companies to interact with clients proactively, respond to issues, and create a feeling of community—all of which reinforce the relationship between the business and its customers.
What are the limitations of review sites and aggregators?
Review aggregators have some limitations, including but not limited to the following:
Occasional fake reviews
Fake reviews on review aggregator sites are a major drawback. Even with measures taken to verify users, skewed or fake reviews still get through. This damages the platform's reputation and may mislead potential customers, which might hurt the business they were considering.
Limited scope
Many reviews are written by customers who have utilized the product or service properly, which leads to reviews that don't give a complete picture of the benefits or limitations of the product. Users may overlook features, functions, or subtleties that can greatly impact people's choices.
Limited sample size
Some niche markets or products may also deal with a limited sample size of reviews, which is inadequate to determine the consensus about a business. A lack of reviews from different demographics might distort the perception of the product's quality.
Reliance on third-party vendors
Review aggregators frequently get their data from outside service providers—a dependence that may cause disparities in the provided information. These suppliers may also change their algorithms, rules, or data-gathering techniques, thus impacting the consistency and quality of reviews.
Biased user reviews
Users typically write reviews after a very happy or terrible experience, which skews their opinions about the product or service. This bias can provide a misleading perception, making it difficult for customers to evaluate the product impartially based on user reviews.
5 best review aggregation platforms for 2023
Now, let's explore the platforms shaping how we navigate consumer feedback, ensuring the most comprehensive and up-to-date information backs your decisions. While we have a comprehensive text for the 7 best review platforms for 2023, here's a brief sneak peek:
EmbedReviews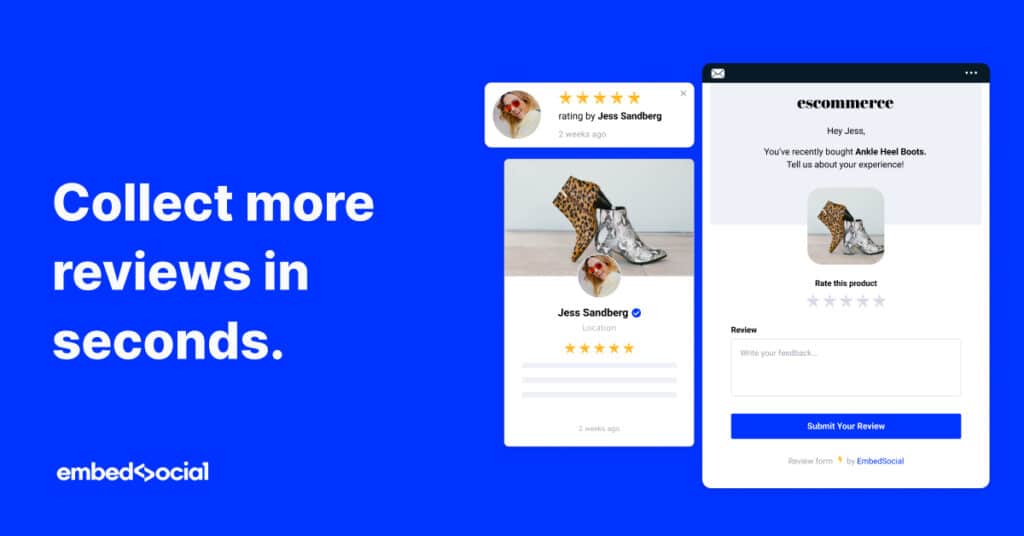 EmbedReviews is a comprehensive online reviews management tool that automatically generates all of your customer reviews and displays them on your website as a review widget.
Powered by AI algorithms, EmbedReviews can integrate every type of review you can think of, including Facebook reviews, Google reviews, email testimonials, review forms, etc.
It has a very overfull integration with Google's API, and it can not just generate the reviews published on your Google My Business profile but also provide the potions to respond to reviews from its dashboard.
Additionally, you can use 50+ review widgets from its robust widget templates library. To get started and embed your new Google reviews widget, choose the one that most fits your brand:
Pricing:
Pro plan – $29 per month

Pro Plus plan – $49 per month

Premium plan – $99 per month

Enterprise plan – custom price based on the number of review sources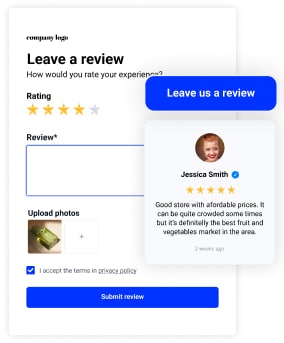 Collect reviews and display testimonials wall of love widgets
Try EmbedReviews, collect and display reviews widgets on your website. Automatically.
All PRO features | Cancel any time.
Birdeye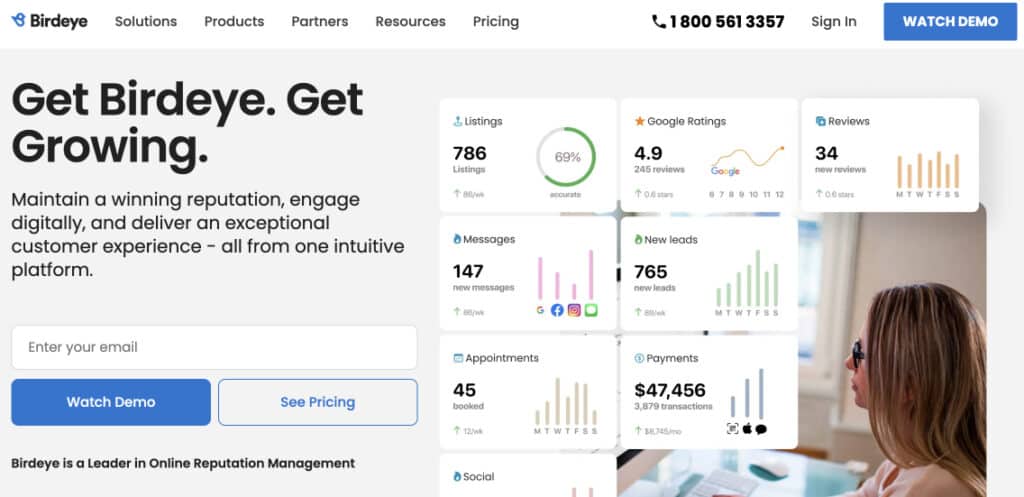 Birdeye is a SaaS platform that gathers real-time customer sentiment, ratings, and feedback from every channel, including social media, review sites, and surveys.
In a world where customer reviews are scattered across multiple platforms, businesses constantly struggle to manage their online reputation. Birdeye, as an advanced reviews aggregator, offers a streamlined solution to this problem.
It's a comprehensive platform that goes beyond collecting reviews. It offers extensive tools for reputation management, customer experience improvement, and even social media integration.
Pricing: Customers fill out a pricing configurator for a customized pricing quote.
Podium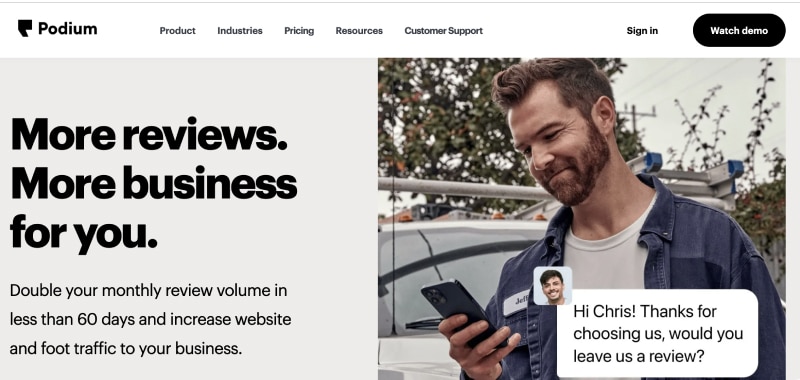 Podium is a lead conversion platform that assists companies in managing client connections and establishing an online presence via various tools, including text messaging.
Podium makes review monitoring and management easy by combining customer interactions and internet reviews into a single location. You may communicate with existing and potential clients through text messaging, issue review invites, see customer concerns, and instantly reply to them.
Pricing: Free trial available; paid plans start at $249.
NiceJob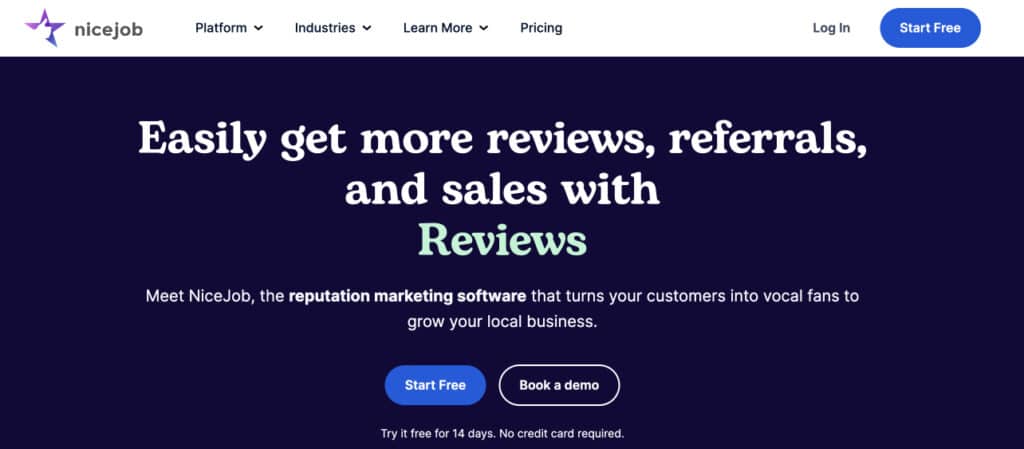 NiceJob assists businesses in tracking sales, referrals, and reviews. It has good and poor review management, an email and SMS request system, and a review monitoring system.
The platform's underlying technology distributes reviews from local listings to several online destinations while also automating gathering reviews from your company listings.
Pricing: Depends on the number of customers you serve and starts at $75/month for up to 2,500 customers.
Capterra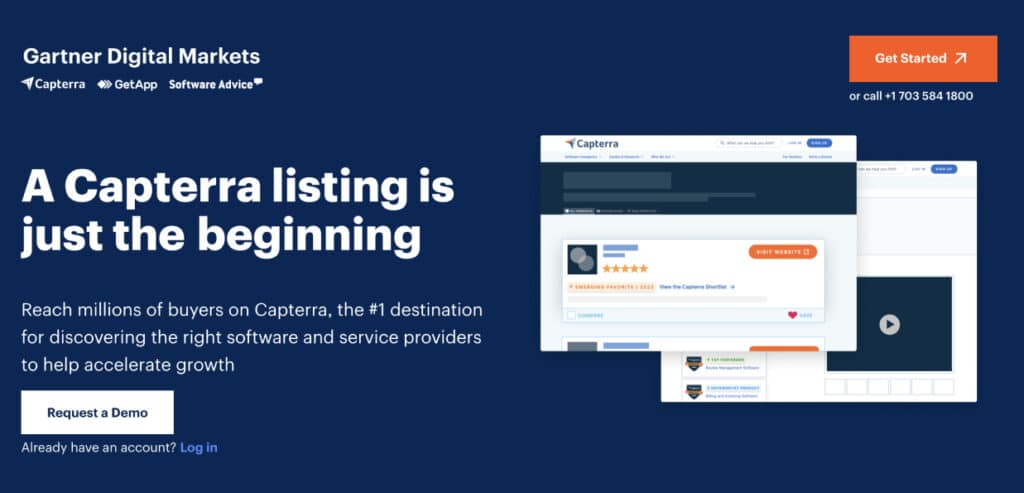 Capterra functions as a specialized reviews aggregator for business software and SaaS products, offering verified reviews and detailed analytics.
In the vast landscape of online reviews, Capterra is a good choice if you are looking fo a niche reviews aggregator focusing on software products. Unlike generic review platforms, Capterra provides a niche service catering to software vendors and consumers looking for the best software solutions.
Pricing: Capterra operates on a pay-per-click (PPC) model for software vendors. This means you pay a specific amount each time a potential customer clicks on your product listing. The cost per click can vary depending on the software category and competition level. It also provides a free basic listing to collect customer reviews but doesn't have the options like other review aggregators to get reviews from other major review sites.
Key takeaways
Review aggregators empower consumers, providing a consolidated view of products and services. By accessing diverse opinions from multiple sources, individuals can make well-informed decisions, ensuring their choices align perfectly with their needs and preferences.

For businesses, review aggregators serve as vital tools in managing online reputation effectively. By promptly addressing feedback and showcasing positive experiences, businesses can enhance their brand image, fostering trust and loyalty among their customer base.

By leveraging the data from review aggregators, companies can refine their products or services, ensuring they meet market demands effectively. This data-driven approach positions businesses ahead of competitors and aids in strategic decision-making.

Consumers and businesses alike should be aware of the limitations of review aggregators, such as occasional fake reviews, limited scope, and biased user opinions. Acknowledging these constraints ensures a more critical evaluation of the information presented.

Platforms that offer comprehensive, unbiased, and context-rich reviews, such as EmbedReviews, stand out. By embracing these platforms, consumers can confidently navigate the market, while businesses can harness the insights to thrive in a competitive environment.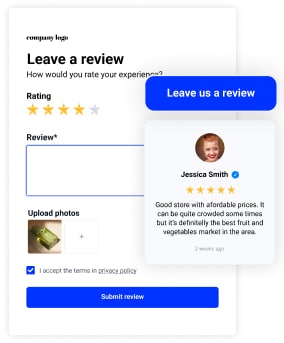 Collect reviews and display testimonials wall of love widgets
Try EmbedReviews, collect and display reviews widgets on your website. Automatically.
All PRO features | Cancel any time.
FAQs about review aggregators
How can startups leverage review aggregators for growth?
Review aggregators are effective tools that startups may use to gain the trust of prospective clients, as they can boost their online reviews, draw in new business, and promote sustainable growth in the early growth phases by encouraging happy customers to post good reviews.
Are review scores consistent across different aggregators?
The consistency of review scores varies throughout various aggregators. Differences in the sources, methods, and criteria each aggregator uses may cause variations. In addition, different audiences may have different expectations, which can affect how reviews are assessed and combined.
Why are review aggregators Important for businesses?
These platforms collect reviews from various sources and present them in a consolidated manner, making it easier for both businesses and consumers to get a holistic view.