If you are looking how to integrate your Instagram with your Squarespace website, fast and easy, you've come to the right place. In this post, we will show you how to use EmbedFeed to generate Instagram posts from your Instagram account, specific Instagram hashtag, or posts that other people published with tags or mentions of your brand.
EmbedFeed is a complete social media aggregator that has a direct API integration with the Instagram platform that enables users to simply connect their own accounts and allow the software to automatically pull hundreds or thousands of posts in a very short time. But what are the benefits of showing Instagram on your Squarespace website?
Saves you time to update your website with fresh content constantly
Embeds user-generated content from posts published by other Instagram users
UGC posts give authenticity and engage more
Higher engagement with real customers' content are a social proof that can lead to more sales.
That said, you are now ready to show your Instagram feed in a responsive and modern widget.
First, we will show you the steps on how to generate and create an Instagram widget in EmbedFeed.
Step 1: Log in to your EmbedFeed account, go to Sources and click 'Add new source'.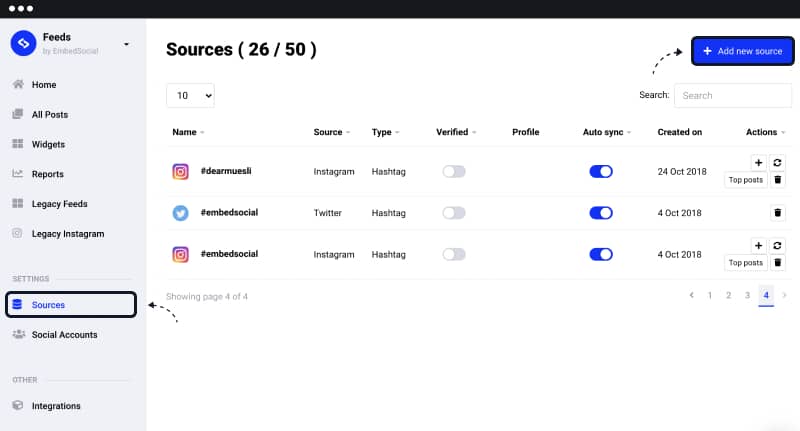 Step 2: Choose Instagram, choose a source type: account, hashtag, or mention and click 'Next'.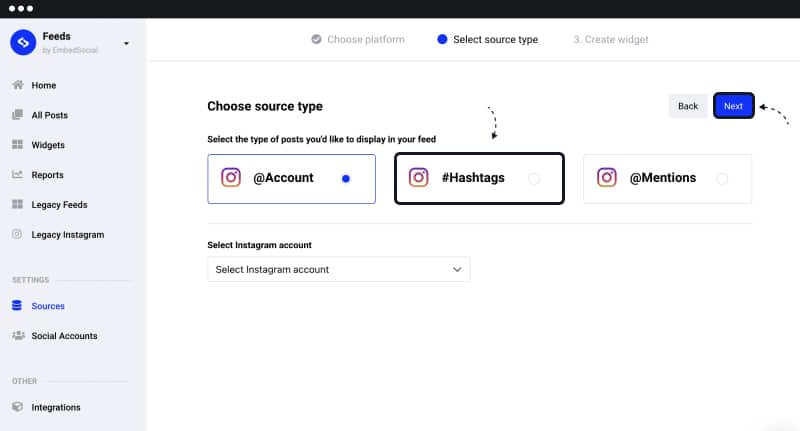 Step 4: Choose a layout and click 'Create widget'.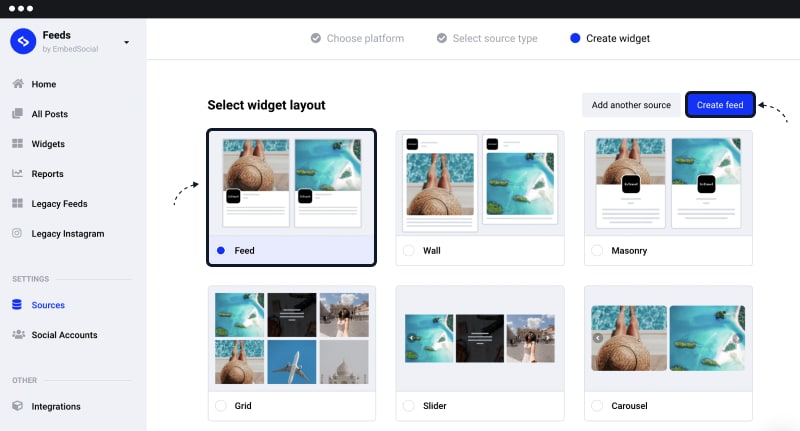 The system pulls your Instagram posts and creates the widget where you can use customizations to make the widget fit your website layout.
Step 6: Copy the top-left widget code.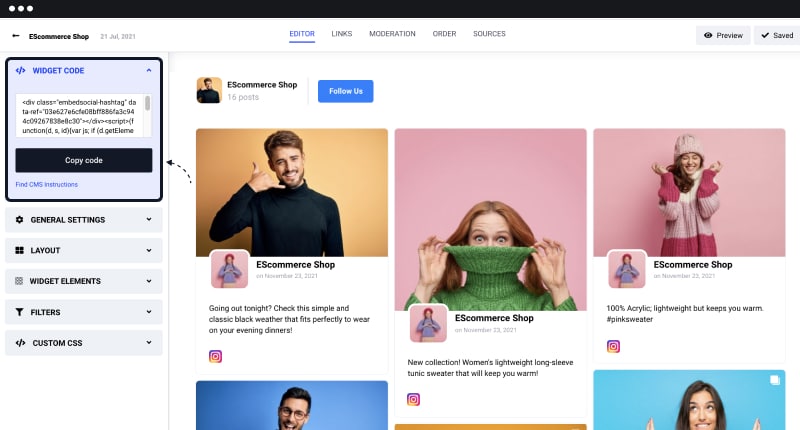 Now, once your widget is created, you will only need to embed the code into your Squarespace website.
To do this, just follow these steps:
Step 1: Log in to Squarespace and open the page where you want to embed the Instagram widget
Step 2: Select a section on the page, click on the +plus icon, and select Embed – see below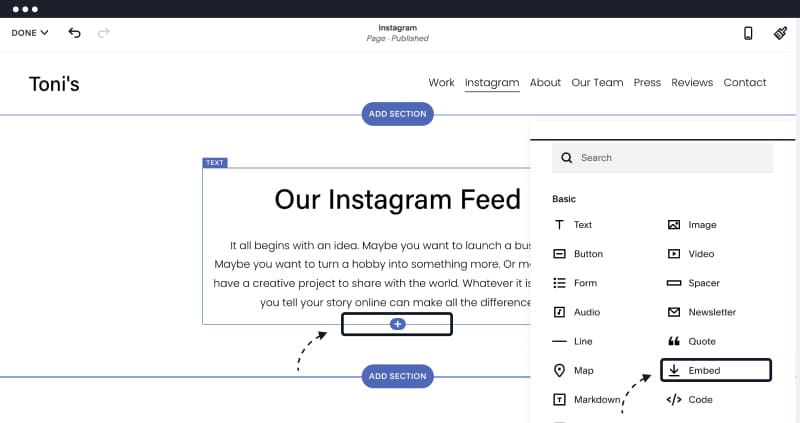 Step 3: Click on the code icon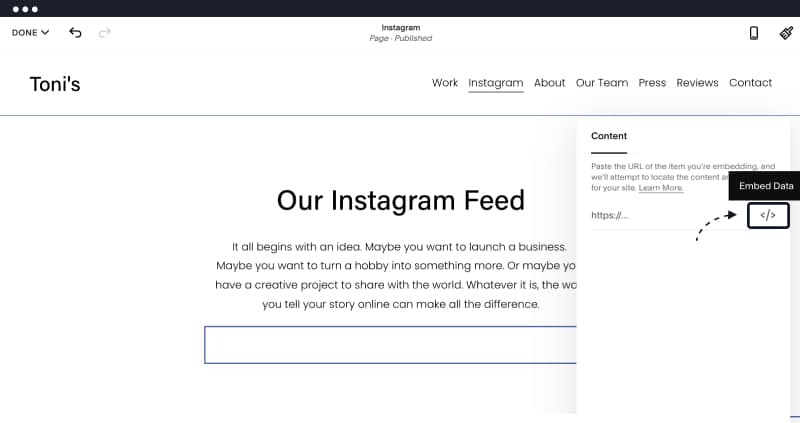 Step 4: Paste the code you copied from EmbedFeed and click 'Done' in the top-left corner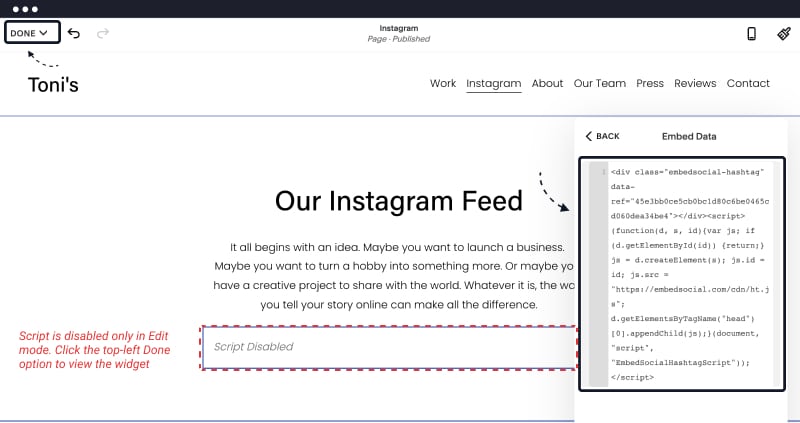 Please note: when you paste the code you will get an alert that the 'script is disabled', but note that this is only in Edit mode. Once you click Done, you will see the widget embedded in that area. see below: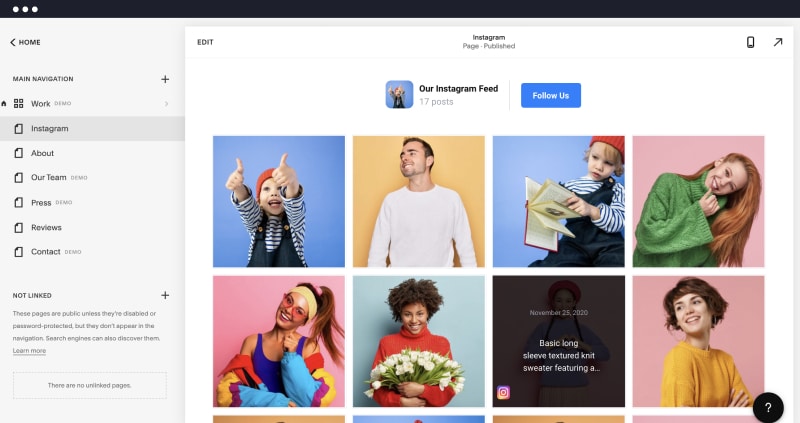 That's it.
In less than a minute, you can see your Instagram posts that are tagged with a specified hashtag displayed on your Squarespace page. In case you decide to change the look of your Instagram hashtag feed, later on, you don't need to repeat the whole procedure.
Feel free to explore all the customization options available with EmbedFeed:
Try dozens of different layouts (Carousel, Grid, Slideshow and many more)
Show posts in Lightbox when clicked
Link posts to a social media account (posts will open in a new window that will take website visitors to your Instagram profile)
Filter Instagram images by keyword
Option to automatically add new posts
Use the custom CSS option to make sure the design fits your brand
Instead, you should just open the feed editor in EmbedFeed and do the changes there.
The code we provide you is dynamic. It makes auto-sync to every change you make within the EmbedFeed platform so it will change by itself on your Squarespace site too.
It works perfectly for Squarespace, WordPress, PageCloud, and every web builder that allows embedding a code and you won't need to install an app or a plugin.
Additionally, EmbedFeed allows you to embed a YouTube playlist, Twitter hashtag feed, or Facebook feed in any website builder.
So, no matter if you are creating a landing page for your latest product or website for your small business, embedding a social media feed on your website is a great way to add some visual interest to the page and engage visitors, especially if most of the page is made up of text.
For additional questions, feel free to click the bottom right chat icon and talk live with our customer success team.
---
FYI: Embed Instagram widget automatically with the social media aggregator and UGC platform by EmbedSocial. Click below to try it for free: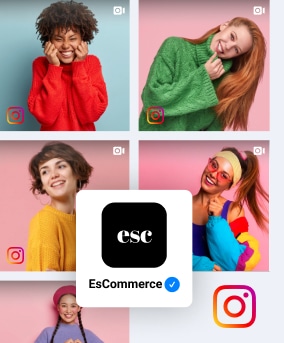 Embed Instagram widget on your website automatically!
Try EmbedFeed and display Instagram content from your feed, mentions, or hashtags on your website.
All PRO features | Cancel any time.