Since the release of TikTok, the app has taken the internet by storm. Celebrities and everyday people alike have flocked to the app to share their short videos with the world.
While many people view the app as simply a way to pass the time, businesses are shrewdly using the app to build their brand and grow their following. If you're looking to grow your following on TikTok, it's important to make use of the app's link feature. By adding a TikTok link to your bio page, you can drive traffic to your website, blog, or other social media platforms, thus increasing traffic to your sites.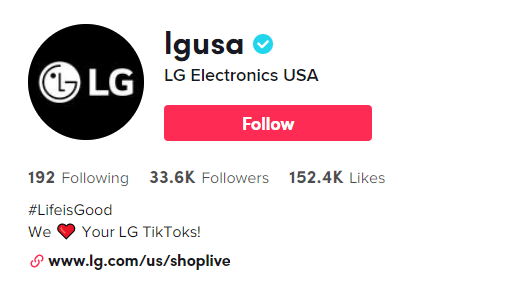 What is a link in bio?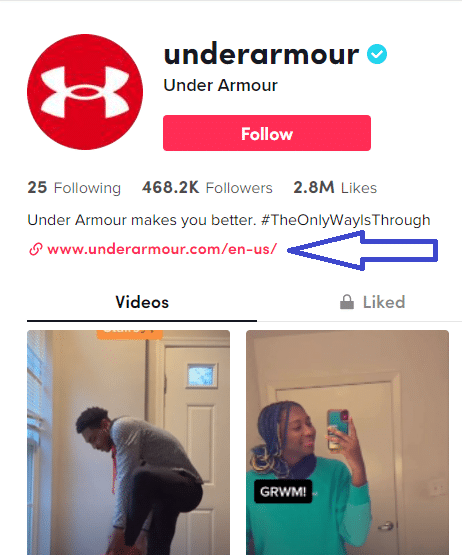 Plainly put, a link in bio is the URL users put on their bio page to direct their audience to a website or a social media platform where they can get more information on a related post.
For businesses, a TikTok link in bio usually means an URL that leads to their business website, a service, or a product page – depending on what they want to emphasize the most.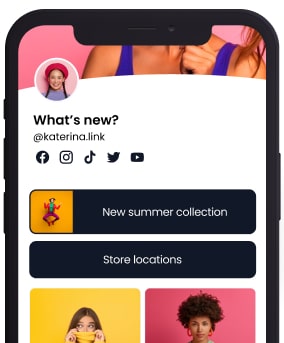 Forever free link-in-bio page with your own .link domain
Get Feedlink and build a complete social microsite for all your important links.
All PRO features | Cancel any time.
How can a link in bio help you increase conversions
It's no rocket science, really: a TikTok link in your bio offers your audience more information on what you do or what you offer. This is especially relevant if you're running any business and want to increase prospective clients' reach.
For example, you can add a link to your official website, as shown above. Or you can add a link to a sales page or even to an ordering form where people can directly place an order, subscribe to a newsletter, or whatever you think your strongest offer is.
It's an extremely simple way to drive traffic to whatever page you choose – and you already know that the higher the traffic, the bigger the chances for conversions. Having a link in your bio is what will turn Curious Georges into followers and followers into customers.
TikTok link in bio requirements
Although it's a very simple procedure, adding a TikTok link in bio does come with some requirements. Make sure you meet them, so your account can work flawlessly and you won't lose any potential clients or followers.
Your TikTok account has to be a business account
The thing is, only a business account is allowed to have a link in bio. Those who create (and keep) a personal account, do not have the chance to add a link.
Use your phone when you add the link
You can add the link only if you're using a phone. TikTok hasn't enabled personal computers or laptops (read: browsers) to add links in bio. So make sure that you do this through a phone.
You can add only one link in your bio
This is what is already given to you. However, if you do want to add multiple links, you can use tools for that and choose the pages you want to display in the links. You can easily and quickly do this with Feedlink or Linktree as explained below.
This one isn't really a hard requirement, it's more of a tip. It will make it easier for your audience to memorize it. Some tools for inserting a link in your bio allow you to even customize your URL. So, make sure you make your link sweet and short.
Bonus tip: If you want to increase your chances of people actually clicking on your link in bio, try to highlight it by using emojis. This will grab the audience's attention and nudge them to take action.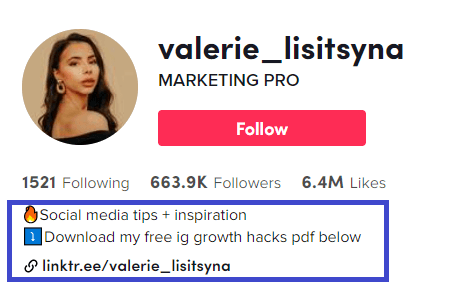 10 Examples of a link in TikTok bio pages by industry
Beauty TikTok Bio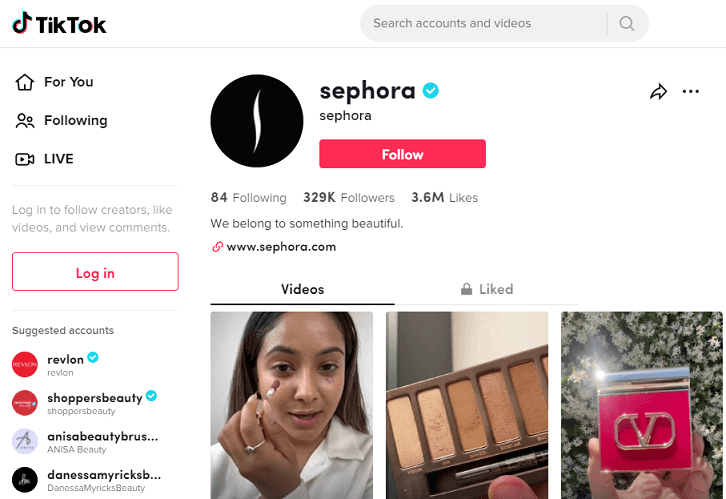 Sephora is a well-known cosmetics brand beloved by women all around the world. Its marketing team obviously recognized the potential of TikTok, as the brand's account on this platform has an impressive number of followers. You can see how they have used the TikTok link in bio to navigate the audience to their official website.
For them, the choice of the link was their homepage as they clearly want to take the users to a page with many product categories which they can further explore. Another great strategy that this brand is using is the UGC content videos that they have given a front seat on-page.
Fashion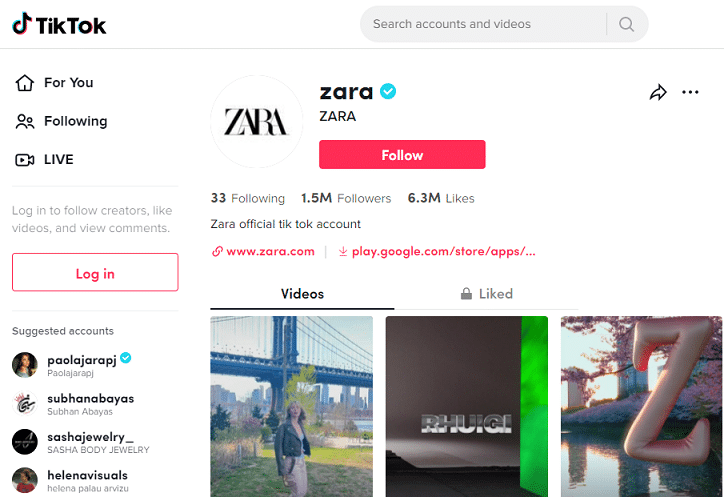 Zara is another brand well known to anyone interested in the fashion industry – or just interested in good outfits. Taking into consideration that their TikTok account has 1.5 million followers, you can freely conclude that they are playing their cards right.
They've decided to go with 2 links in bio. The first one takes you to their official website, as the example with Sephora, while the other one takes you to Google Play for downloading their own app. This is actually a brilliant move you can copy – if your business has an app. By adding a link to their app, they increase not just traffic, but the percentage of downloads and purchases from the app.
Jewelry TikTok Bio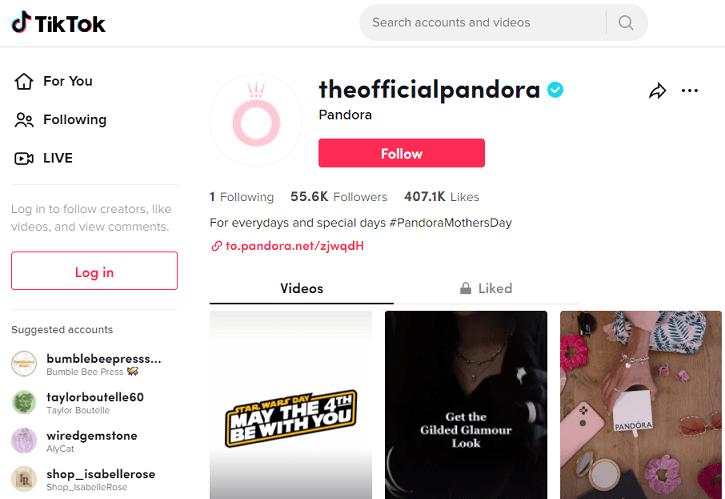 We couldn't give you an example in the jewelry department and not mention Pandora. You're probably aware of their great products, but see how they are using TikTok for reaching a greater audience. Unlike Sephora, they go for commercial videos being put in the spotlight, but they're also powerful. The TikTok link in bio takes you to their official website, i.e. their homepage.
By the way, did you know that they teamed up with Marvel? We sure didn't, but those Avenger pendants look mighty cool.
Art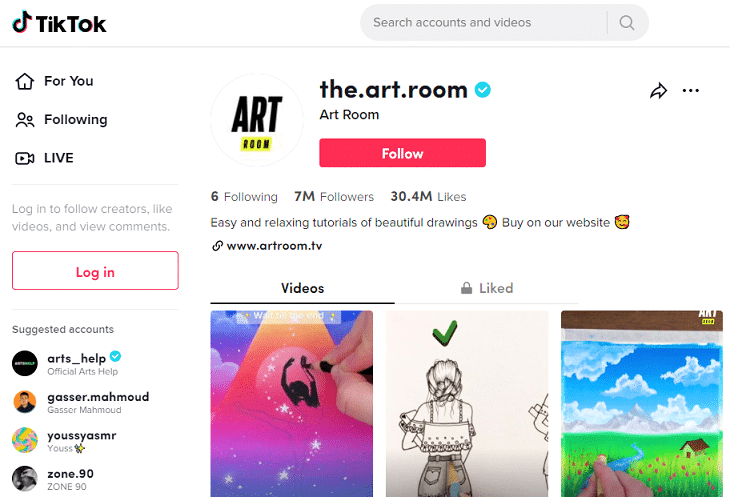 The Art Room is a pretty cool academy that gives tutorials on drawing. Their videos focus on how-to-tutorials that you can use for your own drawing. Their link in bio will take you to their website with a really catchy phrase "Anyone can draw".
Small tip: it might lead you to the French version of the website, but you can easily change that in the language box on the top right corner of the page.
Home Interior & Design TikTok Bio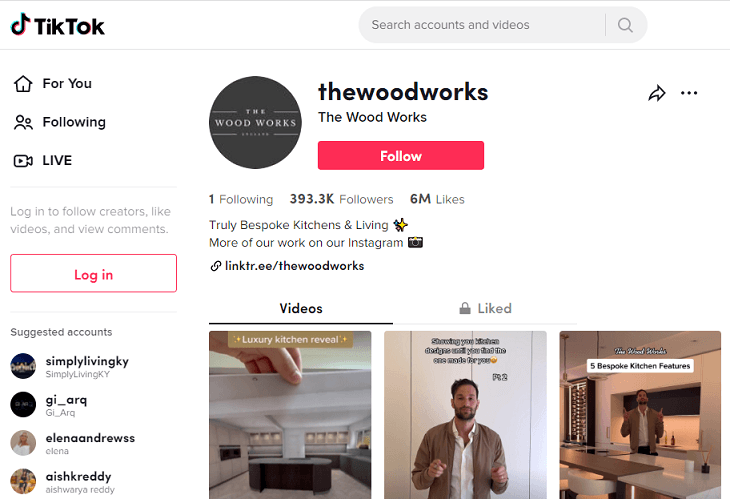 For all of you, home decor and interior design lovers here's a great example of a business in this niche that runs a successful TikTok account. From interior showing to design plans, you'll find some really interesting stuff here.
The Wood Works link in the bio is a bit different than the ones mentioned so far. It's a perfect example of including multiple links i.e. multiple pages with just one link in the bio. They used Linktree for this. When you click on the link in their bio it takes you to a page where you can choose from several links where you want to go. Here's a screenshot of it: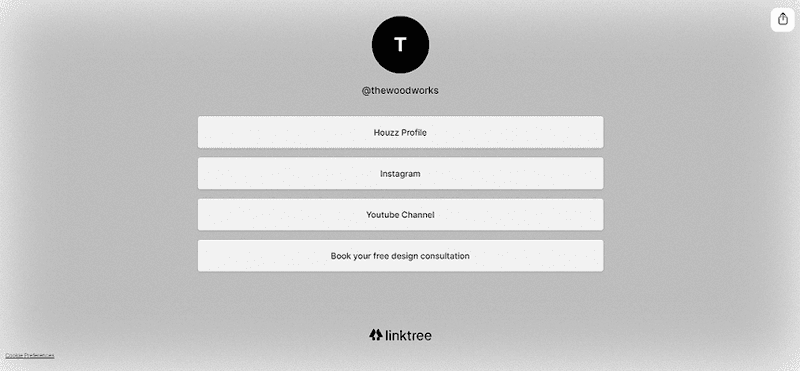 Food TikTok Bio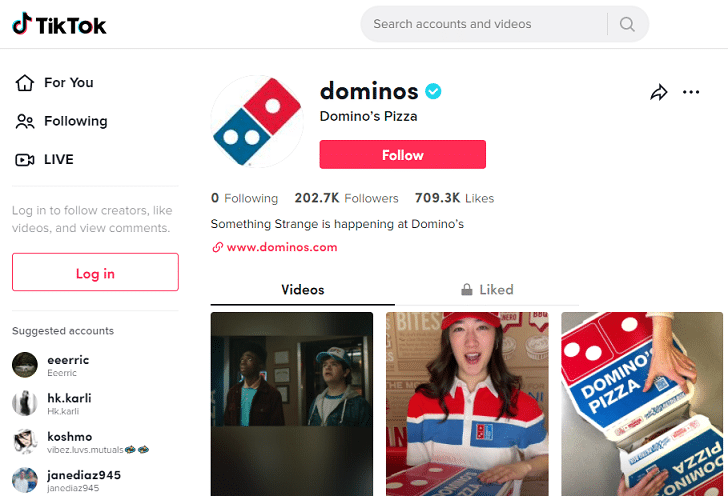 For all of you foodies out there – and food business owners – take a look at how Domino's Pizza is using TikTok in its strategy for outreach and traffic. This brand, too, has quite the following on this platform, so no wonder they're using it to the max. The link in their bio will take you to the official website which is basically a website of all the places in the world where you can find Domino's Pizza.
Mobile accessories or tech TikTok Bio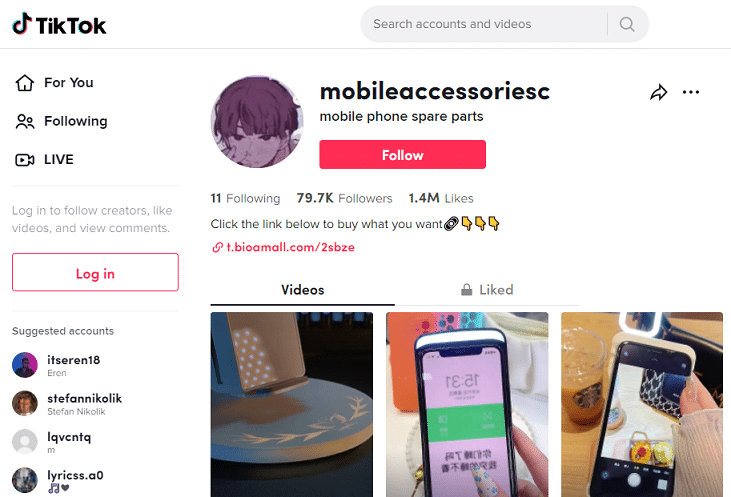 Even if you're a smaller business – read that: no high profile, worldly known brand – you can still use this strategy for upgrading your business and reaching out to more potential customers.
Take a look at this account for mobile accessories and spare parts. It has an impressive following, but it's not any of the well-known brands out there. However, that doesn't mean that they haven't realized the potential of adding a link in their bio. Chances are, that link is what helped them gather such a big following in the first place.
Travel TikTok Bio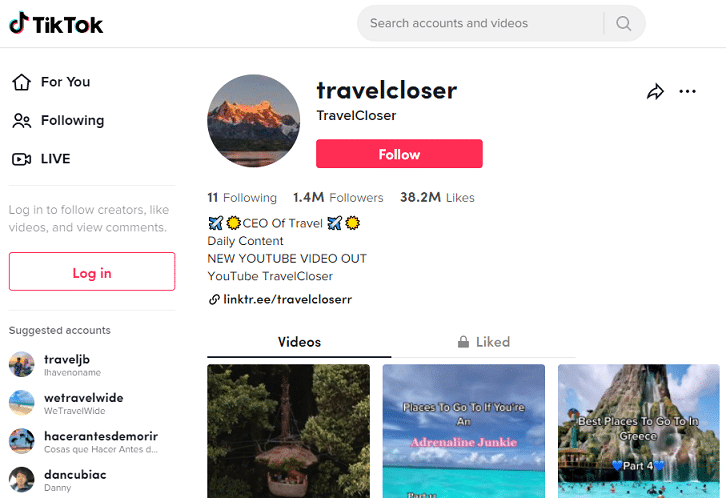 Travel Closer is another great example of using several strategies in one place. Remember when we talked about using emojis to make them more appealing to the eye? That's exactly what this account is doing.
Also, they use Linktree to add multiple links to combine their official website, their YouTube channel, and their Instagram business account. Talking about one full package.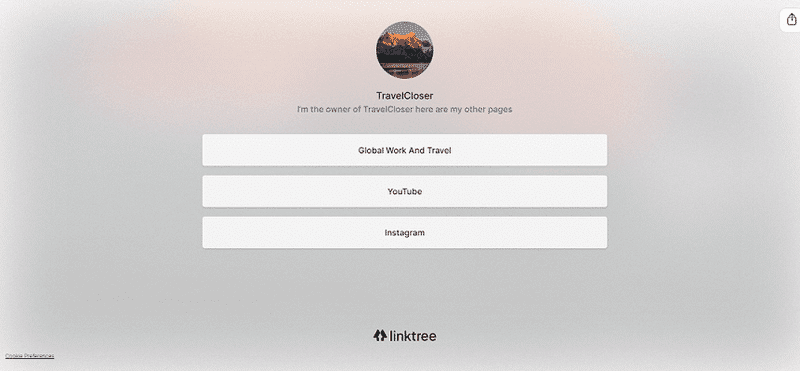 Social media/marketing TikTok Bio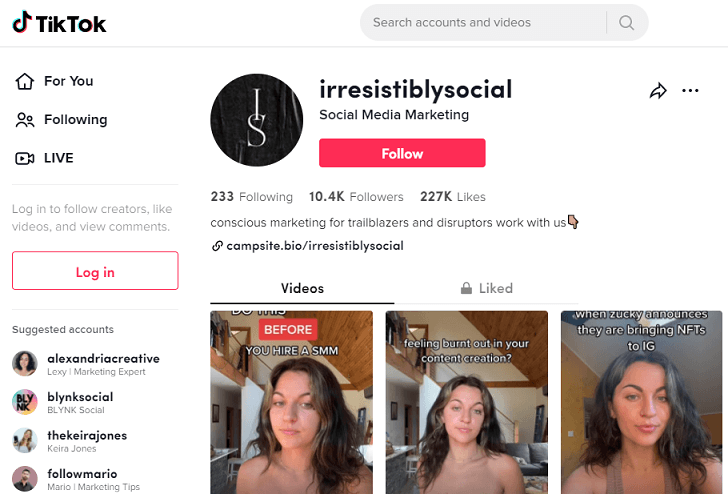 Irresistibly social is a social media marketing agency that uses TikTok quite successfully, according to its number of followers. The brand's signature is bold and rebellious and their ideal clients are apparently unique feather-rufflers too.
The TikTok link in bio will take you to a multilink page that is constructed of different pages from their official website. This is actually quite a good strategy as they keep the users' focus on their brand and their website. At the same time, they highlight what's most important for them in terms of audience, brand awareness, and conversions. Check it out: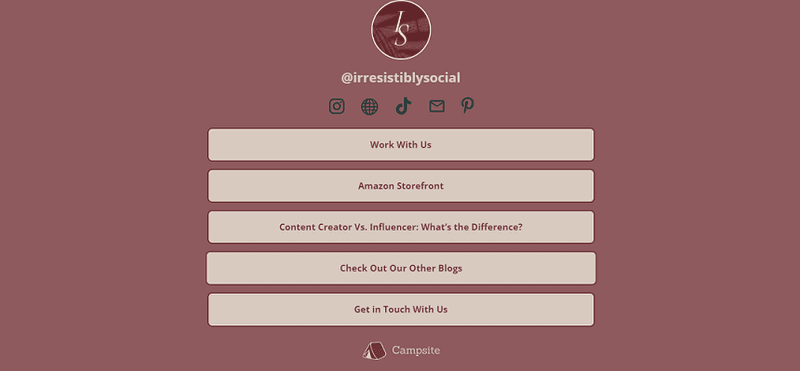 NFT creators TikTok Bio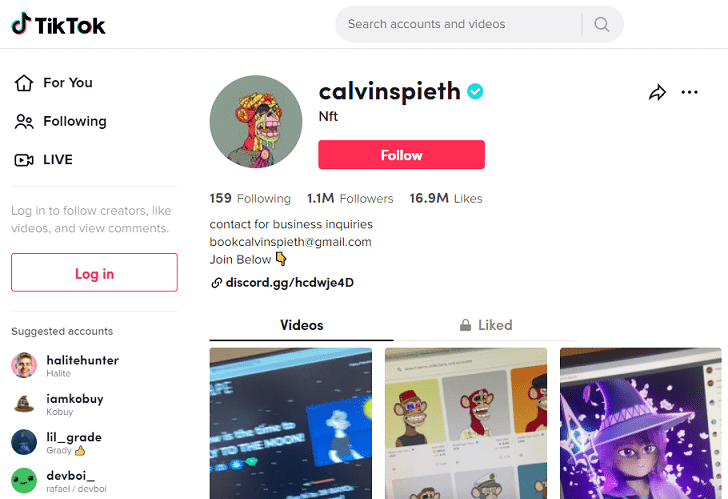 Last but equally as important, here's a great example of using TikTok to promote your NFT business. Calvin Spieth is apparently pretty popular on this platform, as his following is over 1 million.
Notice how he uses his bio to add some extra contact information. He has added his email for anyone interested in doing business with him. And he used the TikTok link in bio to take users to a page where they can join his community. Our guess is he doesn't have a website since after some research, we couldn't find any – and this is a great example of how you can use whatever you have to promote your business.
How to create a link in bio?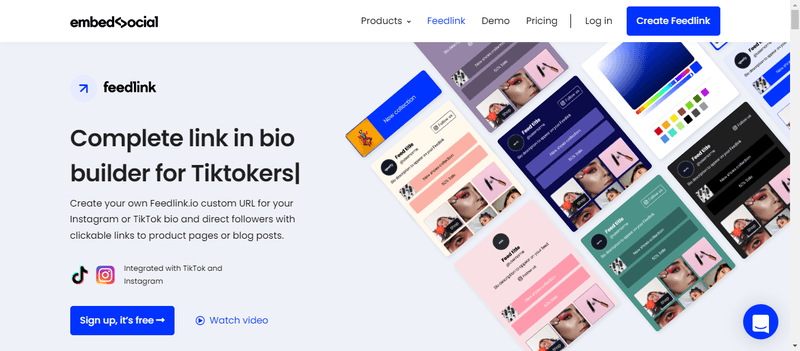 In this section, we will explain how to create a link in your TikTok bio using Feedlink.
First of all, create a free Feedlink account.
Step 1:
Connect your TikTok profile
Step 2:
Then, define your Feedlink.io URL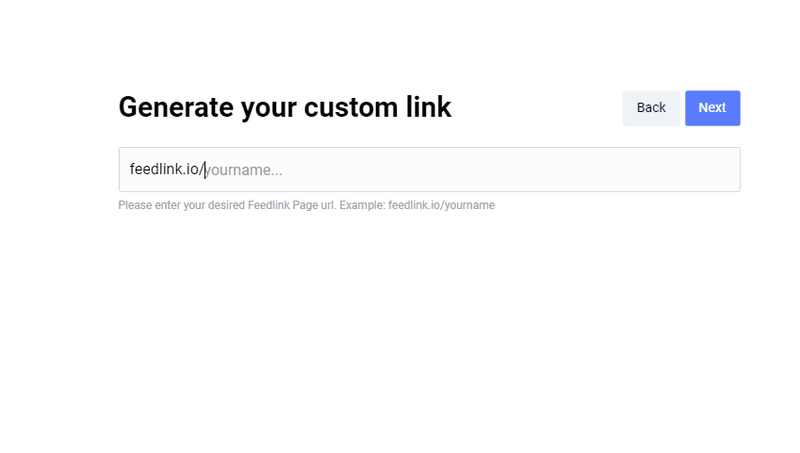 When defining your URL, you can use your TikTok handle which is most probably free to use.
Step 3:
After that, customize your link in bio page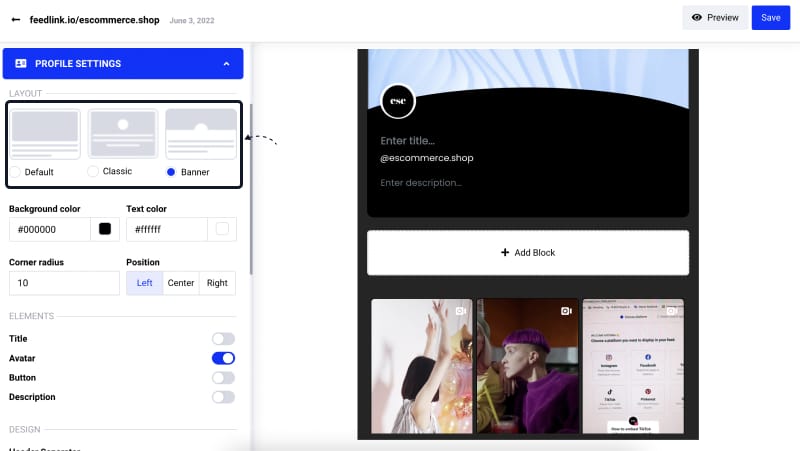 After you define your URL, you will be redirected to the Feedlink page editor, where you can customize your page. You can choose a theme, add colors and upload a background image. Once you are done, click on the TikTok feed to add the links.
Step 4:
Finally, add links to your TikTok posts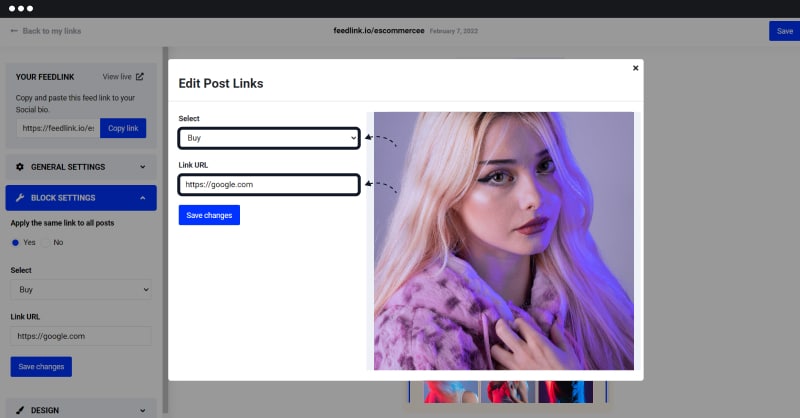 After completing all the steps, now it is time to add the links to your TikTok posts. To do this, click on "Add Link", and in the popup define your button label and the link URL.
How to add the link to your TikTok bio?
Step 1:
Go to your TikTok profile from your phone and from the menu at the top right corner, click on "Settings and privacy".
Step 2:
Click on "Manage account" and choose the "Switch to Business Account" option.
Step 3:
Go back to your profile and click "Edit profile"
Step 4:
Enter the URL of your choice in the website box
Step 5:
Click "Save" on the top right corner
Here is visual representation of the above steps on how to add link in TikTok bio: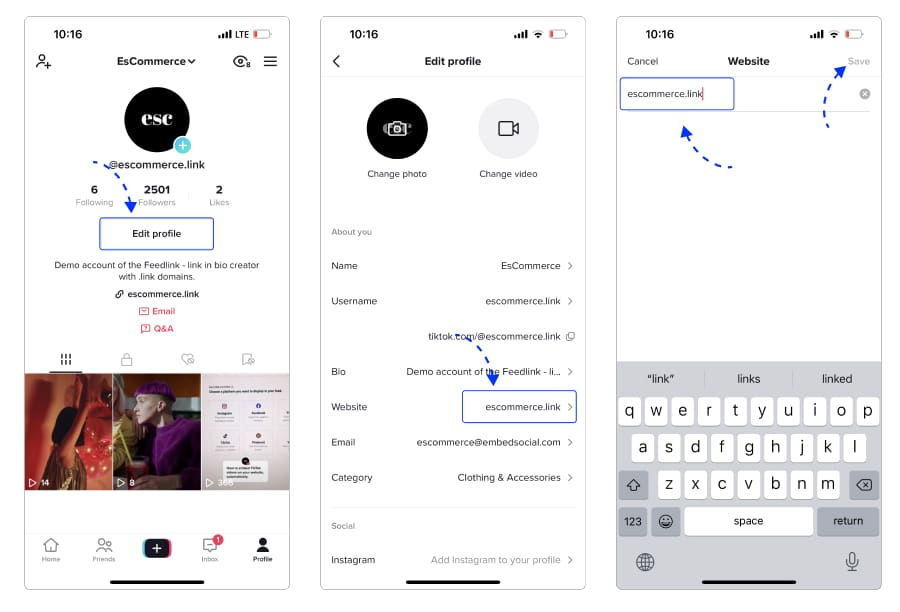 Please note: To have the Website option in the TikTok Profile settings you must switch to a Business account and have more than 1000 followers.
That's it. Your TikTok profile is ready to bring some juicy traffic to your website.
See the full step by step guide on how to add TikTok link in bio.
FAQ about TikTok link in bio
Why should you have a clickable link in your TikTok bio?
A link in your bio is a great (and free) way to get more traffic to your website no matter if it's for business or for example, a personal blog. When you add a TikTok link in your bio, you increase your chances for bigger brand reach and conversions. Plus, it looks way more professional to have a website linked to your TikTok account.
Why can't you add a link to your TikTok bio's personal account?
TikTok gives this option only to users who have a business account and more than 1000 followers. It's simple to switch your personal account to a business account, and then you will have the option to add the link (if you already have more than 1000 TikTok followers).
Where is the link in bio on TikTok?
As with Instagram, TikTok places the link inside the bio which is right at the top of the user's profile, under the photo and the number of followers.
How to add multiple links to my TikTok bio?
You will need a special tool for this. Feedlink does a great job in creating multiple TikTok and Instagram profiles. Just create a profile on Feedlink and you'll get unlimited links for multiple TikTok or Instagram profiles, or a customized option for other social media platforms.
How do I get a link in my TikTok bio without a TikTok business account?
The only way to add a link is through a business account. You could add your website's URL in your bio, it just won't be clickable. This leaves your audience having to memorize the whole URL just to visit your website. So, you might want to switch to a business account after all.
Key takeaways
TikTok really took over the virtual world and both segments of it: the personal and the business. More and more companies are realizing that the key to their prospects' hearts lies in the fun environment that TikTok continues to create.
Having your brand present on this powerful platform can boost outreach, audience growth, and brand awareness – to name just a few. But what will really churn the butter is the conversions you'll get through increased traffic on your website.
And it costs absolutely nothing. You just work the settings for a minute and you're all set. So, what are you waiting for?