A few years ago, TikTok was considered a platform for lip-syncing videos and dance challenges. Today, with over 1B monthly users, TikTok became a huge opportunity for brands and marketers to increase brand awareness and sales.
Furthermore, one of the most popular strategies for brands to steal attention on TikTok is using user-generated content, equivalent to worth-of-mouth marketing.
TikTok user-generated content (UGC) features products from a specific brand but is created by users instead of brands.
The brands can use the content in their social ad campaigns or display it on their social profiles.
TikTok UGC can be created through videos, photos, reviews, testimonials, and more. Still, the most popular format for TikTok UGC is video.
Main benefits of using UGC marketing campaigns on TikTok
TikTok UGC campaigns are an effective way to promote your brand on TikTok. Anyone can create the content and have as much or as little creative freedom as you want them to have.
Increase brand awareness in a more authentic way
One of the main benefits of using UGC on TikTok is that it allows you to reach out to a much bigger audience because you can even reach people who are not interested in traditional ads and promotions.
This is because people on TikTok are spontaneous, and the content is hyper-personalized and very specific to your personal and professional interests.
For example, let's say you are a brand that sells beauty products. Even though you might not reach your target audience from your brand account, if you collaborate with creators to create UGC for your brand, those people are more likely to reach users interested in buying beauty products.
UGC on TikTok can influence purchasing decisions
Compared to social media ads, this is a more subtle approach. Hence, it can entice people spontaneously to check out your product. Since it comes from real users instead of brands, they are more likely to purchase. More specifically, even 70% of consumers consider UGC reviews before they buy some product for the first time.
UGC has a bigger emotional impact
Compared to content created and published by brands, UGC videos on TikTok can help you emotionally engage your audience. Statistically, the encoding score of TikTok UGC videos is 10x higher than conventional ads and 4.7x higher than Facebook ads.
That means you have a good chance that people will have a positive image of your brand. It also impacts buying decisions and word-of-mouth marketing, in other words, people would spread the good word about your brand with their friends.
Types of UGC methods on TikTok
There are a few types of UGC methods on TikTok, each with different advantages to help brands achieve their goals. To help you find out what is most suitable for your upcoming campaign, read the description of each below.
Branded hashtags
Branded hashtags are the most common type of UGC method on TikTok. These allow brands to create custom video that showcases their products or services in a creative way.
Branded hashtags can be used for different occasions, such as hashtag campaigns during a specific event, season, or even holiday, a brand slogan to spread a message, or one of the most popular – hashtags for a new product launch.
You can use hashtags as keywords to target specific audiences. This is especially helpful if you want to reach people who are searching for something related to your business or industry.
Giveaways
Because of the viral nature of TikTok, UGC giveaway campaigns are one of the best ways to reach more people organically.
Start by setting clear campaign objectives. What do you want to achieve with that giveaway? Is it more followers, increased brand awareness, increased sales, or else? It's crucial to set clear goals so you can come up with a hashtag that will help you achieve what you are aiming for. This also applies to deciding what kind of videos you would ask people to create if they want to enter.
Next, you must come up with a desirable prize that will entice more TikTokers to create UGC to enter your giveaway. Maybe in the past, people were excited to enter every giveaway, but nowadays, with thousands of giveaways every day, it has become harder to attract people to join a giveaway.
Set clear guidelines and rules and invite people to create and publish content using a specific hashtag that will unite all contestants.
Make sure people know from the start how you will choose the winner. You can randomly pick a contestant, give a prize to the one with the most likes, or get creative and come up with another idea. Just make sure everybody knows the rules from the very beginning.
Challenges
Challenges were a powerful marketing strategy years before TikTok took over the world. Remember the #IceBucketChallenge? People love being a part of global trends, so when brands start a challenge, they can create a campaign that will go viral without spending any money.
Here is an example by SoNonyeBeauty: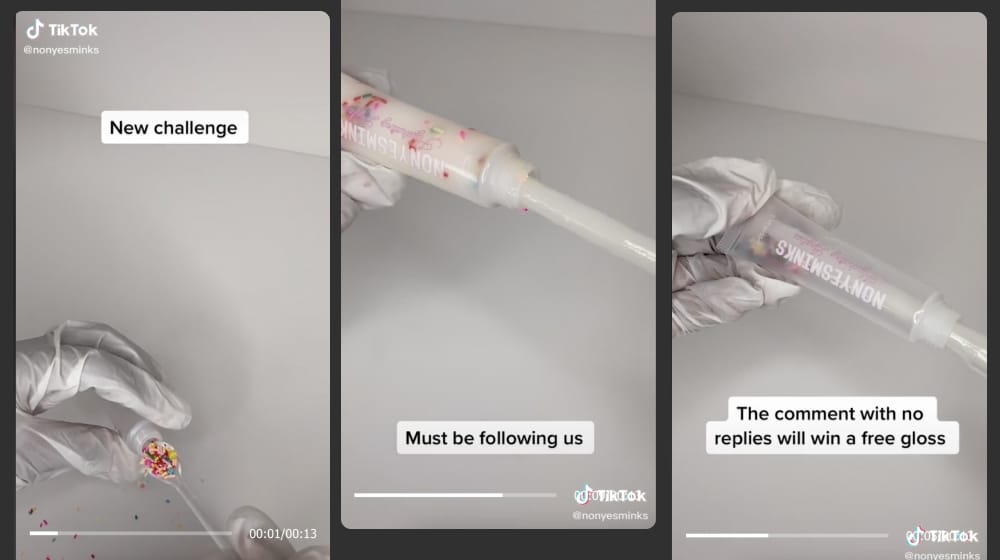 With TikTok challenges, you can see how people interact with your product, you will get a huge organic reach, and you will get tons of UGC you can repost on your brand's account.
Customers who love your brand will share their experiences online and connect with like-minded individuals. So, as the challenge gets more popular, more people will be convinced to try your products.
Duets
Duets are the most engaging method of UGC campaigns. Users can duet any TikTok video by creating a creative version of the original content. Both videos are posted together, so users can see how someone enhanced the original content.
Brands can leverage this by contacting influencers from their niche and asking them to design a duet on TikTok. Influencers can design a duet involving your brand and invite their audience to participate and share their duets on TikTok.
Brands can have impressive duet chains and viral trends when this is done more subtly instead of looking like an ad.
Tutorials
How-to videos are popular among all social media platforms, but especially on TikTok, because of the short video formats that will give you all information you need without spending your time.
From the brand's side, how-to videos are the best way to show a product in use. Hence, this is the best way to convince people that some product is worth buying.
How to create a UGC campaign on TikTok
Brands that are not on TikTok are missing out. While some brands still believe that TikTok is a passing trend, the platform has proven to become an evergreen growing platform. Hence, UGC campaigns on TikTok are a huge opportunity to reach a target audience and increase brand awareness and sales.
Judging by the fact that you are reading this blog, you are already convinced to kick-start a UGC campaign, and we are here to guide you every step of the way.
Know your audience
First, you need to build an audience and get to know them. What are the things they love most about your brand, how can you engage with them, etc.?
Be clear about your goals
Next, set clear goals for your TikTok UGC campaign. Some brands are aiming to reach new potential customers; some want to promote new products and increase sales. What is the one main thing you want to achieve with this campaign?
Choose a UGC method you will use
After you have clear campaign objectives, choose the UGC method that will be best to achieve them. The method you choose is one of the crucial factors in having a successful TikTok UGC campaign.
For example, a challenge will be a great choice if you want to increase brand awareness. But if you want to increase sales of specific products, how-to videos are a way more effective method.
If you need some inspiration, check out these user-generated content examples that are considered the most striking through the years.
Come up with a branded hashtag
When having a UGC campaign, you always need a hashtag to unite content from all users. The hashtag should be clear, catchy, and reflect the idea of the campaign.
Make sure that the hashtag is not ambiguous because UGC campaigns can easily be misled, and not only will the campaign be failed, but it can also ruin the brand's reputation.
Collaborate with TikTok influencers
Not only do TikTok influencers have a large audience, but they also have an in-depth understanding of the best TikTok strategies. Therefore, many brands partner with influencers when launching a UGC campaign.
More specifically, influencers will create TikTok videos for the campaign and will encourage their followers to join the campaign as well.
However, keep in mind that you don't have to hire the most famous influencers for the campaign to be successful. You just need to find an influencer or content creator from your niche.
Plus, usually, micro-influencers have a higher engagement rate than macro or celebrity influencers. So, if you are a small or medium size business, TikTok micro-influencers that engage with your target audience will do a great job at spreading the word about your UGC campaign.
Repurpose the user-generated content
One of the greatest things about user-generated content is that you can repurpose it for further use. For example, you can embed TikTok videos on your website, or even use it for social ads.
Did you know that 31% of consumers say that ads containing UGC are more memorable than branded content ads?
Knowing the power of UGC content, we at EmbedSocial developed a complete UGC platform to collect social media feeds, stories, photos, or reviews and embed them on any website. Automatically and in seconds.
Embedding UGC content boosts user experience and increases the average time on the page. Furthermore, since user-generated content influences purchasing decisions, showcasing TikTok videos on your website also boost sales from your website.
TikTok UGC campaigns examples
Today, 87% of brands already use UGC, so we've compiled a list of some of the most popular TikTok UGC campaigns to awaken your creativity and help you launch a successful campaign.
1. Samsung Galaxy A – #danceAwesome
Samsung launched the #danceAwesome campaign and invited people to show their talent by dancing to the song and posting the video on TikTok. To spread the word about the challenge and attract more people to join, they collaborated with TikTok influencers.
The goal of this TikTok UGC campaign was to promote the Samsung Galaxy A series. The campaign video features the South Korean girl group, Blackpink dancing on the track they made for Samsung.
The campaign got nearly 5M pieces of TikTok user-generated content; all shared using interpretations of Blackpink's song and dance. Plus, every video touted the three main benefits of Samsung Galaxy A's.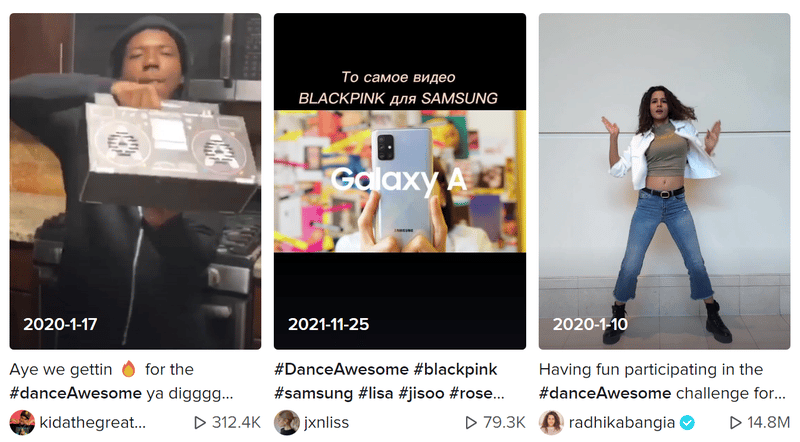 2. Estée Lauder – #NightDoneRight
The well-known American cosmetics company Estée Lauder created a TikTok account to leverage the platform's emerging importance for the premium skin-care category.
The brand hosted a hashtag challenge, #NightDoneRight in collaboration with 11 creators. The challenge aimed to spread awareness about the importance of a night skincare routine and promote their best-selling product Advanced Night Repair.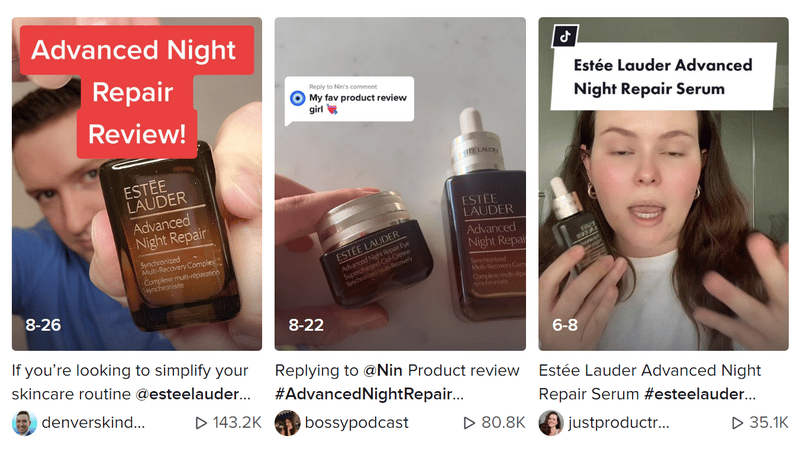 3. Chipotle – #ChipotleLidFlip
A big part of Chipotle's clients are millennials and Gen Z, so the need for a good TikTok marketing strategy seems obvious. To connect with their customers, they became with TikTok UGC challenge #ChipotleLidFlip.
The challenge is flipping the lid of the Chipotle bowl trick. Simple and fun are the two crucial things for a successful TikTok challenge, and Chipotle's challenge was both. That's why the challenge reached millions of views in a matter of weeks. Many people entered because it was something that could easily be done at home.
Like most brands, they also partnered with popular content creators to kick-start the campaign and encourage more users to participate.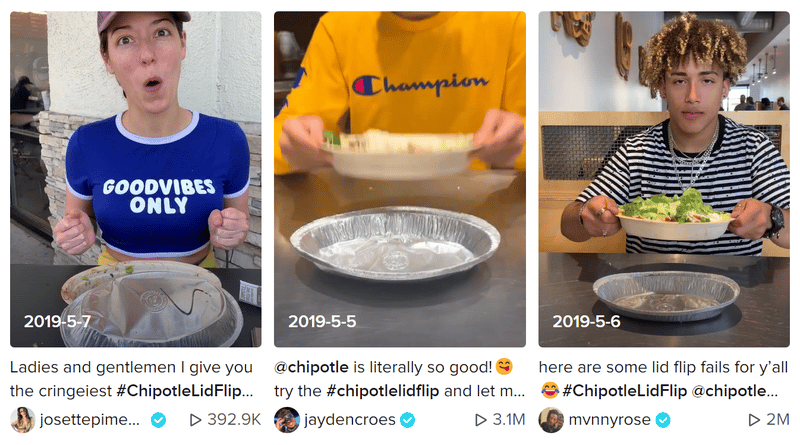 4. Moncler – #MonclerBubbleUp
Even though TikTok has a younger audience and most of the luxury brands were not interested in targeting them, things recently changed, and some luxury brands started implementing TikTok marketing to promote their products. One of those brands is Moncler – an Italian high-end luxury fashion house.
They collaborated with celebrity influencers such as Charli D'Amelio, Bella Poarch, Abby Roberts, and Michael Le and created the #MonclerBubbleUp challenge.
They challenged TikTokers to wrap themselves in something resembling Moncler's bubbly and puffy winter coats and use TikTok's editing features to transition themselves into the actual Moncler coat. People were using sleeping bags and bubble wrap and the hashtag got 2 billion views in only four days.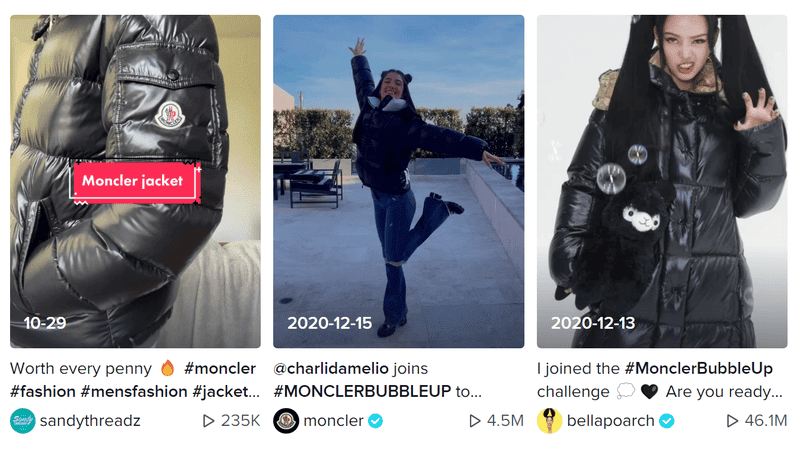 5. Contiki – #ContikiWaitingForTravelToDrop
Contiki is a travel company that encourages TikTokers to get creative during quarantine by giving away irresistible prizes. Their TikTok UGC giveaway #ContikiWaitingForTravelToDrop challenged creators to show off their best travel outfits.
On their website, they gave directions for those who wanted to enter the giveaway. Entrants had to begin a video at home with regular everyday clothes and then make a transition to show off the best travel outfit. The sound was the choice of the creator.
The most creative video got Contiki holiday and an American Tourister Soundbox luggage set. So since people were in quarantine and traveling was impossible, Contiki chose the right time to organize a giveaway to give excitement to travelers on TikTok.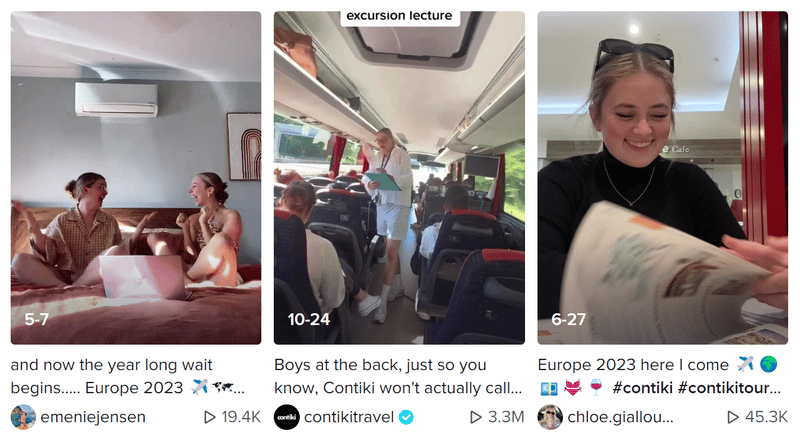 6. Guess – #InMyDenim
Guess was the first brand in the USA that partnered with TikTok to create a marketing campaign. In 2018, Guess wanted to target millennials and Gen Z consumers to promote their Fall '18 Denim Fit Collection during the back-to-school season.
To do so, they challenged TikTok users to show off their denim fashion styles through TikTok videos. To encourage people to do, Guess also posted some official videos using the song "I'm a Mess" by Bebe Rexha, so the challenge fits perfectly on the platform and with the targeted audience.
The brand partnered with TikTok influencers that launched videos demonstrating to a wider audience how the challenge works and encouraging TikTok users to join.
The TikTok UGC campaign lasted 6 days, receiving 5.5K user-generate videos and more than 10M views. It also attracted 12K new followers to Guess's TikTok account.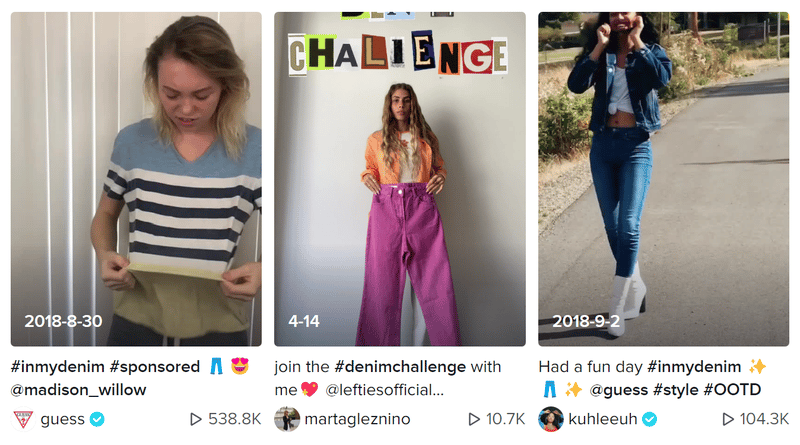 7. e.l.f. – #EyesLipsFace
Buzzfeed proclaimed the #EyesLipsFace campaign as the most successful marketing campaign on TikTok.
e.l.f. wanted to create a TikTok UGC campaign that would get the attention of Gen Z, so they created something they couldn't resist – a fun, disruptive challenge with a catchy song. TikTok users had to get creative and create their interpretation of the beat of the song.
The campaign generated 5M user-generated TikTok videos and became the most viral TikTok campaign ever. Even celebrities like Jessica Alba, Reese Witherspoon, and Ellen self-initiated joined the challenge.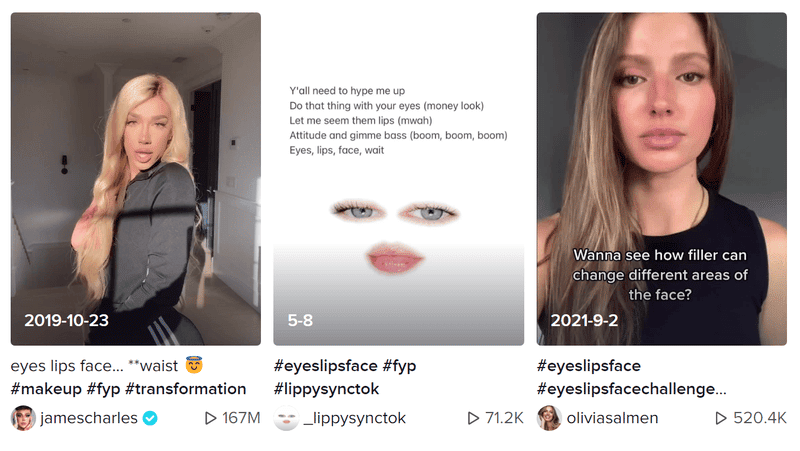 FAQs about UGC on TikTok
Are influencers crucial for TikTok UGC campaign?
No, you don't have to collaborate with influencers to start a UGC campaign on TikTok. Partnering with TikTok influencers surely it's the fastest way to spread the word about your campaign, but if you use the proper techniques, you can reach content creators by yourself.

Use your imagination and create some videos for your campaign. Make sure they are fun and quality videos. You can include cool transitions, make a few dance moves, or do anything you want. If your campaign looks catchy, content creators will gladly jump on it.
How to add UGC to my link in bio page?
In case you have reposted videos from your customers, then this is possible with Feedlink. You will be able to add link to TikTok video in your page with the option to display the TikTok feed.
What is the purpose of user-generated content?
User-generated content provides social proof for brands and creates an opportunity for brands to be recognized. If you create a TikTok UGC campaign with thousands of users creating content about your brand, people will want to have the product everyone is talking about.
So, simply put, the purpose of UGC campaigns is to create hype around your product or brand, so people who don't have your products will feel like they are missing out. Hence, you can attract new customers and increase sales.
Do you need to pay to get UGC?
Absolutely no. The idea of having a UGC campaign is to get organic content from users that free willingly like to join your campaign. However, if you want to collaborate with influencers to promote your campaign, you will need to offer them a paid partnership.
---
FYI: You can embed TikTok widget automatically with EmbedSocial's UGC platform. Start a free trial and display your social media widgets now.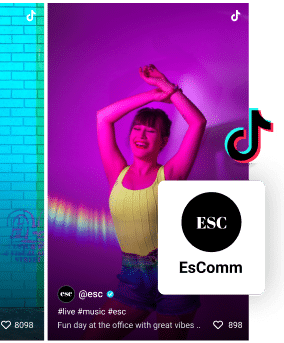 Show TikTok videos on your website automatically!
Try EmbedFeed and add TikTok videos, Instagram, YouTube or Facebook feeds to your website.
All PRO features | Cancel any time.