Influencers are one of the best marketing weapons that businesses use for their products and services promotion, social media growth, reputation, and similar. The user-generated content that they provide, whether in an Instagram story format or a TikTok video, reaches people in more authentic ways that build trust and directly impact the brand's sales metrics.
Importance of Influencer marketing and user-generated content
There are micro-influencers, middle influencers, and macro-influencers, and all of them are important depending on the budget and the outcome businesses want to receive.
Maybe influencer marketing is not a new marketing method, but its importance is enormous in many aspects. Such as:
Targeting the right audience in specific niche markets.
Influencers have an audience, and the step of determining the right audience is already provided for you by default. Just find a social media influencer that matches your brand and your potential clients will be reached.
For example, you have a fitness brand and want to reach potential clients in that niche. You can find fitness influencers to create a micro influencer campaign for your brand in front of their audience who are fitness lovers and more likely to buy your products or services. The conversion rate will be higher than placing your product in front of a random audience.
Build trust and provide social proof
Businesses do digital marketing to increase their growth and generate sales. It's more likely that people will buy any product or service if their favorite local or celebrity influencers suggest them. Social media influencers have the power to build trust through their close interaction with their community and fan base through their personalized content.
Increase business vanity metrics
Also, getting user-generating content and influencer posts is important from the business aspect as well. Many influencers can reach your exact target audience for your products, thus directly impacting your business metrics such as:
increase engagement rate
raise awareness
increase the brand's follower count
impact more traffic
and finally, make you more sales
What are micro influencers?
Micro-influencers are people who have fewer followers – 10,000 to 50,000 followers on social media but have a very strong relationship with their niche fan base.

definition
They are not celebrities or famous people that are considered macro influencers (who can reach millions of followers with one post) but they are specialized in one niche and have a big engagement rate from their niche audience. Micro-influencers usually create content in a specific area for a smaller audience, so brands get hyper-engaging results on their content because of it.
Logically, people will buy from somebody they love and trust. Micro-influencers can make a recommendation for a specific product or service, so their small but highly interested audience will respond. Businesses can practice this word-of-mouth promo method and reach their business goals.
Working with micro influencers and involving them in your marketing strategy is very simple. For example, a typical micro influencer marketing campaign consists of collaborative content marketing, or the influencers post sponsored content about the brand's product usually shared on their Instagram account or TikTok.
Lately, the term micro influencer is also challenged with the term nano influencers which refer to social media users or everyday people with even smaller follower counts but with hyper engaged who can easily add brands on Instagram as partners and share sponsored posts.
How to find micro-influencers on Instagram and TikTok?
We all know that Instagram is the most popular social media platform worldwide with over 1,3 billion users. There are many celebrities, famous people from all spheres, big influencers, and micro-influencers too. If you are in a situation of finding micro-influencers for your brand on Instagram, you need to take care of several things.
First, you can take a look at some hashtags. Search for hashtags that match your niche and your brand image too. You can find micro-influencers browsing a specific hashtag used on their posts.
For example, if your brand is in the fitness niche, search for hashtags like #fitnesscoach or #fitnesstrainer to find fitness individuals with 10,000 to 50,000 followers.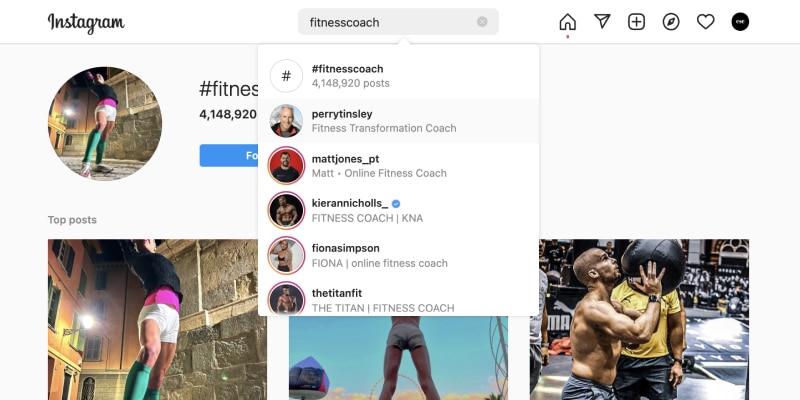 Next, you can check the following list of your followers. The chances are big that they follow other big accounts on Instagram in your niche at the moment. Follow what your followers follow and be in touch with the micro-influencers your audience likes.
Instagram third-party tools are another point of the micro-influencers finding. Searching for hashtags and checking your following list requires a lot of manual work. Some tools can do it for you. Many Instagram tools have different features, filters, and options you can use to find any micro-influencer in your niche to reach your business goals.
When it comes to TikTok, things are very similar. TikTok is one of the fastest-growing social media platforms with over 750 million users. The thing is, if your micro-influencers are on Instagram, they are probably on TikTok too.
To check this out, browse some hashtags relevant to your niche as you did on Instagram. Also, you can search for the hashtag #ad + add a keyword that matches your brand. You can find micro-influencers that directly promote products or services on TikTok to their audience.
TikTok content is video-based, so you can find your relevant micro-influencers searching for topics. Use the TikTok option to search by categories using a keyword related to your brand and find video creators in your niche with up to 50,000 followers. Searching for a TikTok challenge in the discover section will also work because following the trends is the main story on this platform.
How to find micro-influencers on YouTube?
YouTube is the 2nd biggest search engine on the internet after Google. That means people browse videos for something they need or for fun. Finding small YouTubers or micro-influencers here is crucial because they handle smaller audiences, engaging with them is easy, and the costs are lower.
To find smaller YouTubers, you can search for them on Google. YouTube is a platform owned by Google, so it will recommend some popular videos in your niche in the tab Videos. For example, your brand is in the beauty niche.
You can type "beauty YouTubers", and in the Videos tab, Google will show you many videos related to beauty, make-up, tutorials, beauty products reviews, etc. Or go directly in YouTube search and do the same with very specific search terms that usually influencers use to create videos, such as "my skincare routine". Create a list of the video creators you like and contact them for collaboration.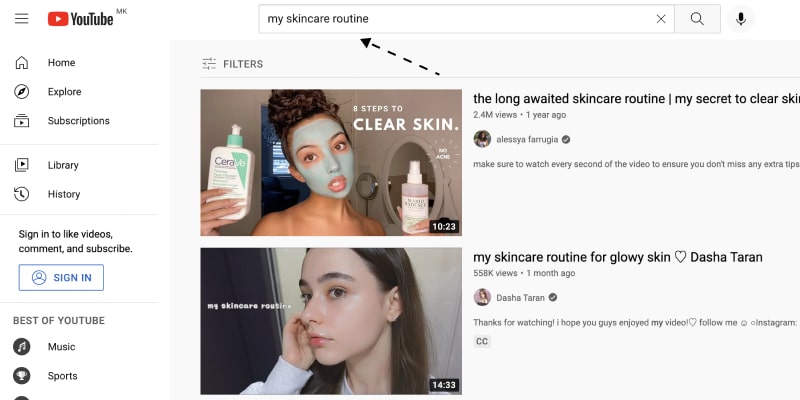 Next, you can check them up on YouTube trends. Open the Trending tab on YouTube, where you can see many popular videos at the moment. Search for videos in your niche, and you will find video creators that will match your brand image.
Another step you can do is to search for videos on YouTube related to your product or service.
For example, your brand is in the pet niche, and you have a product for dog grooming. Use keyword phrases in the search bar like "pet grooming" or "dog grooming tool" to find videos from relevant YouTubers.
Searching for hashtags is an evergreen method for finding relevant content or creators on social media. You need to find YouTubers who already worked with other brands and get engagement on their recommendations. Search for a hashtag #ad + your niche, and you will find videos where YouTubers directly promote products on their videos. These videos are also known as sponsored videos, and there is a tag on them.
The YouTube algorithm is so powerful. Always choose relevant micro-influencers for your business to create a super-engaged video that their audience will take action from.
How to find micro-influencers on LinkedIn?
LinkedIn is a business-related social media platform with over 65 million users. People often use LinkedIn for job-seeking purposes or hiring for their companies, but it can be a great market for your brand too. Many employers and employees have accounts there, so a collaboration with micro-influencers can be very beneficial for your brand.
Keyword research is one of the first things you should try to find micro-influencers on LinkedIn. Type in a specific keyword that matches your niche, and LinkedIn will give you a list of relevant profiles and pages. You can DM them directly on the platform chat or use their email in the contact info tab.
Next, you can do an author search. Everyone on LinkedIn can write or post content of any kind, so search for content authors in your niche. Check the most popular posts related to your brand and connect with the authors for potential collaboration.
Checking out biographies is another way of finding micro-influencers. You can use search filters, and LinkedIn will show you a list of relevant profiles. Open up some profiles and see their specialty in bio.
For example, you have a reviews management software (like we do 🙂 and need a micro-influencer for product or service promotion. You can type "reputation management consultant" or "reputation speaker" in the search bar and choose a profile from the result list. You can check the "People Also Viewed" section for similar accounts and connect with them.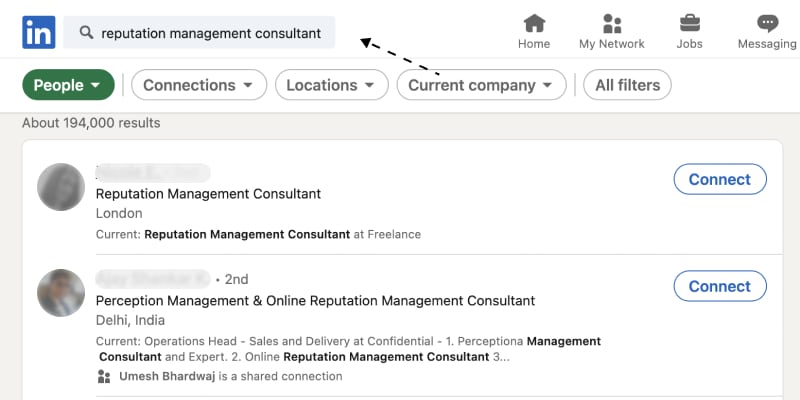 In the end, we can mention the LinkedIn groups. Search for groups related to your business and request membership. Inside you will have a chance to connect with many people in your niche with the same interests. Find accounts with more than 10,000 followers and connect with them for collaboration.
Practical Incentives for micro-influencers (discounts, product samples)
Many micro-influencers will agree on collaboration for giving out products, gift cards, promo codes, and similar.
All rewards are high-perceived and bring benefits to the micro-influencers and their audience.
For example, giving out gift cards will help people to interact with your brand continuously in the future. Micro-influencers can make a recommendation for it, and their audience will have a gift from your brand directly. They will receive value and be in touch with your products.
You can also reward your micro-influencers with direct access to your brand. Maybe you have an info-product, course, or a training program. Give them free access to it in exchange for a promotion. The customer engagement will be higher than usual because micro-influencers will have an experience regarding your business, and it will be easier to share the feeling with their audience.
Example DM messages to reach out to micro-influencers
Reaching out to micro-influencers can be a challenging task for businesses. It's not that easy to grab their attention to open up your DMs. Here are some examples of DM messages to reach out to micro-influencers:
Hello [Micro-influencer name],

We found your posts about [your niche], and you have great content! We are a [your niche] brand, and we offer products that may be interesting and helpful for your audience. If you agree, we will send you some of them to check and recommend to your audience.

Hope you will see an opportunity for collaboration,

Many thanks [Your brand's name].
Hey [Micro-influencer name],

We are on our way to launching a new marketing campaign for [your product]. We found your profile as an awesome place to help us with promotion. Because you are focused on [your niche], we would like to make a deal with you to be a part of our brand.

Waiting for your answer,

[Your brand's name] team
Brands that work with micro-influencers
Many big brands and companies successfully collaborate with micro-influencers for products or service promotion.
Spotify rises usage of 'Discover weekly' feature on Twitter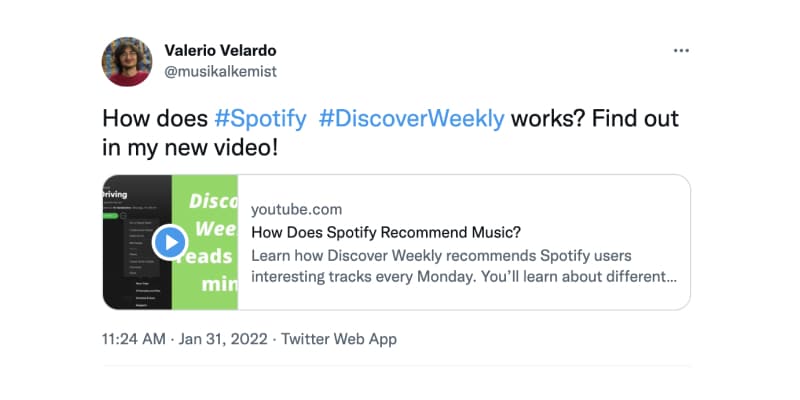 First, we can mention Spotify as one of the leading music platforms in the world. Spotify collaborate with micro-influencers for years for their algorithm promotion "Discover weekly". Their micro-influencers tweet about Spotify products and features, making real-life testimonials from their fans.
Coca-Cola's spreads the #ShareTheMagic campaign with micro TikTok-ers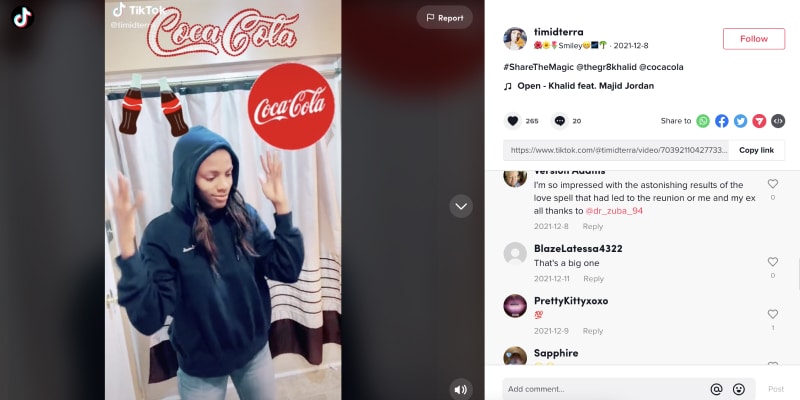 Coca-Cola is using micro-influencers to promote its drink across the world. Their strategy is for people on social media with less than 100,000 followers to travel, do sports, eat food together with Coca-Cola, dance and show the enjoyment of drinking it.
The recent #ShareTheMagic campaign launched during the Christmas holidays was spread by TikTok dancers who performed choreography for a new DJ Khalid's song.
Amazon promotes Audible with micro YouTubers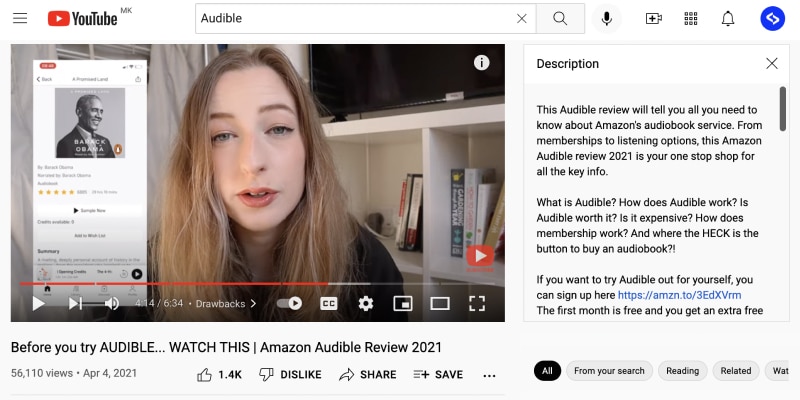 Amazon, one of the world's business giants, uses micro-influencers for their audiobook Audible. They use sponsored videos with smaller YouTubers and spread the word on other platforms. Amazon also hires micro-influencers on Instagram to use their audiobook and make recommendations in the music/audio niche. 
As you can notice, micro-influencers are an important marketing weapon that even big companies use for their marketing campaigns and product promotions.
Gro-To collaborates with moms to spread new product line on Instagram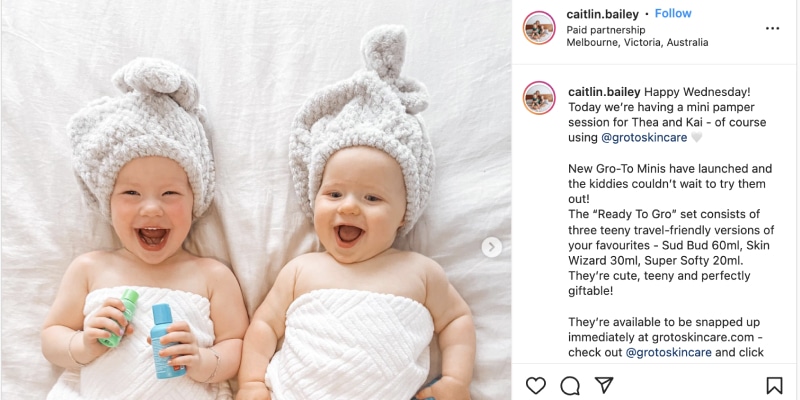 And finally, here is a smaller company from Australia, Gro-To and they collaborate with actual micro influencers to reach their niche market.
They work with Caitlin Bailey, a mom of two who shares personalized photos of her babies using the new Gro-TO product line on Instagram.
UGC tools to capture micro-influencers' content
The EmbedSocial platform is a UGC platform that is uniquely designed to help brands monitor and generate all the social media posts that mention their brands to re-use them as evidence on their website in social proof formats.
The most useful tools and use-cases for brands doing influencer marketing campaigns are the following:
Social media aggregator
Use EmbedFeed to aggregate all posts that include a specific hashtag and are publicly shared on YouTube, Instagram or Twitter. This is extremely useful when your company collaborates with influencers who use a branded hashtag to communicate the sponsored campaign on social media.
The social media aggregator is equipped with API integrations that allow the system to pull this data in real-time and store it in one single place. Additionally, brands can create social media widgets and create hashtag walls with all the user-generated content from their micro-influencers.
See Instagram hashtag wall in action.
The future of micro-influencers and NFT
NFT, or Non-Fungible Token, is a digital asset of any kind, like a picture, drawing, GIF, song for selling or purchasing. You can track their ownership on the blockchain network. Micro-influencers are the future of the NFT business because their audience is smaller and easy to engage. Micro-influencers build trust and loyalty among their followers who are ready to take their advice.
Building a community on this level is crucial for selling NFTs. You will get huge engagement on your NFTs, people will be more interested in your next collection, and your brand will build a name on the market. The future of micro-influencers is brighter than ever because all brands know the importance of having a super-hyped audience and faster engagement rates on their content.
Frequently asked questions about micro-influencers
How much do micro-influencers get paid?
Micro-influencers usually set the price by themselves, and there are no fixed rates for their services. Generally, they charge around $10 for every 1000 followers, which means that for 10,000 followers, micro-influencers can charge at least $100 for marketing purposes.
How to hire a micro-influencer?
Search for them manually. Go on every social media platform relevant to your brand and search for micro-influencers in your niche. You can use hashtags, keyword phrases, and similar. Next, follow what your followers follow and get in touch with them. If you are on a budget, use an influencer marketing platform to find relevant micro-influencer for your business or hire an agency for the same purpose.
How do micro-influencers work on Instagram?
You can hire micro-influencers on Instagram to do a sponsored post with your product or service, be your brand ambassadors, do your outreach or invite other influencers in your niche to support your brand too. 
Conclusion
Now is the perfect time for marketers to implement micro influencer campaigns in advertising and the overall marketing strategies. Using small influencers with a decent following but with stronger relationships with your niche audiences is a perfect formula for success.
At the end of the day, whether you choose to work with thought-leaders , major celebrities or a local food blogger with a smaller following the most important thing is to find influencers who match your brand's values and can help you produce even more great content that will reach more followers.