Customers find online reviews very important for their buying decisions. Moreover, online reviews are one of the most straightforward formats of user-generated content. When they're in the process of exploring businesses and products, they want to check a previous customer experience before deciding to pay. In fact, 93% of customers check product reviews before purchasing, and 88% of people consider reviews to be as relevant as personal recommendations from friends. However, some businesses might think it's a good idea to buy online reviews.
Reviews have to be original and authentic in order to be trustworthy. That's why companies are competing to get their customers to write as many online reviews as possible.
However, some of them go for paying for fake reviews, which might not be the best decision. Although it may appear to be a harmless technique for expanding your business, gaining new consumers, and improving your exposure in search engines, buying Google or Facebook can destroy your brand's online reputation.
FYI: You can embed Google reviews widget automatically with EmbedReviews platform. Start a free trial and display your Google reviews now.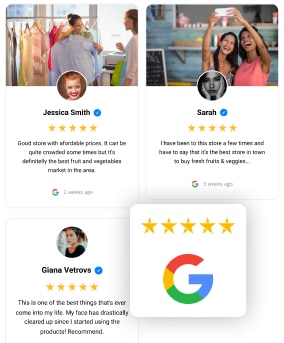 Generate & embed your Google Reviews.
Try EmbedReviews, generate Facebook and Google reviews, and display social media reviews widgets on your website. Automatically and in seconds.
All PRO features | Cancel any time.
The trust in reviews will erode as more allegations emerge of businesses attempting to trick the system by buying positive reviews. In this article, we're talking about why it's a bad idea to buy online reviews for your business on different platforms.
Keep reading to find out more.
Why You Shouldn't Buy Facebook Reviews
Buying Facebook reviews is a common practice, especially for businesses that want to grow fast.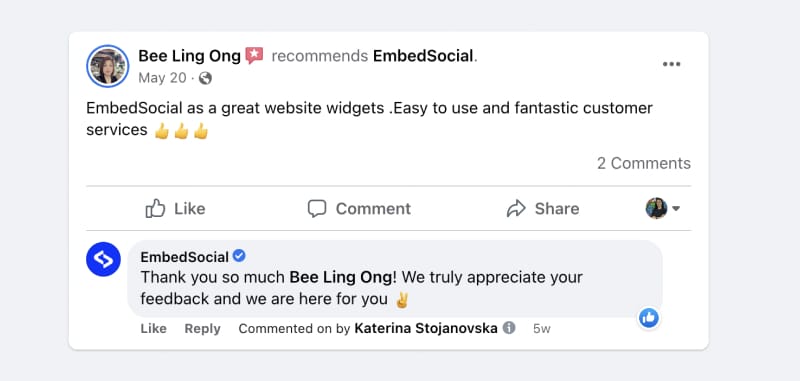 It's against Facebook's community standards
According to Facebook, all recommendations concerning business pages on the network are subjected to the platform's community standards. Any recommendation that does not adhere to these standards will be removed.
"Account integrity and authentic identity" is one of these requirements. According to Facebook, accounts that are disruptive to the community or "are used to persistently or egregiously abuse our Community Standards" may be blocked or removed.
It can lead to customer dissatisfaction
No matter how much you want a Facebook review to be genuine, it won't be. It's practically useless to your customers because someone who has never visited your business has left it. It won't show them what it's like to buy your product or service in real life.
It could also involve false information that leads to genuine customer dissatisfaction. Even though you'll have more Facebook reviews on your page, it'll be a negative business move in the long term.
Fake Facebook reviews are easily recognizable
Fake Facebook reviews are almost always easy to recognize. They're gushy and flattering to an unhealthy degree.
Having phony reviews is bad for your brand, especially after people figure it out. It implies that customers do not have faith in you or your company.
For local company owners, credibility and word of mouth are crucial. Do you really want to risk losing it just to get some five-star reviews? Even if your customers don't find out about the phony reviews, Facebook is likely to, and this will make things even worse.
How to get Facebook reviews instead of buying?
Getting real users from Facebook should not be that hard. In reality, if you provide a great product or service, just ASK and see what will happen.
Happy customers will be thrilled to help and share their feedback. Here is what you can do:
Send an email to customers with a link to your Facebook reviews form.
Add a QR code in your menus or flyers and ask satisfied customers on the spot (in your shop, restaurant, or office) – to scan and submit their Facebook review.
Do a direct outreach – call them and go together with them through the process to get the review.
Show Facebook reviews widget on your website with a 'Leave a review' button to link potential reviewers back to your Facebook page reviews section
FYI: You can embed Facebook reviews widget automatically with EmbedReviews platform. Start a free trial and display your Facebook Page recommnedations now.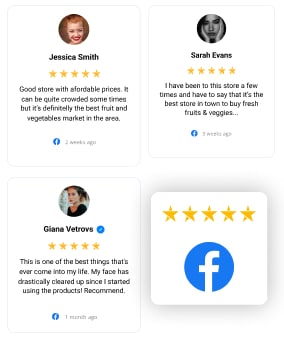 Embed Facebook Recommendations and Reviews on your Website
Try EmbedReviews, generate Facebook and Google reviews, and display a social media reviews widget on your website. Automatically and in seconds.
All PRO features | Cancel any time.
Why You Shouldn't Buy Google Reviews
Google is probably the most popular place where people leave reviews. Let's see what risks you're taking if you decide to buy Google reviews.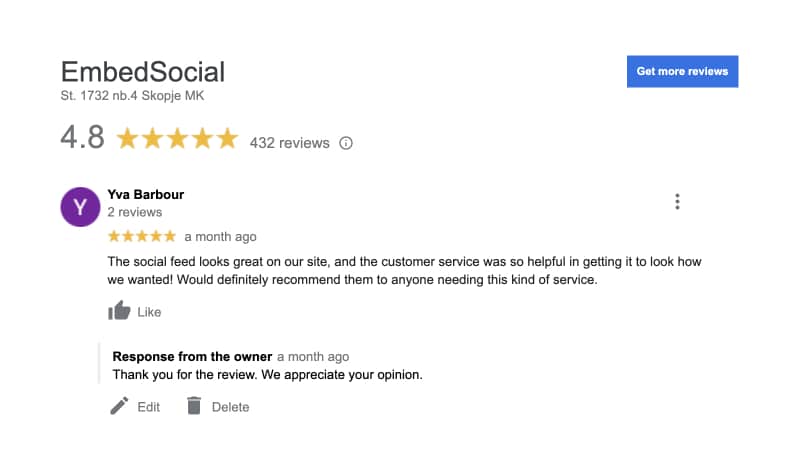 It violates Google's guidelines
Offering rewards for reviews violates Google's guidelines. In addition, Google will mark any content with a conflict of interest as forbidden and blocked.
According to Google's guidelines, the following types of content are considered to be deceptive content:
Fake engagement
Impersonation
Misinformation
Misrepresentation
More specifically, Google forbids: "Content that is not based on a real experience and does not accurately represent the location or product in question."
Another thing that Google says is:
"Don't post fake content, don't post the same content multiple times, and don't post content for the same place from multiple accounts."

Google guidelines
So, if you decide to buy Google reviews, you'll most likely get in trouble with Google and they will block your account(s). In fact, in 2020, Google claimed that its fraud detection program banned 55 million fake reviews and 3 million fake company profiles.
Moreover, an automated system helps Google detect fake reviews.
It's illegal
If you're in the US, you won't only get in trouble with Google. You'll get in trouble with the Federal Trade Commission (FTC), the public institution that has the purpose of protecting customers. Fraudulent or deceptive reviews (testimonials) are prohibited, according to Section 5 of the FTC Act, 15 US Code 45. Companies who use phony sponsored reviews to promote their business online are vigorously pursued by the FTC. If you're caught, you'll be punished with at least $10,000 per review.
In 2017, for example, 9 vehicle dealerships in California paid a total of $3.6 million to buy reviews online. Sage Automotive Group had been creating fraudulent reviews on Yelp, Facebook, and Google, among other sites.
The Federal Trade Commission also fined a Nashville-based company providing guitar instructional DVDs $250,000 in 2011. Legacy Learning Systems, a limited liability company, had been buying false reviews and not revealing this to customers.
The FTC has some useful advice for firms about endorsements and testimonials, so make sure you read them if you're considering buying Google reviews.
It's bad for your SEO
Because Google's algorithm for ranking local search results is based on so many different signals, it can be tough to decide where to focus your efforts. It's critical to pay attention to a variety of distinct local SEO ranking elements to guarantee a local business ranks effectively for relevant search queries.
One thing is certain—reviews are an important SEO factor. Based on the findings of Whitespark's Local Search Ranking Factors survey for 2021, reviews (17%) are the second most important factor for local packs, right after having a Google My Business profile.
​​Over the last three years, reviews have become slightly more important for Local Pack/Finder rankings, increasing from 12% in 2018 to 17% in 2021. Despite the tiny increase, it indicates the continued importance of reviews among consumers. Since 2018, when links were demoted to second place, reviews have remained the second most important Local Pack/Finder ranking element.
If you fail to provide authentic reviews, your business will lose discoverability on Google, potentially costing you a lot of revenue.
Customers can see if a review is fake
Google has the highest number of fake reviews reported. Although Google eliminated nearly 130 million bogus reviews in 2019 and 2020, it had the highest rate of phony reviews at 10.7%.
In addition, more than 80% of people have reported spotting a fake review in 2019. Noticing that a review is fake isn't that difficult.
These are some things most fake reviews have in common:
The user only writes reviews in a particular niche or industry
The review is the first for that Google user
The user isn't very active on Google
The user posts a batch of reviews and then disappears
Different accounts have posted a similar review
Reviews are vague and don't contain too much information
Online buyers can also use a variety of apps to spot fraudulent reviews. These tools search for frequent red flags, such as the ones listed above, that aren't often seen in genuine reviews.
You won't learn the real feedback of your customers
One of the most frequently disregarded consequences of flooding your business profile with false reviews is that you won't be able to read your customers' genuine feedback. For example, your company may have issues that you are unaware of, but if you prevent unfavorable evaluations, you will never learn about them.
You can look at negative reviews as free testing for your company's operations. If you don't ask for both positive and negative feedback, how will you know what's working and what isn't?
How to get Google reviews instead of buying?
If you're looking to get more Google reviews, there are a few things you can do instead of buying them.
First, make sure you're active on Google My Business. This will help ensure that your business is appearing in search results and that customers can easily find your contact information.
You can also reach out to customers directly and ask them to leave a review.
Related to this, consider offering incentives for customers who leave a review. This could be anything from a discount on their next purchase to a free product or service.
Finally, embed Google reviews on your website or blog to show potential customers that you're a business they can trust. Plus, you can include a Google reviews link to lead potential reviewers directly to the Google reviews form.
FYI: You can embed Google reviews widget automatically with EmbedReviews platform. Start a free trial and display your Google reviews now.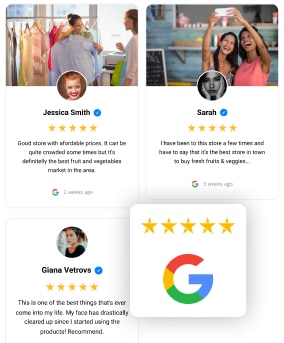 Generate & embed your Google Reviews.
Try EmbedReviews, generate Facebook and Google reviews, and display social media reviews widgets on your website. Automatically and in seconds.
All PRO features | Cancel any time.
By taking these steps, you'll be more likely to get genuine, honest reviews that will help improve your business's online reputation.
Why You Shouldn't Buy Yelp Reviews
Yelp is also one of the most popular review sites, so buying fake Yelp reviews is pretty common. Let's see if that's a good idea.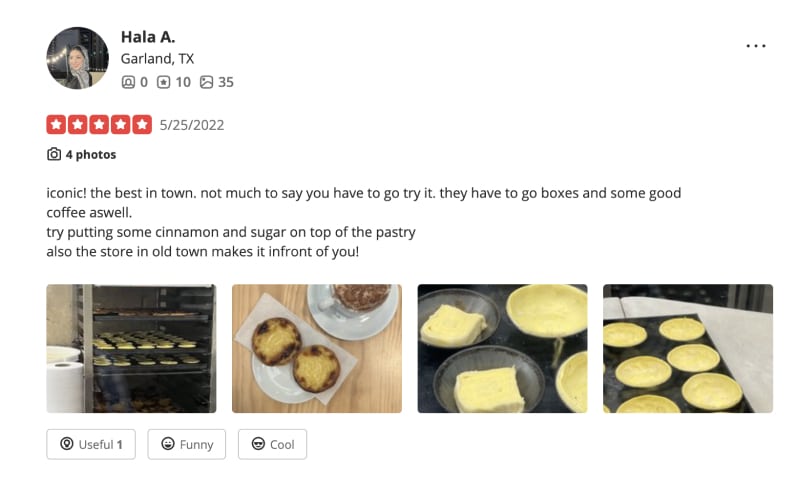 It violates Yelp's guidelines
There should be no conflicts of interest for reviews, according to Yelp's criteria. Customers should never be asked to post reviews.
Moreover, this is also stated in Yelp's guidelines:
"Your contributions to Yelp should be unbiased and objective. For example, you shouldn't write reviews of your own business or employer, your friends' or relatives' business, your peers or competitors in your industry, or businesses in your networking group."

Yelp's guidelines
Yelp can detect fake reviews
Yelp's automated program may not promote reviews that appear to be solicited or encouraged by the business, so asking for reviews in advance could affect your Yelp rating. Furthermore, many firms only ask pleased clients for feedback, resulting in biased numbers. Yelp's software looks for reviews that appear to be solicited and does not endorse them.
According to 13News, Yelp's automated recommendation algorithms rejected 4.3 million reviews in 2021 because it suspected them of being fraudulent, solicited, or otherwise untrustworthy. These efforts by Yelp are completely justified, as this is the platform with the highest average percentage of fake reviews (7.1%) across various business categories, coming only after Google.
A quick tip to collect more Yelp reviews is to create a Yelp reviews widget for your website and include a link back to your Yelp profile so people on your website can find and submit a review on your Yelp page.
Why You Shouldn't Buy G2 Reviews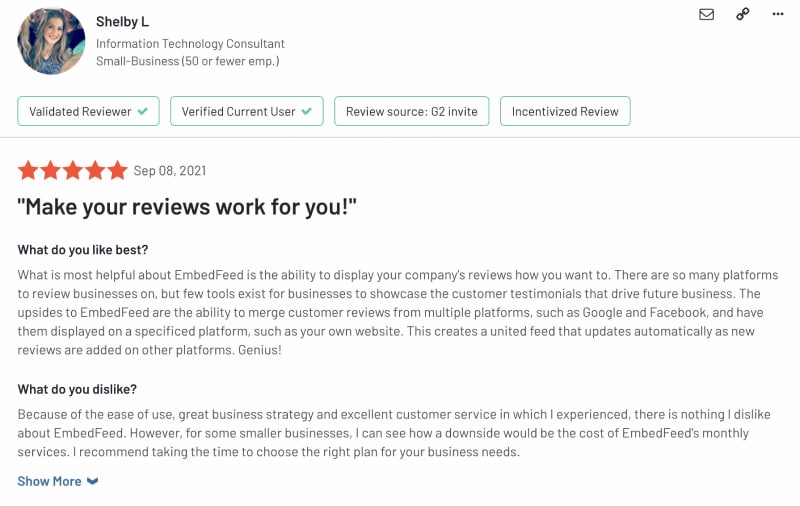 G2 wants authentic reviews
G2's first review principle is to strive for authentic reviews. To verify a G2 reviewer's identity and present employer, G2 requires the usage of a LinkedIn account or a verified business email address. They also verify reviewers by collaborating with sellers and organizations to securely authenticate users on a limited number of platforms.
G2 reviews are reviewed automatically by their algorithm first. Then, staff members manually check the reviews. Before being published, all reviews must go through the moderation process.
FAQs about buying online reviews
How common are fake online reviews?
In 2020, 30.9% of evaluated online customer reviews were found to be fake, according to a new analysis from Fakespot, a creator of AI technology that helps customers spot fake online reviews and merchants.
Are online reviews effective?
Yes. The average customer is willing to pay 31% extra for a merchant with positive reviews. Moreover, 88% of customers trust online reviews as much as they trust personal recommendations. Most customers check reviews online before making a purchase or collaborating with a company, interested in previous experiences. Positive reviews can help companies close more sales.
Can review platforms detect fake reviews?
Yes. Platforms like Google, Facebook, Yelp, Trustpilot, G2, and others have their own engines that detect fake reviews and delete them. In some cases, they can also block your account.
Is buying online reviews illegal?
Yes. The Federal Trade Commission (FTC) has the authority under 15 US Code 45 to stop and punish parties who engage in misleading and deceptive conduct acts or practices "in or affecting commerce." It is, therefore, illegal to violate the FTC's stated rules. FTC also prohibits fake testimonials.
Is it illegal to ask for positive reviews?
No, it's not. Every business can ask its users to leave a review on Google, Facebook, Yelp, or another review site. However, buying fake reviews breaks these sites' guidelines and is illegal in some countries.
Key Takeaways
Buying online reviews can get you into serious trouble and damage your brand's online reputation. Review sites forbid reviews that aren't authentic and will most likely remove fake reviews from your profile.
A better alternative is to simply ask your customers to leave a review. In fact, about 80% of people are willing to leave a review when they are asked. When asking for a review, make sure to:
Have a short review process and send the direct link to the customer
Respond to the reviews with a genuine appreciation for the effort
Address problems listed in the review, so customers know you care.
We understand that getting the number and types of reviews you desire takes time. However, it is preferable to wait while giving excellent service to your consumers rather than try to deceive Google and other review sites with fake reviews.
FYI: You can embed Google reviews widget automatically with EmbedReviews platform. Start a free trial and display your Google reviews now.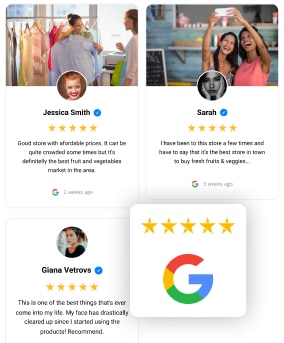 Generate & embed your Google Reviews.
Try EmbedReviews, generate Facebook and Google reviews, and display social media reviews widgets on your website. Automatically and in seconds.
All PRO features | Cancel any time.