Imporatant update for 2023: Due to Twitter API changes you will be able to embed Twitter account widget by using the Premium plan and the Twitter hashtag widget by using an Enterprise plan. For more information, feel free to chat with our customer support team or reach out to support@embedsocial.com
Embedding a Twitter feed on your website can enhance user engagement and promote your online presence.
Whether using Twitter's tools, WordPress plugins, or widget generators, embedding a Twitter feed widget is straightforward and customizable to fit your site's aesthetics.
Scroll down to learn how to embed Twitter feeds and social walls on any website and what can that bring to your marketing strategy.
FYI: You can embed Twitter feed widget automatically with EmbedFeed platform. Start a free trial and display your Google reviews now.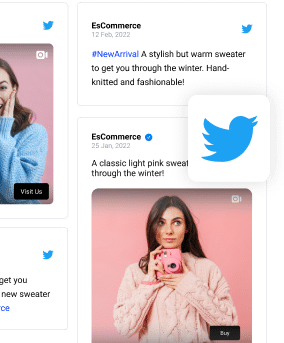 Show Twitter shoutout widget in a wall of love page on your website automatically!
Try EmbedFeed and add Twitter, Vimeo, TikTok, Instagram, YouTube, or Facebook feeds on your website with just a few clicks.
All PRO features | Cancel any time.
Benefits of embedding your Twitter feed
If you are still not convinced that embedding a Twitter feed here is a good tactic, here are some of the main reasons for embedding your Twitter embed feed that might change your mind:
Improves your website's visual appeal, dramatically
Reduces the bounce rate of your website
Boosts engagement and increases visitor's time on site
Promotes your products and services in more engaging ways
Systematically organizes your Twitter posts and hashtags in one place
Promotes your Twitter account without having to leave your website
Turns website visitors into Twitter followers
Shows social proof and trust around your brand
If these benefits resonate with you, scroll below to explore 2 easy ways to get all the mentioned benefits using an action that takes just a few steps.
Ways to Embed Twitter feed to any website
Integrating social media platforms like Twitter into your website not only improves your site's interactivity but also helps increase social engagement, expand your website visitors' reach, and boost your site's SEO.
Depending on your website's structure, preferred style, and how much you want to customize the look and feel of your embedded Twitter feed, you can choose from a range of methods.
Here are three common ways to embed a Twitter feed into your website:
Twitter Publish
WordPress Plugins
Widget Generators
How to embed a Twitter feed manually
Let's start with the manual option to display Twitter feeds on a website.
Of course, Twitter, as one of the most powerful social media platforms, has its own embedding tool.
With this tool by Twitter, you can embed tweets from Twitter list the following media: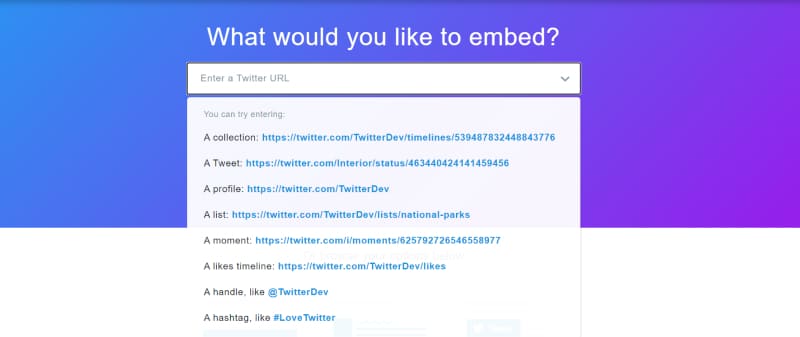 You must enter the media URL in the blank space, copy the provided embed code, and embed it on your website builder in the HTML section.
For example, if I want to publish our latest company update on my website, it will look like this:
Tweets by EmbedSocial
Additionally, the Twitter widget provides you with the option to embed your Twitter timeline and Twitter buttons on your website.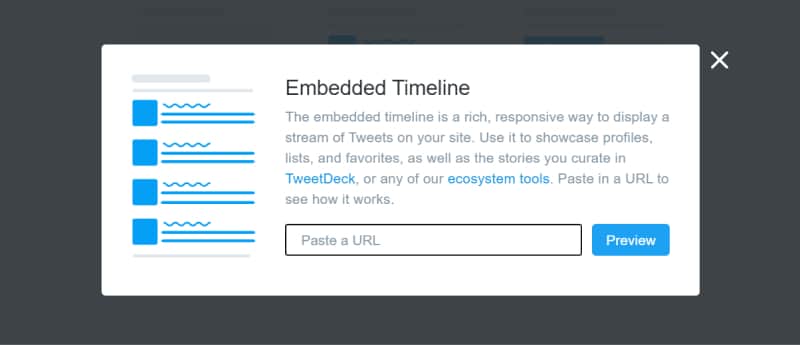 When it comes to embedding a Twitter button, they give you the option to choose from the following:

It seems simple and easy, right?
But what if I tell you that there is even an easier way to embed code in your Twitter and social media posts while modifying them the way you desire?
Scroll down to see what I am talking about.
How to embed your Twitter feed with the EmbedFeed plugin
Our team at EmbedSocial developed a simple plugin that will automatically generate all your Twitter posts and show them in the form of a beautiful Twitter widget in just a few seconds.
With this, you can generate Twitter Feed Widgets from your account, Twitter feeds that mention your account, or embed Twitter hashtag feed from a selected hashtag(s).
As a result, you will save plenty of time manually embedding your Twitter posts one by one.
Instead, you will give your website visitors a superb experience they can't resist in just a few clicks. And not only you will increase their dwell time, but you will also add the needed social proof and trust around your brand thanks to a single widget.
On top of that, you can sit back, relax, and watch how the number of visitors that will turn into Twitter followers grows dramatically.
To get started, you need to choose your own Twitter hashtag and content source, and our EmbedFeed's system aggregator will pull the selected Twitter content and media you want to see embedded on your website.
The best part is that the widget is fully customizable, so you can play around with all the options to curate the Twitter widget that best represents your brand.
Show Twitter photos of public tweets by other Twitter users that mentioned your company, display your latest Tweets or position your Twitter timeline widget on your product page to show tweets from happy customers. And don't forget to activate the Google Analytics option to track your progress.
Let's dive in.
Steps to display Twitter feed with EmbedFeed
Step 1: Start a trial for EmbedFeed
Step 2: Go to 'Sources' and click 'Add new source'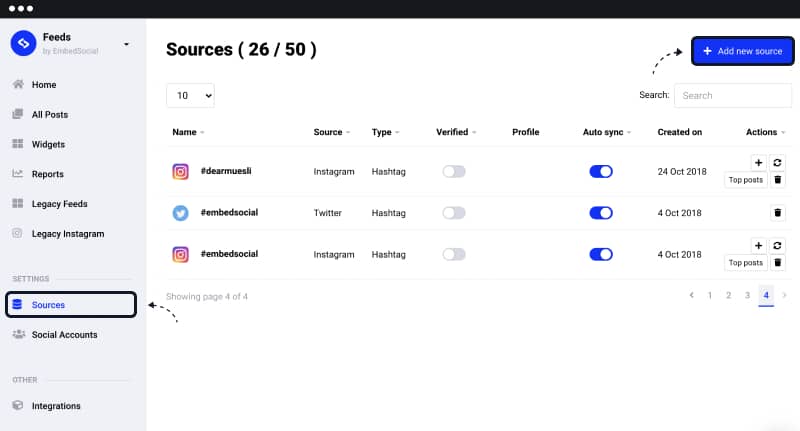 Step 3: In the social media networks list, select 'Twitter' and in the popup, connect your Twitter account with EmbedFeed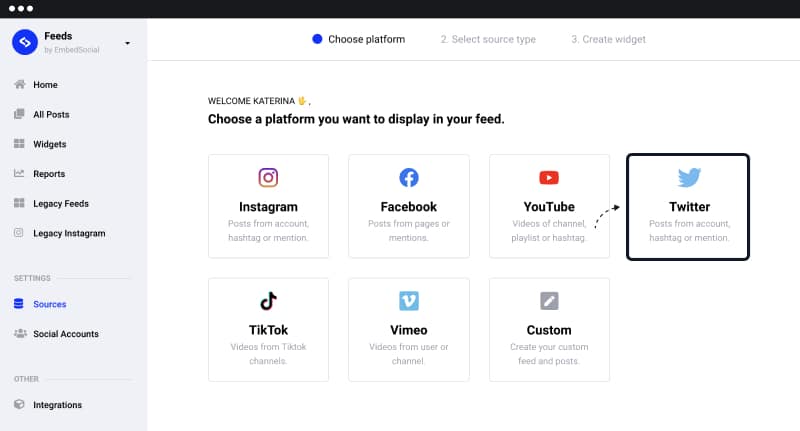 Step 4: Select type of Twitter source you want to connect: hashtag, mentions, or your Twitter page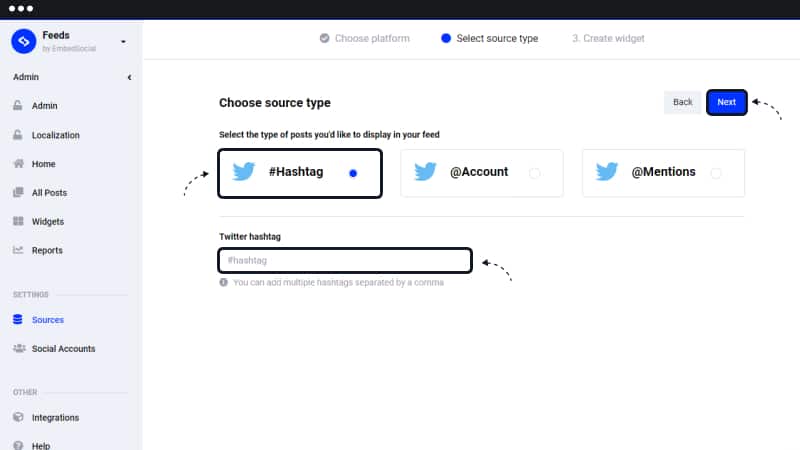 Step 5: Customize and moderate the widget the way you want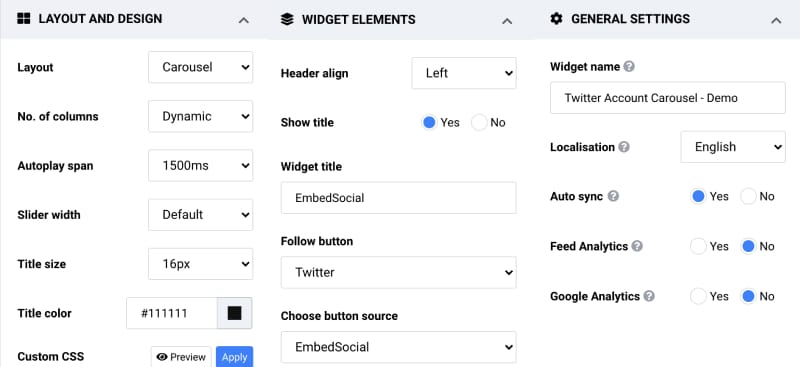 Please note: The platform has an in-built CSS builder that gives you complete freedom to redesign your Twitter feed's look and feel.
Step 6: Copy the provided HTML code.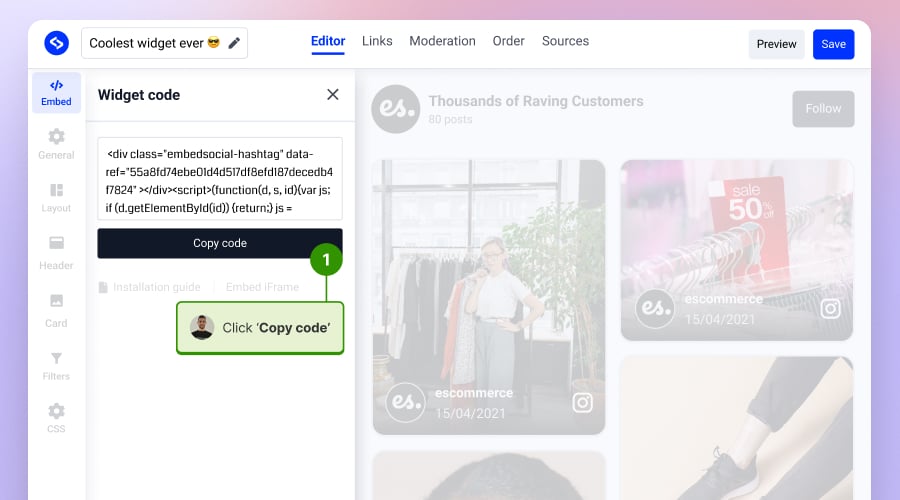 Step 7: Paste the code on your webpage where you want the widget to appear
That's pretty much it.
If you are interested in exploring more and seeing live how it will look on your website, take a look at these demos Twitter account feed and Twitter hashtag feed.
Please note: Once you embed code on your website, your @ Twitter embed code feed will automatically be synced.
Additionally, the EmbedSocial platform is integrated with all major social media networks like Instagram, Twitter, Facebook, and YouTube; you name it.
This allows you to choose posts from more than social media channels, web pages, or sources and combine them in a single widget.
How to embed Twitter feed on every website
Luckily, the EmbedFeed platform integrates with the major CMS, website builders, and all platforms that have the option to install a plugin and embed 3rd-party iframes or JavaScript codes.
To make this even easier for you, we created a detailed step-by-step tutorial on how you can easily display a Twitter feed on your website.
How do I embed a Twitter feed on WordPress?
To embed the Twitter feed code in WordPress, follow these steps:
Log in to your WordPress website and open the page editor where you want to embed.
Click the + icon to add a new block and search to add the HTML block.
In the HTML block, paste the code you have in the EmbedFeed editor.
That's it. The Twitter feed widget will immediately appear.
How do I embed a Twitter feed on WebFlow?
Webflow is one of the most popular web-building platforms. Users are able to embed third-party codes, and this option is available for PRO users. To discover this option, follow these steps.
Log in and open your page in the Webflow editor.
Click the top + icon in the left-hand menu to add a new element.
In the elements list, click the Embed section, and in the popup text area, paste the Twitter widget code.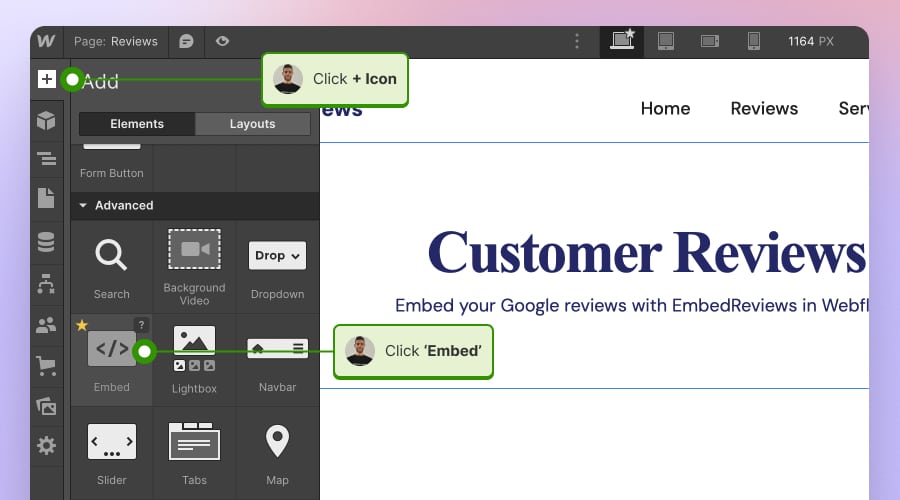 That's it. The widget will appear on your Webflow page.
Full guide to embed Twitter feed in Webflow >
How to embed Twitter Feed To Shopify Website?
Shopify is a robust platform that companies use mostly for e-commerce. That means that having their Twitter activity on a Shopify website is a crucial section to showcase the latest company updates and news.
To embed a Twitter feed in a Shopify website, just follow these steps:
Open the Shopify dashboard and navigate to Pages, and open the page where you want to embed Twitter feed
In the text editor top right corner click Show Html, and paste the generated code from EmbedFeed
Click Save.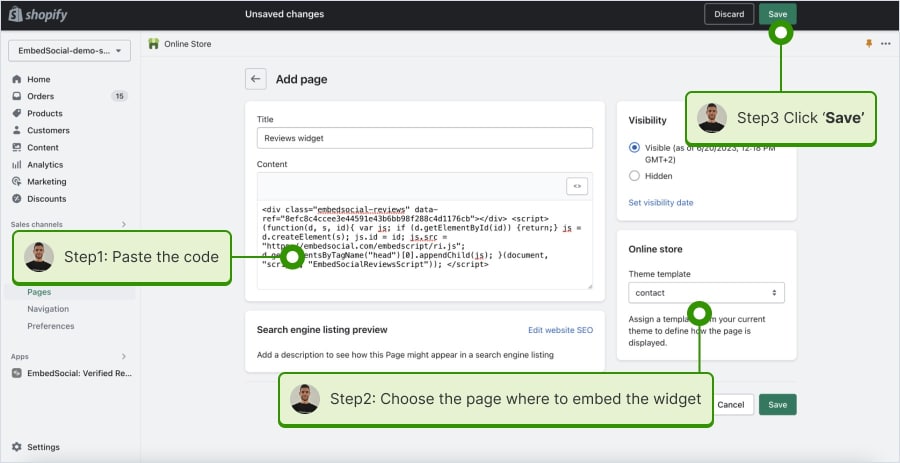 Embed Twitter feed for Squarespace
Embed Twitter feed for PageCloud
Embed Twitter feed for Weebly
Embed Twitter feed for Wix
Embed Twitter feed for Shopify
Twitter Publish vs. EmbedFeed
Yes, both tools offer a simple way to make embedding twitter feeds from various Twitter posts on your website.
But, for you to see the difference, I will list below a few PROs and Cons for both methods:
Twitter feed embedded manually with Twitter Publish
If you use the manual option provided by Twitter, here is twitter list of what you should expect:
Usage: Individual accounts for mostly professional use cases
Price: Free
Customizations: Limited
Moderation: None
Flexibility: Limited, you can't create a feed with other social media content
Twitter feed embedded using EmbedFeed's aggregator
If you decide to use a social media or Twitter aggregator like EmbedFeed, here is what you will get:
Usage: Professional and brand accounts
Price: Free Trial / Paid
Customizations: Endless
Moderation: Hand-pick options and automatic with keywords
Flexibility: You can create a feed with other social media content
See the difference?
Which one do you prefer more?
Examples of EmbedFeed Twitter widget
Do more: Embed Feed from Instagram, Twitter, and Facebook
I mentioned a few times that EmbedFeed is an all-in-one social media aggregator that has integrations with all big social media networks.
It provides options to generate and embed feeds from Facebook, Twitter, Instagram, YouTube, TikTok, Vimeo, or create Custom Feeds.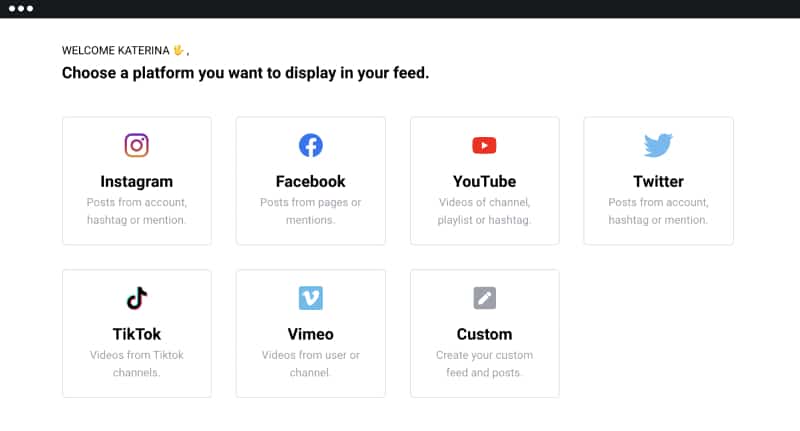 And the best part is that you can combine all these sources in one big social media wall and embed it on a dedicated page on your website.
Here are more details about the other social media widgets available in EmbedFeed:
Conclusion
Getting your brand involved on Twitter and embedding your Twitter activity on a website revolves around more than just being there, interacting and engaging.
It is more about utilizing social media's undeniable power to provide your visitors with the best experience they deserve.
Do you consider trying some of the ways mentioned above and displaying your embed Twitter reviews or Twitter hashtag feed on your website?
Feel free to drop us a line and let us know.
FAQ:
Ready to embed your first Twitter feed now?
Try EmbedFeed for only $29 and also get Instagram, Youtube, Twitter feeds, hashtags.
7 days free trial · Easy setup · Cancel any time