Video testimonials are honest customer reviews to share personal experiences with a specific product or service in the form of a video.
Brands often use testimonial videos from their customers as a great way to showcase their product or service on social media, like Instagram reels, TikTok videos, YouTube videos, or basic video posts.
Customer video testimonials help boost engagement, build trust with potential customers, and generate leads and sales by providing an account of real-world success stories.
This blog post will show you how to find and stimulate customers to create testimonial videos, discover already posted videos, and reuse them for marketing.
What is a Customer Video Testimonial?
A customer video testimonial is a short video where a customer shares their positive experiences and feedback about a product or service, used by companies as a marketing tool to build trust and credibility with potential customers.
Why Customer Testimonial Videos?
Here are some of the reasons why investing in customer testimonial videos can be beneficial:
Builds Trust and Credibility
Customer testimonial videos allow real users to share their genuine experiences with a product or service, which can help build trust and credibility with prospective customers, as they can see firsthand accounts of the product's value.
Enhances Engagement
Video testimonials are known to be more engaging compared to text testimonials. People are more likely to watch a video testimonial than read a written review; hence, it can potentially hold prospective customers' attention better, helping convey the message more effectively.
Visual Proof of Customer Satisfaction
Video testimonials provide visual proof of customer satisfaction, where prospective customers can see and hear the satisfaction and happiness in the existing customers' expressions and tones, making the testimonials more believable and impactful.
SEO Benefits
Video content can help improve a website's SEO. Search engines tend to favor websites with diverse content, including videos.
Embedding video testimonials on a website can help enhance the site's visibility in search engine results, potentially driving more traffic.
Facilitates Emotional Connection
Videos can help in establishing an emotional connection with the viewers. Through customer video reviews, customers can convey their stories more personally, which can resonate well with potential customers, fostering an emotional connection with the brand or product.
Learn more: How to ask for a video customer testimonial?
What Makes a Great Customer Video Testimonial?
It would be best to consider some elements in creating video testimonials. If you want to use a fully-packed video testimonial in your marketing campaigns or want to embed it on your product page, make sure to fill in the following "checkboxes":
Real stories from real customers
First and foremost, ensure that your customers' video testimonials are real and honest. It's a fact that some brands pay people to create online reviews for their purposes in a required video format. Remember that nothing is more powerful than a real customer testimonial video recorded with their own words without any pressure.
Focus on the customer
The video testimonials are created from customer to customer, so they should always be the focus. Like any well-told story, the best customer testimonials don't just share their happiness with the final product but build a narrative and take the viewer on a journey that tracks their complete experience.
Also, be open to communicating on social media and explain the step-by-step process of how customer feedback can help you bring better products or services to the market.
Authenticity and believability
Your video testimonials for social media should be authentic to evoke positive energy from the people and successfully share the success story.
To increase the authenticity of your video testimonials and make them stand out from the crowd, use appropriate music to set the tone to create a heartwarming moment.
Relevance to the product or services
Last but not least, the key element of a great video testimonial is the relevance of the content related to your product or service.
Often, customers trust other customers and want to feel emotionally connected with the product they need. Implement such video testimonials in your marketing campaign to increase your brand awareness and enjoy the positive feedback of the entire process.
---
FYI: You can embed Instagram Reels widget automatically with EmbedSocial's social media aggregator and UGC platform. Start a free trial and display your social media widgets now.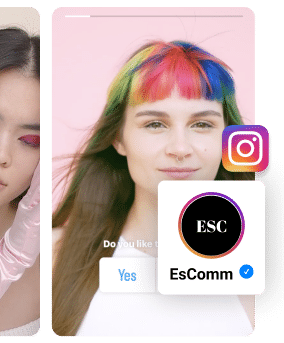 Embed Instagram Reels videos on your website automatically!
Try EmbedFeed and add TikTok videos, Instagram, YouTube or Facebook feeds to your website.
All PRO features | Cancel any time.
How to Create a High-Quality Testimonial Video?
To create high-quality video testimonials, you should create the perfect strategy for getting the best testimonial video for your social media campaign.
Here are a few steps we suggest you follow for a better plan of getting client testimonial video examples that fit your purposes:
Identifying influencers and content creators
First thing first, identify your target audience and find the best-fitted influencers in your niche.
Consider looking for niche influencers with a smaller following but who are highly engaged with their audience and have high credibility in the niche. Review the content of your chosen influencers and creators to ensure it aligns with your brand and messaging.
Then, contact them for collaboration and let them create a video testimonial video that will help boost your brand awareness and trigger the potential customers to try your product or service, too.
Clearly explain the editing process and identify the real person who will help you get quality video testimonials to stand out from the crowd.
Learn more: How much does an influencer make?
Reaching out and introducing your brand
Making a first step and reaching out to your customers to create testimonial videos for you is the key to getting what you want on social media. Make sure to personalize your approach, like tailoring your message to the specific influencer or content creator, highlighting why their audience aligns with your target market and how your collaboration would benefit both parties.
Also, clearly state your request for a video testimonial and provide specific details on what you are looking for, including the duration, format, and message you want to convey.
Offering compensation
Be upfront about any compensation or perks that you can offer in return for their participation in the testimonial. Prefer to be transparent about your needs and goals, so feel confident to ask for anything that would be helpful for your social media campaign when it comes to video testimonials.
Also, be aware that if you collaborate with industry experts, offer adequate compensation, whether it is money, free products, free access to your services, etc.
Showing appreciation
When the collaboration is professionally done, and you get kickass video testimonials for social media, please show your appreciation for their time and effort by sending them a personalized thank you note.
Also, to express your gratitude, you can give them some of your products as a gift or free access to one of your services for a certain period of time. It's important to maintain good relationships with all of your coworkers, colleagues, new customers, and existing customers, so be creative and show appreciation without hesitation.
Learn more: great video testimonial questions
Best Practices for Using Video Testimonials
You finally got the perfect video testimonial from your happy customers, and now it's time to use it and take the brand advantage of it. Here are some of the best practices on how to do it properly and attract even more customers to create such testimonials for you:
Inspire people to post videos about your brand on social media
Usually, satisfied customers or brand ambassadors don't need much to share a video on their social media about their favorite brand. And in the case when you already have that brand love, why not inspire more people to share videos about your brand?
Here are some ways to inspire customers to publish video testimonials on social media:
Offer discounts or incentives for video testimonials.
Give customers a platform to share their experiences and provide feedback quickly and easily.
Feature engaging customer stories in your advertising campaigns.
Create a hashtag for customers to use when sharing their videos on social media.
Promote video testimonials that have been posted by customers and thank them publicly for their support.
Highlight customer successes in one-on-one conversations with potential customers and followers on social media platforms.
Once you have the videos, you will need a social media aggregator to start collecting testimonial videos and save and display these videos on your website.
Collect videos about your brand on social media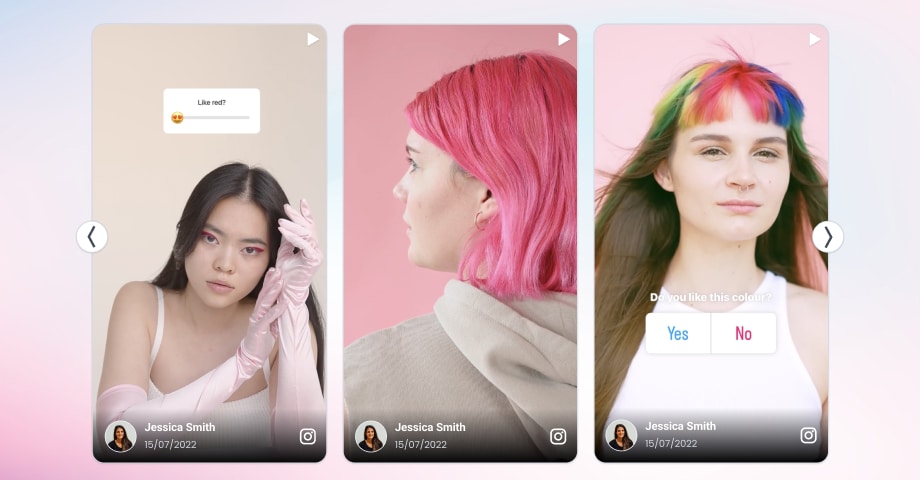 For this task, you will need a tool to automatically collect reviews and save all the videos people share about your brand in one place on social media.
For example, the EmbedFeed platform provides options to collect Instagram Reels from others who mentioned your brand or published them using a specific hashtag.
Plus, if the video was shared in a story that said your brand, you usually re-share this video in your Stories too. If you do this, then with EmbedStories, you can generate the reshared story and display it on your website. In the long run, collecting all these social media videos posted by your most loyal customers is a gold mine for using UGC videos as a growth strategy for your company.
Incorporating video testimonials into your social media marketing strategy
Social media strategy full of video testimonials will be your powerful weapon to win all of your marketing goals and note significant growth in your profiles. One good example of implementing video testimonials is sharing its social media channels, such as Facebook, Twitter, Instagram, and YouTube. This will help to increase the reach and visibility of the testimonial.
Also, you can use the video testimonial in social media ads to target your specific audience and boost conversions. For example, you can use video ads as a part of your Facebook or Instagram campaign, targeting specific demographics, interests, and behaviors. Here are retargeting ads to reach people who have already interacted with your brand.
Don't forget the daily Instagram and Facebook stories to increase engagement and boost the profile reach. The stories feature a great way to reach a wider audience because it's more likely your testimonials to be seen by people who don't follow your brand.
Choosing the right platform for sharing video testimonials
The social media platforms for sharing your video testimonials depend on your target audience and the goals of your marketing campaign. You should choose a platform where your new and current customers are handing out, and it will be easier for you to place your content there. In other words, consider where your target audience spends most of their time online and then share your video testimonials on that platform.
Also, keep in mind that different platforms have different video formats and time slots. For example, Instagram only allows IG reel videos that are 60 seconds or less. Make sure the video you have can be edited to fit the format of the platform you are planning to use.
Measuring the success of video testimonials – mainly on Instagram and TikTok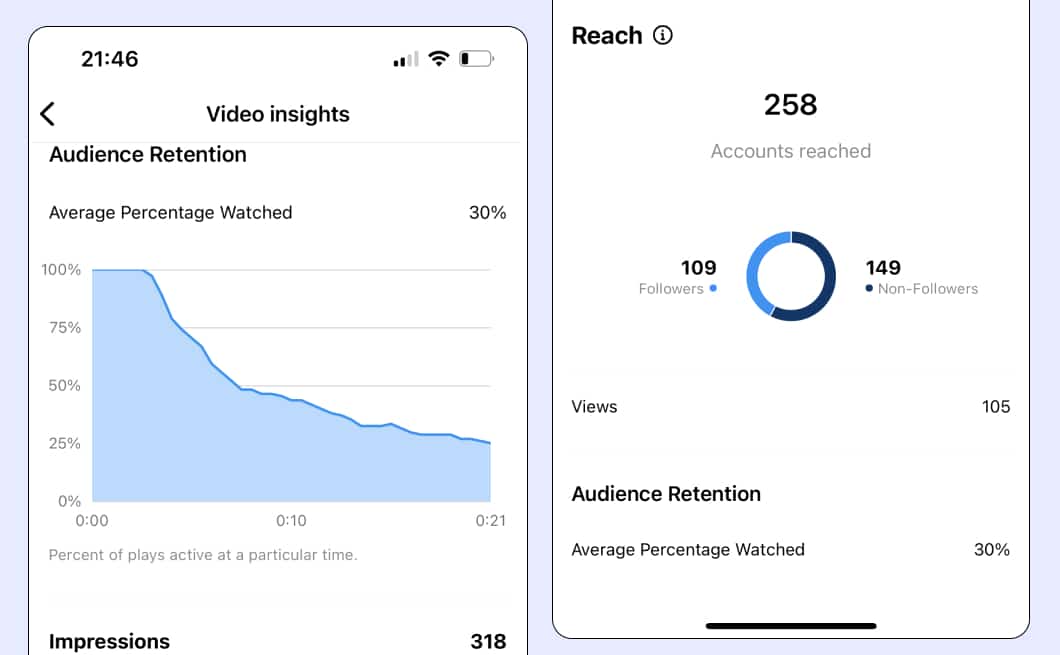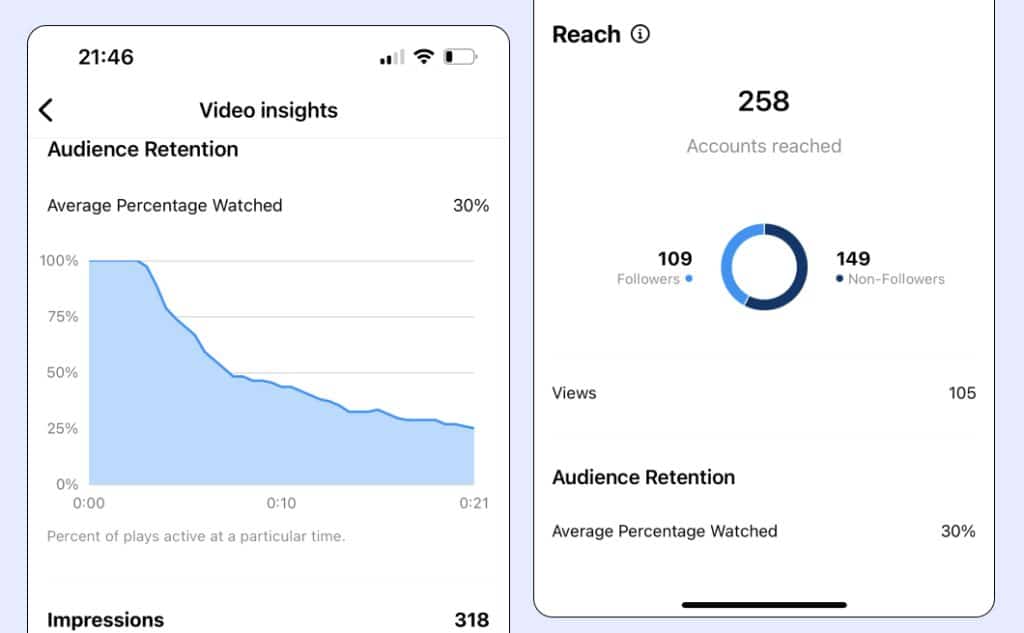 Measuring the final results of your video testimonials on Instagram and TikTok can be done similarly by checking some statistics and parameters. We can start with the number of views on the video testimonial, which is a good indicator of how well it performs.
Next, we can mention the Instagram and TikTok engagement rates. Engagement rates, such as likes, comments, and shares, can be used to track the level of interest in your video testimonial. A high engagement rate suggests that people enjoy and interact with the content and have no problem being transferred to your product pages.
The following you get through your video testimonial is also a good factor for measuring success. Track the increase in followers after posting a video testimonial on your profile. This can indicate that your video testimonial resonates with your target audience and leads to increased brand awareness.
We can't skip the sales because your video testimonials are here to build trust among your followers and trigger them to buy your product or service.
Using a customer testimonial video to build trust and credibility (display on the website)
Customer testimonial videos can be an effective way to build trust and credibility for your social media brand. By featuring real customers in your testimonial videos, you can build trust by showing potential customers that other people have had positive experiences with your brand.
---
FYI: You can embed TikTok widget automatically with EmbedSocial's UGC platform. Start a free trial and display your social media widgets now.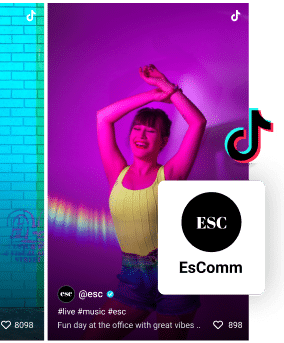 Show TikTok videos on your website automatically!
Try EmbedFeed and add TikTok videos, Instagram, YouTube or Facebook feeds to your website.
All PRO features | Cancel any time.
Also, you can use customer testimonial videos to highlight specific benefits of your product or service. This can help you to showcase your product or service in detail and how it would be helpful for your potential customers. The testimonials can be in different stages of the customer journey, such as on your website, through email campaigns, and at the point of sale. This will give potential customers different opportunities to learn about your brand and spread the word all around.
Best Video Testimonials Software
To create the best video testimonials for your brand on social media, you should use the proper tools to make the whole process much easier. In this section, find the best video testimonial software you will try today and create outstanding testimonials that will catch other people's attention at first sight:
1. Widewail Invite Video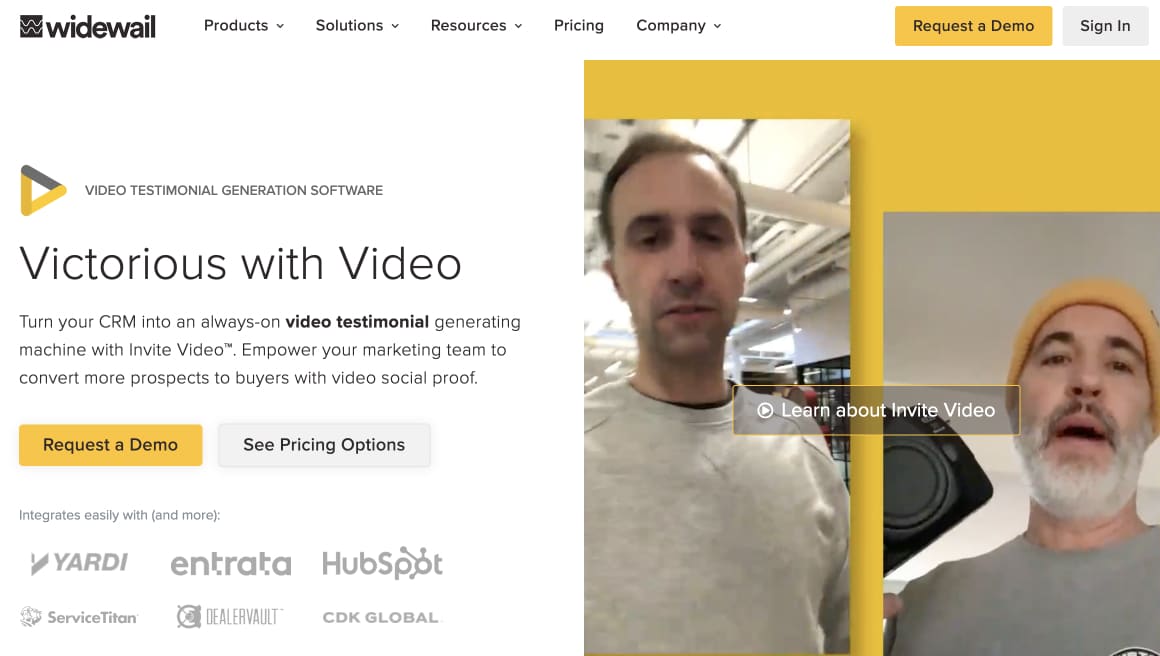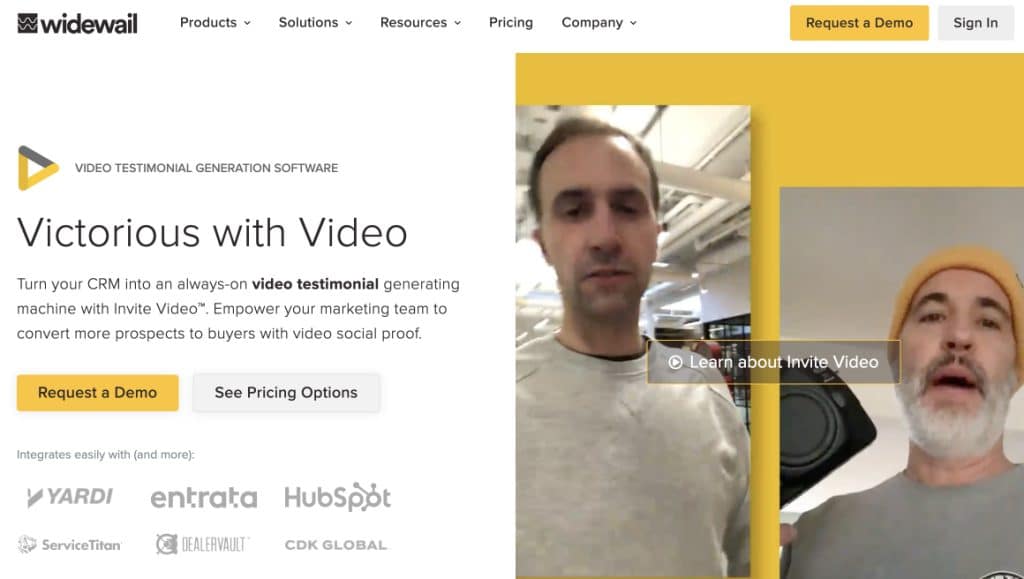 Widewail provides managed services for generating feedback and managing review responses. The company's latest product is Invite Video, which generates video testimonials for businesses. To help convert future buyers, Widewail Invite Video can gather user-generated video content and use your customers' words. With this service, customers do not need a crew, additional scenes, and setup, or even travel to record themselves.
Instead, customers record their videos on their mobile devices, requiring no downloads, while Invite Video guides them through every step of the process. Every testimonial has a separate release form, so you are free to use it anywhere you want, for example, on your social media profile, social media ads, website, product page, etc.
2. Vocal Video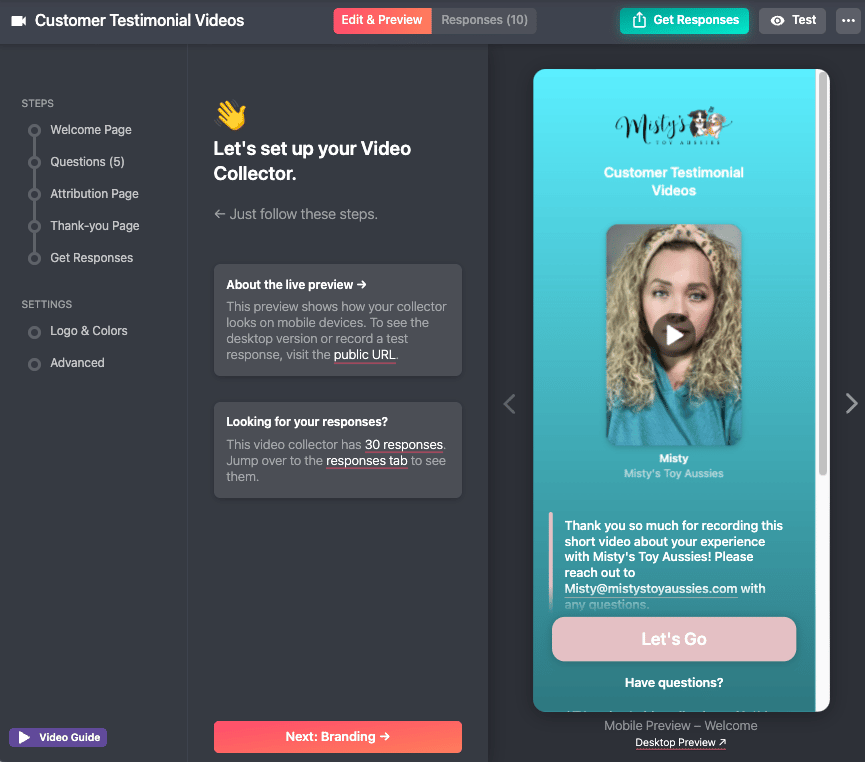 Vocal Video tool edits, publishes, collects, and hosts video testimonials and reviews from your customers. It also creates embeddable galleries and photo walls, which can be implemented on your website. The raw footage is "magically" transformed into multi-scene videos by creating animations, audio effects, subtitles, and brand image by Vocal Video.
Vocal Video allows your customers to record at any time, from any device, with an interface customized to match your brand. You can collect video and audio responses completely remotely and asynchronously. All buyers aren't even required to install anything to leave testimonials for your brand, so it's a great feature that will boost your brand awareness in a blink of an eye.
And finally, they provide a Zapier integration, which can help you to share the collected videos on social media like TikTok, Instagram, etc.
3. VideoAsk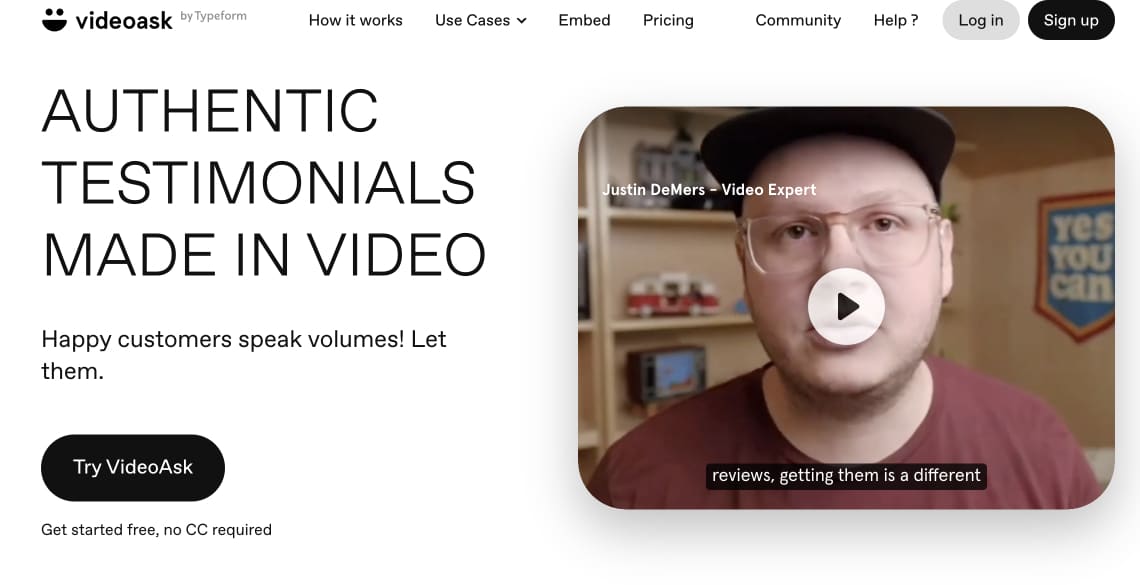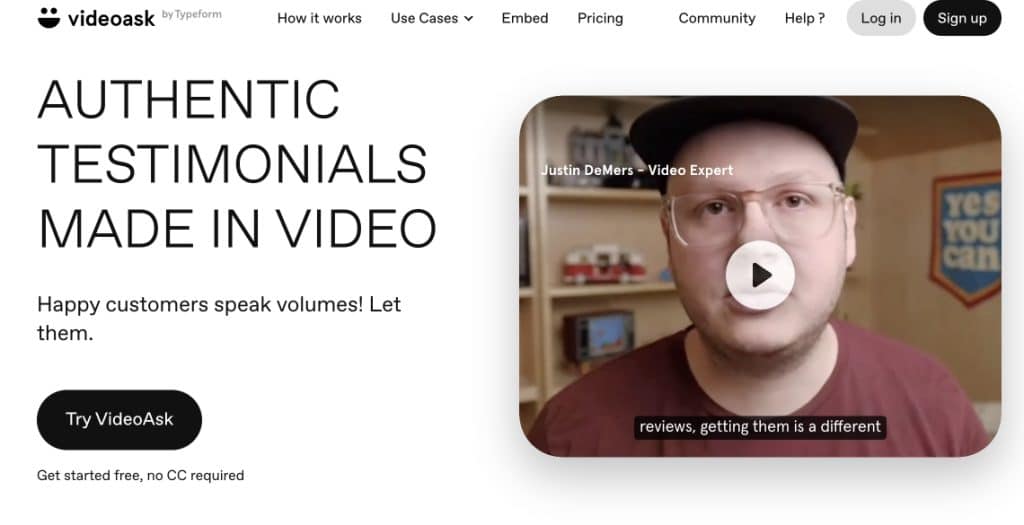 We love VideoAsk. It is part of the TypeForm company, and the product has an amazing interface. Our team uses it for scheduling demos where our customer success team provides videos on what to expect from a demo, and these videos help us gain more people to subscribe for a demo.
Additionally, you can use the video collector and send it to your customers so they can record video testimonials.
4. Testimonial Hero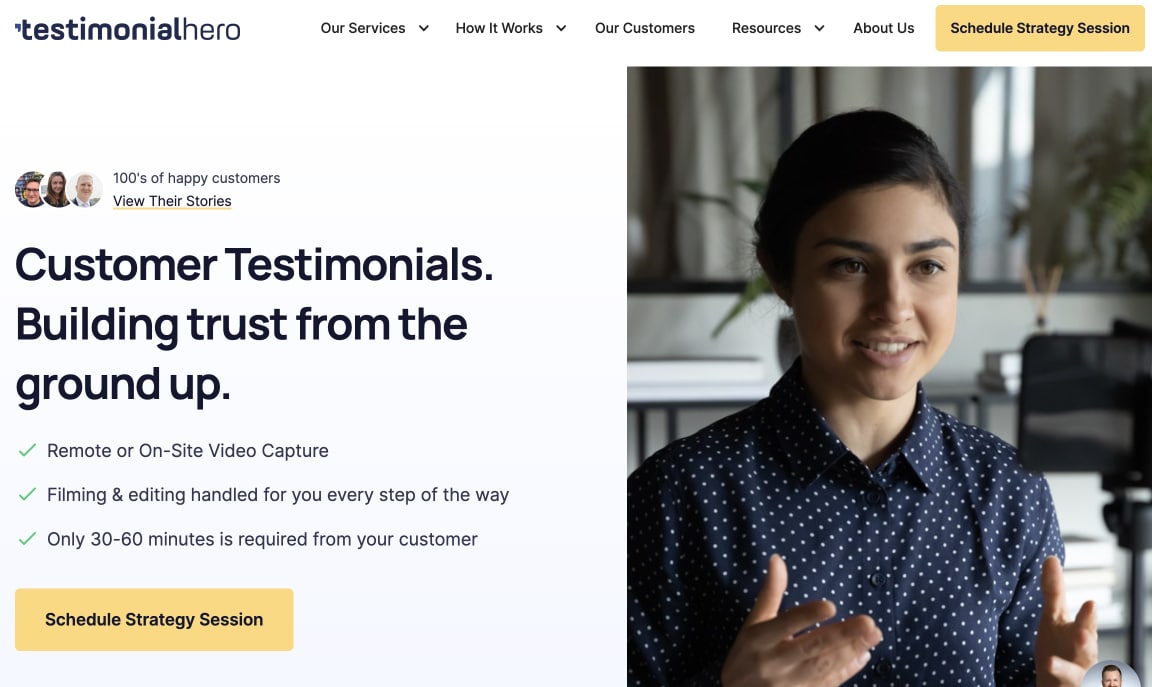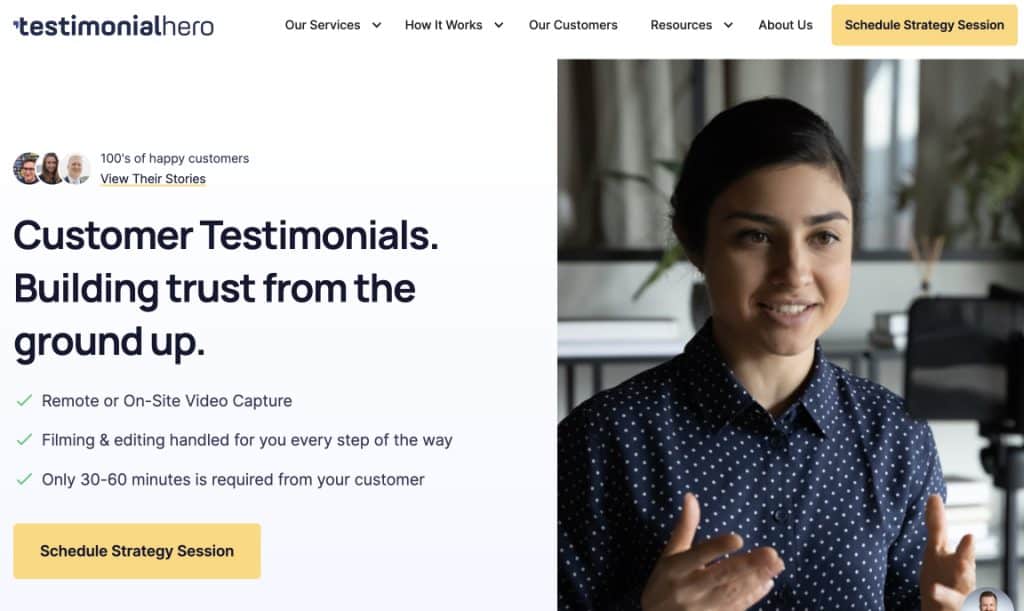 Testimonial Hero is aimed at B2B revenue workgroups, allowing them to quickly create fabulous customer videos that build confidence and close deals. They recently introduced an employee testimonial tool, making the whole video testimonial process much easier.
Customer testimonials, according to Testimonial Hero, provide an enormous sense of trust, bringing in new businesses and giving the ability to close deals faster and better. Testimonial Hero guides you through creating professionally shot and modified demo customer testimonials. To create your videos, you can use both remote and on-site video capture to match the brand colors, structure, and all essential features for successful social media dominance.
Great Video Testimonial Examples on Social Media
Social media is full of content from certain brands trying to showcase their product or services and reach new potential clients.
How to stand out from the crowd and hit success on social media, you will find right below checking some ideal customer testimonial video examples and inspiring testimonial video ideas:
Example #1: Product unboxing and review
This is how people share their experiences with a certain brand on Instagram, expressing their thoughts about the product, unboxing it, trying it, etc. Here is an example of how @nickimarieinc does a classic unbox video related to a drink product and does a review. This video testimonial can be used later in any social media marketing campaign or just re-sharing to build trust and increase brand awareness.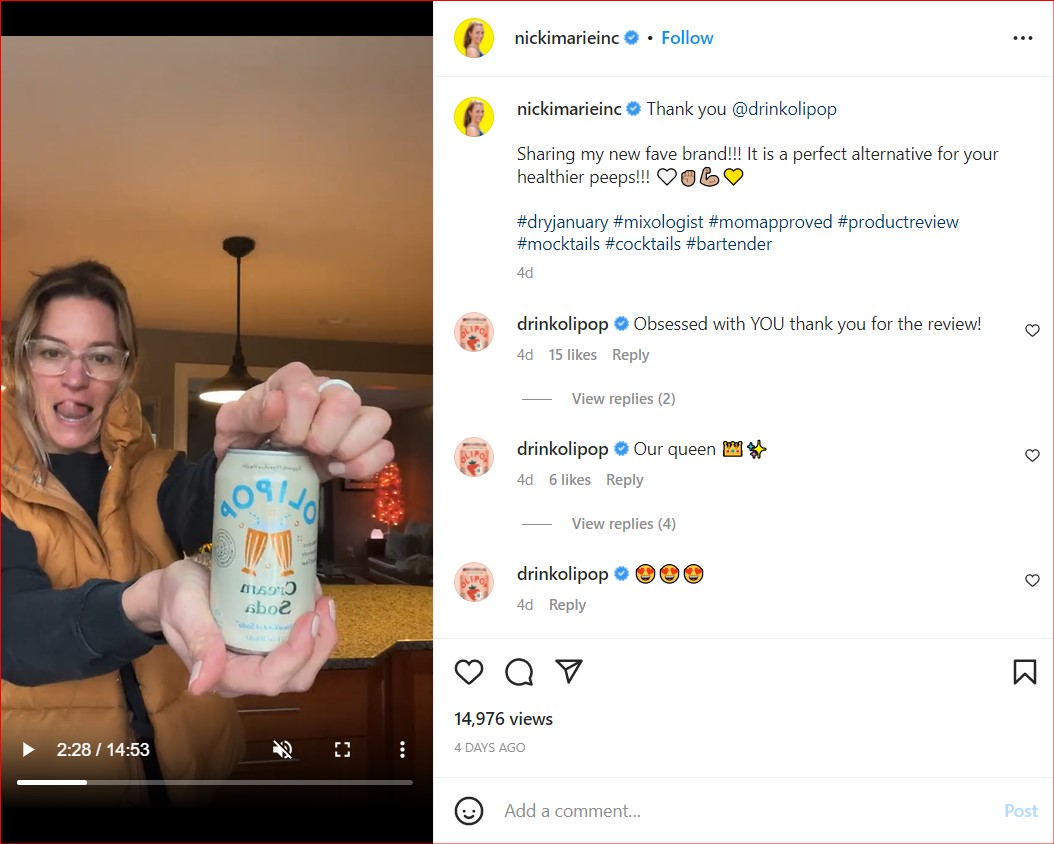 Example #2: Personal experience with a certain product
Video testimonials where the customers use your product are priceless and powerful assets you can use in your marketing campaign. Here is an example of how @wholesale_hairsupplier_ella uses hairstyle products from a certain brand and shows other people how to use them with an awesome final result of her hairstyle.
Example #3: Practical use of a specific product (step-by-step)
The customers often record a video on how to use a certain product properly through their practical examples in real-life situations.
Here is a dog bed video testimonial example from the TikTok use @nattianne where each step is shown from unboxing to setting it up for the dog: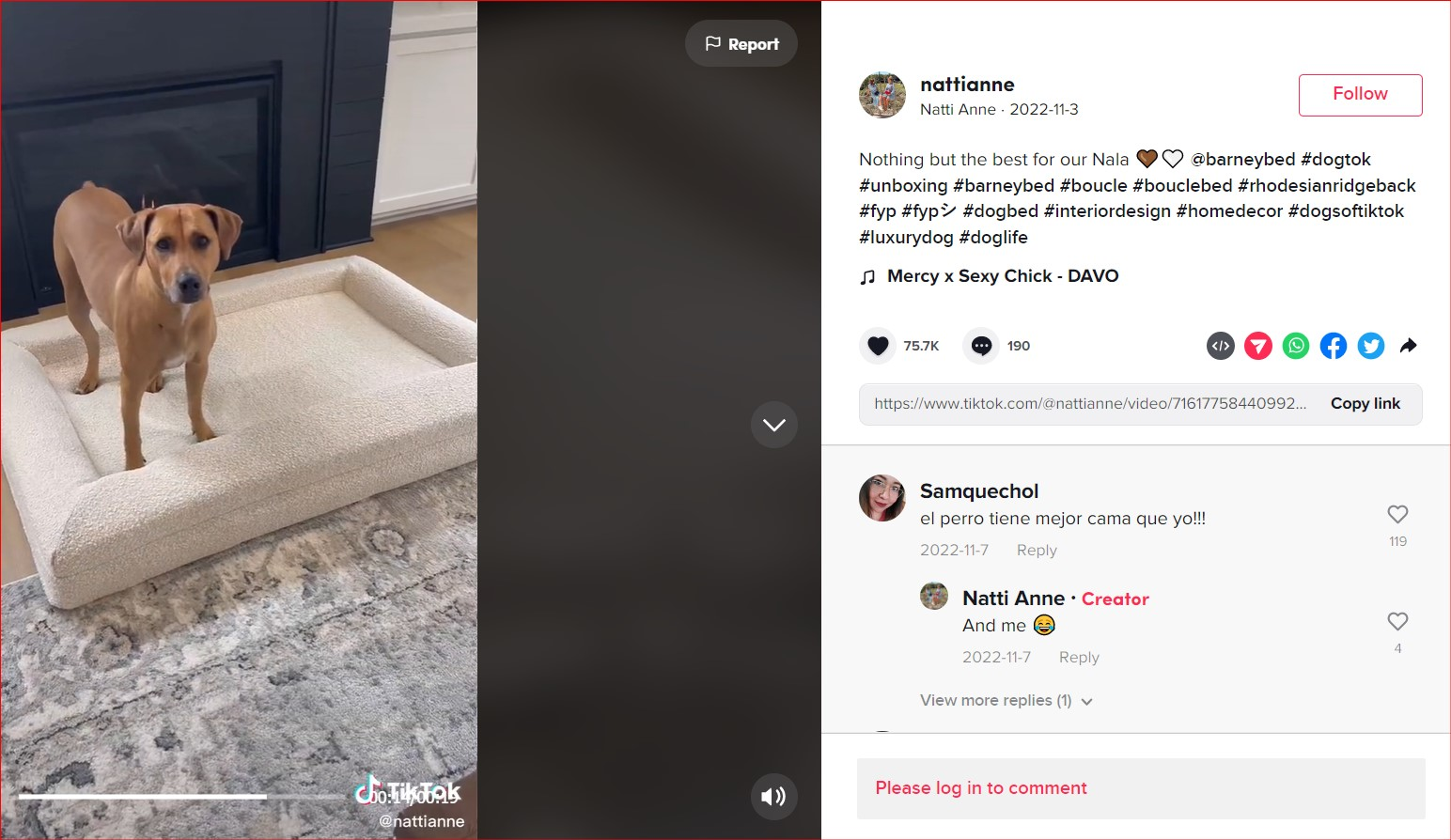 Here is the full TikTok video testimonial:
Example #4: Video testimonial with a negative connotation
Negative scenarios on social media do marketing by themselves because people will never forget that one bad thing in the sea of good ones. That was a clear example of the unbeatable Tesla cyber-truck when Elon Musk broke the windshield glass, and the whole internet was overwhelmed whit it. This video testimonial example is about the Tesla tequila bottle, where a man pours the tequila because he doesn't want to drink it. During the pouring, there are screenshots of how expensive the Tesla tequila is, why people drink it, the Tesla tequila policy, etc. It is a psychological marketing trick used among businesses and big brands related to customer testimonial videos.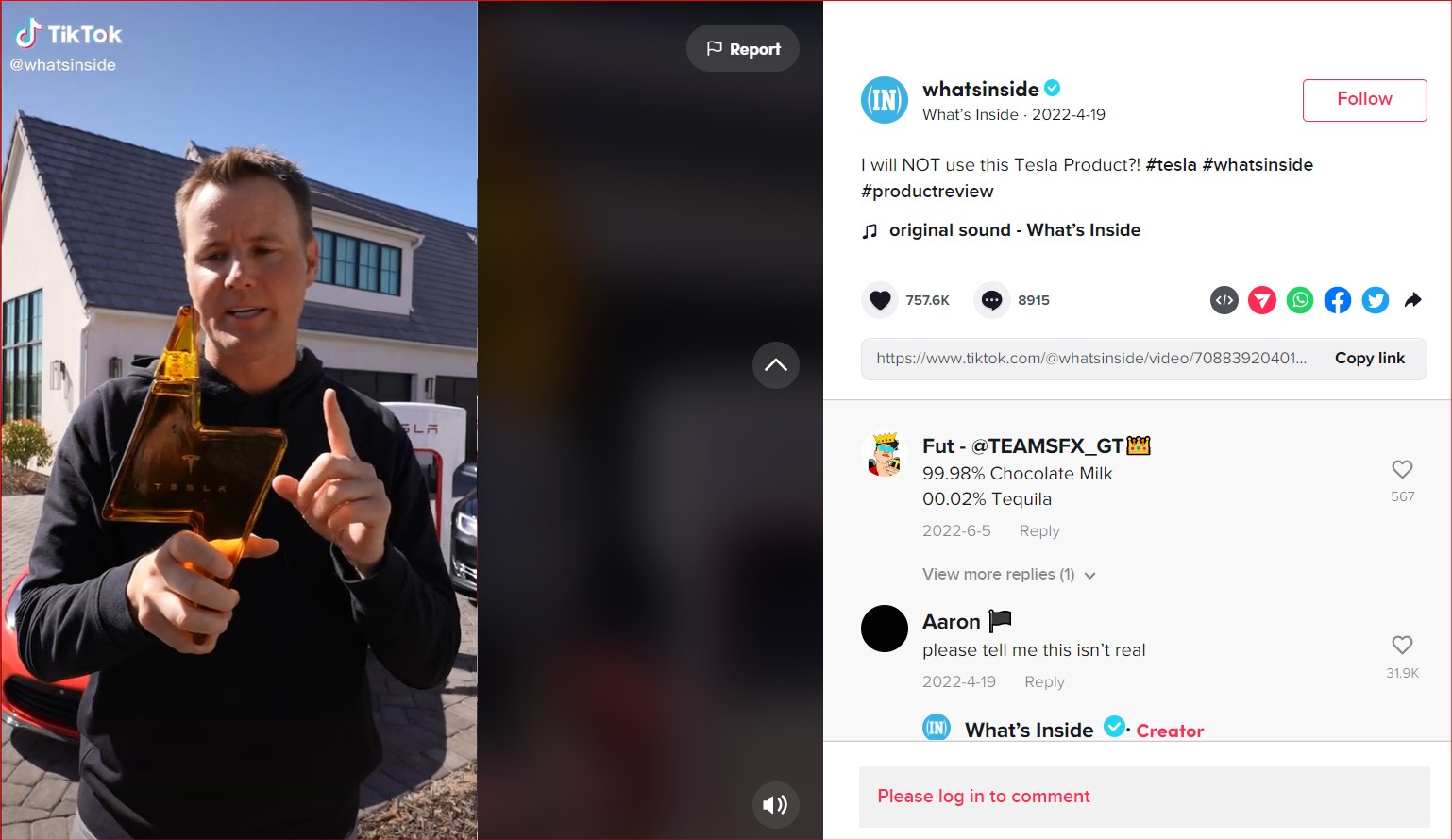 Example #5: Sharing helpful product tips
Many video testimonials that could be helpful for your audience on social media are the ones that can bring you a fortune because such testimonials bring value to your audience and solve specific problems. For example, we will show you a TikTok video testimonial where the user shows practically how to use transparent sticky notes and finish your studying activities easier.
How to find and collect social media video testimonials?
Use EmbedFeed to generate any social media video from customers who mention your brand with their TikTok videos or Instagram Reels. You can do the same by specifying a certain hashtag and trying to collect videos that people created using your branded hashtag.
Instagram Reels as testimonials
Collect Instagram Reels from people who mentioned your Instagram account by using EmbedFeed. Here are the steps:
Step 1: Signup for EmbedFeed free trial
Step 2: Choose Instagram and connect your Facebook account that manages your Instagram business profile
Step 3: Select Instagram as a source, pick Mentions, and select your Instagram account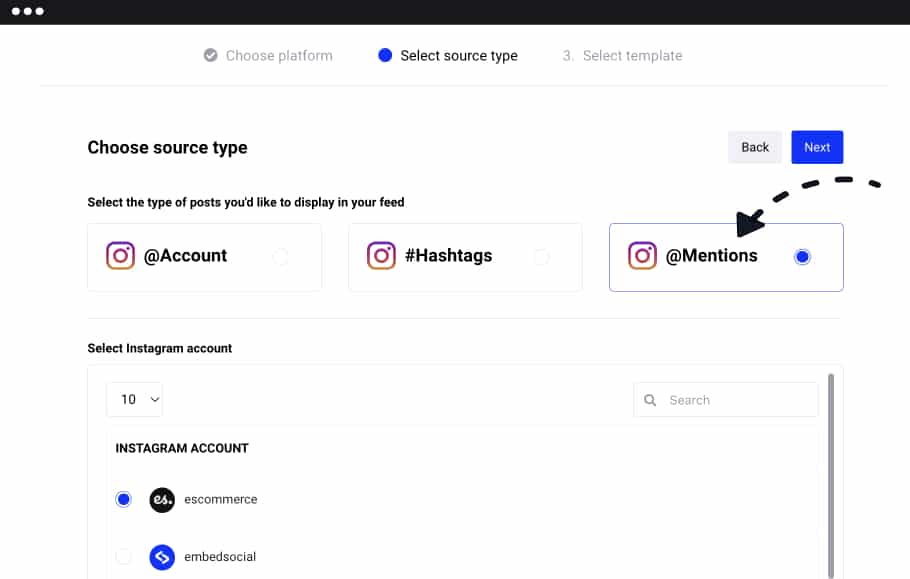 Step 4: Choose the widget template and create your widget
Step 5: Customize the widget, select only the video type of content, and copy the provided code to embed the video testimonials widget with the selected Instagram Reels from your customers.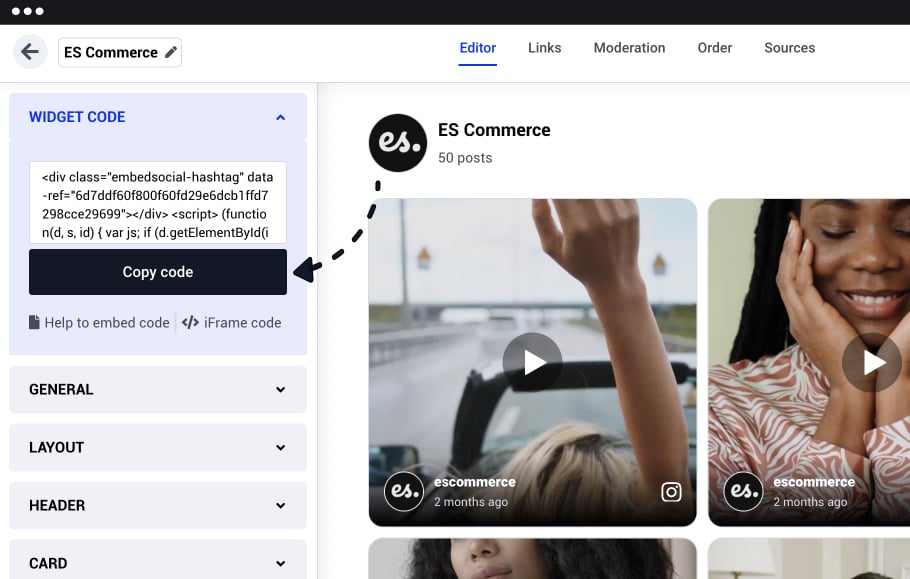 ---
FYI: You can embed Instagram Reels widget automatically with EmbedSocial's social media aggregator and UGC platform. Start a free trial and display your social media widgets now.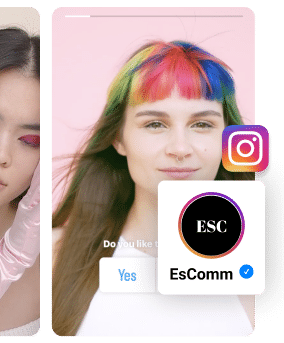 Embed Instagram Reels videos on your website automatically!
Try EmbedFeed and add TikTok videos, Instagram, YouTube or Facebook feeds to your website.
All PRO features | Cancel any time.
Conclusion
Videos can be as powerful (and more) than written reviews. It is important to discover your brand advocates who can address the pain point that your product or service solves in an engaging and trustful video.
And you don't need to be a PRO in video production to inspire people to talk about your company.
With the rise of TikTok and Instagram Reels, you are interested that you can gather videos from your customers in different locations