With a growing base of more than 400 million users, Instagram is no doubtfully becoming the place to establish your social media presence.
Instagram has become a wonderland for products like food, clothes and pretty much anything you want your followers to see. Any day you can use the platform's viral capabilities to showcase, and even sell or endorse products.
Why you'll love Instagram (or already do)?
It gives you an opportunity to show the aesthetic, creative side of your brand
It provides an insight into your company's culture and with that greater personal connection with customers
The quality of the content can be a great tool for achieving the authenticity of your brand and differentiate it in the eyes of your customers.
It's amusing! Don't tell me you don't have fun applying filters and editing photos. We sure do!
People put a lot of effort into getting the perfect Instagram shot. From taking the picture from the right angle, making sure the light comes from the right direction to choosing the right filter and applying the right amount of sharpness.
How can you become a PRO in managing your Instagram account?
Take care of the quality of photos/videos and the overall aesthetic of your account
Make sure that you post to your Instagram account at least once per day
Be creative in your post's content, the options are endless; engaging posts, quotes, reposts from customers, etc.
Don't forget the hashtags; make sure you use them constantly. It's even better if you create your own hashtags, which will be recognizable for your brand.
But if you don't choose to upload your photos from Instagram to your Facebook, Twitter, Tumblr or Flickr account, and then embed them on your page, you'll have to upload them from your phone to your computer and then from your computer to your webpage. Who has the time for that?
Because chances are that not to many people are scrolling through your Instagram profile on their computers and it's a pity for your Instagram masterpiece to go unnoticed…
A few days ago, we rolled out new features of the Album PRO version and today we have even more.
We are happy to present to you the newest feature to our plugin, Facebook Album PRO – Instagram Albums.
Just like we made it possible for you to embed your Facebook album on your website, we are making it possible for you to embed your Instagram photos too. 🙂
What do I need to do?
Put in your Instagram username*
Customize the look of your album
Copy/paste the code into your website's body section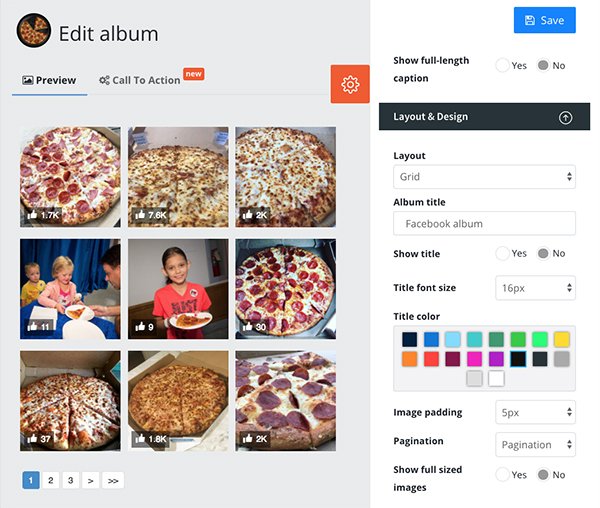 *The plugin supports only photos from public user profiles.

See, you just enter the username of your Instagram account and voilà!
Moreover, you can edit your album to fit your preferences. You can choose from:
Title add
Show Likes
Lightbox option
This is a unique opportunity for your brand to show its creative side apart from the Instagram platform and give its website a little artistic note.
Most importantly, there is a good chance that not all of your customers have Instagram accounts, so think of the larger scale of audiences you will reach.
READ MORE: How to Embed Instagram Feed on Your Website for Free
Let's put it this way: all your customers will have the same experience as on Instagram, which will ultimately lead to the same outcomes mentioned above. Isn't that awesome?
You can test this one and all our new features with a simple sign up for a 2 week free trial of the PRO version.
Every feedback is welcomed since we're constantly trying to improve our plugin so that we can make "PROs" out of our clients in every single way 🙂
Enough reading and start embedding!