Whether you're a blogger, a business owner, or someone looking to enhance their web presence, embedding Instagram photos on your website can be an effective strategy to increase visitor engagement and create a visually appealing online space.
Instagram's embed feature allows you to showcase your latest posts, feature user-generated content, and maintain a vibrant and dynamic website, all with just a few clicks.
This guide will walk you through the simple steps of how to embed Instagram photos and Instagram videos onto your website, helping you seamlessly blend your social media and web platforms.
---
FYI: Embed Instagram widget automatically with the social media aggregator and UGC platform by EmbedSocial. Click below to try it for free: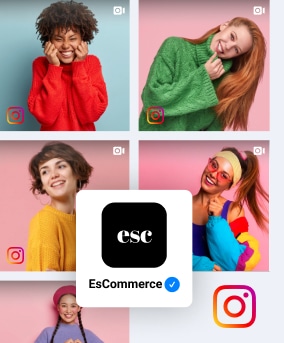 Embed Instagram widget on your website automatically!
Try EmbedFeed and display Instagram content from your feed, mentions, or hashtags on your website.
All PRO features | Cancel any time.
Why should you embed Instagram photos and Instagram Posts on your website?
Here are several reasons why embedding Instagram photos on your website can be beneficial:
Showcase Social Proof
Social proof, such as user-generated content or positive reviews, can build trust with your audience. If customers post about your products or services on Instagram, you can leverage these posts to show your website visitors how others use and enjoy your offerings.
Increased Engagement
Interactive content like Instagram embedding can help to increase user engagement on your website. Users can like or follow your Instagram profile directly from the link or embedded photo you post, creating a seamless social media experience.
Keep Content Fresh
*Instagram photo embeds can help your website stay up-to-date with fresh content. Every time you post a new photo on Instagram, it can automatically appear on your website. This can save you time on website updates while ensuring your content is always fresh.
Visual Appeal
Instagram is a visual oriented-platform. Including Instagram Instagram photos and embedding Instagram videos can help make your website more visually appealing, which can enhance user experience.
Increase Followers
By embedding your Instagram feed on your website, you're likely to attract more followers. Visitors who might not know about your Instagram account can easily click on the embed and choose to follow you.
Brand Consistency
Embedding Instagram posts on your website helps maintain brand consistency across platforms. This can enhance your overall brand image and recognition.
Drive Traffic
If you regularly post engaging content on Instagram, embedding these posts on your website can drive more traffic to your Instagram account.
Remember, however, it's important to ensure that the Instagram posts you embed align with your website's overall purpose and aesthetic.
Also, always respect privacy and copyright, and only embed content you can share.
What to do before embedding Instagram photos on your website?
Here are some tips you must follow before starting your Instagram photo embedding journey.
Ready Your Website
Determine the spots on your website where you'd like to display the Instagram photos. These sections should complement your website's overall design and contribute positively to the web page and user experience.
Curate Your Instagram Content
Ensure that the photos and videos you embed on your website align with its theme and branding. It's important to maintain a consistent aesthetic across your posts.
Update Your Instagram Profile
The photo and video content that you'll be embedding comes from your Instagram account, which needs to be set to public since private accounts can't share embed codes.
Know Instagram post policies
Instagram has specific guidelines concerning the use of video and its embedded feature. To avoid any issues related to compliance, ensure that you thoroughly read and comprehend these rules.
Check User Permissions
If you plan to embed other users' Instagram content on your website, getting their permission first is crucial. This helps respect copyright laws and build positive relationships with content creators.
Ensure Responsiveness
Make sure your website design is responsive to different devices. Whether visitors use a desktop computer, tablet, or smartphone, your embedded Instagram photos should display properly and contribute to a seamless user experience.
How to embed Instagram photos with EmbedSocial?
Just like we made it possible for you to embed your Facebook album on your website, we are making it possible for you to embed your Instagram photos too. 🙂
What do I need to do?
Put in your Instagram username*
Customize the look of your album
Copy/paste the code into your website's body section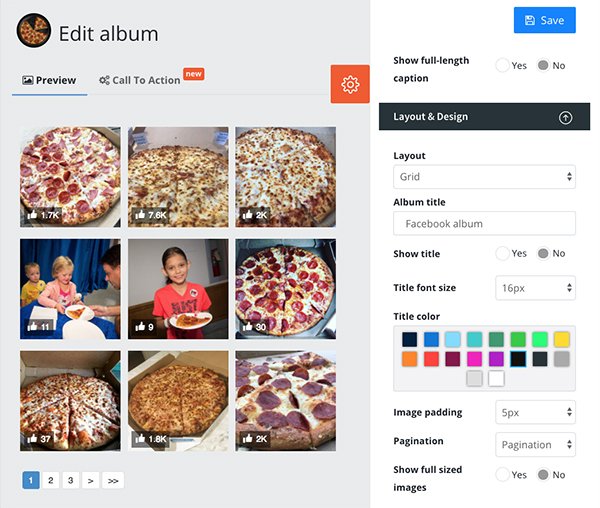 *The plugin supports only photos from public user profiles.

See, you enter the username of your Instagram account, and voilà!
Moreover, you can edit your album to fit your preferences. You can choose from:
Title add
Show Likes
Lightbox option
This is a unique opportunity for your brand to show its creative side apart from the Instagram platform and give its website a little artistic note.
Most importantly, there is a good chance that not all of your customers have Instagram accounts, so think of the larger scale of audiences you will reach.
Let's put it this way: all your customers will have the same experience as on Instagram, which will ultimately lead to the same outcomes mentioned above. Isn't that awesome?
Examples of Embed Instagram Photos
Want to learn more? Try our Instagram Feed widget
An Instagram widget, like the one offered by EmbedSocial, can be a valuable tool for businesses and individuals who want to extend their social media presence to their websites.
It essentially bridges the gap between your Instagram account and your website, providing a seamless integration with WordPress and other website builders that can increase user engagement and enhance the overall user experience.
The Instagram feed widget pulls posts directly from your Instagram feed and displays them in a customizable layout on your website.
This adds a dynamic visual element to your site and helps keep your content fresh and up-to-date without requiring continuous manual updates.
More than just a simple display, an Instagram widget can offer a range of features, enhancing how your website interacts with your Instagram content, such as Instagram hashtags or even embedding Instagram mentions.
Here are some key features often associated with Instagram feed widgets like EmbedSocial:
Automated Updates
Customization Options
Responsive Design
User-Generated Content
Moderation Features
CTAs and Buttons
Shoppable Posts
Analytics
Multiple Accounts and Hashtag Support
Integrations
Read More: How to embed Instagram feed on any website?
Conclusion
In conclusion, embedding Instagram photos onto your website provides an engaging, dynamic element that can boost user interaction, showcase user-generated content, and increase your social media following.
With tools like EmbedSocial's Instagram feed widget, this process becomes simple and manageable, with customizable features to suit your website's aesthetic and functionality needs.
FAQ:
Can you embed an Instagram post for free?
Yes, you can embed an Instagram post onto your website for free. Instagram offers this feature and does not require a special paid subscription. Here's how to do it:

Go to Instagram: Open the Instagram website in your browser. Unfortunately, the Instagram app does not offer an option to get an embed code.
Find the Post: Navigate to the Instagram post you want to embed on your website.
Get the Embed Code: Click on the three-dot menu (…) in the post's upper-right corner. Then, select 'Embed' from the drop-down menu. A box with the embed code will appear.
Copy the Code: Click on 'Copy Embed Code'. This will copy the code to your clipboard.
Paste the Code on Your Website: Paste the code into the HTML of your website where you want the post to appear.
Post's upper-right cornerRemember, always respect copyright and privacy and ensure you have the necessary permissions to share someone else's content on your site.

Besides this way, you can also try our free Instagram widget and enjoy all of the features that come with it.
Do you need permission to embed Instagram posts on your website?
Embedding Instagram posts on your website generally falls within Instagram's terms of service, as the platform provides the feature directly.
However, this doesn't always mean that using another user's content on your website doesn't require permission.