As a social media manager or a brand owner, launching a new marketing strategy on Instagram can be quite challenging if you dive into the unknown.
That is why Instagram statistics and insight features are very powerful, and there are many points you should be aware of before launching a new campaign. Below is the latest Instagram statistics every marketer needs to know for a successful Instagram marketing strategy.
Instagram statistics by users
There are more than 2.35 billion monthly active Instagram users
Instagram is one of the world's most-used social media platforms, with over 2.5 billion monthly active users expected by the end of 2023.
It is right after Facebook, YouTube, and WhatsApp.
These Instagram user statistics show you that it is one of the most popular social media where you can launch your marketing campaign, targeting your Instagram audience of 2.5 billion people.
There are 56% of female Instagram users.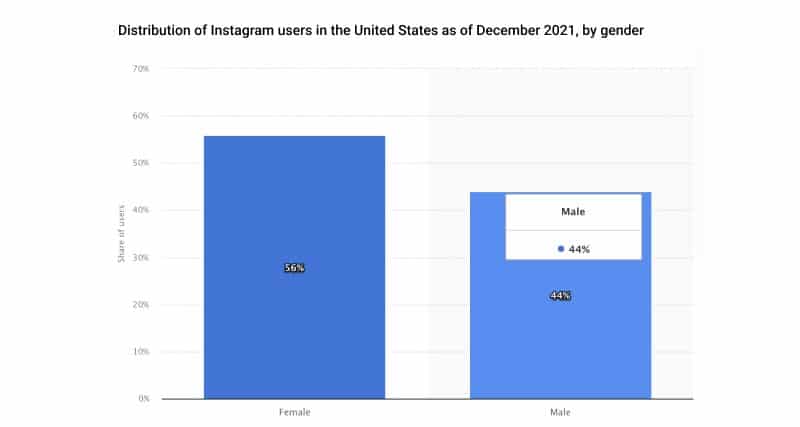 The Instagram demographics by gender show that women dominate this platform with 56% of the total Instagram users. It means that there are over 670 million female users. These statistics go in favor of beauty brands, fashion brands, women's fitness centers, jewelry stores, etc… for making a marketing strategy for their female-related products or services. But, it doesn't mean that other brands need to skip Instagram if they are launching men's products, because there are over 530 million male users or the other 44% of the Instagram gender population. (Source)
Instagram's age range is between 25 and 34 years.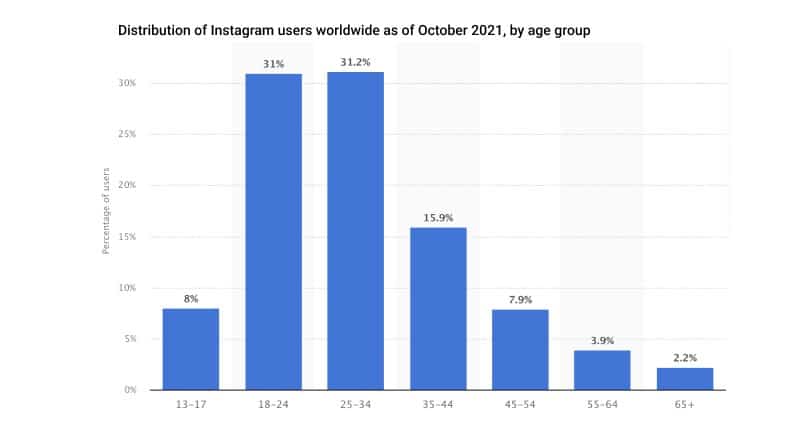 31,2% of the total Instagram users are people between 25 and 34 years old which is the most active age group. Next on the list come people between 18 and 24 years old with 31%. This is a strong indicator for marketers that the mostly young population is hanging out on this platform.
For example, brands that sell mobile medical alerts or diabetes medications probably will not hit a jackpot because young people are not into buying these things. Young people love gadgets, electronics, fashion, fitness, courses in many areas, partying, so offering something similar would be a better idea for profit. (Source)
Instagram is mostly used by 18-24 years old people.
71% of the active Instagram users are mostly teenagers and young adults between 18 and 24 years. If you want to create a marketing campaign for products or services related to the younger target audience, now you know that Instagram is the right platform for it.
You just need to focus on creating catchy content to grab their attention and use the momentum to turn these Instagram users into customers. Of course, it doesn't mean that the older Instagram users are hard to be your customers, just pick the right age group for your products and provide them with valuable solutions (Source)
200,000+ million Instagram users are from India alone.
With over 200 million users, India is the country with the most Instagram users in the world. Next on the list come to the United States, Brazil, Indonesia, and Russia.
These statistics from the top 5 countries can show marketers that most of the Instagram users come from Asia, North and South America, which can be really helpful information for setting the geo-strategy for marketing purposes. or targeted area selling. (Source)
Users spend an average of 145 minutes per day on social media
As of 2019 and 2020, the average daily social media usage of internet users worldwide amounted to 145 minutes per day, up from 142 minutes in the previous year.
Currently, the country with the most time spent on social media per day is the Philippines, with social media users spending an average of three hours and 53 minutes on social media each day. In comparison, the daily time spent with social media in the U.S. was just two hours and three minutes. Source
Instagram statistics for business
There are over 200,000 million business profiles.
There are over 200,000 million businesses that use Instagram for building audience and marketing purposes. This information can show marketers that nearly 15% of the total Instagram population are businesses which means that they see Instagram as a great opportunity to make or increase their profit.
It doesn't mean that Instagram would be the best platform for your marketing strategy, but in fact, Instagram is the most popular platform with millions of different audiences, and this could be the opportunity for many brands to catch the wave. (Source)
90% of Instagram users follow a business profile.
According to Instagram, nearly all Instagram users follow at least one business profile on the platform. This information is important for social media managers or brand owners when it comes to choosing social media for building brand awareness.
Knowing that 9 out of 10 people on Instagram follow at least one brand, reaching a big organic audience on your business profile is not that challenging, so you can implement your social media marketing strategy by creating relevant content for your audience at first.
80% of Instagram users search for products or services.
Maybe it sounds unbelievable besides Google and other search engines, but the general Instagram statistics show that 80% of the users get help from Instagram when it comes to buying any products or services.
This statistic is important for the brand owners and marketers even if their business is outside of Instagram, because it's most likely that the potential customers will check your business Instagram profile at first, check your content and the comments of your followers, and after that, they will purchase something from you.
Always tend to have a tidy profile and consistent content, so your potential customers will get a great impression when they first come in.
Fake followers cost the United States alone 1,3 billion dollars.
A report from CNBC shows that so-called fake "influencers" in the US spend 1,3 billion dollars yearly to buy fake followers on Instagram.
This Instagram statistic is shocking because people want to become influencers overnight with fake followers, without realizing that the fake followers will not engage with their content, buy products or build brand awareness. Fake numbers will not make anyone famous, so marketers should be careful who they choose for collaboration if influencer marketing is included in their social media marketing strategy.
83% of surveyed Instagram users discover new products on Instagram
In a survey commissioned by Facebook, Inc., 83% of respondents surveyed said Instagram, a visual-first platform, helps them discover new products and services. This information is very important to brands that consider using Instagram shopping posts and utilize the billion monthly active users as a market for their products. (Source)
Instagram usage statistics by features
People use over 10 Instagram hashtags per post.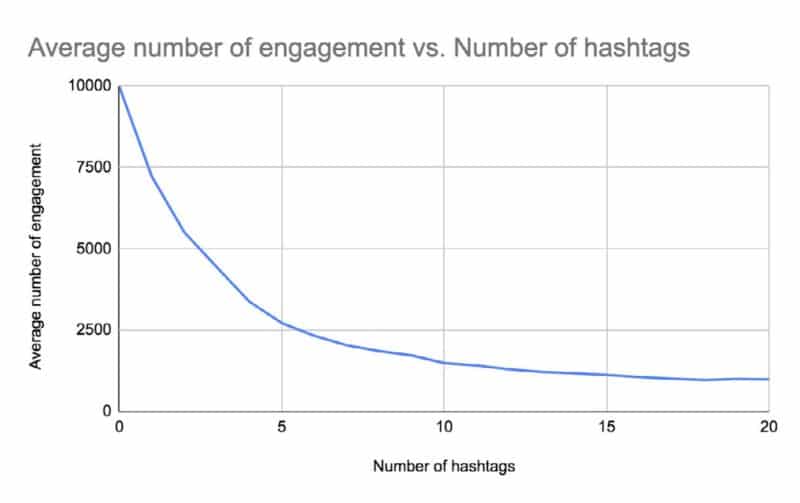 You probably know that Instagram users engage very easily with hashtags due to their common use across all social media platforms. Hashtags are very useful to navigate and discover interesting content across the Instagram app. With just a click on a hashtag used in Instagram captions, users can open an entire thread of posts using that hashtag. HubSpot report about Instagram statistics shows that over 10 hashtags are used per post on Instagram.
Marketers need to know this information because using certain hashtags relevant to the brand can increase the post reach and more people will be in touch with that post in a certain niche. Creating unique branded hashtags for your business can also contribute to bigger brand awareness. Your potential customers can follow your hashtag and always be in touch with your content through that.
Here are some of the most popular Instagram hashtags:
#love with 2.1B posts
#instagood with 1.5B posts
#fashion with 1B posts
#photooftheday with 992M posts
#art with 894M posts
#photography with 870M posts
#beautiful with 795M posts
#happy with 673M posts
A location tag increases your engagement rate by 79%
According to the same HubSpot report for the Instagram statistics, feed posts or IG stories that include location tags have a 79% better engagement rate than other posts. If you have a local business, it's important to use a location tag on your posts because that's how your potential customers will find you on the Instagram search. Or, as a brand owner operating in one country or a city, always prefer to use geolocation on your Instagram content to allow people in your targeted area to find you through location search and increase engagement with your brand's content.
Longer captions convert 50% better.
If you want Instagram to push your content on the platform for a better engagement rate, you should make your Instagram followers spend more time on your content. To do that, feel free to write longer captions for your posts with valuable information for your audience.
HubSpot noted in their report that posts with captions between 1000 and 2000 characters convert twice as much engagement rate as posts with shorter captions. As a social media marketer, always try to write longer captions to give people more information related to your product/service in your niche, add a call to action, ask questions, and similar.
67% of Instagram users click on the Story link/swipe up.
67% of Instagram users interact with the stories where a link is included. This information is important for social media marketers to include links on their stories, so people can instantly be redirected to the brand's website or a product page. In such IG stories, keep in mind that you have few seconds to catch their attention and persuade them to click on the link sticker.
If your Instagram business profile has less than 10,000 followers, this link feature is disabled. If you are in this situation, you can use the IG stories as a call to action to let your followers click the link in your bio, for example. Source.
Instagram's "save" feature is important for boosting the engagement rate.
Instagram allows users to click like on the post, comment, share and save the post on their "Saved" posts list. Exactly this save feature increases the engagement rate on your profile, according to Instagram. It's important to let your followers click the "save" button below your posts to boost your content on the platform. Always tend to add a call to action like "click the save button" in the captions to get a bigger reach than usual.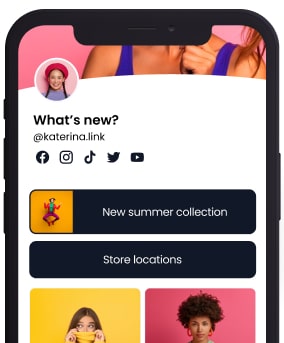 Forever free link-in-bio page with your own .link domain
Get Feedlink and build a complete social microsite for all your important links.
All PRO features | Cancel any time.
Instagram statistics by content
64.9% of Instagram content is photo-based
64.9% of the content based on Instagram are photo posts. Instagram Business account benchmark statistics from the same report also show that 17.3% of the post are carousels, and 17.8% are videos. This Instagram statistic is important for brand owners to focus on creating picture-based content and serving it to their audience. It doesn't mean that the videos will not work.
Check some Instagram reels, IGTV serials, etc…they have thousands of likes, comments, and shares, so as a brand owner don't ignore the video content; it's important too. It all depends on which niche your business is based on, but keep in mind that having a mixed type of content is always a good idea. (Source)
Instagram stories are preferred by 42% of Instagram users.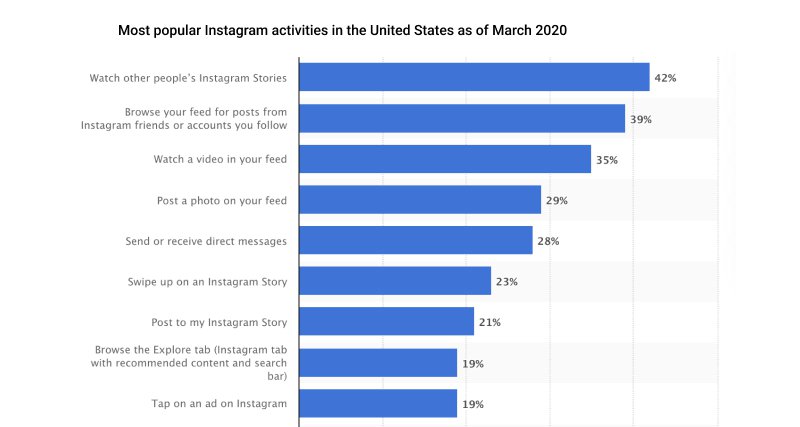 42% of the users use Instagram stories daily. We outline this statistic because social media managers need to focus more on Instagram stories if they still haven't started. With the latest link sticker in stories, this format is getting a new superpower that is not available for feed posts – and that is, the ability to add an external link and drive traffic to your website or sell the products you show in a story. Check your Instagram stories statistics constantly to learn how many clicks your stories are bringing to you.
Additionally, creating content for Instagram feed, reels, IGTVs, or carousel posts, should also be part of your overall Instagram content calendar. (Source)
In-feed videos get 18% more comments than photo posts.
Globally, video is the most engaging type of content, bringing in an average of 24.25 comments and 1097.9 likes per post. Carousel posts come in second, but the race is tight. They're only just behind the video, with 23.2 average comments and 933.7 likes! If we calculate, instead, by a median, the script flips entirely — carousel posts have a median of 70 comments compared to video's 46 and 4 median comments, nearly doubling the video posts' performance.
This means social media managers and brand owners should focus on posting carousels and in-feed videos and interacting with their followers through comments. Asking your followers something related to your products or services or answering their questions in the comment section is a really powerful method to build trust for your brand and interact with them. Never ignore the comments under your posts, no matter if you prefer photo or video content.
52% of Instagram users interact with real content.
Instagram is a platform where you can post real content (pictures and videos) made with a phone or camera and use graphic design tools to improve the quality of an Instagram post. According to Instagram, more than half of Instagram users prefer to engage with real-life content instead of photoshop-designed content. This includes live Instagram videos or Instagram stories with behind-the-scenes content and similar. Brands need to create real content with their products instead of designing graphics and creatives on photo editing tools. Prefer to make real and clean content if possible, and use your creativity to turn your followers into customers.
Posting consistently leads to a 50% bigger engagement rate.
Consistency is key for building an organic audience and hitting an amazing engagement rate on your business profile. Instagram statistics provided by Tailwind show that the more consistent you are on the profile, the bigger your engagement rate is. It's more likely that Instagram will notice your profile if you create content daily, so that content will be boosted to get a higher reach. The most active profiles get a bigger reach and higher engagement rate on Instagram than the ones that don't post frequently. The point is to post on your profile regularly, make your content schedule stay consistent, and be patient. Instagram is not an overnight success opportunity; it's a long-term game, so be a consistent player to get better results for your business.
Instagram Influencers statistics
68% of the marketers said influencer marketing is important
Almost 68% of the surveyed social media marketers for the Influencer Marketing Hub said that Instagram influencers are important for their social media marketing strategy. It's important for brand owners to know that a big percentage of other businesses collaborate with influencers on Instagram to increase their sales, brand awareness, and of course, brand engagement rate. Influencer marketing is rising yearly, so picking the right influencers for your marketing strategy is a crucial step for changing the Instagram game over your competitors.
93% of the brands use Instagram for influencer marketing.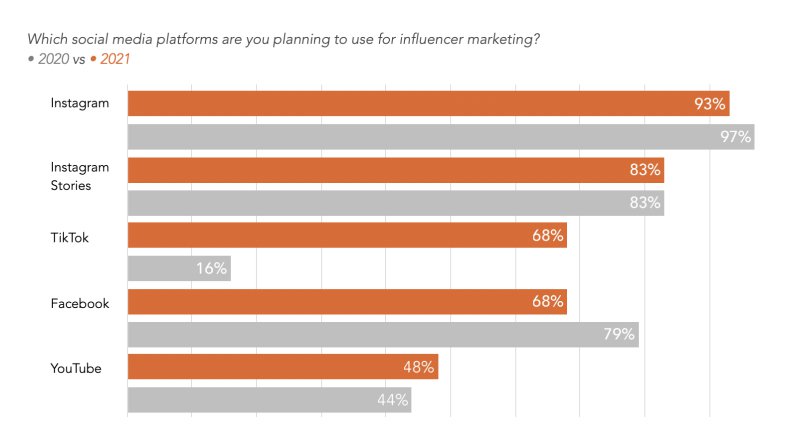 The biggest fan bases and audiences are located on Instagram, so influencers here grow their followers with lightning speed daily. Almost 93% of the brands decided to use Instagram for their Instagram marketing strategy. It's important for the brands' owners to know that nearly 9 out of 10 businesses collaborate with influencers on Instagram (skipping Facebook, Twitter, YouTube, etc..) so you should create the right strategy and find relevant influencers for your brand here without hesitation. (Source)
Nano influencers have a 5.6% average engagement rate.
According to HyperAuditor analyzing tool, smaller Instagram accounts with 1000 to 5000 followers have better engagement rates in comparison with bigger accounts. Instagram users with 1000 to 5000 followers are called nano influencers and they have a 5.6% average engagement rate. Brands need to collaborate with such influencers also with micro-influencers (people with 10,000 to 50,000 followers) because they have smaller but hyper-engaged audiences in a certain niche. It means that it's easier to handle them and build trust, so one recommendation for your products or services can bring an excellent engagement rate for your business.
36% of the brands give free products to the influencers for sponsored content
Smaller brands or businesses with lower revenues are not financially powerful to pay their chosen influencers for sponsored content. Instead of paying them, many brands give them free products (gifts) or access to their programs in exchange for promotion. According to Influencer Marketing Hub, 36% of the brands use this strategy with influencers and establish collaboration for sponsored content. Also, the same report shows that 21% of the brands offer discounts to influencers for their products or services in exchange for sponsored content. If you are not financially strong, use the same method to collaborate with influencers in your niche and boost your brand awareness that way.
Instagram Ads statistics
Instagram Stories generate 1/4 of the platform's ad revenues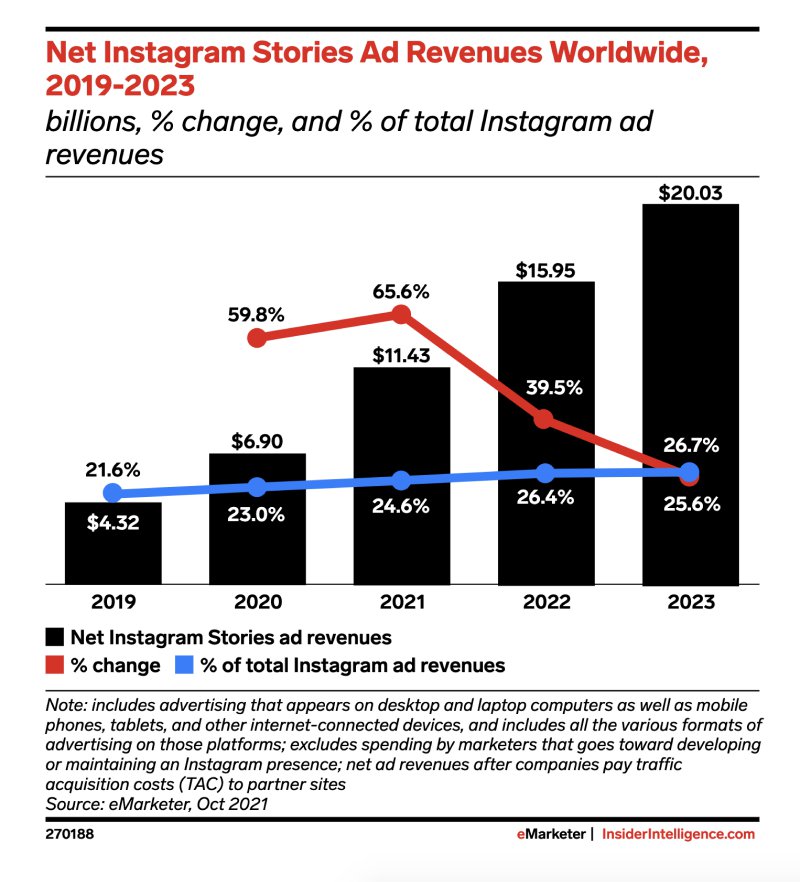 Ads published in Instagram Stories ads will bring in $15.95 billion worldwide in 2022, more than one-quarter of the platform's global net ad revenues. Ad spending is growing faster for Stories than for the Instagram Feed, as the Meta-owned company continues amassing influence. (Source)
The average cost per ad is $0.7 to $1
The cost per click on the Instagram ad platform depends on the industry you are launching the ad campaign, the time of the day, your target audience parameters, and similar. According to HubSpot, the average cost per ad is $0.7 to $1 per click. As many clicks and reach your ad get, the lower ad cost is set. This Instagram statistic is important for marketers to set a big enough budget for Instagram advertising purposes and reach the most relevant audience according to pre-set information and ad parameters.
79% of the Instagram users click on ads to read more information
According to Facebook, 79% of the people who see the ad on Instagram click on it to find more information related to it. This Instagram statistic is important for brand owners and marketers to use Instagram ads for their products or services. People are curious and want to learn more if they are interested in something, so choose the right niche and target the most relevant people who are your potential customers, thanks to Instagram ads.
38% of marketers use Instagram ads for brand building
Instagram is really powerful when it comes to marketing and brand – knowing that almost 38% of the brands located on Instagram use Instagram ads to build brand awareness among the users in their niche, according to Social Media Examiner. The point is that if Instagram is your primary social media for marketing and your target audience is based here, Instagram ads will be really helpful for growing your brand and increasing sales. Feel free to test some ad campaigns and implement relevant advertising strategies.
Conclusion
Compared to other social platforms, Instagram consistently gains new users and provides big opportunities for brands. Even Facebook users started to decline, as reported for the first time at the beginning of 2022.
It's a fact that Instagram is the most popular social media platform among businesses worldwide. Where you can find millions of different audiences and launch your marketing campaign in every niche under the sun.
These 20 statistics will help you determine what you should focus on and how to organize your marketing strategy regarding Instagram users, the content here, the business opportunities, and the Instagram features. Remember that Instagram is a long-term game, and building an organic, relevant audience for your brand is a bit challenging. Just be consistent and patient, your efforts will pay off, and Instagram success will knock on your door.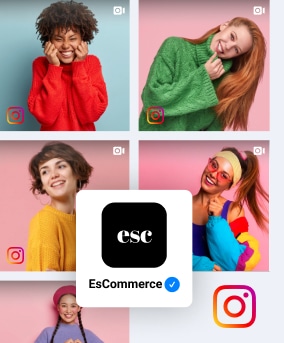 Show social media wall on your website automatically!
Try EmbedFeed and display Instagram, Facebook, YouTube, Pinterest, TikTok, and Vimeo feeds on your website in seconds.
All PRO features | Cancel any time.