When you want to purchase something you stop for a section and if there are reviews from previous experiences, don't you?
You probably do!
Surveys have found that:
70% of customers won't take action until they read reviews.
Is this pulling some trigger for you?
Well, it should.
If you're an eCommerce business, you can confirm that there is always a trust gap between a company and a consumer. You can do several things to fill that gap, and social proof is one of the paths you'll want to take.
The thing with an eCommerce store is that people are buying a promise that you're making. And product reviews are proof if you're keeping that promise or not. Keeping promises builds trust.
That's why customers are more likely to purchase something from you if they see that other people enjoy using what you sell, and leaving product reviews gives them this satisfaction.
Let's point to the obvious.
Why Shopify?
These days, Shopify is one of the most popular eCommerce website builders, together with Amazon and eBay. Shoppers will look for your business and will see your reputation. You can be sure that reviews have a significant impact on the conversion rate of your online store because your customers DO look into them.
You can't hide, and you shouldn't.
You're probably here to learn how to build trust and succeed on reviews. We will dive into this step-by-step guide, but first, some background.
Selling on your homepage or social media channels is fine, but full shopping carts on a professional eCommerce platform are the future, and it's happening right now. And no matter if you're in Canada, New Zealand, Romania, or Singapore, you have to keep up with the trends. Or the time will run you over.
Let's get straight to the point.
Shopify is today's leading eCommerce solution with more than 1.000,000 online stores, offices worldwide with $63 billion worth of sales.
Shopify is not only an easy way to launch and manage your online store. It's all about supporting store owners in crucial aspects. Not only in opening their online store but also with opening additional sales channels, offering customer support tools, or taking care of the technical hassles.
The platform has many features and sales tools that will make the operating process much more comfortable, such as:
third party apps
paid apps
shipping and dropshipping
abandoned cart recovery
inventory management
payment processor
Shopify payment options
shipping rates and transaction fees
templates and Shopify themes
Shopify POS
blogging
The best thing is that your eCommerce site comes with most of the SEO features that online stores need. Search engine optimization options will drive you up on Google.
You'll get most of these features, depending on the pricing plan and monthly fee. Speaking of which, you can choose from the five payment plans:
Shopify Lite Plan
Basic Shopify Plan
Shopify
Advanced Shopify Plan
Shopify Plus Plan
You can easily connect plug-ins for every function in your online store. Shopify works very merely with Volusion, USPS, VerifiedReviews, and hundreds of other tools.
And no worries, it's completely safe. It has implemented SSL and PCI security standards.
Why are customer reviews so important for the Shopify eCommerce platform?
Looking for online reviews has become such a normal part of the buying process, and you, as an eCommerce store, should be aware of that.
In fact:
15% of users don't trust businesses without reviews
70% of consumers need to read at least four reviews before they can trust a business
71% of consumers agreed that reviews make them more comfortable than they are purchasing
As you can see, Shopify experts are making sure that reviews have real value for buyers, but they have significant benefits for the retailers too. Of course, if you use them right.
Here's how.
They provide unbiased insight
The fact is: Customers are expecting to see reviews on your store. And they like them. Why? Because they are showing third-party insight into the real quality of the product.
For example, a review can tell much more about the softness, flexibility, and lifetime of a yoga mat than the retailer himself.
This type of product review helps people imagine themselves using the product in everyday life.
It gives a real picture and reduces the questions that would come to your customer support team. Consumers will appreciate the importance of online reviews, not for business benefit but to help customers with the purchase decision.
They change how customers perceive you.
Brand reputation is everything. Would you buy something from a retailer that has only bad reviews? Even more, they DON'T even bother to respond to unhappy customers? Of course, you wouldn't.
Customers can feel if you care about them or not. Positive reviews are shaping your perception, but genuine and careful responses show that you're going the extra mile for a great customer experience.
They build trust and credibility
Customers base their opinion on the reviews you receive and how you respond to those reviews. Both positive and negative reviews are shaping the quality of your service.
I know what you think; nobody wants a bad reputation. By just responding, you are building an emotional relationship with the customer. People who will look into your negative reviews will find that you're responding and trying to make things right.
That's when they can feel comfortable buying your product, knowing that if something goes wrong, you will respond.
How to get one after another Shopify review on your store?
The fact is that shoppers will seek reviews on your Shopify app store, especially for small businesses. And you'll want to collect as much as you can. For that, you need a review generation strategy in place.

I know, running a point of sale when you're an online business is not easy, and building trust is a real challenge. So let me make it easy for you.
We analyzed data from many Shopify stores, and we created this easy-to-follow strategy for proactively generating reviews. And the best thing is – you can implement it today.
Step 1: Keep it simple
If leaving a review becomes a struggle, the customers will be less likely to do it. Your job as a retailer is to remove any obstacle in the buyer's journey. I can't stress enough the importance of keeping things simple.
When it comes to leaving a review, it's essential to offer them the chance to leave you one almost effortlessly.
Overwhelmed forms with many questions will only discourage your customers. The average customer isn't going to invest time into exploring different ways to leave feedback.
They are not coming to your store to applaud you, but to buy. They have million other things to deal with in their day, and they won't sit down answering questions for 15 minutes. They will probably just pass. And you don't want that to happen.
AMP email forms are great for the effortless review collection process. AMP form is an interactive email format that allows customers to fill the review form without leaving their inboxes.
You send the email with the form in it. The customer opens it, leaves a review, and there you go. Simple as that.
Step 2: Don't be shy; ask for reviews
Here are very simple methods you can use and ask your customers to leave reviews on your Shopify store:
Ask via email
Don't be one of those shops that are only doing the minimum. Be proactive. Ask your customers to leave you a review or a testimonial.
Ok, you don't have to twist everyone's leg, but for sure, you'll receive more reviews if you just ask for them.
It's not rocket science. You just need to send a friendly email and ask for a review. And no, you don't have to do it manually every time someone buys from you.
There are many tools available that will help you automate this process. You don't have to be an email marketing expert. And every time a customer buys a product from you, they'll receive an email to rate that product. You can just sit back and watch your reviews rolling in.
Sometimes it really is a case of just asking.
Put a review button on your product pages.
This option is even easier! You just have to embed a small piece of code, and it will generate a "Leave a review" button.
Your customers can easily find the button, click it, and a review form will pop-up. They will leave a review, maybe some photos, and that's it. You have another one.
The buy button is not the only one you want to be pushed. 😉
Step 3: Personalize. Personalize. Personalize.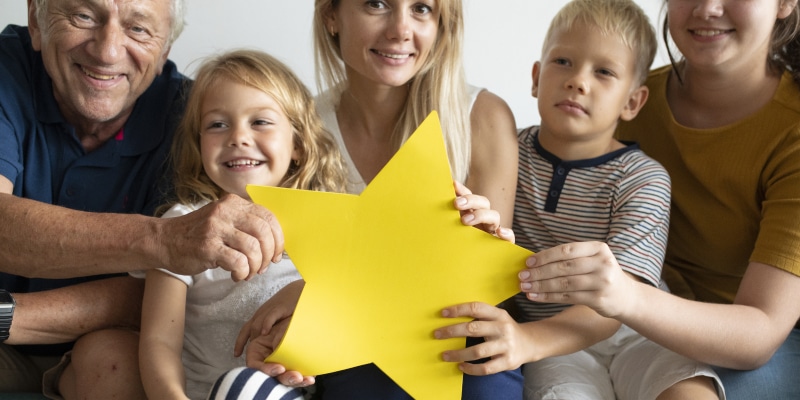 Default subject line or email copy is just that – default. But people enjoy feeling special.
So consider personalizing each email. Personalization builds an emotional connection, which leads to better feedback.
First, consider customizing the subject line. It's the first thing they will see when they receive the email, so don't be boring. Your open rate depends on the subject line. So, use exciting and catchy lines to drive them into action. Here are some tactics for subject lines that provenly work:
Create curiosity

[Customer name], you've always been the best at…
[Customer name], what if we decided to add this to our [service/product name]?


Be direct and trustworthy.

Hey [Customer name], are you willing to be radically honest with us?
Hi [Customer Name], can we ask you [#] questions? Takes [#] min.
[Customer name], Did we earn your trust?


Influence the good review

They said: "[Quote from a positive review.]" Do you agree?
[Customer name], what can we do to earn a review from you?


Run a contest

Show off the [product] and earn [a benefit/product]!
Who wore it better? Show off how it's done and earn a [discount]!


Use a bit of humor

[Customer name], you couldn't even say thank you…
[Customer name], you're a know-it-all… and we love that about you
Why on earth would you do that?
Now, you're ready for the email copy. Here, just keep it short and sweet. Show gratitude and go straight to the point – ask for feedback. Include an AMP form to make the process easier and ensure yourself a new review.
Step 4: Didn't receive one? Remind them
Sometimes you won't receive a review at the first attempt. Don't be discouraged. It is possible that your email found the customer at the wrong time. That's what email reminders are for.
If you're using a tool for managing your reviews, you can easily schedule an email reminder to make a second attempt. Just schedule after how many days you want to send it and let the software do the heavy lifting.
Step 5: Show off your reviews.
What's the point of having beautiful reviews if you don't show them? Having the reviews you're proud of well-packed in a cool widget is a great way to tell how well you're doing your job. That's the functionality of reviews – to build trust.
You can get creative with your reviews' look to make them more attractive to your online store. Play with the layout: display grid view, carousels, or sliders.
There is always room for going the extra mile. And if you want to stand out of the crowd, you should go. Improve your widgets' look – change colors, change the placement, and many other things that you can think of.
It's simple – just a line or two of CSS code and customize your widgets to match your branding guidelines.
Extra Tip: Encourage more and better reviews by giving incentives
Who doesn't want an extra something? Merely asking for a review is fine, but sometimes even the most satisfied and loyal customers will need a gentle prodding.
Here is where you play your incentives card. Small incentives are a great way to encourage your customers to take the time to rate you. It's a great way to show that reviews are critical to you.
But be careful. Make sure that your incentives are for writing a review and not for writing a useful review. Be cautious with this, or that can bring your business to shame.
Also, keep in mind that you need truthful reviews to build trust. Don't confuse incentives with buying reviews.
Consider every form of an extra something. Use coupons for engagement, a loyalty program, and gift cards to reward the most loyal customers. Offer a discount for future purchases and ensure yourself the next sale. Giveaways are also great. Randomly select a reviewer and give them a prize.
Well, spending a minute to write a review is worth it now, doesn't it?
Make life more comfortable and automate the process.
You don't have to do everything manually. It's a tech-savvy era!
There are many tools available that can make your life easier. Just choose one and let it do the dirty job for you.
VerifiedReviews is the all-in-one solution for your Shopify store reviews, and you won't need any additional marketing tools. It's a Shopify review app that helps you automatically collect and display verified customer reviews based on their order status on your Shopify store.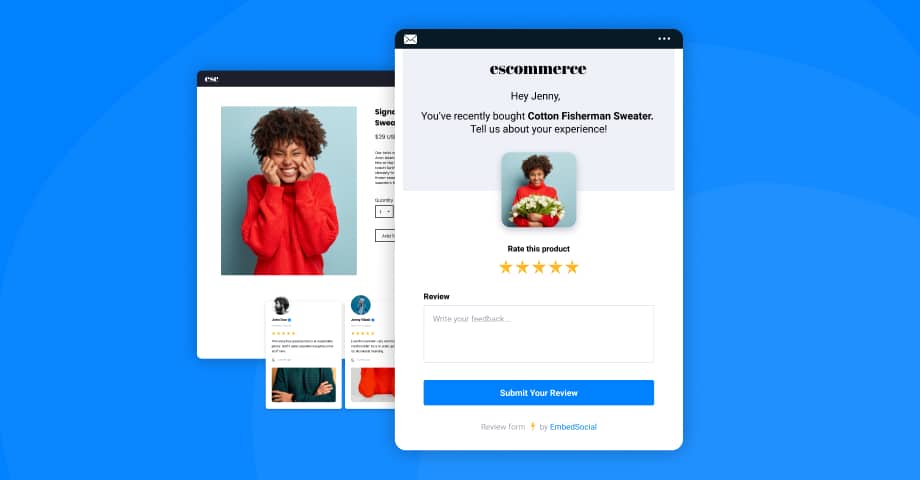 How does it work? Well, very simple.
Every time a customer buys a new product from your Shopify store, they receive a review request. There is a possibility to activate an AMP email format. It means that customers with Gmail accounts will get instant-open reviews and feedback requests within the email.
They can directly submit their product reviews in their inbox instead of having to go through the hassle of logging into the site each time they want to share feedback on what they love about your brand.
This email form will encourage shoppers to provide their feedback because it takes only 10 seconds.
The next step is to display all the collected feedback in eye-catching widgets so you can quickly see what people are saying about your products!
Why is it useful?
The app does most of the heavy lifting.
It allows you to enter a whole new email personalization level and save time with the automatic email sending process.
And the best part is: you can rely on it to take care of the review collection but still have the option to moderate if needed.
FAQ
Do I need a (WordPress, Squarespace, or Weebly) website builder to use Shopify? – No. Shopify is a dedicated store builder, and all you need is a domain name. And of course – a business plan and products to sell.

Can I use reviews with all Shopify pricing plans? – Yes. Reviews are available on every pricing plan. Even basic Shopify as a lite plan has a review management option. Of course, you will have to use plug-ins to make the best out of those reviews.

Can I pay VerifiedReviews with a credit card, or I have to use PayPal? – Shopify has an overall payment gateway payment process. So, you can pay either way. Whatever suits you best.

Is VerifiedReviews user-friendly for non-tech store owners? – Yes. The plug-in is created for ease of use for users that don't know how to code. It has free themes and layouts. The widgets are responsive and work perfectly on desktop, android, and iOs.

Can I use CSS customization on the widgets? – Yes. You can customize the widgets yourself.

Can I import reviews with a .csv file? – Yes. You can import the reviews you already have.

Is the widget builder based on drag-and-drop elements? – No. It's even more comfortable – it's click-based.

Can I collect reviews in real-time? – Yes. The tool generates the reviews automatically.

Can I watch some tutorials on how to use the plug-in? – Yes. You can find them on our YouTube Channel.

What are the alternatives for Shopify, and is your plug-in available for them? – Shopify has three main options: BigCommerce, WooCommerce Storefront, Magento, and Wix eCommerce. VerifiedReviews is not available for those eCommerce platforms.
Bottom line
Now that you see the power of social proof in building trust in your eCommerce store, it's time to get to work and collect some reviews yourself!
I am excited for you to start with these add-ons and get 'em reviews rollin' in!
Hey, and don't forget to drop a line and let me know how it fits you. 🙂