Online reputation management has been a hot topic in the world of marketing and PR for years.
As the digital age continues to grow, so does the need for online reputation management. We are living in an era where we can be judged by what we post on social media or how many followers we have on a given platform. Your identity is now tied up with your online presence, online reviews, and brand reputation,, which means it's more important than ever to manage your reputation online. 
And as everything evolves so quickly, so do reputation management trends. That's why we gathered the most important trends for you to take in 2022 and maintain a good reputation management strategy.
Digital transformation
Consumers count on social media and search engine results to make decisions about everyday life. And businesses are getting into the digital world to meet the changing needs of consumers.
Not that long ago, for one small business to work, it was enough to have a store and a phone number. But these days, local businesses don't operate just offline. And if you want your business to "live," you should rapidly consider placing yourself where consumers can find you – on the web. If you're not convinced yet, let me point out a great example of how can a business succeed by transforming online. 
It's about Walmart.
A few years ago, who could imagine a retail giant moving part of their stores online? Well, Walmart did what had to be done. Being aware of how consumer habits are changing, in 2018, the giant spent a total of 11.7 billion in technology investment. They implemented high technology in every aspect of the business processing – from delivery and supply chain management to inventory. 
Their stakeholders know that is not enough to have social media accounts on Facebook, LinkedIn, or Instagram. To level up the public relations and create a positive online reputation, they had to embrace the essential trend that digital marketing imposes – get your store digital!
And what did they get? A much, much better overall customer experience. And such a smart business knows that customers' wishes are not constant. With that in mind, they keep optimizing their services always to offer a great experience. Because of that, they're enjoying a great online reputation at the top.
So, if you haven't set yourself up for the online world, this is the last call for you to do it.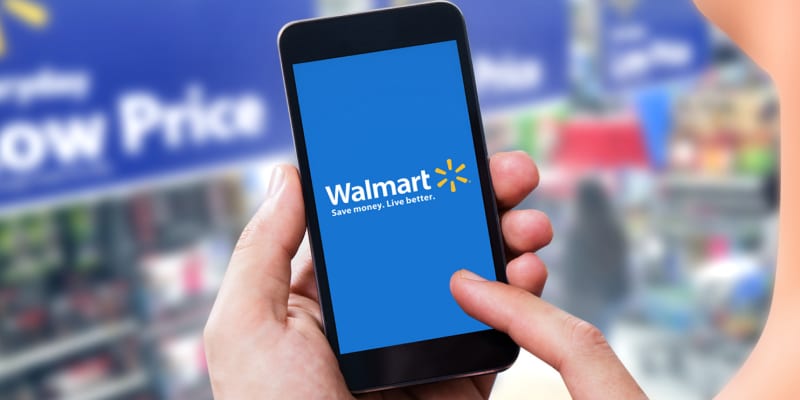 Implement new customer engagement strategies
You already know that customers are becoming less trustworthy of brands and require more social proof for the decision-making process. They use Bing and Google search and go through review sites like Yelp to check your star rating and find all your positive and negative reviews.
You can have the perfect product or service and spend countless hours working on it but you'll come to the boiling point – the point where you have to acquire your customers and make them fall in love with you.
Does that mean you should give up? Absolutely not. Instead, you should get smarter and think of new ways to attract customers and push them through your funnel.
Conversion.ai came up with a great idea with an even greater name – obsessing over customers.
Dave, the company's CEO, shared their satisfaction when their new strategy overcame their expectations. They are obsessed with providing the best for their customers building a life-altering product. 
They formed a community group for the users where they can help each other, and Conversion.ai posts about novelties and nurtures the users. It's not a regular group; it's a fun one. Besides the useful content, they are posting a lot of memes that every content creator can relate to. Believe it or not, that helped A LOT, and they got 837 reviews in 3 months for an average of 4.9+ stars! That's huge!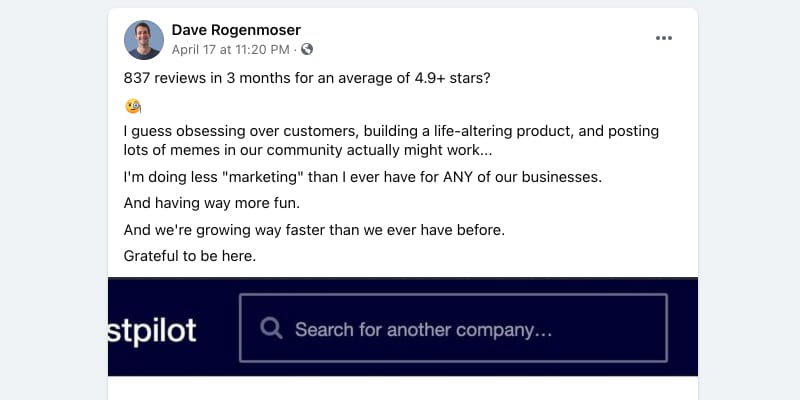 You want those good reviews, don't you? You can have them – just think of a creative way on to nurture your customers. Or get inspired by Conversion.ai's example and create a "safe place" where you can share positive content and talk to them on a human-to-human basis. It's proven to work.
Employ a UGC system
While most brands use advertising as a primary tool to ensure a higher position, smart brands use the content their customers create to support their marketing. Marketers agree that consumers trust content created by customers more than content created by brands. People trust people.
Consumers are creating massive amounts of content. People regularly share positive experiences on social networks about everything – from great travel experiences, they have to the food on their table. They post pictures and eye-catching stories, write reviews, and what else not. This behavior is great for you!
Considering the implementation of a UGC platform can make your life easier. It can auto-generate all of your positive reviews and social media content created by your users. You can get creative and show your entire social media wall on your website. Create your dedicated pages for user-generated content by syncing hashtags, mentions, and your own content from Facebook, Instagram, YouTube, or Twitter.
You can use that content to put authenticity and trust into your brand. But do you have the time to handle all of that content manually? Probably not. 
Let's take a look at how TrovaTrip increased conversions by 12% and gained 62x ROI in just four weeks by using a UGC platform.
They knew that one of the best ways to build trust among their followers was to enable their existing travelers to share their experiences. They decided to use customer reviews for this purpose. By simply aggregating all of those reviews into one embedded widget on their website they gained a reputation as a brand that cares.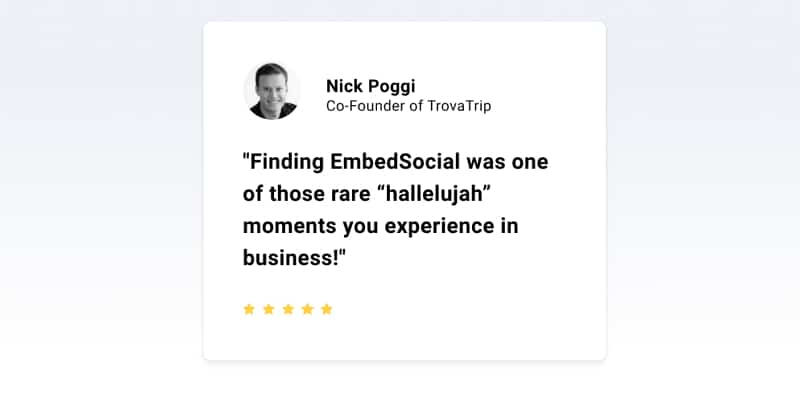 They receive more than 10-20 testimonials per day. Imagine having to copy-paste them manually. There would be no time for the actual work. That's why UGC platforms are time (and life) savers.
Review management can be a simple process if you do yourself a favor and implement an ORM into your marketing strategy. By using online reputation management services, everyone can be their own reputation manager. 
Use AI to optimize your online reputation
The invention of Artificial Intelligence has made it possible to monitor what your customers are saying on social media platforms and other review forums. Social sharing continues to improve across different platforms, so businesses face a serious challenge when it comes to knowing everything that their customers are thinking or experiencing.
With this overwhelming feedback and reviews from these sources online, using an advanced monitoring tool is key for protecting the company`s reputation against unsavory remarks about them!
Sometimes, it's difficult for business owners to handle bad reviews, negative comments, and fake ones.
With the ever-increasing number of social media platforms and their complicated algorithms, spreading fake news about your business is easier. What is one way for a company to fight against this? AI can help immensely in dealing with our reputation crisis management problems and stop false information from spreading around online.
Here's a good example we all can learn from. In 2017, Starbucks became a victim of fake news when tweets were developed advertising the "Dreamer Day". This day was meant to be for undocumented US migrants and would have been celebrated with free drinks from frappuccinos to iced coffees! The company's logo appeared all over these ads that used the hashtag #borderfreecoffee. Here is how they responded after finding out about their involvement in this event.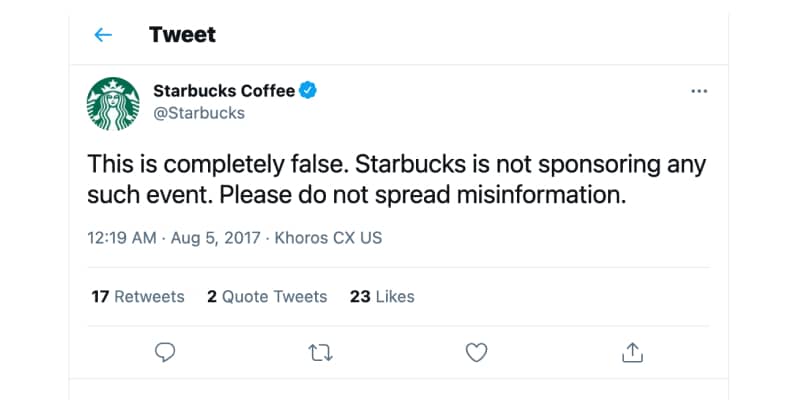 Starbucks is lucky to have been alerted early by their media monitoring tool about the fake tweet that was circulating on social media. If it hadn't, this could've led to serious reputation damage for them in the long run.
So, you have to watch out for fake negative feedback and fake negative content that may be spread.
Nurture brand partnerships
If you want to grow your business, it's important to have a partner by your side who will help generate the strength of both brands. And I don't refer to influencers, but real brands.
A great example of how partnerships can boost your business is the case of GoPro and RedBull.
Since the beginning, both businesses have positioned themselves as lifestyle brands. Both share the same values – adventure, fearless and extreme experiences. GoPro and Red Bull have partnered up to provide the world with some of the most adrenaline-packed videos. GoPro equips athletes with video recording equipment, while at the same time, Red Bull provides these events as well as funding for their production costs.
This collaboration was a blast for the growth of both companies. As Sean Eggert, RedBull's director of marketing said at the time:
"GoPro camera technology is allowing us to complement the programming by delivering new athlete perspectives that have never been seen before."
GoPro and Red Bull have been a team for many years. One of the biggest collaborations they've done was "Stratos." This is when Felix Baumgartner jumped from a space pod 24 miles above Earth's surface with GoPro strapped, setting three world records along the way while embodying what two companies' values: reimagining human potentials are.
Future trends: What can we expect next?
2023 is a big year for online reputation management, with brands focusing more on buyer engagement. By understanding current and upcoming trends, brands can ensure consistency and enhance their online reputation management initiatives.
Trends are ever-evolving, and here are a few predictions that we can expect to happen at any moment:
SEO (search engine optimization) will be more difficult, so businesses will have to incorporate voice search
Morals and ethics will take precedence more than one can imagine – so keep your values up high
New social platforms may take over the scene – so keep your eyes wide open
Robotisation – robots will be common as using Facebook sooner than you think
Good content is never out of a concept.
Conclusion
The future is unpredictable, and staying current with the latest trends may be hard. But if you keep on top of these things, then your business can survive anything that pops up!
We are constantly updating the list with the latest trends, so stay tuned and don't miss a thing!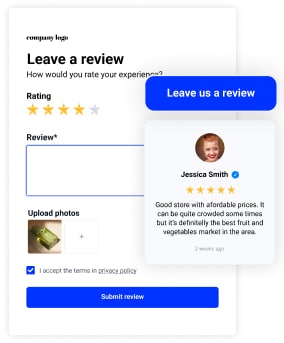 Collect reviews and display testimonials wall of love widgets
Try EmbedReviews, collect and display reviews widgets on your website. Automatically.
All PRO features | Cancel any time.