Instagram subscriptions are the newest feature that enables creators to monetize from Instagram. This feature offers exclusive content and benefits to their most engaged followers at a monthly subscription fee.
Creators can now add a button on their profile that allows their followers to buy a monthly subscription. This way, as a creator, you will have a predictable, sustainable, and scalable income from Instagram.
Thus, this is massive news not just for big content creators on Instagram but also for micro-influencers. They can start receiving a recurring monthly income with a few pricing models starting from $0.99 to $99.99. Remember that you can activate only one model and can't have a different tier system.
---
FYI: Embed Instagram widget automatically with the social media aggregator and UGC platform by EmbedSocial. Click below to try it for free: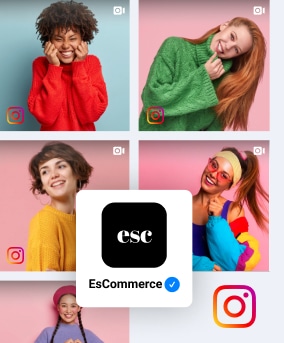 Embed Instagram widget on your website automatically!
Try EmbedFeed and display Instagram content from your feed, mentions, or hashtags on your website.
All PRO features | Cancel any time.
What are Instagram Subscriptions?
Instagram Subscriptions is a feature that allows creators to earn recurring monthly income by offering exclusive content to their most engaged followers. However, this product or feature may not be available in all regions.

Instagram subscription
Instagram subscriptions enable content creators to monetize their accounts by offering exclusive content and special perks to their most dedicated followers.
Through in-app purchases on mobile devices, followers can subscribe to these accounts and gain access to premium content for a monthly fee. Managing subscriptions is made easy within the Instagram app, allowing UGC creators to provide a tailored experience to their subscribers.
Here is a sample of an Instagram subscription of a creator where people can subscribe: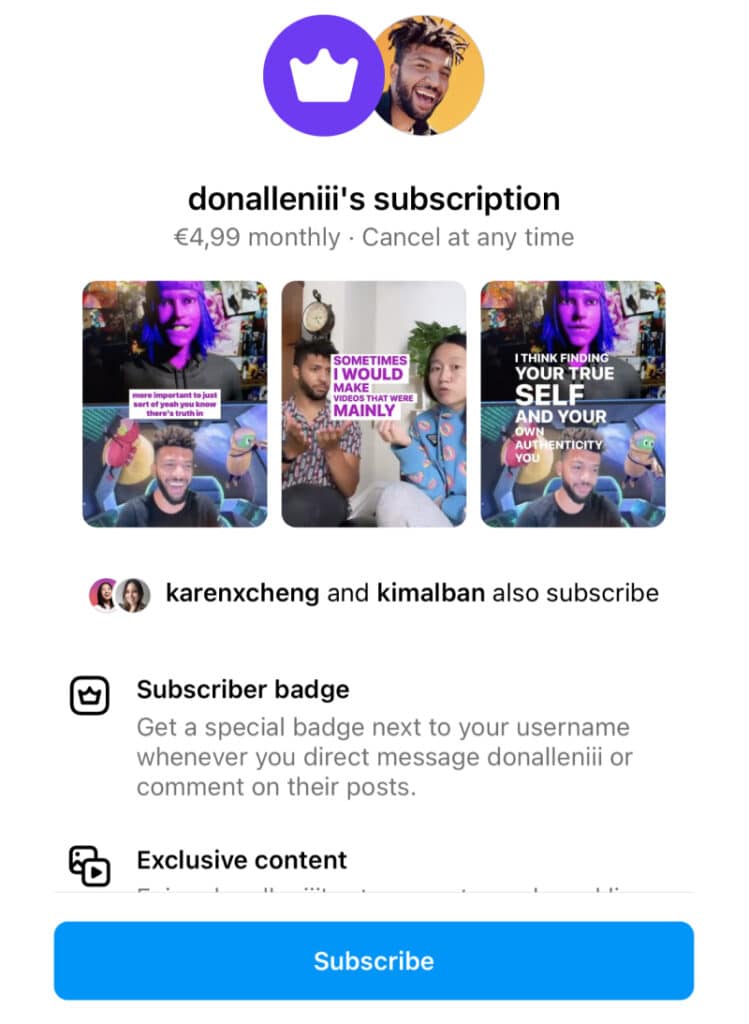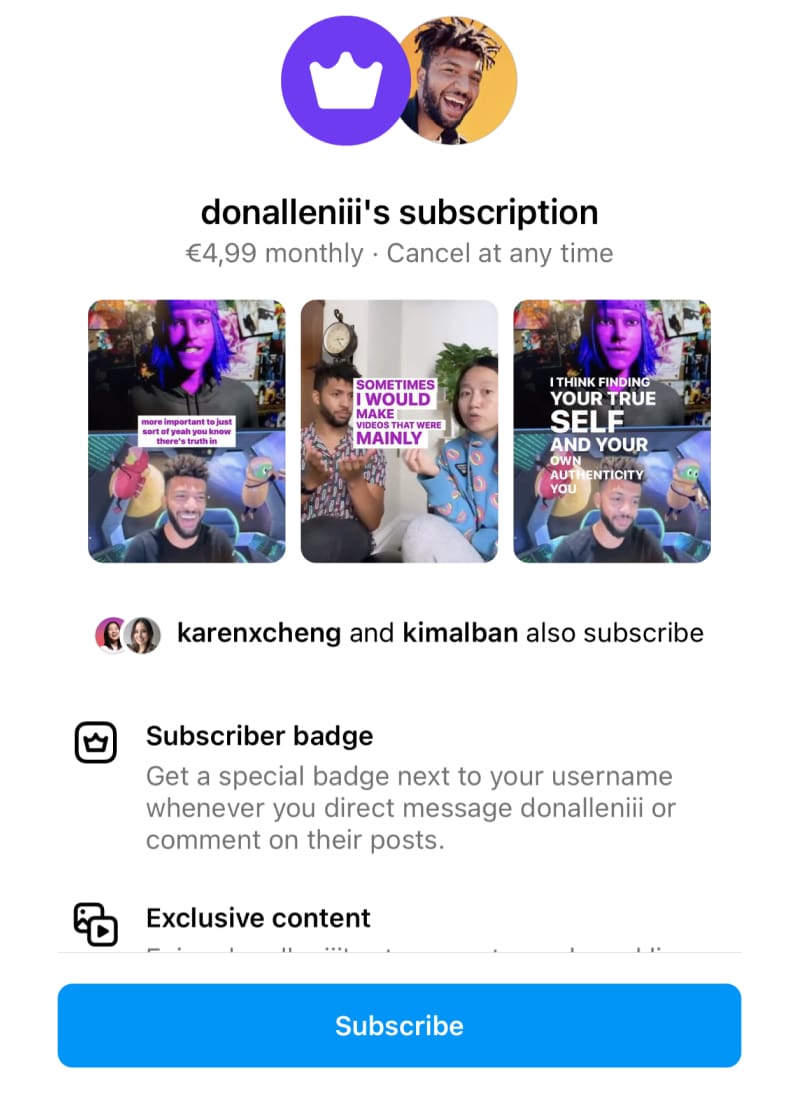 Benefits of Instagram Subscriptions
Instagram is great for content creators to showcase their work and connect with their audience. By inventing Instagram Subscription, the platform will become even more valuable and helpful to Instagram creators for introducing exclusive content to their audience.
This Instagram feature brings two biggest benefits that are imperative for content creators so they can grow their personal brand and make a living out of that.
Securing monthly income
Content creators are often struggling to secure monthly incomes. Even though the creator economy is way past full-time jobs and monthly salary, still, it's relieving, especially for smaller creators, to have a secured monthly income apart from the brand collaborations. If you succeed at creating quality content worth paying for, your subscribers' number will grow, and so will your monthly income from Isubscribtions on Instagram.
On the other hand, your subscribers will be happy to support what you do. Moreover, they will be very excited to see exclusive content highlighted with a subscription.
Develop deeper connections with the most engaged followers
If you have time, it's best to answer all messages and followers, but as you grow your community, it will become harder to get in touch with everyone.
Luckily, you can now highlight the most engaged followers and ensure their direct messages or comments on your post will never disappear. You need to give your attention to the most loyal people who support your work, and they deserve it. Plus, they often have amazing ideas for you and can give you reliable insights about your audience.
Features included in Instagram Subscriptions
Earlier this year, Instagram announced its new Instagram subscriptions feature that was about to have three main features: subscriber stories, subscriber badges, and subscribers live.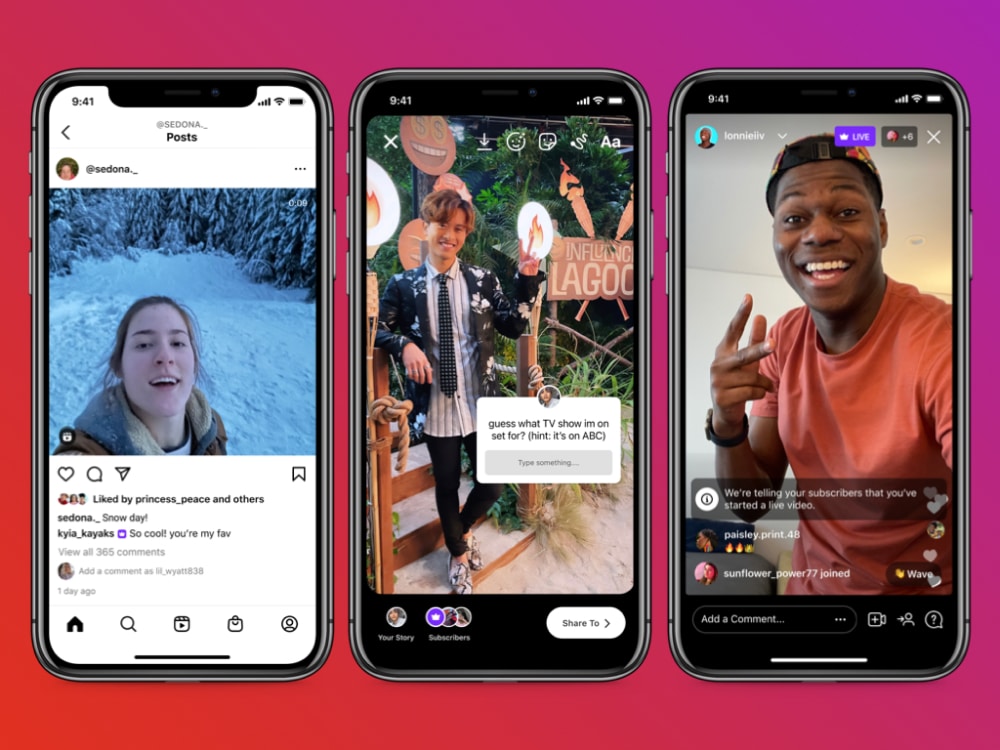 After their testing period, they've added some other amazing features that will surely step up the game for content creators on Instagram. Let's talk more about what they have to offer now.
Subscriber chats
Even though the creators' economy subscription offerings have largely been content-based, it's time for some changes. Thus, Instagram is implementing subscriber chats so creators can have a chance to build a community with their subscribers.
You can create subscriber chats, discuss different topics, get to know your subscribers, and reveal something. Up to 30 subscribers can join your chats from a new "join chat" sticker that you need to post on your story.
The subscriber chats are powered by Messenger, and you can create them directly from your inbox or story. Another good thing is that they automatically end in 24 hours, so you can decide when exactly you want to engage with your subscribers.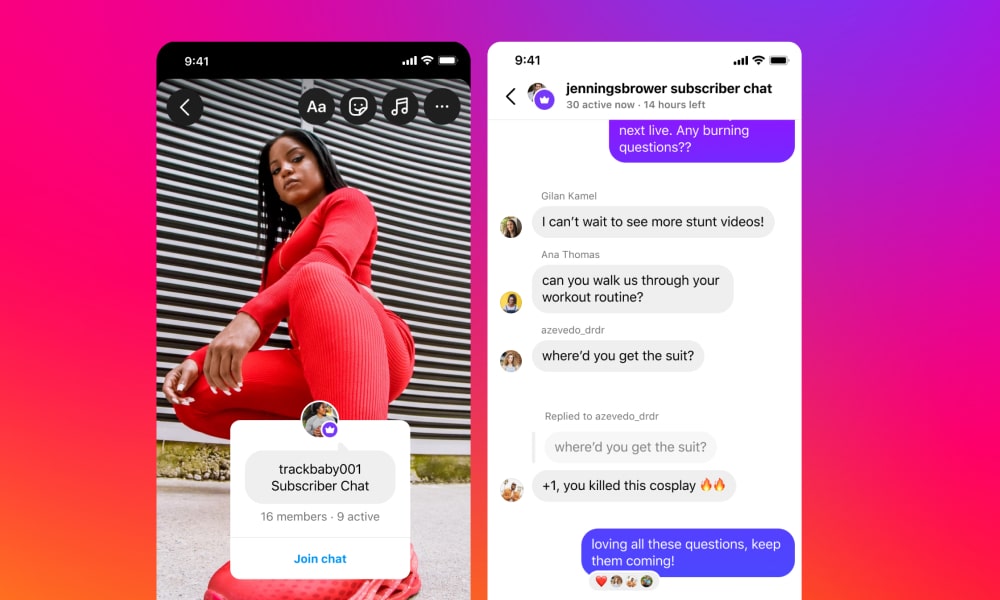 Exclusive posts and Instagram reels
After Instagram revealed the idea of a subscription story and subscriptions live, creators objected that they wanted to create exclusive content that would be live for more than 24 hours. Hence, the Instagram team made subscriber posts and Instagram reels a part of the Instagram subscription plan.
It's proven that the content that lives on your profile is an effective way to attract new subscribers and grow your community. Using this feature, subscribers can always come back to enjoy the content you created, especially for them, and interact with it anytime.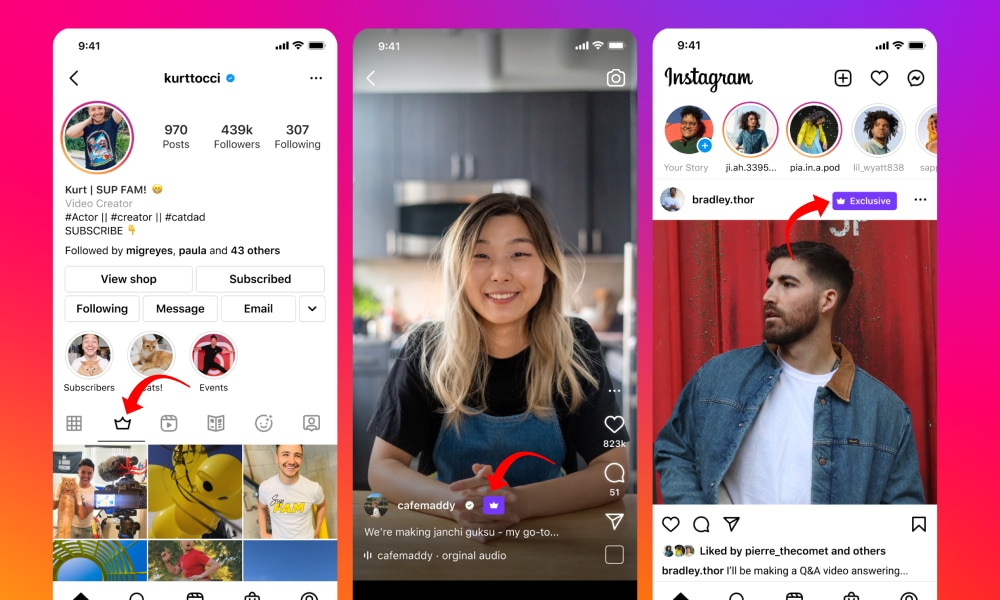 Subscriber stories
Subscriber stories are very similar to close friends' stories. That means those stories are visible only to a specific group of people. While to post stories for close friends, you need to select the green circle; for subscription stories, you need to click on the purple circle to create stories exclusive to the subscribers.
Learn more: Inside Instagram Stories analytics
Subscription live
The second subscription feature is the ability to create subscriber lives. From now on, whenever you go live, you can choose to host exclusive lives for your subscribers. Your subscribers will be notified whenever you go live, and they can access your Instagram live.
The possibility to broadcast exclusive live to your subscribers allows you to engage with them and discuss things directly. Hence, you can choose a higher price for Instagram subscriptions. On the other hand, your subscribers will have more exclusive content; you can run private Q&A, have exclusive classes, or more.
For example, if you are a fitness instructor, a great idea is to have daily Instagram live workouts. In the past few years, online fitness classes proved to be effective. Hence, this is a great reason for your followers to subscribe to your Instagram.
Subscriber badge icon
The last feature that comes with Instagram Subscriptions is a badge that is given to people who subscribe. The subscription badge will be displayed every time a subscriber interacts with you.
That means the badge will be displayed when they comment on your posts and send you a message. This way, they can stand out from other accounts, and content creators can realize that these are the people paying them monthly to be a part of their subscription circle.
This feature benefits content creators because it shows all followers that you have subscribers and provides quality and exclusive content for them. Hence, it will encourage more people to subscribe to your Instagram account.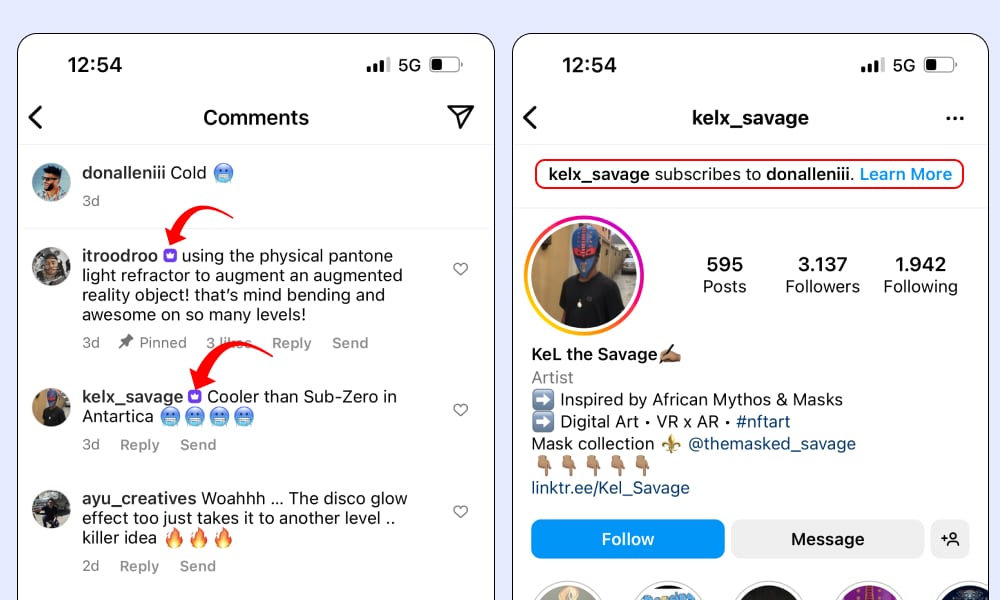 How to enable Instagram Subscriptions?
At the moment, Instagram subscriptions are on an invite-only basis, but they are rapidly expanding, so you might expect an invite in your inbox in the near future. One thing you can do until you wait is to check if you comply with Instagram's Partner Monetization Policies and other Instagram guidelines.
If you are already invited to use subscriptions, go to your Professional Dashboard, and you can set up the subscription there.
Furthermore, to see your subscriber list, click Subscriptions, and you can report, block, restrict, and remove subscribers. You can also find information about cancellations, earnings, new subscribers, etc.
5 Tips on How to get subscribers on Instagram?
As soon as Instagram Subscriptions become available for everyone, creators will jump right away and take advantage of the feature. To stand out from other creators and build your loyal subscription base, besides the current must-have tools like Instagram reels widgets, etc., you must also keep these five tips in mind.
Stay unique and true to your personal brand
Your subscribers love you for something you do differently than other creators. Find what that is, and stay true to yourself. Don't lose yourself trying to do something that can be easily found elsewhere.
Appreciate your subscribers
These people are your biggest supporters, so whenever they comment on your posts or send you a message, make sure to get back to them. You can also do a weekly tradition to welcome new subscribers from the previous week. Appreciation will add value to your subscribers and help you keep them a part of your loyal community.
Be consistent
When you have Instagram subscribers, you can't have the freedom to post only when you feel like posting new content. Subscribers will expect regular content, which will be great if it is in a predictable schedule. That way, they will know when to expect new content and plan ahead not to miss any of it.
Be transparent
Communicate with your subscribers and explain what kind of content and how often they can expect if they subscribe to your Instagram. You can post this plan publicly to all followers to entice them to subscribe. Being clear about what you are creating will help you minimize subscriber churn.
Lastly, you are free to change your subscriber's content plan, but it's good to announce that to your subscribers upfront. That way, you can keep your subscribers satisfied and prove that you are dedicated to creating unique content they will love.
Do something special
Who doesn't like surprises? From time to time, you can surprise your subscribers with an exclusive live or catch up with them using subscribers' chat. You can sometimes talk about your creative process, ask them for feedback about your content or even discuss a new idea.
In other words, let your subscribers be a part of your work. They will feel special and stick around, and you will get new amazing ideas that will make your subscribers happy.
Steps to Show Subscribers How to Subscribe on Your Profile
Here is a simple step-by-step process on how to ask subscribers to subscribe to your profile:
Go to the creator's profile and click Subscribe.
It will open a screen detailing prices and the benefits of Instagram Subscriptions.
If you want to proceed, you need to click Subscribe again.
Review the terms in the popup and click 'Process Payments.'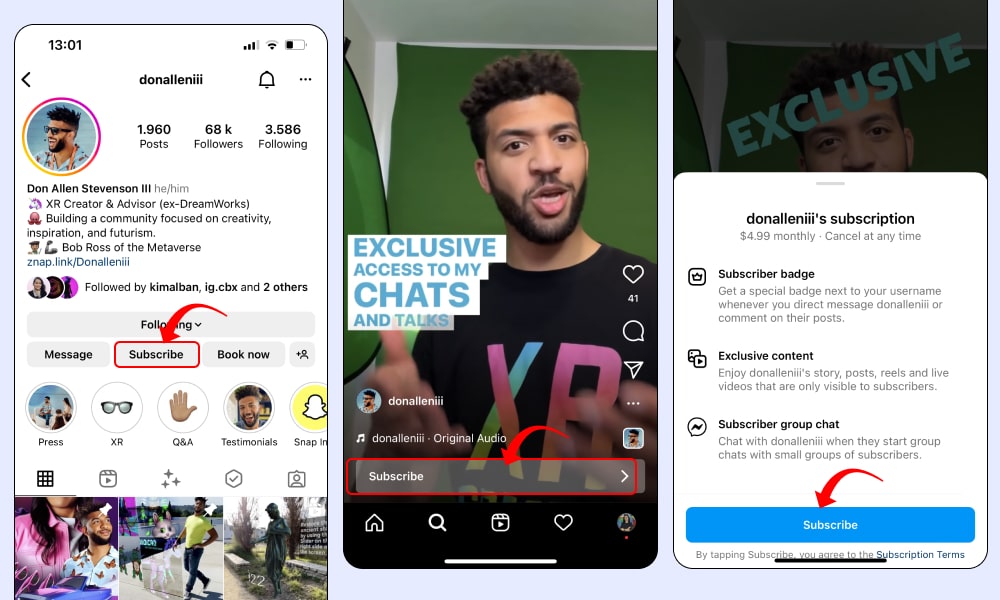 Note: If you are using iPhone, you will be asked to confirm the subscription and pay with the account on your iCloud (as an in-app purchase and not as something paid directly inside of Instagram). This is important information for creators because Apple takes a standard 30% commission rate for App Store transactions. Still, since the team on Instagram is constantly working on improving the Instagram Subscription feature, hopefully, they will come up with a solution that won't cost creators a third of their income.
Furthermore, even though you don't want your subscribers to cancel their subscriptions in the future, make sure to mention to them once again that they are free to cancel anytime.
And lastly, since the screen with the benefits of subscribing to an Instagram account was quite generic, Instagram implemented another feature with which creators can explain what they can offer with a video.
More specifically, creators can add a short video that appears before the popup, in which they can explain why people should subscribe to their Instagram account. This way, creators can demonstrate why they are charging the specific price they have chosen.
Moreover, always leverage the opportunity to sell your subscription through your stories, as we know that Instagram stories are preferred by 42% of Instagram users.
Create a series of Instagram stories to explain what people can access if they are subscribed to your channel. Along with the benefits, be helpful and explain the process of subscribing. As you will have new followers, promote your subscriptions again from time to time. Bonus, embed Instagram stories with your subscription offering on your website and attract people to subscribe to your Instagram account.
Key takeaways
Instagram Subscriptions will undoubtedly bring many benefits to content creators on Instagram. Not only can creators secure a monthly income, but they can also connect with their most loyal followers on a different level.
Even though sometimes having people pay something directly sounds risky, and it looks like you will have less freedom, it surely has many benefits for content creators. This is finally a chance for creators on Instagram to monetize directly from their creativity without the pressure to collaborate with brands constantly.
In the end, one rule always stays with or without Instagram Subscriptions: be yourself! Be personal and unique, have fun, and find your target audience to enjoy your content.
Keep an eye on all upcoming Instagram features, as the platform is aimed to become the best place for creators.
Other FAQs about Instagram Subscriptions
What countries are supported with Instagram Subscriptions?
The New Instagram feature for subscriptions is available only in the United States, but it's expected to spread to other countries soon.
What is the pricing for Instagram Subscriptions?

When it comes to the price of Instagram subscriptions, creators have a variety of options. Subscription prices are $0.99, $1.99, $2.99, $4.99, $9.99, $19.99, $49.99, and $99.99, and content creators have to choose one.

To set the right price for your Instagram account, you must first decide what kind of content you will provide. Also, what is your goal? Do you want to get as many subscribers as possible at a lower price or have an exclusive group of people that will pay a higher price and get unique content?

However, remember that if you choose the lowest price and don't give your subscribers any value or exclusivity, you will face subscriber churn. Hence, if you want to play a safe card, offer exclusivity, and be affordable for your followers, you can set a price of $19.99 or $49.99.
How will you get paid for your subscriptions?
First, you will need to set up your payout account if you still haven't done that. All earnings from badges, subscriptions, affiliates, or bonuses are issued to your payout account.

You can view and download all invoices and remittances from the past 2-3 months on your professional dashboard. Invoices are issued for all earnings in a given month, and once you've earned at least $100, you'll receive your payment. Lastly, the payments can take between 1-7 business days, depending on your bank.

However, there might be different terms for specific circumstances, so it's best to check Instagram payout terms before diving into the Instagram subscription feature.
Can I download my subscribers?
We are still not sure if this will be possible on Instagram. We hope so because, as of December, Subscriptions on Facebook allow downloading emails of new subscribers who agreed to share their email.
---
FYI: Embed Instagram widget automatically with the social media aggregator and UGC platform by EmbedSocial. Click below to try it for free: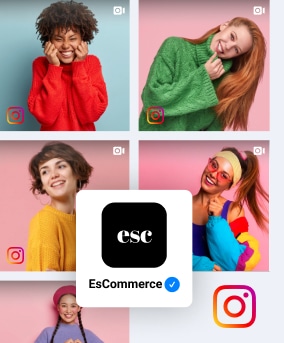 Embed Instagram widget on your website automatically!
Try EmbedFeed and display Instagram content from your feed, mentions, or hashtags on your website.
All PRO features | Cancel any time.