Knowing that Instagram is the most popular source of user-generated content in the world, turning Instagram followers into potential customers is probably the first idea that comes to your mind. Businesses often get stuck in driving sales through your Instagram account, even if there are over 1 billion monthly active users.
Reaching out to your target audience and turning them into new subscribers and customers is quite challenging in terms of placing new products in front of your followers or announcing a special offer.
One of the most successful ways is to use their emails and promote your products and services directly in the inbox by skipping the tricky Instagram rules. You can use your Instagram bio page or Instagram stories to place external links to lead generation forms and collect your followers' emails.
In this blog post, you will find different valuable practices on how to get an email from Instagram followers and skyrocket sales using your email list of subscribers.
Benefits of collecting emails from your Instagram followers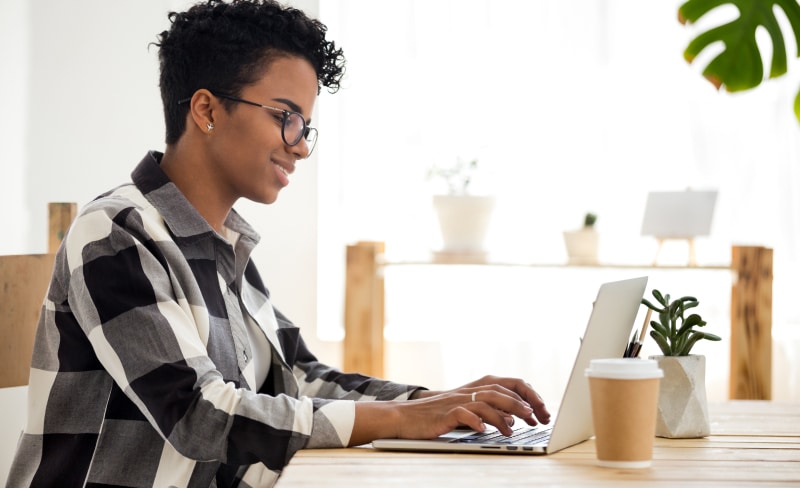 Collecting email addresses from Instagram followers is essential for reaching out to them directly and promoting your products or services.
Building an email list from the target audience can be beneficial for your business, so let's see why you should focus on this practice:
Get messages in person
You probably know that the Instagram algorithm will not show your Instagram posts to all users, and just a tiny percentage of them will see your content.
There is a ton of content from different businesses, so it's most likely that some of your followers will miss a product update, special offer, webinar invites, etc. That's where the email list comes into play.
Sending genuine emails is more in-person action and way more effective in getting your message in front of your potential customers. Also, your email will stand in their mail forever, so they can open it anytime and see the update you sent to them.
Return your customers back
Maybe it sounds scary, but it's the fact that most of your Instagram followers will step into your website, eCommerce store, and sales page and will never get back again. Collecting emails from your audience will be a crucial solution to get them in return.
You can still send them personal messages in their inbox related to your brand, invite them to read your new blog post, announce limited-time offers, etc.
You control your email list
Your Instagram profile belongs to Instagram, and without this social media platform, you will not be in touch with your audience here. When it comes to your email list, it's just yours, and you decide what to do with it.
Collecting emails from your Instagram followers means that you can reach out to the outside of Instagram totally independently. So, if one day Instagram crushes down, you can still be in touch with your audience and drive sales regularly.
Strong customer relationships
When you send an email to your potential customers, you establish a private communication, and no one except them can see your messages.
This can make them feel more comfortable with your business because it's not the same feeling if they see the same message on your Instagram feed, story, reel, and similar. This kind of private conversation will build trust and strong customer relationships and increase brand awareness with lightning speed.
Earn more money
Isn't it evident that people are interested in your niche if they step into your Instagram page and engage with your content constantly?
They are more likely to be your customers if you follow up with them correctly. Instagram users who subscribe to your email list are a step closer to becoming your customers because they take action on the subscription form related to your offers.
Sending email campaigns with your offerings, retargeting campaigns, product updates, and others can boost your sales and constantly keep subscribers in touch with your Instagram business profile.
How can you use these emails to boost sales?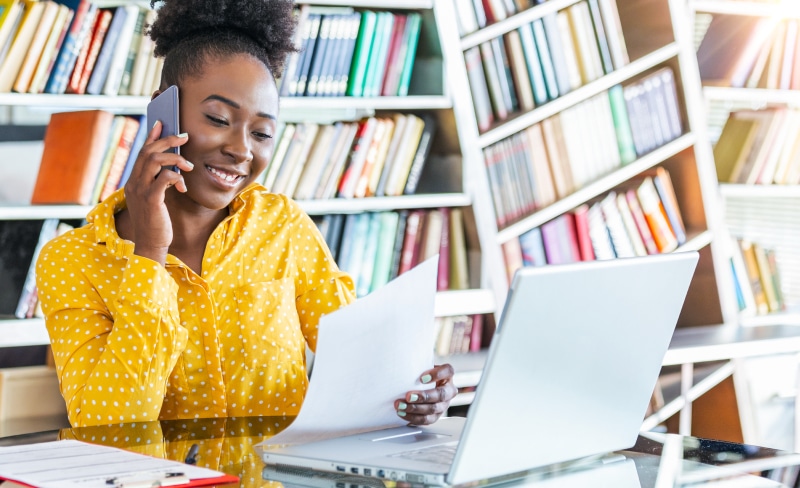 Let's imagine that you built a solid email list. Now you are ready to launch your marketing campaign or send emails for marketing and selling purposes, with or without email marketing software.
You can send different email types because different types of email subscribers can join your email list. Maybe your Instagram followers will subscribe to your email list from the sales page, newsletter form, and landing page, which means they left their emails with different intentions. Here are some ideas on how to use the collected emails to boost your sales:
Send sales emails
The first email type you can send to drive sales is a sales-related email. In this email, it's important to personalize your message by putting their first name at the beginning.
That's how people will feel the message in person and probably take action to see what's included for them. This is generally better for all types of emails.
Even if we talk about sales emails, you don't need to be too pushy because it can sound scammy. Be clear at the beginning with your offer, and always add a call-to-action at the end.
Use it for retargeting ad campaigns
You can send special offers in order to retarget your leads with emails when they step into your website, online store, blog, or similar, leave their emails but don't take buying action further.
To re-contact and convince them to take action, you can use retargeting ads to reach them again, give more information about your products or services they checked, and ask them to take action.
One relevant example is to upload your email list to the Google ads manager and target the leads with display and YouTube ads.
Additionally, you can create a lookalike audience for Facebook and Instagram advertising. Retargeting is one of the most powerful weapons to return visitors to your ground again, convert them into customers, and boost your sales.
Implement newsletter form
The newsletter form is an evergreen method to collect emails from Instagram users and keep them in touch with your business.
Sending newsletter emails will help in building trust with your email subscribers and a consistent relationship with them.
People buy from sources they trust, so send newsletter emails to educate/help them with different blog posts, case studies, and guides where links to your products or services are included.
Also, there is an option to automate your newsletter form with different automation tools, so the email process could be a passive income stream for your business.
Send emails to announce special offers
Announcing your Instagram followers who joined your email list related to your products or services is one of the best methods to drive sales. Placing special offers for your target audience, discounts, last-minute offers, and similar can warm up the buying momentum for a certain product or service.
That's how people will feel like they are in the right moment for buying and will not want to miss it, so it would be beneficial for boosting your sales drastically.
You can send emails with a discount code or special coupons people can use to buy certain products for a lower price. Be aware not to overdo it because your potential customers will wait only for such special offers emails to take buying action, not in normal conditions.
Ideas on how to collect emails with your Instagram account
Convincing your Instagram followers to leave their emails is not a straightforward action.
You can't jump into everyone's DM and ask to give their email addresses because it doesn't make sense.
You should make people feel free to leave their emails voluntarily, but how can you achieve it?
Well, there are many different ways to get emails from Instagram users and build your email list; just check the following ideas below:
Find email addresses directly in the Instagram bio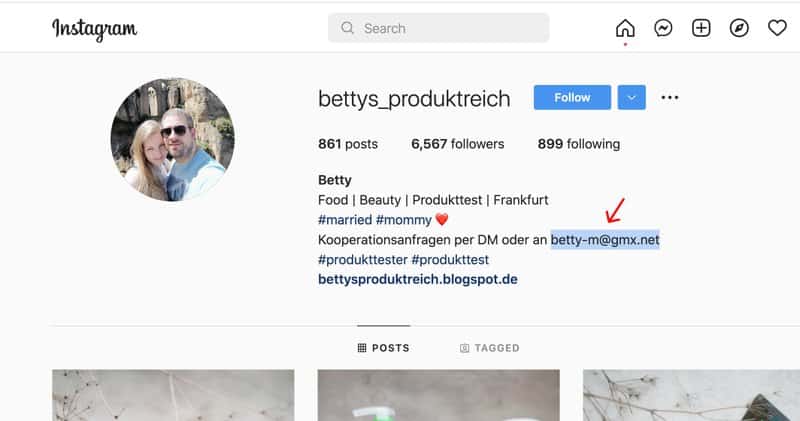 One of the easiest ways to find your followers' email addresses is to check their Instagram profiles or pages.
Maybe it requires decent manual work, but why not collect the emails if they are available.
Some of the users don't add the email in their bio (like the example above), but they use their profile display option to show an email button on their profile.
To find an email with this option, open up any Instagram profile you think is relevant to your business, and you can see an Email button below the bio section.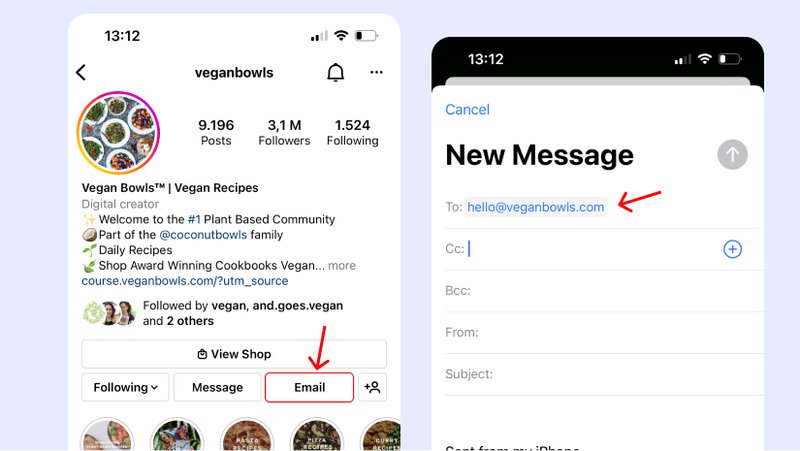 If you click on this button, you will be redirected to your chosen email platform (Gmail, Yahoo, etc.), where you can see their email and write it on your list. Keep in mind that this option is available only for business accounts, not for private Instagram accounts.
Do giveaways
Another simple idea of how to get emails on Instagram is organizing giveaways and interesting games of chance.
Everyone wants to get something for free or to try their luck, so giving products or services for free will increase followers' interest in your brand and build trust.
You can announce your Instagram audience for the giveaway you plan to do with a requirement to leave their emails for participation in the comments or DM. Or, you can create a registration form and place the link in your bio where your followers can register for the giveaway.
This is a simple strategy of getting their emails in exchange for some products or services you provide.
Here is an example from HubSpot, inspired by the influencer @alifedotowsky
Challenge your audience
Challenging your Instagram followers to get products or services you provide for free can be beneficial for collecting their emails. For example, you can post a challenge where your followers will be required to take exciting quizzes, and the ones with the best results will get your product or service for free. Inside that quiz, you can put a contact info field to collect the participant's email.
Also, you can offer them to book out a challenge and achieve something with your assistance. Imagine that you are a fitness trainer and want to make a 14-days weight loss challenge.
Tell your followers to book that challenge by clicking the link in the bio where you can put your registration form.
That way, you will directly get their emails when they book out, so send them different meal plans and video exercises they should try for 2 weeks. Below is a concrete example of how to set up your Instagram challenge inspired by @kelseywells: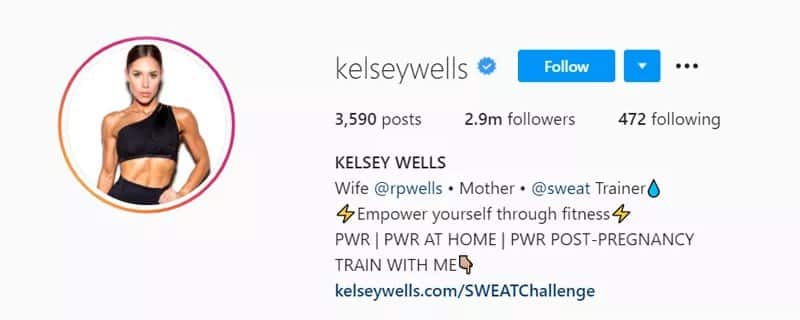 Lead magnet landing pages
Another way to convince your Instagram followers to leave their emails voluntarily is by providing free value to them. You can create a lead magnet and use it to attract your Instagram followers to leave their emails and get free value from your brand.
The best example of a lead magnet is a short eBook with tips or best practices related to your niche, a cheat sheet document, a video tutorial, and other info products. In other words, you need a helpful resource for your audience and give it for free in exchange for their emails.
Let's say you have a marketing consulting business and want to build your email list on Instagram. You can create a simple landing page, offering a free cheat sheet (a word document, PDF, Google docs, or Google sheet link) with useful marketing tips and tricks in exchange for email addresses. To place this landing page in front of your followers, you can use Instagram ads to target the most relevant audience with specific interests in your niche.
Another simple example is if you are an eCommerce company you can create a popup form to collect emails by offering discounts. Here is an example by Public Desire: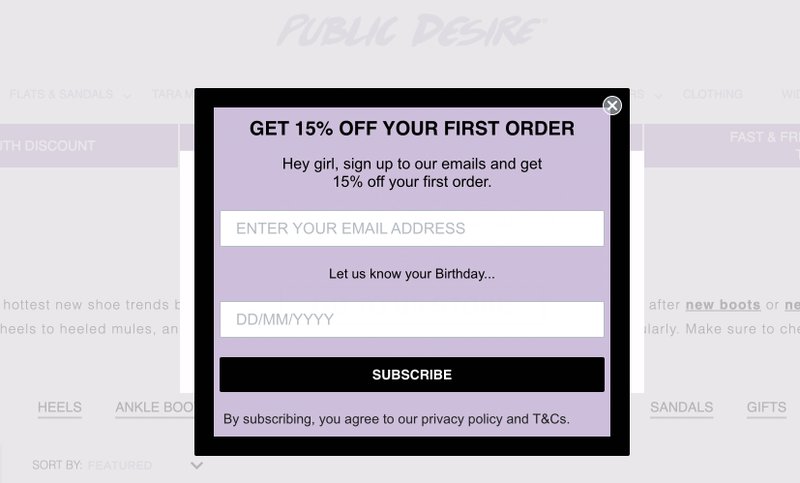 Use your link in the bio section as well to put the landing page link so that the interested followers can click on the link from your page.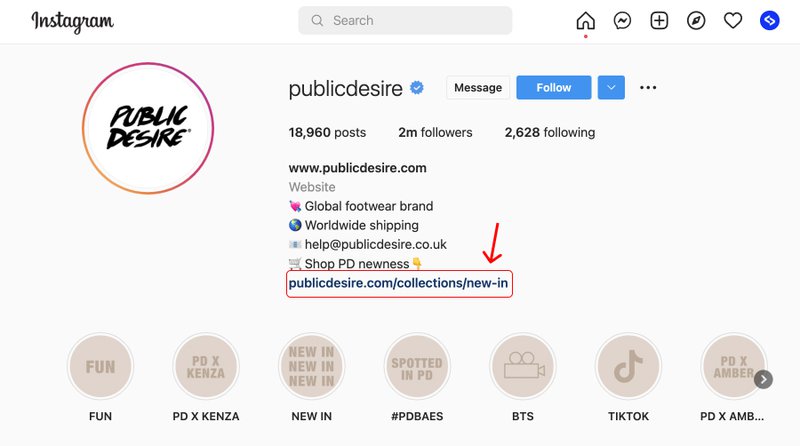 Also, you can put the link on your IG story using the Instagram stories link sticker, announcing your audience for a free resource.
Create surveys
A good old survey is still one of the most used methods when it comes to collecting emails. Creating interesting surveys related to your niche will motivate people to interact with your brand and express their opinions.
Inside your survey, always put a required field for your Instagram followers to leave their emails for submitting the answers successfully.
To do it, just sign up for an account on any survey building tool, create your survey, and put the link where your Instagram users can click it (whether it is your link in bio or a story link feature)
Use an Instagram email finder tool
You can look for a list of email finders in Google Search such as Hunter, FindThatLead, and Voila Norbert. You can use email lookup tools to search for the user's name and see if you find a match. Below I will show you how to do the search in Hunter.io.
Open the Instagram profile and look for their name
See if you can find their companuser's3: Open the Finder tool in Hunter – it is the second tab in the top menu
Еnter the user's name and look for the company in the company.com filed.
Here is an example of how we found Ryan Raynolds email:
Ways to collect emails with EmbedForms
EmbedForms is a powerful form builder to create online forms with a couple of clicks.
Each of your forms has a unique link, so you can use this link in various ways on your Instagram to collect emails.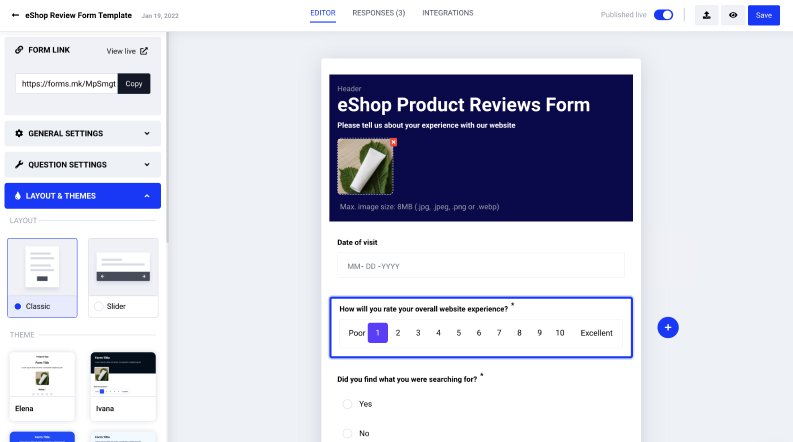 EmbedForms come with industry-related templates to achieve a clear customer experience, no matter if you implement feedback forms, lead generation forms, survey forms, and others. In this section, we will give you some examples of how to collect emails from your Instagram followers using EmbedForms right below:
Surveys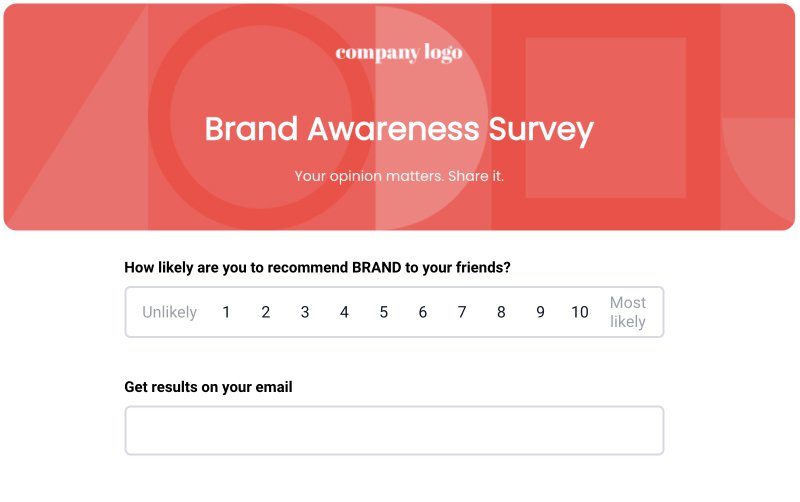 As you read above, surveys are an evergreen method to collect emails from users and build your email list. Surveys allow your audience to express their opinions on a specific niche or any product or service. There are different survey types, like embedded surveys in your blog post, online store, website, etc.
No matter what kind you prefer, keep in mind to always ask for the survey participant's email at the beginning of the end of the survey and build your email list.
After that, you can send emails to the participants relevant to the survey topic, promote your solutions in that niche or offer your products.
Popover widget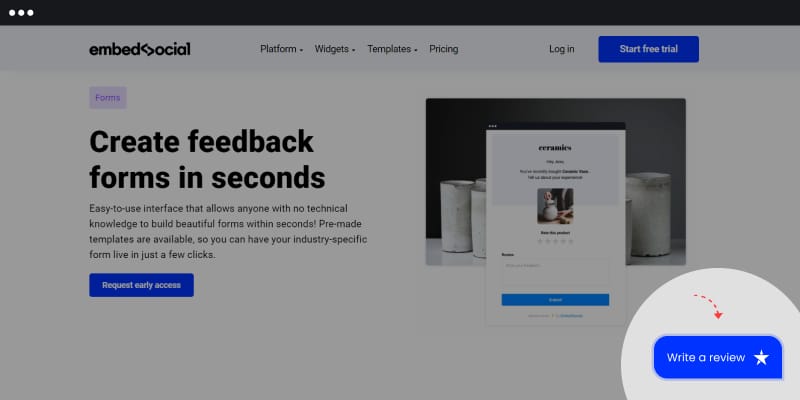 In simple words, EmbedForms provides more types of feedback widgets and one of them is a Popover Widget.
You can use any form or survey you create in EmbedForms and make a Popover widget that will appear in a fixed bottom position.
It is effective especially if you want to get web visitors' attention and use it in a more subtle format than intrusive popups.
Feedback banner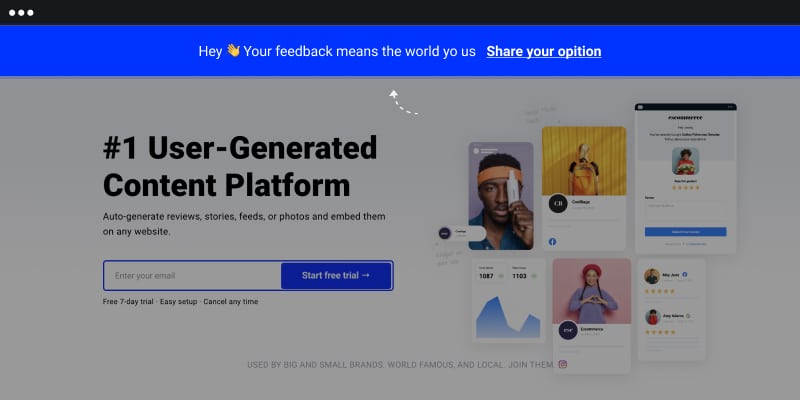 Feedback banners are another way to collect emails from users.
You can implement different banners or feedback buttons in your blog posts, website, online store, or page products, so your customers can leave feedback about certain products or services.
You can construct these banners to open short surveys as well, so your Instagram followers can leave their emails together with the feedback when they click on the form.
Tip: Add a link in your bio to email forms.
You can use your forms.mk/yourform link and add it in your link in bio on Instagram in order to navigate your Instagram followers to submit their information for a giveaway, newsletter, or ebook directly to the forms you build with EmbedForms.
To add a link to your Instagram bio, tap on Edit profile, and in the Website input file paste the form link. Tap Done and this link will appear on your profile.
Key Takeaways
The popularity of Instagram can bring you millions of potential customers who can increase your sales drastically if you reach out to them appropriately. Collecting their emails for launching your email marketing campaigns outside of Instagram is a crucial step for personal communication with your potential customers, managing your online reputation, and building trust.
People buy from someone they trust, so convincing them to subscribe to your email list voluntarily means you are a step closer to driving sales for your business.
There are many different ways and practices to get emails from your Instagram followers. You can organize giveaways and have fun with your followers or give them a problem-solving resource or products for free in exchange for their emails. This is called a lead magnet, and there are different lead magnets you can use for collecting emails.
To drive sales, most marketers prefer to send different types of emails consistently, but be aware not to bother your email subscribers.
You can send newsletter emails to inform the users about your new blog post or a special offer you have for a limited time.
Also, you can send sales emails with your offers, redirecting the email subscribers to your online store, product page, or similar.
To sum up, collecting emails is one of the best practices you can implement for your business and reach out to your Instagram audience outside of Instagram, in person, and directly.