It may come as a surprise that in 2021 one of the most efficient customer communication channels is a technology that has existed since 1992 – text messaging. Higher open rates, greater engagement, click-through rates, lower cost, and simplicity are among the major factors that made business owners find value in SMS marketing and have continually included it in their marketing strategies.
The statistics just confirms that:
SMS messages have a whopping 98% open rate, and 90% of them are read within 3 minutes.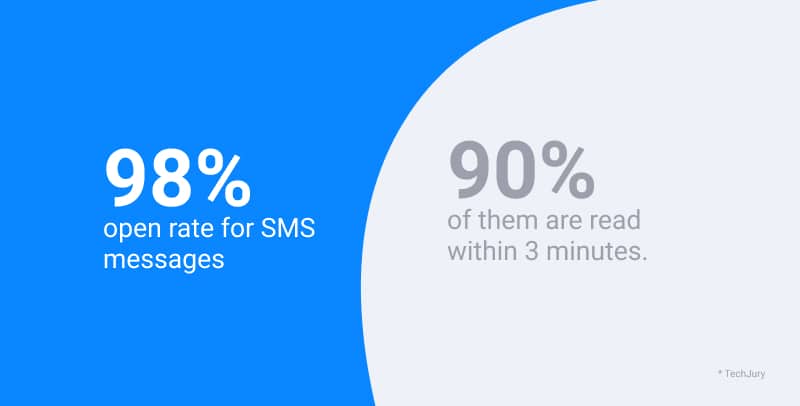 In our tech-savvy, mobile world, it is pretty much a no brainer to reach out to customers via text message, right? Text message marketing was usually used in marketing campaigns for mass text, but in recent years collecting reviews and building personal customer experiences has become useful for SMS text technology.
Sending a review request via SMS allows you to catch your customers when they are at the happiest point in their purchase experience and leave you a fantastic review on-the-go.
We wanted to make it possible for brands to have a 24/7 review collection machine that will collect customer reviews to a whole new level.
To help our users reach their customers more efficiently and collect more feedback, we developed a simple SMS request functionality within our EmbedReviews platform.
If you are already familiar with EmbedReviews, you probably know our option to send email review requests and generate reviews through social media APIs, such as Facebook and Google.
Well, consider this as an extra benefit.
Note: This feature is already available for all PRO users, and the pricing, including the SMS messaging platform for all EmbedReviews users, stays the same. If you are a new user, feel free to start a free trial.
SMS review request works like this:
You select the preferred SMS template (or create your own using the short codes for your unique links)
Send the SMS invitation to the phone number of the recipient
They will receive it in real-time with the review form link
Once the form pop up, the customer can fill it in with their review
You've just received another review!
Simple as that. Continue reading the next section, to learn all the detailed steps on how to send SMS review requests.
How to get started with SMS review requests?
The EmbedReviews SMS messaging is simple to set up and can be easily used by small business owners, marketers in larger companies, or e-commerce brands.
If you are confident that the SMS review request is the feature you were looking for to get more online reviews, and boost social proof for your business, follow the steps below to get started:
Open your EmbedReviews account (if you still don't have one – start your free trial)
From the left menu, tap 'Requests'
Click on the 'Request Review' button
Choose 'SMS request'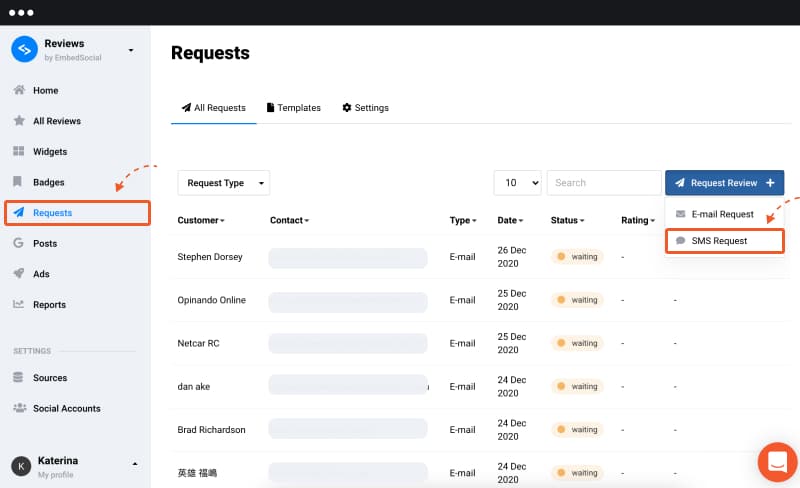 Fill out the template details
Click to 'Send request'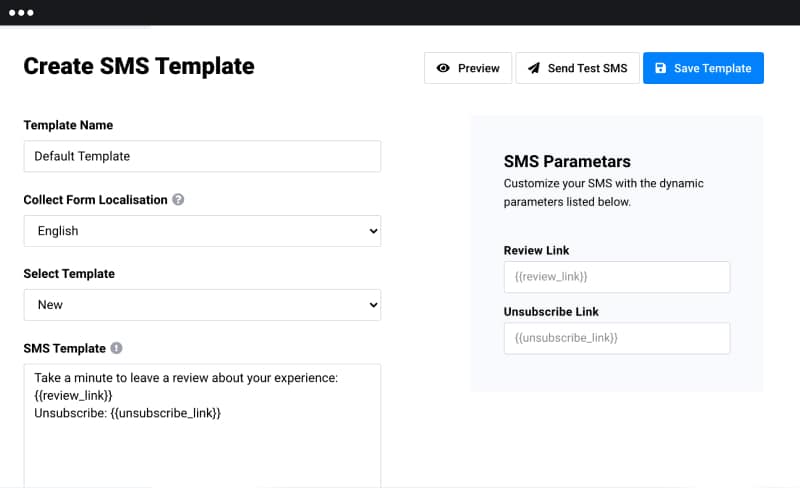 Please note: If you use a tagging system, you can add tags to your SMS (they won't be shown to the customer, of course).
This is how the SMS review request will look like once the customer receives it: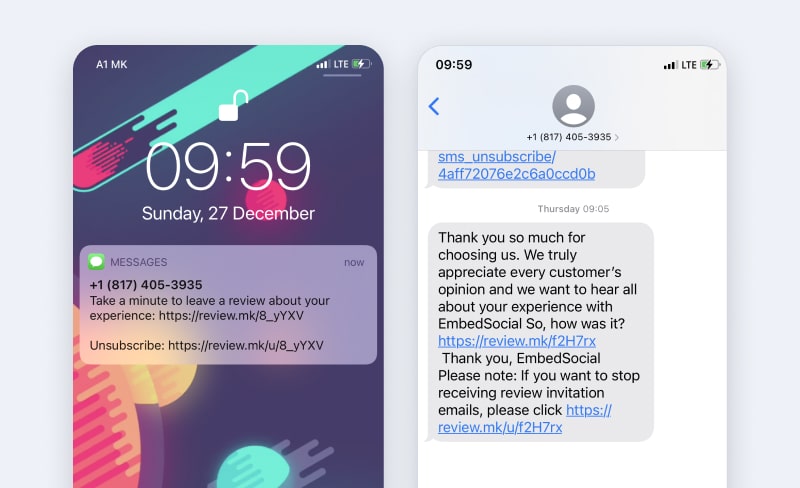 Please note: We provide an option for unsubscribe link to give subscribers the freedom to unsubscribe from receiving these messages at any time.
Once they click on the review link, this form will open up: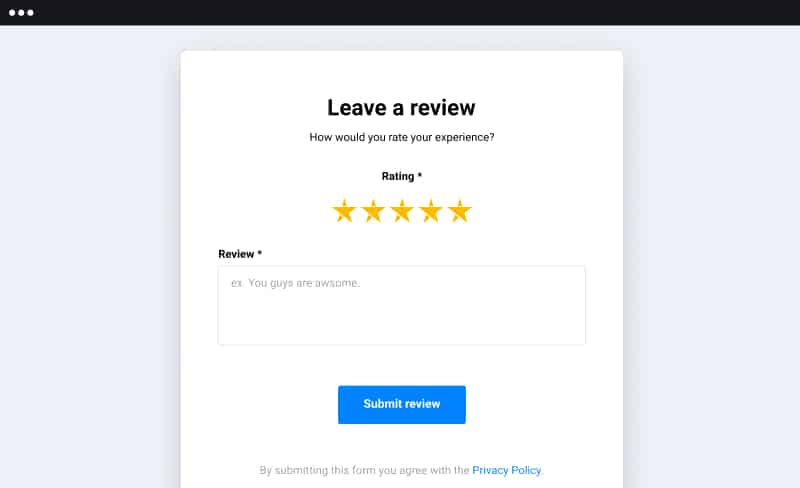 Of course, later on, you can show all your collected reviews via SMS in the form of a beautiful review widget on your website. Just don't forget to select the 'SMS request source' option when creating your widget.
Here is what it would appear when embedded on your website: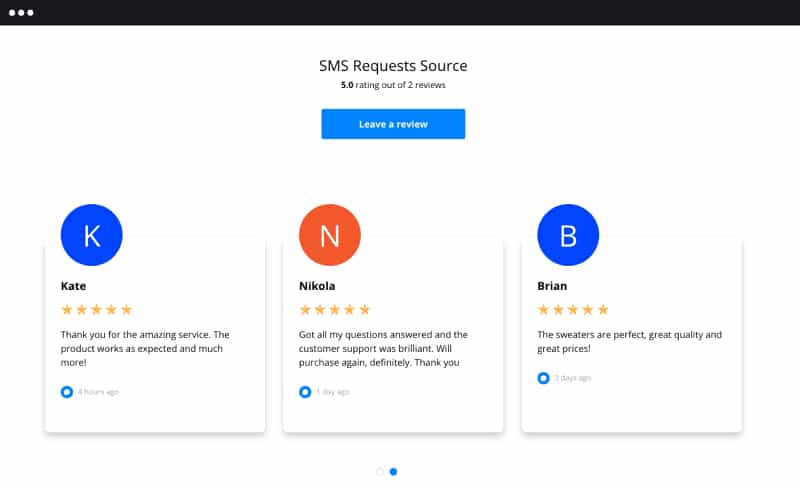 Like any other widget, if you want to exclude some review from the widget, you can do that within the Moderate tab on your EmbedReviews dashboard.
In case the customer prefers the review to be anonymous, we have a solution to that too! Navigate to our Settings panel and activate this option.
Development: Behind the scenes
To learn more about the development process here are some insights from our dev team.
Filip, our back-end developer, put his heart and soul into creating the best possible SMS review feature out there.
Actually, this was his idea becoming a reality.
As he explains, there is always a sweet struggle when it comes to developing something cool:
Researching on how to implement this feature was a challenge. The way SMS works on a technical level was uncharted territory for me. I discovered a number of limitations and best practices used for sending SMS. Then, I had to tie those up with the limitations and best practices used in web development. Luckily, there are third-party services that help developers all around the world to achieve these challenges.
We can see that Filip and his team did a great job.
Considering that we have a default template for sending SMS already set up, all the customer has to do is insert the number they want to send an SMS to. And once the SMS is sent, the user that receives the SMS can respond with a review in 3 taps. It can take less than 10 seconds, really. This is especially important because most of the young generation uses their phones way more than laptops or PCs. And using the SMS requests will let you ask them for a review right where they are, on their mobile phones. And as we all know, SMS still poses as a more important way of communication. In a world of notification overload, most of the SMS messages you receive, you will read, unlike all the other notifications.
Wrap up
Hope you find useful this latest feature. We are open to any feedback you might have. Feel free to drop us a line on how we can improve even further at any time.
In the end, it's up to you to let your customers feel their opinions matter, whether it is good or bad. The important thing here is to establish a stronger relationship with your clients by offering them to have a voice in this industry. SMS review request can be a great start.