Did you know that 93% of consumers consult reviews and recommendations before buying? Moreover, 63.6% of customers say that they check Google testimonials before visiting a business location.
Needless to say, good online reviews are essential to your company's growth!
Specifically, since Google is the most popular and authoritative search platform out there, reviews left via a Google business page can make an enormous difference to the sales, revenue, and customer satisfaction of any enterprise with an online presence.
For that reason, we see why the 5-star Google review is so important. We also check out a few examples, tell you how to get only positive reviews, and show them off on your website.
FYI: You can embed Google reviews widget automatically with EmbedReviews platform. Start a free trial and display your Google reviews now.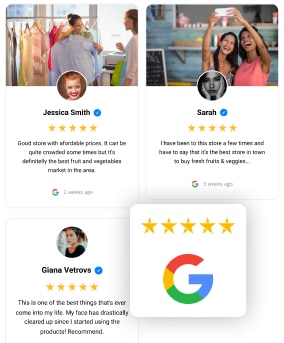 Generate & embed your Google Reviews.
Try EmbedReviews, generate Facebook and Google reviews, and display social media reviews widgets on your website. Automatically and in seconds.
All PRO features | Cancel any time.
Why Is a 5-Star Google Review Important?
Before getting into several useful strategies for getting more 5-star reviews on Google, let's see why they are so important for your business and for your Google Business Profile:
Credibility
5-star authentic reviews indicate the reliability and trustworthiness of any business.
Once you receive quality reviews, you'll be able to easily entice potential customers since they will indicate that your brand, services, and products are dependable and of high quality.
Discoverability
Search engine optimization (SEO) typically utilizes Google reviews.
A company with a significant number of favorable reviews is more likely to show up in local search results, boosting its search engine ranking and drawing increased organic traffic.
Informed decision-making
Most modern shoppers rely on online reviews to decide which products and/or services to buy.
Therefore, businesses with a lot of good reviews on Google will persuade potential clients that choosing their company is a smart decision.
Social proof
Google reviews are digital word-of-mouth evidence about your company, products, and client interactions.
When a customer is considering making a purchase, this social affirmation impacts the business's reputation and can eliminate their concerns and motivate them to move forward.
Competitive advantage
In a crowded market, standing out from competitors requires a top Google review rating.
You have a better chance of gaining the customers' trust and business if your company has a higher average rating than one with negative Google reviews.
Feedback for improvement
While getting a higher score is important, the constructive criticism contained within your Google reviews provides insightful data about client satisfaction with your products and services. More reviews mean more feedback which can help improve your offering based on these learnings.
In summary, a Google 5-star rating is more than simply a numerical achievement—it's a compelling social proof and a powerful instrument to affect your client's perceptions, influence their purchasing behavior, and help your company succeed in the digital age.
5 Effective Strategies to Get 5-Star Google Reviews
Now that you know why getting good Google testimonials is important let us tell you how to boost your online reputation by obtaining as many positive Google reviews as possible:
1. Provide excellent customer service
Providing excellent customer service is the first and most important strategy for getting 5-star Google reviews. Customers who have a positive experience with your business are likelier to leave a positive review. Make sure your employees are trained to be friendly, helpful, and responsive to customer needs.
Go above and beyond to solve customer problems and make sure they leave happy.
For example, if you run a restaurant, ensure your servers know the menu, provide prompt service, and are attentive to customer needs. If a customer has a complaint, make sure you address it immediately and offer a solution that makes them happy.

Pracitical example
2. Ask a customer to edit to a 5-star
This is one of the most practical strategies you can do to get to a 5-star rating – ask a customer to edit and change their 3 or 4-star to a 5-star review. Your first step is to ask and respond to the customer. Here is a sample response:
"Thank you for your feedback. We are sorry to hear that you were not happy with your experience. We would like to learn more about what happened so that we can improve our services. Please contact us at [email protected] so that we can discuss this further. We would appreciate it if you could consider editing your review to reflect your updated experience."

Example of negative review response
By following these steps, you can show the reviewer that you are committed to providing excellent customer service and that you are willing to listen to their feedback. This may convince them to edit their review and give you a 5-star rating.
In addition to this, a prospective customer reading your comments may be impressed if they see that you are willing to publicly demonstrate your commitment to resolving issues and consider it when writing you a review.
3. Include detailed review instructions
After making a sale, send your customers a follow-up Google review link with detailed instructions for submitting their testimonials. Also, add your company's links to your Google page.
You should make it clear to your customers that by obtaining their feedback, they'll effectively help you in improving your products and services in the future.
Therefore, once they understand the importance of their testimonials and how to provide them, you'll boost your chances of receiving real instead of fake reviews.
For example, if you sell products online, you can send an after-purchase email with the following instructions:

'We would love to hear your feedback on your recent shopping experience. Please take a few minutes to leave a review on our Google My Business page that will help our local store get more visits. To write us a review, click on the button below.' and don't forget to add a link to Google review.

Practical example
4. Establish a loyalty program
Returning consumers could accumulate points for each purchase, which can then be used for special benefits like discounts, freebies, or early access to new products.
These devoted customers are much more likely to leave reviews for your business and share good words while they are at it! Furthermore, you can personally contact them, ask for their honest feedback, and use it to improve your services, products, and customer support and interactions.
For example, if your run a hair salon by having a loyalty program, It can make customers feel valued. When customers feel valued, they are more likely to want to support your business. This includes taking the time to write a positive Google review.

Pracitical example
5. Highlight your customers' achievements
Everyone likes to be seen, and if you publicly recognize those customers who have used your products or services to accomplish a goal or reach a milestone, they will develop a personal attachment to your brand. You can leverage that connection to show the public the value you offer.
Here is what you can do to inspire a customer to write you a review publicly:
Post a thank-you message on your social media pages. This is a great way to show your appreciation for your customers and encourage them to leave a review.
Send them a handwritten note or card. This shows that you took the time to personally thank them for their business.
Mention them in your email newsletter. This is a great way to reach a wider audience and encourage other customers to leave reviews.
Feature them on your website or blog. This is a great way to show off your happy customers and encourage others to follow suit.
Give them a shout-out on social media. This is a great way to show your appreciation and encourage others to leave reviews.
However, before you profit from their excitement, you should politely request their permission to highlight their accomplishments and how your company helped them succeed.
And finally, if you manage to build long-lasting customer-centric relationships, you will start fostering positive attitudes and building a devoted customer base that promotes your company voluntarily.
More Startegies to Get 5 -Star Rating

In case nothing worked, here are some more unique strategies to convince a customer to edit a Google review to a 5-star:

Send them a handwritten letter. This shows that you are taking the time to address their concerns personally.
Offer to meet with them in person. This gives you a chance to talk to them directly and resolve their issue.
Send them a gift basket or other thoughtful gesture. This shows that you appreciate their business and that you are sorry for their negative experience.
Offer to feature their review on your website or social media. This will give them the exposure they are looking for and may encourage them to change their review.
Offer to let them try your product or service again. This gives them a chance to have a better experience and change their mind about your business.
Ask them to write a follow-up review after they have had a chance to try your product or service again. This shows that you are committed to providing them with a good experience and that you are willing to listen to their feedback.
Offer to donate to a charity of their choice in their name. This shows that you are generous and that you care about their values.

Learn how to get more Google reviews >
5 Great Examples of Five-Star Google Reviews
If you are looking for inspiration to start working on your Google review requests, let us show you five excellent testimonials that undoubtedly helped these businesses reach more customers.
1. The Pierre Hotel, New York
This 5-star hotel is one of the most popular establishments in New York, as evidenced by over 1,500 Google reviews, most of which flatter its luxurious and welcoming ambiance.
That said, the hotel's social media manager strives to respond to each review, thus making customers feel appreciated and happy that they've gotten a personalized response.
Here's one example of the 5-star reviews the hotel regularly receives: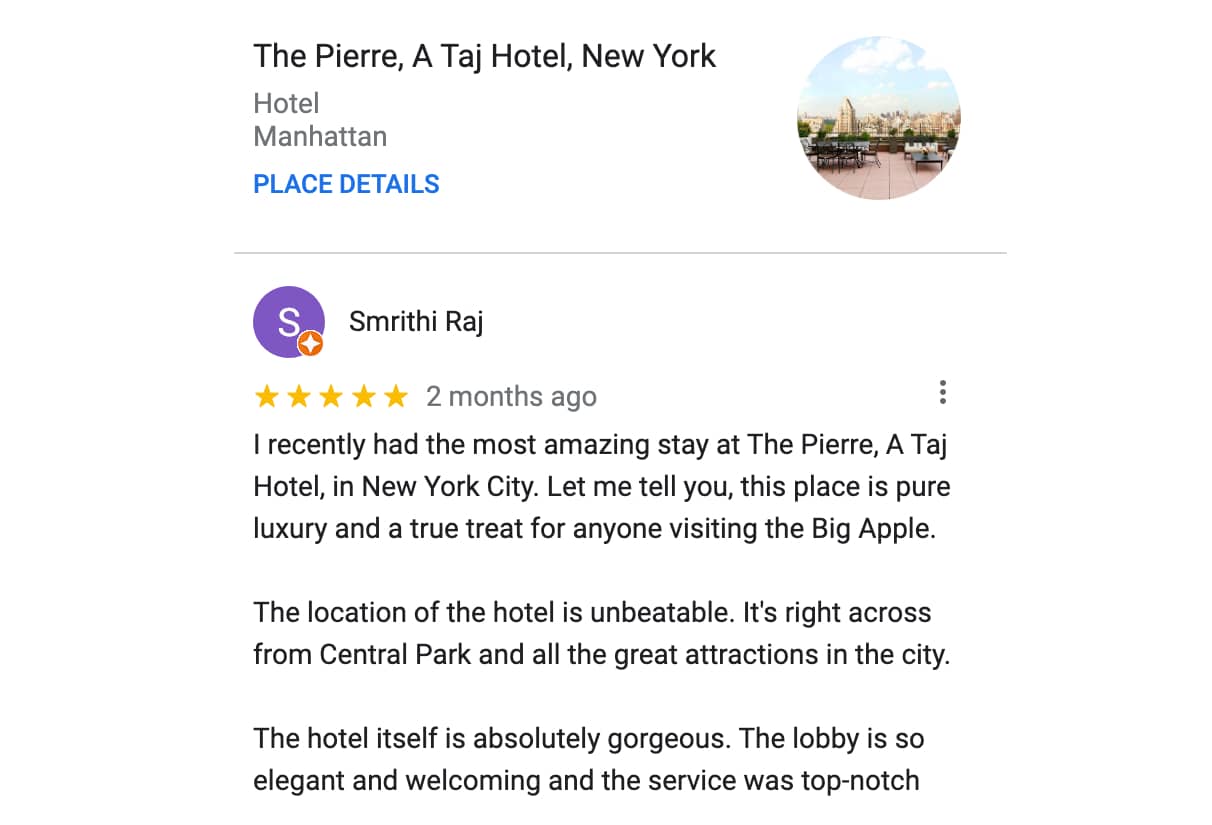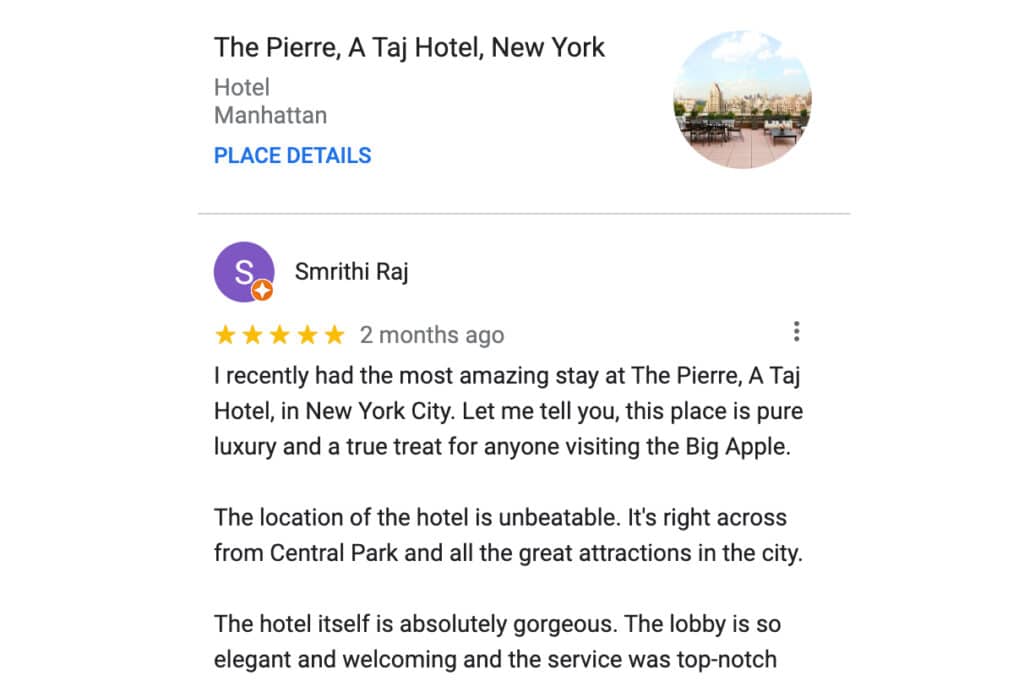 The customer also received a response and a 'Thank you' message from the hotel owner: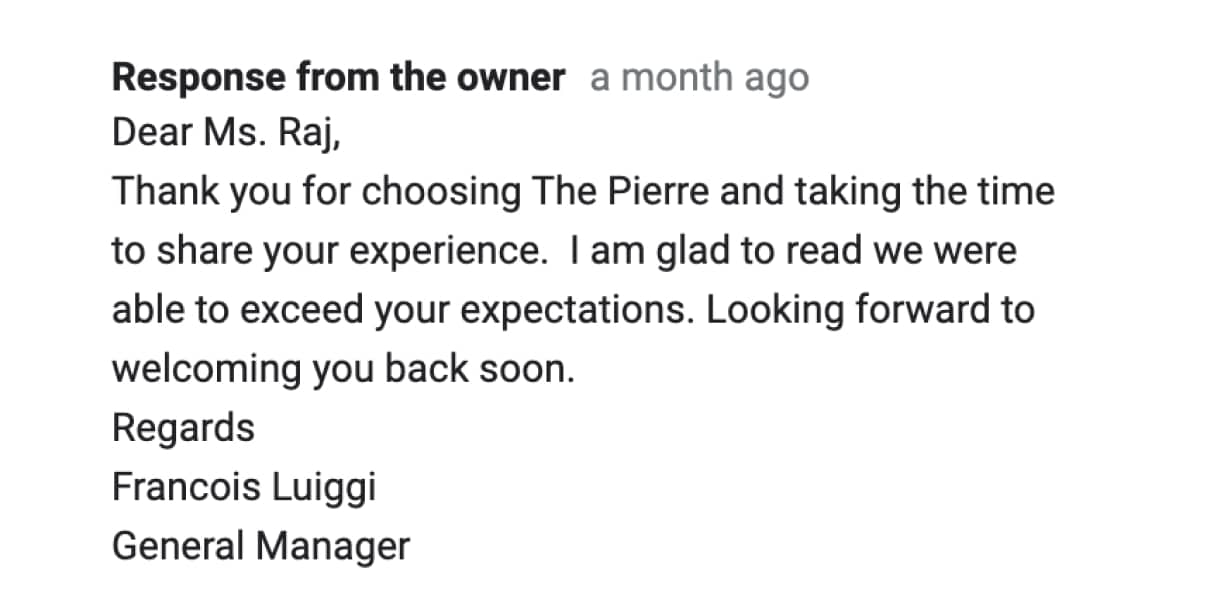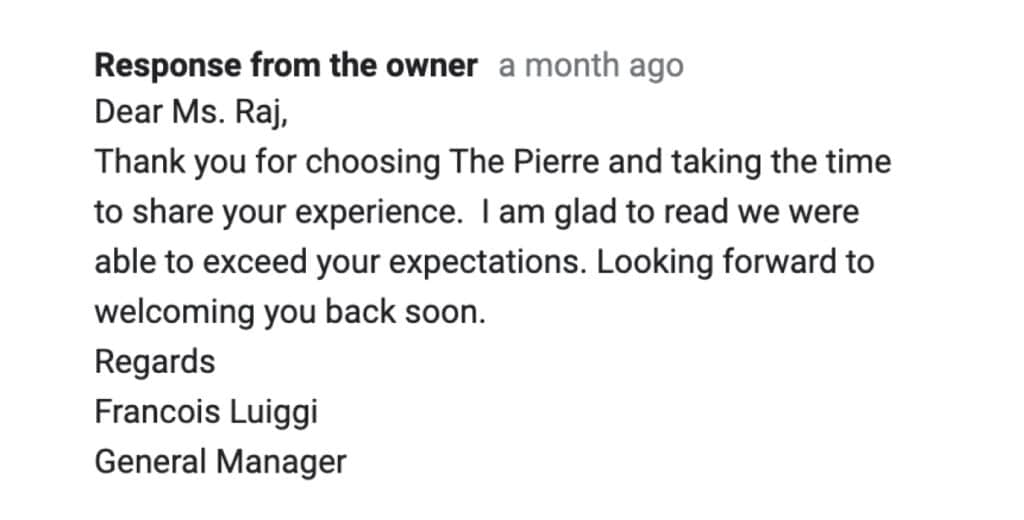 2. Disneyland Park, Los Angeles
Disneyland Park in Los Angeles is one of the most unique and enchanting places out there and has captured the hearts and minds of countless people across the globe, most of whom (over 100,000) have even bothered to review it on Google.
And let us tell you, keeping a score of 4.6 with so many reviews is no easy task!
Here's one such great review from a happy Disneyland visitor: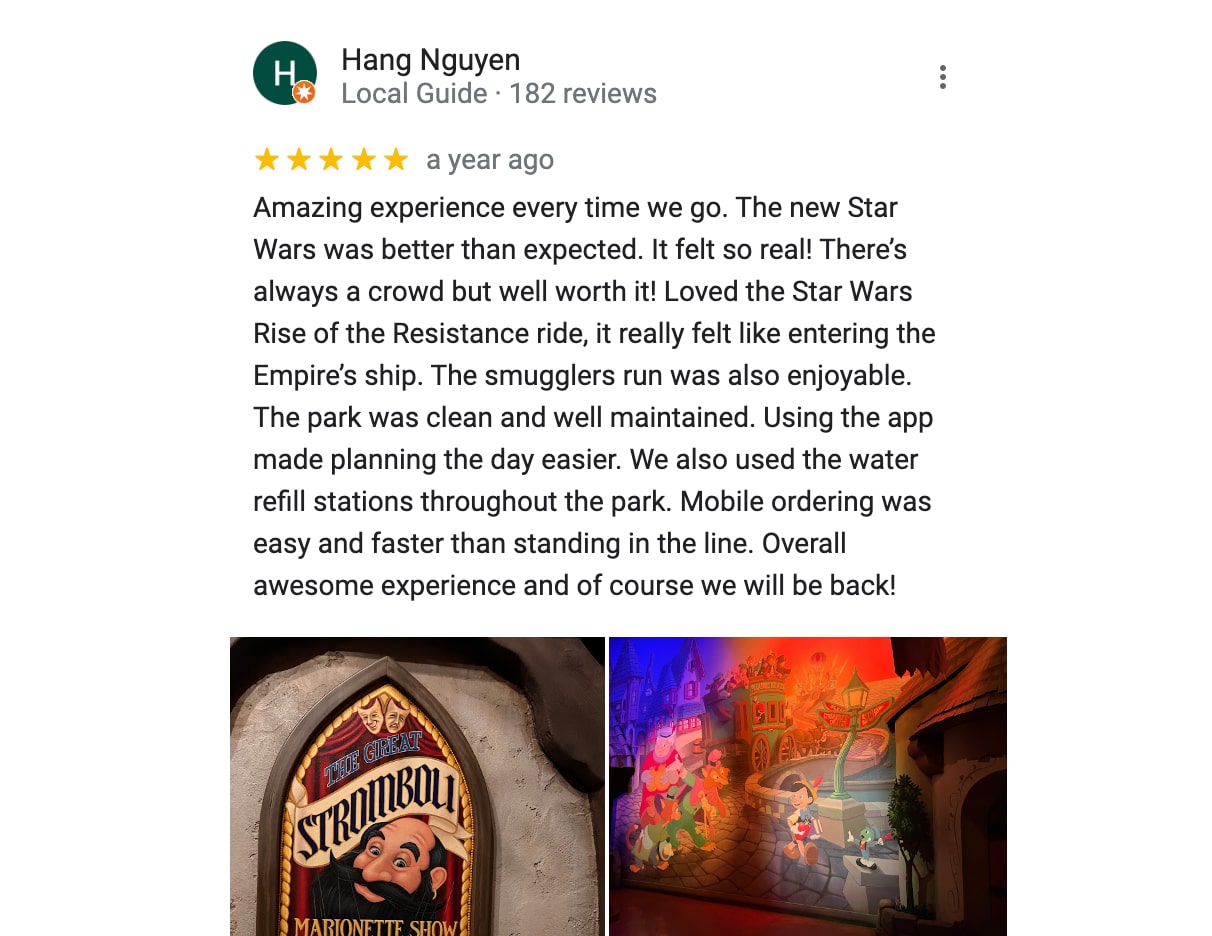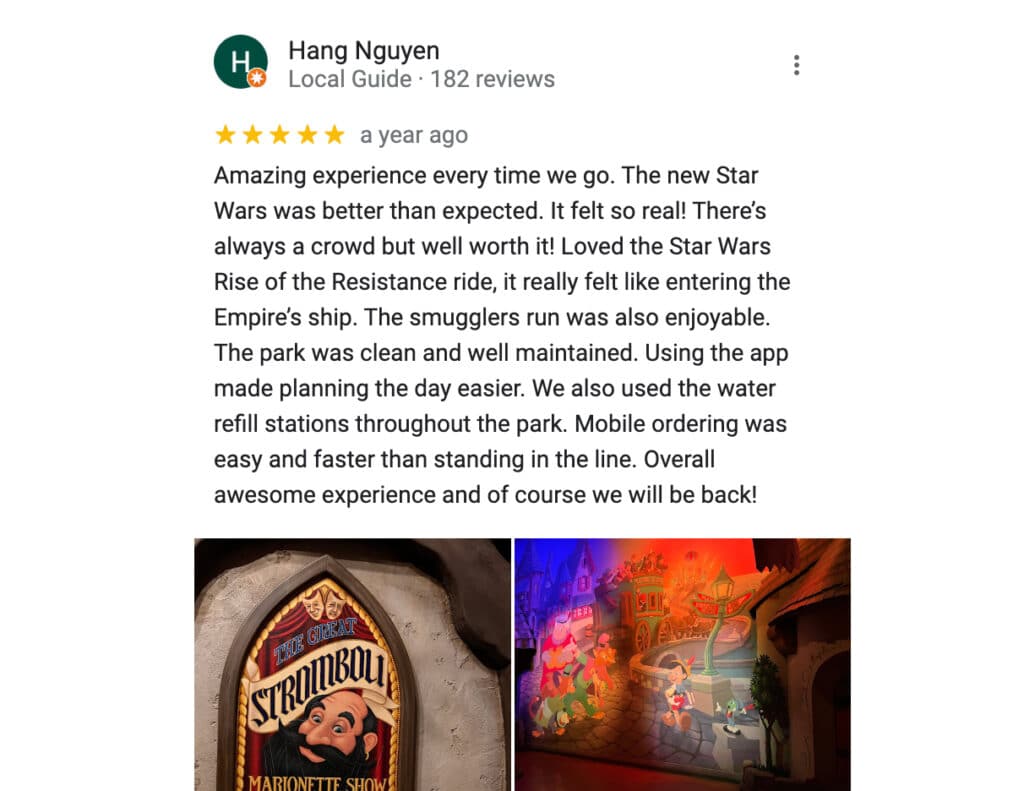 3. Cafe La Trova, Miami
One of Miami's most popular cafes has over 2,000 Google reviews, with an average rating of 4.5 stars.
Here's one of those positive reviews that boosts its online reputation: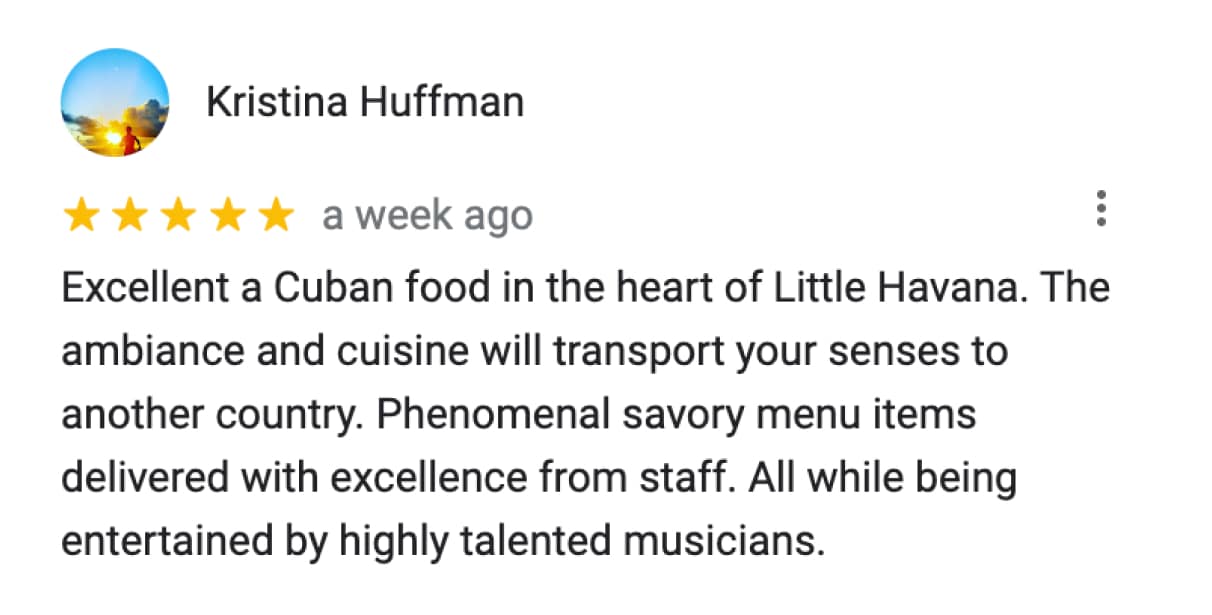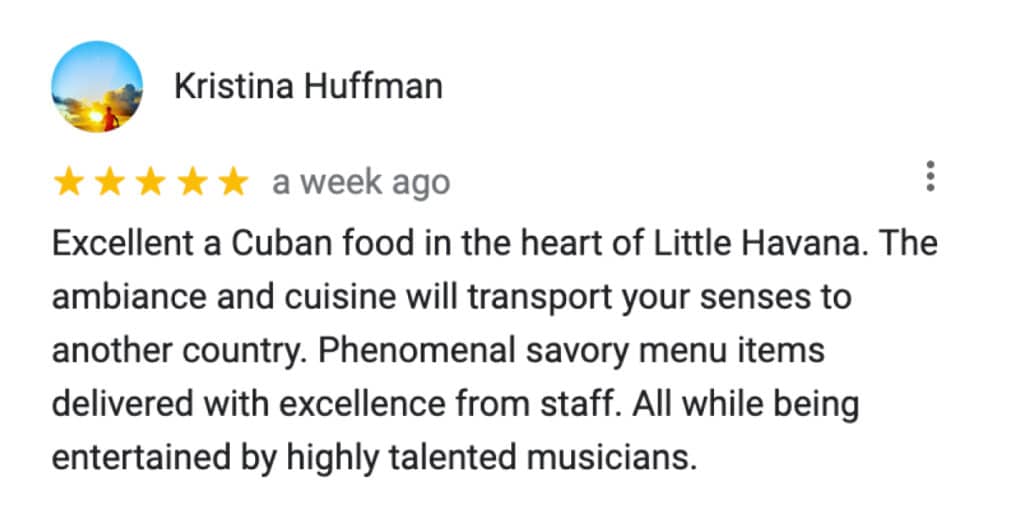 The restaurant also responded with a personalized message:

4. Whole Foods Market, Boston
Grocery stores and other shopping centers should also look for reviews from their happy customers.
Here's an example from Boston's Whole Foods Market, along with their response: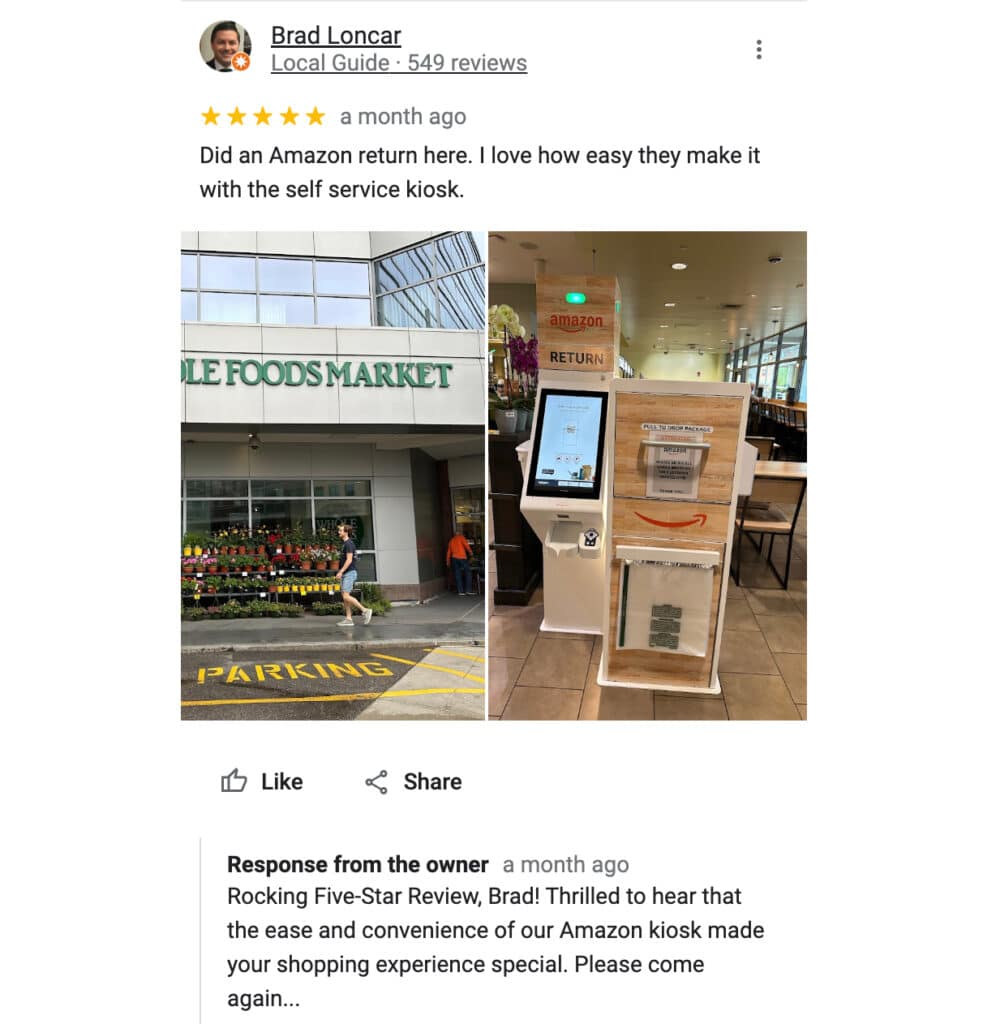 5. The Home Depot, Seattle
While The Home Depot store in Seattle has a slightly lower average rating than our previous examples, it still offers exceptional customer service, as shown by its high 4.1-star score: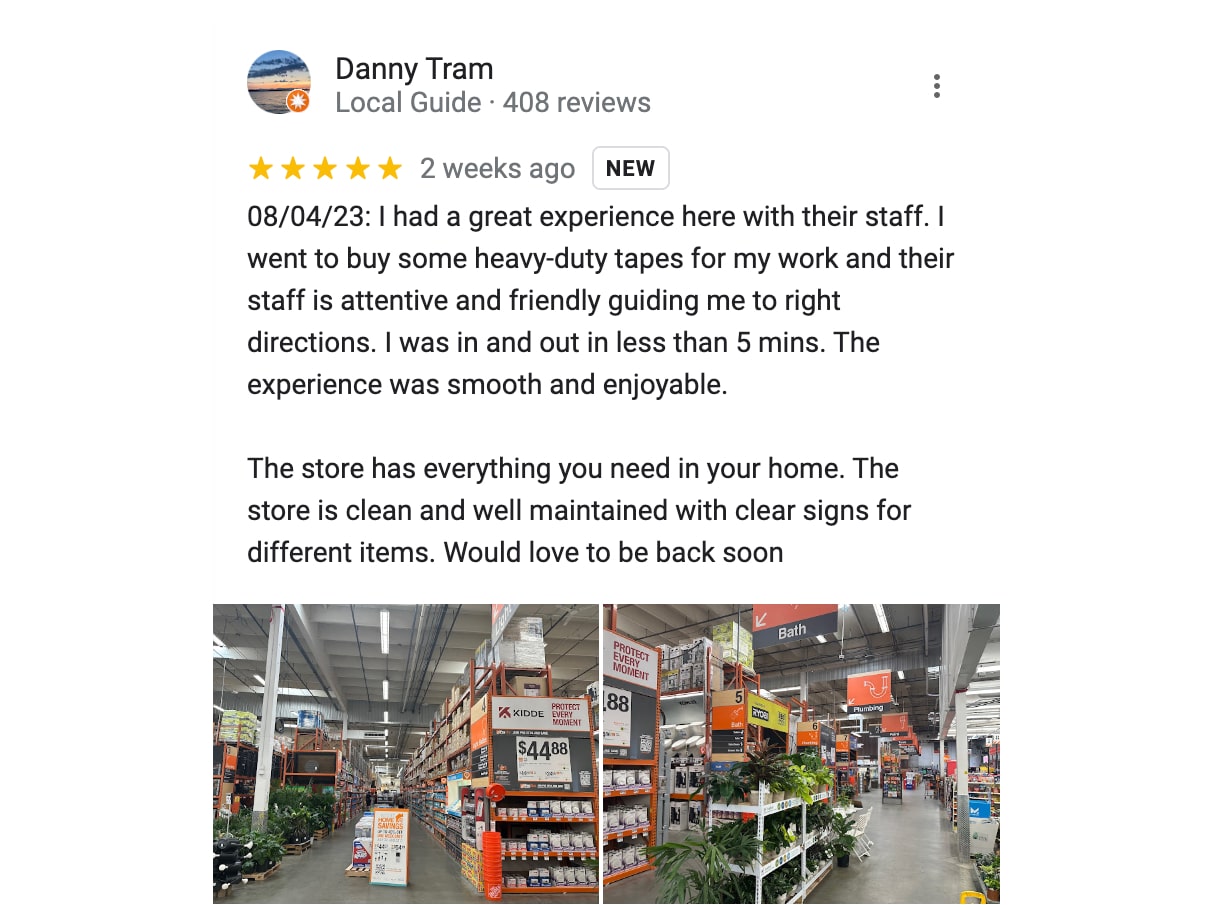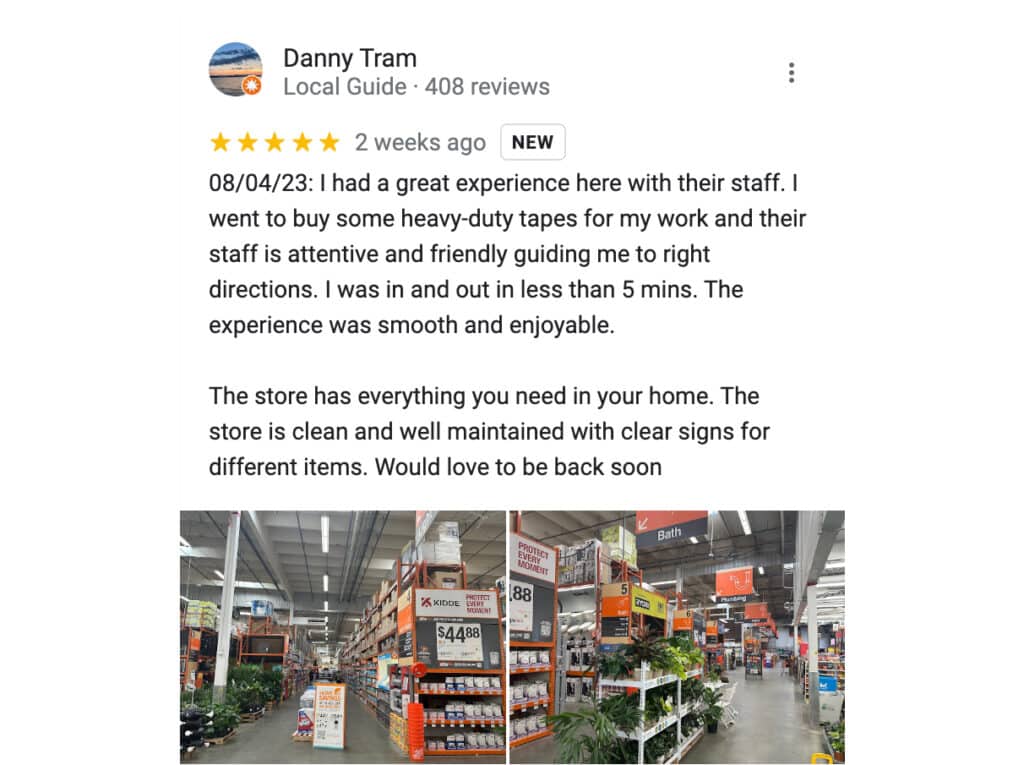 The store's main area of improvement is the online feedback (or lack thereof) it provides to its customers.
After all, people want to know their concerns will be heard.
That said, Seattle's Home Depot can also use their Google reviews to identify their customers' most common problems and work on improving their products and services.
Why Embed a '5-Star Google Reviews' Widget on Your Website?
What good is getting 5-star reviews if you don't show them off properly? Since Google reviews are important, you need to showcase them front and center via a Google reviews widget embedded on your website. By doing so, you'll reap a heap of benefits, including but not limited to the following:
Increased competitive advantage
Collecting all your 5-star Google reviews in one place will give you all the proof you need of your reliability and brand quality. Thus, you'll stand out from your competitors and demonstrate your dedication to customer satisfaction.
There's also the argument that such a transparent policy regarding customer feedback is a testament to your openness and will quickly foster a high level of trust;
Enhanced buying experience
Including Google reviews on your website's review page or homepage provides a smoother shopping process since buyers immediately get all the useful feedback they need to make the right purchase in one place and without leaving your website.
Not to mention the wealth of product information they can get by reading about the experiences of customers who went through the same shopping journey.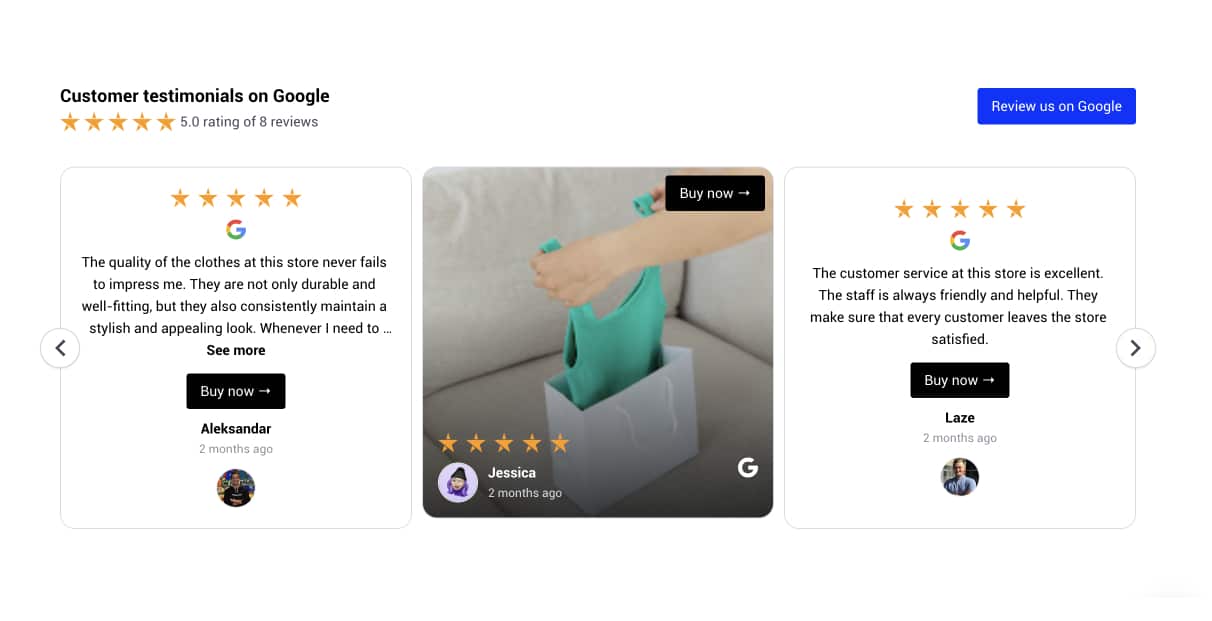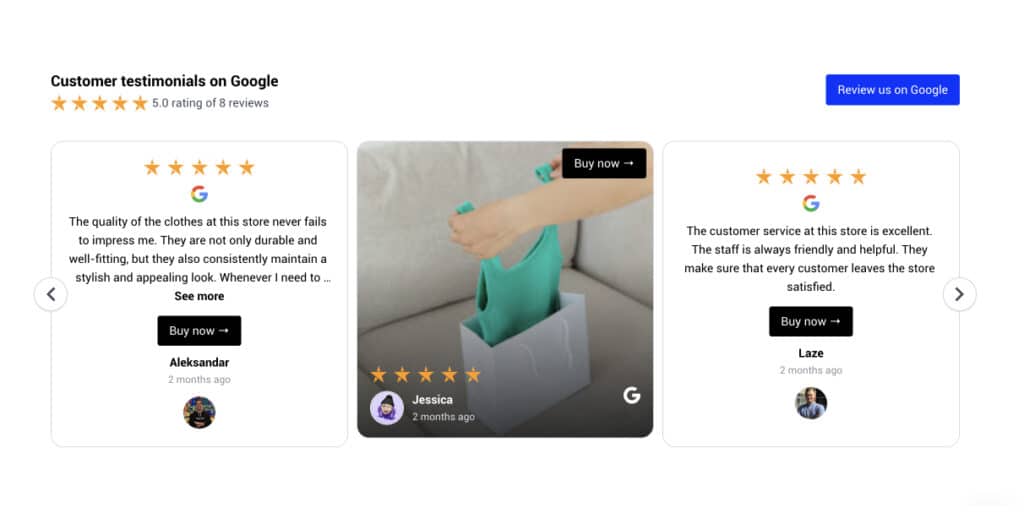 Boosted local SEO results
Since Google uses customer reviews as a ranking factor for local businesses, the quantity and quality of all the testimonials you collect can significantly influence where your services and products appear in local search results.
Many good reviews help you rank higher and boost your keyword relevance since customers use your target phrases in their testimonials.
Improved conversion rates
All the positive reviews you obtain can potentially lead new customers to purchase your products and/or services. Then, once they land on your website, the embedded 5-star reviews can tip them over the purchase stage.
Thus, your conversion rates will rise as a result since your potential buyers will feel confident they are getting the most value for the money they spend;
Better overall SEO success
Incorporating Google reviews into your website can help your website's general online visibility. On top of that, search engines get new user-generated content from testimonials, which they use to update their knowledge of your company. Having reviews on your website allows you to embed a schema code that will show a Google star ratings snippet next to your search results.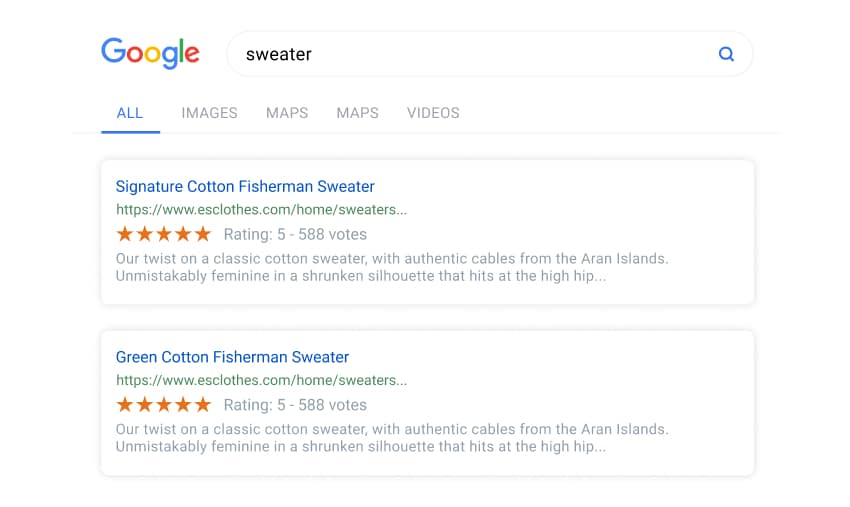 Ultimately, Google reviews are an addition to your free Google Business Profile, which effectively boosts your online presence without requiring a marketing budget.
So, if you are ready to show the public that you are actively engaged with your clients, you listen to their opinions, and you meet their needs, look into collecting all your reviews in one place and incorporating them onto your website with a product such as EmbedReviews.
Once you do, you'll see how powerful these platforms are: they help you get testimonials from everywhere, embed them into customizable widgets, and update them in real-time!
Conclusion
Getting 5-star reviews on Google should be the goal of any budding business since it helps with brand confidence, reliability, respectability, and sales. After all, glowing testimonials are convincing social evidence that persuades potential buyers to get your goods or services.
To be real, it is very hard to have that 5.0, and not every customer can be satisfied, but if you manage to get and maintain a good 4.5+ rating, that means you are doing a great job.
Online reviews are crucial in influencing consumer choices, boosting your internet reputation, and ultimately propelling new business expansions. So, if you want to show your dedication to progress, sincerity, and client happiness, hurry up and add your first 5-star Google reviews widget today!
Doing so gives you access to unfiltered feedback to help you establish a connection with your customers. At the end of the day, they want to buy from engaging businesses.
FYI: You can embed Google reviews widget automatically with EmbedReviews platform. Start a free trial and display your Google reviews now.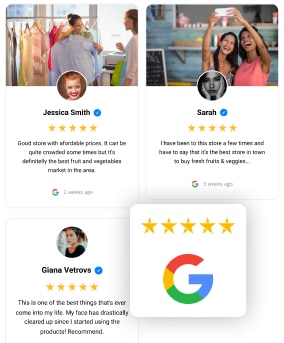 Generate & embed your Google Reviews.
Try EmbedReviews, generate Facebook and Google reviews, and display social media reviews widgets on your website. Automatically and in seconds.
All PRO features | Cancel any time.
FAQ
What makes a positive review?
Positive reviews contain heartfelt praises of your product, service, and/or the user experience with your company. They often draw attention to particular features that make the consumer happy.
How many reviews do you need to get five stars on Google?
The precise number of reviews needed for a five-star rating on Google differs significantly based on the number of reviews you have collected and their current ratings. That said, you will need more positive reviews to offset any negative reviews you have collected.
Why respond to positive reviews?
It's critical to show your appreciation to anyone leaving you a positive review in order to develop a healthy relationship that will drive new traffic to your site. If clients get the chance to interact with you, you'll boost your online reputation and counteract the effects of bad reviews.
How do you ask for a 5-star review?
Instead of requesting a certain rating when asking for a 5-star review, concentrate on giving your consumers outstanding service and value. Once you do that, you can kindly request their honest feedback because you want to continuously improve your products and services.
Can I buy Google reviews?
Getting fake Google reviews is against Google policy and might greatly impact your business online. Therefore if you ever consider or somebody offers you to purchase Google reviews, don't.