Reviews are essential for any small business looking to build brand recognition and trust with potential customers, but responding to customer reviews can be time-consuming.
Today, we are excited to announce EmbedSocial's new AI-Powered Reviews Management Tools that will help streamline this process and save small businesses and marketing agencies valuable time when replying to customer feedback.
With these tools, users will enjoy the added benefit of responding quickly and accurately using Artificial Intelligence (AI) technology. They'll also be able to provide their customers the ability to submit reviews with suggested AI review text and create widgets customized with AI for their website that feature user-generated content from social media sites like Facebook, Twitter, or Google.
In short: The AI-powered EmbedSocial platform makes it easy for businesses to manage their online reputation in one simple dashboard — now powered by artificial intelligence!
Here is what's new:
Building with AI at EmbedSocial
We had planned to integrate AI into our roadmap by Q3 of 2023 but were surprised by the rapid growth and demand for AI-powered tools in the market.
This led us to re-evaluate our plans and prioritize the development of AI capabilities as soon as possible.
Nikola Bojkov
Our team recognized the importance of AI in the current marketplace and re-evaluated our roadmap to prioritize a faster integration of this technology into our platform.
To kickstart the process, we organized a hackathon where everyone on the team could share their ideas on how AI could provide value to our users. We were able to get access to the ChatGPT API, which allowed us to prototype and test new ideas quickly.
Four successful AI tools were created during the hackathon, which exceeded the team's expectations and resulted in further development of these tools that will be launched as we speak. Here are all the tools that we work on:
AI-Powered Reviews Responder
To help businesses save time when responding to customer reviews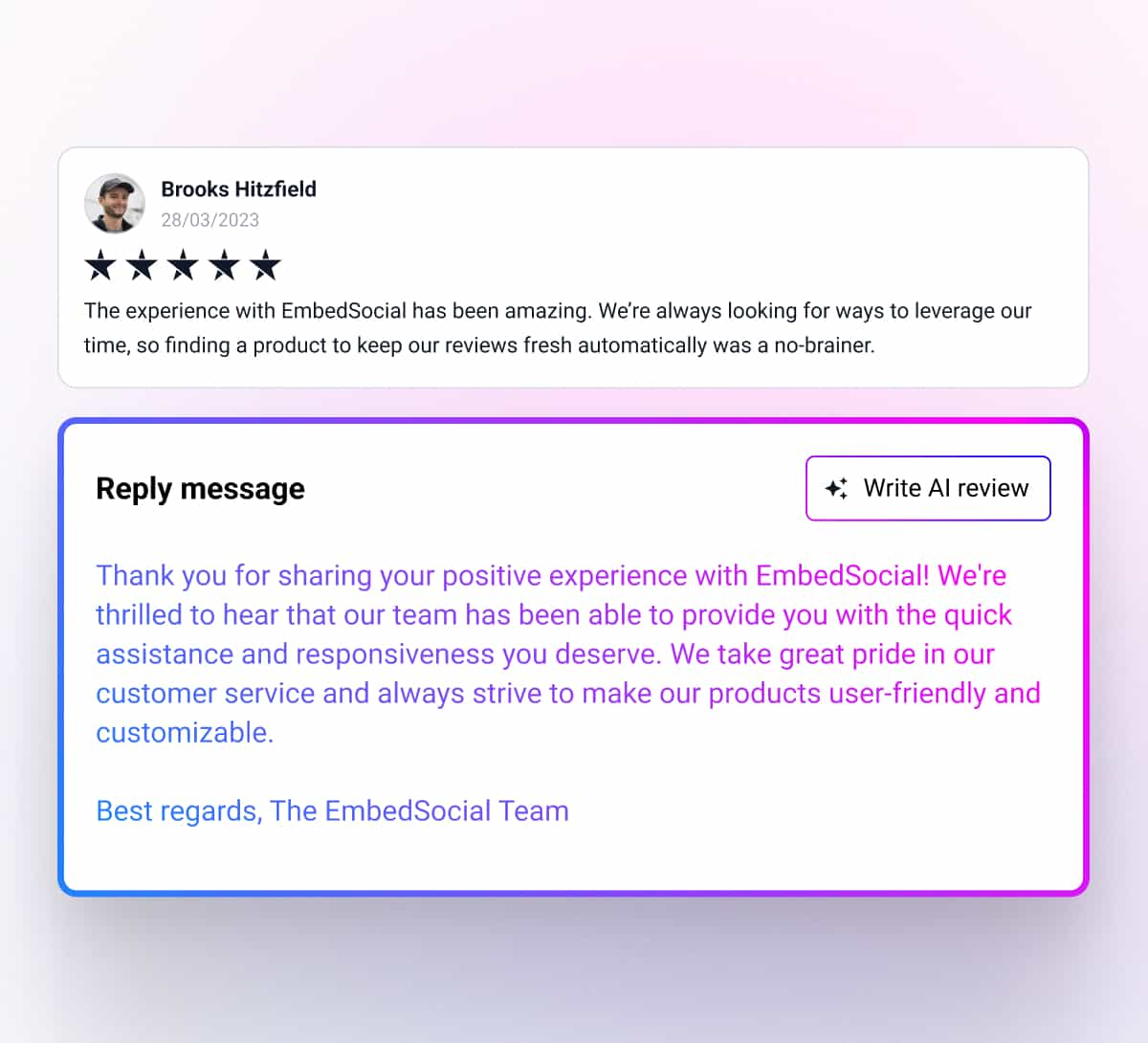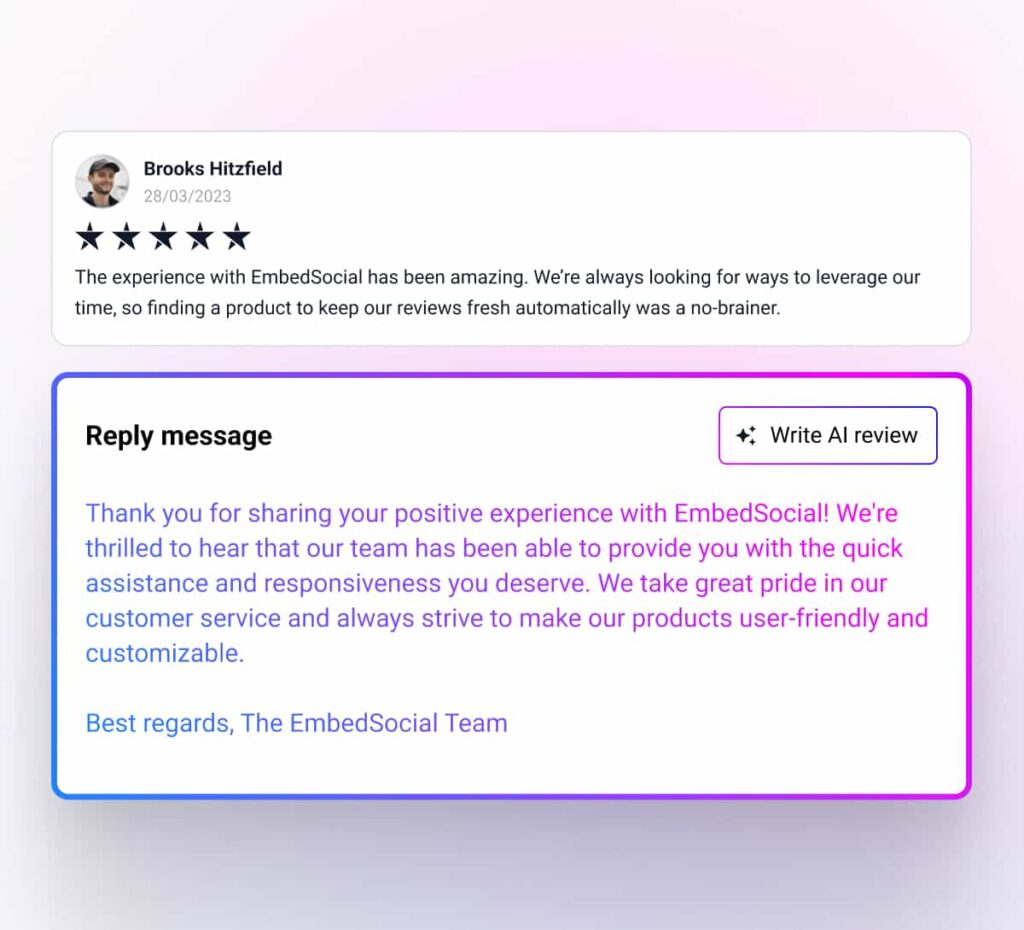 As businesses strive to provide the best customer experience possible, they are turning to innovative tools to help them manage and respond to customer reviews online.
Our team had always brainstormed ideas on how to help streamline the reply process and save time when responding to reviews.
And now, with the new ChatGPT integration the new EmbedSocial's AI-Powered Reviews Responder is one such tool that is making waves in the industry.
Its advanced algorithms can analyze and suggest responses to customer reviews generated from various social media platforms and review sites, helping businesses stay on top of their online reputation management.
This means that customers receive timely responses, improving overall satisfaction and loyalty.
Plus, with the ability to generate responses based on the reviews, business owners can save tons of time in crafting the perfect reply to a positive or negative review.
The first version is already launched and is ready to use for all paid-plans users of the EmbedReviews product. To start using it,

Navigate to All reviews
Click Reply to any of the reviews
In the reply page within the reply, text click AI reply
The system will immediately analyze the review and suggest a relevant reply
With one click, you will be able to submit the reply.

Sign up for EmbedReviews and try this feature for 7-days free trial.
AI-Powered Reviews Generator
To help customers write reviews faster & better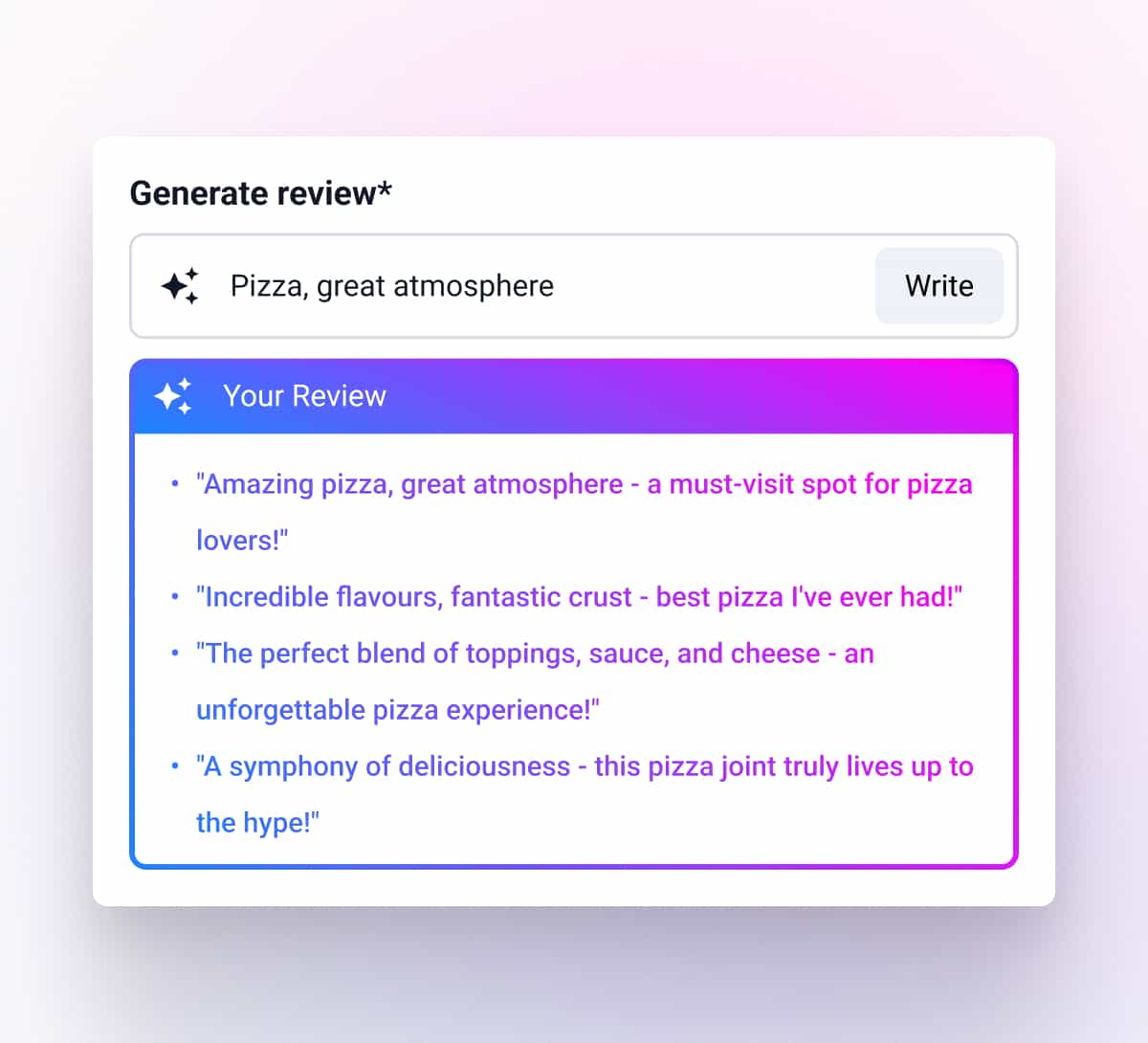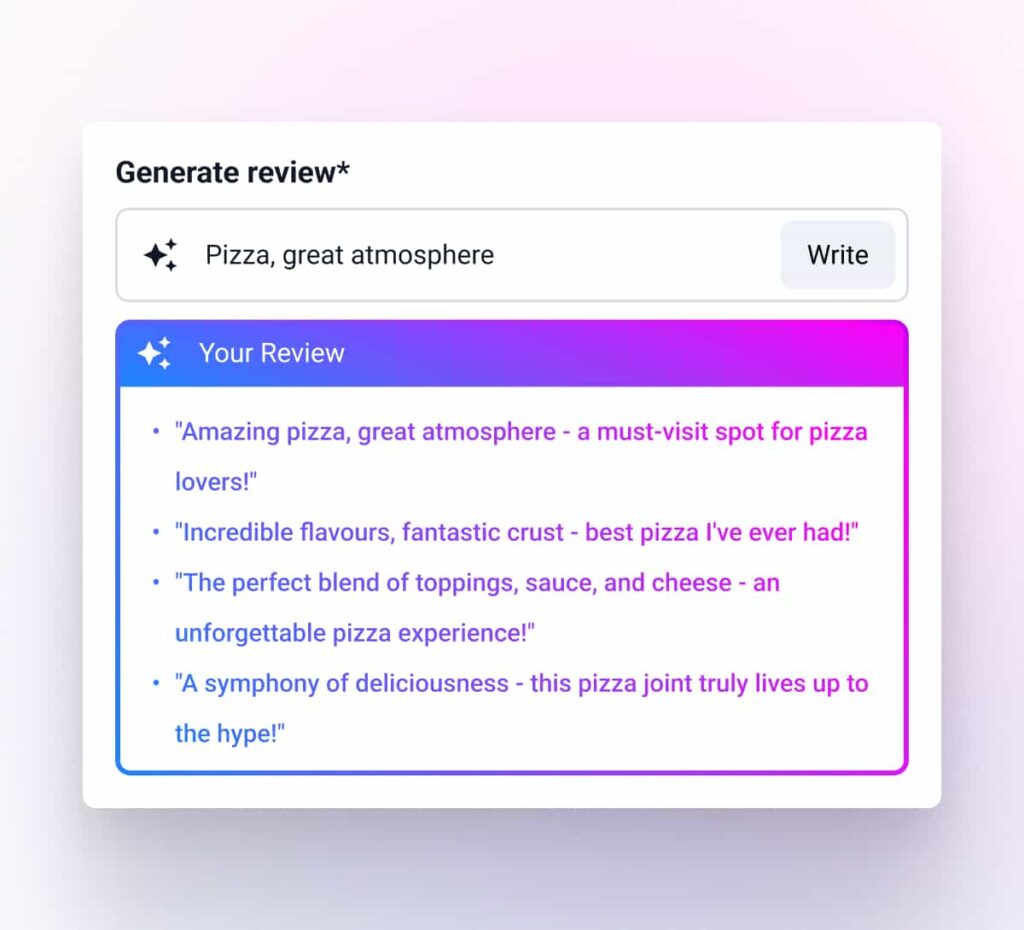 Writing reviews can be time-consuming and challenging for people who don't have inspiration at that moment. However, with EmbedSocial's AI-Powered Reviews Generator, customers can now write their reviews faster and better.
This innovative tool uses advanced artificial intelligence algorithms to analyze the customer's input and generate a high-quality review that captures all the essential features and details of the product or service.
The AI-powered Reviews Generator also ensures that the review is free of grammatical and spelling errors.
Therefore, customers can now share their experiences without worrying about the hassle of writing long and intricate reviews by themselves.
Overall, our AI-Powered Reviews Generator is a game-changer in collecting more customer reviews and feedback.
The current version is part of the native reviews forms provided in the platform, and it's an addition to the manual input for reviews where customers will now be able, with one click, to submit their review.
AI-Powered CSS In Reviews Widgets Editor
Create your own, fully custom reviews widgets
Are you tired of manually coding your own review widgets? Believe us; we have so many requests and so many needs from users to make their review widgets as on-brand as possible. As much as we respond to many requests, is not always seamless to implement users' design needs.
So, we have some great news for you!
We have just developed a new AI-Powered CSS in the EmbedSocial Editor that will eliminate the hassle of creating your own review widgets.
With this new feature, you can easily create widgets that are customized to your brand and match the look and feel of your website.
This AI-Powered CSS will take care of all the design and coding for you, leaving you with more time to focus on what's important – growing your business.
The feature is coming soon, and we hope to release it to all users very soon. If you really want to try ASAP, please join the waiting list here >
AI Summarized Reviews Card
Show an AI reviews card from all reviews in the reviews widget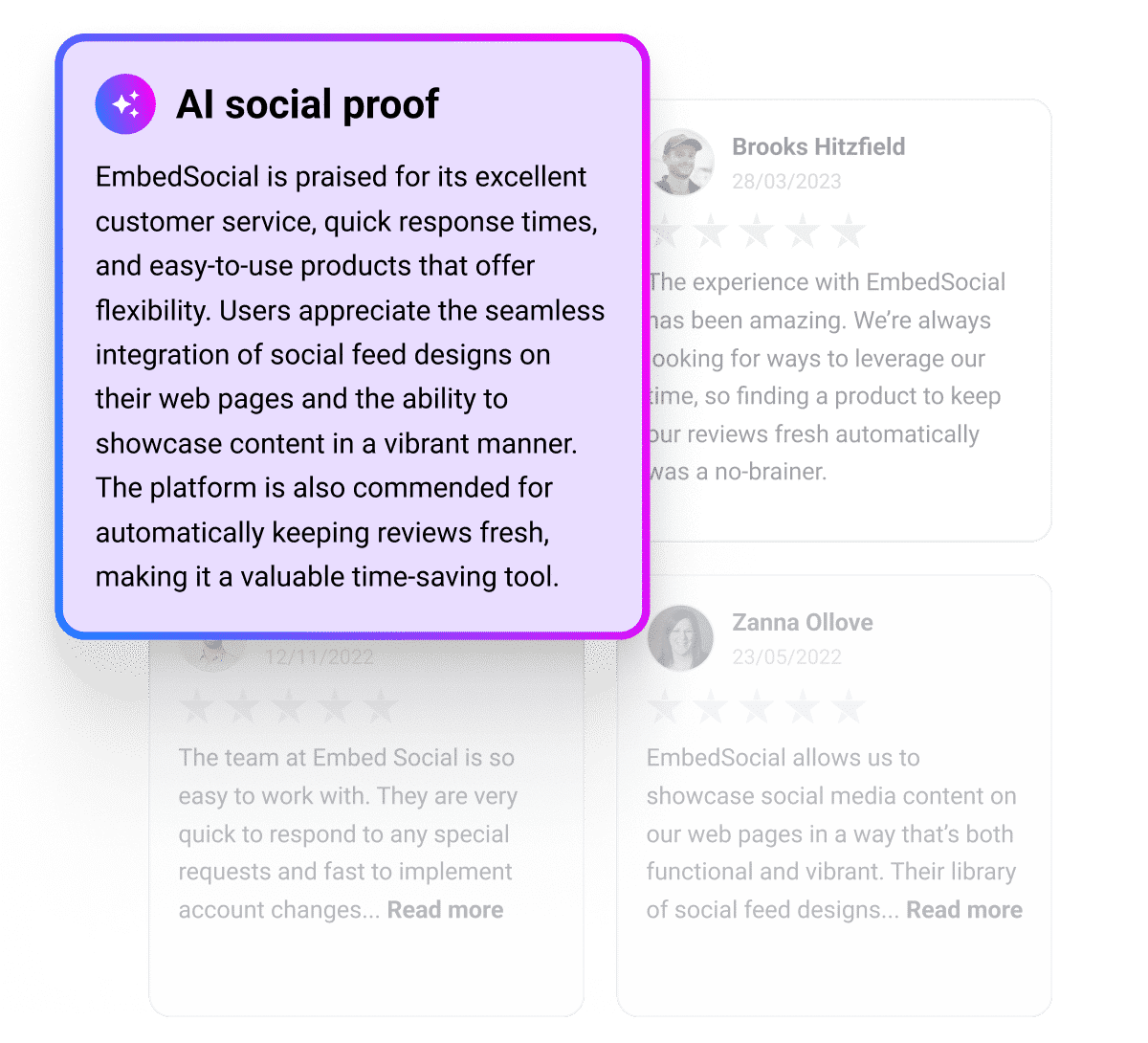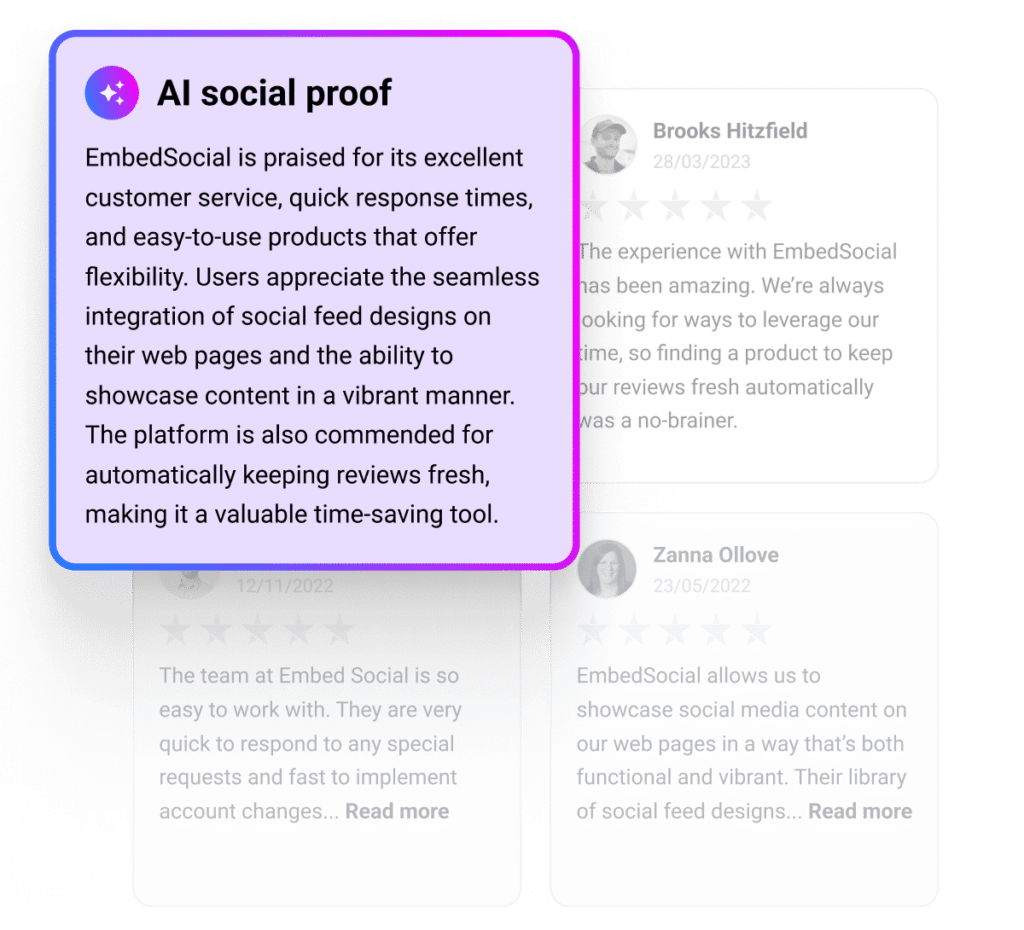 Have you ever scrolled through countless reviews, trying to decide whether or not to purchase a product, only to become overwhelmed and give up? Well, your own customers feel the same.
Imagine capturing the essence of your customers' reviews in a single, powerful statement that potential customers can read quickly and make a faster decisions about our products or services.
Our AI-Generated Reviews Card feature does just that.
It summarizes the sentiment of all reviews in your widget and displays a captivating AI-generated review card, providing a comprehensive overview of your brand's perception.
This saves you time and energy and accurately summarizes what customers say about the product. No more sifting through pages of reviews, trying to decipher which ones are relevant. With AI, your customers' decision-making process just got a whole lot easier, and hopefully, purchase-making decisions!
This feature will roll out in the coming weeks.
If you are interested in faster access, join the waitlist >
Key Takeaways
We understand the importance of seamless integration, so our team made sure to introduce these tools to our platform in a user-friendly way. We believe that this will drive growth and satisfy our customers' needs by simplifying the way they interact with our platform.
Our journey exemplifies the importance of recognizing market trends and seizing opportunities to innovate and evolve quickly.
We are committed to continuously enhancing our technology, and we hope our new AI tools will significantly benefit you, our valued customers.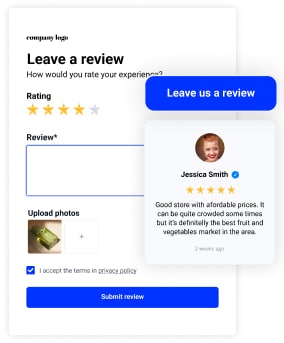 The easiest way to collect reviews and testimonials via AI review assistant, forms, SMS, or email
All features included | Live support available