Instagram carousel posts are a great way to increase engagement rates and showcase multiple aspects of your brand or product in one cohesive post. With the ability to include up to 10 images or videos in a single post, Instagram carousels can grab your followers' attention and keep them engaged on your Instagram Feed. These posts can make your audience stay longer and interact with your post, giving a solid indicator for the Instagram algorithm that people spend more time on your content than usual.
However, creating the perfect Instagram post can be challenging, especially if you are short on time or daily inspiration.
That's why this blog post coveres you with a comprehensive list of 10 templates and examples to help you create stunning and effective Instagram posts that will take your social media game to the next level.
---
FYI: Embed Instagram widget automatically with the social media aggregator and UGC platform by EmbedSocial. Click below to try it for free: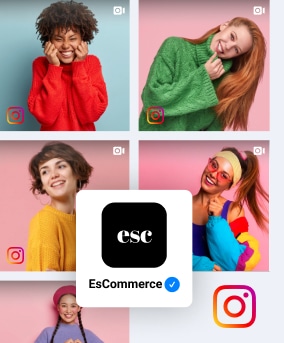 Embed Instagram widget on your website automatically!
Try EmbedFeed and display Instagram content from your feed, mentions, or hashtags on your website.
All PRO features | Cancel any time.
Reasons to choose an Instagram carousel over videos and posts
Instagram carousel posts allow you to showcase multiple images or videos in one post. This means you can tell a more complete and engaging story about your brand or product rather than relying on a single image or video.
The carousel posts on Instagram gives many more benefits, and right below, you will find the best ones to make a clear decision about why you should choose such posts over single image post or video posts:
1. Interactive experience for your audience
A carousel post on Instagram allows your followers to swipe through your content and interact with it in a way that isn't possible with a single image or video post. This can be a helpful practice for increasing engagement rates, as it encourages followers to spend more time with your content.
2. Showcase different angles, features, and benefits of your product or service
Let your new carousel post on Instagram showcase different aspects of your product or service in an attractive way for other Instagram users.
It can be especially useful if you're launching a new product or promoting a new service for your business. This can also help your followers better to understand the value of your brand or product and see more details about it in a single post on your profile.
3. Allow you to provide more context
There are different ways to use the Instagram app, so be one in a million who provide more context for your images or videos to enrich your social media presence. You can include captions or text overlays and create posts that will perfectly fit your Instagram marketing campaigns in many creative ways.
For example, you can create a carousel sharing educational or informational content, as it can help your followers better understand your story and grow your Instagram profile faster than usual.
4. You can focus on content repurposing
You can repurpose existing content with Instagram carousel posts, such as blog posts or videos. Breaking your content up into 10 pieces and presenting it visually appealing can help you reach a broader audience and increase traffic to your website. Social media managers know the power of repurposing the same content on different social media platforms. So, you can mix your blog post, short video, and regular posts into one Instagram carousel post and present it in front of your audience to get more views and content reach, respectively.
5. Have the freedom to experiment with templates, split images, and other storytelling formats
Use Instagram carousel posts to gain creative freedom to experiment with different formats and templates, such as before-and-after images, step-by-step tutorials, or product showcases and comparisons. This can help you stand out from the competition with a single carousel post and showcase your brand or product in a unique and eye-catching way. Remember that Instagram carousel sizes can vary from 2 to 10 pictures per post, so make sure to take advantage of all the images you have in your pocket for your next template in various formats.
In the following section, we will see 10 Instagram carousel posts templates with detailed information on how to use them. Prepare for a wave of Instagram carousels – you will get a palette of ideas on what to use on your profile firsthand!
Template 1: "Before and After" template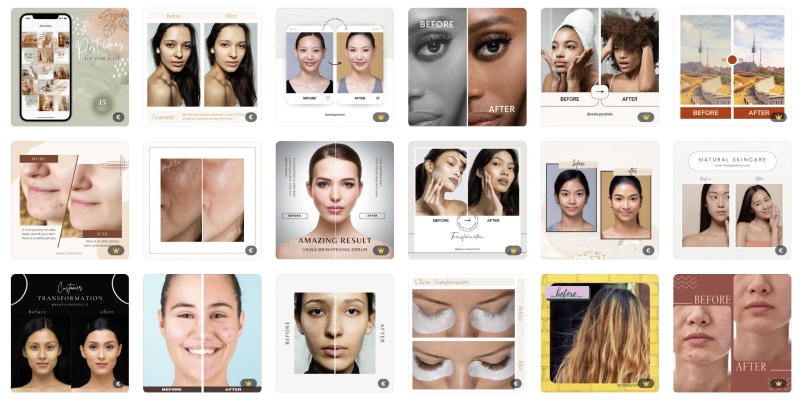 The "Before and After" template is a popular creative format for Instagram carousel posts. Beauty, fitness, and home improvement brands often use this template to showcase the transformative effects of their products or services. The idea is to present a side-by-side comparison of a "before" image or video and an "after" image or video, demonstrating the brand or product's positive impact. Here are some ideas:
A beauty brand might use this template to showcase a customer's skin transformation after using their skincare products.
A fitness brand or fitness content creators might use this template to showcase the physical transformation of themselves or a client who has completed their workout program.
A home improvement brand might use this template to showcase the transformation of a room after being revamped.
A make-up artist can use this template to show the client's face before and after the make-up session or showcase the behind-the-scenes make-up process.
Check some templates ideas on Canva and create a carousel post that perfectly matches your Instagram profile and audience:
Template 2 "Step-by-Step Tutorial" template
As the name suggests, the "Step-by-Step tutorial" template for Instagram carousel posts is an excellent way to share educational or instructional content with your audience. This template is designed to break down complex processes, ideas, or tips into smaller, more digestible steps using a series of easy-to-understand images or graphics. Create such carousel posts to boost engagement rates on your profile and bring valuable content to your target audience.
Here are some ideas on how to use this template in different niches:
Showcase a simple recipe with step-by-step photos or illustrations.
Explain complex food preparation processes, like making homemade pizza or sushi.
Illustrate a series of exercises that target specific muscle groups.
Offer a tutorial on how to make a specific hairstyle or makeup idea.
Showcase a photography tutorial on how to capture stunning landscape or portrait shots.
And many more!
Check some step-by-step templates for Instagram carousel posts on Canva and provide valuable education and mentorship to your followers.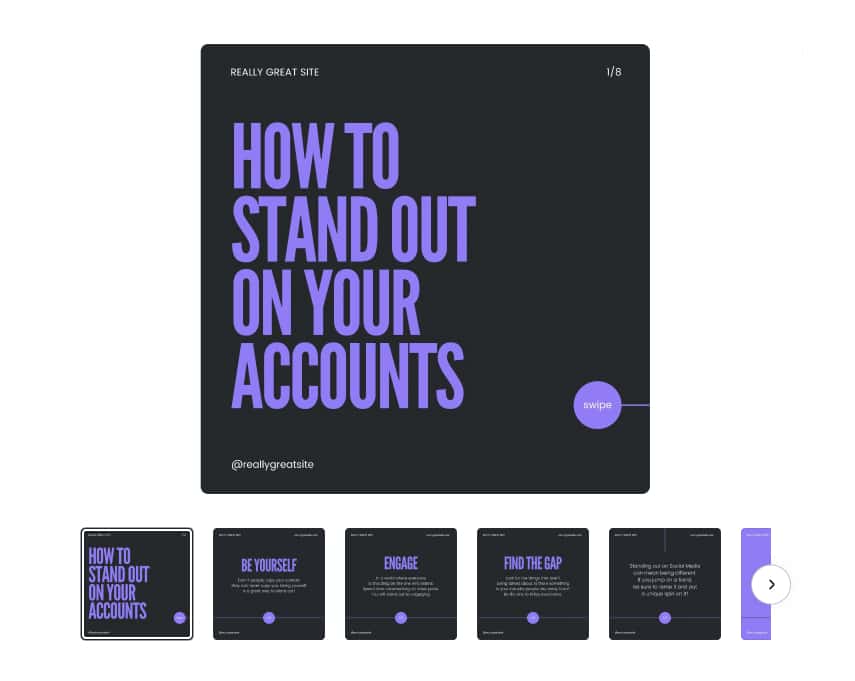 Template 3: "Facts and Figures" template
The "Facts and Figures" template is an engaging way to present valuable or surprising information to your audience through Instagram carousel posts. This template uses a combination of infographics, charts, illustrations, and concise text to present data or statistics in an easily consumable and catchy format.
It's an excellent way to educate your followers, spark conversation, and establish your account as a reliable source of information. Let your audience prefer swiping left and interact with your Instagram carousels like never before. Here are some ideas of facts for Instagram carousel posts:
Present data about the effectiveness of renewable energy sources.
Illustrate the benefits of reducing meat consumption or embracing a plant-based diet.
Share interesting facts about nutrition and the impact of certain foods on the body.
Present statistics on the average debt or savings of people in your country or age group.
Share insights on the benefits of investing in stocks, real estate, or other assets.
Share data on the most budget-friendly countries or cities to visit.
Check the facts and figures Instagram carousel template on Canva and make sure your Instagram account is a trustworthy source of the best facts and statistics in your niche.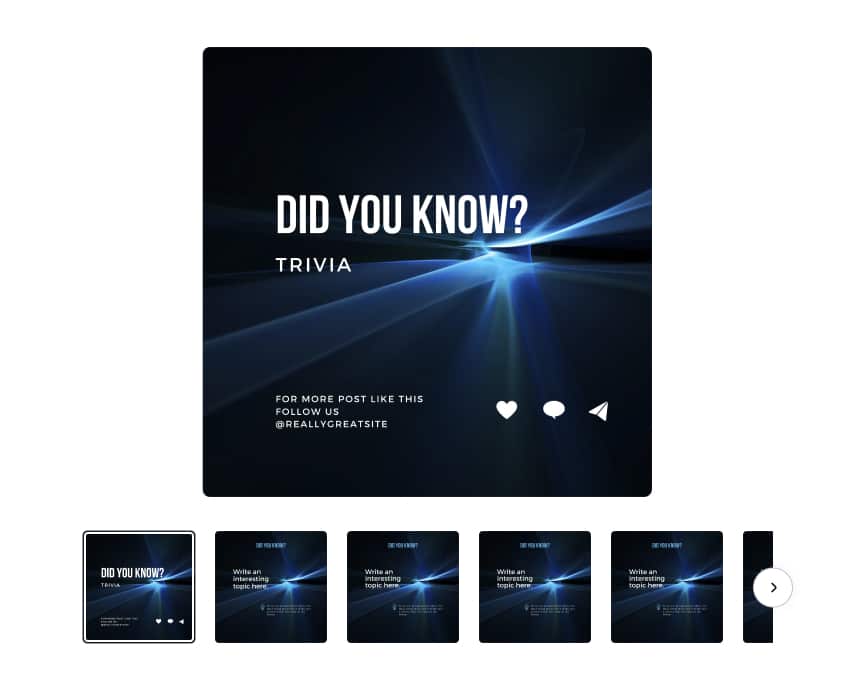 Template 4: "Top 10 List" template
Introducing the popular "Top 10 List" template for Instagram carousel posts – your new go-to solution for sharing irresistible, hand-picked content with your followers. Who doesn't love a good and clear list of something interesting in a specific niche, right? This fun and visually captivating template presents a carefully curated selection of items, tips, products, or ideas, shown one by one to showcase their importance.
And here's the best part – each slide in the carousel spotlights one fantastic item from the list, making it super easy for your followers to dive right into the content and feel the excitement building as they swipe through. You can't represent 10 items in single image posts, but that's where photo carousels come into play, like:
Showing the top 10 must-visit attractions in a city or country.
Share the top 10 essential kitchen tools for home cooks.
Making a list of the best restaurants or cafes in a city.
Presenting a list of the top 10 superfoods for optimal health.
Presenting the top 10 wardrobe staples every person should own.
Highlighting the top 10 tech gadgets or innovations of the year.
Here is a top 10 list template for your Instagram carousel, and become the social media manager of your dreams, thanks to the engaging listing posts for your audience.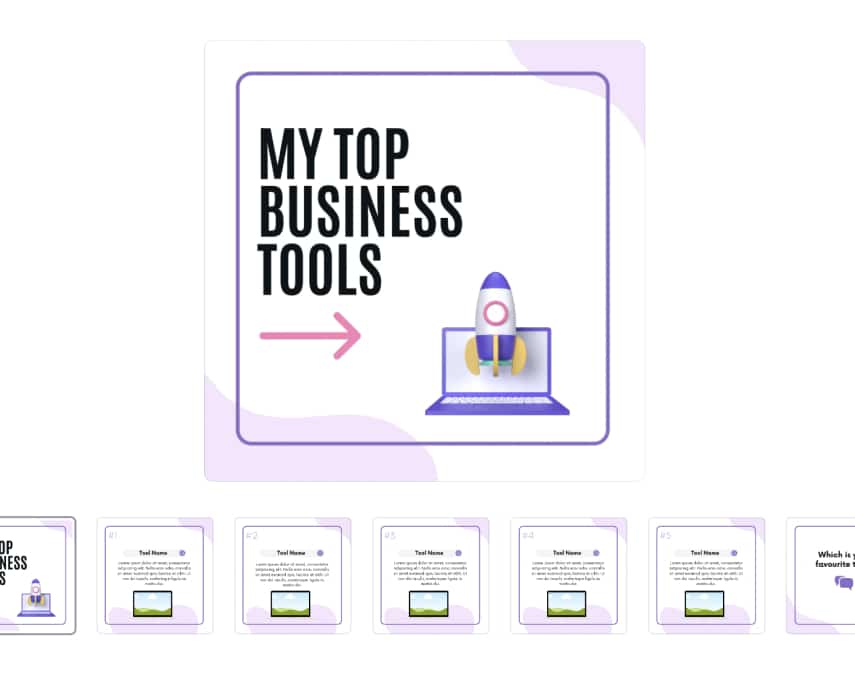 Template 5: "Behind the Scenes" template
You should strive for authenticity and relatability when creating an Instagram "Behind the Scenes" carousel. You should use unfiltered images or videos that show your brand's real, unpolished side, along with captions that tell the story of each moment's emotions, challenges, and highlights. To learn more about your followers' interests and preferences, invite them to share their own behind-the-scenes experiences.
Use all the slides of your carousel post to share a photo dump or a mix of photos and videos behind the scenes, showing the "in-the-making process" to your audience. It is important to step for building trust among your followers in different ways, such as:
Share a day in the CEO's or employees' life to showcase company culture.
Show the process of creating and launching a new product or service, from brainstorming to execution.
Look at your studio, workspace, and favorite tools and materials.
Share behind-the-scenes footage from a photoshoot or fashion show, including preparations and catchy moments.
Showcase a day in the life of a chef or food blogger, including meal planning, cooking, and food photography.
Check this behind-the-scenes template on Canva to get an idea of what to include in your Instagram carousel post too.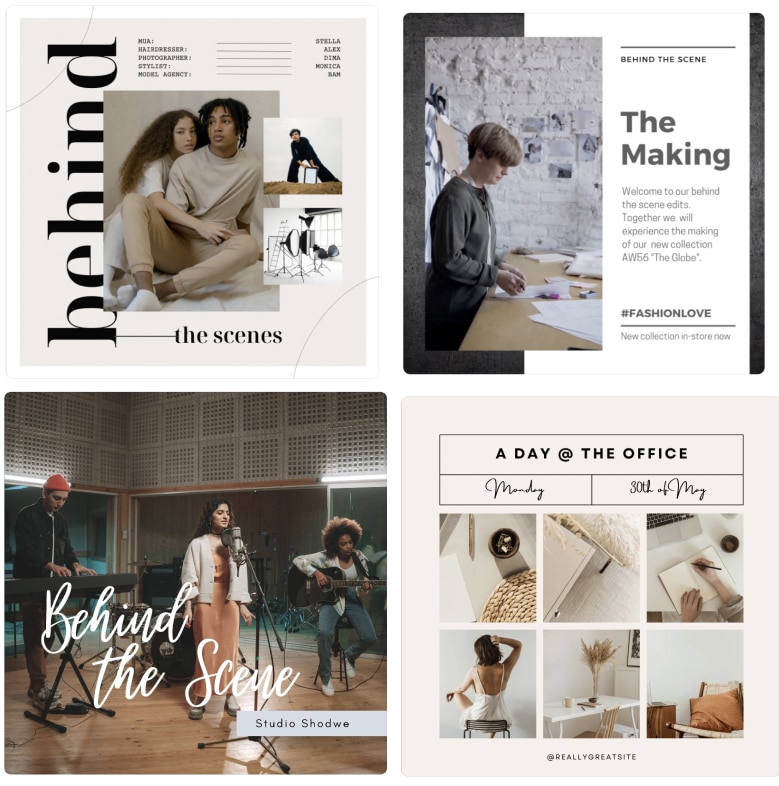 Template 6: "Question and Answer" template
Let the Q&A party begin with the "Question and Answer" template for Instagram carousels. In addition to addressing their questions, concerns, and curiosities about your products or services, it is an interactive and engaging way to connect with your audience. Typically, this template consists of a series of slides presenting a question from your audience and a helpful answer.
The Q&A format not only offers valuable information to your community but it also tightens the bond between you and your followers with a great connection and valuable interaction. Check some Q&A templates for Instagram carousels, and make sure to include a powerful CTA to the final slide of your new post.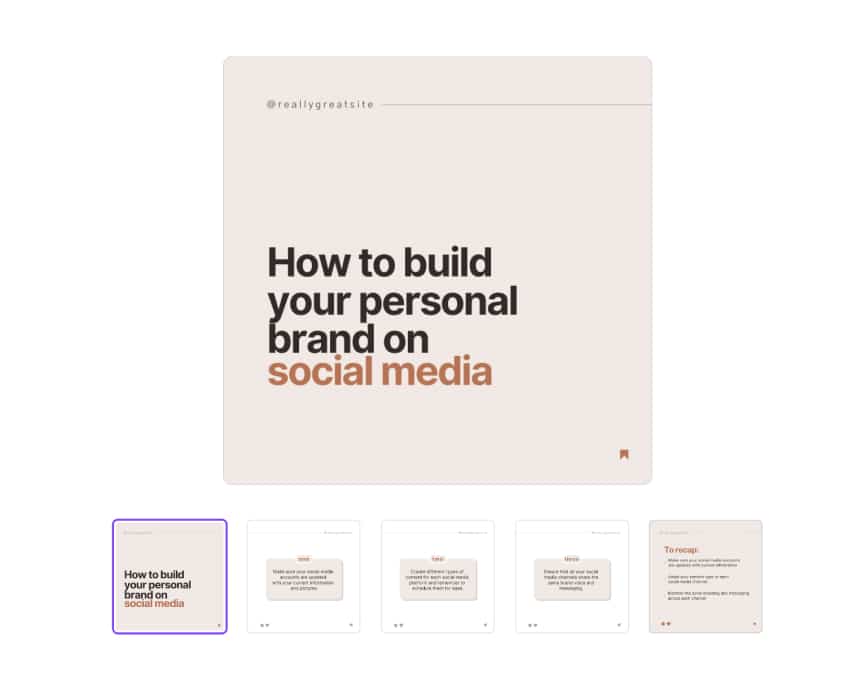 Template 7: "Comparison" template
With the "Comparison" template for carousels on Instagram, you can present a side-by-side comparison of two or more products, ideas, or concepts related to your brand. Your audience can better understand the topic matter by comparing the items using images, graphics, or charts.
Check these examples of how to use this template without having a photo library in your pocket:
Compare the specifications, features, and prices of the latest smartphones, laptops, or other devices.
Compare the benefits and drawbacks of various diets, workout routines, or supplements.
Compare popular travel destinations, including costs, attractions, and cultural experiences.
Present a side-by-side analysis of credit cards, savings accounts, or loan options.
Compare the nutritional content, taste, or preparation methods of different food items or recipes.
Also, here are some templates for creating a comparison chart and bringing more details to your followers about certain things in your environment.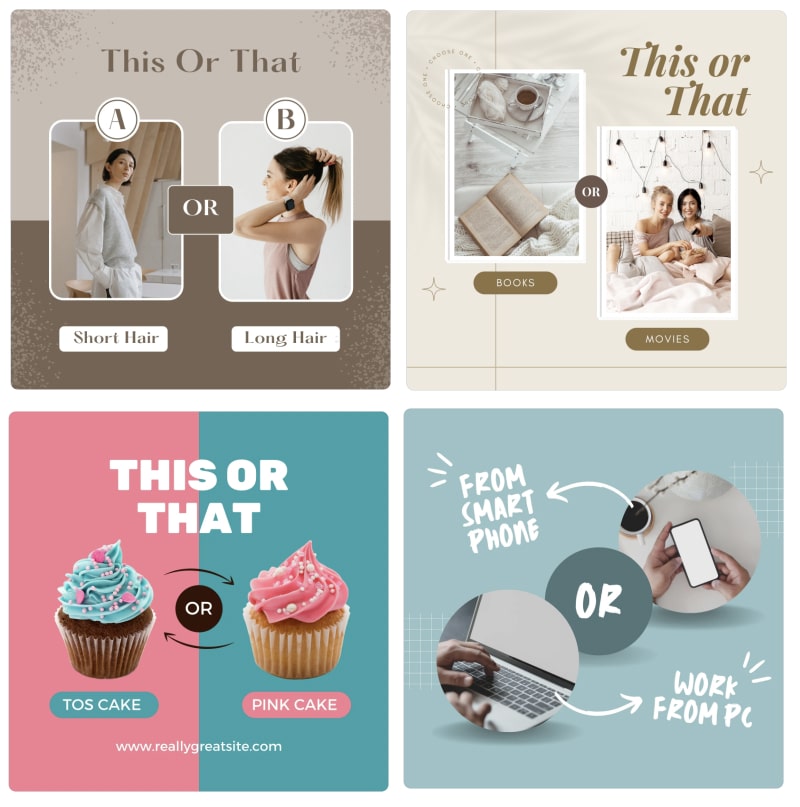 Template 8: "Product Showcase" template
As you probably guess, the "Product Showcase" template is here to help businesses and content creators to effectively display their products and services in a visually engaging manner through Instagram carousel posts.
This template primarily focuses on highlighting product features, benefits, and the overall value proposition in a coherent and attractive format.
Use these ideas for the perfect product showcase on your Instagram profile:
Show a side-by-side comparison of a situation or problem before and after using your product.
Include quotes, star ratings, or even images of customers using your product to build social proof and credibility.
Highlight limited-time offers, discounts, or promotions for your product. Include countdown timers, coupon codes, and other features.
Show different product variations, such as colors, sizes, or styles, to help customers visualize available options.
Check some powerful showcase templates on Canva and let your product shine on the stage for many new clients onboard.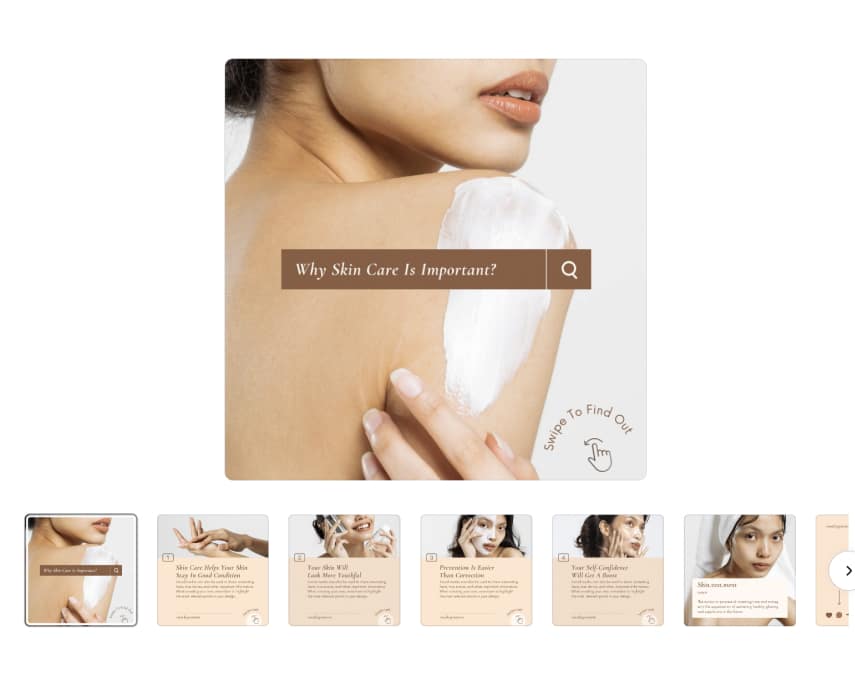 Template 9: "Recipe or DIY Tutorial" template
Discover the joy of cooking and crafting using the "Recipe or DIY Tutorial" template for Instagram carousel posts; This template is your perfect match for sharing your favorite recipes or creative DIY projects with your followers.
With its emphasis on easy-to-follow steps, enticing visuals of ingredients, and a captivating display of the final result, get ready to inspire others to embark on their own culinary or crafting adventures on Instagram.
Perfect for food bloggers, chefs, restaurants, food brands, and similar.
Here are some ideas on how to use this template in front of your audience:
Start with a slide showcasing all the ingredients required for the recipe or project and their quantities or measurements.
Divide the recipe or project into manageable steps and dedicate one slide per step.
Share helpful tips, tricks, or hacks related to the recipe or project that can make the process easier or lead to better results.
Showcase the final result of the recipe with a visually appealing image or video to entice users and demonstrate the value of following your tutorial.
Check this Instagram carousel template for recipes and showcase the steps and ingredients of a delicious dish.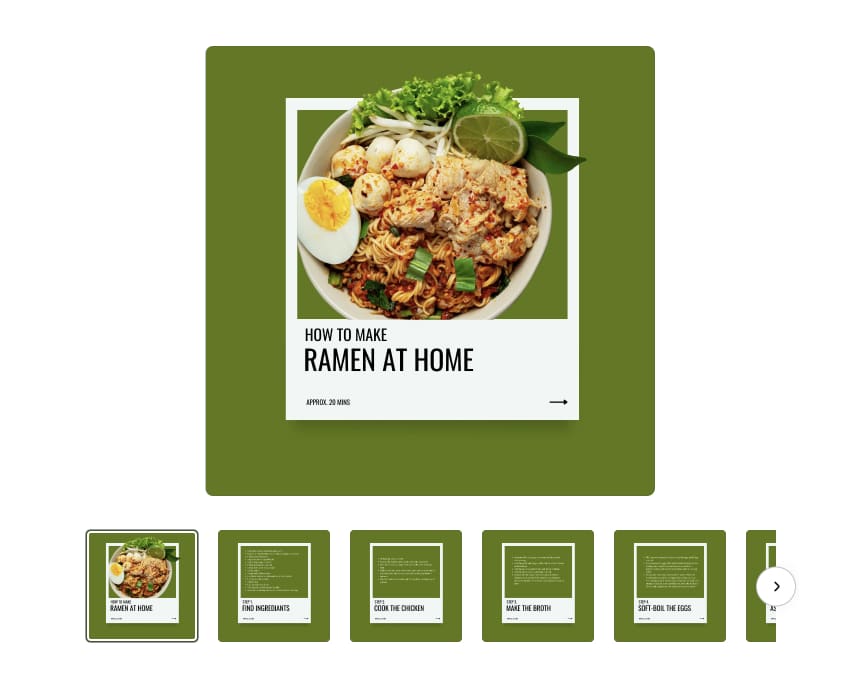 Template 10: "Storytelling" template
With the "Storytelling" Instagram carousel template, you can share captivating narratives, anecdotes, and visual experiences with your audience. This template creates a cohesive visual style throughout the carousel with an emotional connection with your followers. Make sure you create such a carousel post on Instagram to get your audience's attention, create empathy in between, and come closer to them emotionally.
Here are some good real-life examples of how to use it properly:
Share personal stories, experiences, or life lessons that your audience can relate to or learn from. Remember that each slide highlights a crucial aspect of the narrative.
Take your audience on a journey through the history and evolution of your brand. Include significant milestones, challenges overcome, and the core values that drive your company.
Showcase the real-life impact of your product or service through customer success stories.
Create a series of carousels centered around a specific theme, such as travel adventures, personal growth, or industry insights. Use the storytelling format to maintain a consistent narrative throughout the series.
Check some storytelling templates on Canva and find the most creative way to be connected with your audience in the most proper way.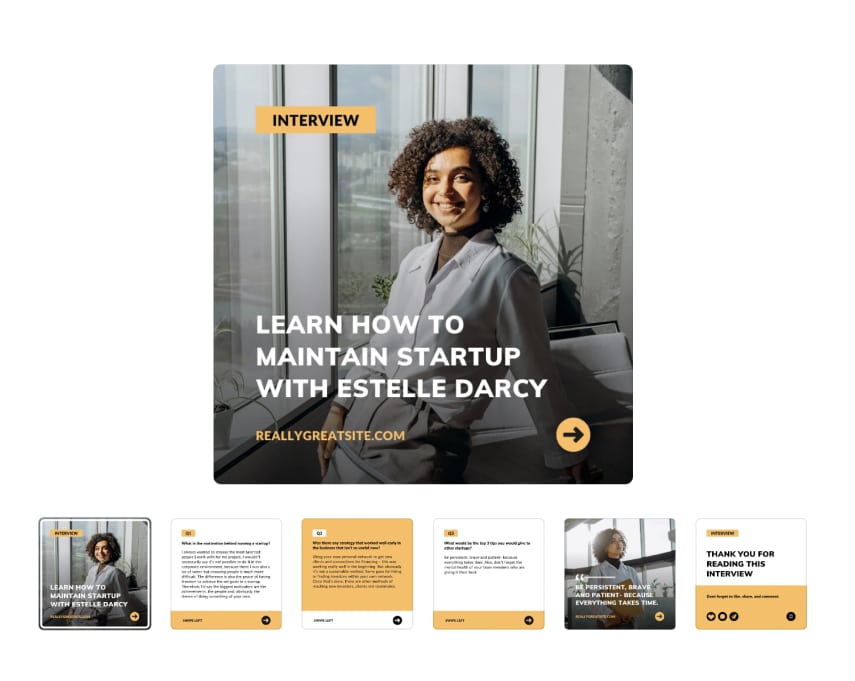 Examples of Brands making the most of Instagram carousel posts
Regular post content is still working for many brands and influencers out there. Still, carousel posts have become way more useful when sharing brand awareness on social media, especially on Instagram.
Below is a list of photo dumps or carousels that brand post on Instagram to take the most out of their audience and boost engagement rates.
1. Adobe (@adobe) – Sharing the company's culture and story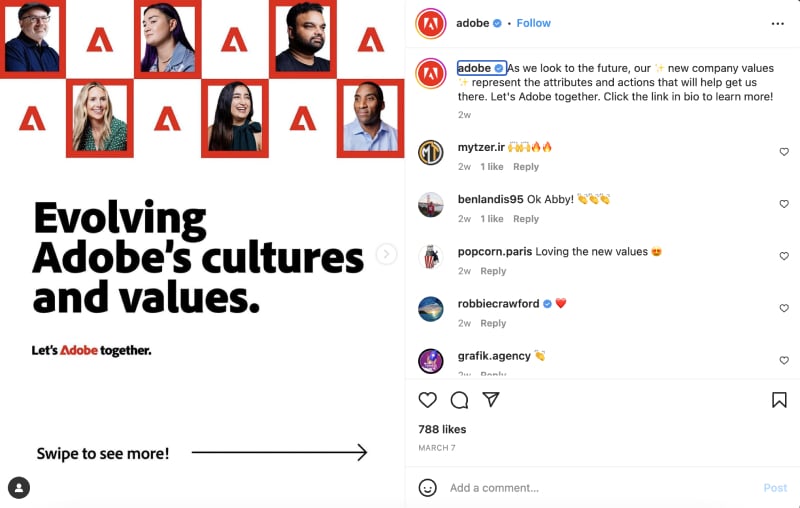 Adobe frequently uses carousel posts to showcase design inspiration, tutorials, and tips for their various creative software products.
Adobe also features talented artists and designers worldwide on their profiles, using carousel posts to showcase their work and share their stories, creative processes, and insights into their use of Adobe products.
2. Nike (@nike) – Product showcasing and promoting values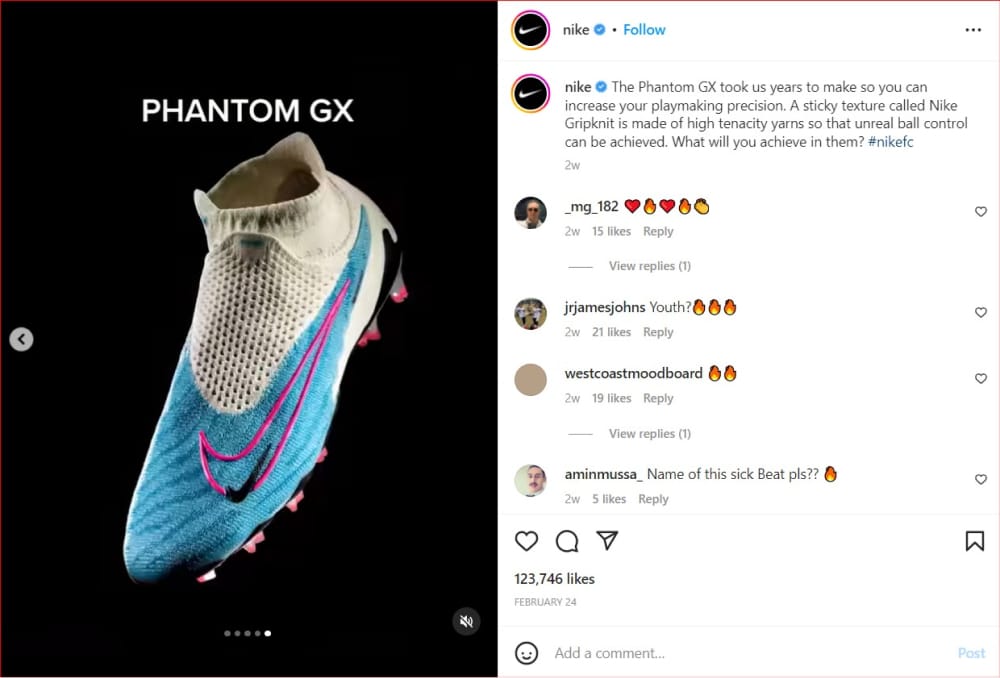 Nike uses carousel posts to feature new product releases, athlete stories, and inspirational campaigns, often highlighting the brand's values and initiatives.
Nike utilizes carousel posts to communicate their brand values and social initiatives, such as promoting diversity and inclusion, supporting sustainability efforts, or championing mental health awareness. These posts help build a positive brand image and resonate with their audience's values.
3. National Geographic (@natgeo) – Unique animals photographs in Instagram Carousel
National Geographic, a media organization known for its visually stunning photography and captivating stories, expertly uses carousel posts on its Instagram profile to engage with its audience and share the diverse beauty of our world.
Here is an example of a photo session for documenting the life of a giant panda named Bei Bei. Amazing, isn't it?!
National Geographic is famous for its inspiring facts and photos related to the natural world, wildlife, and human experiences.
They use carousel posts to showcase multiple images from a photographer capturing beautiful and usually unseen photos of animals, providing their audience with a more immersive visual experience.
4. Ben & Jerry's (@benandjerrys) – Share educational Instagram carousels on social-responsible topics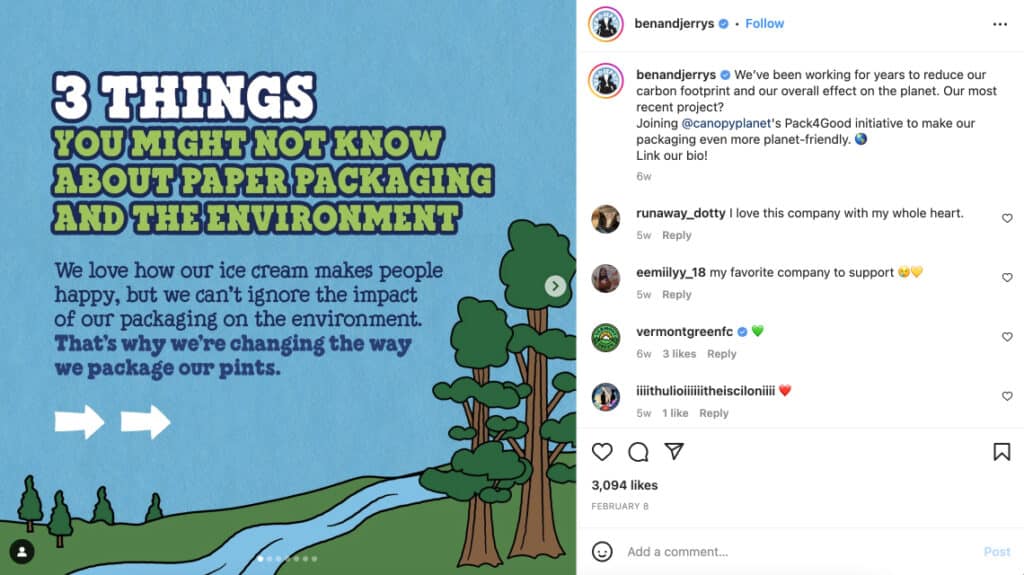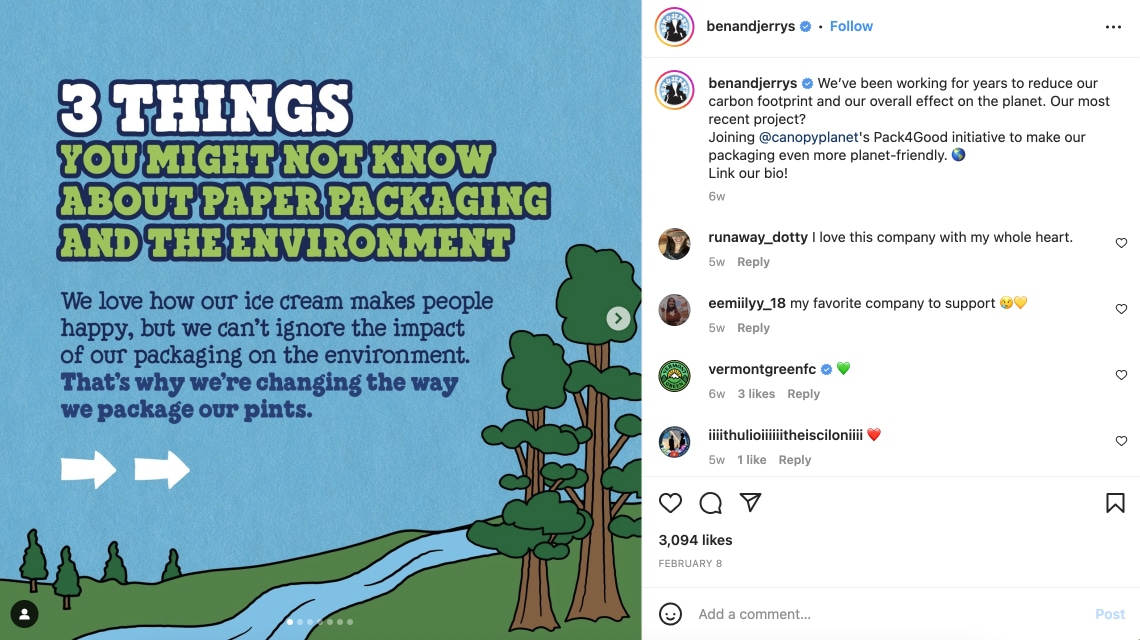 Ben & Jerry's, a famous ice cream brand known for its unique flavors and commitment to social causes, effectively use carousel posts on their Instagram profile to engage with their audience by educating them on socially responsible topics that concern everybody.
These posts are in an educational format that covers topics from various current subjects, like climate change, abortion rights, information on voting, and similar.
5. HubSpot (@hubspot) – Sharing educational content and industry statistics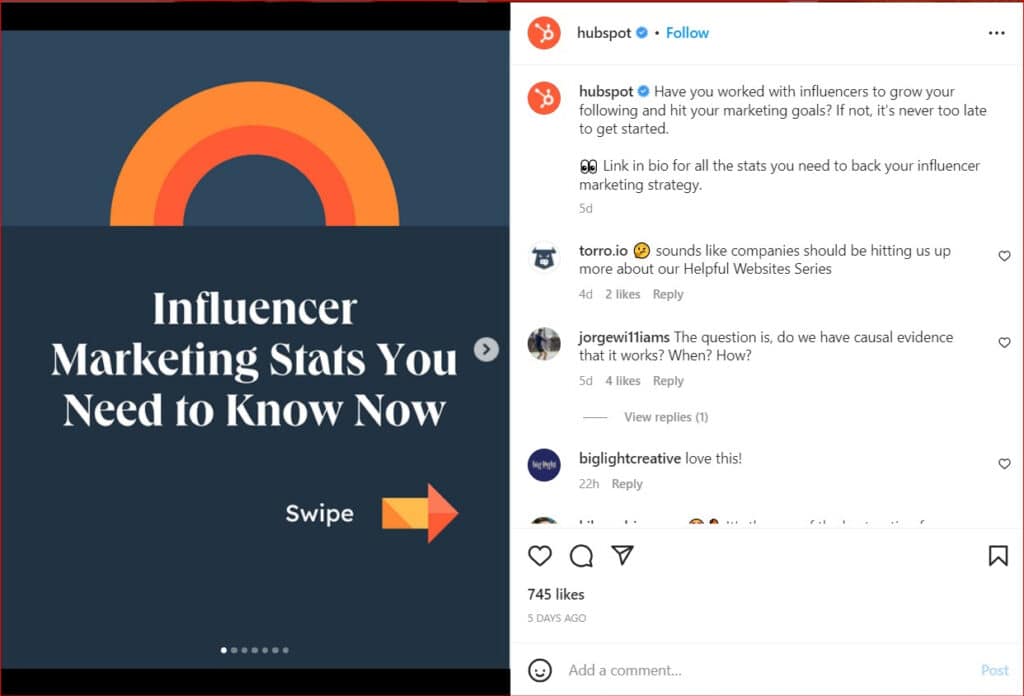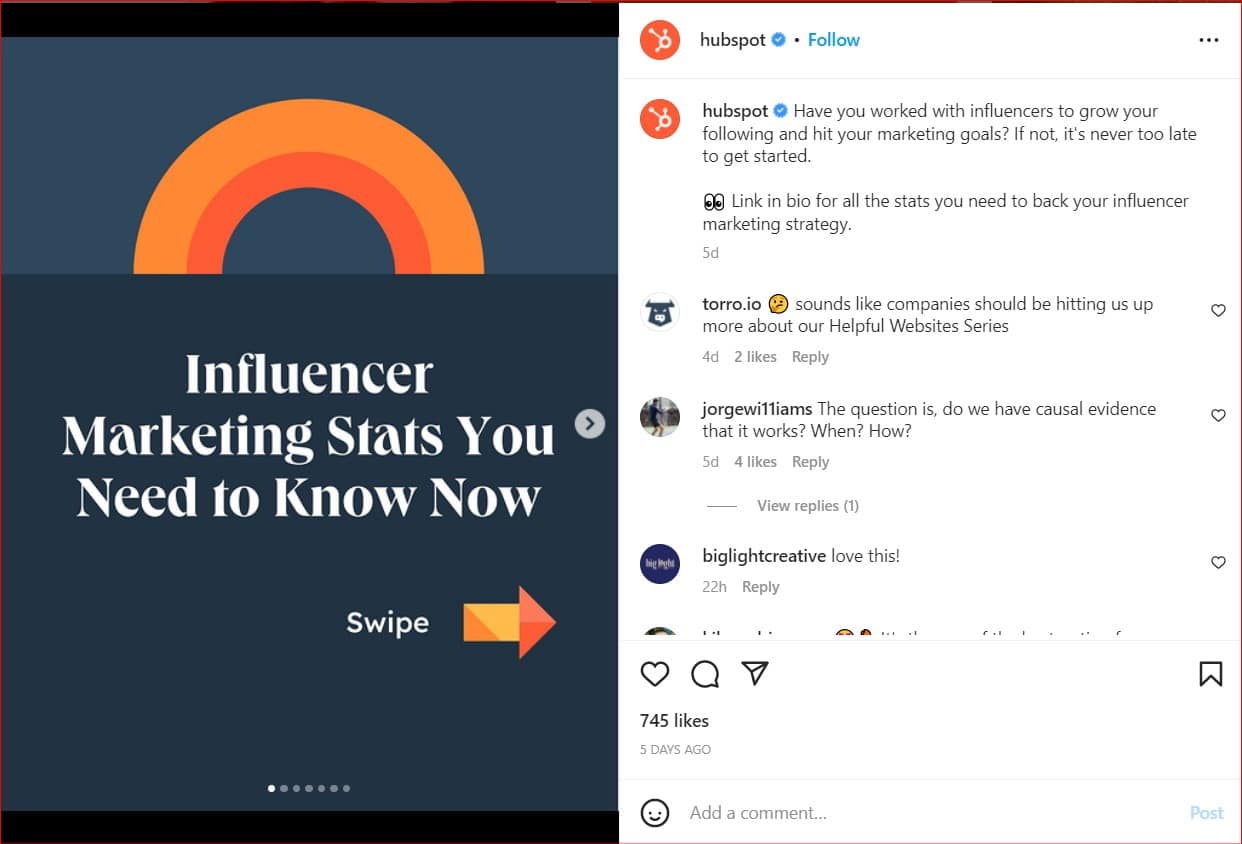 For those who never heard about HubSpot, it's a marketing, sales, and customer service software company that shares educational content, industry insights, and company updates using Instagram carousels on their profile.
Carousel posts enable HubSpot to showcase visually appealing infographics or data visualizations, making it easier for their audience to understand trends, statistics, and insights relevant to their industry.
6. Before & After Instagram carousel example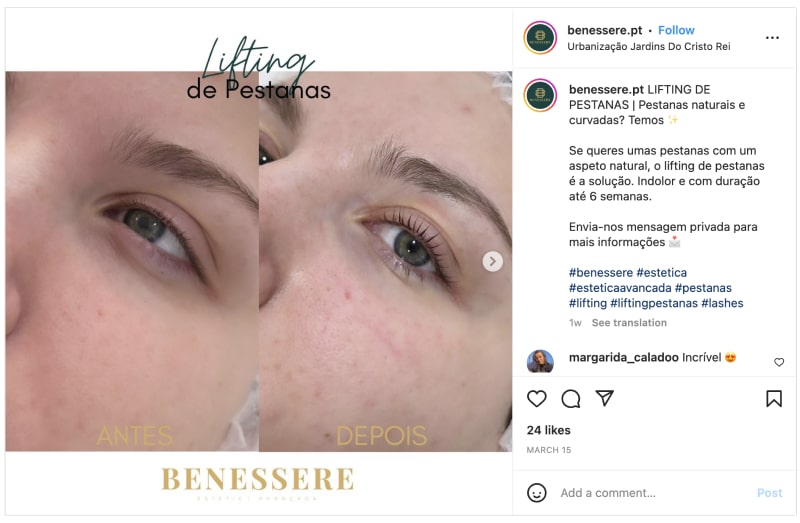 Here is a typical example of how cosmetics companies promote their products and services.
They have made a single carousel post providing use cases and successful treatments with real clients.
It is a social proof format that can be used for boosting conversion and also as a great format to boost an ad for increasing interest and, therefore, more appointments.
7. Lists Instagram carousel example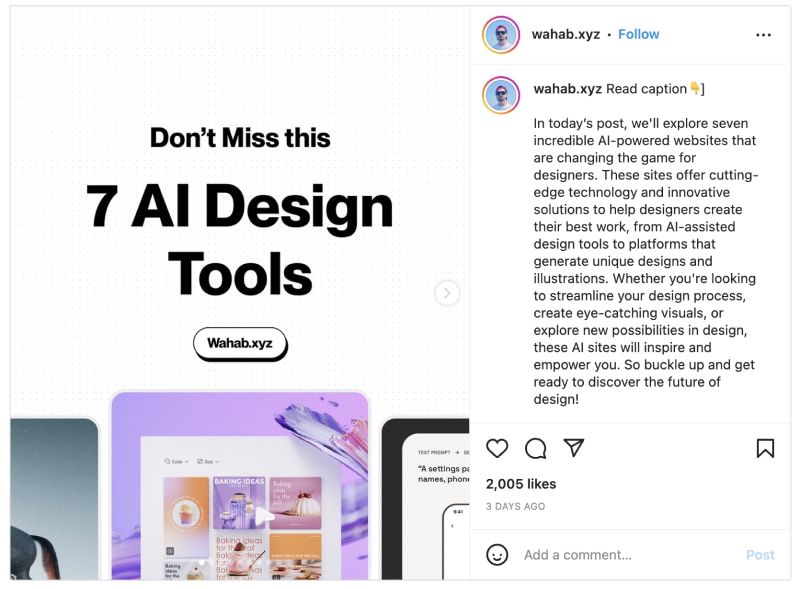 This example shows a very common usage of the Carousel posts. It is one post that contains multiple items of a topic-related list.
For example,
Consultants and professionals share a list of tools
Travel bloggers share lists of hotels or list of places they've visited.
Restaurants can share a list of the menu items.
The list goes and goes, and it's one of the easiest content pieces you can create but with high impact and the possibility for tons of engagement with saves to users' collections on Instagram.
Steps to create an Instagram carousel post
Creating an Instagram carousel post on Canva is a simple and easy process that even non-tech-savvy people can make it perfect. Here's a step-by-step guide to help you design an engaging carousel post:
Step 1: Sign up or log in on Canva: Getting started is as easy as signing up for a Canva account or logging in if you already have one.
Step 2: In the top Search bar, look and click on Carousel Instagram Post (as shown in the image below)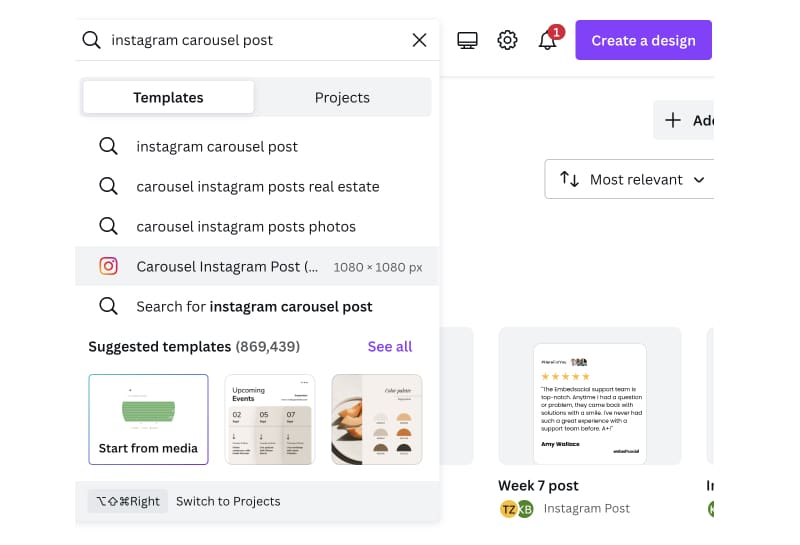 Step 3: Select a template: Choose a template that suits your needs from the available templates. Open the template in the Canva editor by clicking on it.
Step 4: Customize the template: Using the Canva editor, you can add, edit, or remove text, images, and other design elements from the template. Depending on your brand's aesthetic or the theme of your carousel post, you can customize the font, colors, and layout.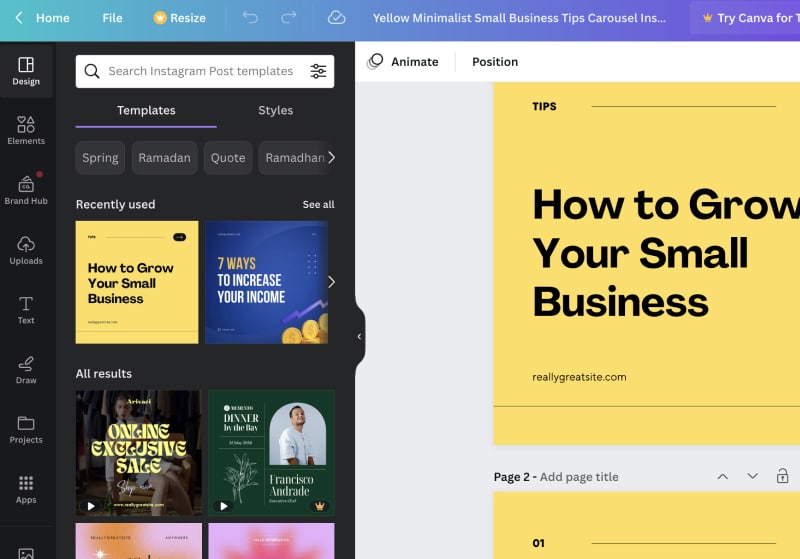 Step 5: Add more pages to your Canva design: You can add up to 10 slides to Instagram carousel posts. Simply click on the "+" icon in the lower right corner of the Canva editor to add more pages or select "Duplicate" to duplicate existing pages.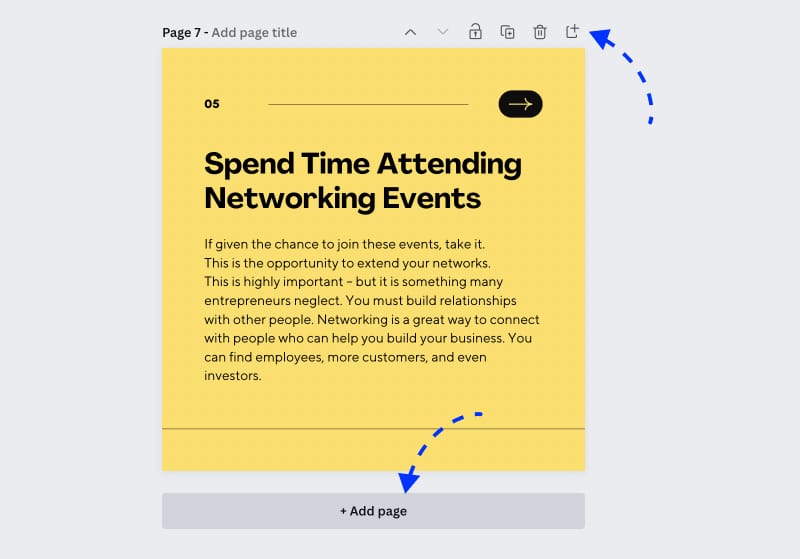 Step 6: Use the new Magic Write tool in Canva to help you with the Carousel text
This is just an awesome addition to the Canva editor that will make the creation of Carousel posts very easy and quick.
Click on the bottom right circle icon and choose prompts to help you write a social media post from a few words and apply it to the images you create in Canva.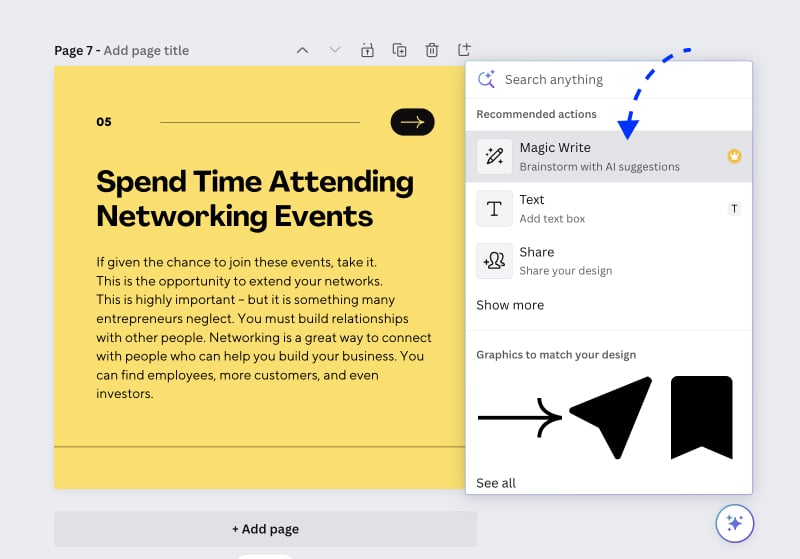 Step 7: Save and download your design: In the upper right corner of the Canva editor, click the "Download" button once you have finished your design. You can download all pages of your carousel post as individual images by selecting the "All pages" option, e.g., JPG or PNG.
Now, once you have the images for your Carousel posts, send them to your phone and go through the steps explained below to post the Carousel post. It could have been easier to do this within Canva, but the last time we checked (when this post was published), there was no option to post multiple photos on Instagram in one post.
Related to this, in the next section are the steps on how to publish an Instagram carousel post within the Instagram app.
Steps to Publish Instagram Carousel Posts
In case you don't know how to publish an Instagram Carousel, here are the steps. It's simple as posting a normal post, but you will only need to use multiple selections of the photos in your iPhone or Android phone photo library.
Step 1: Click + to create an Instagram post
Open up your Instagram profile and click on the plus (+) icon at the bottom of your home page screen.
Step 2: Tap the multiple images icon and select a few photos for your post
To make the Instagram carousel post, click on the tiny square icon from the right side and choose the photos or videos you want to include in your post. When you are done, click on the blue arrow button in the top right corner.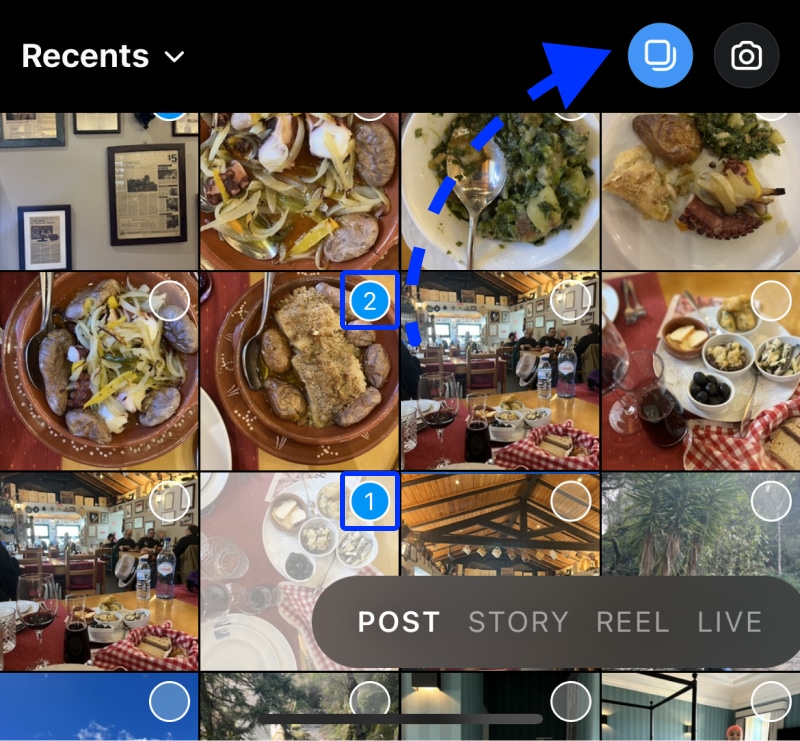 Step 3: Add filter to the photos
Here, you will see the post preview with all media you chose for the Instagram carousel post. You can find some filters below and edit the actual content. Click again on the blue arrow in the top right corner for the final phase of publishing your carousel.
Step 4: Write a caption and set a few other settings
In the edit post page, fill in the caption and select if you want to be public or only posted to Close friends. Once you are done, tap Post.
Steps to Schedule Instagram Carousel Posts for Free
On the 'New post' page for writing the caption, you will be able to set an option for scheduling your post.
Here are the steps:
Tap Advanced Settings
Activate the Schedule this post toggle
Set the date and time
Tap Schedule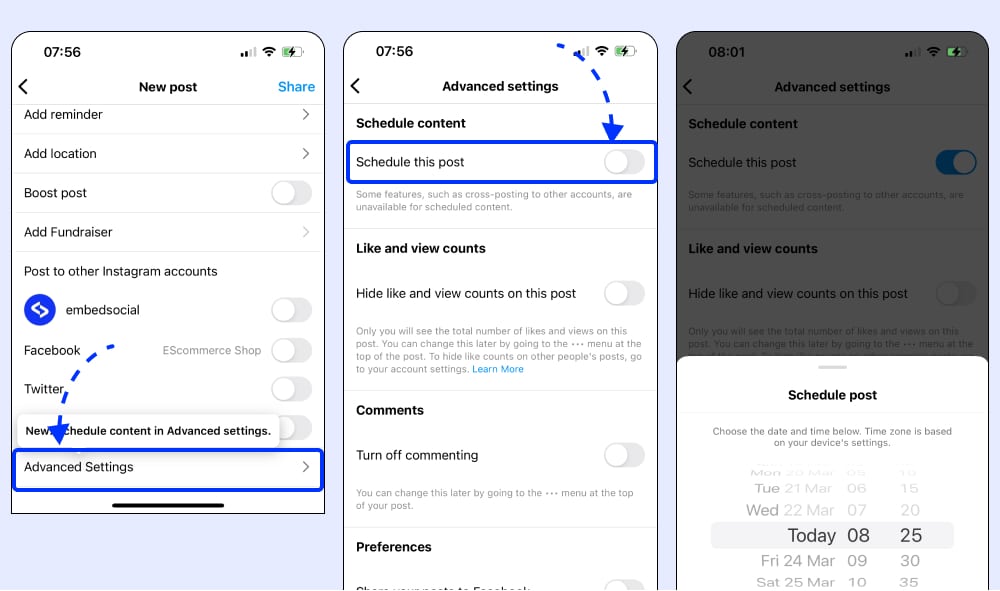 Embed Instagram Carousel posts on your website
Digital marketing marketers or small business owners can increase the life span of their carousel posts by embedding them on a website. Also, this is one of the best ways to use Instagram user-generated content published by your customers.
This means that brands are able to show these posts on their website:
To do this, create an account in EmbedSocial, learn how to connect a source, and get the provided code. The Instagram carousel post will appear with number indication and when cicked will open the photos inside the carousel in a lightbox mode with option to scroll thorugh all the photos. See below: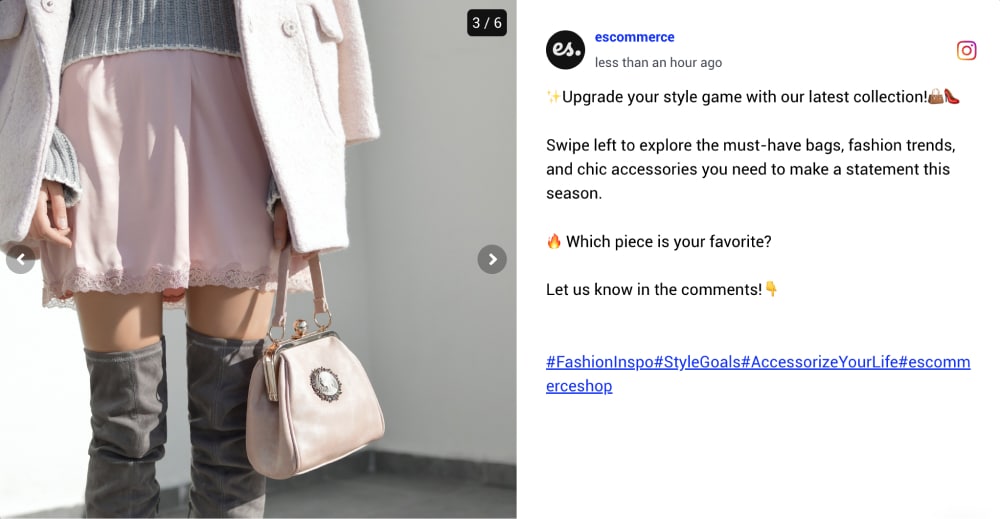 The widget currently displays one image from the carousel and as mentioned above, it has an indicator of the number of posts that are inside that carousel.
If you want to get more Instagram posts on your website form your feed, customer's UGC posts like mentions or posts that tag your brand, learn more how to embed Instagram feed >
Frequently asked questions about Instagram carousel posts
What are the Instagram carousel post size requirements?
Instagram carousel posts have the same size requirements as regular Instagram posts. The ideal size for an Instagram carousel post is 1080 pixels wide by 1080 pixels tall, resulting in a 1:1 square aspect ratio. This size ensures that your images will be displayed clearly and without any loss of quality.
How to schedule Instagram carousel posts from your phone?
Instagram has a built-in feature to schedule carousel posts directly from the app. Also, you can use third-party social media management tools to schedule Instagram posts, but usually, this option is in the paid plans. Some popular tools include Buffer, Later, Hootsuite, and Planoly.
Which is better, carousel posts vs. reels?
The decision between carousel posts and reels should be based on your content strategy and objectives. You can use both formats to create a diverse and engaging Instagram presence, catering to different types of content and audience preferences.

Mix the carousel post with video content too. Put an intro photo on the first slide, then add video content throughout the carousel. Always include the arrow button on the first image to let your followers swipe left, and add CTA at the last slide to leave a comment and follow your profile.
Key Takeaways
The Instagram carousel format is one of the most engaging formats on the platform, helping brands tell a bigger story in their posts. This format is especially useful for carousel ads when promoting multiple features or more products from the same category.
Creating a post that will showcase the images in a carousel slider is easy, and you can do it within the Instagram app by selecting multiple photos or videos for your post.
And finally, to save them and have their reach bigger, use the social media aggregator provided by EmbedSocial to embed Instagram carousel posts on your website.
---
FYI: Embed Instagram widget automatically with the social media aggregator and UGC platform by EmbedSocial. Click below to try it for free: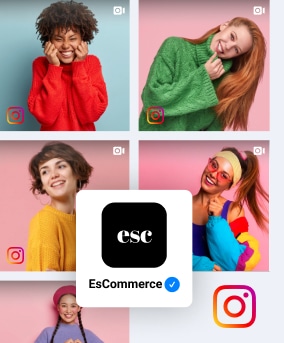 Embed Instagram widget on your website automatically!
Try EmbedFeed and display Instagram content from your feed, mentions, or hashtags on your website.
All PRO features | Cancel any time.