We are all witnesses to what is going on in social media in the new era of content creators or mega influencers and how influencers use them to make a fortune. In 2023, the influencer marketing landscape has evolved drastically, and the earning potential of all influencers has skyrocketed. All that picture-perfect moments are now easily captured, shared, and monetized with a couple of clicks!
Curious to know how much Instagram influencers make from their sponsored post and branded content? Look no further; join us as we peel back the curtain to reveal the astonishing earnings of the Instagram elite and explore the factors that contribute to their lucrative success.
Get ready to be amazed by these Instagram high earners and take notes from this blog post on how to use Influencer marketing platforms and tools to boost your earnings firsthand!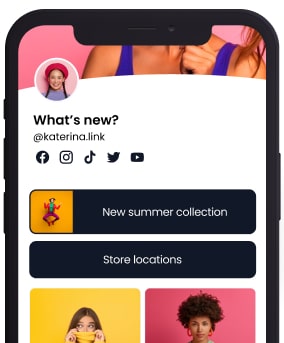 Forever free link-in-bio page with your own .link domain
Get Feedlink and build a complete social microsite for all your important links.
All PRO features | Cancel any time.
How Much Money do Instagram Influencers Make Based on Followers?
Instagram influencers' money depends on various factors, including their number of followers, engagement rate, niche, and the types of partnerships they establish with brands. Here's a general breakdown of the average influencer and type based on follower count:
Nano-influencer (below 1000 followers)
Micro-influencers (1,000 – 10,000 followers)
Mid-tier influencers (10,000 – 100,000 followers)
Macro-influencers (100,000 – 1,000,000 followers)
Mega-influencers (1,000,000+ followers)
It's important to note that the influencers' rates can vary depending on the industry, brand partnerships, and an influencer's ability to negotiate rates.
Influencers may also earn additional income through affiliate marketing, product lines, paid appearances, and other ventures.
How much does an Instagram influencer with 10K followers make?
An Instagram influencer with 10,000 followers falls within the mid-tier influencer category. Their earning potential per sponsored post can vary, but it typically ranges from $50 to $250.
According to the Influence.co rate map, most influencers from 10k to 25k followers usually make $100-$250 per post on social media networks, or Instagram in our case.
Remember that the rates can differ based on engagement rates, niche, and the influencer's relationship with brands.
How much does an Instagram influencer with 100K followers make?
The earning potential of an Instagram influencer with over 100k followers depends on different factors, but it typically ranges from $1,000 to $5,000 per sponsored post.
An Instagram influencer with 100,000 followers falls into the macro-influencer category.
According to the Statista report for the top English-speaking countries, a macro-influencer can charge $1,800 per Instagram post.
How much do Instagram influencers make with 1 million followers?
An influencer with 1 million followers is considered a mega-influencer, and the earning potential per sponsored post ranges from $5,000 to $25,000 or even more. According to Hopper HQ's Instagram Rich List, most influencers with over a million followers charge between $10,000 and $15,000 per sponsored post.
The rate depends on the influencer's negotiating skills, the collaboration type, and the brands' budget for an influencer marketing campaign. The statistics are nearly close to the same Statista report we also saw.
How do Instagram Influencers Make Money?
As a social media influencer, you should discover the various revenue streams to make money on Instagram and turn your passion for content creation into a goldmine career. Remember that you can build your influencer career using different methods; what works for others may not work for you. Let's come closer to the best practices you can implement on your Instagram account and make money from it:
1. Sponsored Posts
Sponsored posts are a primary income source for many Instagram influencers. Brands pay influencers to create content that promotes their products or services to reach a wider audience and potential customers. Influencers make a charge based on their follower count, engagement rate, and niche, giving credit to the brand in their post captions, Instagram stories, etc.
One example is Ezra Firestone (@ezrafirestone), an e-commerce expert, entrepreneur, and founder of several businesses, including Smart Marketer.
To comply with Instagram guidelines and maintain transparency with his audience, Ezra often discloses the sponsored nature of the posts, like our example with Zipify. This can be done by including a hashtag such as #ad, #sponsored, or #partnership in the caption or comments of just the "Sponsored" tag from the top of the post.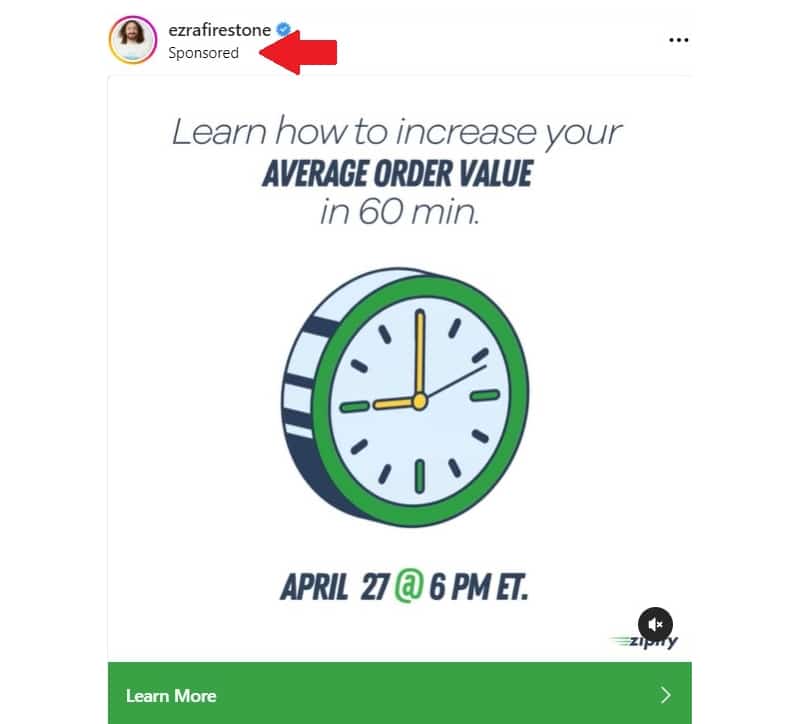 2. Selling courses and digital products
Influencers can leverage their expertise to create and sell online courses and digital products.
Influencers can provide their audience with the tools and knowledge to succeed in various fields by sharing valuable information. E-courses, eBooks, templates, and presets are examples of digital products that influencers can sell depending on how many Instagram followers they are about to handle.
They usually make money by promoting them on Instagram reels like teasers, IG stories with link features, links in their Instagram bio, etc.
For example, Vanessa Lau (@vanessalau.co) is a successful online business coach, entrepreneur, and Instagram influencer. With over 280,000 followers on Instagram, she focuses on providing valuable content and actionable advice to help aspiring entrepreneurs generate income online.
In her link in bio, Vanessa sells the BOSSGRAM Academy. It's a comprehensive online coaching program designed to teach new coaches, consultants, and service providers how to grow their businesses on Instagram and other online marketing strategies.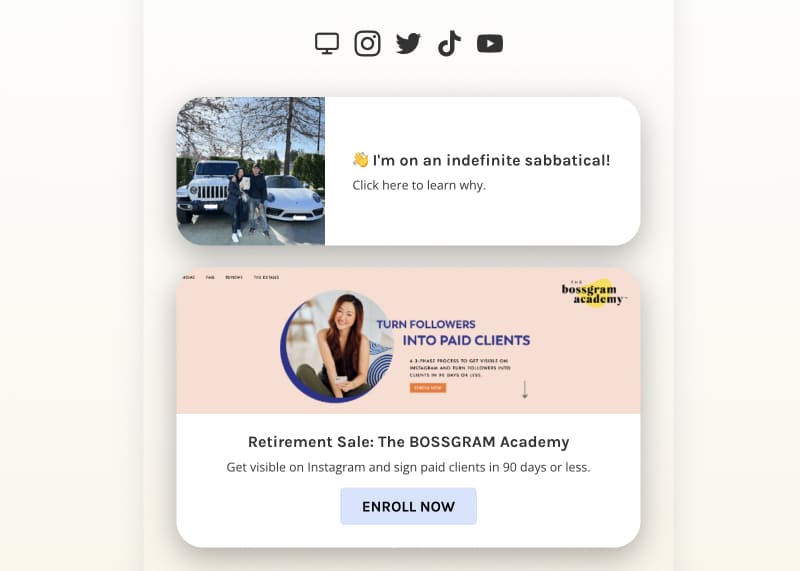 3. Reselling clothing
Very often you can see Instagram influencers resell clothing and accessories on their profiles, offer discounts for certain items, etc. By capitalizing on the popularity of vintage and second-hand items, influencers can earn a profit from their carefully curated collections, even on other social media platforms.
Platforms like Depop, Poshmark, and Grailed facilitate the buying and selling process, making it easier for influencers to manage their inventory for them.
The best example of this method is Jessica Neistadt (@jessicaneistadt), a fashion and lifestyle influencer who has built a successful business reselling clothing on various platforms.
By curating vintage and second-hand items, Jessica offers her followers unique and stylish clothing while generating income from her resale business.
All her items are available in her Instagram story highlights with the title "Outfits Links."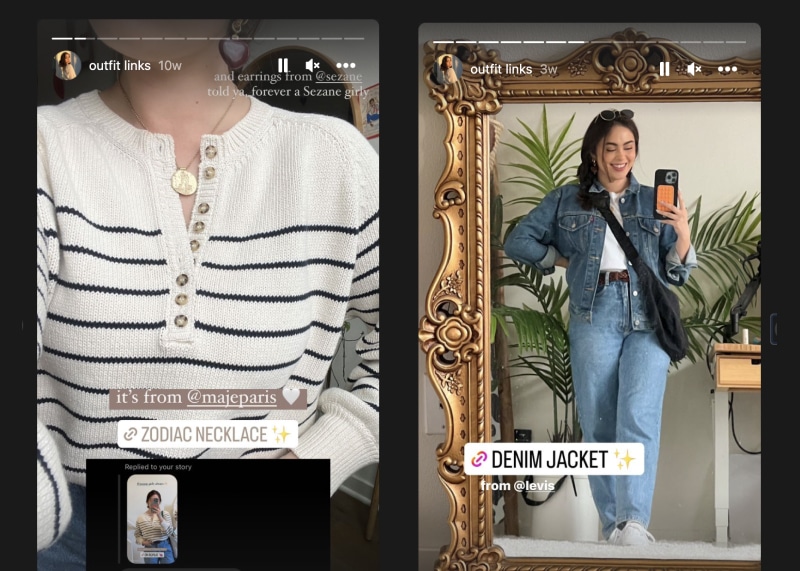 5. Affiliate Marketing and Dropshipping
Affiliate marketing involves promoting products or services on behalf of a brand and receiving a commission for any sales generated. Influencers can join affiliate programs or collaborate with brands directly, providing unique discount codes for their products or affiliate links to track sales.
This revenue stream rewards influencers based on their audience's engagement and purchasing behavior.
Amber Fillerup Clark (@amberfillerup), a lifestyle influencer, partners with brands and participates in affiliate marketing programs.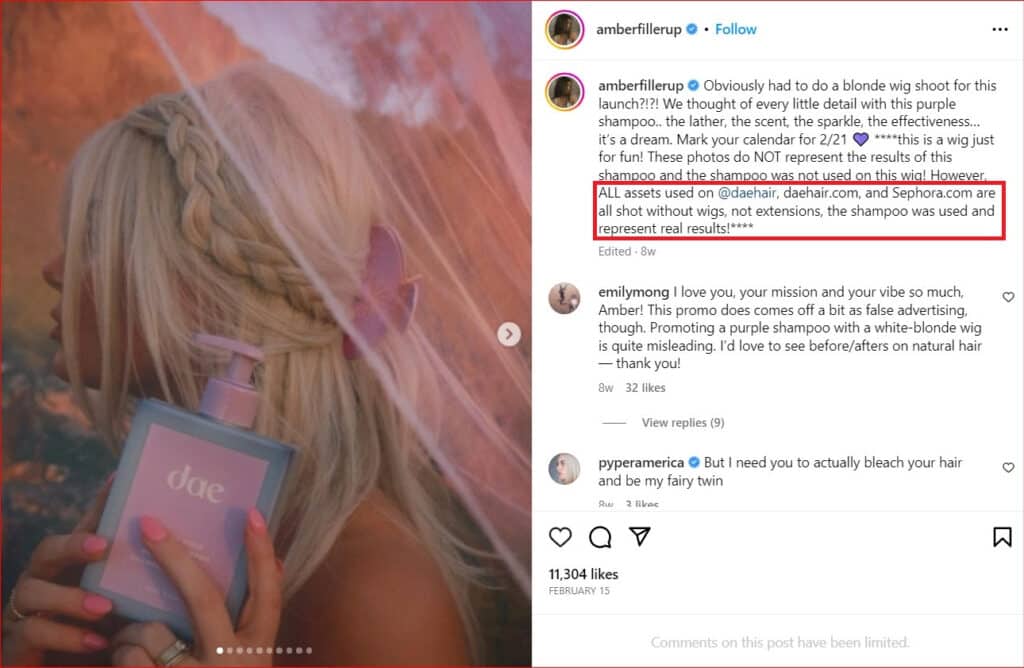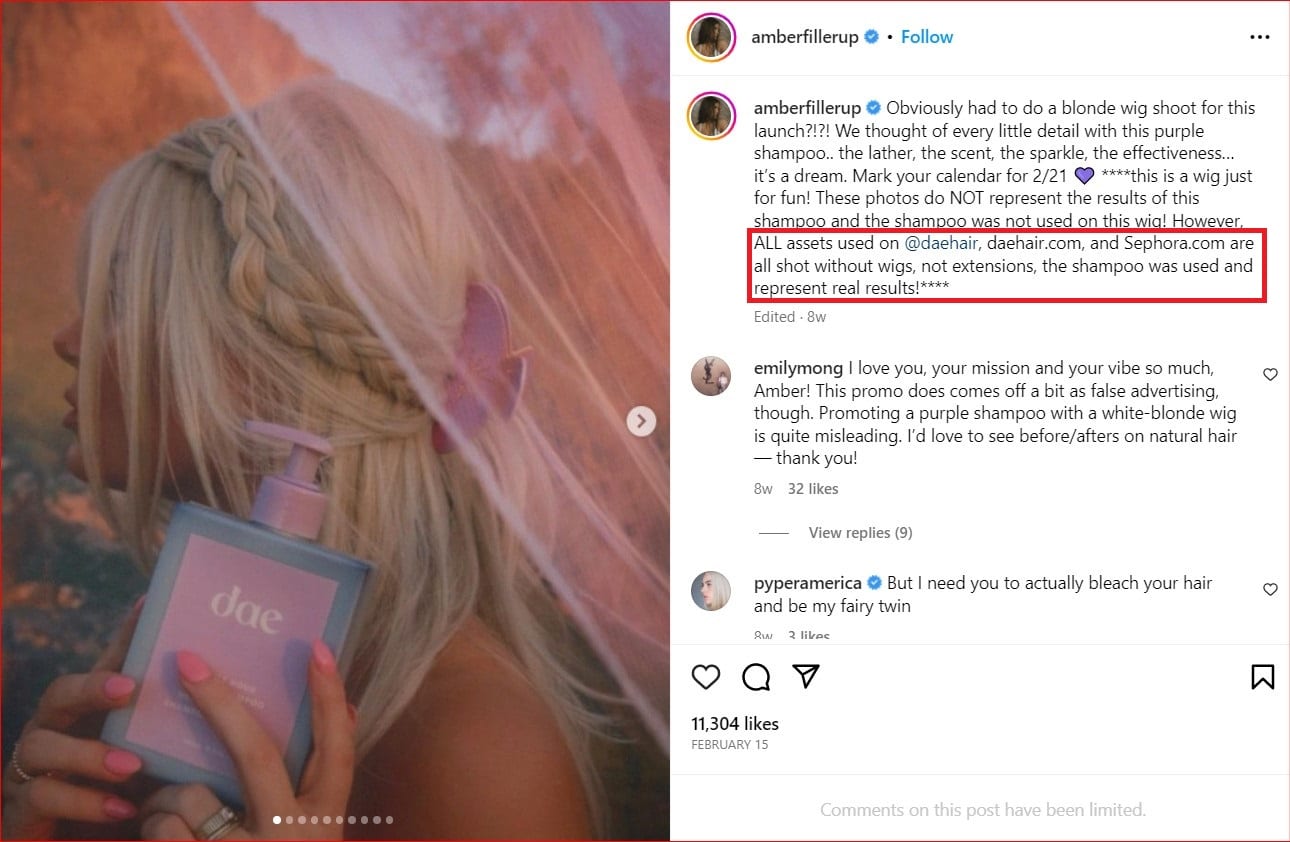 By sharing her favorite products and providing unique discount codes in front of 1.3 million followers, Amber earns on sales generated through her Instagram followers who shop on the e-commerce websites that she promotes.
6. Advertising Websites
Some Instagram influencers create their websites to generate additional income from ads. By driving traffic from their Instagram profiles, influencers can monetize their websites through display ads, sponsored content, or selling their own products and services. This diversification allows influencers to maximize their earning potential using ads even on other social media platforms, such as YouTube ads, TikTok ads, Google ads, etc.
Aimee Song (@aimeesong), a fashion and interior design influencer, has successfully monetized her blog, Song of Style, by driving traffic from her account on Instagram.
With display ads, sponsored content, and collaboration opportunities on her website, Aimee maximizes her earning potential across both platforms, partnering with Revolve for her latest collection as a cherry on the top.


7. Partnerships with Brands
Long-term partnerships with brands are a lucrative revenue stream for most Instagram influencers. Major brands collaborate with influencers on a continuous basis, benefiting from their credibility and audience reach.
These partnerships can allow influencers to be brand ambassadors, offer co-branded products, or have ongoing content creation deals, resulting in a stable income for them. Influencers with larger followings charge more money for Instagram partnerships. Their paid content consists of promotional codes, discounts, and call-to-actions, increasing the brand's reach and sharing brand awareness.
One such example we can share is Huda Kattan (@hudabeauty), a beauty influencer and entrepreneur.
These collaborations have led to creation of her own beauty line, Huda Beauty, partnering with Sephora, resulting in a stable income and heightened visibility for her brand.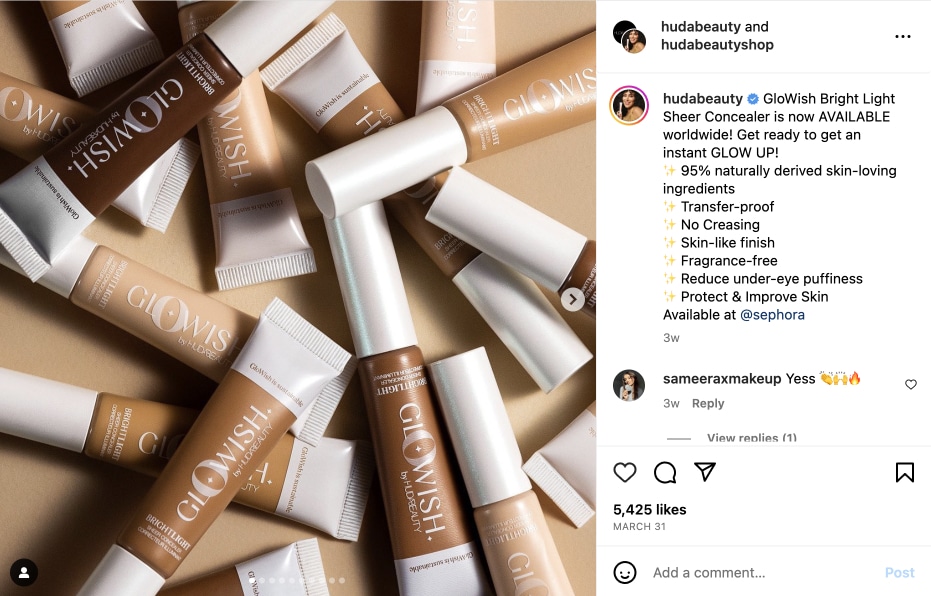 8. Donations and tips
Last but not least, Instagram influencers can also make money through donations, tippings, and subscriptions. By using platforms like Patreon, Ko-fi, or Buy Me a Coffee, influencers can receive financial support from their fans in exchange for exclusive content, perks, or simply as a token of appreciation.
A programming influencer Amir (@codewithflexz), is a great example of someone who uses the tipping method to make a few bucks aside. He uses a link-in-bio tool known as Buy Me a Coffee, where people who follow him can leave a tip of their choice for his helpful and educational content about mobile app programming, Flutter tutorials, etc.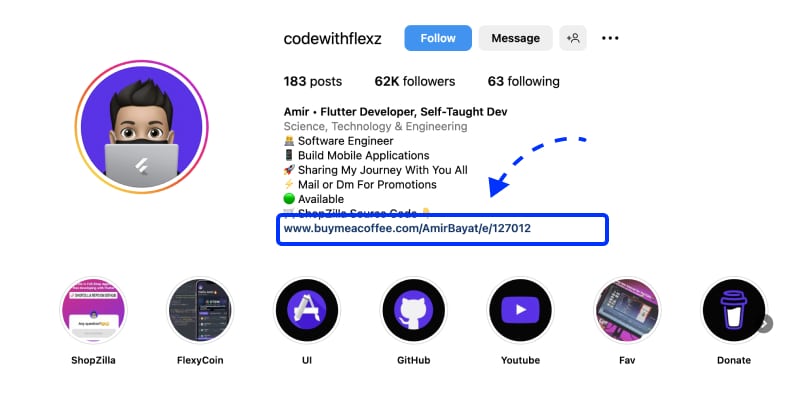 9. Instagram Subscription for recurring revenue
There is a kind of Instagram subscription where Instagram users can receive a special badge from the influencers in their live sessions. This revenue stream allows influencers to maintain their creative independence while generating income from different types of Instagram content.
Here is an example: Don Allen Stevenson III provides followers with a $4,99 monthly subscription to exclusive content. Followers can subscribe with a tap on the Subscribe button on their profile and pay the subscription fee for access to virtual reality tutorials and tips on how to create AR/VR creatives.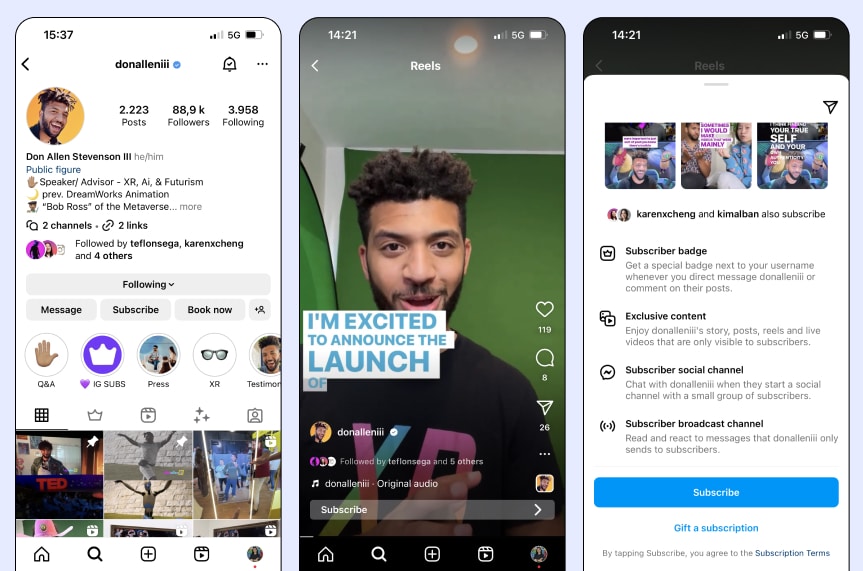 Btw, you can use other platforms to generate subscriptions.
For example, Fran Meneses, also known as Frannerd, is a Chilean illustrator, content creator, and Instagram influencer. With over 350,000 followers on Instagram, she shares her charming illustrations, behind-the-scenes glimpses of her creative process, and snippets of her daily life.
Fran has successfully monetized her passion for illustration and content creation through various channels, including her Patreon profile.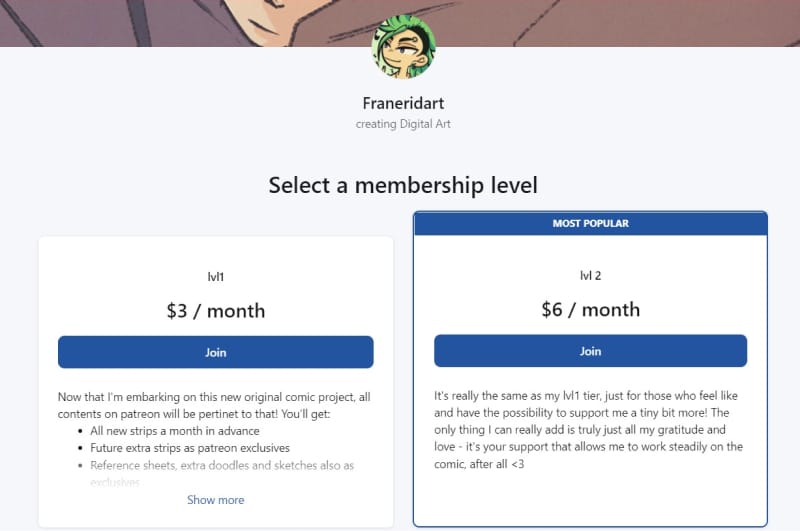 She offers her supporters exclusive content, perks, and rewards by offering different membership tiers on the platform.
How Much Instagram Influencers Earn Based on Industry?
Instagram Account of a Travel Blogger
Travel influencers showcase stunning destinations and experiences, inspiring fascination in their followers.
Earnings in this niche can vary greatly, depending on factors such as follower count, engagement, and brand partnerships, as mentioned before.
Micro-influencers with 10,000 to 50,000 followers may earn between $200 and $800 per sponsored post, while those with more significant followings (500,000+) can command $3,000 to $10,000 or more per post.
Food Influencer
Food influencers share delicious dishes, recipes, and dining experiences with their audience. Similar to travel influencers, nano influencers in the food industry may earn between $150 and $600 per sponsored post.
Instagram accounts with a larger number of followers (100,000+) can charge anywhere from $1,000 to $5,000 per sponsored content, depending on their niche and audience engagement.
Fashion Influencer
Fashion influencers are known for their impeccable style and trendsetting abilities. Earnings in this industry can be quite lucrative, with micro-influencers earning between $200 and $1,000 per sponsored post.
Influencers with 500,000 or more followers can command $3,000 to $15,000 per sponsored post, and those with over one million followers may earn even more.
Beauty Influencer
Beauty influencers focus on makeup, skincare, and haircare, sharing tutorials, product reviews, and beauty tips.
Earnings for micro-influencers in the beauty industry range from $200 to $800 per sponsored post, while those with a decent following can earn between $1,000 and $5,000 per post.
Top beauty influencers in the world with millions of followers can earn significantly more, with some charging $10,000 to $50,000 or more per sponsored post.
Fitness Influencer
Fitness influencers share workout routines, nutrition tips, and overall wellness advice.
Micro-influencers in the fitness industry can earn between $150 and $600 per sponsored post, while those with 100,000 or more followers may charge anywhere from $1,000 to $5,000 per post.
Influencers with 500,000 or more followers can command higher rates, earning between $3,000 and $10,000 or more per sponsored post.
Who is the highest-paid Instagram influencer in 2023?
When it comes to the highest-paid Instagram influencers nowadays, get your millions ready for Cristiano Ronaldo if you want a brand collaboration.
One of the most famous football players in the world, Christiano Ronaldo, doesn't need a special introduction.
For those who don't follow sports, he's the current forward striker in the Al-Nassr Arabian team and an ex-player in Machester United, Juventus, Real Madrid, etc.
Any sports sponsor would love to have Ronaldo endorse their product, and he excels at it. He does a decent job when it comes to social media, leveraging over 545 million followers on Instagram at this moment.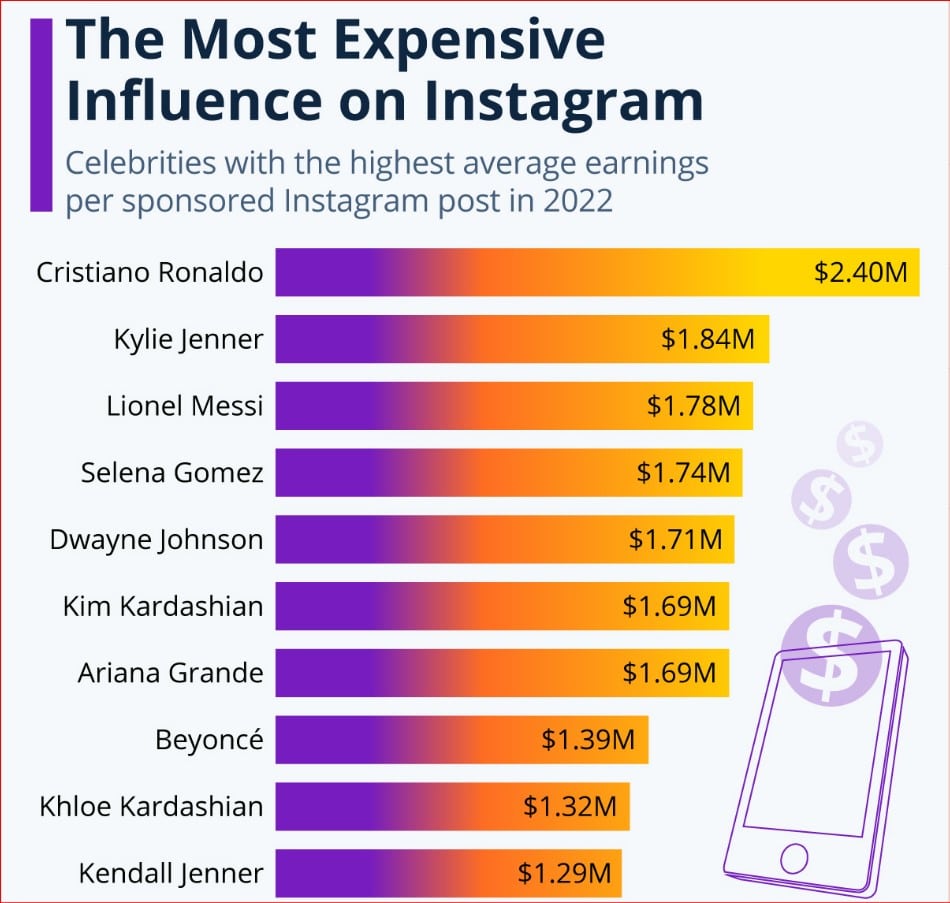 According to Statista's report for the most expensive influence on Instagram, Ronaldo is on the top with over $2,4 million for a sponsored post. On that list, he is followed by Kylie Jenner, Selena Gomez, Lionel Messi, Dwayne Johnson, the Kardashians, etc.
One of his most popular collaborations is the partnership with Nike, being their lifetime brand ambassador. This brand partnership costs Nike an unbelievable $1 billion for having the football superstar under their roof.
Among Ronaldo's brand endorsements are also Herbalife, DAZN, Clear, MTG, Altice Portugal, Garena Free Fire, American Tourister, LiveScore, TAG Heuer, Louis Vuitton, and Jacob & Co. Ronaldo is also the main face of the football app, Zuju-GP, focusing on the digital soccer community.
Conclusion
Understanding the earnings of Instagram influencers in 2023 offers valuable insights into the ever-evolving influencer marketing landscape. From sponsored posts and affiliate marketing to selling digital products and offering subscription-based content, influencers across various industries continue to diversify their income streams and maximize their earning potential.
While it's crucial to remember that earnings can vary significantly depending on factors such as follower count, engagement rate, and niche, one thing is clear: Instagram influencers remain a powerful force in the world of digital marketing. Influencers and brands alike can navigate the dynamic world of Instagram marketing and build lasting, mutually beneficial partnerships for a lifetime.
And finally, it's worth noting that until you start creating a long-term contract with a bigger brand or professional social media agency, don't quit your day job and enjoy first getting some free stuff.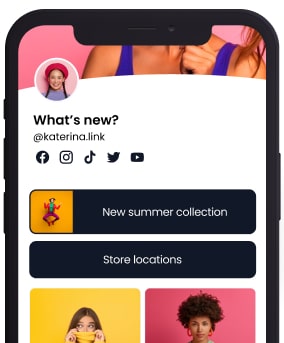 Forever free link-in-bio page with your own .link domain
Get Feedlink and build a complete social microsite for all your important links.
All PRO features | Cancel any time.
Frequently Asked Questions
How much Insta pay for 1m followers?
Instagram does not pay users based on their follower count. Earnings come from brand partnerships, sponsored posts, and other monetization methods.
How many followers do you have to have for Instagram to pay you?
Instagram does not pay directly to Instagram users.

However, influencers with as few as 1,000 followers (micro-influencers) can start earning money through collaborations and sponsorships, as well as affiliate marketing, ads, and many different methods.
Who is the highest-paid influencer on Instagram in 2023?
The most popular and highest-paid influencer on Instagram this year is Cristiano Ronaldo, with over 570 million followers.

This influencer charges around $2.4 million for a social media post. Celebrities like Kylie Jenner, Selena Gomez, and Dwayne "The Rock" Johnson are among the highest-paid Instagram influencers next to Ronaldo.
Can you make money on Instagram?
Yes, you can make money on Instagram through sponsored posts, affiliate marketing, selling products or services, and other monetization strategies.
Does Instagram pay money?
Instagram itself does not directly pay users for posting content. However, there are several ways users can make money through this social media platform, such as gifts, Instagram subscriptions, having an Instagram shop, etc.
Does Instagram pay for likes?
Instagram does not pay for likes. Likes can indirectly contribute to influencer earnings by increasing engagement and attracting brand partnerships. This is why pumping your account with fake followers won't help you make money on Instagram.
How do I receive payment from Instagram?
Many influencers use the payout option on Instagram to get their payments. Others who make the contracts on influencer marketing tools get the payouts within those platforms. You must have a creator or Instagram business account to get a payout feature.