Imagine a world where your shopping journey is transactional and a captivating social experience. In the middle of a modern era with seamless digital integration, the concept of eCommerce businesses and social commerce platforms has taken center stage. These platforms blend the art of shopping and social engagement, redefining how we discover, purchase, and share products.
Are you curious to find out which contender will get the victory as an ultimate social commerce platform? Let's dive into exciting social commerce features, innovations, and possibilities that await you on every corner.
Embed user-generated content on your website automatically. Start a free trial today >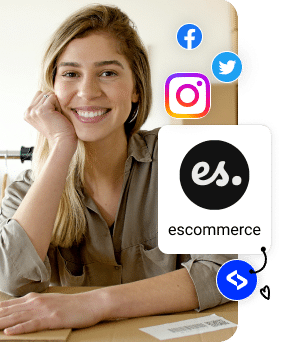 Collect social proof & user-generated content with the #1 UGC platform
Try EmbedSocial and automatically collect, monitor, and display UGC on any website.
All PRO features | Cancel any time.
What Is Social Commerce?
Social commerce is a dynamic and innovative mix of e-commerce and social media. This type of commerce is an integration link between online shopping and social interaction, creating a unique digital ecosystem where users can discover, engage with, and purchase products within social media platforms they use to connect with friends, brands, and influencers.

Social commerce meaning
Social commerce campaigns speak about themselves and highlight the importance of using this method for your brand or business. These strategic initiatives are designed to leverage the influence of social media platforms to drive business objectives, such as increasing sales, brand visibility, and customer engagement. Social commerce taps into the deeply social nature of online interactions, utilizing social media networks' vast reach and connectivity to create a seamless bridge between product discovery and purchase.
What's a Social Commerce Platform?
A social commerce platform is a system or tool that integrates e-commerce functionalities into social media platforms or networks, allowing users to make purchases directly from social media posts, ads, or pages.

Social commerce platform definition
It also leverages the power of user-generated content, peer recommendations, and real-time interactions, turning the shopping experience into a collaborative and community-driven endeavor. This concept transforms traditional online transactions into engaging and personalized experiences, blurring the lines between shopping and interaction with the target audience in all marketing strategies.
Many popular social media platforms have their own social commerce features. Good examples of it are Instagram and Facebook shop. Both platforms allow brands to upload their product catalog, tag items in social media content, and create a clickable storefront post. Social media users can find, browse, and buy items without leaving the app, finding useful product details, prices, and descriptions.
How Does Social Commerce Work?
The backend process of social commerce unfolds through a series of connected steps, each designed to perfectly guide the users from product discovery to purchase, fostering authentic engagement and brand connection. Millions of brands use social commerce as a main element of their social media strategies, so it's definitely not by accident.
Here are some of the business and customer steps in the social commerce process: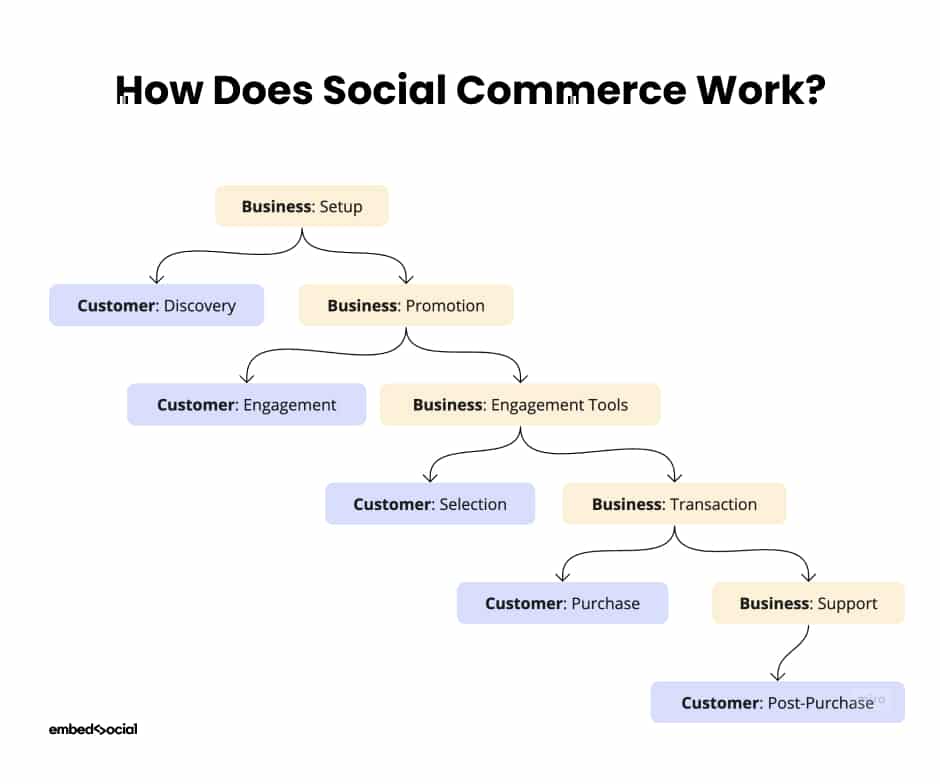 Business Steps
The social commerce strategy is already part of every eCommerce business and connects their social channels with customers in order to build brand awareness for their online store. Here are the main steps.
Setup: Choose a platform, create a store, and list products or connect with eCommerce sites.
Promotion: Create content, run ads, and create brand awareness through influencer marketing.
Engagement Tools: Implement shoppable tags and interactive elements.
Transaction: Integrate checkout and set up payment methods for managing eCommerce sales.
Support: Offer post-purchase support and customer service.
Customer Steps
The discovery begins when users scroll through their social media feeds, encountering catchy visuals, videos, and posts shared by brands, influencers, and followers. Within these posts, users find interactive elements, making them explore further. Shoppable tags, buttons, prices, or links embedded in the content enable users to dive deeper into product details with a simple tap or click.
Discovery: Find and learn about products through posts and ads.
Engagement: Interact with content and explore products.
Selection: Choose products and add to cart.
Purchase: Complete the checkout process.
Post-Purchase: Engage in post-purchase activities like reviews and customer support.
Once users have selected their desired items from the posts, the checkout process enables them to finalize their purchases without leaving the social platform. Payment information can be securely stored, streamlining future transactions. Post-purchase interactions, such as order tracking and customer support, can also take place within the same social environment, providing a comprehensive and cohesive shopping experience.
Social Commerce vs. E-commerce Platforms
While social commerce and e-commerce platforms cater to modern consumers' ever-evolving needs, their fundamental approaches and experiences differ.
For example, eCommerce platforms (like Shopify) represent the virtual stores of physical retail spaces. They provide a digital marketplace where businesses can showcase their products, list detailed descriptions, and facilitate transactions. These platforms are typically dedicated to the mechanics of buying and selling, offering a wide array of products across diverse categories. Customers navigate through product catalogs in online shops, add items to their carts, proceed to checkout, and complete purchases.
Key characteristics of eCommerce platforms include:
Transactional Focus: E-commerce platforms primarily focused on facilitating seamless transactions. They prioritize showcasing products, enabling secure payments, and managing order processing.

Product-Centric: The emphasis of e-commerce sites is on product listings, detailed descriptions, and pricing. Customers often make purchasing decisions based on product features, specifications, and reviews.

Direct Shopping Experience: An e-commerce platform provides a direct route for customers to explore and purchase products without extensive emphasis on social interactions.
On the other hand, social commerce takes online shopping to a more dynamic and engaging level by integrating social media components into the shopping process. It leverages the power of social media platforms to create a space where users not only discover products but also engage in discussions, share recommendations, and make purchases within the same environment. Literally, all leading social media platforms have in-app purchasing options, so it is a game-changer for the entire shopping experience and sharing brand awareness.
Here are the main differences between social commerce and e-commerce platforms: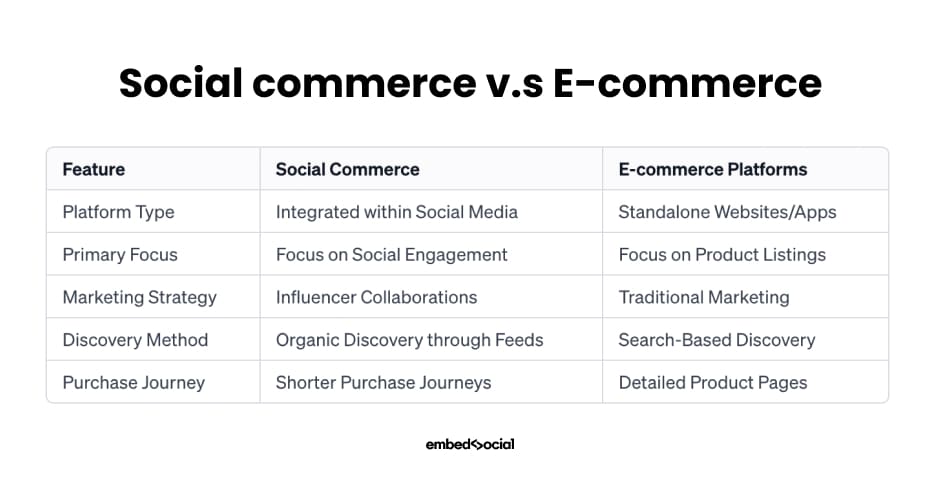 The main factors of social commerce include:
Social interaction: Social commerce infuses social elements into the shopping journey, encouraging users to engage in conversations, reviews, and recommendations with others.

Community-driven: The focus is on building a community of users who interact, share insights, and influence each other's purchasing decisions through authentic interactions of social commerce capabilities.

Easy integration: Social commerce integrates product discovery, exploration, and purchase within the social media channels, eliminating the need for users to navigate to an external eCommerce site or online store.

User-generated content: User-generated content, such as customer reviews, photos, and testimonials, plays a significant role in shaping the shopping experience, building trust among the brand audience, and generating social proof.
E-commerce platforms and social commerce operate on distinct principles. Many eCommerce platforms are embracing new social commerce features, integrating UGC, reviews, and interactive elements to enhance the shopping journey. Similarly, social media platforms are adopting shoppable features, enabling direct purchasing within the social media posts and in-app checkout process.
10 Best Social Commerce Platforms
So many social platforms can fit your business depending on your goals and preferences. Thanks to our list of top social commerce platforms this year, we will save you a ton of time. Below, we feature multiple products that can help you start with social commerce:
1. EmbedSocial – Shoppable UGC Galleries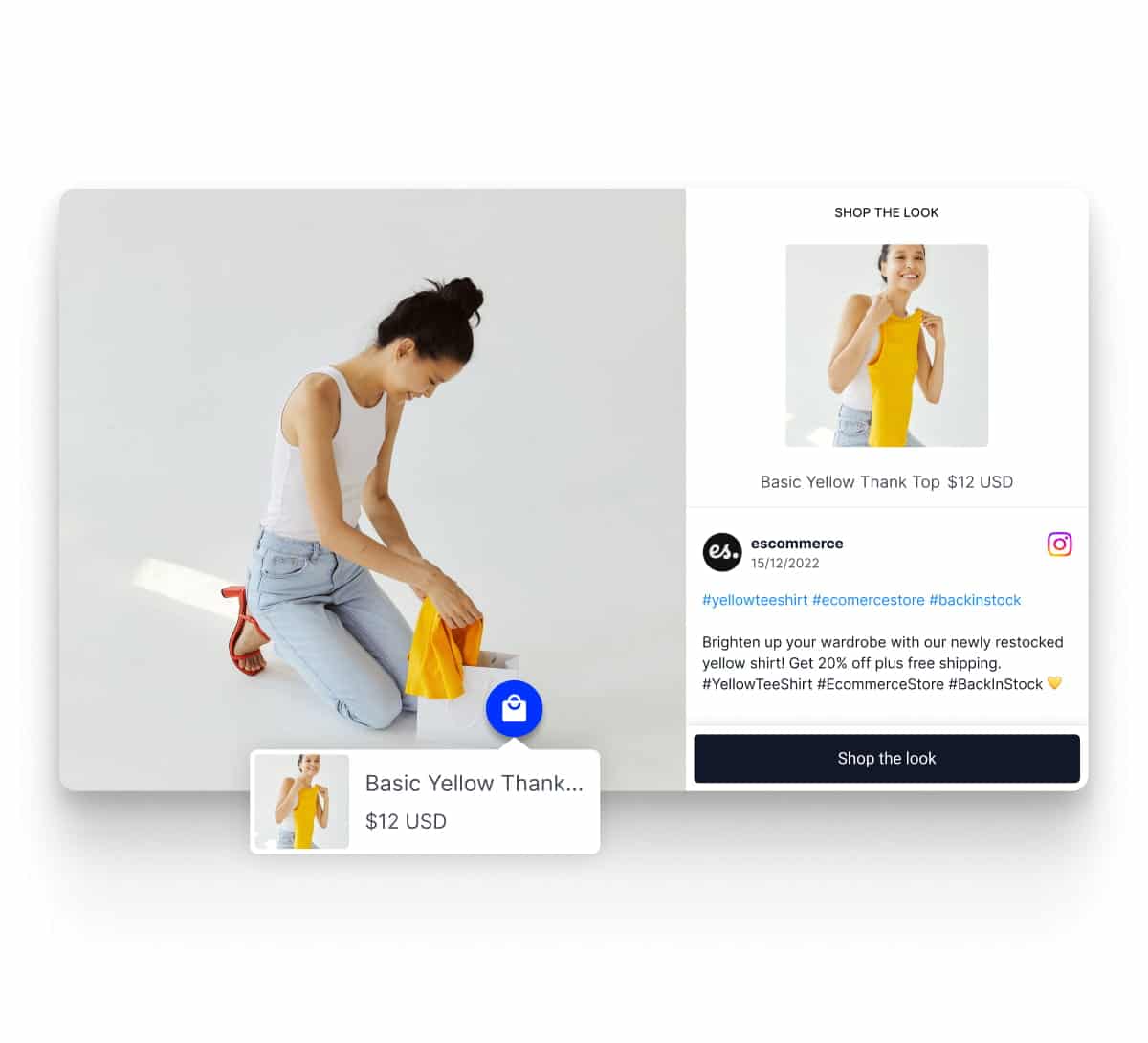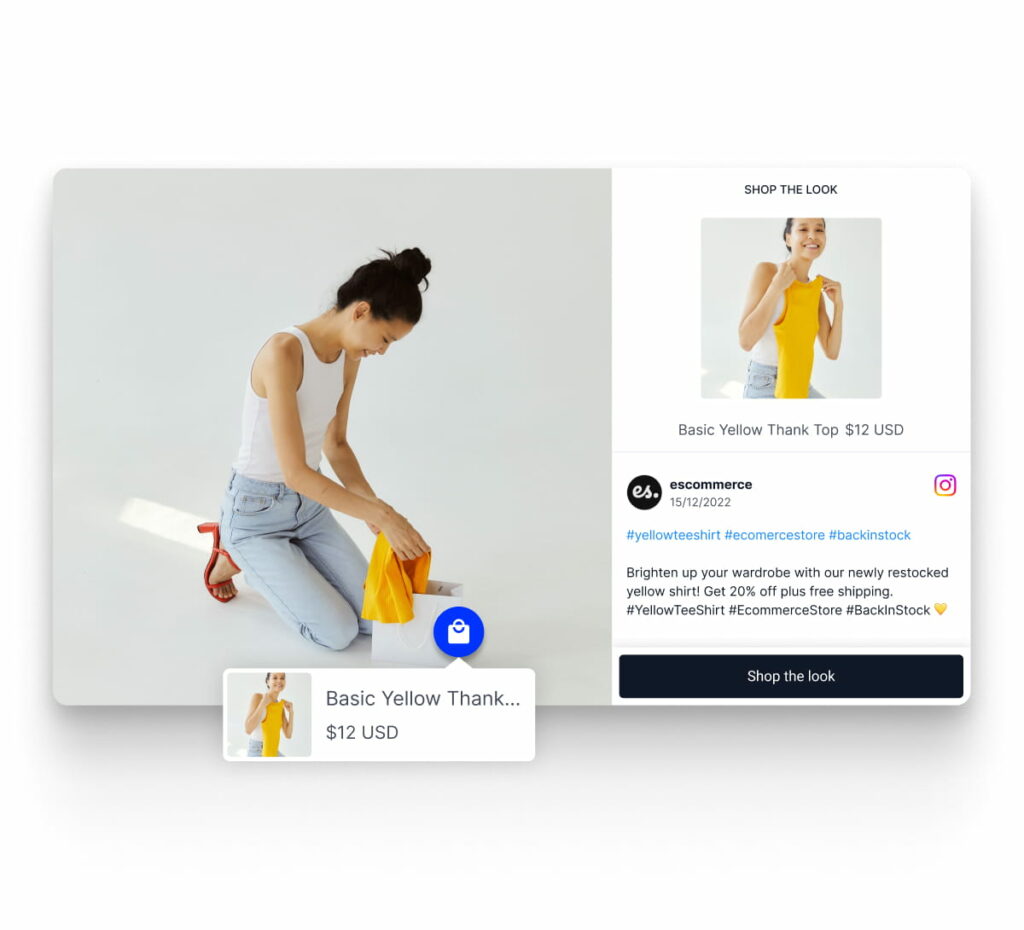 The EmbedSocial UGC Galleries are transforming social media content into shoppable experiences.
EmbedSocial's UGC galleries are dynamic social media feeds businesses can seamlessly integrate into their websites. These galleries predominantly feature photos and videos customers share on various social media platforms. What sets them apart is the ability to synchronize these galleries with a business's Square catalog or manually insert product information, with more e-commerce platform integrations coming soon.
Once synced, businesses can effortlessly tag products and their respective information on these user-generated photos and videos. This transforms a simple social media feed into a vibrant social shop on the website.
Steps to embed social commerce on your website
EmbedSocial connects with multiple social media networks and can generate and embed social media content on any website.
Related to this, it can generate content published by other users that mention your brand. Thus providing the opportunity to discover user-generated content created by your customers quickly. And the bet, this content usually includes their experiences in using your products and services. Perfect for building trust and engaging with new customers.
In the steps below, we will show you how to generate Instagram mentions, tag them with your product information, and build a social commerce store on your website.
Step 1: Go to Sources, choose Instagram, and connect with your Facebook account that is connected with your Instagram profiles.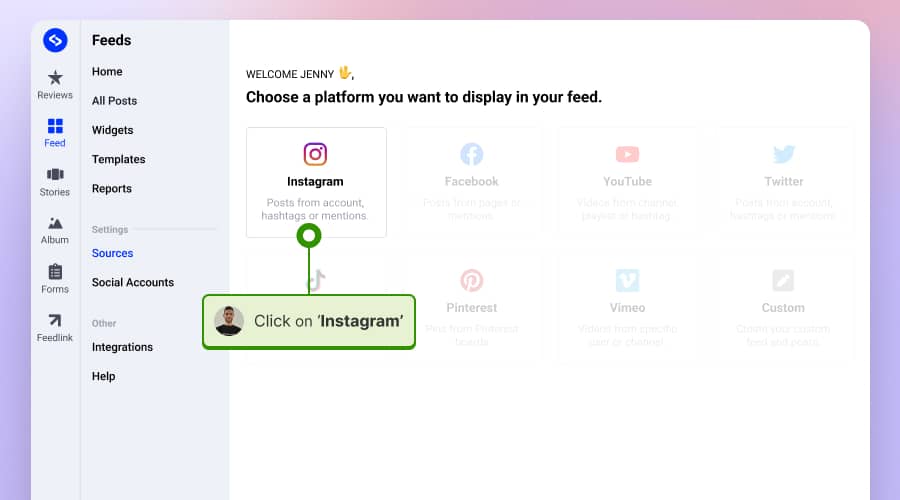 Step 2: Choose Instagram mentions and select your Instagram profile.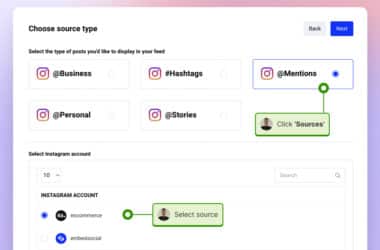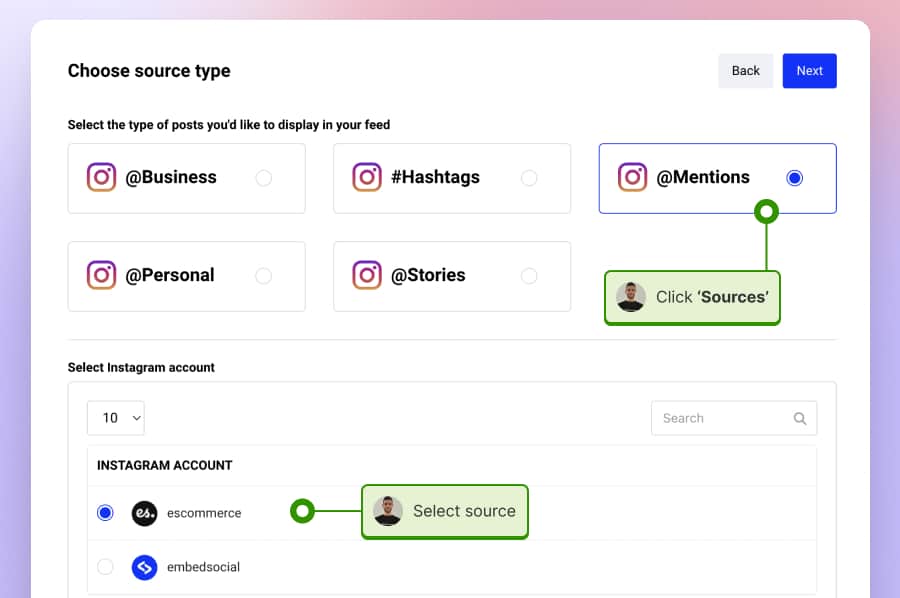 Step 3: In the widget editor, click on the Links tab and click Tag products for the post on which you want to place the product tag.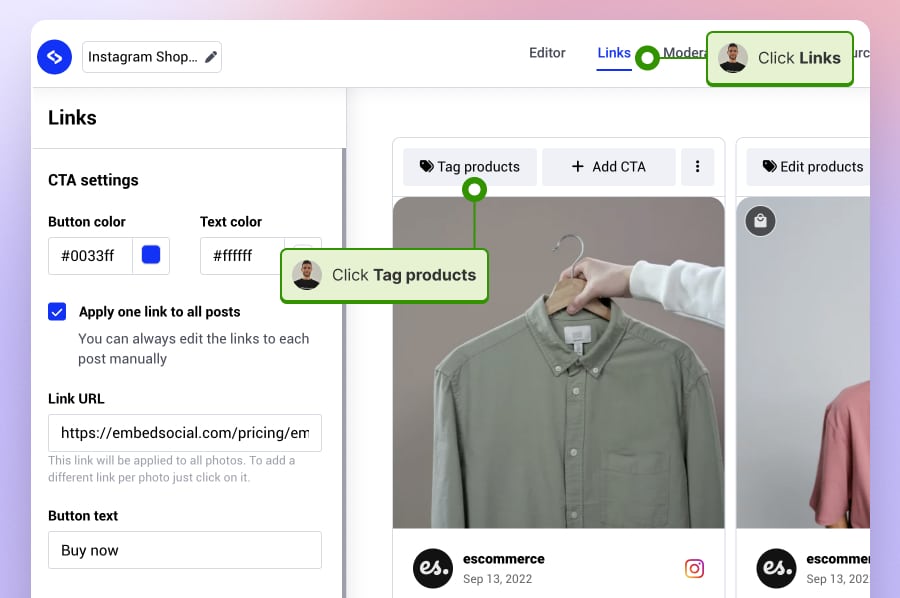 Step 4: A popup will appear, where you can choose to connect with Square and add the product info you already have there or choose the manual tagging option. If you choose manual tagging, you must add the product name, product price, and checkout link.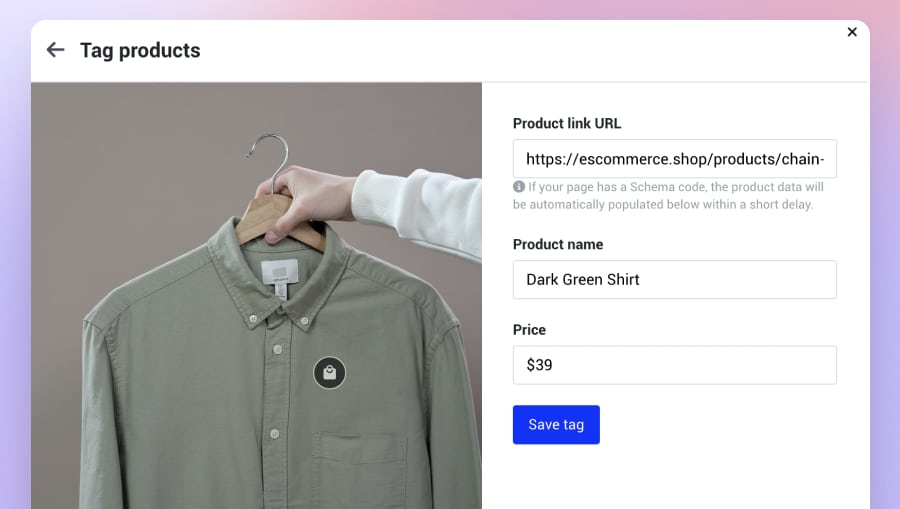 Step 6: Repeat this with all posts you want to have a Buy button as a call to action.
Step 7: Go back to the Editor tab, click the Embed menu from the left-hand panel, and copy the provided code.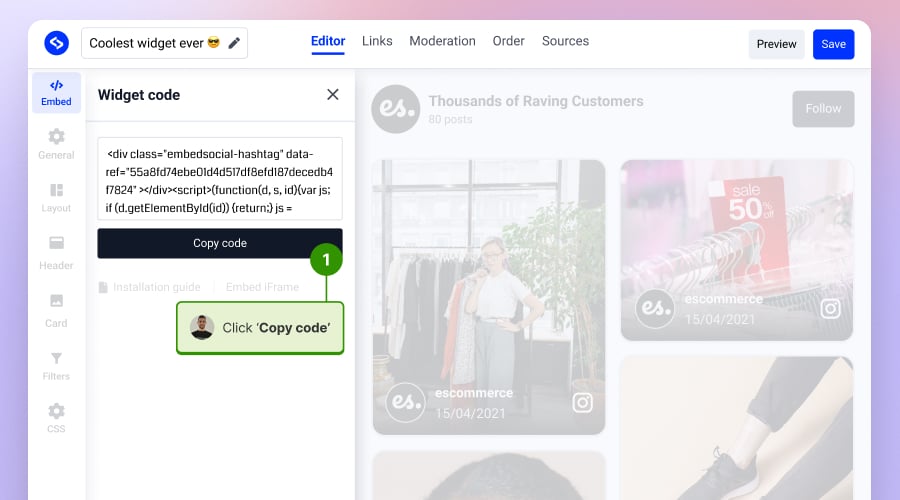 Step 8: Embed the code into your website. In case you use WordPress, click the + icon and paste the code into the Custom HTML block.
Example of a UGC shop:
EmbedSocial provides various widgets, including Google reviews, Instagram posts, etc. Here is an example of a UGC widget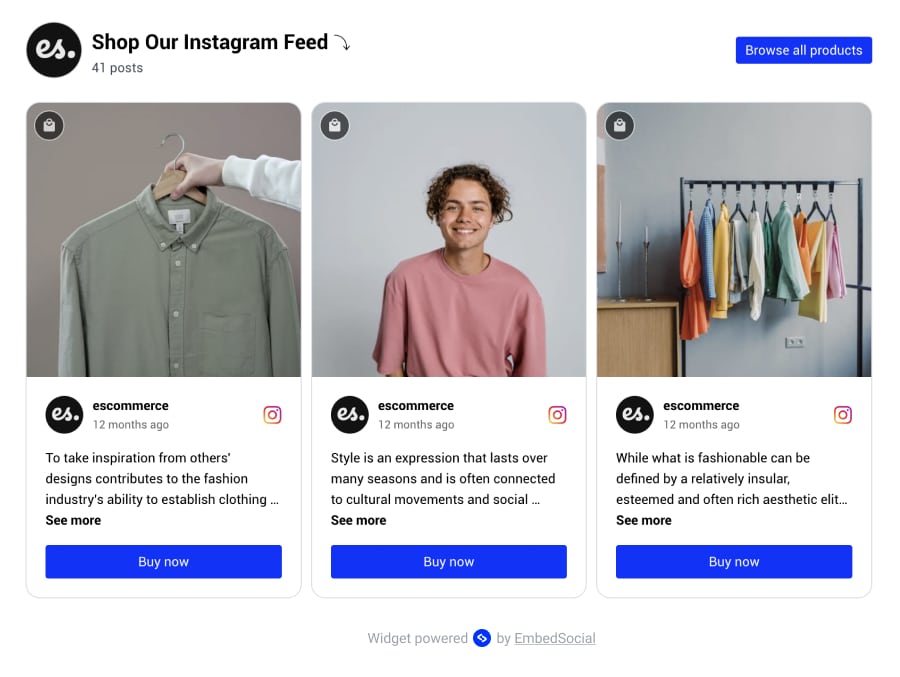 2. Instagram – Shoppable Posts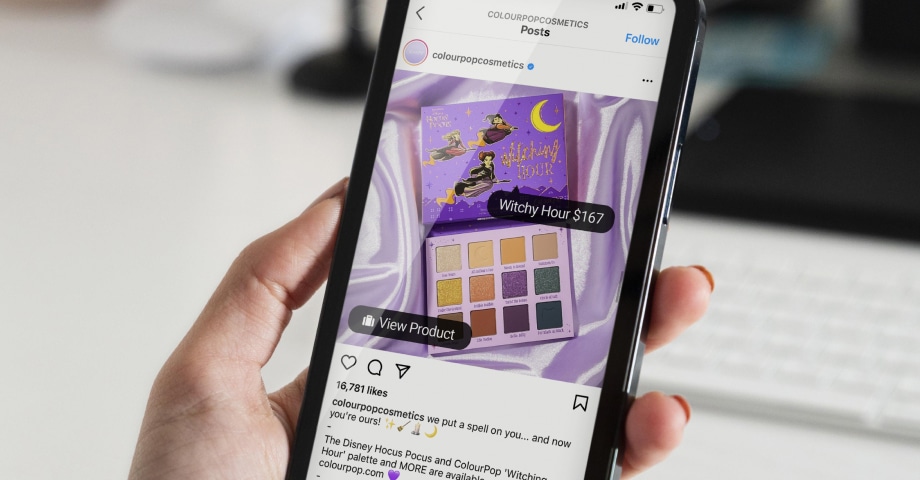 In today's modern shopping era, Instagram is a top social commerce platform driven by its innovative "Shoppable Posts" feature. Instagram has consistently held a competitive advantage over its social counterparts, positioning itself as an exciting platform for product exhibitions, especially for artful images and creatives. Users should link their Instagram business account to their Facebook business profile to set up a shop.
Shoppable posts on Instagram allow you to tag products in organic content, like photos, reels, and Instagram stories. Users can see items from your Instagram storefront when they click the "View Product" option or a product link sticker. They can easily click through to view more information, check other shop items, and purchase some.
The setup of an Instagram shop is based on an application process where the user needs to comply with certain requirements. And once you get approval, you will have the option to start your own shop on Instagram.
3. Pinterest – Shoppable Product Pins
Like Instagram, Pinterest has its innovative visual discovery engine that cemented its position as a rising force in social commerce. At its core is the Lens feature, a visual search engine that collaborates harmoniously with shoppable Product Pins. This dynamic feature scans users' images and identifies potential interests, further offering a captivating shopping experience.
Pinterest social commerce also includes enticing "Shop the Look" ads – visual creatives where brands showcase a plethora of products within a single ad. Pinners are invited to explore a treasure trove of related products directly linked to the pin posts. With a single click, potential customers are led to the retailer's field for a smooth checkout. Pinterest sellers are allowed to tag up to 25 items within a single photo, getting instant access to the products that capture their imagination.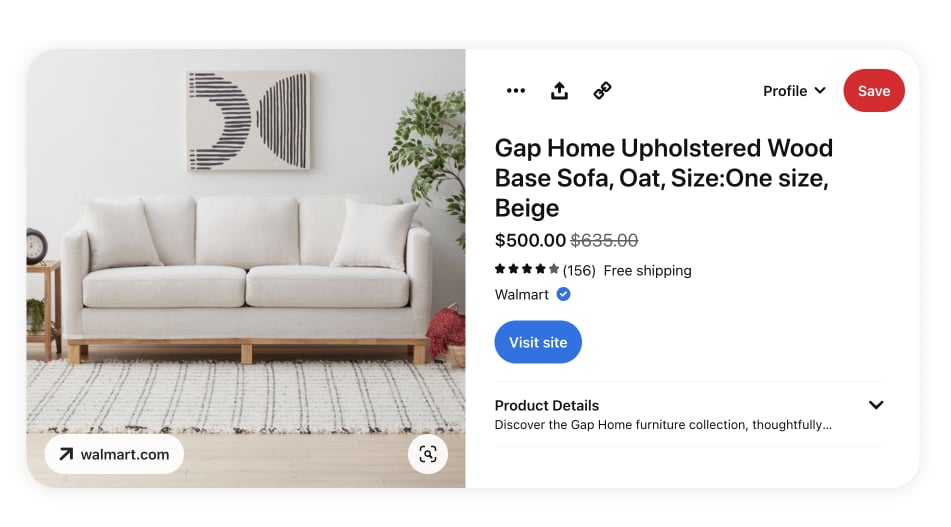 Here are some quick and easy guides on how to set your shoppable pins on Pinterest:
Create a Pinterest Business Account.

Apply for shoppable pins. Once you adhere to the guidelines, then submit your application for Pinterest shoppable pins, where you will receive an email about your application status.

Start adding products to Pinterest. After your account gets approval for shoppable pins on Pinterest, you can start linking products to your pins. It may take 2-3 days for your products to appear, as the approval of each product takes some time.
If anything goes wrong or you should know more about the whole process, always check the Pinterest Help Center to reveal all the answers to anything you want.
4. Facebook – Facebook Shop Feature
Facebook Shops feature is a game-changer in the social commerce evolution. Brands can now curate their own virtual storefronts, inviting consumers to explore and shop conveniently within the Facebook page and Instagram ecosystem. All the sections on the platform provide a dedicated space for browsing and making purchases, elevating the shopping experience to the next level. The Facebook help center is open 24/7 for everything related to it.
Go to the Meta shop page to set up your shop and create an account. You may have to choose a checkout method to proceed with the process. Note that if you want to sell on a Facebook business page, choose your page or create a new one. If you want to sell on Instagram, select your Instagram business account.
After that, select the catalog you want to use for your shop. To do it, it must meet catalog eligibility requirements for shops, so you can't switch this catalog later. Look over your shop details, review, and agree to the Seller Agreement to finish the setup. In the end, you need to manage your shop catalog, create product collections, and customize the shop design before you click the "Publish" button.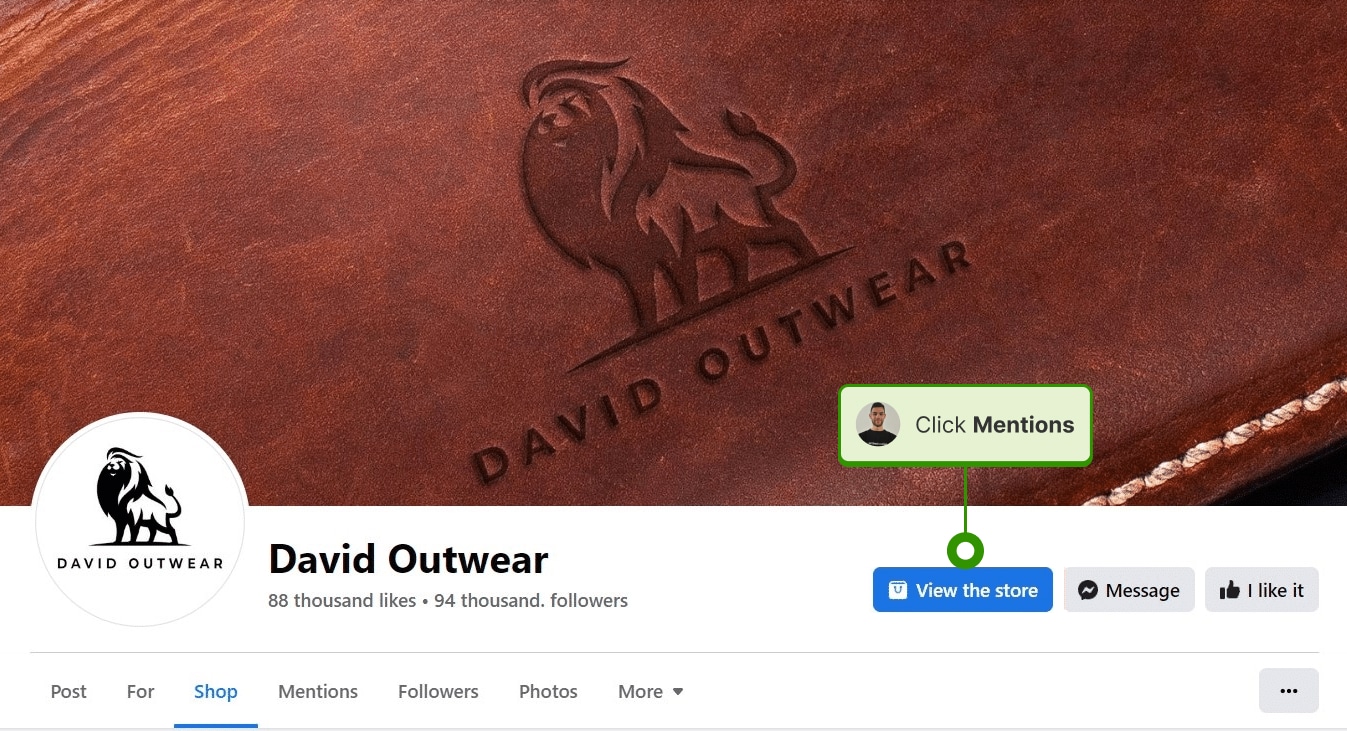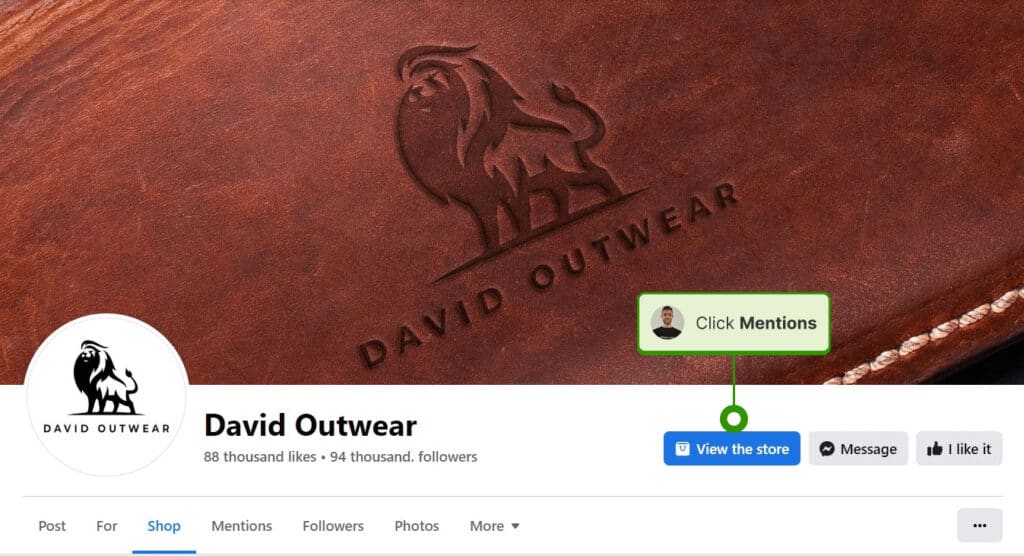 5. WhatsApp – End-to-End Shopping
WhatsApp is our next frontier, where hundreds of millions actively engage with Business Accounts on WhatsApp. The game-changing WhatsApp Business API is here to showcase the platform's potential as a dynamic social commerce tool.
To attract potential buyers, you can add a clickable WhatsApp button or your WhatsApp business number to your social media profile so that new users will discover you on social media and can quickly get in touch. Adding a QR code on the Website Contact Us page can also make it effortless for the social traffic to reach out to you.
One interesting social commerce feature is the Product Catalog, which allows shoppers to explore your products and check stock availability. All shoppers can directly choose items they want and make in-app purchases. Here is an example of it: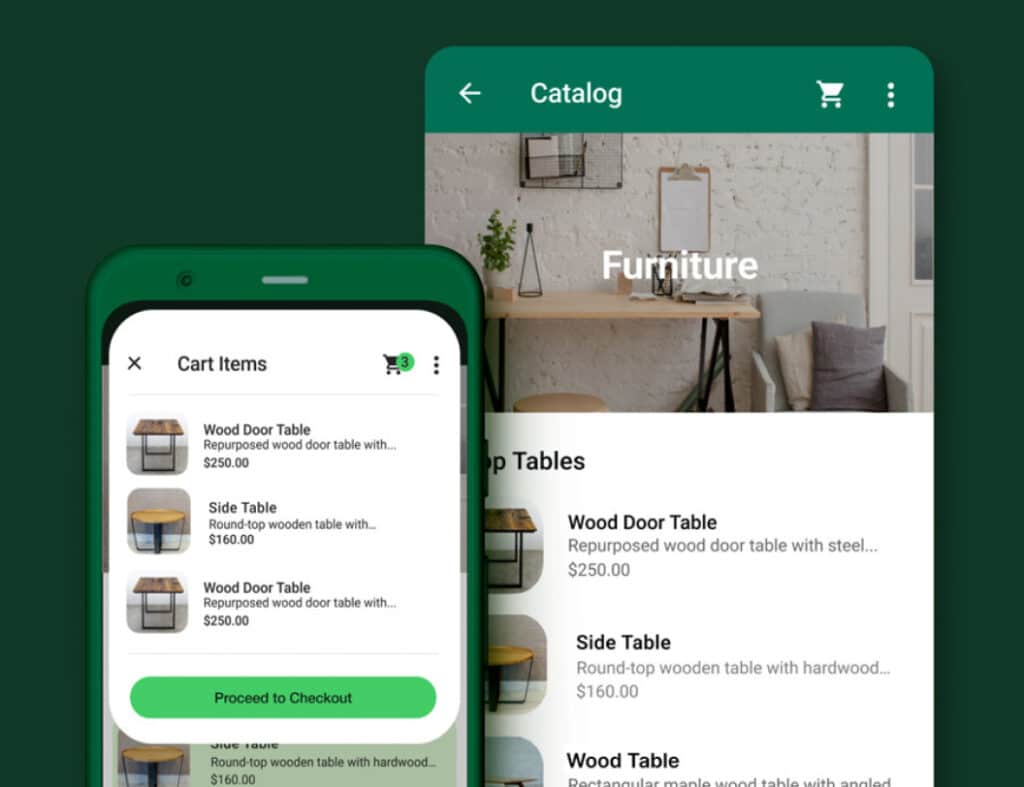 To create your WhatsApp product catalog, follow these simple steps:
Open the WhatsApp Business app, go to More Options, and click Settings.

Here, choose the Business tools field and click Catalog.

Tap Add Images and upload images from your Gallery or Camera to create new ones.

Enter a product or service name, along with any optional details.

Tap Save, and you are all done!
6. Grip – Live Stream Shopping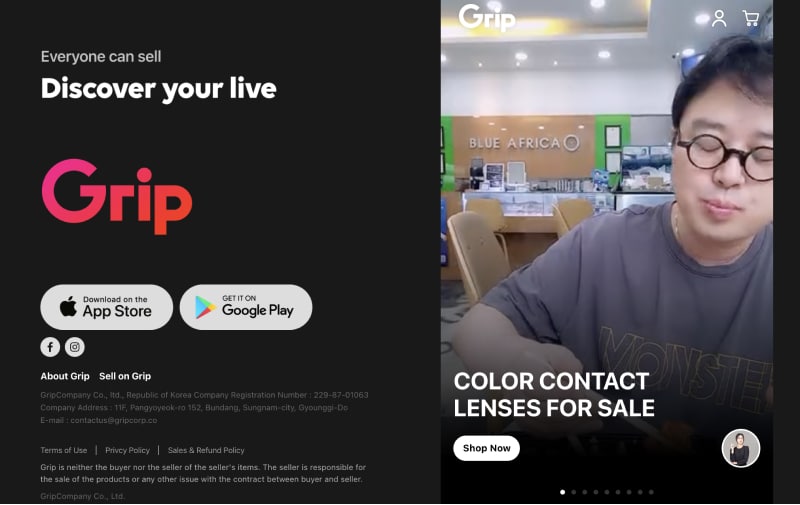 Grip, a social commerce platform hailing from South Korea, emerged as a transformative force upon its expansion to the United States in 2022. This expansion marked a pivotal moment, catapulting Grip into the forefront of industry disruption. At its core, Grip is based on an accessible and real-time platform that transcends geographical boundaries, fostering a global connection between sellers and buyers. Through direct interaction, creators engage with buyers with full transparency and comprehensive insights into the featured products.
The most significant feature of Grip is its dynamic live shopping experience, a captivating fusion of entertainment and exclusive deals. This shopping journey entertains users and empowers them to make instant purchases within the app in real time while watching the seller's stream. Shoppable videos are another way to streamline the purchasing process with an integrated watch-select-order system on a single page.
7. Snapchat – AR Lenses
75% of 13-to-34-year-olds in 20+ countries are on Snapchat.

Source
And Snapchat marketing is one of the best ways to reach them.
Snapchat's focus may not have centered on social commerce, yet their Augmented Reality lenses have shining shopping possibilities for the users. Users can virtually try on makeup, face masks, and even clothing, crafting a unique online shopping experience for social commerce.
The numbers speak volumes because hundreds of millions of users dive into this AR shopping feature daily. Users can now stand in front of the camera, choose some AR product lenses, and see how they fit on them in the form of face filters, masks, clothing pieces, makeup, etc. Purchases are a step away from Snapchat with a click on the "Shop Now" button after using the AR lenses.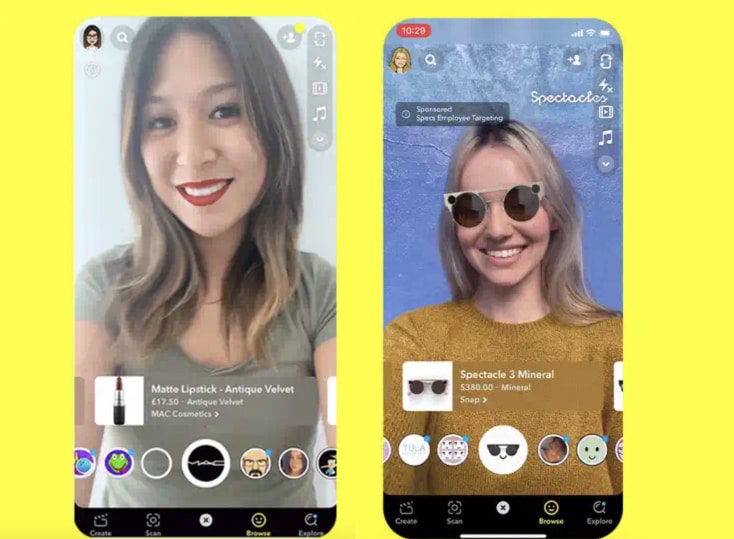 What are the Benefits of Social Commerce Platforms?
Social commerce platforms introduce a new dimension to online shopping, intertwining the realms of e-commerce and social interaction. This fusion brings forth compelling benefits that enhance the shopping experience and drive business success. Let's explore some of these advantages:
Enhanced product research
Social commerce platforms create an environment where users can check products while engaging with friends, followers, or brands. This easy product research boosts the social commerce sales for the brands by introducing products in a relatable way that is easier and more enjoyable for the potential customers.
Authentic recommendations
Users trust recommendations from their peers more than traditional advertisements. Social commerce leverages user-generated content and customer reviews to provide authentic recommendations, guiding buyers toward products that align with their preferences. This is a great idea for implementing any social media marketing strategy and personalizing your promotions.
Easy shopping process
Social commerce eliminates the need to navigate between different websites or platforms for product research and purchase. Unlike social media marketing, social commerce allows you to create shoppable posts with integrated checkout options for the users to easily transition from exploring products to making purchases.
Community engagement
Social commerce fosters a sense of community by encouraging users to engage in discussions, share experiences, and seek advice from others. This engagement enhances the shopping experience and creates a shared sense of belonging.
Viral potential
Compelling and shareable content has the potential to go viral on social media, rapidly increasing the visibility of products and campaigns and driving a surge in interest and engagement. Posting on popular social commerce platforms nowadays, like Instagram, Facebook, and Pinterest, has better chances of going viral and building brand awareness than ever before.
As you can see, social commerce platforms amplify the shopping experience by infusing it with social interactions, authenticity, and personalized engagement. By ruining all barriers between shopping and socializing, these platforms create a dynamic ecosystem that resonates with the preferences and behaviors of modern consumers.
Social Commerce Trends
List and Explain some of the most popular social commerce trends (include pictures or widgets)
Examples of Social Commerce on Social Media Platforms
As social commerce's popularity continues to grow, there will be a lot of real-life social commerce examples from successful businesses, brands, and creators. Here are some social commerce examples for social media brands, encouraging customers to dive into a purchase journey without leaving the app.
1. Instagram – @paulstuartny uses shoppable posts to sell products
Paul Stuart is a renowned clothing brand that has embodied timeless elegance and icon menswear since 1938, making a distinctive mark in the world of fashion. This brand has a big Instagram audience, counting over 43,000 followers and potential customers focusing on clothes, accessories, footwear, and Instagram shops for presenting it.
Their Instagram page @paulstuartny is full of shoppable Instagram posts representing a direct storefront for the followers to engage with the posts, click the button, and make an in-app purchase. Here is an example of a jacket promotion and their Instagram shop when someone clicks on the shoppable post: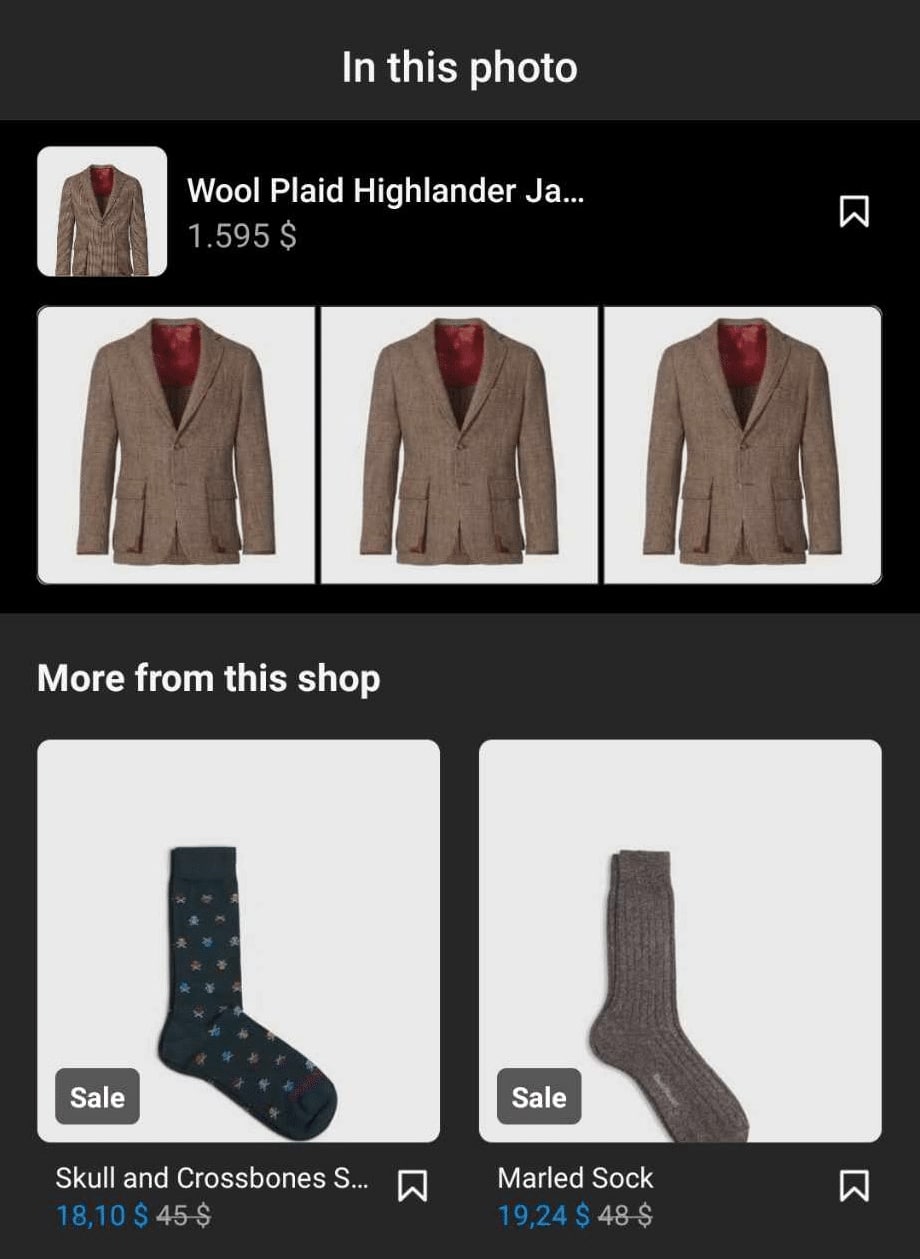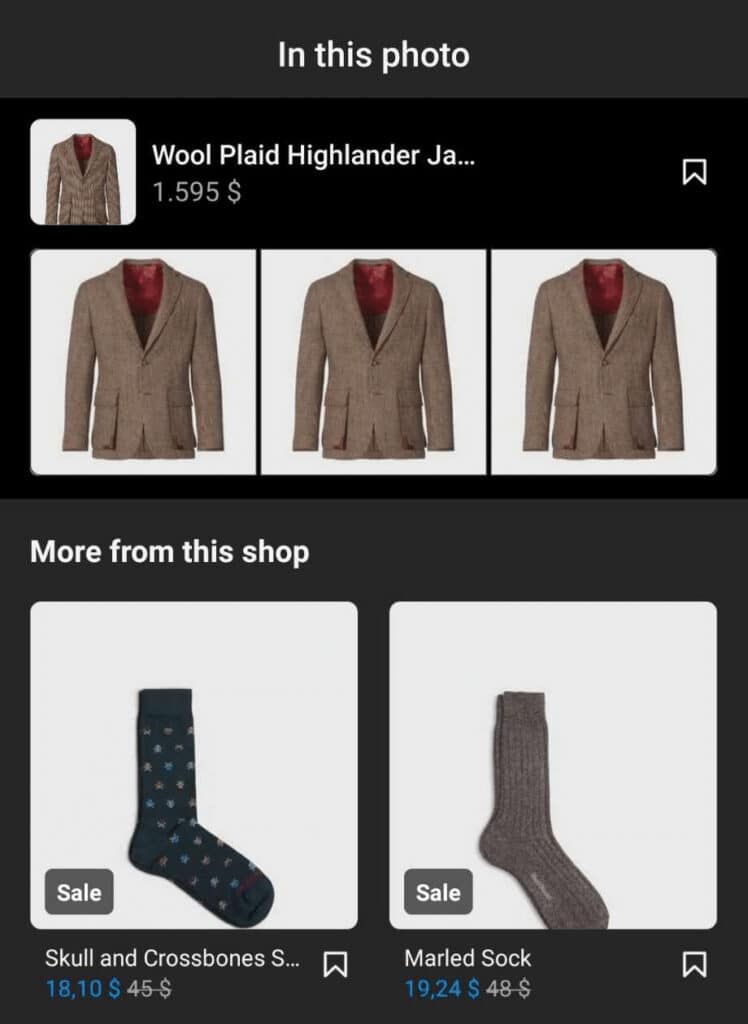 2. Facebook – David Outwear uses Facebook shop for e-commerce sales
David Outwear is another fashion brand that uses social media as a social channel to drive sales and build a social network at once. This brand has its own Facebook page as a marketing tool where the Facebook shop is linked, promoting their outwear in front of 94000 followers.
The Facebook marketplace is like a big ocean of brands and businesses selling goods online, so David Outwear's FB shop looks like a real eCommerce website spiced up with social commerce elements from Facebook. Here is an example of their Facebook shop and how the products are listed for interested followers: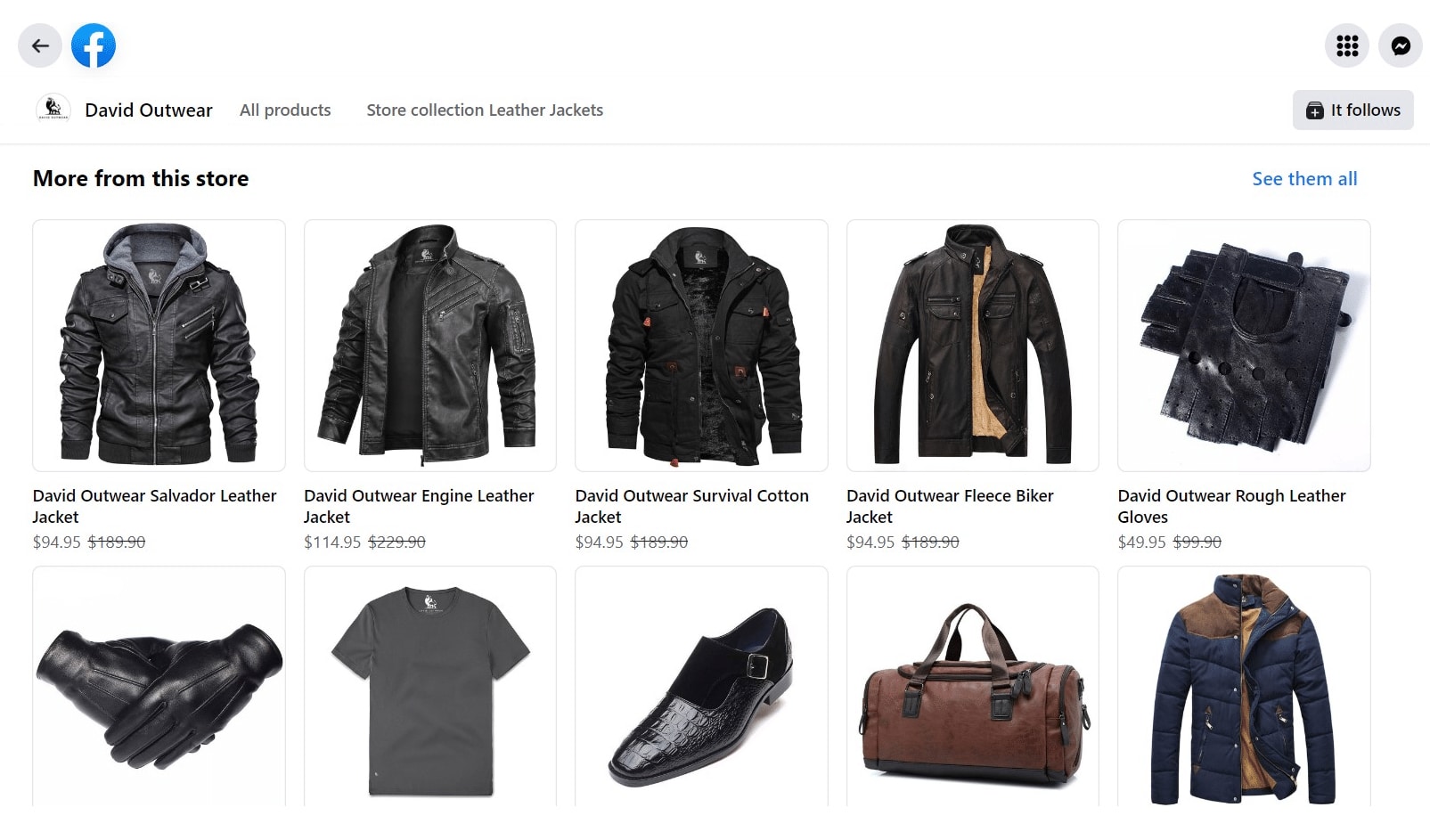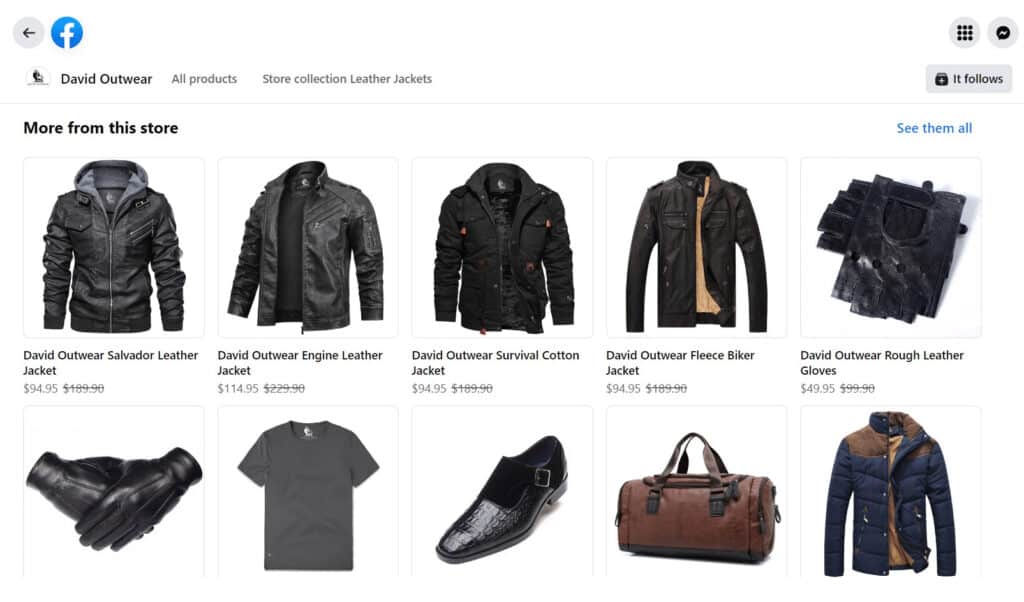 3. Snapchat – FarFetch uses the try-on lens for their products
Snapchat is a camera company, or in other words, an application used for sharing photos and videos with engaging filters and AR-based features. These filters include digital and AR makeup, face filters, clothes, sunglasses, interesting backgrounds, etc. Farfetch is a clear example of it, aiming to become the "Amazon" of the luxury fashion market with its technology ideas. This company works directly with brands and designers to sell their products on the platform, and many of the items ship directly from the designer or brand.
To encourage users for higher brand engagement, FarFetch created their own try-on lens where the customers can stand in front of the Snapchat camera, use the AR lenses of FarFetch clothes on them, and click the "Shop Now" button to buy the items. This game-changing social commerce feature can drastically increase sales depending on your monthly active users.
Here is an example of how it looks like: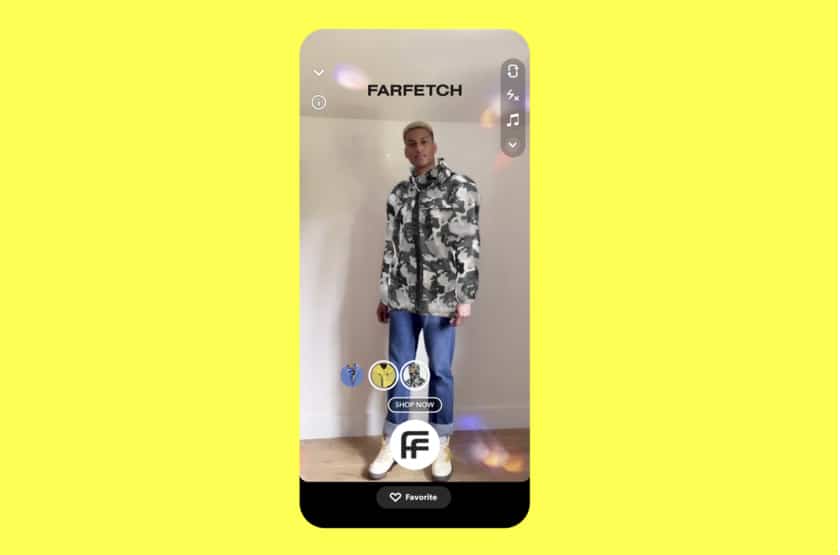 4. Pinterest – Shein shoppable pins for clothing promotion
Shein is a global fast-fashion brand that has taken the fashion world by storm with its trendy and affordable offerings. While the brand has a strong presence across various digital platforms, its strategic use of Pinterest stands out.
One of the standout features of Shein's Pinterest strategy is the use of shoppable Product pins. These pins allow users to see product information, read about availability, and click purchase product at the checkout webpage, streamlining the shopping process. By reducing the steps between product discovery and purchase, Shein enhances the user experience and boosts sales.
Here is an example of a shoppable Pinterest pin for a potential customer: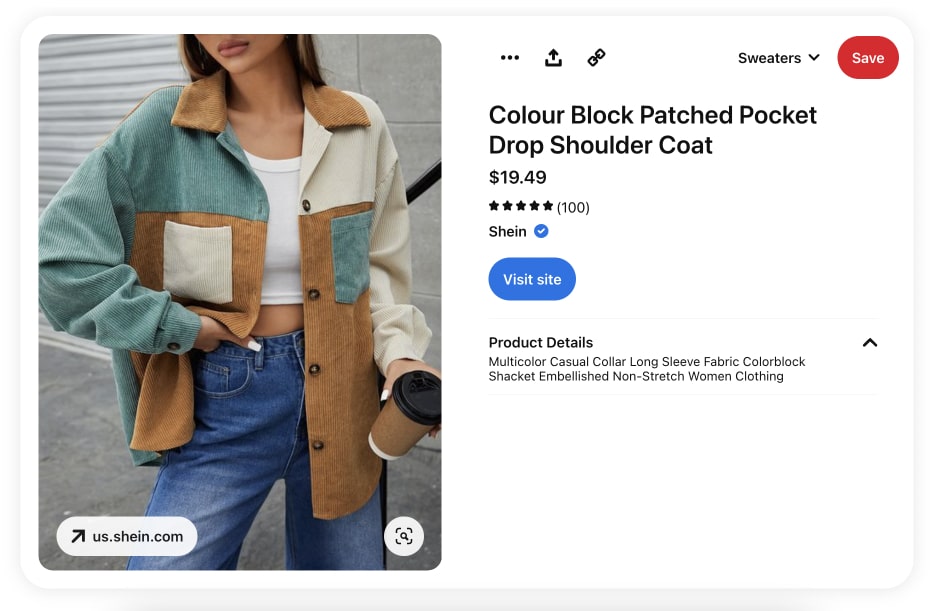 5. WhatsApp – JioMart allows direct purchases on WhatsApp for mobile users
Rooted in the vibrant tapestry of India, JioMart emerges as a pioneering force in the e-commerce business sphere. With its headquarters in the heart of Navi Mumbai, JioMart embodies a visionary alliance between Reliance Retail and Jio Platforms, used in a new era of digital retailing.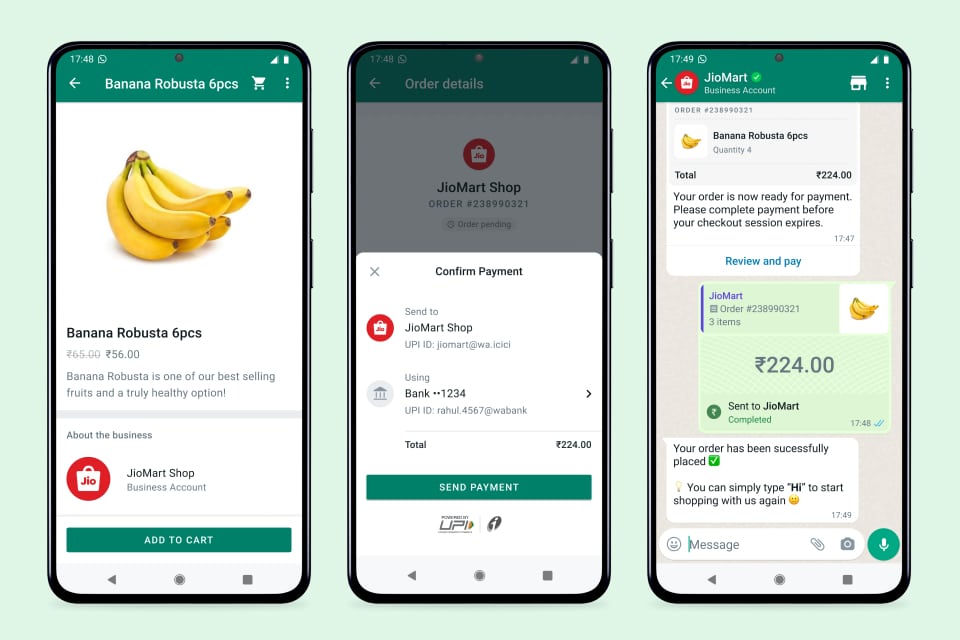 JioMart users can now make end-to-end purchases directly on the JioMart WhatsApp number, check their grocery catalog, and buy the items from the cart without leaving the WhatsApp chat. Here is an example of how it looks like for Indian users:
Why is Social Commerce Important for Social Media Users?
Social commerce bridges the gap between social interaction and online shopping, offering users a convenient, trustworthy, and engaging shopping experience right from their social feeds. As social media continues to evolve, the importance of social commerce for users will only grow, making it a pivotal aspect of the modern e-commerce landscape. Here are the key takeaways:
Unified Shopping: Shop on social platforms or embed commerce on websites.
Boosted trust: User reviews and content amplify purchase confidence.
Personalized picks: Algorithms curate tailored shopping suggestions.
Quick buys: Streamlined discovery-to-purchase journey.
Visual engagement: Captivating product displays on social media.
Exclusive deals: Special promotions for social media followers.
Community insights: Engage and discuss for informed buys.
Wider reach: Embedding social commerce on websites expands audience reach.
By integrating social commerce directly on social platforms and embedding it on websites, businesses can provide a modern, engaging, and streamlined shopping experience that resonates with the contemporary digital consumer.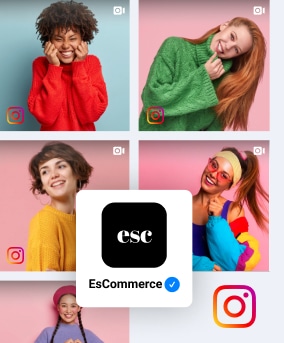 Show social media wall on your website automatically!
Try EmbedFeed and display Instagram, Facebook, YouTube, Pinterest, TikTok, and Vimeo feeds on your website in seconds.
All PRO features | Cancel any time.
FAQs about Social Commerce Platforms
What is a social commerce platform?
A social commerce platform is a digital interface integrating e-commerce functionalities within social media networks. It allows businesses to sell products or services directly through social media channels, enhancing the shopping experience by leveraging user interactions, reviews, and social recommendations.
What is the biggest social commerce platform?
Facebook is the leading social commerce platform, especially in the United States, with a massive user base and advanced shopping features. It's closely followed by platforms like Instagram and TikTok, which have also introduced robust social commerce tools.
How do I set up social commerce?
Setting up social commerce involves the following steps:

Step 1: Choose the right social media platform(s) for your target audience.
Step 2: Create a business profile or page.
Step 3: Integrate e-commerce functionalities like product catalogs and shopping tags.
Step 4: Promote products through targeted ads, influencer partnerships, and engaging content.
Step 5: Monitor performance and adjust strategies based on analytics and customer feedback.
What is the difference between social commerce and a website?
While both social commerce and websites fall under the e-commerce umbrella, they serve different purposes. A website is a standalone digital storefront where customers can browse and purchase products. In contrast, social commerce operates within social media platforms, allowing users to discover, share, and buy products without leaving the app. Social commerce offers a more interactive and socially integrated shopping experience.
Which social media platform is best for eCommerce?
Several social commerce platforms are making waves in the e-commerce industry. With its visually appealing interface and shoppable posts, Instagram is a top choice for many brands. With its vast user base, Facebook offers extensive tools for businesses to set up digital storefronts. TikTok, a newer entrant, has shown massive potential with its engaging video content and integrated shopping features. However, the best platform often depends on the target audience, product type, and business marketing strategy.