Have you ever wondered how some websites get the beautiful yellow stars and review count next to their web link in the Google search result?
In this post, you will learn how you can get the rich star snippet on your website search result.
In short, you will need a schema.org code that will generate the aggregated rating of your reviews displayed on your webpage.
Before you begin, please note these 2 things:1. Add the schema code on a specific product page:
Our research showed that Google doesn't support star ratings on root domains/homepages. According to their guidelines in order for the stars to show in the search results the schema code needs to be placed in a web page showcasing a specific product or the service you are offering. So, please add the schema code on a specific product or service page and not the homepage.
2. Add the code before other schema codes: Make sure the schema code is added at the top of your page code. This means that it needs to be before any other schema codes in the header of your page. If you use WordPress, please use a plugin to add the code in the header for a specific page.
The EmbedReviews platform provides the functionality to generate this schema.org code that will display a rich snippet in the Google search results.
By using EmbedReviews, you can easily create a feed with the reviews you collect on Facebook Page, Google location or you can manually import reviews that you have received from your customers.
If you don't understand coding, don't worry just follow the steps below.
So, here is a step-by-step explanation of how to get the schema code for displaying rich snippet in Google search results:
Step 1: Log in to your EmbedReviews account and navigate to Reviews Feed (if you still don't have an account, click here to register)

That's it.
To help Google to show these changes you will need to ask Google to re-crawl the URL where you've placed the schema.org code.
Here are the official guidelines, how you can do this: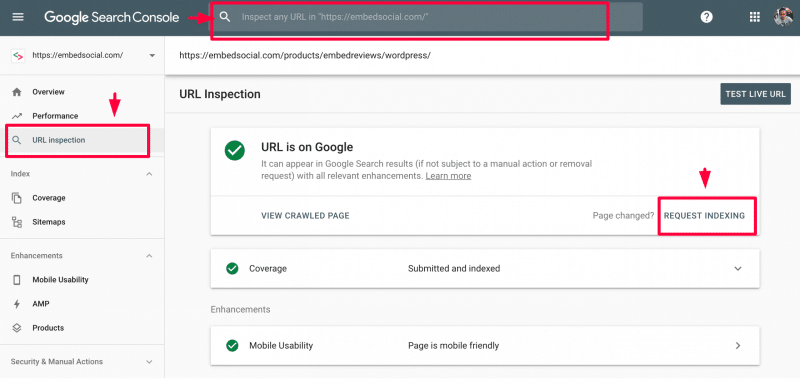 Go to your Google Search Console
Click 'URL Inspection' in the left menu
In the top search field paste the page URL
In the new page click 'Request indexing'
Re-crawling is not immediate or guaranteed. It typically takes several days for a successful request to be granted. Also, understand that we can't guarantee that Google will index all your changes, as Google relies on a complex algorithm to update indexed materials.
If you follow the steps as described, your star snippet will display in the Google search results once the page is re-indexed.