New Instagram Features for Your 2020 Marketing Campaigns
Keeping up with Instagram changes can be quite a challenge. There are new Instagram features almost every week.
To help you stay up-to-date with the latest Instagram we put together a list of the latest updates you may not know about and don't know how to use it.
Keep in mind that Instagram is constantly adding and removing features, so in case you don't have some of the features we listed, don't worry – they are coming on your way!
Instagram features: What can we expect to be the highlights of 2020?
Branded content will make its way to the forefront of Instagram, helping creators turn their passion into a living (more than ever).
Brand Collabs Manager is developed to help you connect with brands that are looking to promote their products and services using the relations you have with your followers.
Next, they will invite you to collaborate on campaigns that will increase your engagement.
This will unlock the earning potential both from your Instagram and Facebook presence.
Before you apply to get discovered for paid partnerships, check your eligibility.
Instagram's video platform (IGTV) is expected to become a larger consideration in 2020.
The video service goal was to take the throne from Youtube.
To make the platform more user-friendly, Instagram tested some new IGTV formats and made some design changes and to make it a little more appealing for Instagram users (both visually and in functionality).
The latest one was removing the IGTV shortcut button (that annoyed people) from the top right corner of the app.
Facebook doesn't plan to leave Instagram and WhatsApp alone.
Instead, as the days pass by, more features on these 3 platforms will be integrated together.
We can expect that very soon Instagram, WhatsApp and Messenger will unite their messaging services on a single platform. Users will be able to send a message to their friends, regardless of the platform they use.
Rumor has it that we can expect major Instagram rebranding (again). ​​​​​​​
DECEMBER 2019
We wrapped up 2019 with a new set of Instagram business tools.
Growth Insights
Users can now see which posts and stories from their Instagram business pages are generating the most followers.
This feature also helps you see how the number of followers is changing (by day or by week).
To view the insights from your business account, follow the steps:
Go to your Instagram profile
Tap the Triple bar in the upper right corner
Tap Insights
Select specific posts, stories or promotions you would like to view insights on (use the numbers to learn more about your audience)
Stories That Mention Your Brand
Stories About You feature makes it easier than ever to view, reply to and share the Instagram stories that mention your account (note that this applies only for Business or Creator Accounts).
Previously, you were seeing stories that mention you in your inbox.
Now, they are all aggregated in one place.
To access Stories About You:
1. Tap the heart symbol
2. Select Mentions
3. Choose Stories About You
Please note that eligible accounts will only see Stories About You if they were mentioned in a story at least once in the past 24 hours.
Age Limit
This feature allows you to set a minimum age limit for your business account to control who can see your Instagram profile and posts.
When it comes to setting up an age limit, you have 2 options:
Set up a global default minimum age
Set up a country-specific minimum age
Follow the steps to set up a minimum age limit for your Instagram business account:
Go to your profile and tap Triple bar
Tap Settings
Select Business or Creator depending on your profile type
Tap Minimum Age
Edit Your Business Information
This feature is like a shortcut. It allows you to edit your business page, category and contact information directly from your Instagram app.
To start editing your business information on Instagram:
Go to your professional Instagram account
Tap Edit Profile
Under Public Business Information, choose the things you want to edit: Business contact info, Business Category or the Page your Instagram professional account is connected to
Navigate to Profile Display to choose if you want to hide or display your contact info and category label on your profile
Tap Done to return to your profile
New Inbox Organization
The moment you switch to a Professional account, your inbox will be organized in 2 tabs to help you sort your messages based on their importance and priority.
Primary (messages that you like to see first)
General (messages you like to get back to later)
Note that all messages you will receive will primarily appear in the Primary tab, but you can always swipe them into the General tab.
NOVEMBER 2019
Share stories to a more limited group
After 18 months of testing, Instagram introduces a 'close friends' list to let you share stories with a more limited group of people.
This feature for more private sharing comes as a response to the rise of Finstagrams, private accounts where your closest friends can only follow you.
TikTok-Inspired "Reels" Mode
It should not come as a surprise, but to keep up with the latest trends, Instagram "borrowed" TikTok's "Reels" mode.
This feature allows you to create music videos for up to 15-seconds. You can also take audio from other users and use it in your own video.
You can find the feature within Stories, nestled among Boomerang and Super-Zoom modes.
You have 2 options – to record your short clip in silence or choose a song from Instagram's music library.
OCTOBER 2019
Email Checker to Avoid Phishing Scams
To help prevent phishing attacks, Instagram introduced a new Email Checker Tool.
This feature is developed to help users spot if the email they receive was sent by Facebook or it is a phishing attempt.
You can find your emails divided into 2 categories: Security emails and Other.
Now, when you receive an email claiming to be from Instagram/Facebook, this is how you can check if it is valid:
Open the Instagram app
Go to Security settings
Head over to Emails from Instagram option
Locate the email that was just sent to you
Restrict Feature to Protect Against Bullying
Restrict is designed to protect your account from unwanted interactions like online bullying.
To restrict someone to comment on your posts, navigate through the Privacy tab in Settings where you can set limits and manage interactions with your peers.
Or, you can do that directly on the profile of the account you want to restrict from taking an action.
Augmented Reality Try-On Feature
To help shoppers preview how different products will look on their face, Instagram added augmented reality try-on feature.
Initially, this feature will be dedicated to the cosmetics brands that sell their products on Instagram, but it will become available for more products over time.
Threads – New Direct Messaging App
Threads is a new way to message with close friends in a dedicated and private space. It allows you to share photos and videos with a smaller circle of friends.
You can install this up from Google Play Store or App Store.
To customize the experience around the people who matter the most for you (especially if you don't have the time to send a photo or have a chat), you can choose a Status option​​​​​​​ that can show your close friends what are you up to.
Reminders For Product Launches
This feature helps users receive reminders about upcoming product launches. You will be notified the moment the product is available.
Similar to Checkout and Shopping from creators, you can now buy a product without leaving the Instagram app.
SEPTEMBER 2019
Shopping posts tested as ads
Instagram has been enhancing shopping-related functions in recent years. The strategy was successful, with more than 130 million (wow!) accounts tapping Instagram shopping posts each month.
To provide users with a richer shopping experience, Instagram start testing the ability to include existing organic shopping posts as ads in the feed.
Advertisers can serve ads in the Ads Manager.
Audiences who see this ad will be directed to the product description page on Instagram, where they can go to the purchase page on the brand's mobile site.
AUGUST 2019
Instagram Creator Studio
Finally! You can now use Instagram Creators Studio to schedule Instagram posts and manage analytics by your PC.
You can access Instagram Creators Studio from Facebook Creators Studio.
There are 2 requirements:
・ You need to have administrative access to an Instagram account and Facebook page
・ You need a professional Instagram account
Are you ready?
Ok. Let's access Facebook Creator Studio first.
From there, you can access to the Instagram creator Studio by connecting your Instagram account.
You can do many things with the Creator Studio:
Manage posts
・ Access to all Instagram content (videos, photos, carousels, stories, IGTV)
・View each post's performance
・Create Instagram feed and IGTV posts and deliver by specifying the date and time
Check insights
・ Learn more about followers
・ You can see the number of people who performed the action
Check messages
・Manage everything in one inbox
・Identify top followers
Now, I will show you the steps for one of the attractive features of the Creator Studio for Instagram. Note that you can post into Instagram feed by specifying the date and time.
To start, tap Create Post and Choose Instagram Feed
Write a description and add pictures
Tap triangle button beside Publish and set the post schedule
Click Publish
This is a very convenient function that allows you to post and manage Instagram directly from your PC.
Make sure to try it 🙂
Instagram Removes Memes
It has been whispered among Instagram users that a "Meme purge" is happening. Instagram seems to have disabled the Top Meme account for violating the Platform Terms of Service.
The accounts that were removed were top meme accounts with hundreds of thousands and millions of followers.
This is not about new features though, but I shared this topic because everybody likes memes!
July 2019
New Chat Stickers Roll Out
The new sticker has been added to Stories, called Chat Sticker.
So, when your audience taps the sticker on your stories content, you can talk with them in the chat room created via DM.
Here is how to use it. Just follow these steps:
Go ahead tap to Add a new Story and tap the top sticker icon
Look for the Chat sticker in the list and tap on it
It will appear over your story, where you can tap to edit the Chat title
Once you are don just Publish the story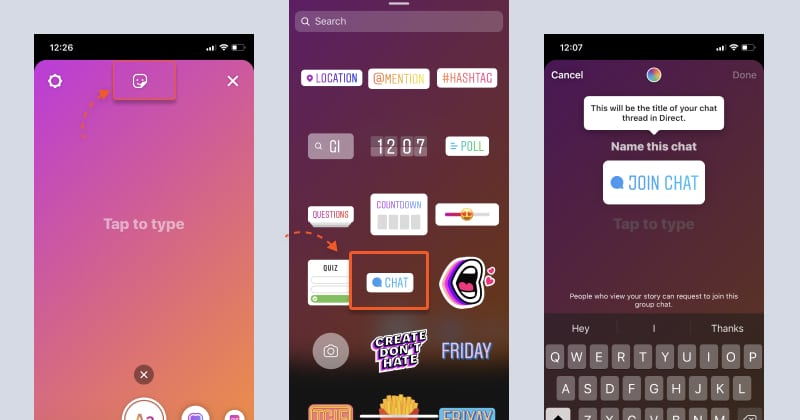 Next, your followers can see the story and join the discussion.
Here is how you can see who wants to join the chat:
Open your story and tap on the sticker
A message will appear that they've requested to join.
As a publisher of the story, you can see who requested to be a part of the chat by following the steps:
Open your active story and tap on the viewers' avatars at the bottom left of the story.
Tap Add to Chat button to approve the requests
A message chat editor will appear where you can start the chat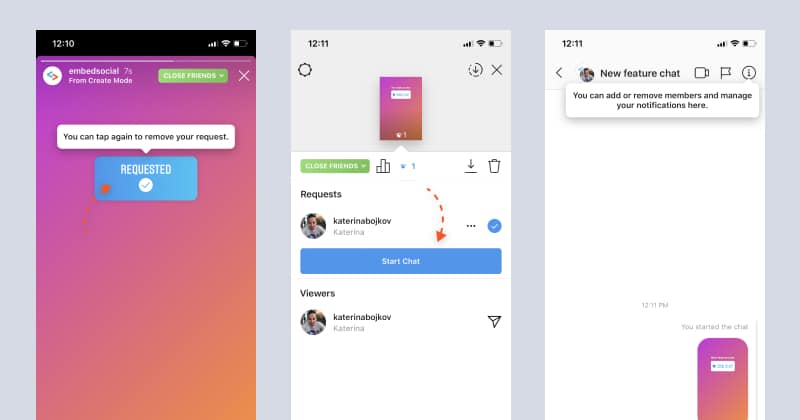 Please note that on this screen you can add more people or use the options to leave the chat or remove somebody from the chat.
Here is where you can do this:
In the chat, just tap the top right info icon
A settings screen will appear where you will be able to leave the chat, add more people or set other settings for the chat.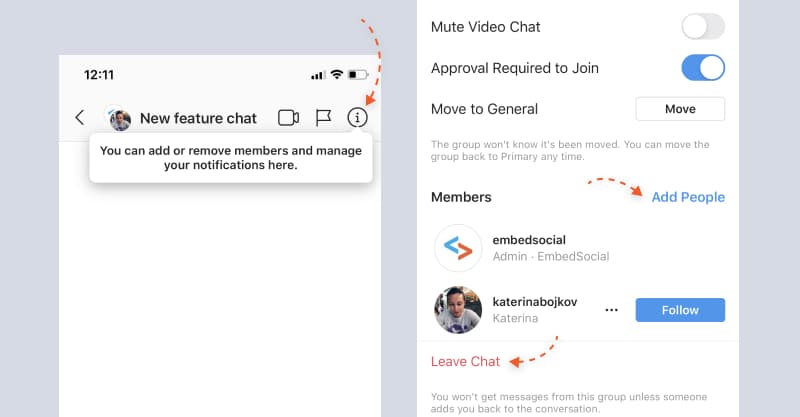 This is a great option for D2C – direct to consumer brands who want to immediately engage with a small but private group of users or customers and chat directly about a product feature, current campaign, ask them about a question directly, etc.
Updated Ban Policies and Pre-Ban Warnings
Facebook announced that they've disabled accounts that have a certain percentage of the offending content.
To make sure you stay aligned with this update, consider this:
Facebook will remove accounts with a certain percentage of violating content
If the violation is repeated more than a certain number of times within a window of time, the account will be removed
In case your account is at risk of being disabled, you will be notified.
If your account is removed by error, you can dispute, and Facebook will restore your account with deleting its record.
June 2019
Introducing ads in Explore​​​​​​​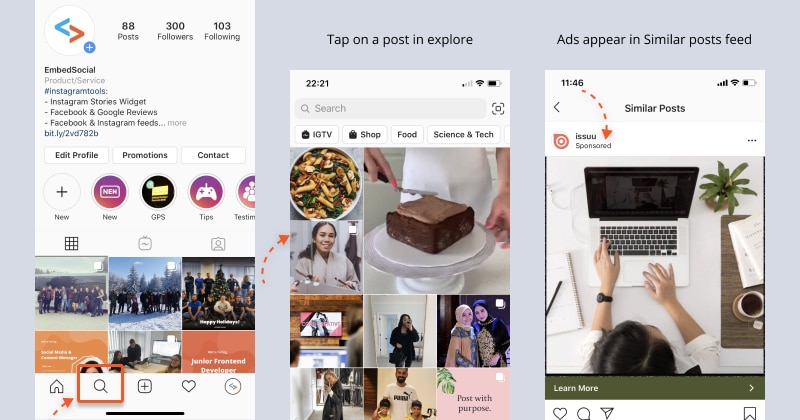 Explore is a great place to find new products, businesses, creators, etc. that you don't usually follow, but are relevant to your interests.
You can view the Explore option by clicking the magnifying glass icon at the bottom of the Instagram top page.
Instagram users like to connect with brands. The numbers show that 78% of Instagram users follow at least several business accounts. This is why Instagram is bringing ads to Explorer.
This is an excellent opportunity for advertisers to reach new audiences who are exploring something new.
Horizontal video is now available on IGTV
​​​​​​​IGTV is a video application that allows you to create and view long-form videos.
Initially, only vertical videos were supported, but Instagram announced that horizontal videos would also be supported.
It seems that both creators and viewers wanted the horizontal upload format.
Yes, I am used to watching videos on a horizontal screen.
Branded Content Ads Roll Out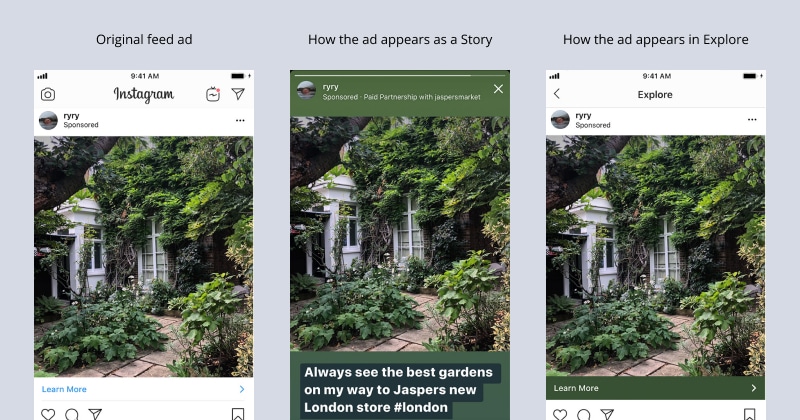 Branded Content Ads feature gives businesses the opportunity to tell their brand stories through creators' voices, reach new audiences and measure impact.
With creator permission, advertisers have the ability to promote creators' organic branded content posts an Instagram feed or Stories ad.
These branded content ads are named as a 'Paid partnership with' so that the transparency of the ads can be secured.
May 2019
This year's Facebook Developer conference f8 has brought tons of new updates of the Instagram and the overall Facebook apps family.
Here are few of the major updates for Instagram and if you want to read all the updates click here:
Ability to Shop from Creators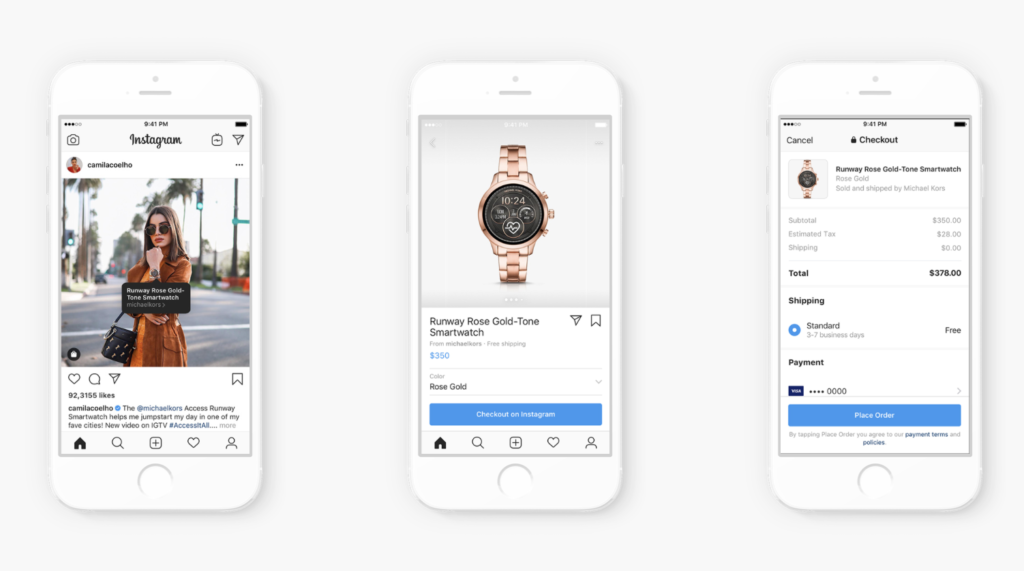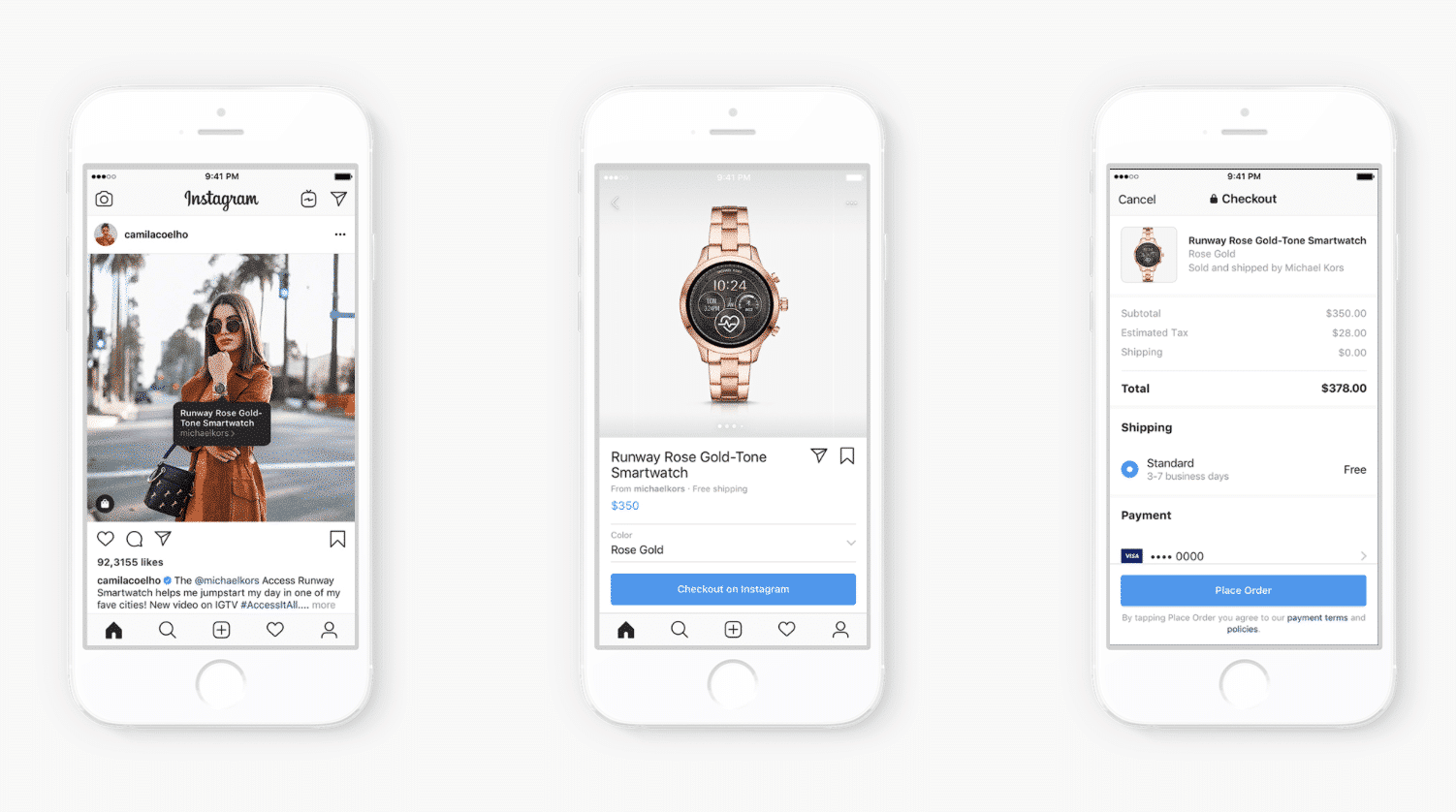 This is a huge advancement of how the Instagram platform was used by creators to earn money from brands.
Influencer advertising and sponsored posts have definitely become a cash cow for the platform.
But, till now most of the creators were referring the products they were selling to their inbox or to the brands websites.
This process is obviously not efficient, tracking of the sales attribution can be challenging and the few additional clicks impacts to lower conversion rates.
Therefore, the new shopping options for the creator profiles will help influencers sell more.
This option works the same as the checkpoint option that was introduced few months ago. The creators will be able to tag their photos with the actually product information that they are promotion and have a direct checkout link so their followers can immidiatly buy it.
The feature is currently in a roll out phase and it will start appearing for some creators in the coming weeks.
Here are some of the creators in the initial test phase:
Aimee Song, Alissa Ashley, Alondra Ortiz, Alyssa Coscarelli, Annabelle Fleur, Ashley Strong, Blair Eadie, Brittany Xavier, Camila Coelho, Candace Parker and more.
New donation sticker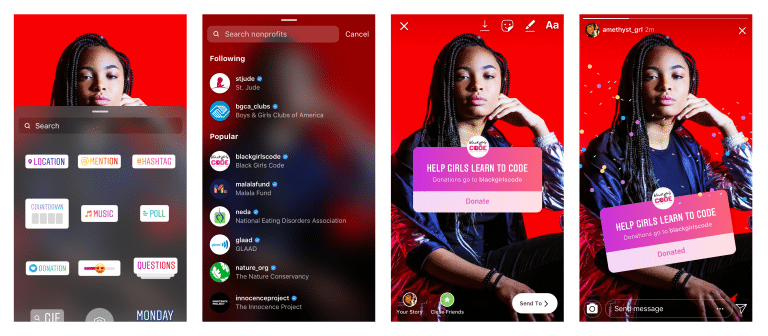 With this sticker Instagram is enabling you to start a fundraising campaign that will help you collect funds via Instagram stories.
Here is how to add a donation sticker:
Tap the sticker icon when creating a story
Select the nonprofit and customize the name of your fundraiser
When people see the sticker, they can tap Donate and enter the amount they want to donate
By swiping up, you can see the donations by usernames and amounts,
Please note that according to Instagram, 100% the funds you rise, will go to the nonprofit and will be available in the US with plans to expand the functionality globally.

New Camera mode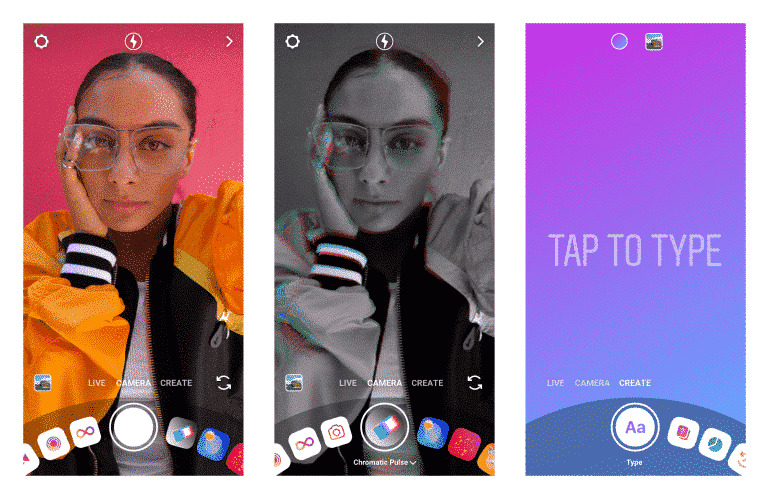 This is a big change in how we post on Instagram.
With the new camera, you will no longer need to upload a photo or video but you can use the creator tools such as text, stickers or the drawing options to express yourself.
April 2019
Add paragraph space in Instagram captions
Your caption editing nightmare is finally over.
Instagram has enabled the 'Return' option in your iPhone keyboard that will allow you to add as many spaces you want while directly typing your photo caption in the Instagram app.
To do this, just type the caption and tap on the numbers keystroke (shown in the image above). Once the numbers keyboard appears you will see the Return keystroke. Tap on it once or twice to get paragraph space and continue typing the rest of your caption.
March 2019
New Marketing Tools for Influencers
According to Vogue, on a journalist breakfast in New York, the Instagram team has introduced new tools for influencer marketing in their platform.
These new changes in making the platform more influencer friendly are in line with the growth of this industry. Influencer marketing is projected to reach $1.7 billion in revenue this year and sponsored posts.
Here are some of the announced tools:
Option to promote the influencer sponsored post – until now the posts shared by the influencers reached only their followers. With this new option, the brands can furthermore promote the post of the influencer and reach more people beyond the influencer's network.
More analytics for sponsored posts – brands will get tools to view analytics of the sponsored content that an influencer shared. By doing this, brands are protected from misleading screenshots or other manipulation if the results that the influencer activity brought for the brand.
Expanding the "paid partnership" tag – this means that Instagram want to include influencers that do not have a huge following but are very good creators and can help brands reach a relevant, niche audience.
New Instagram Profile Design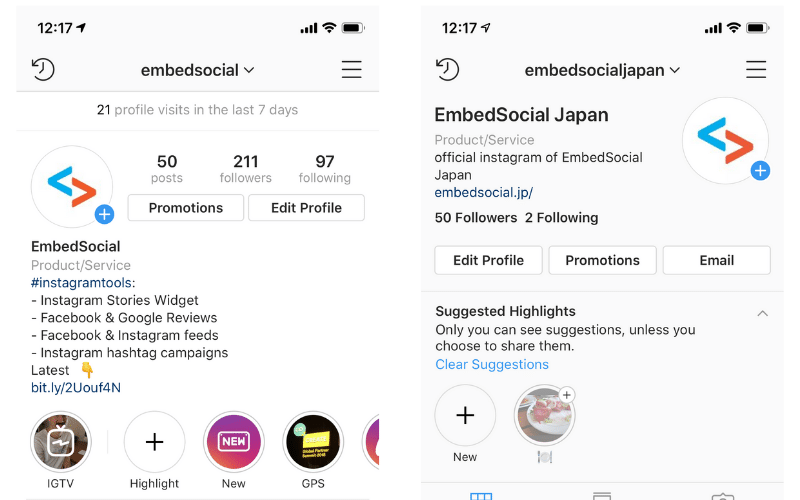 Few months ago, Instagram announced that they were testing new layouts and designs of the Instagram profiles.
The new layout is massively being rollout for the past few days and it looks like that we will start seeing more and more of this new design.
The new change of the design emphasizes the user not their number of followers. And the number of posts is no longer displayed in the profile.
The new change of the design emphasizes the user not their number of followers. And the number of posts is no longer displayed in the profile.
January 2019
Share Instagram Stories
Finally, you will be able to share the link of the story to other platforms or amongst your friends. This option is already rolled out and you can find it by following these steps:
Publish a story
Tap on the 3 dots in the right bottom
Tap 'Share link to Entire Story'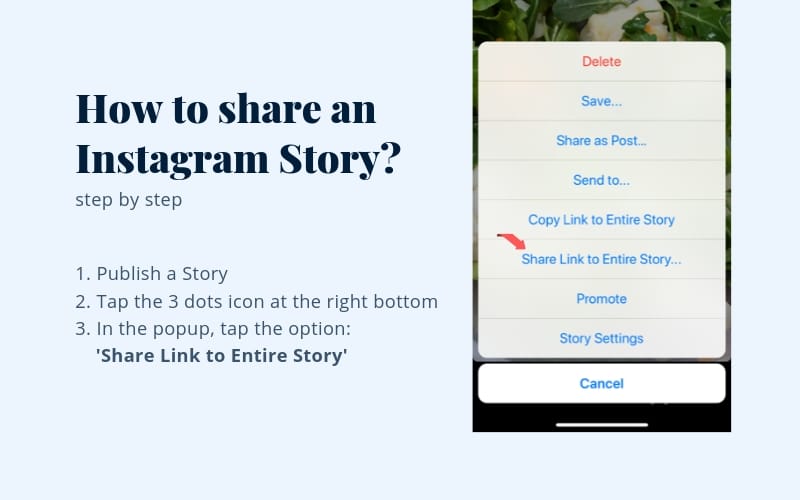 Promote Instagram Stories With One Click
Till this date, if you wanted to create Instagram story ads, you would probably need to have a desktop, go to your Facebook ad account and from there create the Instagram Story Ads.
But now, Instagram has made the ad's creation very easy.
You can use your mobile app, only!
If you already have a Facebook Ads account connected with your Facebook Page and thus an Instagram account connect with this Facebook Page, you are good to go.
Here are the steps how to boost Instagram story:
Publish a story
Tap on the 3 dots in the right bottom
Tap 'Promote'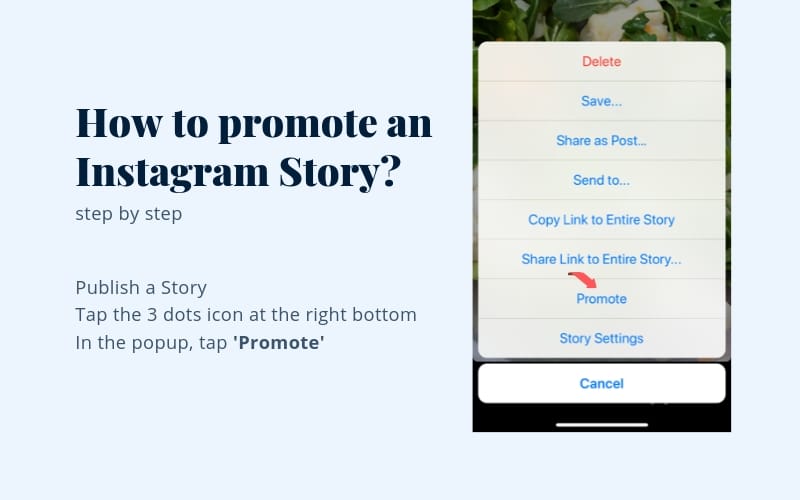 New Countdown Sticker for Instagram Stories
Instagram continues to bring interactions to the story format, and one of the latest features is the release of a Countdown sticker that brands can use to create teasers, share countdown for an event or special discount day that users can share in their stories or set up a reminder.
The Countdown sticker functionality includes an option to add a title, a specific date and customize its color.
To access this option, just tap the sticker icon at the top settings bar and click on the Countdown sticker.
How followers can interact with the countdown sticker?
Once you share the story with the countdown sticker, your followers can tap on the arrow in the corner of the sticker and set up a reminder or share it with their stories. And the coolest feature is that when the countdown ends everybody that saved the remainder will receive a notification as a direct message.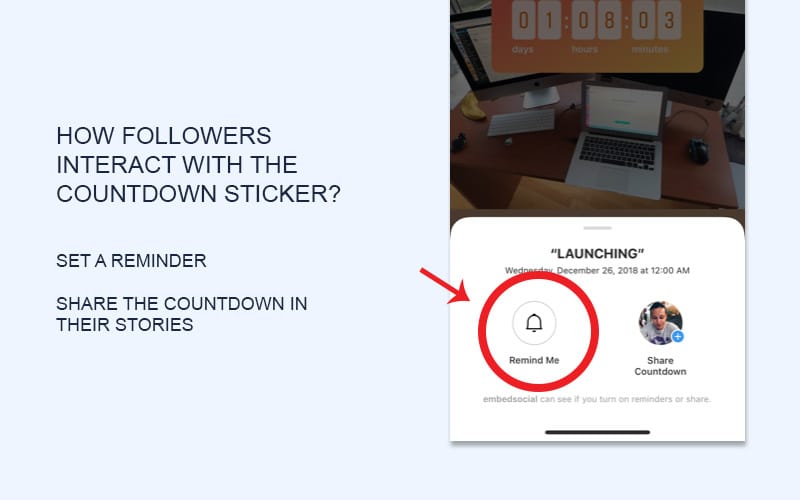 If you see this feature from a marketing perspective, it seems like an interesting opt-in option that can help you understand who is strongly interested in the campaign you are launching and having the reminder option gives you an additional trigger about the intent of the followers in their strong interaction with your brand.
New Questions Sticker for Instagram Stories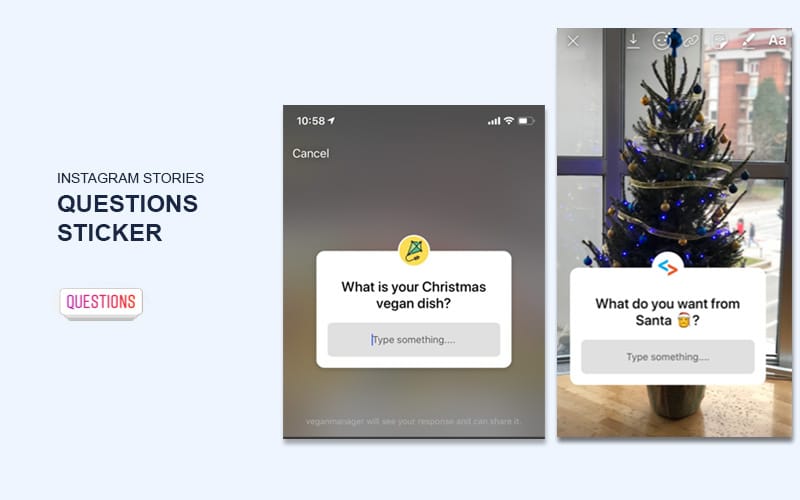 This is not the newest feature but it is good to consider it when planning your Instagram campaigns.
Similar to the Countdown sticker, Instagram is releasing complex functionalities in the Stories in order to enhance the interactions with followers on a totally new and different way. The new Questions sticker can do this and much more.
So what is the Questions sticker?
It is an option to ask a question in a story and people that view it can respond and write their answers.
How to view the answers?
Just open your story and swipe up. In the viewers' section, you can see the username who answered and his/her response.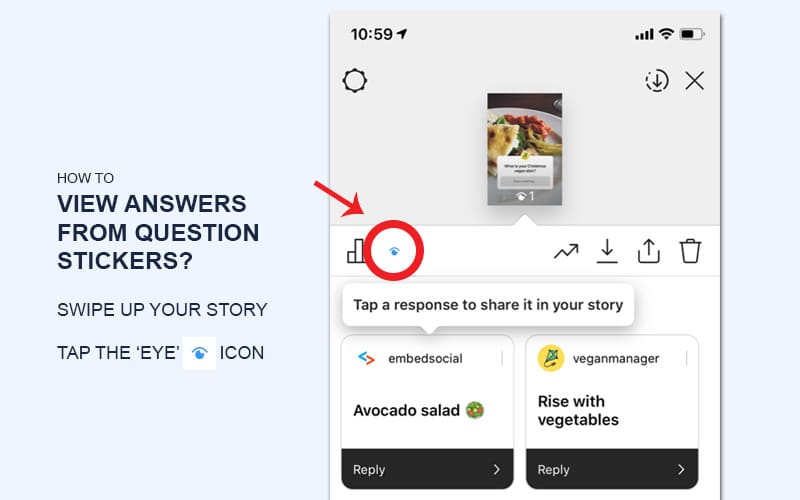 Once you view the answers you can share them in your story by taping Reply that will open a new screen to take a photo or video and post it in the story with the user's answer. Please note that this functionality will not show the username of the person but just their response text.
How to use the Questions sticker?
The main use cases for this stickers vary and you can think about campaigns that boost interaction amongs your followers. Here are some examples:
Create a survey – for example, you can ask about a product new packaging that you will show in the story and get valuable feedback;
Enhance interaction in Instagram LIVE – if you run a live video tutorial or some sort of a webinar, the Questions sticker can help you collect questions from the users that you can answer in the live video.
Insetivise for interaction – use the questions to organize a giveaway or a contest, so you will boost the interaction and reward the most active followers.
Bonus: Let your followers answer with a song: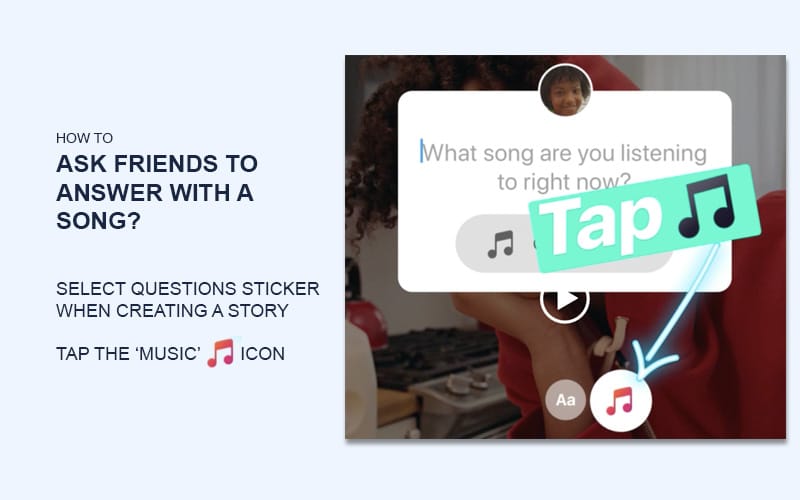 Recently Instagram enhanced this sticker with a new option to ask a question that requires an answer with a song. The answers with the songs can be viewed in the same viewers' section of your story where you can tap and play the song. If you share the favorites in a new story the song will play in the background.
Additionally, new video effects are available in the camera options, where you can film a video and by using the 'Music' options you can add filters that respond to the beats in the song.
Please note: we will continue to update this article, as soon as new Instagram features are announced.